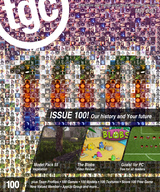 Welcome to Issue 100! I feel privileged to be the editor of a newsletter that has gone from strength to strength over the years, and has reached this momentous occasion in great style. We have a brand new cover design courtesy of Peter Jovanovic, and it has been suitably ordained with a montage of our most loyal forum members and users. You can click on the thumbnail above (as you always can) to see the bigger image, or click here to look in more detail at the full sized image (4 Megabytes). You may just find your avatar in there!
We start this issue by welcoming back Rich Davey to look back at the original issue and look towards the future; many older members of the forum will be tempted to leap forward at this point to read what he has to say but I implore you to take your time, this is the biggest issue to date and you will want to savour it. You can find out about each of the team members and what they are working on, download free games and media, browse through 100 TGC-based games and much much more. So enjoy the issue, and we look forward to bringing you the latest and greatest information you need to create the next big thing, for a long time to come!
Until next time,

contents
(1) Richard Davey (2) Free Goals! (3) Lee Bamber (4) 100 Games Part I (5) App Game Kit (6) Rick Vanner (7) Doodle (8) 100 Games Part II (9) The Blobs (10) DarkBASIC Pro (11) AppUp Dev Group (12) Mike Johnson (13) 100 Games Part III (14) 100 Freebies (15) DBPro (16) Score 100 (17) Dave Milton (18) 100 Games Part IV (19) Games (20) Paul Johnston (21) 100 Games Part V (22) MP55 (23) Richard Davey (24) FPSC Compo (25) TGC Store (26) From the Forums (27) Winner
Richard Davey: Reminiscing and Reflecting
Here to introduce issue 100 is the man responsible for issue one, and my predecessor to whom I aspire in each edition I compose. I hand you over to...
Richard Davey, former editor of the TGC Newsletter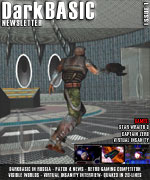 I joined Dark Basic Software back in 2002 as the 4th full-time employee. I had been a Dark Basic fan for several years prior to this, and a keen advocate of the software. It was my community involvement and web design / php skills that led to me working for them full-time. Employed to take on the task of redeveloping the TGC web sites and looking after the community, I was in an unparalleled position with my finger firmly on the pulse of game development life. And one of my tasks was to write and publish a monthly newsletter. The first issue hit inboxes across the world in January 2003. I was pleased to have managed to secure an interview with Paul Varney, who was Lead Artist at Shiny Entertainment at the time (and an avid DarkBASIC user), and despite a basic layout those first 11 articles in the fledgling issue set the tone for what would come.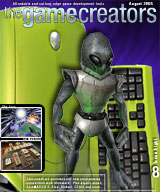 As the months went by and issues were published we soon reached August 2003. I had spent the year feverishly working away on the new web site, and it was all unveiled in that month along with a company re-branding to "The Game Creators", supported by a massive competition sponsored by Alienware. The web site was a significant success with an extremely sleek design, and I'll never forget the thrill of opening up Edge magazine and seeing it featured. Issue 8 also saw a total redesign of the newsletter and a new publishing schedule of the 1st of the month. It had been somewhat erratic until then. I was responsible for collating all the content, editing and preparing it - a task I carried on happily until issue 48 in January of 2007 when I finally parted ways with TGC and left to join Aardman Animations as the first employee in their new online team. I still have plenty of fond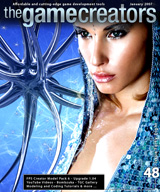 memories of putting the newsletter together. Finding exciting new people to talk to or games to show, and product launches to whip-up excitement about! By the time I left we had 13,500 readers who received the newsletter by email, and many more who just read it on the web site. I passed over editorial duties to Steve Vink, and the fact you're even reading this 100th issue is I feel a complete testament to his dedication and professionalism. And I still read each issue and smile at the little traits that I started which are still intact (such as the "Famous Last Words" quote that appears in the footer of each issue - the very first one was the pithy "I don't think he had a flame thrower. Hold on, let me check." taken from a famous last words to say during a sci-fi role playing campaign :)
We continue this article later, with an insight into Richard's current role at Aardman and his view on the future of games.
To Celebrate 100 Editions - Goals for Free!
One of our most popular games on PC is yours for free, to celebrate this milestone event. Goals! is designed for netbooks and hence is optimised for lower end hardware but can be enjoyed on any PC meeting the specifications.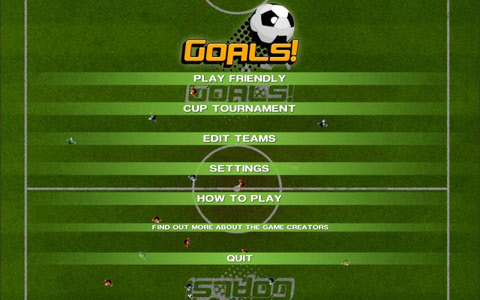 Experience great soccer game play in this enjoyable football game. You're at the heart of the action as you direct your players with the keyboard. Pass between team members and then shoot at goal to score! You can even add swerve to the ball as it leaves the foot of the player, bending it beyond the reach of the keeper. You can play out your own world cup fantasies with Goals!

Goals! is free for the full month of May from our website. Make yourself popular amongst your schoolfriends or workmates and let them know about this great opportunity too.
You just need to have a registered account with TGC. Then log-in and you can download Goals! free of charge during May 2011!
TGC Profiles - Lee Bamber
In this special edition of the newsletter, we'll introduce you to the people behind the products. We've had a chance to meet some of you at our Conventions over the years, and even at gaming and industry exhibitions. For those of you that know the products but not the team, here's a litle insight for you, starting with Lee Bamber, the man who took a great idea and made it happen. Later on, we'll introduce you to Rick, the man who made sure the world embraced the idea, and other key players in the team.
TGC Profile : Lee Bamber
HIGHLIGHTS: My biggest highlight was quitting a well-paid enjoyable job and creating a small software development company allowing me to make and play games all day, drink lots of tea and have even more fun. Another bright moment was attending a big software conference in London called ECTS to see a product of mine called The 3D Gamemaker splashed all over billboards, posters, video screens and stalls. A memorable time was collecting the various boxes of DarkBASIC product from all around Europe, translated into lots of languages and seeing it perform really well in sales.

I also have fond memories of the unofficial and official conventions where community icons gathered together in Chichester and Leeds to talk shop and drink the night away. Another great aspect is being pulled across the globe for various events to chat about software, show products, learn new technologies and meet great people who talk the same language. By far the most important highlight is the rapturous buzz I still get from having an idea, slaving away to code it and seeing it spring to life on the computer. It's still magic!


"What I got was the opportunity to share my success with those around me, which to me was priceless."

BEST MOMENT : Receiving an award for technical innovation in my local town of Wigan, during a special gala evening surrounded by my family and friends. The big prize, which was £1,000, would have just about paid for the drinks at the table. As luck would have it, I did not win the prize. What I got was the opportunity to share my success with those around me, which to me was priceless.
LOWEST MOMENT: The day I realised a phone conversation I had, cost the company about £11,000. Some advice; the next time you're talking to a publisher, don't be so ready to admit that everything is your fault. They might take you seriously! Still, this was a long time ago and we've since learnt a lot of valuable lessons from such early mistakes.
CURRENTLY WORKING ON: My primary development role is writing the compiler and interpreter for AGK (App Game Kit) and monitoring bug fixes for FPS Creator and Dark Basic Professional. Auxiliary development roles include liaising with Intel over AppUp and MeeGo, making sure our technology will work well on emerging platforms as well as established ones.
THE FUTURE: The future is like a sponge. It soaks everything up, and what you get is a bigger sponge with more in it.

"wait until you comprehend the cross-technology paradigm. It renders your specialist knowledge of a particular set of devices obsolete, you won't be fast enough to learn them all, and more will come, thick and fast, and the increasing application of smart technology to everyday life will leave you feeling dizzy. The solution is to adapt, and we developers have proved we're very good at that particular trick."

I remember when we only had to deal with one or two devices back in the early days of TGC, now we have to deal with a whole host of them. In just a few years, we'll be dealing with hundreds, and most will be trying to talk to each other whether they speak the same language or not. A modern developer has to become a jack of all platforms to survive this emerging ecology. A master of one is no longer economical. Your customer is now the whole world, and the whole world has seven different kinds of mobile phone, five different kinds of tablet, four different kinds of computer and three different kinds of interactive TV. We won't even mention the number of smart wrist watches and trainers by 2015! If you thought the parallel-programming paradigm was tough on you, wait until you comprehend the cross-technology paradigm. It renders your specialist knowledge of a particular set of devices obsolete, you won't be fast enough to learn them all, and more will come, thick and fast, and the increasing application of smart technology to everyday life will leave you feeling dizzy. The solution is to adapt, and we developers have proved we're very good at that particular trick. Okay, so we have two hundred devices all talking complete gibberish, do we learn two hundred dialects of gibberish? Not likely. We create a standard universal language and teach all devices to speak it.
100 Games from the TGC GameSphere - Part I
Newcomers to the forums quite often ask what games have been created using the TGC programming languages and tools. We've tracked down 100 of the games and apps featured over the past 100 editions of the newsletter for you to browse through and perhaps download and reminisce. You may need a lot of spare time if you plan to work through all of them! There are many more games out there, it's reassuring to know that this is an abridged version of the compendium of games that bear the TGC hallmark.
1. FPS Creator
We're starting with the flagship of products created using DarkBASIC Professional. Create your game instantly with the intuitive 3D editor. Drag and drop walls, lights, doors, enemies, ammo, weapons and more - with pixel perfect precision, and watch as they intelligently link together. Then with one click of the mouse, play your game! FPS Creator is the flagship of DarkBASIC Professional development, every game produced using this tool is running DBPro code to it's greatest potential.
2. The Blobs
You play the part of Brother Blob, a cute little green guy whose body can split into multiple pieces. After disaster strikes the family are split up and you must help him search through 120 fiendish levels to reunite them all.
3. iDork / Mr Dork
Lost in a world of school paperwork is 'Mr Dork' your doodled stick man who needs help to escape the reams of homework sheets that are his prison. Mr Dork is very sensitive and has to avoid many dangers across 63 levels of play. You draw lines for him to walk and jump across so he can reach the rip in the paper where he can make his escape. Available for iPhone, iPad, Bada and PC.
4. Brixoid
Based on the 70's arcade game 'Breakout'. Originally made for the Intel AppUp competition, this version features a range of backgrounds, environments and different styles of music to suit just about anyone's taste.
5. iDare
iDare Deluxe tests your finger dexterity to the max. In this fully featured version of the 'Five Finger Fillet' game you can impress your family and friends with your acccurate touch skills. The deluxe version includes all new high quality rendered hands; male, female, zombie, werewolf, alien and bling hand! Each hand has its own special ouch sound effects.
6. Cardshark
Cardshark by GrumpyJedi, is designed to provide hours of fun. You can simply pass the time, or sharpen your skills with this Blackjack game. It is simple to play, but difficult to master
7. LifeTracker
Lifetracker, by GrumpyJedi, is a personal task manager, that also works as a game of life. Keep track of your daily needs, and be rewarded for achieving them. In LifeTracker you level up in real life as well as on screen! Use LifeTracker to get yourself motivated in the new year.
8. Santa's Bad Elf
Help Santa with his Christmas preparations. All the presents are gift wrapped and ready for delivery on Christmas Eve. But one of Santa's elves is being naughty, he's trying to steal a present for himself. You need to keep watch and tap the screen if you see him escaping with a present. This will warn Santa and the present will be saved.
9. Dropsum
This elegant and fun maths game is available for the iPhone and iPod Touch. Enjoyed by over 7.5 million PC users worldwide, Dropsum will stretch your mental agility and give your brain a good work out.
10. Retro Shoot
Get ready to shoot tons of stuff in this all action space shooter! We've taken the great gameplay from the 80s and brought it bang up to date with vibrant neon graphics and pulse pumping music and sounds.
11. iLooney
It's nice and bright outside and the Looney is stuck inside with nothing but the voices in his head to keep him company. In this crazy puzzle game your goal is to trap the Looney before he escapes.
12. iBlow
The application that lets you blow realistic bubbles on your iPhone. Simply blow gently and steadily into the microphone and your virtual bubble will expand in size. When it's just the size you want, give an extra strong blow and it will release and wobble around. You can then gently push it with your fingers or hit it in the centre to pop it.
13. Touch & Go
This is a fun and innovative "match 3" casual game that uses the touch input of your device to the max. The rules are simple, drag the blocks and throw them together. When three or more of the same color collide they all explode. Just don't let the blocks pile-up too high. If they stack to the top then your game is over.
14. SmackIt
Smack It is an exciting, fast paced game where your reactions are tested to the max. Brace yourself and get your fingers ready for some high speed action. The idea is simple - watch out for critters entering the level and then smack them as hard as you can. As time passes the game speeds up so get ready to react ultra fast and bash those critters.
15. Mission Control
The year is 2060 and the moon is now a major refuelling base for passing space crafts. You've been employed to direct the flight paths of all incoming and outgoing ships. Mission Control is designed specifically for iPod Touch and iPhones. It's easy to play and uses the touch facility fully. Your concentration levels will be tested to the max at the higher levels. An unnoticed flight path can end in disaster!
16. iMoon Walk
The lights are low, the atmosphere is electric, the music is on, the dance floor is gleaming, there is only one thing missing - YOU. Keep the dancing feet in time to score high in this fun little game.
17. Astrodude
Have everything you understand about physics tested to the maximum in this 2D physics-based driving game. It's a tried and tested formula but with a twist. Set in an extra-terrestrial environment with just enough gravity to keep you planet-bound, the camera view is fixed to the orientation of your dune buggy. First prize winner in the Games for Netbooks competition
18. Magical Gloves
In Magical Gloves, you need to help Mia Handwrite recover all the pages of The Golden Book and to rescue her little brother from the dreaded Wizard of the Books, who aims to take over the universe. Magical Gloves is a 3D platform game, with 16 missions, 4 differents worlds and more than 30 hidden objects.
19. Goals iPhone, iPad, Meego, Bada
Experience great soccer game play in this enjoyable football game. Pass between team members and then shoot at goal to score! You can even add swerve to the ball as it leaves the foot of the player, bending it beyond the reach of the keeper. Available for iPhone, iPad, Meego, Bada and PC.
20. Evochron Alliance
Evochron Alliance is a non-linear space-sim in the same spirit of games like X3: Reunion; it makes strong promises about offering new choices and gameplay styles to players in a manner not atypical of other competing titles. While the game is loosely classified as an "indie" game without the benefit of a large-name publisher backing it, that hasn't slowed down Starwraith 3D Games one iota from releasing and actively supporting this intriguing title.
We continue with the next 20 games later in the newsletter.
Free Your Apps With the App Game Kit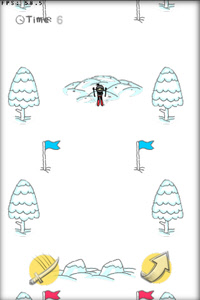 As development continues on the AGK and our beta testers start dipping their toes in the waters of mobile and cross-platform coding, Rick and Lee took a unique opportunity to introduce it to some industry insiders. MoMoLo (Mobile Monday London) is an industry-event sponsored by Intel and we were given the chance to showcase AGK to a very interested audience. Ninja Ski was used to demonstrate one game deployed to a Windows Netbook, iPhone, iPad and Samsung Wave phone.
To complete this successful day, Lee did not waste the journey home, creating an 8-bit Dizzy remake using My Doodle Game in just 2 hours!
We will bring you more detailed news of AGK again next month.

Main Features
Write once, deploy everywhere architecture
Powerful and easy to use commands
Fast 2D game engine native to each platform
Screen resolution independent
Built-in physics for the best in game dynamics
Input device agnostic
Access to full source code
Extensive on-line documentation
Free to try

The App Game Kit is now targetted for release during July 2011- you can register now to be the first to receive new information by signing up at the website: http://www.appgamekit.com/
TGC Profiles - Rick Vanner
The second profile in this special edition is that of Rick Vanner, CFO of The Game Creators...
TGC Profile - Rick Vanner
HIGHLIGHTS: Whenever a new title is released and is praised by our community then I see these events as our most satisfying times. Big projects like DBPro and FPS Creator take so much time and effort to produce that it's a relief to see them finally leave the lab into the arms of their new owners. That's usually when the fun starts when we're told about all the issues we missed and how about adding more features! It's a two way street with development tools and I think with the development of AGK we're going about this process the right way, including developer feedback well before the tool is set in stone. It's always what the users create that make the best highlights for me. I remember when Josh Klint (now owner manager of Leadwerks corp) created a stunning First Person Shooter in DarkBASIC. It blew us away because we didn't realise that the tool could do this. And it's been this positive feedback from great programmers that has helped us create better tools.
BEST MOMENT: Well there have been many but I will just choose one. When iDare went to number 1 in the Apple App Store has to be the one to look back on and be proud of. The app only took 3 days to create and its purpose was to promote other apps that we had already released. I'm hoping we can emulate that success in the future with other app ideas created in AGK that will run on multiple mobile devices.
LOWEST MOMENT: There really haven't been many low points. We make our own success in this life and as a team I think we have made mostly positive decisions. When we worked on Social Arcade (an app for Facebook) we were short listed as one of the top 25 apps in a competition. I tripped out to Facebook's HQ with Dave Milton. The whole trip was a bit ill-fated. I managed to lose all my cash and credit cards, I got dehydrated over 2-3 days out there and we didn't win one of the top 5 prizes. To top it all our legal expert told us not to sign up with them due to Intellectual Property rights issues so we couldn't even take the money we had won. Still, it proved a turning point on what we decided to focus on - iPhone and mobile development.
CURRENTLY WORKING ON: My main role is supporting the other team members on their projects. I've recently been helping

"I feel TGC is ripe for growth. We have a great technology base in AGK. With billions of users now moving onto mobile smart phones and tablets we are well placed to take advantage of this sea change in activity."

design game levels for The Blobs, this was a nice change from the everyday business tasks. I'll be focusing on new app ideas and how we can best promote and sell AGK.

THE FUTURE: I feel TGC is ripe for growth. We have a great technology base in AGK. With billions of users now moving onto mobile smart phones and tablets we are well placed to take advantage of this sea change in activity. It's a very exciting time for TGC and it's a great time for indie developers - just look at the great successes on the App Store recently with games like Doodle Jump and Tiny Wings!
My Doodle Game, a new way to Get Creative
My Doodle Game is a fun and creative game making tool, with it you can literally draw your own games and then have hours of fun playing them!
Make a scrolling shoot-em-up or a fun platformer, it's so simple to use and the results are instant.
The application comes with some pre-made characters and games. You can use these or just draw your own and build up a personal library. You can mix and match heroes and enemies and make some really wacky games. Personalise your games with your own wav sound effects and mp3 music. We're sure you're going to love My Doodle Game, it's instant fun and if you have kids they'll be fighting for control of your PC to make their own. Bring your game ideas to life in this awesome new game making tool from TGC.

Visit the Doodle Game web page for full details and to purchase the game. You can also find the gallery containing some great ideas for starting your own game.
100 Games from the TGC GameSphere - Part II
We continue with our countdown of 100 games and apps created with TGC languages, or by TGC themselves. We'll continue where we left off, with the legendary games from Starwraith.
21. Evochron legends
Evochron Legends is an advanced freeform 3D Space Combat, Trading, Racing, Exploration, and Mercenary Simulation. This is the new sequel in the long-running series, programmed in DarkBASIC Classic by StarWraith.
22. Evochron Mercenary
Trading commodities while sneaking past hostile forces, racing the best pilots in the area, mining for diamonds, negotiating for survival, spying for a curious energy company, cleaning dirty solar arrays, transporting an impatient passenger... and that's just on a Monday. The life of an independent mercenary is rarely without excitement. You control your destiny in true freeform gameplay with a variety of activities and objectives to complete. Accept objectives under contract or make up your own.
23. Towers
Build circular towers, brick by brick in a Tetris-inspired puzzler. The pieces drop from above and you can spin the tower around to put them in place (you can also rotate the pieces of course). This is a 360 degree Tetris build, and a far better and most addictive game because of it.
24. Netboku
Netboku, as it's name suggests is a Sudoku based puzzler designed specifically for Netbooks. The graphical presentation is spectacular, and with the help of TGC it is now AppUp-enabled and ready to play.
25. Tilted Video Poker
Tilted video poker is a poker game played against the computer. See how much money you can win! Starting out with only a measly $1000, see if you can turn that into many millions, or maybe even billions! The game is a remake of the classic casino video poker game where the aim is to make a good five card hand by throwing away the cards that you don't want, and hoping that the dealer is on your side!
26. Interactive Art Show
Interactive Art Show is a site dedicated to the talents of a number of artists, including Kelly (aka Dark Vomit). What sets this apart from other similar sites is that the pictures adorn an FPSC gallery in amongst an FPS game.
27. Last Life
So you're the last of your species alive on the planet. But wait... You're a plant. Winner of 'Best Gameplay' at the GCAP 09 Indie Awards. This is an award given out by the GDAA (Game Developers Association of Australia)
28. The Last Stand
This is an alternative take on the Shoot-em-up game. Rather than hunting down the enemy zombies, your Last Stand involves holding your ground and shooting anything that lunges out of the shadows at you. The graphics are excellent, adding fantastic atmosphere to a simple concept. Work your way through a number of levels in different backdrops and using a variety of weapons. Best Graphics Winner in the Games for Netbooks competition.
29. Shape Wars
This is a simple game with some great game play. You're in a world of primary shapes and have to blast your way through. It's just the sort of game to fill a few spare minutes between meetings, on the train or when you simply need a distraction.
30. Search-Lite
This is the all time classic Wordsearch puzzle translated from paper to the netbook. In keeping with the traditional method of play, you draw a line through the words as you find them and they are automatically crossed from the list. There are easy, medium and hard puzzles to play. The ambience of the game is very relaxed and stress-free.
31. LeapFrog
Leapfrog is a modern take on the centuries old wooden 'Peg-Solitaire' game. This game includes seven playable games from the traditional English game to one of six European board layouts including "The Corsair" and "The Apostles". Your best completion times are recorded for you to try to beat next time you play.
32. Soma
3D puzzle game invented by Piet Hein in 1936. You move and rotate 7 different shapes to try to make them into a 3x3x3 cube. There are a possible 240 solutions to this puzzle! There are also a selection of textures and backgrounds to choose from.
33. Alien SuDiceThru-Xtreme
Based on the game Sudoku-X, you will laser a number thrown by a dice throw, into a square in the grid. The square selection is from your flying saucer target sights as it scans across the grid. As the flying saucers scans the grid, aliens will appear, preparing to abduct your previously placed numbers.
34. LogicMaster
A recently published game to the AppUp store, by community member Juney.
35. Trillion Ball
A multiplayer action fighting game with online support and a cute cyberpunk art style. This was a winner in the 24 hour coding challenge at the Intel Developer Conference 2010.
36. Climb that big tree
One of the few 3rd person platformer games on the AppUp Store, Climb That Big Tree says it all. A quaint short game with a memorable twist. Grit your teeth and keep on climbing
37. Super Static Party
It only takes one to get the party started; get-on-up and save this place from eternal gloom! The least-serious 'serious game' to date, Super Static Party is the only game in existence where the goal is to just PARTY!!!
38. Driving Test Success Practical
Released at the start of November 2003, Driving Test Success Practical was produced by The Game Creators and publised by Focus Multimedia. It lets you practice, revise and refresh the essential driving skills taught to you by your Approved Driving Instructor, before and after lessons. Featuring a virtual 3D car and town, you are able to practice, under instruction, many vital driving routines on your PC at your leisure.
39. Driving Test Success Practical Simulator
Practical Simulator provides you with a fully interactive training programme that covers everything from the cockpit drill to the day of your test. This comprehensive computer-based training package will teach you how to acquire and maintain the safe driving skills you need to advance through your driving lessons and pass your test.
40. Driving Test Success Road Signs
Learn the meaning of over 500 UK road signs in their actual settings. Being able to recognise and understand the meaning of road signs is vital to developing safe driving and hazard perception skills. Knowing your road signs is also essential if you want to pass the official DSA Driving Theory Test.
We're not half way yet, there's plenty more to come later...
Here come The Blobs!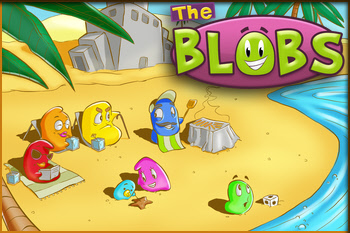 Immediately after launch, The Blobs started to receive great reviews from various sources, and here we have indulged ourselves by reiterating some of the highlights:
"[The Blobs] is exactly like those tilting mazes from your youth, only harder, greener, and infinitely more fun than you remember...I truly loved the opening animation, and the art-style of the game is every bit as pleasant...if you are a fan of well-designed games (or those ye olden marble tilt puzzles) The Blobs is a wonderful addition to your Games folder." - The iPhone App Review
"What an awesome little gem of a game. Take your labyrinth 2, turn your ball into a gooey blob-y thingy that can split into pieces, throw in a charming story line, create cutesy sound effects, cover it in hand drawn graphics and sprinkle with fun--you've got The Blobs" - iTunes customer review
"...the game is excellent. It's a very unique and entertaining spin on the old (and more boring) game called Labyrinth...I don't like labyrinth, I imagine goo isn't too much fun, but together these two things are great. 4.5/5" - What's on in iPhone
Video Review
The Daily App show have produced a video review of The Blobs, available on their website. The review will give you the opportunity to see the game being played, and watch the tilting controls guide Brother Blob through the mazes and avoid the numerous obstacles.
About The Blobs
You play the part of Brother Blob, a cute little green guy whose body can split into multiple pieces. After disaster strikes the family are split up and you must help him search through 120 fiendish levels to reunite them all.
Players will travel through six different terrains, from the heavily wooded "Secret Forest" to the harsh conditions of "Metal Defence". Gamers move Brother Blob by tilting their devices around and sliding him towards the exits in each level. His fluid like body can squeeze through tight gaps and he can even split into separate pieces (making things very challenging!)

Brother Blob moves in a very unique way which players will have to master the skill of to guide him in his mission. Here's a taste of what's in store;
120 Levels across six different zones
Unique meta-ball physics used to animate Blob
Pick up bonus stars in each level
Avoid spikes, holes, trap doors and firing cannons.
Resist blowing fans
Spin around in roundabouts
Flick switches to open doors
Unlock exits by solving sequence puzzles
Push past crumbling rocks and bounce off bumpers
Destroy robots and teleport through portals
Speed past electrified areas and avoid shooting turrets
Can you save all the Blobs and bring sanity back to their little world? You can get the game now from the App Store.
DarkBASIC Professional News


Everything you need to know about both DarkBASIC Professional and FPS Creator development can now be found via Lee Bamber's Tweets. You'll get to hear about every bug fix and feature as it's implemented! In fact if you had been signed up earlier in July, you would have been notified about BETA 6 of FPS Creator while it was being uploaded for public consumption.
Start following Lee now to get the latest news about your favourite development tools as it happens.
TGC Software in the World of Therapy

The Game Creators have recently been involved in the creation of an application to help in the therapy of individuals with dementia. The software development was headed by Lee Bamber, and is coded predominantly in DarkBASIC Professional.
Welcome to Dementia Life...
Dementia Life has created digital reminiscence therapy software, (DRTS) combining interactive games and entertainment. This stems from several government funded projects, and a global recognition that many forms of reminiscence are effective in the care of individuals with dementia.
This software encourages the health and well-being for the elderly and people with dementia, proving to be an entertaining interactive program that promotes thoughtfulness and conversation.
The simple and easy to use programs have been designed to work with touch-screen technology. The software comprises of several simple, engaging games and thousands of digital media content items, drawing upon carefully selected photographs, T.V. shows, music and film clips from the 1930's onwards. All of this has been specifically chosen for people with cognitive impairment, encouraging them to reminisce and share their memories.

You can learn more about the program and Dementia Life on their website. You'll find more information on the background and continuing cycle of testing and refining the software.
DarkBASIC Professional meets Game Trailer Production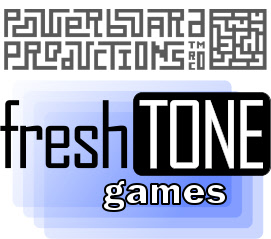 Max Vasey and Powerboard (Last Life, Super Static Party) have been doing some contract work for FreshTone Games who specialise in iOS titles. Their work involved producing a trailer for the client's lastest innovation, One Single Life. Because of looming deadline restrictions, FreshTone needed to produce high quality video with professional animation and existing assets in fewer than four working days.
With a long history of real-time rendering and machinima projects, Powerboard had the answer: a custom-built scene editor for objective coding in DarkBasic Professional. By blending the production speed of objective coding with the reliability of a procedural codebase, Powerboard built the entire real-time video editor and produced a superb, classy trailer with time to spare. When things get tight and traditional production just won't cut it anymore, there is always an innovative solution. Once again, Powerboard has fallen back on the reliability of DarkBasic Professional to get the job done. Here is the end result.
Digital Skills Content Expands Again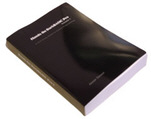 Digital Skills are still hard at it creating DARKBasic Professional material for you dedicated programmers out there. This time it's an article on creating counters and timers using sprites. The article is in two parts - the second part will appear next month. Part 1 shows you how to create counters and demonstrates their use in a simple game. You'll find the material on their website - http://www.digital-skills.co.uk/.
Dark Game Studio Bonanza
Special offer while stocks last: Dark Game Studio, Dark Physics, Dark Lights, Dark AI and Extends for an incredibly low price of $49.99. Save over $170!
Creating your own PC games is now easier than ever with this special compilation of game making tools:
Dark Edit
Demo Games
Physics Demos

Order Now

Save over $170 on this special deal. Be sure to check out the screen shots and the online videos. You can of course order safely and securely online, for delivery via postal mail.
Making a Free Installer for AppUp Games

by Steven Holding
One of the largest problems faced by most Dark Basic Professional AppUp developers up until recently has been building a 'free' installer for their game. The main reason for this is Intel's strict rules for validation. Some of us have tried and failed to build an installer using a free "msi" builder such as WarSetup and have used the trial version (or purchased the full version) of Visual Studio to get past the difficulties.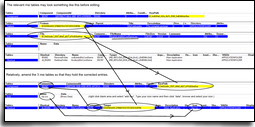 One forum member however has managed to find a solution to the problem by using WarSetup and a free Microsoft tool called "Orca" to build a free and more importantly 'valid' installer.
Juney built the installer for his newly validated App "LogicMaster" (which is reviewed below) using WarSetup and Orca and has passed his insights on to the community via the AppUp DBP Developers Group. The guide (in PDF format) can be downloaded from the forum here.
Some developers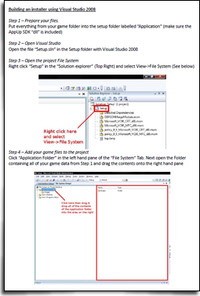 (including myself) are using Visual Studio 2008 to produce installers for their AppUp games. If you are using Visual Studio you will still need to include a few DBP specific items. Luckily I'm able to help on that front too, below is a link to a 'Blank' Visual Studio project solution which I use for all of my own AppUp installers. I have also produced a guide which tells you what to do with your DBP files as well as within Visual Studio itself to build your installer! This 'template' has been used to successfully get 7 Apps through validation (not counting numerous edited versions of each App!).
The Guide can be downloaded (in PDF format) here.
The Template / Solution folder (including all the necessary files other than the AppUp "dll" which I have not included as it is constantly being updated) can be downloaded here.
What else stands between you and AppUp?
So hopefully you have an idea of the kind of things you need to think about while coding from last month's newsletter, now you have everything you need to know about building an installer (free or otherwise). So what else is there?
Join the AppUp Developer Program? "Fast... Easy... Takes 1 minute" or so it says on the web site, I seem to remember it took slightly longer than that but not much!
Integrating the AppUp SDK? Lee Bamber has provided some great tutorial videos on YouTube which cover the minimal amount of work involved. Essentially you need to:
Install the SDK on your PC
Register your 'App' on the AppUp Developer Program site which gives you an App 'ID'
Use the ID in some DBP code at the start of your program provided by Lee
Sound difficult? That's because it isn't... so what's stopping you? Sales are increasing constantly on AppUp. Even if the money doesn't tempt you but you would seriously like to get into the games industry then having a few published Apps is always going to look good on your CV!

Created by Juney, this is a game based on the code breaking board game "Mastermind" boasting an impressive 2240 levels. Essentially there are a number of different coloured / shaped pegs in a particular order which you as the player are trying to figure out. If you guess a shape, colour or position correctly you get a particular coloured 'peg', if you guess the shape, colour and position correctly you get a different coloured 'peg'. You can also choose to play at your leisure or against the clock if you like to really stretch those brain cells!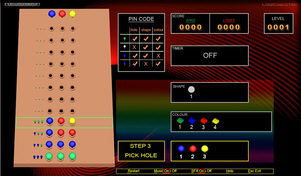 The really tricky part is working out which of the properties you have guessed correctly. This is a great puzzle game which puts a new spin on the 70's board game and really tests your ability to think logically, even if you still need to use a certain amount of guesswork.
I fondly remember playing the original version many years ago and I think this version will pleasantly infuriate anyone who thinks they have a logical mind!

Also being the first DBP game to be published on AppUp using an installer built for free it is a testament to Juney's perseverance and game making ability. Go to the AppUp website now to download.

The game play in 'Colors!' - a game by Joshua T Garland (Darkvee) - is really quite original. You have to find hidden objects based on their colour, every object you find gives you a letter from a password which can be used to 'defuse' a water bomb. If you run out of time the water bomb will go off and it's game over. The harder levels are actually really tricky as you have to avoid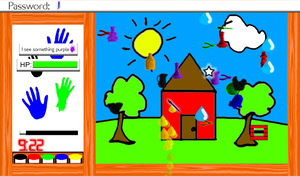 'raindrops' with the cursor while looking for the next object. If you are hit by a raindrop you lose some health but you can replenish your health by picking up stars. As you might expect the number of raindrops increases with the difficulty level.
The game can be played by a very wide age range, my 6 year old son loves it and is constantly badgering me to let him play it on my Netbook but I never mind too much because he likes to watch me play it on the harder levels!

The game also has a fun interface and a consistent, well executed style. Overall this game is surprisingly addictive and very well produced. Download the game from the AppUp website.
TGC Profiles - Mike Johnson
Mike Johnson has been with the company for many years, long enough to have seen the progression from DarkBASIC Classic through to the AGK...
TGC Profile - Mike Johnson
HIGHLIGHTS: I've worked on a wide variety of projects over the years. One of the first things I did was to create a set of commands for DarkBASIC. That was memorable because it was my first project. Other highlights include the development of DarkBASIC Professional, meeting people at conventions and more recently a change of direction with projects on mobile platforms.
BEST MOMENT: Probably the best moment was seeing Smack It! released in the App Store. It's only a very simple game, but it was actually my first complete game. Prior to releasing Smack It! I had made a lot of demo programs over the years, but for some reason never actually made a complete game, so I was pleased to make that happen and it has proved to be a success in the app store.
LOWEST MOMENT: Meeting Dave Milton for the first time in Chichester! That's a joke, and a very long running one. The team work well together, and the feuding between myself and Dave is part of the camaraderie. Bear this in mind when you read his profile!
CURRENTLY WORKING ON:

"A few years ago I could never have imagined the success of mobile development. It's incredible how things have developed, and seeing all the success stories from small developers is encouraging for us all. "

I have been working on a game called The Blobs for the iPhone, which will have been released when you read this. My role on this has been to add the menu screens, set up in-app purchase, integrate OpenFeint, add sound and music, and get the game ready for submission. I'm now returning to AGK to work on demos and game apps to show what it can do.
THE FUTURE: A few years ago I could never have imagined the success of mobile development. It's incredible how things have developed, and seeing all the success stories from small developers is encouraging for us all.
100 Games from the TGC GameSphere - Part III
The next collection of games takes us through the half way mark. Here we have included more than the lion's share of competition winning games.
41. Quartet
Quartet is a fun, fast paced matching game. The goal is really simple: you get given a face part each round, place it in one of 4 slots around the board and try to create a face. It sounds simple enough, but not when you're up against the clock! You only have so much time to place a face part in a slot so fast reactions are needed, and you're faced (pun intended) with the choices of attempting to make a full face match, a partial face match or just frantically finding a free space for the face part. The more complete your face is, the more points you score.
42. Chalk Invaders
We need to look back to the eighties to describe this new presentation of an all-time classic. Imagine drawing a game of Space Invaders on a chalk board, frame by frame, and using stop-motion photography to create a film of the results. Chalk-smears add to the confusion as the aliens, bullets and player swipe along the board. In an ingenious twist, your ship is redrawn on the board with a stick of chalk each time you lose a life. Prizewinner in the Games for Netbooks competition.
43. Flyhard
This is a quality game, no doubt about it, which is why we awarded it 1st Place. Flying the helicube takes a little getting used to, at first it appears to be quite unresponsive but you soon learn the tricks required to keep it in the air while ferrying your precious cargo around. The level design is great and the puzzles ingenious.
44. Crash Tester
Second place in the PhysX competition. This game has the usual degree of flair and polish that we have come to expect from Kenneth Bugeja, a long-time supporter of our competitions. The game concept is original and most of all, fun.
45. Rolling Fury
Third place in the PhysX competition. This is a quality game, make no mistake about it. Sure, it is fiendishly difficult, and at times frustrating, but it is still pulled off with a real sense of panache.
46. Labyrinth
Labyrinth is a compelling ball and maze puzzle game with a twist. Using special squares on the map, you can change your rolling ball to stone or paper material types.
47. World Championship Darts
Third place entry by dvader in the first Community Competition, this is a classic dart board simulation. With great, simple, clean graphics and a good attention to detail, the game throws a few curves at the player making game play challenging and worthwhile.
48. Retroids
Third place entry by Dragon Knight in the first Community Competition. A classic remake of Asteroids, this colourful, fast paced game makes for quick and exciting game play
49. MPL3D Solar System
Applications don't get much larger than MPL3D Solar System. It would be fair to say that this one is astronomical, in all senses of the word. Manuel Perez de Lema Lopez and his team have used DarkGDK to map out the majority of the close known universe. Stretching beyond our own Solar Sytem, it reaches out to include another 120 extrasolar planets amongst over 10,000 mapped objects in this interactive simulation.
50. Odds On Quiz Game
This quiz game by Jammy has an alternative approach by connecting the scoring system to a horse race. The better you perform in the quiz, the faster your horse races. You can even place bets on how fast the questions will be answered! The game won first prize in the Community Competition
51. Bushido Shuffle
John Ribbins, AKA Butter Fingers, is back with another mouthwatering display of graphical excellence. Bushido Shuffle is an Eastern adventure in a novel-styled 2D World.
52. MetalMorphosis
Fans of hardcore first person shooter games are challenged to test their skills and abilities in MetalMorphosis, by Cash Curtis. This action packed futuristic shooter features adrenalin-pumping destruction and mayhem from the beginning, and is guaranteed to test the stamina of any trigger-happy fans of the genre.
53. Dicetroids
One of many mini games by Ibol, enhanced with the graphics of David Gervais. This is asteroids with dice, including online high scores.
54. Teaching-you Touch Typing
If you use your computer for word processing, email or chat, Teaching-you Touch Typing will noticeably improve your productivity, creativity and communication skills at all levels. Ideal for anyone looking to improve their typing speed and accuracy, Teaching-you Touch Typing is like having your own personal tutor, but at a fraction of the cost! Watch your progress improve over time as you complete each of the customised lessons designed to improve and strengthen your overall typing skills. Whether you're new to the keyboard or simply want to refresh your existing skills, this fun and easy-to-use interactive training course will soon have you typing like an expert! Includes 10 games written by TGC community members.
55. Lunar Lander 2020
Installed at the 4 Lunar Landing Simulators at NASA's Johnson Space Center, this software written in DarkBASIC Professional allows you to experience the technicalities behind landing on the moon.
56. Soul Hunter
SoulHunter is a 3d adventure game, developed in DarkBasic Classic, in which a troubled creature has to travel through a dark forest in order to restore its lost soul. The game is heavily inspired by the Legend of Zelda series of games, and has an artistic style reminiscent of that in the Rayman series. In the game you control the creature known only as "SoulHunter". Wielding a magical sword and an old shield, you have to battle your way through the forest, encountering different monsters whose souls you have to absorb in order to stay alive.
57. Earth Space Fleet
This game by Ermes is a huge space sim. It features 120+ different ships, 60+ missions, Unlockable ships and Unlockable missions. The game includes 3 tutorial missions to help you familiarise yourself with the controls. Once you've completed these, you'll be ready to start assembling your fleet and commence your fight for the freedom of Earth! As well as mouse and keyboard control, gamepad control has also been integrated.
58. Mono
This is one fun game and we strongly recommend you download it and give it a play. Described as "Part Asteroids, Part Robotron and Part Paint Shop Pro" you are left wondering just what is in store when you start-up this sublime little shooter.
59. Duotris
DUOtris... Sounds a bit like a fairly well known game right? Right. A lot of games that have grown from other games lack the flair and fun of the original right? Right. DUOtris falls foul of this common trend right? WRONG! DUOtris is a fun and interesting twist on the puzzle genre
60. Duo
Created with DarkBASIC Professional DUO is an old-school style 2D blaster that is just too addictive for words! If any of you remember the psychedellic Jeff Minter/Llamasoft classics like Tempest 2000, GridRunner or Photon Storm, then you will have some idea of what to expect. The premise is simple - blow the living hell out of everything!
We may be past half way, but the countdown is far from over and will continue shortly
100 Models, 100 Textures - Free to download!
Josh Mooney has been busy again, and has compiled a celebratory collection of 100 models for you to download. There's everything from tanks to warriors and henchmen. And if that's not enough, there's also 100 textures packaged and ready for download too!
Both packages can be downloaded from our server:
You can find out more about Josh's work including 2D and 3D art, free models and textures, on his website, jlmoondog.com.

The Game Creators Product Timeline
I began this article listing out what each update to DarkBASIC Professional has added to the language from the first update back in September 2002 to the present day. By 2005 the piece started to sound more like a shopping list, and who wants to read a shopping list? Instead, let me give you some statistics.
There have been 32 updates since DBP was released.
The smallest update included fixes/additions.
The largest update included 350 fixes/additions per update.
(The journey is so long, some of the early fixes were all about compatibility issues with various graphics cards of the day, and popular file formats such as BSP and MD2.)
There have been nearly nine years of continual development
The language has expanded from just over 700 commands to literally thousands, and the capabilities of the language have expanded ten fold.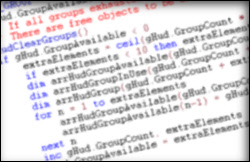 To even list the features of this tool would consign you to another shopping list, so I will cherry pick the highlights from the last decade. The most understated feature of the language has been it's ability to keep pace with the periodic introduction of new technologies, be they graphics cards, peripherals and even operating systems. No matter how wonderful the commands were, the executable still had to run under every possible combination. With a solid foundation in place, we took the decision to augment the language with add-on modules which would significantly accelerate development for games and application coders. We added modules for terrain, enhanced system integration, lightmapping, physics, A.I, printing, advanced mathematics, shaders, networking and so on. We also found tools from third parties that complemented the language so we could provide the resources every application needs such as models, sound and music.
After a while, it also made sense to release code snippets and tutorials through the site in an attempt to make sense of this huge beast we had created. It did not take long before books started to appear about DarkBASIC Professional, instructing users new to coding how to take their first steps in what would be their first programming language. If DBPro had a legacy to leave for future generations, it would be that it provided a relatively safe sandbox in which to play, learn and create. A combination of freedom and flexibility allowed both casual and serious coders to take the time to learn and use the tool, and has in turn produced a decade of titles that may not have existed otherwise.
One area we felt ambivalent about was our policy on adding hundreds of new commands every year or so to our free update. In one respect, it kept the language growing, but it also introduced many opportunities for those commands to perform poorly in concert with more established commands. A case of two steps forward, one step back. This I think created a sense that DBPro was in a constant state of bug fixing, which is not the ideal picture you want to paint for your product. It also created the business scenario whereby a customer can buy your product for £40 in 2003 and still be using it in 2011, which works out at about 1 pence per day!
On the positive side, to supplement our Penny Empire, we had a vibrant and vocal (and growing) community of coders who made sure more people knew about DarkBASIC Professional, a marketing dream come true. Along the way, I have learned so much about everything that surrounds the development of a language, and prepared not to make the same mistakes again. In fact, I'm eager to make entirely new mistakes in the decade to come. Here are a few extracts from my language makers handbook;
Documentation Is King. If your user does not know how to use a command, they will not use it (or very occasionally ask someone, but don't rely on this).
Compatibility Is King. If your user's users can't run the application on a converted toaster, your user is going to blame you!
Community Is King. If the majority are telling you something is wrong, something is wrong!
I dare say I have a few more Kings in my highly suspicious deck, but these are the ones that could keep me awake at night if those rules are broken. Presently, we are working through the final tweaks of the U7.7 which is the 33rd update to DBPro and will introduce 39 new fixes/additions to improve compatibility with the new SP1 update for Windows 7 64-bit, add compiler support for a new module, radically update many of the internal structures of the language improving performance, stability and consistency. Product wise, we recently decided to launch the standard version of DarkBASIC Professional as free with a small in-house ad window on the editor screen, opening programming up to everyone. We also created a compilation DVD of our coolest game making tools and resources called Dark Game Studio, which is still going strong.
For the future, we have a cunning plan, and that plan is called AGK. This plan will allow you to take a huge amount of your DBPro knowledge and with a few hours re-training start coding applications that will run on Windows, Mac, iPhone, iPad, Samsung Bada, Android, Windows Phone and also in browsers. From DBPro, AGK will take all the best bits, discard all the worst bits and provide a development tool that will see you coding happily into the next decade. We will continue to provide updates for DBPro, for as long as the community sees fit, and our hope for the future is that we can entice you to look at AGK over the next few years with a view to learning a few new tricks. I am a die hard DBP coder, and I use it to code almost everything I do, but I have to tell you I've only been using an early version of AGK for a few weeks now and it's VERY exciting. The code is so similar to DBP I can whip up small games in minutes, but the really exciting part is when I can transmit it instantly to the iPad and play it there as well. I can take it downstairs and show everyone what I am working on, and because touch based systems are so easy to use, I really mean everyone. If you fancy playing around with touch input, I have added extra support in DBP U7.7 so you can take advantage of the new touch-sensitive Windows 7 LCD monitors and touch based Windows 7 tablets currently available.
Whether you are a DBP coder or an early AGK coder, we've got languages that are poised and ready to take full advantage of what's coming in the next few years. So sit back, fasten your seat belt and get ready for the ride!
100 Issues, Now Score 100!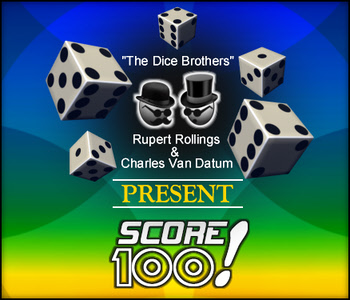 In recognition of this edition, David Gervais and Andrew Vanbeck have created a brand new, free game for you to download. The concept is simple - the first player to roll the dice and reach 100 wins the round. You can play against a friend, or pit your wits against Rupert Rollings and Charles Van Datum, the professional dice-rolling game characters. Roll up to 5 dice each time, calculating your odds as you near the elusive 100. Will you play it safe with the odds in your favour, or take a risky roll or two to beat your opponent hands down?
All of the graphics in this game have been beautifully crafted by David, while Andrew has coded the logic behind this novel concept. The interface and code have all been planned in a way that will allow other dice games - based on Yahtzee and other popular formulas - to be crafted without too much additional effort. We hope to bring you the source code and a more detailed insight into the logic of the game in a future issue.

As simple as the rules are, you'll find yourself playing over and over again in a bid to hit the perfect 100 without going bust. Download the game now, and have fun!
TGC Profiles - Dave Milton
Once known as a productive member of the TGC Forums, Dave Milton's talent was spotted by the team and ultimatley became a full time member, working on many of the projects around the core languages, but using those languages to their limits.
TGC Profile - Dave Milton
HIGHLIGHTS: Finishing any project is always a big moment, no matter how big or small that project might be. Writing Dark Dungeon, a very playable FPS game as a demo for Dark GDK was a lot of fun and something I was very pleased with as I only had four days to write it. Driving Test Success Practical Simulator seemed to take away most of my life, but was an enormous moment of joy to finish it. iDare going to number 1 in the UK and USA was a very humbling moment and I will admit to getting a little teary eyed over the whole thing (I wish Rick wouldn't poke me in the eye).
BEST MOMENTS: Seeing a picture of the Goals logo on the window of a big Intel conference and Goals being declared not only the winner of it's own category but overall winner of the AppUp competition was I think a jaw dropping moment. It was a magical time and one I will never forget. iDare being number 1 in the iPhone charts is equally momentous. (I guess it should beat it, but they are of equal precedence to me). Goals has been on 7 platforms now and has brought me a lot of enjoyment in not only coding it, but also playing it. Normally you tend to end up a bit sick of a game when you are close to finishing as you have played it to death, Goals I still play to this day and enjoy. I would also say becoming a full-time TGC employee has to tie with the previous two also (sorry to kind of cheat on this whole best moment thing!) As a kid it was my dream to be involved in the game industry and code for a living, the moment I became full time I realised I had actually achieved my lifetime goal. Now if I can get Beyonce to marry me I would have achieved everything I ever wanted to.
LOWEST MOMENT: I must say there has been a lack of low moments at TGC. The morale is always very high, the people I all look on as friends, not just collegues (yeah I am a coder, so I don't get out much - anyone is a friend!). Of course, there have been some low moments, the lowest being stood in a conference at Facebook, waiting for Social Arcade to get picked as a second stage winner. I remember hearing the first name read out and it suddenly dawning on me "hey, we might not actually win". When the last name was read out I remember feeling more than a little disappointed. We put our heart and soul into what we write - every one of us - and it is difficult in times like that to shrug it off and say "oh well never mind". Thankfully the highs have enormously outweighed the lows, and we must bear in mind that iDare was born on the journey back.

"As a kid it was my dream to be involved in the game industry and code for a living, the moment I became full time I realised I had actually achieved my lifetime goal. Now if I can get Beyonce to marry me I would have achieved everything I ever wanted to"

WORKING ON: Recently I have been working on The Blobs, a game we started last year and kind of put on hold to do some other things and came back to when we realised "hey that game was kind of cool". The main focus of my recent work has been a product called "My Doodle Game" which is a game maker for everyone. You draw your own scenery, your own characters, assign behaviours, tweak settings, assign sounds and you have a game. I have had a tremendous amount of fun writing it and am really hoping it turns out to be as much fun for everyone else.
THE FUTURE: Well the whole mobile games market has rocketed and is a really exciting time to develop in. It feels almost like going back to the days of the home computer where literally anyone could have an overnight success. It could be anyone and hopefully it will be someone using TGC tools. I am glad to be a part of it and am enjoying the ride, if you aren't in on it - check out AGK! I think AGK will be the best product TGC has ever produced and it is at the exact right time.
100 Games from the TGC GameSphere - Part IV
Binary Zoo completed our previous roundup with three of their well known titles. We start the next section with another of their loved games. We've also included a couple of commercially-driven applications here too.
61. Echoes
This Shoot 'Em Up (or 'schmup', as they are affectionately known) is Echoes, available as a free download now. It's an incredibly fast, beautifully presented, action-filled 2D game in the style of asteroids.
62. Call of the Dragon
TGC Competition winner. By far the most playable game in the whole competition. With lots of Bruce Lee style high kicking action this fast paced, enjoyable game is well worth a try. With many different moves to choose from, a wide selection of different enemies and a scrolling location, this game is a great example of what DarkBASIC Professional can do.
63. TravlHertz
This graphical masterpiece uses the FFT library to analyse the music, and generate the scenery and effects in real time. Source code is also available for this application.
64. How
How is a game in which you collect balls and drop them down a well. Yes, it really is that simple. There are a couple of other features to assist your plight, but like me you will probably spend most of your time wondering if you are playing the game how it was designed and if there is an alternative way to better yourself. And that, I suppose, is the ingenuity behind it.
65. Where
This game has a very stylish approach to presentation. The instructions are virtually non-existent and will leave you questioning your own approach to beating the game. I would be tempted to rename this game What If, which is the question I keep repeating everytime I need to make a decision.
66. G-Speed
Did you like Wipeout or F-Zero series? You'll appreciate this release too, but G-speed is free! A great future racer with 7 tracks and a Championship to compete in. With turbo, weapons and 8 different ships to choose from.
67. Brzdy
Pavel Rydl has created a tool for diagnosing trucks and trailers. Brzdy is a diagnostic tool that measures pressures in truck and trailer systems, the interface written in DarkBASIC Professional. Specifically, it monitors control and braking pressures, providing readouts of the results through the serial port and into the DarkBASIC application.
68. Cloth Leaves
PhysX Demos competition winner. This competition resulted in a package of physics demos to demonstrate the power of PhysX, and was sponsored by NVIDIA. This demo shows how cloth could be used in different ways, could be scaled between CPU and GPU, be both automated for passive viewing with the option of interactivity, and look awesome at the same time. Not only did this demo deliver, it added some great background sounds and had a very polished finish.
69. PhysX Rigid Bodies
PhysX Demos competition winner. This competition resulted in a package of physics demos to demonstrate the power of PhysX, and was sponsored by NVIDIA. Here is a demo that embodies all the fun of physics. How better to reveal the technology of rigid bodies than by giving them all to the user to play with. Simply select what you want to draw with and drop them into your simulation, and when you think you have created something interesting, hit play and watch what happens. The creative addition of elements produced intuitive scaling and the range of options made this a demo you spend a lot of time within.
70. Jammy-Soft (Soft Bodies)
PhysX Demos competition winner. This competition resulted in a package of physics demos to demonstrate the power of PhysX, and was sponsored by NVIDIA. From the very beginning, you just know that if you cut this demo down the middle it will have soft bodies running right through it. Even the main menu has soft bodies flowing through it! What we found unique about this entry was the quantity of different soft body simulations attempted, and given the nature of the technology, we felt James managed to demonstrate it very well. The scaling was good, and even pushed our monster machines to take full advantage of the GPU!
71. PhysX Fluids
PhysX Demos competition winner. This competition resulted in a package of physics demos to demonstrate the power of PhysX, and was sponsored by NVIDIA. The immediate grasp of the technology was instrumental in the range of fluid techniques demonstrated, and with professional ease, made the whole experience polished with a suburban graphical interface. It also provides a technique that even the judges did not consider possible. An excellent fluid demonstration!
72. PhysX Island
PhysX Demos competition winner. This competition resulted in a package of physics demos to demonstrate the power of PhysX, and was sponsored by NVIDIA. The demo is set on an island paradise, in which you can conjure physics objects all day long. Rain from the sky using real fluids, soft and rigid bodies abound, cloth spawned like magic and everything in between. Do not be surprised if you get carried away creating lots of scenarios to play out on your very own physics island. The visuals are awesome, the help a welcome addition and the whole experience really speaks about the emerging fun to be had with physics.
73. PhysX Ghosts
PhysX Demos competition winner. This competition resulted in a package of physics demos to demonstrate the power of PhysX, and was sponsored by NVIDIA. For a demo with atmosphere, look no further than the second place winner written by Waldemar Medina, depicting a spooky and haunted graveyard. Visuals are perfect, and the audio backdrop really adds to the scene. The scaling is good, and all the features we looked for can be found in the form of a dense downpour of fluids, soft body snakes, cloth ghosts and a rigid body simulation that pulls it all together. A very slick demo that shows how you can combine high end technology without sacrificing your theme or style.
74. PhysX Museum
PhysX Demos competition winner. This competition resulted in a package of physics demos to demonstrate the power of PhysX, and was sponsored by NVIDIA. The idea of a physics museum is great, and allows the user to tour the different techniques of physics and the help guides explain to the user what it is they are seeing.
75. Dead Ends
Disarming Britain was a Channel 4 production in the UK and of particular interest to anyone wanting to know if games written in DarkBASIC Professional can make the grade in the commercial world. Dead Ends, an educational Grand Theft Auto-styled game, forms a significant part of this season of documentaries. It is written in DarkBASIC Professional by RollingSound, and aims to educate through computer gaming. Young people were integral to the process and were involved in storyboarding, scripting, acting, animating and testing the game. For some young people this project has paved the way for full-time work in the video games design and media sectors.
76. Soul Control
A team of young people from across London have come together to produce a life-like computer game to warn their peers about the dangers of knife crime. The game, entitled "Soul Control" was created by a group of 20 talented young people from all around London aged 16-19, as part of a youth-led project by multimedia education company RollingSound. The project was funded by Mediabox, the £6 million Department of Children Schools and Families fund to help young people have a positive voice in the media.
77. Scalextric Track Designer
Track Designer allows you to create any design you can imagine. More importantly, it uses the full catalogue of authentic Scalextric track pieces and accessories, meaning that you can transfer your creation to a real construction, knowing it will work. You can even add your room layout to the designer to ensure you are working within the confines of the actual space available.
78. Santa's Sleigh Ride
Winner of the Minimal Media Christmas Competition. The concept of Santa's Sleigh Ride is simple enough - it's a side-scrolling game where the aim is to drop presents into the chimney pots below, whilst avoiding obstacles such as flying ducks, snowballs launched at you by evil snowmen, and the houses themselves. The game is immediately playable - and great fun.
79. Hexaxis XXI
Hexaxis XXI is an addictive, dice-based hardcore puzzle game. If you enjoy Lumines, or Bombastic, this game will grab your attention. More complicated than Lumines and Bombastic combined, but also intuitive once you learn the simple techniques. Line up the dice using the numbers on the sides - 2 twos, 3 threes, all the way to 6 sixes. Combos 'wipe out' when the wipe line crosses over them.
80. Vehicle Control technologies
Vehicle Control Technologies have taken DarkGDK to what is probably one of the most exciting and intensive environments we have seen to date. To test the manual flight mode of the BAE Archerfish mine neutralization vehicle, a visual display was added (including joystick) to the existing batch mode simulator using shared memory (aka "file mapping" in Windows speak). The simulation was used to help "fly" the vehicle using the GNC software prior to delivery. After delivery, a BAE test pilot was able to use the same simulator to help refine the manual control system design.
With 80 games and applications down, we have just 20 more to show you, following very shortly.
Games at The Game Creators
The Game Creators have a number of games to download and enjoy, including titles from a number of independent developers. This month we see the addition of Picaroon and Purify Puzzle. You can already take advantage of these and many other games on our site.
Picaroon
Picaroon is a free-to-play massively multi-player strategy game - battle, alone or with allies, as a futuristic pirate fighting to control the land in a water-world apocalypse. Build massive fleets, sail the seas (watching out for whirlpools, giant squid and pirates!) and settle or conquer new islands. Deploy Special cards to sink entire fleets, erupt volcanoes or call up a lightning strike! Revel in a unique climactic finale where you receive rare technology from the Warlord Kingdoms in return for your tributes: beware the mammoth ships that appear out of nowhere alongside submarines launching ancient nuclear tipped missiles. Picaroon has strategies for all, builders, attackers, defenders and diplomats.
Purify
Purify Puzzle is a puzzle game that pays homage to the arcade puzzlers back in the day. It features single player modes like 30 levels of arcade, and infinite survival and time attack. In addition to this exciting package, Purify Puzzle also includes intense local and online multiplayer, local and networked highscores, beautiful hand painted HD graphics, and a custom soundtrack.

These and many more games, including some of the Classic Game Creators publications you have come to know and love (Goals! and Mr Dork) can be found on the games page on the site.
TGC Profiles - Paul Johnston
In our final profile we introduce Paul Johnston. The newest of the full time team members, Paul has brought some incredible features to our products. The FPS Creator fanbase will be all too familiar with the superior artificial intelligence and light mapping in their games, just two of the features many of us take for granted in the latest releases.
TGC Profile - Paul Johnston
HIGHLIGHTS: I've worked on several DarkBASIC related projects, starting with Sparky's Collision DLL which I originally wrote so I could detect the collision of laser fire for a space game I wanted to write. Later I was hired by TGC to write the DarkAI plugin, and during this project realised I could apply my previous collision work to the light mapper in FPS Creator, resulting in the DarkLights plugin and beginning my regular work for TGC.
BEST MOMENT : Testing the first build of DarkLights after only a couple of weeks work and seeing it lightmap a sizeable FPSC level with 50 lights in 90 seconds was a good feeling. At that point I knew I had something special that could really help FPSC users in their level design.
LOWEST MOMENT : Probably my lowest moment was when working on DarkShader and realising that the grand vision I had for the interface would take far more work than I initially thought. This resulted in having to remove the scene graph method of constructing shaders from the design, in my opinion the most innovative part. On the positive side, we still have an affordable and easy way to construct shaders, accessible by anyone who is wanting to experiment in this field.
CURRENTLY WORKING ON : I'm working on the AGK engine making sure it operates and looks exactly the same on all devices. I also fix any bugs that pop up in the website.
THE FUTURE :

"I would never have guessed that mobile apps would become so popular nor that we would be developing a cross platform programming tool for mobiles. However mobile app development seems to be the place to be right now"

It is hard to predict the long term as, for example, I would never have guessed that mobile apps would become so popular nor that we would be developing a cross platform programming tool for mobiles. However mobile app development seems to be the place to be right now, and by developing a tool that can publish on not only mobiles but also on Windows and Mac desktops we are well placed to cover our existing install base and the emerging market.
100 Games from the TGC GameSphere - Part V
Here we go with the last 20 games in our countdown of 100 publications by TGC and our creative users. We've included some great games and demos by Grant Clark from over the years, and finished with a game created to accompany a commercial film.
81. Onae - The Adventures of Zoe
Onae is a 3D game, set in a make-believe world that is discovered when a mine collapses and sends Zoe and her assistant robot BuBot tumbling into the chasm. What makes Onae different is the fact that it is designed to be played by sight-impaired users. using a fully-integrated 3D sound system, it's possible to travel through the game and understand the surroundings and tasks. The game is also fully narrated, telling the story of Zoe, his companion and the characters they meet. The game is completed by solving various puzzles and tasks in order to return to the surface.
82. Lionheart Remake
Lionheart is everything you'd expect, and this rendition is faithful to the original. It includes collectibles, power-ups, enemies, obstacles, and of course the inevitable boss characters at the end of each level. The attention to detail is worthy of mention, and it is nicely finished with a fantastic soundtrack.
83. Final Exodus
First place in the NVIDIA Game Dev competition. Play the game RTS style or take direct control of a ship in your fleet. You can research new technologies, build new ships and capture new systems. The more you have, the more resources are mined from the planet. An excellent game and a powerful example of what DarkBASIC Professional can achieve with good solid media behind it.
84. Illusion of the Tower
Second place in the NVIDIA Game Dev competition. A good solid attempt at an anime style game, with Final Fantasy style characters, weapons and spells. The author creates a good visual setting for game play. The surreal feeling, combat, magic and other effects work very well together. With cut scenes to help push the story, this is a brilliant piece of work.
85. Nanoid
A classic retro remake, this game offers all it's previous incarnations did, plus a few new imaginative features of its own. From metal bricks you can't break, to glass bricks that let your ball pass right through, to bricks with hidden power ups, this game is loaded with features and lots of different levels to choose from.
86. Andromedus GUI Studio
GUI Studio from Andromedus Software is an intuitive drag and drop Graphical User Interface creator for DarkBASIC Professional. Written entirely in DarkBASIC Professional, GUI Studio makes it easy to create great looking interfaces for your projects without any fuss. You design your interface entirely within GUI Studio, using simple to use drag and drop techniques. What you see in the editor is exactly what you get in your project - no guess work, and no time consuming code to write.
87. Star Wars
This superb game won 3rd place in the recent Retro Remakes Competition. Watch the video to understand why! Then download the game and enjoy this mighty-fine remake. This is one of many games produced by Minionsoft
88. Bombzuka
Bombzuka is a faithful remake of the 16-bit classic Bombuzal by Image Works and accurately re-creates all of the 130 original levels! Bombzuka is a hardcore bomb technician at heart. What that means is that this 'cuddly' little creature spends all day and all night diffusing hazardous bombs and mines that he happens to come across as he leaps from one digital world to the next.
89. Paradox
Winner of the PhysX Hardware Competition. Your country has been at war for decades, and is nearing defeat, the enemy claims the war was started by an unprovoked attack against their bases and cities, however a recent development in time travel technology has made it possible to even the odds against the enemy attack, it's your job to go back in time and cripple vital enemy positions so that you will succeed in this war.
90. Helios
Built on a graphics demo and incorporating 8-bit arcade style gameplay. Helios plays fast!
91. Nanopod
Nanopod is Grant Clark's first game made with DarkBASIC professional, It plays very fast and is frantic blasting action with a slight thinking angle. Just kill everything on the level before the time runs out.
92. Blastroids
A remake of the ATARI classic Asteroids - welcome to Blastroids. It was coded using DarkBASIC Classic, and operates in an inertial environment with gravity and 360 degree thrust. All without the use of higher math functions!
93. Helios Rise
This demo seemed caused quite a stir when it was first released. It does not use shaders and runs on almost any GPU that can handle DX9. The demo was made to test a system for making a wraparound game environment for a Defender remake. It turned out better than was expected and became a demo in its own right.
94. Kalimee
Described as a 'surrealistic puzzle game' you are taken through a series of tasks, each slightly more complex than the first, that challenge various aspects of your being - from your patience, to your dexterity, to your mental agility. Each game section is woven together with nicely rendered full-screen FMV sequences that bring the world of Kalimee alive.
95. Mini Arcade
It's a complete Mini Arcade. You get 8 arcade machines to pick from, and can play all of the games on offer - they run within a tiny arcade cabinet, the displays being only 32x32 pixels in size! Yet you'd be amazed how much detail they have packed in. Full recreations of all the classics are there: Space Invaders, Asteroids, Pacman, Scramble, Frogger, Centipede, Arkanoid and Pole Position.
96. Gem towers
It's a 3D puzzle game. You must remove the required number of gems in order to progress to the next level. You do this by swapping gems so that they create a line of 3 (or more) of the same colour. You can only move the gems if they are going to create a set. You can spin the whole gem grid in full 3D, and gems have 26 possible neighbours, so you need to look carefully at the grid from each angle, to see if there is anything you've missed. As with most games of this nature, if you stack them correctly you can set off entire chain reactions.
97. Easter Journey
Originally created for the Caiman Easter Contest 2006 the goal of the game is to collect all of the eggs in each level. Viewed from a top-down perspective, the 3D levels have an almost Sokoban feel to them, but the variety from level to level is fantastic, taking you on a real journey.
98. Phoenicas
A challenging 2d shooter, giving you a fresh taste for action shooters. Now, you are plunged into space war turmoil, where a quick reaction and peace of mind are essentials, which your survival depends on. A special task is entrusted to you: you are to lead a convoy, which consists of 6 spacecrafts including yours. To your horror, your spaceship is the only firing vessel, which can stand in the gap for the rest of five. These five human spacecrafts are easy prey to various monsters, which inhabit the vast expanses of the universe. Your enemies are going to make numerous attempts to kidnap or to destroy you and all of these flying vehicles.
99. Yahtzee 123
Yahtzee 123 is a DBPro version of this classic game, with real-world dice physics, the all important high-score table and a slick clean interface. All the popular scoring modes are in there and this is a nice example of Yahtzee DBPro style. Download for free from the developers web site.
100. Tom Yung Goon
The official game of the film Tom Yum Goong was created in DarkBASIC Professional by Wasin Pirom and his Thai DB team 'Game No Limit'. It is a 3D beat-em-up game, where the player takes on the role of Kham and can use Muay Thai fighting skills to defeat the mafia and recover the stolen elephants. We filmed Tony Jaa performing all of his various fighting moves and real actions (walking, kicking, jumping, punching, etc). Then our 3D animators studied this footage and accurately copied the moves into the game.
We may be at the end of our long list of great games, but we can assure you the list goes on. If you've created something worth telling the TGC community about, or you've found a professional-looking game we haven't featured then let us know.
Model Pack 55 - Vegetation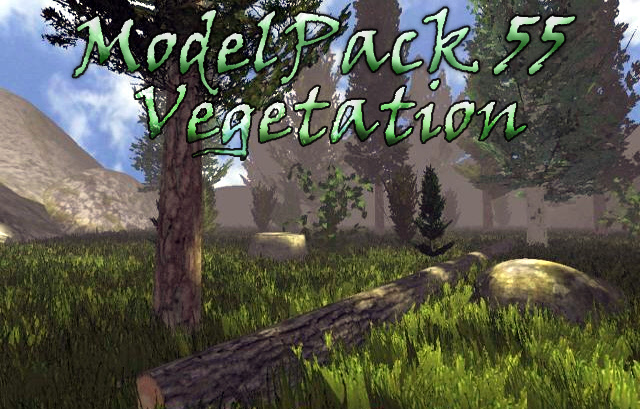 This pack contains a huge array of objects including trees, grasses, shrubs, rocks, and hills. You'll also find 10 sky backdrops with different variants of weather, choose from foggy, sunny, dawn, dusk, night, cloudy day and more. All of this is put together in one collection to make your levels more realistic and attractive.
Included in the pack:
10 sky boxes
7 ground segments
30 trees
Shrubs and grasses
10 rocks
5 cut trees
Forest hut
Misc. items including cobweb, tree trunks and firewood

This pack is available to buy now from The Game Creators' site. Full details of the pack and how to purchase can be found here.
Model Pack Updates
The following packs have all been updated to be fully compliant with FPSC U1.18, along with new features to show off the latest capabilities:
Model Pack 22 - Gore Pack
Model Pack 38 - The Metro Theater
Model Pack 39 - Zombie Apocalypse
Model Pack 52 - Viral Outbreak
All shaders now work with water and dynamic lighting - along with various other fixes. In particular, Model Pack 38 now includes a new map file called "The Metro Theater FLOODED.fpm" that really showcases the new water and post-processing features nicely, it looks great! New installers are available to download in your order history.
Richard Davey: Famous Last Words
I now digress from waxing lyrical about the past, as it's what I'm doing now that may be of most interest to you. Since leaving TGC and joining Aardman I've been privileged to have seen my career change quite dramatically. I am now the Technical Director of a large and highly skilled team. We're responsible for putting out quality digital entertainment based around both Aardman properties and external clients such as the BBC, UBI Soft, Sony and Lego. Some highlights from the last few years include managing a custom Google logo take-over for Wallace & Gromit's birthday - the resulting traffic to our servers was phenomenal, and took weeks of planning to prepare for! Also releasing the Championsheeps series of games for the BBC, a 5 game suite which was our first ever blend of cgi work and timeline animated Flash, and quickly became the 2nd most popular CBBC site ever.
And it was here that my career changed the most: in game development. As ironic as it may sound the amount of game development I did while working for TGC was minimal. They had hired me as a web developer after all, and it was there I set my focus, honing my knowledge of all things php/html/css. I would create the odd demo or effect now and again, but that was about it. A year after joining Aardman however we recognised we needed in-house Flash game development skills. So I sat down with a couple of books on ActionScript 3 and taught myself. After that first day I was hooked, and I haven't looked back since. It was the feeling of jubilation that I had something appearing on-screen, that was there as a result of me starting to understand and tame this new environment. And it just didn't let-up. It was a feeling very similar to the way I felt when I loaded up DarkBASIC for the very first time and had a sprite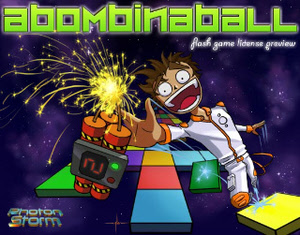 on-screen moving around, and then a 3D textured cube. Those were pivotal moments in my development life, and I'm sure a lot of you reading this can think of similar ones. I carried on learning Flash, released a game within the first couple of months, and haven't stopped since! In a strange twist of events TGC themselves have done similar - and of course now publish their own hit games, including conversions of a couple of mine!
The "game development" world in which we all exist has changed dramatically. New tools and products make it easier than ever to get started, the volume of information available on the internet (and the speed of access to that) is better than it's ever been. The fact that companies like TGC are still going strong is evidence that there is and always will be a real desire for people to make their own games. If there is one thing I have learnt over the years, it's that whatever you do, do something. It doesn't matter how primitive or basic your game, just get it started, finish it and release it. The TGC community has always been strong, utilise it to your benefit, let it help you get something finished.

In a strange twist of events and a sharp contrast to 8 years ago, I barely touch web development any more. My personal web site is now full of my games and stacks of game development tutorials and libraries to help Flash game devs out! It's like TGC all over again, but sat on the other side of the fence :) I'll end by saying a massive congratulations to Steve for what he's accomplished over the years, and with this incredible 100th issue! Also I send warm greetings to any of those reading who remember me, and of course the TGC boys who continue to do sterling work bringing game dev to the masses. See you in 2020 :)
Visit my web site at http://www.photonstorm.com/ or follow me on twitter: photonstorm
I Can't Believe it's FPSC

by Joakim Olsson (Cyborg Art)
In the spirit of Model Pack 54 and the 100th newsletter, it's now time for you to come up with a unique feature that is next to revolutionary for games, or at least for FPSC. You should record a video of the feature in action. Your feature doesn't have to work in FPSC right now, but you should be able to visually show it as if it is actually fully functional. This is not a competition about design, its a competition about thinking outside the box!
Grand Prize:
Any Steam games and/or add ons of your choice for a total value of €20 - $28 - £17
A TGC voucher worth €14 - $20 - £12
Second prize:
A TGC voucher worth €7 - $10 - £6
Rules:
You may use scripts, sounds, model packs, screen effects and video post processing etc. since it is the idea itself that is judged.
You may use any tools you own in order to create your entry
The feature should be somewhat working in FPSC (modded or unmodded or X10), or at least be able to work in the near future.
Feel free to use any of the screen video recorders avaiable, WeGame is recommended
The video should be submitted to YouTube and merged into the competition post on the forum before the submission date
Your entry must be legal, your own work and not in any way offensive.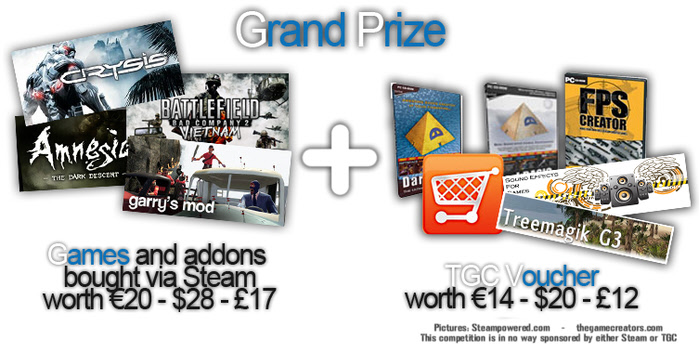 Judging
Your entry will be judged upon the following criteria:
Creativity - How creative is your entry? Is it unique?
The idea - How well the idea is used in your video, and if it is useful for its game genre
Awesomeness - Does your entry make the judges scream "I Can't believe it's FPSC!"
Submission:

Your entry should be uploaded to YouTube and posted as an integrated video in the thread, found in FPSC Chat, by no later than 31st May 23.59 GMT
This competition is not sponsored by either Steam or The Game Creators
The Game Creator Store - Updates and New Additions

New Store Additions
Student
This student is one of a number of characters from the Science Pack (Model Pack 44). Also included in this modern theme are numerous science and teaching items, all of which can be bought as a pack, or separately in the Store.
Select from chalkboards, desks, computers, chemistry diagrams and more.
Rusty Sink
The simplest items which we take for granted can make a huge difference to a scene. Looking back at Model pack 2, this rusting sink not only adds a lifelike normality to the scene, but it also tells the story through its decay, and sets the ambience.
Again the items in Model Pack 2 can be bought as a pack, or as separate entities through the store.
Prying Raven
Add a small pack of hungry Ravens to your scene to bring a horror-like chill. The jerky animation of these birds (as seen in the demo video here) is true to life and will leave you wanting to get away as quickly as possible.
Use in Graveyard scenes, or scenes with a lot of gibs, and in dark moody courtyards.
Peasant Man
A peasant man, or villager, good for a fantasy game. Unarmed and will walk waypoints by default, but can also carry any regular firing weapon. Uses a 1024x1024 diffuse texture.
All of the above models are available to purchase and download through the inbuilt Game Creator Store in FPS Creator and DBPro, and also using the standalone store for other game-making tools.
Pick up free Store Points
The Game Creators have teamed up with the leading providers of virtual currency; perform a few simple tasks and top up your Store points. As well as being able to take up exciting offers and receiving potentially thousands of points, there are a host of other tasks to earn rewards. Watch a movie trailer, rate search results, answer questions, tag photos or choose from a host of activities that will ultimately earn you any of the high quality models and resources to make your game shine.
Open the Store, through FPS Creator, DBPro or the standalone version. Log in to your account and select the Buy Points option. Below the regular payment options you'll find links to gWallet, Offerpal, DoubleDing and TrialPay. You'll immediately find yourself in amongst the tasks and offers available, and can start earning immediately by watching a movie trailer or two!
Upload Your Assets to The Game Creator Store
Did you know you can sell your models, segments, music and sky boxes in the Game Creator Store? We already have dozens of artists selling their media, and we welcome anyone with the talent to provide our community with quality assets to do the same. If you are interested in becoming a store seller, please contact Janet, our Store Administrator directly.
From the Forums
Valued Member Status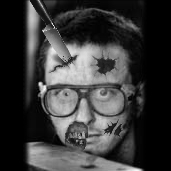 This month we add another Valued Member to the rostrum, for their services to our community. AppUp is already a thriving marketplace for Netbooks, and a great place for indie developers to sell or give away their games. Baxslash has made a fantastic contribution to our members, helping them to get their games AppUp-ready, testing and packaging for this platform. He has also created the AppUp Developers group to meet this need. Congratulations Baxslash for your well deserved status!
3D Competition
The 3D competition is in full swing again this month. We haven't had the opportunity to feature last month's winners and the new competition, but we encourage you to head over to the 3D Chat forum to take a look at the fantastic array of entries we received. The new theme of "Let it Glow" will also get your creative juices flowing.
This is the first ever post on the new look forums. It's an intoduction from Rich Davey as the latest version of the home-brewed Apollo made it's debut. With a few additional features it still stands strong today.
Back in October 2006, Hawkeye posted the one millionth entry into the forums. As a result, he earned himself every product ever sold on the TGC website through to 2007.
.
Monthly Newsletter Winner - $100 voucher up for grabs every month!

Join over 3,500 TGC fans on Facebook for the chance to win a $100 gift voucher each month. Simply add yourself as a TGC Fan using the "Like" button and then actively participate in the discussions at least once a month. We'll pick a random winner from all who input into the TGC Facebook discussions. The voucher can be spent on any of the products on our site. Sign up now, and good luck!