Some months ago we ran an interview with new TGC developer Dave Milton. Back then we announced he was working on a secret project that, for non-disclosure agreement reasons, we couldn't reveal. No more was said of it since then but we are pleased to announce that he has now completed work on the project and we can tell you all about it.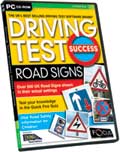 Following on from the massive success of the Driving Test Success PRACTICAL program The Game Creators drew up another proposal for Focus Publishing - Driving Test Success Road Signs. After various dicussions the green-light was given and Dave was tasked with the job of bringing Road Signs to market in just over 6 months. The pressure was on...
Q: Please tell us a little about what Driving Test Success Road Signs does?
A: "DTS Road Signs is an all-encompassing knowledge base for all the UK road signs. It is designed to help both learner drivers and kids with regard to road safety and understanding. There are 980 official road signs in the program, so even experienced drivers can learn something. For me personally (and I suspect most drivers) learning the road signs was never that interesting and usually just consisted of flicking through the Highway Code and trying to make sense of their often 2-3 word descriptions. I hope that DTS Road Signs will make people more informed and knowledgable."
Q: What does DTS Road Signs consist of?
A: "DTS Road Signs is split into different sections, the largest being the database. This contains all of the road signs and is also split into categories (Warning Signs, Signs giving orders, etc) You can filter the database to just show Highway Code signs. There are over 900 signs in 500 sections, making for a huge amount of data to keep track of. There are photos of the signs in real-life situations and fact sheets about the sign - where you'd encounter it, what you should do, etc. Plus lots of the signs also have videos with them. So there are pictures, videos and information in the database. It is all displayed in a 3D style - the signs flip and scale on, dance around, land with a puff of smoke, etc. There are lots of road markings too (also considered as road signs). Each sign can have a "other related signs" option to show you which signs go together. Once you've gone through the database you can test yourself with the Board Game or Quiz."
"The board game is 2D in presentation style, but rendered in full 3D. Think Monopoly, you drive around locations (city, motorway, country road, etc) and roll a dice to move. Landing on a square presents you with a question from 2 packs of cards which you must answer to progress. The questions can be text, image or video based which promotes awarenes of the sign itself, not just "what does this mean?". The board game is also for 1 or 2 players, but in 1 player mode you actually compete against the computer. The Quiz is a quick-fire quiz round, based on the game "You don't know Jack". Again you can play against the computer AI if you wish. A question will appear and you have a short number of seconds to buzz-in with the answer. It's a very quick panic quiz-show style game!"
Q: How long did it take to build DTS Road Signs?
A: "It started with Rick creating the design document which was then tweaked and adjusted over a quite long period of time until it was agreed and ready. I then made a small proto-type which we showed to the publisher (Focus Multimedia), that took around 2 weeks. Once they agreed the concept development started and it took just over 6 months in total. I worked with a Design Manager at Focus who produced the GUI layouts in-line with the rest of the products in the range. I personally created the 3D board game graphics while Rick did most of the photos and videos. He must have taken thousands of them! Driving around the country and going out with the motorway Police (because obviously you can't just stop on the motorway to take a photo of the signs!)"
Q: How many lines of code are in the final program?
A: "The main program has just over 17,000 lines of code, but I built many tools to help with development, so you can easily double that. The program was taking 10 minutes to compile each time towards the end of the project :)"
Q: Did you hit any stumbling blocks with DarkBASIC Professional while developing?
A: "There was one, although it was more a DirectX9 issue than DBPro. I found one important difference between the older versions of DirectX and DirectX9. When working in 2D mode it is easy to forget that although everything looks 2D, DirectX9 is 3D only, which means all 2D is in fact emulated in 3D. One knock on effect from everything being 3D is that all images are textures and must have an even boundary width. This rule is not noticeable on most machines, but for example any nVidia GeForce 4 MX/GO card will show garbage on screen when displaying an image that is not on an even boundary width. I would recommend anyone using 2D commands to ensure all their images are an even pixel to maintain compatibility with the widest possible range of cards."
"I wrote various tools with which the final program was built. For example the database constituted the main portion but there was no way I was going to manually enter thousands of photos, videos, etc! So I created an HTML style language to handle the database contents and built tools that remembered everything for me. When a new bunch of assets arrived I would simply drop them into a directory, start-up my program (DB Edit) and it would say "6 New Photos found" and then automatically resize, crop and save out the images as required and assign them to the road signs. Because of the large volume of text I also spent a long time looking at Word and how that handles text flow around objects, etc. I kept a very tight to-do list as well! I would say that more work went into the tools than the final program, but without them it would have taken me much longer to finish. Focus have a lot of test PCs and it was interesting seeing how it ran on old Pentium3 400s with ATI Rage cards! But it did work, and worked well. I had to fix a few issues relating to 16-bit colour appearing differently on different cards, but overall the problems were easily fixed."
Q: This product is going to be on sale across gaming stores, supermarkets and shops nationwide - as a developer how does that feel?
A: "It's great! Very exciting indeed. Road Signs was actually released on my birthday and I love picking it up and looking at the back of the box and thinking "I made that!". I actually built the master CD while at Focus in the final stages and it was a great feeling knowing that the thousands of CDs that will be distributed across the country all came from that master I built."
Driving Test Success Road Signs is on sale now priced at £9.99 and was created completely with DarkBASIC Professional. Dave is now working on the DarkSDK project.