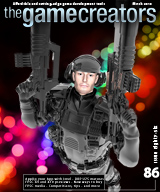 I added a great new word to my vocabulary this month: retrogression. It is defined as a return to a former and less complex level of development or organization. On the face of it, this may seem like a negative term, and it is in fact the antonym of progression. However, in terms of planning and designing a good game, this can be very positive. Many of the old classics - the Retro games - keep on coming back in various forms, and are still as addictive and popular today as they were all those years ago.
Whether you are desiging a retro game or not, the principles will stand you in good stead in the early stages of development. Think simple, both in terms of game structure and playability. You can add all of the things that make it really shine once you have a proven, working concept.
This month Lee shows you how to think retrogressive and code your games and applications for netbooks, whilst FPSC takes the opposite direction as we reveal some of the new upcoming features in the next release. In amongst there are reviews, tips and all of the regular features from The Game Creators newsletter.
Until next time,

contents
(1) DarkBASIC Pro (2) Intel on DBP (3) FPSC News (4) TGC Store (5) BOTB (6) Leadwerks (7) Tip Of The Month (8) From the Forums (9) FPSC Competition (10) 3D Compo (11) Winner (12) Outro
DarkBASIC Professional News - Upgrade 7.5 Update

More fixes and a strategic shift in the DBP camp means U75 is looking better than ever. Thanks to the invaluable help of two top coders, those last remaining editor bugs are being squashed and the engine is being overhauled via the new SVN inspired code base system. The code base is currently being used and tested internally, but the system is set up to expose the command modules of the

language on GoogleCODE and we will be able to announce that soon. As part of the overhaul, we are rebuilding all the modules in DBP, which means we must rebuild and test the FPS Creator source that accompanies the U75 Extras zip as well. The upshot is that U75 will be a fresh set of binaries built on a newer version of the Windows SDK. We have also developed a module which allows you to sell your DBP applications on the Intel AppUp store, so checkout the tip of the month on how to do that. The U75 beta is still available from the DBP forum, so if you want to check out the latest version, make a prudent back-up and go download the beta.

Countdown Timer Plugin
ShaunRW has created a DarkBASIC Professional plugin that provides two simple timing systems. These are:
A simple Timer Based Movement System that consists of 3 easy commands.
A simple Counter system. You can create counters (up to 255 at any one time), kill counters, count ups, count downs, get/set the counter value and more.

Two commands are also provided to get the Performance counter and Performance frequency, which can be used to make your own high resolution timing functions. The download includes help files that explain how each command works.
Stereoscopic Alliances

The Stereoscopic 3D Gaming Alliance announced two new members in February, the first of these being The Game Creators. "Stereoscopic 3D gaming is the most exciting and engaging way to deliver an immersive game experience, and only recently have we gained the technology and momentum to do this properly" says Lee Bamber. "S3DGA has been instrumental in driving this by creating the needed alliances between hardware manufacturer, software developer and the games playing public.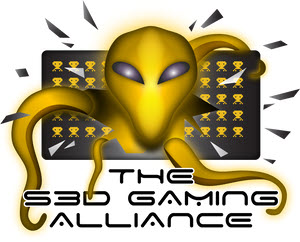 TGC recognizes the importance of S3DGA, and are proud to have been accepted as a member."
To put it in perspective, the second new member of S3DGA is HDMI Licensing. They are responsible for the HDMI connector on the back of most HDTVs. Their new HDMI 1.4 connector features official stereoscopic 3D support, and is expected to be the back-end of the majority of peripherals including 3D Blu-Ray players, Sony PlayStations, and more. It would be fair to say that with the support of HDMI, the technology is truly mainstream.
For those unfamiliar with S3DGA, the S-3D Gaming Alliance is considered the official voice and standards body for stereoscopic 3D gaming. Some of its leading members include LG Electronics, RealD, iZ3D and more. S3DGA is both non-profit and non-proprietary. Similar to the way the industry rallied around 3D Blu-Ray, S3DGA is a successful movement that is focused on making stereoscopic 3D gaming successful.
Dark Game Studio Bonanza
Special offer while stocks last: Dark Game Studio, Dark Physics, Dark Lights, Dark AI and Extends for an incredibly low price of $49.99. Save over $170!
Creating your own PC games is now easier than ever with this special compilation of game making tools:
Dark Edit
Demo Games
Physics Demos

Order Now

Save over $170 on this special deal. Be sure to check out the screen shots and the online videos. You can of course order safely and securely online, for delivery via postal mail.
iRepton - Retro is the new Black

Anyone who grew up in the eighties will remember the BBC B and Repton, one of the most popular games of the era. Superior Interactive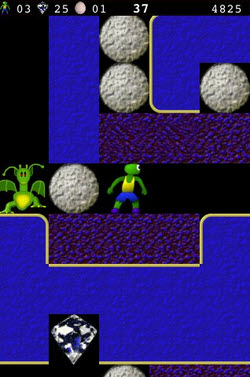 have breathed life into this classic, porting it firstly to the PC and now to the iPhone. It's not a TGC creation (unfortunately!), but it's a great example of how Retro is both alive and also the ideal genre for mobile games. The simple approach that was once forced upon makes a perfect framework within which to create compact yet addictive titles.
The eponymous protagonist, Repton, is a lizard that crawls around in an underground maze in a quest to collect diamonds by moving earth, pushing rocks and avoiding monsters! If you're a fan of logic puzzles, or just fancy a break from aimlessly wandering around shooting things then iRepton is for you!
With enhanced graphics and sound, iRepton introduces this classic game to a new generation on the iPhone and iPod Touch. Ideal for all players, from children to seasoned puzzlers.
iRepton is available to buy now for the iPhone and iPod Touch in the Apple App Store
Intel Demo AppUp using DBP
Bob Duffy is the Intel Community Manager. Here, he launches DarkBasic Professional from Intel's AppUp Center on his Netbook (Dell Mini 10). Bob shows off some of the prebuilt projects loaded with this version of DarkBASIC, including first person shooter and texture effects. Of all the applications available through AppUp, it's fantastic to see DBP highlighted as the one application that shows off the store and the technology together.
FPS Creator Updates

FPS Creator Migration
With the SVN code base established, and our first modder participant selected, the open source project is underway internally. The latest version of the code requires a new build of the commands, currently undergoing a beta test in the DarkBASIC Pro forum. Once Update 7.5 of DBPro is finally released, it will be 100% compatible with the code available through GoogleCODE. This means you can compile the exact same version as the official FPSC V117 but also make your own additions, and even submit them to TGC via GoogleCODE for consideration. We also recognise that contributions alone will not deliver all the features you are looking forward to, and development of FPSC will still continue by the original team!

In the forum we also had a few pages of unrest with concern over the final shape of the migration version, specifically relating to key features that have yet to appear. Based on this feedback, we have added two key features of the migration version into the current internal build of V117. We have improved the physics with the latest version of the ODE module and added in the ability for characters to be given a rag doll script. As the software must maintain the age rating, this script will not be made available in the official update but will be made available through the forum to anyone who wants it. The rag doll system allows characters to fall over and follow the contours of the surface they fall onto, and the system accounts for scale too. With the completion of DBP U7.5, the V117 source code will be publicly available through GoogleCODE so you will not only be able to check out the cool new rag doll feature, but every other feature we check in. For a list of these features, you will find a thread in the FPSC Chat called '-*FPSC Migration Discussion Thread*-'. A definitive list of the likely order of these features can be found here.
V117 Video Preview
As previously mentioned, we work closely with some of our more experienced contributors to make FPS Creator an even better experience for both the users and also their game players. Mark Blosser has been working away on some feature enhancements for the next release of the engine, including:
Re-tooled scifi media with new shader effects
Specular mapping with lightmapping
Animated light effects (pulsating and chasing lights)
X10 style normal mapping
You can preview these effects now in this video, a walkthrough of a level with these features enabled. The demo here shows the "Elite Room" segment from X10 running in X9.
FPS Creator X10
As some of you may have read in the X10 forum, shortly after we release V110 officially we will be preparing a special kit which will allow you to compile your own version of the X10 game engine. This means you will be able to enjoy the same ability to mod X10 as the X9 users have enjoyed for over a year now. As a bonus, you will also get your hands on a legacy copy of Dark Basic Pro that has the ability to compile DirectX 10 applications. Although the X10 source code and special build of DBP are unsupported, it should not prevent you from stepping through the code and making changes and additions to suit your project. Look out for an announcement in the X10 forum, shortly after the official release of V110.
Interactive Art Show
Interactive Art Show is a site dedicated to the talents of a number of artists, including Kelly (aka Dark Vomit). What sets this apart from other similar sites is that the pictures adorn an FPSC gallery in amongst an FPS game. You may recall a similar application was featured in issue 84, showing that a little imagination can find many ways to use your game engine. You can download and view the full gallery in a game at the Interactive Art Show website.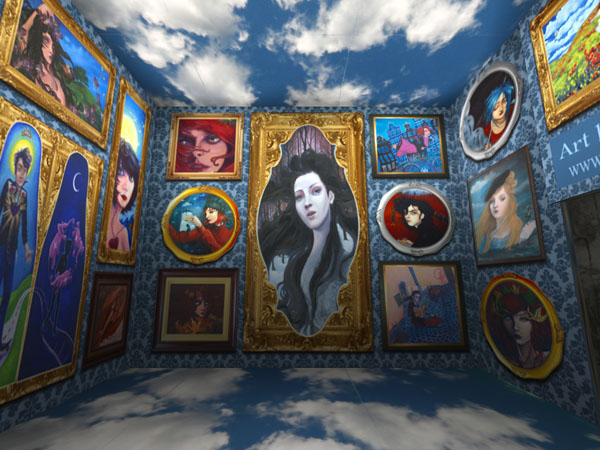 Let there be Light
Sunlight, to be more specific. Søren Buus Andersen has a number of tutorials for hobbyist game makers on his site, YourGameDesign.com. One that is of particular interest, and provides stunning results, is his short but comprehensive guide to creating convincing sunlight in your outdoor scenes. From a simple approach to quick results, through to more detailed parameter settings for the best output, this tutorial will dramatically change your FPSC games.
Special Offer while Stocks Last - $22.99,

Save Over $150.00!
Take advantage of this whopping special offer! Get FPS Creator and 9 Model Packs for an incredibly low price of $29.99 USD (€22.00 EUR, £19.99 GBP). This deal includes:
FPS Creator
Model Pack 1
Model Pack 3
Model Pack 7
Model Pack 11
Model Pack 12
Model Pack 13
Model Pack 14
Model Pack 15
Model Pack 25
Click here to purchase the Bonanza pack, including FPS Creator
for just $29.99 / €22.00 / £19.99
The Game Creator Store - New Additions

Free Points for Simple Tasks
The Game Creators have teamed up with the leading providers of virtual currency; perform a few simple tasks and top up your Store points. As well as being able to take up exciting offers and receiving potentially thousands of points, there are a host of other tasks to earn rewards. Watch a movie trailer, rate search results, answer questions, tag photos or choose from a host of activities that will ultimately earn you any of the high quality models and resources to make your game shine.
How do I Earn my Free points?
It's extremely easy to start earning. Open the Store, through FPS Creator , DBPro or the standalone version. Log in to your account and select the Buy Points option. Below the regular payment options you'll find links to gWallet, Offerpal, DoubleDing and TrialPay. You'll immediately find yourself in amongst the tasks and offers available, and can start earning immediately by watching a movie trailer or two!
Right now, you can enter two competitions to win a laptop and £1,000, fill in a quick survey and earn enough points to help yourself to any of Bond's highly professional Egyptian characters. You won't have spent anything other than a few minutes of your time, and may even bag yourself a top prize too; what are you waiting for!
Top up your Points by Mobile

You can also purchase 500 Store Points directly with your mobile phone. You don't need a credit card or payment details, simply enter your request on the Store payment page along with your mobile number. This service is available in the UK, United States and the following European countries - Austria, Czech Republic, Denmark, Republic of Ireland, Finland, Germany, Netherlands, Norway and Sweden. Other countries may become available at a future date.
Upload Your Assets to The Game Creator Store
Did you know you can sell your models, segments, music and sky boxes in the Game Creator Store? We already have dozens of artists selling their media, and we welcome anyone with the talent to provide our community with quality assets to do the same. If you are interested in becoming a store seller, please contact Janet, our Store Administrator directly.
New Store Additions
American Football Helmet
This is one model of many that have been uploaded to the store in the last month from Model Pack 33. Now you can buy the full pack from fpscreator.com, or download the individual items through your store account. Other items from this pack include boxing gloves, basketball and baseball bat.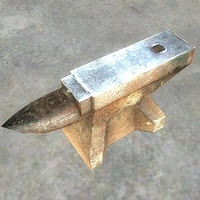 Anvil
This seemingly sedate anvil is a great centrepiece for a medieval or industrial scene. With a 1024x1024 texture including normal and specular maps it can add a high level of realism and detail at very little cost to your poly count.
Galvanised Shed
A nicely modeled rusty old farm shed. This would make good temporary cover for players without providing too much protection. The other items you see in this scene, including the tractor, are also available to download from the store from seller X Games.
Cityscape
The finishing touches to any game can make a big impact, never underestimate the importance of a good skybox. This one features a cityscape in daylight and is absoluteley free. From forests to space, there are a number of free skyboxes to download and use now.
All of the above models are available to purchase and download through the inbuilt Game Creator Store in FPS Creator and DBPro, and also using the standalone store for other game-making tools.
Best Of The Best - Alpha Project

Developed by Lewis
The Story: BioTech Industries. An organization known worldwide for their research into curing diseases no one thought was possible. Backed by the United Kingdom and the United States, they use government funding to extend their research in extending the capabilities of the human immune system.
In 2012, they successfully find a cure for a number of diseases: Acute myeloid leukemia, Influenza A virus subtype H5N1, Cystic fibrosis and Spherocytosis. This causes for them to be approved by NATO and access to what seems to be limitless resources.

In 2016, they have expanded to a number of branches all over the world. They begin testing the first ever immune system injection which is promised to make the subject immune to almost 70% of the world's diseases.

In 2019, they cure the common cold.

In 2020, they begin experimenting on chimpanzees to test if immunity passes through DNA. The test is successful. One doctor, Doctor Mark Summers, didn't think that was enough, and creates an injection containing a new serum. The test was a catastrophic failure. The chimpanzee's behaviour turns violent. After 5 minutes, it dies. He tries countless times to find a solution. All this is happening without the main branch of BioTech knowing about it.
You play the role of James Hunt, an ex army British security officer who migrated to the United States branch of BioTech, switching jobs to BioTech as a member of security. The job vacancy didn't specify what exactly he would be doing, although the promise of a high salary was enough to attract him in. It was the first day you started work when everything went wrong.
This BOTB entry found itself installed on the desktop of Lee Bamber, who has this to say: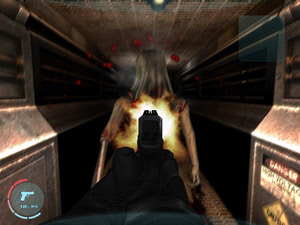 "Normally, I don't have time to play games, but through a series of emails and links, I found myself playing a few levels of Alpha Project and I was gob-smacked. It feels slick and professional, and really pulls you into the plight of the character. The 'look behind you' trick was classic, had my heart thumping, so thanks for that! Reminded me of those System Shock II moments where you hear them scraping about, and you know they're going to eat you, and all you have is a stick, but you have to keep moving forward. Personally, it has inspired me to put some of those nice features into the official version of FPSC such as fast 60fps which gives you that slick control over the mouselook and movement. The scripting took me by surprise. I knew it was possible in theory to do nice things with the FPI system, but to see it blended with great graphics and practical game requirements gave me a real buzz. Amazing talent, very inspiring. Lee wants more!"

Download and play Alpha Project now, be aware that it's 192 MB in total!
Best Of The Best Entries

The criteria for gaining entry into the BOTB has increased. The media, skills and abilities in the community is reaching new levels. You can read the full criteria in the new thread on the forums.
Best of The Best Archives

The BOTB:Archives is where you'll find all of the award recipients that either predate the Very Best of the Best, or no longer have a valid link to their demo. Feel free to peruse the numerous entries and give kudos to the Developers who helped start FPSCreator's Best of the Best!
Leadwerks Engine 2.3

By Josh Klint
Upgrade to 2.3 before March 31st 2010
Owners of prior versions of LeadWerks Engine can upgrade to 2.3 until the end of March 2010. After this date, only the full version can be purchased. If you want to upgrade and take advantage of all of the new features for just $50 USD, then act now! Here's a reminder of the new features:
Features Summary
Lua Script Integration: Write object scripts and write your game in any programming language, or you can write your entire game in Lua.
New Editor: Leadwerks Editor is our new tool for creating enormous terrains, placing objects, and creating worlds. You can even edit scripts and see the results instantly.
Forest Rendering: An advanced new rendering algorithm makes it possible to render hundreds of thousands of trees and plants, at playable framerates. Make dense forests that stretch for miles.
Roads: Build spline-based roads and paths in the editor. Roads can branch, stretch, and fade out. You can even go for a drive on your highways and byways in the editor.
Terrain Holes: Remove patches of terrain and go underground with caves and bunkers. This feature brings a new subterranean dimension to your games.
High Dynamic Range (HDR): Brights are brighter, and darkness is darker. High dynamic range allows a greater range of color to be displayed, with automatic iris adjustment to correct for the ambient lighting environment.
Animation Improvements: Characters can have up to 256 bones, with fast hardware skinning performed on the graphics card.
Rendering Framework: It's easy to toggle advanced effects on and off, in any combination, with commands like SetBloom() and SetHDR().

Exisiting users can upgrade to Leadwerks Engine 2.3 for just $50 until the end of March 2010, adding the wealth of new features to the programming toolbox. If you are interested in purchasing the product for the first time, check out the dedicated web page with the full details and ordering options.
Cartography Shop is now free
Cartography Shop was designed with the philosophy that ease-of-use and power are not antagonistic. No other modeler automates processes like UV mapping and light calculation, yet still allows low-level access to all elements of a scene. This is a tool designed for the mass production of media, using the fewest number of mouse clicks possible to generate the high-quality results you need.
Download your copy now for free - http://cartographyshop.thegamecreators.com/
Lee's Tip of the Month - Stepping Up With AppUp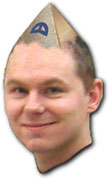 Unless you have been living in a deep dark cave, you will have noticed the recent surge in the number of app stores gracing the digital highway. You can't turn a virtual page without learning of another application outlet popping into existence. Most of these stores are mobile based, so why mention them in my PC centric tip this month? Well it just so happens the PC has just got its own app store, thanks to those clever boffins at Intel.
A great many coders set out with the intention of someday selling their creations and striking gold, and some of those have discovered the road to riches was getting longer, narrower and steeper. Publishers intent on making projects larger and more expensive moved the goal posts into orbit for the indie and hobby developer, but no longer. With the success of self-publishing and now through application stores, bedroom and basement programmers once again have a genuine commercial opportunity to create and sell games in a relatively new and unexplored market.
For applications and games that currently run on Windows XP, Vista or Windows 7, you can get your title into one of the bigger app stores right now! Before I rant on too much, why not check out the store called AppUp:
From this humble portal, your application will be

advertised to millions of netbook users around the world from which you will receive a very generous royalty for every copy sold. The store is being pre-installed onto millions of netbooks, which means your game will reach a LOT of people in a very short time. So how do you get your app into the store?
Fortunately this question is answered in detail when you register to get the AppUp SDK, together with a huge collection of support material and an active and helpful forum. The SDK was designed for C and C++ programmers, which made the implementation of the AppUp authorization code a little tricky for DBP coders. For that reason, I have prepared a simple tutorial and module to help you get your application ready for a netbook and the AppUp store. If you are still asking yourself why you should bother, consider that this store is brand new and the first applications and games on there should do amazingly well. To put my money where my mouth is, I made sure that DBP and FPSC were available through the AppUp store as soon as I could get my hands on the SDK, it's a great opportunity!
Getting your Application on AppUp
Briefly, there are three stages to getting your application on AppUp:
1. Ensure the app runs on the lowest specification netbook
2. Implement and test the authorization system (part of the AppUp SDK)
3. Create an MSI installer that incorporates all required pre-requisites
The danger here is that I could easily launch into a catch-all article how these three stages break-down but my aim is not to bore you but to get you excited and tooled up to get your software selling. To that end, I will give you my own experiences on these stages so you get an idea how smoothly it can go.
Stage 1 - Ensure the app runs on the lowest specification netbook
Application performance is crucial on all platforms. For netbooks it is critical. Remember that all of your comforts are scaled down, you can't expect your users to be running the latest power hungry dual graphics card over copious amounts of RAM. Netbooks are compact, and that's how you need to think.
Primarily, we need to focus on desktop resolution and processor-hungry features. To ensure your application works on all netbooks, the initial issue I found that warranted new code was not to assume a fixed or minimum desktop resolution. Instead, use GET DESKTOP WIDTH and GET DESKTOP HEIGHT right at the start of your application, and then SET DISPLAY MODE to that resolution at 32 bit. This will ensure you get a full screen experience, and you can use the width and height to proportionally space your on-screen assets accordingly.
Also be aware that netbooks are not desktops, so scale any performance hungry features right back and add them back in as optional extras in a menu or setup file. From my experience, those are the only two issues I had to think about and solving them completes stage one.
Stage 2 - Implement and test the authorization system
As with all application delivery systems, there is an authorizations system. In stage 2, we discuss the detail, but ultimately you can follow a very simple stepped procedure to implement the system. You can read the technicalities in detail should you choose, but as this is a once-only process and distracts you from your actual application, it is wise to simply follow the process.
After going through various iterations of implementing the AppUp SDK, I realised it would be a nightmare for a DBP coder to go through the same process as me. So instead of leaving you to the mercy of the SDK, I wrote a module and example project for all DBP users called APPUPPLUGIN.DLL which made the process a whole lot simpler.
1. Download and install the Intel Atom Developer Program SDK
2. Place the appupplugin.dll in the Compiler\plugins-user folder
3. Load the example project 'AppUpExample'
4. Change the line mypassword$="anythingiwanthere" to your own unique password string
5. Launch runATDS.bat found in Intel Atom Developer Program SDK\0.91\bin
6. Insert the line
'PRINT myuniquevalue : WAIT KEY'
before the line
'if myuniquevalue=929'
7. Run the AppUpExample. It will display a value
8. Delete the line you just added and replace the number 929 with the value you just saw on screen
9. Now run the application again, it should say 'application is approved'
10. At this point you have successfully integrated a DEBUG version of the AppUp security system into your Dark Basic Pro application
11. The next step is to obtain the GUID that uniquely identifies your application. For this you need to register on the Atom Developer website and create a new product entry on that system. Once complete, it will give you a GUID value which you will need for step 12
12. Your GUID will resemble something like 0x32423432,0x32423432,0x32423432,0x32423432
13. To change your DEBUG session to a RELEASE session, you need to change the line 'myuniquevalue=approve app(0,0,0,0,mypassword$)' and replace the 0,0,0,0 with the four parts of the GUID you have from step 12
14. For example, the line should now look like
'myuniquevalue=approve app(0x32423432,0x32423432,0x32423432,0x32423432,mypassword$)'
15. Now when you run your application, it should fail with an authentication message. This is because your application is not running inside the AppUp client. It is this version of your application that you must submit through the Atom Developer site to get approved
Stage 3 - Create an MSI installer
Once you have finished your application and the release version of your AppUp authentication code has been integrated, you are ready to create your installer. As the application will be served through the AppUp client, it needs to be packaged as an MSI installer. You need to wrap your application and media in this MSI installer ready for the Atom Developer website. Below are some tips to creating a good MSI installer for AppUp:
1. Use an off-the-shelf MSI installer maker such as Wise. These kind of products are reliable and sturdy, and will allow you to focus on application development instead of installer creation and tweaking.
2. Remember that the AppUp authentication code is dependent on some external system files, and the best way to assure that the target system has these files is to use Merge Modules inside your MSI installer. For example you will need to include merge modules for:
policy_9_0_Microsoft_VC90_MFC_x86
policy_9_0_Microsoft_VC90_CRT_x86
Microsoft_VC90_MFC_x86
Microsoft_VC90_CRT_x86
3. As DBP applications are DirectX based (October 2006) you will also require your MSI Installer to silently install the above version of DirectX system files to the target PC. To do this, you can obtain the October 2006 REDIST files direct from the Microsoft website and copy the REDIST folder into your final installation files. From within your MSI installer, you can provide a command after the files have been installed to the target system to launch the "DXSETUP.EXE /silent" which will install DirectX silently.
4. Finally, it is highly recommended that you test your final MSI installer on a NetBook before submitting to the AppUp store for approval. Issues of resolution, performance, missing system files and other issues may arise and finding them early will save you weeks within the approval process.
Each stage might look a little overwhelming at first, but these are the simple steps to getting your application selling on the store. For help with the details of these steps, and specifically about registering, obtaining a GUID, submitting your application and observing the guidelines the Atom Developer site has all the information you need plus a great forum. There has never been a better time to be an indie or hobby developer, with so many technologies to hand and a myriad of distribution points, we're small enough to take big risks and agile enough to change direction without losing momentum. Now go forth and create wonderful things!
If you do manage to publish a game on the AppUp store using DBPro then please write to us and we'll mention it in a future newsletter.
From the Forums
Exactly one year since the release of the first beta, BlitzTerrain version 2 is now in beta. The forum thread is fast approaching one thousand posts and this latest release will surely push it past the 1K mark. The latest version includes a number of improvements, particularly in performance.
The game has two main parts to it, the first is a set of mini-games of varying degrees of difficulty and the second is a "Free-Build/Destroy" Mode where you can construct or destroy whatever you want. There are a number of tools which can be used to build connections between blocks.
.
Boredom Shooters is a third person shooter arcade game. Its a very simple game where the main objective is to simply survive. Fight off the zombies alone or with friends. Not your friends!? Destroy them in 3 different multiplayer game types.
This is a simple but addictive 2D arcade shooter. There are multiple stages, with 4 levels per stage. Fighting the increasing onslaught of UFOs with firepower and the three power bombs you get to make your way through each level.
.
The Big FPSC Christmas Competition II

by Nickydude
Due to a lack of entries this year, the competition has had to be cancelled. We hope to bring you other competitions at a later date, if we find there is demand for such a competition. In the meantime, we apologise to those of you that made the effort and wish you luck with your games.
3D Modeling Competition
By BiggAdd, MikeS and David Gervais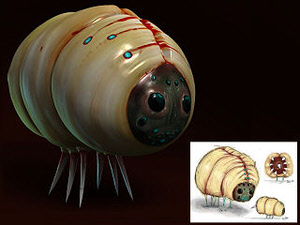 Out Of This World proved to be a popular theme for the modeling competition, with plenty of high quality entries. In fact, the judging was extremely difficult, with the judges and other moderators having divided opinions over which were the ultimate three winners.
3D Master Champion - Greenlig
A bug by any other name could very well be an alien in disguise. But seriously, this is a great entry from concept to execution. The render brings this bug to life, it looks slimy, yuk! Greenlig managed a vote in each category from the judges, that places him up as 3D Master, excellent work!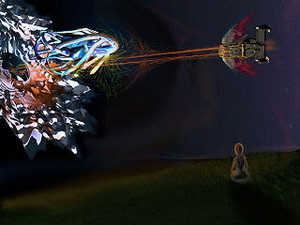 3D Master - Best Model - Lazerus
The things our alien friends have to watch, a space battle in plain sight, someone pass the popcorn. Nice after effects on this render; Lazerus receives the award for Best Model, since we got a bit more of a look at it as he progressed through the WIP for this compo.
3D Master - Best Texture - The Crazy
Are you a Star Wars fan? David Gervais is , and can comment on the great scene render, excellent x-wing models and the environment is well built. Great job, and congratulations on the award for Best Texture.
As mentioned, the standard was very high in this competition, and we would like to mention a couple of close contenders. Zaphos created a great render of his Rankor model. The detail on this model is amazing, we'd love to see it rigged and in motion. As it wasn't created specifically for the competition, it was deemed only fair to exclude it from the awards, but could not be left without an honourable mention. Dr Parsnip created an interesting scene that is out of this world to say the least. Lots of detail and imagination went into this one; we like the overall feel of the scene composition. If there was an award for Best Scene, then this would have claimed the prize.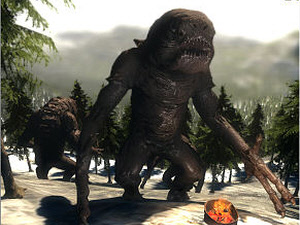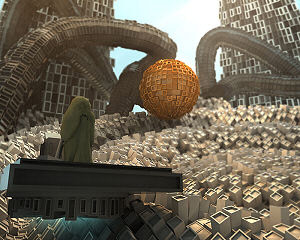 March Modeling Competition
This time around we're getting back to business. Low Poly models that are 'Game Ready'. They can be static models, or fully rigged.

There's a kicker to this compo, it will be followed next month with a "Programmer's Compo: Get me in the game" where the programmers are going to use models made in this compo to make their game entries. Neat eh?

Rules:

Low poly models only! Maximum poly count is 777. (for luck)
Only game ready models will be considered for judging. (meaning they need to be finished and textured)
Making a fully rigged model will get you brownie points.
Have fun!
Full details will be posted in the 3D Chat forum.
How the 3D Modeling Competitions Work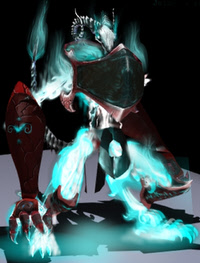 The accolades for the winners are retained until the next competition winners, and are as follows:

3DMaster - Champion awarded to the overall winner in the competition, an entry which displays both modeling and texturing excellence.

3DMaster - Best Model awarded to the runner up who demonstrates the finest modeling skills in the competition.

3DMaster - Best Texture awarded to the runner up who demonstrates texturing wizardry in the competition.
The awards will cling to your Avatar until the results of the following competition are announced. So to keep your award, you must defend your honour in battle once again!
This month's Winner
Each month we pluck one lucky subscriber from the newsletter mailing list and award them 2,000 Game Creator Store points. The email address of this month's winner is: ilari.*e*a*en@hotmail.com We have emailed the lucky winner, congratulations!
Outro
Share your news with over 22,000 active games developers!
If you have something you'd like featured in a future issue then please get in touch and include as much information as possible (including where applicable: screen shots, URLs and zip files).
Issue 87 deadline - March 26th 2010.
"We must remember that one determined person (Lee) can make a significance, and that a small group of determined people (the TGC Community) can change the course of history."
Sonia Johnson