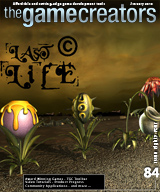 Another year, another decade. It's been a fantastic journey for The Game Creators, and for many of the developers using our products. 2010 is set to be another great year, and as is customary, it's time to start thinking about how you will make it happen. What will your coding resolutions be for this year? How about getting a game into good enough shape to make it into the Work In Progress Forums for your public to get a glimpse of. If you already have one there, how about making it to the release stage and showing it off to the world? Maybe you are a FPSC developer striving to get Best Of The Best status; why not strive to make it happen in 2010? The Store is open for all budding media creators, whether you are a modeler or musician. As well as earning an income from your creations, being a Store Artist is another accolade to strive for. There are lots of ways to make 2010 your year, we look forward to seeing how you achieve it!
We start the new year with a collection of publications from the community, from games to applications. We have winners of awards from 2009 to inspire us all in the coming year. There are the updates we anticipate each month from the team, as well as helpful tips, ways to get involved with Beta testing and more of the usual articles. Enjoy, and we wish you all the best for 2010.
Until next time,

contents
(1) DarkBASIC Pro (2) DarkPRINCIPLES (3) Encryption (4) iPhone Apps (5) FPSC News (6) TGC Store (7) TGC Toolbar (8) 3DWS (9) FPSC Competition (10) VBOTB 2009 (12) BOTB (13) Tip Of The Month (14) Videos (15) From the Forums (16) Outro (17) Winner
DarkBASIC Professional News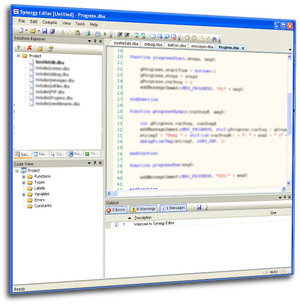 We had planned to announce a new beta version of DBP U75 for the newsletter, but as is the habit around Christmas time we all wandered off and enjoyed ourselves instead, so no new update for you to test. The good news is that a LOT of the feedback you have provided in the beta thread has been actioned, and rest assured the next update will have lots of little improvements for you to enjoy. John has made short work of the list you provided, and my small contribution should ensure you get a good version to try your projects against. Although we are not currently at a stage where we can say 'Works With Windows 7', I am interested in what your experiences are with DBP and Win7 as I think it makes a lot of sense to make U75 as compatible as we can.

Specifically, do you personally find that having to switch UAC off to use DBP fully is inconvenient, or is it something you have already done for different reasons? If you feel brave, join the U75 beta thread and help us forge a solid default editor for DBP.
Lee Bamber, CEO and Lead DBPro Developer
Best Gameplay Award for DBP Title
Last Life, as featured in a previous newsletter, has won 'Best Gameplay' at the GCAP 09 Indie Awards.
This is an award given out by the GDAA (Game Developers Association of Australia) as part of their Asia Pacific competition in conjunction with Game Connect. Entries are submitted from across the Asia Pacific region and those shortlisted are invited to present their games over three days at the Game Connect Trade Fair in Melbourne.
Here's an excerpt from the production diary of Max Vasey, who headed up the project:
What Did I Learn from Last Life?
"It's difficult to get working people enthusiastic about your idea, especially when you're not paying them. If you're gonna do a project like this, I'd suggest offering something more than a resume filler to your team members."
"Well the first thing I learned was how to program in DarkBASIC; well, how to program, period! I haven't done any form of computer programming before. A couple of darkbasic tutorials at college and that's it. So above all else, I learned how to work this language. And consider this - I'm still a novice, having only just scraped the surface.

"The other thing I learned was to do with teams. I've worked in teams all my life and I already know that the interest of the tradesman is nothing compared to the interest of the creator. It's difficult to get working people enthusiastic about your idea, especially when you're not paying them. If you're gonna do a project like this, I'd suggest offering something more than a resume filler to your team members. Maybe aim for a specific competition or something. We were considering the possibility of GCAP later this year.

"Finally, morale. I've never been in a team where a member either cannot or will not do what is required of them - until now. It's a horrible feeling and crushes morale throughout the entire group. We never truly bounced back from it. With the benefit of reflection, I'd advise this - if you have a team member who doesn't appear to be working as hard as they need to, make them leave earlier rather than later AND find a replacement; if only to fill the void. Fixing the wounds is just as important as finding the hurt."

You can read the production diary on the forums, along with some great inspiration on how to tackle a project like this, including story boards and test plans.

We've mirrored the game beta on our servers so you can download it, play and feed back on the forums.
Dark Game Studio Bonanza

Special offer while stocks last: Dark Game Studio, Dark Physics, Dark Lights, Dark AI and Extends for an incredibly low price of $49.99. Save over $170!
Creating your own PC games is now easier than ever with this special compilation of game making tools:
Dark Edit
Demo Games
Physics Demos

Order Now

Save over $170 on this special deal. Be sure to check out the screen shots and the online videos. You can of course order safely and securely online, for delivery via postal mail.


Video Tutorials galore

Daniel Foreman has relaunched his new DarkPRINCIPLES website. It contains more than 7 hours of DarkBASIC Professional tutorials. All video's are free, and organised into easy to navigate playlists. Here are the main videos:
Getting DarkBASIC Professonal, Free of Charge
Spinning Cube (HD)
Random Number Guessing Game
Getting Keyboard Input
Using DarkBASIC Professional and TreeMagik G3 to create a forest
How to make a Health Bar
Basic Collision and Reaction
How to make Basic Frogger
How to make a Save Game


Tutorial - Networking

Health Bar
Making a Menu with DBPro and Gimp!
How to Make Pong from Concept to Finish (full game tutorial)
Russian Roulette (complete game, text) (HD)
Basic Networking Server Side (HD)
Networking Client Side (HD)
There is also a series of tutorials for a number of plugins:
VI Plugin, Screen Capture to AVI and Extract BMP from AVI
DarkPHYSICS Tutorial
DarkAI Tutorial
eXtends Tutorial - Day Night Cycle and Weather effects (snow/ rain)
DarkCLOUDS - Simple Flight Sim

There is a library of additional tutorials to rent or to purchase, available for download or on DVD. Full pricing details are available on the DarkPRINCIPLES website.
Smart Packer Developer Library
This toolset allows developers to create an encrypted/compressed archive with files which can be accessed programmatically through the included dll. It can be used in DarkGDK and programming languages like C++, Delphi, Purebasic etc.
Features
Compression algorithms: ZLib, BZip and PPM
Encryption algorithms : Rijndael 128/256-bit, DES Single/Triple, Blowfish 256-bit, Twofish 128/256-bit, Square 128-bit
Extremely fast access through efficient compression levels
Balanced compression levels provide both good compression rate and high speed
Maximum compression levels provide much better compression rate than Zip, RAR and BZIP
Fast deflate implementation
Extracting directly to memory buffer
Creates self-extracting archive
The functions available in the dll to access the archive are as follows:
SP_OpenArchive - opens archive
SP_ExtractToBuffer - extract file from archive to buffer pointer
SP_ExtractToFile - extract file from archive to file
SP_GetFileSize - get file size
SP_UpdateFromFile - updates existing file
SP_UpdateFromBuffer - updates existing file from buffer
SP_DeleteFile - delete file in archive
SP_SaveFileList - saves filenames from archive to textfile
SP_CloseArchive - closes archive
SP_WipeFile - overwrites file several times
SP_LockF - locks file or folder
SP_UnlockF - unlocks file or folder

Smart Packer Developer Library is available from the website, along with full details and purchasing information. Using promotional code SPECINTRO, readers of the newsletter can get 20% discount until January 15th 2010.
GOALS! and Retro Shoot
GOALS!
Fast and fun arcade game play
Goal kicks, corners, throw-ins, free kicks and penalties
Five difficulty levels
Atmospheric soccer sounds
Added features in the full version:
Set the game length
Cup competition
Extra time and penalties in cup games
Edit team names
Select team kit colors
As reported last month, TGC have two new iPhone releases. These are now available for immediate download. The first is GOALS!, a fast paced and fully featured football game with passing, shooting, penalties, tackling and more.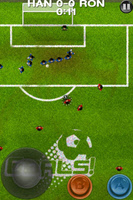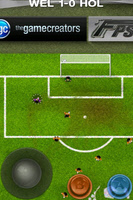 Goals! Pro featured in the What's Hot section of the iTunes App Store in mid-December, another tribute to the rapid successes in this market in 2009. We plan to bring you more new and innovative apps throughout 2010.
Retro Shoot
Easy game control method
15 free levels to play
Arcade & Survival modes
Fast paced shooting game
Vibrant neon style enemies
Power-up bombs, lightning and weapon upgrades
Cool particle explosions
Online high score system
Publish your scores to Facebook
The second release is
Retro Shoot
, great gameplay straight from the 80s and brought bang up to date with vibrant neon graphics and pulse pumping music and sounds.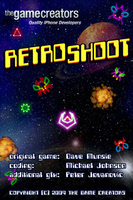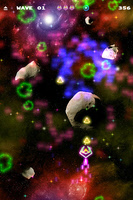 FPS Creator Updates

New products enhancing FPS Creator X9

On the success of our attendance at the educational event in November, we have continued to work behind the scenes on the FPSC/FPGC code (that will become the V117 beta) and have released our private beta to a select number of specially selected testers. As part of this progress towards full public beta, we are interested in hearing from anyone in the community who is actively involved in preparing a gamemaking based course or module for next year, and who might be interested in joining a pilot program using our new variant. Having listened to the education sector for many years now, we understand that the experience must be kid friendly, easy to setup and use, technically sound and highly flexible when required. We also appreciate that whatever solution we come up with has to be extremely affordable, and we are looking at pricing models that start at zero and move up from there. We have the technology, and a lot of the content thanks to a vibrant FPSC community, but what we need now is a little guidance as to specific content and features that will work for educators, and this is the role of the private beta. If you are well situated to offer this type of real-world feedback, contact lee@thegamecreators.com and subject to a little vetting, you will be given the FTP details so you can access the latest build. So what is this announcement doing in the FPSC X9 news section I hear you yell? As we move closer towards a completed product, you may get the feeling that FPSC might be neglected in favour of FPGC. Those of you who read the last newsletter will appreciate that FPSC and FPGC are essentially the same engine, so fixes and features in one directly benefit the other, and of course upon each release the source code becomes available to the public for your own modding needs, even the educational variant of the engine (as you will appreciate if you have already downloaded and checked out the latest FPSC source code in the U75 Extras zip in the DBP beta). The only difference from a product standpoint is the additional graphical content and the interface design, and to some degree the licensing terms. From an FPSC point of view, watch out for V117 which will almost certainly have the functional add-on of DarkVOICES mouth animation (if not the characters) and a slew of other fixes we have identified internally that we feel will transform the feel of FPSC (too early to reveal more but we think you will approve).
FPS Creator X10
After many months, we are pleased to report that the first beta version of FPS Creator X10 V110 update is available from the forum. In this update you will find a slightly modified editor layout with the inclusion of the Game Creator Store. From this button in the bottom left corner or through the item in the Help menu, you can log into your store account (or create one) and start downloading free game assets right away. No need to buy model packs or fish around for compatible game media, you get access to free tested FPSC items for your X10 games. As this is strictly a beta test, be aware that all items are untested for X10, and a separate process of testing the items for full X10 compatibility will follow. For the moment, you have complete access to all the items and you can try them out right away. Given this warning, it is highly unwise to buy any store items for X10 use at this stage. If you have previously bought them for X9, then you can simply download the item into X10 as normal, but there are likely to be a portion of items that will either not work or work erratically in X10. Further, some items are designed specifically for X9, and will not work in X10 in any event. If after this warning you still wish to proceed, visit the Public Beta thread that heads the X10 forum and download the update beta to check out this cool new feature.
Interactive Art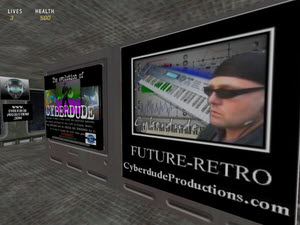 Paul Courville of Cyberdude Productions has found an interesting application for FPS Creator. He is using the software as an Interactive Art Gallery. Here's one of the comments from the FPSC user community:
"...I find some of the alternative uses to be the best. This is a great one! You don't have to worry about characters and dynamic entities gumming up the show, though you could get as interactive as you want, and mix game with gallery. Or do a fun business presentation of your product or services. The possibilities are endless..." Xplosys (fpsFREE.com)
The great thing about this innovative use of FPS Creator is that you can try out new ideas such as this using the free version of FPSC, and very easily once you know the process. Paul has put together a short video that shows how to get the tools for free and put the application together. You can check out Paul's other work on his website, cyberdudeproductions.com.
Signs V5.0 for FPS Creator
Signs, as used in the Interactive Art tutorial above, allows you to create decal-based entities for your game. Now at version 5, the latest functionality allows you to create animated wall and floor decals from just one image. Other features include:
Create text scripts with background images.
Entity Arches and Plain Walls line up using 'B' key for perfect alignment.
Add text, audio and video scripts with zero scripting knowledge.
Create scripts that attach to your pictures and signs by clicking options.
Record your own sounds or load a wav file to be used in your script.
Add your own custom walls and corners into Signs or use any of the existing ones.
Create transparent walls to block players from entering areas you don't want them to.
Create fences and grids you can see through.
All new overlays such as half brick walls, windows, door panels, wood plank floors and more.
Create FPSC-ready transparent overlays.
Create your own overlay decals and add them to Signs.
Creates 3D looking thumbnails when you create rooms, like the ones that come with FPSC.
New 3D Preview of Walls (rotate your wall manually using the arrow keys)

Signs V5.0 is available from the FPSfree store.
Urban / Grunge Model Pack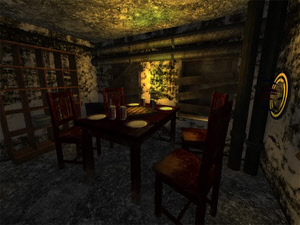 This model pack by Cyborg Art contains over 160 urban/city themed, FPSC ready entities. Feedback on the forum over the last couple of months gives nothing but praise for this pack, which doubles as a clean set of entities, as well as the grunged-up versions of the same. They work with both FPSC X10 and FPSC X9.

Main features
Photorealistic textures (based on unique photos)
A complete set of pipes, all with three different textures (clean, rusty and really old)
Scenery windows and doors, all with two different texture versions (new and old)
Two animated buttons (one for lights, and one that blends into the drinks machine)
Additional non-animated buttons (can be scripted)
The popular sofa models from the store, with two new variations (one and two seats)
lots of modern style entities.
There are multiple textures for many of the models, allowing a differing look throughout your game using the same enitities.

Take a look at the forum thread for the latest information on the pack and how to purchase directly from Cyborg Art.
Special Offer while Stocks Last - $22.99,

Save Over $150.00!
Take advantage of this whopping special offer! Get FPS Creator and 9 Model Packs for an incredibly low price of $29.99 USD (€22.00 EUR, £19.99 GBP). This deal includes:
FPS Creator
Model Pack 1
Model Pack 3
Model Pack 7
Model Pack 11
Model Pack 12
Model Pack 13
Model Pack 14
Model Pack 15
Model Pack 25
Click here to purchase the Bonanza pack, including FPS Creator
for just $29.99 / €22.00 / £19.99
The Game Creator Store - New Additions

Top up your Points by Mobile

You can now purchase 500 Store Points directly from your mobile. You don't need a credit card or payment details, simply enter your request on the Store payment page along with your mobile number. This service is available in the UK, United States and the following European countries - Austria, Czech Republic, Denmark, Republic of Ireland, Finland, Germany, Netherlands, Norway and Sweden. Other countries may become available at a future date.
Upload Your Assets to The Game Creator Store
Did you know you can sell your models, segments, music and sky boxes in the Game Creator Store? We already have dozens of artists selling their media, and we welcome anyone with the talent to provide our community with quality assets to do the same. If you are interested in becoming a store seller, please contact Janet, our Store Administrator directly.
New Store Additions
Broken Barrier
A broken, yellow-painted road barrier. As with the complementary un-broken version, players can crawl underneath or leap over this barrier.
It includes a diffuse 1024x1024 texture, and is great for urban or construction scenes.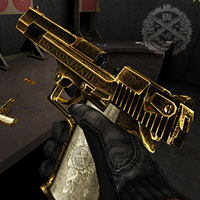 Mk.XIX SPECIAL EDITION
Enhanced version of the XIX from FPSC MP9. It includes VWEAP and pickup weapon and ammo entities. Uses model pack 9-10 compatible hands. Includes iron sights animations; Ironsights work automatically in AirMod 0.6 or later. In unmodded FPSC, iron sights view can be set by editing the animation ranges in gunspec.txt (recommended for intermediate and advanced users only).
Rusty Car
Rusty car model good for urban, junkyard and even post apocalyptic scenes.
This model features in the Most Downloaded section of the store, where you will find other items that are most popular right now. The list covers everything from sandbags to snakes!
Civ Rogue
A 'Civilian Soldier' themed character, good for urban style shooters or as mercenaries, the second of the character set. Some animations have been customized. Best or suggested weapon designation are Assault Rifle or Pistol.
All of the above models are available to purchase and download through the inbuilt Game Creator Store in FPS Creator and DBPro, and also using the standalone store for other game-making tools.
TGC Toolbar for Internet Explorer

You can now access all of your favourite site links from the new TGC Toolbar. As well as links to the products you will find:
Direct access to all of the forum boards
Game Creator Store link
Back issues of the newsletter
Twitter announcements - be the first to hear the news
Facebook Page
YouTube links

Download the toolbar today make your browsing life easier.
3D World Studio

From January 1, 2010, 3D World Studio is becoming even more affordable as part of your game modeling pipeline. The Standard Edition is now priced at $49.99, and the Builder edition - which includes an additional 100+ high-res textures and more than 60 map meshes designed for use with the program (including pipes, trees, architectural details and more) - is now available for $79.99.
The Map Editor of Choice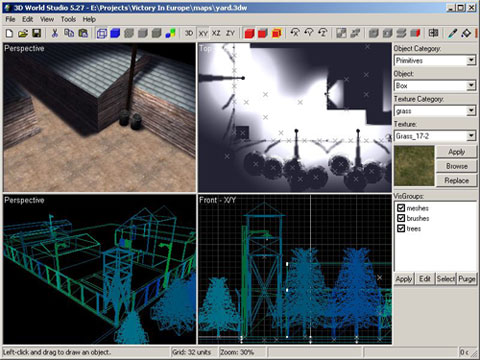 3D World Studio offers a feature set just as powerful as UnrealEd, yet is friendly enough for beginners to use. New users can often start building in the program without reading a manual.
3D World Studio is the map editor of choice for use with DarkBASIC Professional, Torque Game Engine, Blitz3D, and other 3D engines. The program is ideal for game environments, 3D presentations and commercial applications.
3D World Studio was designed with the philosophy that ease-of-use and power are not antagonistic. No other modeler automates processes like UV mapping and light calculation, yet still allows low-level access to all elements of a scene. This is a tool designed for the mass production of media, using the fewest number of mouseclicks possible to generate the high-quality results you need.
Terrain; Referenced map meshes; the features in version 5 will take your environment design to new levels of professionalism. 3D World Studio features include:
lightmapping
constructive solid geometry
vertex manipulation
translucent and masked shadow effects
an improved entity system
Tools include slice, extrude face, and arch primitives

Discover the full details and purchase 3D World Studio at the new price on the dedicated web pages on The Game Creators' site.
The Big FPSC Christmas Competition II

by Nickydude
Time is running out for anyone wanting to enter the second Big Fat FPSC Christmas Competition. The deadline is February 1st 2010 so if you haven't yet started, now is the time! This year's theme is Nuclear Fallout. You can centre your scene around a cave or inside an abandoned building, whichever takes your fancy. There are plenty of old planks, rusty cars, junk and abandoned buildings to be found in the TGC store and other free and third party collections to get you started. To ensure a unique look to your game, you could even get creative with your own models and textures.
JUDGING
Judges will be looking for the best take on a nuclear fallout level and also how well it plays as a game.
Overall Look - Does your game look like it's set after a nuclear war? Is it some segments bolted together with a few buildings? The better the look, the more the points.
Game Play - Is there actual game play or are you just wandering around?
'Outside the box' - Does your game have something unusual? Is there something there no one has thought of? What gives it that 'play again' factor?
Frame-rate optimization -
How well does your game run? Are you using tips and tricks to get a decent frame rate or is everything running slower than a snail with cramp?
The Prizes
1st Place
Bonanza Pack + Character pack + Any 3 model packs + 2000 store points (as one prize) by TGC.
Printed & Bound copy of the Community Guide.
Atmosphereic Sounds pack by Nickydude.
Hell Demon Voice pack by Nickydude.
A copy of either Project Blue UM by Plystire or Horror Mod by knxrb.
SignsV by tschwarz.
FPSC Toolbox by Bullshock.
Everything I (Nickydude) have in store.
Holez by Xplosys.
Copy of my Model Pack 26 (Graveyard pack) by Ross tra damus.
Metro Theater Pack by Bond1.
One or more (depends) never released entities which they will be the only to use by CyborgART.
WWII Pack by Keith C.
Animated Hud by Rolfy.
Smart Packer by mrniceguy.
2nd Place
Atmospheric Sounds pack by Nickydude.
Hell Demon Voice pack by Nickydude.
A segment pack and a custom game application (Game-Launcher or Game-Downloader) by Doomster.
Holez by Xplosys.
A copy of either Project Blue UM by Plystire or Horror Mod by knxrb (whichever is left).
$20 Store Voucher by KeithC
Pick of 2 tools from the FPSC Toolbox by Bullshock.
Pick of 6 audio files from my (Nickydude) store account.
Character Pack by TGC
Cyborg ART's Urban pack"
3rd Place
Tommy Gun with hands by General Jackson.
Holez by Xplosys.
BlackBird Model Pack by RedEye & mgarand.
Pick of 1 tool from the FPSC Toolbox by Bullshock.
Pick of 3 audio files from my (Nickydude) store account.
Models of his entry (Ultimate Contest) from 1507 from RedEye

RULES
This competition will end February 1st 2010.
Any version of FPS Creator can be used, including modded.
Minimum number of entrants for the comp to go forward must be 5.
You may use custom media; to include entities, segments, sounds, music, and scripts, etc. Just remember that all the levels will be made public once the competition has been judged, and a decision has been made public.
There will be NO stealing, pirating, or unauthorized borrowing of media/music/or scripts to be used in your level. If this is discovered, you will be automatically disqualified and possibly banned from the forums. If you're not sure if its OK to use someone else's material; then the best thing to do, is not use it. If you do use someone else's material, then you must have WRITTEN permission to do so (unless the permission is given in the license agreement; i.e., free for 'commercial or non-commercial'). Forging written permission will also result in punative action.
Your level must be in an installer or a compiled .exe; no .FPM files will be accepted. The file size limit is 200 MB
There must be a direct link to your entry. Links through a website or where you have to register to download won't be accepted.
Remember that the forum rules still apply; in that there will be no nudity, or swearing allowed. Either of those items present in your level could be grounds for disqualification (an attempt to contact the designer may be made, but is not required).

The forum discussions are already under way, you can join in here and get started on your entry right away.
Very Best Of The Best Award 2009

by KeithC
Welcome to The Very Best of the Best announcement for 2009. This is the very first of the new annual competition which seeks to highlight the absolute Best of the Best. Each year every entry into the BOTB will be judged and evaluated, to see which FPSCreator Developer has what it takes to be number one. Without further ado, here is the winner of the award this year:


You can read the full details in the forum thread, with a complete breakdown of the scoring. In brief, here's how the entries ranked:
PRIZES
The Game Creators have provided the following to the winner of the VBOTB: 2009:
A $250 TGC Voucher
4,000 Store Points
Judges needed for 2010
Judges are needed for future VBOTB competitions. A potential judge should have the time to play numerous entries into the BOTB, objectively adhere to the Criteria Sheet given and be fair-minded.There are an unspecified number of slots open, so if you think you have the time to spare, and want to help out, please contact KeithC after reading the full details in the forum.
Best Of The Best Update

by KeithC
2010 is a year to start showcasing the real talent that takes FPSC to it's limits...and then some. Best of the Best is for finished games/demos only, although it is also reserved for those games or demos that are above par. Don't be put off if you think your game's not up to snuff, the forum moderators watch your threads and take note of community input.

The criteria for gaining entry into the BOTB has increased. The media, skills and abilities in the community is reaching new levels. You can read the full criteria in the new thread on the forums.
Best of The Best Archives

The BOTB:Archives is where you'll find all of the award recipients that either predate the Very Best of the Best, or no longer have a valid link to their demo. Feel free to peruse the numerous entries and give kudos to the Developers who helped start FPSCreator's Best of the Best!
Lee's Tip of the Month -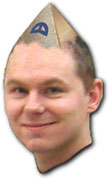 Dark Basic has been around for quite some time now, and you will have noticed the editor change over the years from a small exclusive mode game-like text editor all the way through to a full-blown MFC project management system. Thanks to our tutorial on writing your own DBP editor, there have also been a number of alternative editors to choose from as well. You may be amazed to hear that during most of that time, TGC never had access to the source code for any of these editors. We simply collaborated with a few smart guys to integrate our compiler with their editor to produce the experience you have today.
With the launch of Dark Game Studio many moons ago, we released the latest in the long chain of interfaces, this time based on the BCG library to give it a Visual Studio look and feel. Although it added many new features over the older legacy editor, there still existed a considerable group of users who would not upgrade until the interface included a number of features from their previous experience. Although we received very little negative feedback from new DGS users, we felt it only right that everyone who grew up with the legacy editor should enjoy the benefits of the latest interface work.
To that end the U75 BETA was born, to close the feature and function gap between the legacy and latest editor design. I am pleased to report that the work is proceeding well and the beta thread is glowing with feedback and interest on interface improvements.
My tip this month is to gently prod those last remaining legacy interface users with some nice toys you will find should you decide to upgrade to the latest editor. For those who are quite happy with the legacy editor, fear not, the regular DBP update will continue to carry the files needed to keep that version running merrily. The only downside is that should improvements be made to the new interface such as operating system compatibility and functionality, you will not benefit as the legacy editor no longer recieves updates.
If you are a firm legacy editor supporter, then all you need to do to restore your preferred experience is to open the LAUNCH.CFG in NOTEPAD (double click the file and select NOTEPAD), and then change the line which reads EDITOR=EditorNew.exe to EDITOR=EditorU73.exe. This will ensure that when DBP is launched, the legacy editor is chosen over the new editor.
I should also warn that entering 'beta country' requires that you make some precautionary back-ups of your work and files before experimenting and participating in the U75 beta, which you can do by visiting the DBP forum and looking for the Public Beta thread.
For those brave souls who wish to proceed, let me entice you with some of the features that you may not be using but thanks to the new editor will increase your coding productivity and enrich your programming experience:
1. Code View - As your programs get larger, and your list of variables, functions, subroutines and labels grow, you are either going to grow a larger brain or get lost in your own code quite quickly. The code view is a one stop shop for finding where you placed a function call or variable without manually scanning each and every line. The productivity increase you will experience if you start making full use of this feature is staggering
2. Integrated Store - As introduced in previous newsletters, a new button in the latest editor takes you directly into the Game Creator Store allowing you to find and download 3D models and music for your latest creations
3. Output Bar Filter - The new editor allows you to monitor and filter what the compiler is doing, whether it be reporting warnings, errors or general information. In addition to the standard placement of the cursor at the offending syntax error, the output bar will store the line number and extra information about the error so if you forget where the error line was, you can easily return to it
4. Bookmarks - Working on two different areas within your expanding code listing, or know you will be coming back to a function at a later date? Simply insert a bookmark at the code line you are interested in, and with the touch of a key you can skip through all the bookmarks in your program without remembering exactly where the code was. Once you start using this feature using keyboard shortcuts, you will never go back and this one feature is reason enough to upgrade!
Whether you decide to upgrade now or wait for a few updates, the new interface experience will be waiting for you and you are most welcome to join in the fun. As an old hand at coding, I do recommend that if you are currently working on a time critical project, that you continue to use your current editor until you have safely completed and signed off that project. Changing your development environment half way through your project is likely to cause more problems than solutions. For those embarking on a new project, now is the best time to check out U75 beta and the new interface experience.
Video Gallery

Genetica 3 Review
Wehtam has created a video review of Genetica 3.0, and its fitness for purpose as a texture generator for 3D games. You can comment on the review in the forums.
Invaders Reloaded
This video presents Invaders Reloaded, the mind-controlled game from Butter Fingers and Roll7.
Last Life
To complement the production diary for this game, the developers have produced a video showing the progress from Alpha, through to Beta and finally Release. Budding game writers can take a lot from this short outline of their progression, visualising how a production grows and flourishes (in all senses of the word in this case!) to the final polished product.
From the Forums
Forum Highlights
When you get Dark Basic Pro, the first thing you want to do is get your first game up and running to show to other people; but this can be a daunting task. This tutorial will help you get a simple, but functional game running in a very short time span, and hopefully teach you some basic coding in Dark Basic Pro
Gunn3r has been given the opportunity to start another e-zine under the title GamerDebrief. The first issue of GamerDebrief is here. It's exciting and jam-packed full of exclusive content, from the first look at Eternal, to the in-depth interview with Creator Of Zombies. Check out this first issue now
.
This is a plugin aimed at programmers who wish to have professional control over the dynamics within their games. This plugin utilizes Havok Physics and Havok Animation, two extremely high quality dynamics libraries. Havok supports outstanding rigid body physics, as well as amazing Character control and vehicle simulation.
D3D is a set of additional DirectX functions made available to DarkBASIC Professional through this plugin by Cloggy. It is now a work in progress, being translated for DarkGDK.net. There are many great features such as 3D text, 2D and 3D lines, and faster performing basic functions. Cloggy is looking for feedback from DarkGDK.net coders
.
Outro
Share your news with over 22,000 active games developers!
If you have something you'd like featured in a future issue then please get in touch and include as much information as possible (including where applicable: screen shots, URLs and zip files).
Issue 85 deadline - January 26th 2010.
This month's Winner
Each month we pluck one lucky subscriber from the newsletter mailing list and award them 2,000 Game Creator Store points. The email address of this month's winner is: yellow*db*.hotmail.com We have emailed the lucky winner, congratulations!