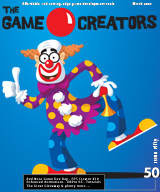 Welcome to the 50th edition of The Game Creators Newsletter. This month follows in the tradition of overloading you with news, views, and everything you have come to expect in your inbox each month. But to mark this milestone, we have some very special content for you. As well as looking back over the many issues, there are giveaways, prizes and special offers too. Make sure you read from the virtual cover to the very end for the full picture.
The last month or two has, in my household at least, been Pantomime season. It's a predominantly British affair, held in theatres the length of the country. In brief, you have a fairytale story, a male lead played by a woman, an oversized female played by a man, lots of young children (including my son) dancing and singing, very old jokes, and lots of audience participation - oh yes you do! The reason I mention it is because one thing of note is the talented backstage crew who create the suspension of disbelief with the awesome scenery. On a small stage they transport you to deep forests, faraway lands and fantastical, imaginary landscapes. And it's all done with 2D billboards, whilst the actors play out their drama across the width and depth of the stage.
Next time you visit the theatre, or see a play on television, I urge you to take a careful scan of the world around the action. We can learn a great deal about creating realism with the simplest of props. Next time you're struggling to preserve your polygons, remember there are people out there doing it for real, and doing it well!
contents
(1) Let's Celebrate (2) 50th Edition (3) Red Nose Day (4) Compo Update (5) Model packs (6) Enhanced Animations (7) ConvSEO offer (8) GUI Studio (9) DBPro Fundamentals (10) DarkGDK .NET (11) FPS Creator X10 (12) FPSC News (13) Lee's Tip of the Month (14) PlayBasic (15) From the Forums (16) Outro
The Great Giveaway

What better way to start this issue than to be able to announce that Driving Test Success Practical, written in DarkBASIC, has been given an ELSPA award for selling 100,000 copies. Congratulations to everyone involved in such a prolific title, and may we all take inspiration from their success. Now, it's your turn to win and to take advantage of our celebrations.
50 Issues, 50 Prizes
This month we are giving away 50 vouchers for $20, to spend on anything on the site. The wheel of fortune has already turned, and 50 subscribers have been picked at random. You'll find the winning addresses dispersed throughout the newsletter, so if you recognise your email address, get in touch to claim your prize. Vouchers are valid for 120 days. Let's get started with the first 10 winners:
zonech*****@*******.com
nick_mins****@*******.com
spookygho**@*******.com
punk_white_******@*****.com
nmp*@netvisa*.**
thnews**@***global.net
ranramat***@***.com
greggod****@*******.com.au
tperreir*****@*****.com
ccd2539@****.*****.net
50% Discount - DarkBASIC Professional Online
For the month of March only, the price of DarkBASIC Professional online has been reduced by 50%. If you have been putting off that purchase, or waiting to upgrade then now is the time. This is the full online version of the product, and will return to the full price on April 1st, 2007. Don't be the first April Fool and miss out on this fantastic offer! It can be purchased in the usual way from the DarkBASIC Professional Online page.
50 Line Challenge
The traditional 20 line challenge is extended to a 50 line challenge this month, you can check out the sticky thread in the usual forum. Make a game with 50 lines or less and no media. Prizes will be awarded in the next newsletter for the best entries.
Click here for the official 50 Line Challenge thread
50 issues of The Game Creators Newsletter
This issue marks the 50th edition of the newsletter, a remarkable milestone and one which has prompted a look back into the archives. So lets start at the beginning, issue 1, and how it all started.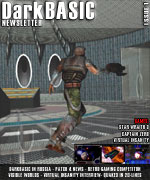 Richard Davey brought us the very first issue back in 2003. Included was news of the upcoming Patch 4 including the new DBO file format, the 20 line challenge, tutorial announcements and details of awards won by the team. Little did anyone realise just how popular the publication would become!
If you want to find out more about Lee Bamber in an early interview, or look back at the curious DarkBASIC Professional Dongle then check out issue 2 of the newsletter.
In issue 7 we got to meet Rick Vanner and find out why Dark Basic Software became The Game Creators. Back in July 2003 Shaders were already a hot topic, and the team revealed a new set of commands in the upcoming Patch 5 to aid their implementation.
It surprised me to read again in issue 9 that Caligari's GameSpace was coming to fruition back in September 2003. It was also the same month that the first ever UK DarkBASIC convention was announced.
Issue 11 saw the announcment of Driving Test Success Practical, written in DarkBASIC, which went on to become a top seller and other titles in the range followed soon after. Jumping in to 2004 with issue 13, the results of the Alienware competition were announced. This was my first ever completed project, and the start of a time-consuming hobby!
Moving on to issue 18, readers got to see just what can be achieved with DarkBASIC Professional and physics. Walaber, the forum dweller behind the Newton Physics Wrapper, published Ragdoll Monkey Bowling, a rather bizarre but ingenious way to show off the possibilities of ragdolls in homebrewed games.
Issue 22 brings us to October 2004, where Binary Zoo were brought to our attention. In this case it was for DuoTris, a beautifully presented, explosive, fast-paced puzzle game. It was the follow-up to Duo, their first and also very popular offering, and was soon to be joined by Mono, which was featured in issue 25, the first edition of 2005.
Big news appeared in issue 26 - the EA release of the much anticipated FPS Creator had arrived. This overshadowed one of the more strange stories appearing the same month, where it was revealed that 40 foot lorries would be adorned with adverts for the Driving Test range of products written in DarkBASIC!

Advertising doesn't get much bigger than this!
After successful and productive feedback from the EA users of FPSC, the final product was announced in issue 33, proudly adorning the front cover. This was a huge landmark in the history of the company representing 3 years of development, changes, texturing, modeling, animating, sound effect creation, music composition, PR, artwork, testing and evaluation. Today, the same users are anticipating the forthcoming release of FPS Creator X10.
Issue 35 warrants a special mention, as it highlights the ever-growing complement of products and additions to the game-development scene that exists around DarkBASIC Professional. In this edition, there were announcements for the release of T.Ed, the Hands On DBPro book, Unity Scripting Pack, TextureMax, and Dark Injector, a free utility from regular contributor, The Winch.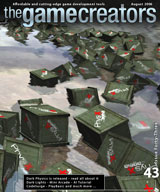 TGC likes to keep their customers up to date, and in issue 39 there was a sneak preview of Dark AI and Dark Physics. As usual, this created a big stir on the forums, and rightly so. Dark Physics was duly released and announced in issue 43, the front cover illustrating a simple but fantastic demonstration of crates floating and bobbing on water. Not only did the image portray a new era in the technology available, but it also revealed just how good a scene can look with the introduction of a water shader. Click on the cover image to view the full size picture and remind yourself of the power at your fingertips!
PhysX in DarkBASIC Professional was nicely demonstrated in issue 46, with the results of the first ever physics-based competition. The astounding entries were rewarded with a plethora of hardware, software and other goodies from Ageia and BFG. And if that wasn't enough, the Nvidia Game Dev competition was announced, with an even bigger horde of prizes.
That brings us to issue 49, another landmark prior to the current, 50th issue. On the product front, the rumblings of FPS Creator X10 are starting with some revealing videos of the technology in action. And the man who started this incredible journey of monthly news, views and gossip, Richard Davey, departed for other exciting challenges.
So here we are at issue 50. As one of the newest members of the team, but a long-standing DBPro developer, I'd like you to join me in thanking everyone at TGC for letting us behind the scenes, keeping us up to date, and providing a fantastic platform to exercise our imaginations. I look forward to bringing you the news as it happens, and future editions will by no means be any less hectic than the last 50!
Voucher Winners
Here are the next 10 winners of a $20 voucher, to be spent on the TGC site. Details on how to claim are in The Great Giveaway article:
tomw@de******ot.com
dragonfir***@*****.com
jgrath****@*****.co.uk
ralph.e***@******.nl
walterv**@*****msa.net
donalmo**@*******.com
jwcald*********@*****.com
peter_gri****@*******.com
tony_gr**@**.***.com
cash.****is@*****.com
The Red Nose Day Challenge!

During the weekend of March 3rd and 4th we are calling on all community members to join the TGC team in making some silly and fun red nose games. In the United Kingdom each year the BBC and many comedy actors join forces to raise money for children in the UK and Africa. We want to help this cause by running this weekend game making event.

To participate, just follow these simple rules: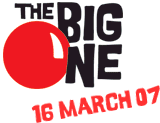 Create a fun Retro / Puzzle / Casual style game with the focus on using or featuring a 'Red Nose'.
All games must be suitable for 3+ year olds (so no violence or gore)

Games must be < 10MB when zipped, but ideally as small as possible.
You can write your game in any language you like - DB, Play Basic, Blitz, Torque, Flash, etc.
All games will be compiled into one big download which we will sell on our web site. We will be asking for a donation for each download (you can specify how much you donate). All monies raised will be donated to the charity.

Details of how to buy the download will be published all over the main TGC web site once the weekend is over. We will be accepting donations via PayPal.
To get you started, you can download some specially prepared 2D graphics, just click here.
There is also a forum thread for discussion about this. More details about Red Nose Day and the Comic Relief charity can be found at http://www.rednoseday.com.
In support of Comic Relief, registered with the Charity Commission no. 326568
NVIDIA Competition Update
We realise that everyone is anxious to have the results of the competition revealed. Please bear with us as we work with NVIDIA to coordinate and judge the entries. We appreciate your patience, and hope you appreciate the mammoth task that has been set! This applies to both FPS Creator and Dark Basic Professional competitions. It is our aim to have the winners announced in the next Newsletter.
Some of the Dark Basic Professional games were not uploaded fully. The affected titles include:
krtenski odrani meda.zip
pul.zip
purpose.zip
zakreatore.zip
If you are the author of these games then please contact us via this thread in the forums.
If we do not get fully working versions of these files we will have to remove them from the competition.
FPSC Model Packs now available for all

No, it's not a mistake. This is indeed an article about FPSC Model Packs in the DarkBASIC section of the newsletter. There has been an ongoing discussion on the forums about the FPSC model packs, and whether or not they would be made available for use elsewhere. The quality of the models in these packs has attracted a much wider audience than anticipated, and this month we can announce that the license has been updated to answer the pleas of the many! This well-crafted set of resources is now open to all developers to use in FPSC, DarkBASIC Professional and other game-making tools.
Existing owners of the packs are also free to use their purchase in DarkBASIC Professional and elsewhere.
The model packs can be ordered from the FPS Creator website - //www.thegamecreators.com/?m=view_product&id=2001
Can your Models Walk and Chew Gum at the same time?

Comfort can be taken from knowing that a new DarkBASIC Professional product is brought to you by an established developer. Ron Erickson, who brought you EZ Rotate and Texture Max, has authored his latest product - Enhanced Animation.
Enhanced Animation gives you the ability to apply multiple animations to your object at the same time. So, instead of having separate animations for stand/shoot, walk/shoot, run/shoot, and jump/shoot, you can apply the movement animation to your model's lower body while applying a single shoot animation to the model's upper body!
Blended Transitions
Generate smooth transitions from one animation to another. Your object will no longer instantly go from walking to running; instead, it will transition from a walk to a run over a period of time that you set. The animations will be blended together automatically.
Time Based Updates and complete control of Speed
Animations play at the same speed on all computers, using the time-based system. The speed settings of animations are based on frames per second. You can even give a negative to play your animation in reverse.
Fast loading Times
During media preparation, you separate the animations from the models. This facilitates smaller, faster loading models, and animation data that can be shared across multiple objects. Consider the overhead reduction in loading an army of characters with just one shared animation file.
Key Frame Control
Take complete control over the animation data. You can easily add, modify and delete key frames. Save the resulting data to new animation files. It's even possible to write your own animation creation program using the commands of this feature.
There are over 70 new commands introduced by Enhanced Animation, including useful features such as extracting object structure information, exposing the parent/child relationships of limbs in your objects.
Enhanced Animations is available to purchase now, priced £15.00 ($29.99, €22.99) - //www.thegamecreators.com/?m=view_product&id=2077
Special Offer for Owners of DBPro and the ConvSEO Plug-In

Google SketchUp 5 (FREE) is now authorized for use in Commercial Applications!
As you may know, the present version of the ConvSEO plug-in for DarkBASIC Professional does not work with Google SketchUp 6. Although a new version of ConvSEO is currently under development, it is not due to be released for some time.
In the interim, TGC is pleased to announce that the folks at Google SketchUp have generously agreed to allow users of DarkBASIC Professional and the ConvSEO plug-in to download and use Google SketchUp 5 for game development WITH NO RESTRICTIONS ON COMMERCIAL USAGE. This offer applies to all current owners of DarkBASIC Professional and ConvSEO and to anyone who purchases the present version of ConvSEO, and will remain in effect until a version of ConvSEO compatible with Google SketchUp 6 is released.
Models created with Google SketchUp 5 can be read by Google SketchUp 6 - which also allows the free version to be used in commercial applications - so you will not lose any work. Therefore: if you have been considering the use of SketchUp to build game environments, but have been put off by the need to purchase SketchUp Pro to obtain a commercial license, now is the time to act. For the duration of this offer, you can download Google SketchUp 5 and use it in commercial applications with NO RESTRICTIONS. All you need is DarkBASIC Professional and the ConvSEO plug-in - and, of course, your free copy of Google SketchUp 5.
Please go to this link to download Google SketchUp 5: http://dl.google.com/sketchup/GoogleSketchUpWEN.exe
Click here for the ConvSEO homepage.
More Voucher Winners!
Here are the next 10 voucher winners, don't forget to read The Great Giveaway article for details of how to claim your prize:
aberdekas@********.gr
garsen****@sym******.ca
maxdot***@*****.it
sim_52@*******.com
macneill_ab@******l.com
gpetere**@****.rr.com
neoeru******@vid******.ca
lifestartsat24****@*******.com
inastorm@*****.com
fmaj**@***global.net
GUI Studio Released

GUI Studio from Andromedus Software is an intuitive drag and drop Graphical User Interface creator for DarkBASIC Professional.
Written entirely in DarkBASIC Professional, GUI Studio makes it easy to create great looking interfaces for your projects without any fuss. You design your interface entirely within GUI Studio, using simple to use drag and drop techniques. What you see in the editor is exactly what you get in your project - no guess work, and no time consuming code to write.

GUI Studio lets you create a wide variety of interactive GUI entities, including panels, windows, knobs, dials, health-bars/progress bars, sliders, steering wheels, digital displays, standard text, headline text, buttons and switches.
Once exported to your DarkBasic Professional project, you will be able to control the sliders, knobs, buttons and switches with the mouse - no need for you to write any special code to detect mouse movements - GUI Studio does it for you.
Whether you need to create an on screen display to lay over a 3d environment, or you want to create an entirely 2d interface, GUI Studio will help you to get the job done quickly, easily and professionally. It also includes a library of over 400 images to get you started.
GUI Studio is available from the Andromedus Software website, priced £19.99 - http://www.andromedus.com/
DarkBASIC Professional Fundamentals

Last month we started our new series on the fundamental concepts of Basic programming in the 3D world that is given to us by DarkBASIC Professional. We learnt how to load objects (models) into our program, and before continuing this week, you should be able to answer the following question:
Question: Objects in a game are referred to by:
The file name
The file name and path
Number
If the question is a mystery to you, take a look back at last month's tutorial before continuing! The answer is at the end of the newsletter.
FUNDAMENTALS TUTORIAL 2 - Creating Primitives
Loading Objects from files is one way to populate our game world. We also have Primitives at our disposal, which require no external resources:
Box - a 6 sided object with different sized sides
Cone - A cone made up of several flat surfaces
Cube - a 6 sided objects with equal-sized sides
Cylinder - cylindrical object made up of several surfaces
Plain - a simple, flat object with 4 edges
Sphere - a ball made up of a specified number of sides
Triangle - A simple, flat object with 3 edges.

Run the code! (Download the project files)
Let's look at the commands used to make each primitive:

MAKE OBJECT BOX 1,4,2,3
MAKE OBJECT CONE 2,4
MAKE OBJECT CUBE 3,4
MAKE OBJECT CYLINDER 4,4
MAKE OBJECT PLAIN 5,4,2
MAKE OBJECT SPHERE 6,4,8,8
MAKE OBJECT TRIANGLE 7,-3,0,0,4,3,2,5,-1,0 

For each primitive, we must specify the object number we wish to make. This is followed by the parameters that define the shape:
Box: The sizes of the 3 dimensions (X, Y and Z) that are necessary to define a box.
Cone: One dimension is specified (the height, Y) to allow DarkBASIC Professional to construct this primitive. A cone has no end.
Cube: A cube has equally sized sides. One dimension is specified in the command. Think of a cube as a Die.
Cylinder: Like the cone, we specify the height (Y) and DarkBASIC Professional constructs the primitive based on this dimension. A cylinder has no top or bottom.
Plain: A plain requires a width and length. This primitive has no height, and is akin to a playing card.
Sphere: It is possible to define a sphere by simply specifying it's diameter. Additionally, we can provide the number of rows and columns of surfaces used to build the sphere.
Triangle: A triangle is a 2-dimensional primitive. It is created by specifying the locations (X, Y and Z coordinates) of the 3 points.
Object numbers must be unique in your program. Each one references a specific object and allows you to manipulate it with other commands elsewhere in the program. The object numbers do not have to be sequential; in this example they could have been numbered 10,20,30 etc.
Try it: Change the object numbers, ensuring you don't use the same reference twice.
Try it: Change the dimensions of the shapes and compile the program to see the effects on screen.
Introducing Basic Concepts - Literals
A literal is quite simply a piece of information. It could be a name, number, place or anything else you need to be aware of. We categorise literals by the type of information they hold. In later tutorials you will see the importance of this categorisation. For now, let's look at examples of each type:
Integer and Double Integer
Integers are whole numbers, and can range from -2,147,483,648 (-2.1 billion) to 2,147,483,647 (2.1 billion) :
A double integer is in the range -9,223,372,036,854,775,808 to 9,223,372,036,854,775,807:
0
-12,584,970,638
5,957,926,753,026,937,000
Float and Double Float
Floats, also called real numbers, are numbers with decimal places, although the range is a complex definition. There are two types of float, single and double. In practical terms, when defining a real value in DarkBASIC Professional , we do not need to concern ourselves with single and double definitions. These refer to the size and accuracy of a number, but will be dealt with internally for us. Do not confuse this with variable definitions, which are discussed in the next tutorial. Here are some examples:
Boolean
A Boolean value is like a switch, either on or off. It can hold 2 values:
Byte
A byte is an 8-bit value. As such, it is in the range 0 to 255. It is sometimes described as being in the range -127 to 128 depending on the context.
Word
A Word is 2 bytes. Because values are stored as a binary representation, a Word ranges from 0 to 65535 (not 0 to 511 as you might initially predict from the definition of a byte).
Double Word (DWORD)
A double word is 4 bytes, providing a range from 0 to 4,294,967,295 (4 billion).
Note that Bytes, Words and Double Words are not generally used to store simple numbers. They tend to be used to represent other entities, such as the colour of a pixel on the screen, an alphabetical character, or the volume of a sound at a point in time.
String
A string is non-numeric information. It is not restricted to visible, alphabetic characters and symbols, which is why it is not described as text:
"A"
"35"
"$$$"
"DarkBASIC Professional"
Until next time,
Happy Coding!
Steve Vink
DarkGDK.NET Update


A new version of DarkGDK.NET - v1.0.8.0 - has been released, and can be downloaded from your Orders page. This version contains all of the changes reported in the DGDK (10-02-07 release). Samples are now replicated for both Visual Basic.NET and C#.NET. Support for .NET v1.1 has been removed since all the Express versions of Microsoft's development tools use v2.0 anyway.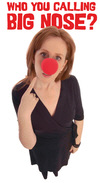 When installing, please make sure you uninstall the existing toolkit first so that class IDs from the registry are properly cleared.
You will unfortunately have to delete the existing references in your project solution, and re-reference the newly installed version again. But you will NOT need to authenticate DarkGDK again.
The official announcement can be found here: http://forum.thegamecreators.com/?m=forum_view&t=99872&b=22
Another chance to Win!
The next 10 winners of $20 TGC vouchers are here, just one more set to go:
joebl***@***.net
griffi**@****.rr.com
ratt***@comcast.net
dm014j59**@**********.co.uk
johnmes*******@*******.com
citricacid@****.pl
akpare**@*****.co.uk
novasq****@*******.com
azfar@*****.com.pk
Greg.k*****@*******ct.com
FPS Creator X10 - A World First plus Exclusive News

As FPS Creator X10 development continues, and the release date draws closer, we have lots of news for you. We start with the official details of what to expect in the final product, followed by an announcement of a world-first by The Game Creators, and finally exclusive inside information from Lee Bamber on current development.
FPS Creator X10 brings next generation PC game-making
The powerful combination of Microsoft's Windows Vista and Direct X10 heralds an exciting renaissance for PC gaming and UK software developer, The Game Creators, has become one of the first companies to join the revolution with its latest title, FPS Creator X10.
From the team of specialists whose impressive portfolio already includes top creation tools Dark Basic, The 3D Gamemaker and the original FPS Creator, FPS Creator X10 enables you to design sophisticated games without having any programming knowledge. It has been developed exclusively for PCs fitted with a Direct X10 video card and running Windows Vista, and gives game-makers access to an impressive range of new features and special effects.
GPU instancing enables your game to feature many more characters whose appearance and behaviour can be varied using powerful texture array techniques.

Smoke and fire take on a whole new realism, thanks to volumetric soft particles.

New soft shadowing technology brings games a step closer to reality.

Shader features built into your Direct X10 graphics card enable you to add Bloom effects for cinematic lighting, realistic reflections and Fresnel water which not only refracts light as it enters the water but also reflects the surrounding environment.
You literally paint your game world to create great scenes in minutes and tell a story by linking up to 50 large-scale levels. The package offers over 800 3D game objects including 62 different enemies and 18 weapons and in addition, you can import your own sounds, music, graphics and 3D models.
A full physics system produces realistic results for explosions or when objects are knocked over and for users who want to expand their game-making scope, there's an impressive collection of add-on model packs, with even more new genres on the way! The multiplayer capabilities of FPS Creator X10 enable you to host and join LAN and Internet death matches and you can give away or sell your creations 100 per cent royalty free!
During the game building process, FPS Creator X10 performs intense light mapping calculations to automatically set up a beautiful shadow-cast game world and on dual and quad core PCs, this process is accelerated by up to 250 per cent!
"FPS Creator X10 will allow any creative end-user to make stunning games on Windows Vista. It's the start of a whole new era for the creation of sophisticated content," said The Game Creators' Financial Director, Rick Vanner.
Coinciding with the recent launch of NVIDIA's new GeForce 8800 DX10 graphics cards, FPS Creator X10 is being used by this world leader in programmable graphic processing technology to demonstrate the capabilities of its 8800 cards.
Darryl Still, NVIDIA'S Director of Content Management EMEA commented: "What I love about FPS Creator X10 is that it brings the power of DX10 to everyone. It was a great achievement for The Game Creators to be one of the first people to give us running DX10 code and we see it as a key tool to demonstrate the capabilities of NVIDIA's VISTA DX10 software drivers."
Release date: April 27, 2007. RRP: £29.99 ($59.99/€44.99).
Availability: online from www.fpscreatorx10.com and at selected retail outlets.
Minimum spec: Windows Vista operating system; P3 1GHz processor; 512Mb memory; Direct X10 graphics card; 2Gig hard drive.
A World First
TGC have been recognised as the first developer in the world to produce a DirectX 10 demo. The Inquirer web site posted an article confirming the claim, read it (carefully!) here. We are the first Direct X10 demo available on download.com too.
Development Insight
FPS Creator X10 is causing a few ripples, so how exactly is the development progressing? Lee Bamber gives an exclusive insight:
"Development of FPS Creator X10 is going great and we now have the ability to make DX10 games with the editor under Vista. Here are some screen shots of our progress:

Click the images for an expanded preview of FPSC X10 features
"The development of the X10 technology is going well, and we are starting to see the game engine come to life. Gameplay features are progressing, but we have all the essential elements running under DirectX 10. We now have an internal version of DBPro compiling 28,000 lines of code and creating an executable that runs well on Vista. Using the FPSC X10 Alpha version, we can build small levels and run around them in test game mode complete with dynamic entities, weapons, doors, windows, FPI logic, scorch, explosions and debris. We are working towards retaining compatibility with existing FPSC levels, so in theory you will be able to load your old game levels into X10, and they will instantly be transformed into a next generation experience. We are currently working on the character visuals and behaviour, overall performance and large level stability. After that, we will be bringing the unique X10 eye candy to bear on the engine, the first being BLOOM which gives the whole game scene a more realistic appearance. In terms of timeline, we are still on target for an April launch and for those lucky enough to own Vista and a Series 8 GeForce card, you're in for a treat!"
More News from the World of FPSC

Aside from the ongoing development of X10, we have our roundup of other news from the world of FPSC.
Extinction Level Event

Alia3D studios, in association with the film production company Continental are developing a First Person Shooter, using FPSC, called E.L.E (Extinction Level Event)
The innovation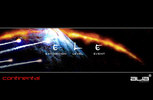 It is a series of three episodes which are being produced at the same time and will then be launched consecutively.
E.L.E. has a cartoon "look", breaking with the traditional realism-based design of these types of games. The aim is to provide the player with an innovative audiovisual experience in which the script, following film style rules, will constantly surprise and hook the players with unexpected turns specially designed to reinforce the video games' action.
The Plot
Throughout the three episodes you will become K, a man who wakes up with no memory after 30 years in cryostasis in an abandoned laboratory. He doesn't remember who he is, he doesn't remember anything about his past. He only knows that he has to reach the Ark, that Armageddon is coming, that cities are being attacked and that humanity will be exterminated by a mysterious army of androids.

Screenshots from the title (Click for larger views)
Who built that army? Why do they want to eliminate humanity? What is the Ark? And most importantly, who is he?, why can't he remember anything?.
To answer these questions K will have to cross over the darkest side of humanity and discover that sometimes "man is a wolf to man".
Nanogames

A small company in South Africa is making big waves with their catalogue of FPSC games. With 5 titles already under their belt and several more in production, they are not afraid of a little hard work and it's starting to pay. They have recently signed up to publishing and distribution deals with Wild Hare and Pinnacle.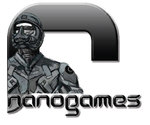 The titles to date include Crisis Response Team, CRT Tournament Edition, Sturmgart, A.R.C Arena and Outbreak. Although all FPS games, they still cover a significant amount of ground in the variation in their titles. From world war to viral outbreaks, death match arenas and very shortly paintball, there is a theme to suit all tastes.
Visit Nanogames at http://www.nano-sa.com
Lee's Tip of the Month - Profiling For Profit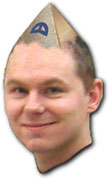 In addition to catching criminals, profiling offers many other benefits. For the game coder, profiling can turn your game from a 'nice but slow' experience, into a 'this feels commercial' experience. One of the hallmarks of a professionally finished game is that it feels fast and smooth, and this power can be yours.
I am an old-school coder, so profiling tools were not around when I was adding bits together, but we still had profiling, in our own way. Mine was a simple approach, and one I still use today. The basic concept is that you want to find out which part of your main loop is slow, so you can drill down and make it faster. As you do not know how much of your code requires speeding up, you will have to test all of it. The biggest mistake you can make is thinking you know where your code is slow, and start speeding it up right away. The problem is, are you positive that was the slowest code?
Next time you reach the point where your game is struggling to hit 30fps, try adding the following timing code into your program.

WAS AS DWORD
TOOK AS DWORD
WAS=TIMER()
GOSUB _MY_SUBROUTINE
TOOK=TIMER()-WAS
TEXT 20,20,"SUBROUTINE TOOK "+STR$(TOOK)+"ms"

This code records the time before your subroutine was called, and then records the difference against the time when the program returned from the subroutine. The TIMER() command measures time in milliseconds from when the computer was switched on.
You then place these blocks of timing code around all the major code within your main loop, so you can account for every unit of time eaten by your program. You then display the results on screen. The bigger the value, the slower the code. For a 30FPS game, you need to complete ALL your code in the main loop within 33 milliseconds. More professional coders would aim for 10ms to 16ms as a maximum.
Adding profiling code is a five minute task, and if you keep the timings on-screen during development, you will notice the moment you drop in some slow code. Those five minutes spent in the first week will not only save you time later on, it could even save the game from the scrapheap!
PlayBasic News by Kevin Picone

PlayBasic - 3D Acceleration Work in progress
Since the turn of the new year, we've been busy hammering out the new graphics engine code for PB1.70. The engine explores adding Direct3D (hardware acceleration) to PlayBasic. With this change sees another evolution of our 'replaceable' component model. This approach allows system level components to be abstracted from the command sets, making the core interchangeable. What this simply means is that we can now replace the central parts of PB easier. So things like swapping GFX modules will soon be viable.
In keeping with our minimal specification requirements, we've chosen to base the new engine around the DirectX 7 API. For the time being this is the most appropriate option for us to take. It allows us to implement 3D rendering, but retains DirectDraw support, ensuring easier transition and backward compatibility with existing editions of PlayBasic. In the near future, we'll also be embracing other graphic APIs (DirectX9 -> DirectX10) through our interchangeable component design. Surprisingly, the only thing we'll miss at the moment, is shader support.
So far I've been working on the core functionality of the engine and how this integrates with other command sets . This work has primarily been focused around images and sprites at the moment. As with this engine we are not only enabling hardware acceleration of drawing functions, but we want to give programmers more freedom over the scene by introducing some 3D controls; like rendering sprites in perspective for example.
Sprites On Steroids
While initially I've been working on ensuring the new engine is compatible with the existing version, this is not my only priority. I've also been embedding new foundations to expand the functionality of the sprites. These expansions will allow users to take sprites beyond a simple rectangular representation, into sprite entities, sprite hierarchies and even particle sprites.
Entities are a way of expanding the sprites from a quad representation, into a polygon based representation, giving you control over the vertices and face definitions within it. This will allow the sprite to take on the role of 3d geometry but in a 2D/3D world.
Sprite particles are an extension of the sprite entity mechanism. Effectively they allow us treat a sprite as a particle emitter. PB then handles the individual particles locally, so we can set up the emitter and let it run.
Sprite hierarchies allow us to link child sprites to a parent. This enables linking of sprites together to form more complex characters / environments in games. We can link standard quad sprites, sprite entities and even particle sprites together, which will provide some very interesting possibilities for PB developers in the near future.
More information on PlayBasic can be found at Underware Design's website.
PlayBasic V1.63e Is Out there
I'll leave you with just a taster this month, I really don't want to give too much away about our new feature set just yet. Apart from that I'm expecting PB1.70 it to be release ready in a few weeks time. Until then, please make sure you're running the latest update (PB1.63e), which includes Linked Type Lists, plus the new String and File System Engines. So Enjoy...
The final Voucher Winners
The last 10 winners of the celebratory TGC vouchers are:
daltonth@********.net
stephen.su****@*******.co.uk
mon_nom_est_arnaud@*******.com
jerrycasi**@*******.com
mfloo***@***.com
shabra@******.demon.co.uk
amarjitaa@*****.com
l33tblack*****@sbc******.net
kurt_ch*******@*******.com
robert.ra****@***.edu
If you haven't won, don't forget you can still take advantage of DarkBASIC Professional Online at 50% discount, and enter the 50-liner competition to win more prizes.
From the Forums
Take a moment to sit back, relax and wander through the forums...
As indie developers, we can always look to the commercial games to see what the future holds for us. Lucas Arts have unveiled Euphoria, their latest physics engine to be incorporated into future titles.
Aaron J. Miller (DB User 2006+), is working on a WIP project called the WinGUI, a free Windows GUI Plugin for DarkBASIC Professional. Visit the thread to check out the progress and provide feedback and comments
.
ODE is the free physics functionality that was provided as an open-source solution to the community. Andy Hansen (Coolgames) has been working on improving the Triangle Mesh functionality.
Sometimes it's a struggle to remember just where you saw that fantastic DB Pro utility, or never even knew it existed. The TGC webring is taking shape to resolve this problem, the latest site link is towards the end.
.
There are many discussions and speculation about what will happen in the coming months. But what about the longer term? Have your say on where you think things are headed in the industry that is bedroom coding.
Want to know what Richard Davey is up to since he left TGC? Then check out this thread where you can read about the sites he has worked on, and gain an exclusive look at a animated new TV show starting soon.
.
Outro
Fundamentals Answer


Objects in a game are referred to by ... number. Although the name of the file must be known to load the object, we use an index number in the program. The transition takes place in the load statement, where we specify the file name and the index number we wish to allocate to it.
Share your news with over 13,500 active games developers!
If you have something you'd like featured in a future issue then please get in touch and include as much information as possible (including where applicable: screen shots, URLs and zip files).
Issue 51 deadline - March 27th.