Internally it was scheduled on all of our calendars as "bug week". A period of time set aside of purely one thing - fixing as many reported issues with DarkBASIC Professional as possible, with constant news updates via the web site, public beta tests and a 5.4 release at the end of the week. Come the end of the week almost 200 confirmed bugs had been squashed. A figure like that is somewhat of a double-edged sword, while on the one hand we're extremely pleased to have got through so many bugs in such a short space of time, it is with equal measure we regret them existing in the first place. 5.4 marks the start of a consistent development period for DarkBASIC Professional. But now over to the head developers to talk about the week that has been: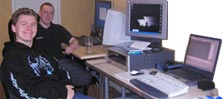 Lee: "The week has gone quickly and the first thing that strikes me was the number of bugs we managed to get through in such a short period of time. It seems a diet of coffee, twelve hour days, close proximity to five PCs and yet more coffee creates an atmosphere that works well for getting stuff done. True Mike and I have had no life whatsoever these last seven days, and it is not something to do every week, but it really opens my eyes to what can be done if a crunch is required."
"We made sure that all the confirmed bugs were dealt with, and also made sure that all the bugs reported throughout the U5.4 bugweek phase were leapt upon. I do feel something similar could be done in the future to tackle more bugs, or to work on some key area such as collision or multiplayer. If we existed as a large corporation, we could do this sort of thing week in week out, alas we are almost a cottage industry company with limited resources at present. Everything we would like to do must be balanced with everything that we must do. Not a flighty kind of 'must' that comes from the opinion, but a form of serious 'must' that keeps us working here on software instead of the local sweat shop making trainers. Bugweek weighed in about half way on this scale, and quite definately a serious 'must' now that I see the result. We have fixed bugs that go back all the way to 2002, and a good deal from 2003. I must also commend certain users of the community who probably stayed up as long as we did to confirm, reject and verify bugs as the week rolled on. I shall not drop names in fear of missing someone out, but you guys know who you are! Definately a well earned beverage next we meet."
"As always I wait with anticipation over what we have introduced by way of new bugs in U5.4, as even though no new features were added we now have the online component, some functional changes and some code replacements. I invite anyone reading this not to relax their guard and still use the Bug Report forum whenever you discover an injustice that needs to be put right. I dare say it will be cleaned up in the weeks to come as we clear away the rejected and look forward to the inevitable Upgrade 6. In regards to a U6 release date, I will anticipate all emails on the subject with the release date of 'when it is done'. No doubt such a release can be helped along with another bugweek session, though perhaps this time it will be called something more suitable, perhaps 'coolweek'. Thanks once more to those that pitched in over the last seven days, and I hope we have made the community a happier place with the release of U5.4 and the obliteration of over 200 bugs (my guess)."
Now would be a good time to just remind readers that even though bugweek is over and Lee will be moving back onto FPS Creator development, Mike will still be working on DarkBASIC Professional and a large portion of his working week has been allocated to carrying on what has been started here. Over to you Mike...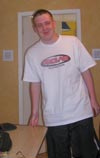 Mike: "As we approach the final few hours of bug fixing week I've been scouring the bug report forum and it's encouraging to see that the large majority now have the fixed status applied to them. The week spent fixing bugs has proved to be very useful and everyone should start to see the benefit with the final release of 5.4. We started the bug fixing week last Sunday when Lee came to my house sometime after 10pm. We set the computers up and it wasn't long before we were going through the bugs on the bug report forum and from emails we had and splitting things up so we both had our own areas we could work on. Didn't get any bugs fixed on Sunday night but we got the week planned out. Started off fairly early on Monday morning and got straight into bug fixing. First on the list were some text fixes. I ended up getting bogged down in this when I soon realised that I couldn't get things right without making large changes. Ideally I wanted to use GDI but couldn't get that working the same on all systems for some reason. Then I ended up experimenting with different approaches to improve text. I could get some things sorted but then this would affect other areas. Improve speed of rendering and I lose quality, do it the other way round and get good quality text and lose speed. It was frustrating and I couldn't find a suitable way of getting things exactly right using the same commands. Looking back on it I should have left this early on and moved onto other areas. Now I realise that the best solution to this is to add in some extra commands and then we can get both good speed and quality using the texturing system."
"Things improved on Tuesday and I set about working on sprite fixes. There were quite a few things to get sorted with sprites and I had plenty of helpful bug reports to look at with source code. Makes a big difference when you have a small project you can run and see the problem instantly. I can then sort things out much faster. Lots of small things with sprites which weren't too awkward to get fixed. Some animation bugs existed which must have slipped through the net some time back. Didn't take long before I got these sorted. Also some problems with collision, return values and other minor but annoying things. Later on in the day on Tuesday I moved onto the 3D Maths command set. Someone on the forums had reported a problem with this command set and the way it worked and I agreed with them so decided to change it. Basically you could create a vector2 but then call a vector3 command on it. This caused a few annoying problems so I went through the commands and made them safer to use. There were also some bugs in there like copy vector now working. I thought this was an odd one but soon realised what had gone wrong when I looked at the source. Must have been in a trance when writing this command as when I referenced the vectors I used the first parameter both times. Talk about being thick. To compound matters I had done the same dumb thing in some other functions. Last fixes on Tuesday were related to matrix commands. You could shift matrices left and right but when using non square matrices the whole thing would fall down like a pack of cards. Looked at the source and realised my mistake straight away. I had assumed square sizes all the time. One quick change and that one was sorted. If only all bugs were so simple to sort."
"Wednesday was a day of working on many different DLLs. Lots of bug reports on the forums to choose from. Started off with a file DLL problem. The save buffer for strings was too small so changed that one straight away. Then moved onto Q3 BSP and fixed a few simple bugs - things like gamma levels and texture settings. Did some similar things with the Quake 2 DLL which controls Quake 2 levels and Half Life levels. Both are pretty much the same format so I put those into one DLL. Would like to put all BSP formats into one DLL in the future, something for us to think about with our own world format. Later on in the day sorted out problems with particles. Snow and fire particles finally work: There was some daft conflict between them and the Basic 3D DLL which had screwed things up - no longer the case. Then moved onto some bugs with Basic 2D. Needed to change some of the drawing commands and alter some render states to avoid conflicts. Other work done on Wednesday included another fix on sprites, sorted out the problems with several sound commands, changed the way perform checklist for display mode works with the setup DLL, adjusted some code in the input DLL, fixed a crash in the system DLL and more fixes in the matrix DLL. There was a problem with setting the last tile normal so soon had that fixed. And there was a report about matrix up and down needing swapping round so changed those."

"Moving onto Thursday I spent the majority of the day on the BSP DLLs. Some bugs had been reported with Half Life and Quake 3 levels so I looked into these and started testing examples so I could see what was going wrong. I was able to make a lot of changes which will go some way to resolving problems with BSP. I fixed some loading issues with Half Life BSPs so now I'm pretty confident all BSPs will load right now, although if any don't then post a report on the forums with links to media and I'll try and fix it. Also realised with Half Life BSPs was that I was rendering the sky box and there was no need too so I disabled this and you can now put in your own sky box which makes more sense. Other fixes for Half Life were related to collision. Some stupid bugs existed which needed fixing - the collision return functions were reporting crazy values which no longer happens, the threshold values were also being ignored, fog could not be used and there was a problem with automatic BSP and object collision which is now fixed. It was a similar state of affairs with the Quake 3 BSP. Some collision problems with automatic BSP and object collision, some texture settings being incorrect and other things like this. One of the bugs I came across was to do with meshes - I was leaving lighting on and didn't need to do this. Switching lighting off for meshes made them look right and they fit in now instead of standing out so much like they did previous to upgrade 5.4. Other fixes on Thursday were for the system DLL. The memory commands were providing wrong return values. Didn't take long to get these sorted out now and they now return the correct values in mb. Will change this in a future upgrade so you can specify the return amount as bytes, mb or gb. Finished the day around 4 am or so. Not often I'm up till the early hours like that."
"Lots more changes done on Friday. Carried out a few more changes to the Quake 3 BSP DLL which solved some issues. Then fixed a bug with matrices. There was a continue in a loop and when the loop did skip an iteration some important code was jumped over. Changing this fixed the ghosting issue and all seems to be working well in this department. Spent an hour or so on the multiplayer DLL to fix some bugs with that. Also added in some extra functionality so you can get the number of players in a game before actually joining. Makes it a little easier when using multiplayer. Went back to the text DLL and ajusted the code. It's fixed some of the problems but still we have the speed issue when changing size and font. I will come back to this again when we can add in some new commands. Fixed a long standing issue with playing animations. The set volume command would not have any affect at all and it wasn't much use in it's original state. A quick change to the code in this section soon had this sorted out and working. Other changes on Friday involved modifying some of the code in the display DLL. There were some problems with changing the window settings and after running a few example projects I was able to identify the problem and get the code changed. Another change I made was to do with the screen fps command. Calling this command multiple times in a frame would make it seem like the frame rate was much faster. Call it twice and you get double the frame rate. Might make DB Pro look super fast but still needs to be fixed. Added in a few extra lines and now this will produce the correct value each time regardless of how many times the command is called each frame."
"Another late day on Friday. Ended up going to bed at 5am, somewhat of a recurring theme throughout the week :) Got up about mid day today and checked the bug forums to see if there was anything else that needed looking into. There was only a few minor things so got onto these and it wasn't long before they were sorted. I had introduced a problem with the display DLL by making another change so I got that sorted straight away. Also some issues with Basic 2D, input and had to change the demos for particles and 3D maths because the commands had changed slightly. Close to 11:30 pm and we're due to release the final version soon so I best get on. Hopefully now we've fixed the majority of problems with DB Pro : It's certainly been a long week but well worth it."
Lee and Mike are both currently enjoying some serious partying (and tech knowledge gaining) at the NVIDIA Developers Conference at the Ministry of Sound in London. They will be back and updating their diaries / responding to bug reports later this week.