The Game Creators Newsletter Issue 26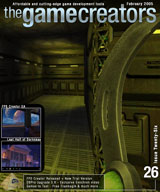 This month we're pleased to announce the immediate availability of our new title FPS Creator including a brand new trial version that is hot off the press. This trial version was released only a matter of hours ago - so you will be some of the first to test it out without having to shell out.
Unless you are a new subscriber (in which case welcome!) you have no doubt already noticed that we've got a new look to the newsletter this month. The change was bought about by the fact that a large number of you kept reporting that the newsletter just didn't arrive in your inboxes and we're sure that part of this problem was the massive file sizes our mailing list provider was trying to send out. The old style while visually more appealing did contain a significant amount of HTML that the new style has cut back on, issue 23 for example was a whopping 88 KB of plain text. With new DBPro Upgrades and FPSC related releases coming it made sense to try and ensure that as many people could read our newsletter as possible.
Enjoy the read!
Contents
FPS Creator EA is Released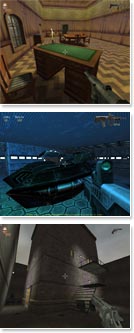 First Person Shooters are one of the most enduringly popular game genres. Now, for the first time, anyone can make their own action packed FPS games without any programming or 3D modelling knowledge.
Bringing a new benchmark to game creation, the innovative and multi-featured FPS Creator has been three years in development and offers an easy, yet flexible editing environment where you can achieve high quality gaming result in no time at all.
Using FPS Creator's open design through the intuitive Windows-based editor provides endless possibilities to create multi-level games and enjoy the classic FPS experience. You literally paint your game world to create great scenes in minutes and the package includes 300 segmented building blocks that intelligently attach themselves together. In addition, there are 500 3D objects, 62 different enemies, 18 weapons and ammo and 66 AI scripts. The program's 3D engine supports Direct X9.0c and to get you started there are two graphics libraries for popular Sci-Fi and World War 2 genres plus an example game. And if that wasn't enough you can also import your own media files such as wav sounds and 3D models!
You just slot your scenes together, drop in weapons, enemies, ammo, lifts and teleporters: easily refine and edit such things as objectives, trigger zones, lighting and AI scripts then with just one click of the mouse, FPS Creator turns your ideas into a standalone game!
"FPS Creator is by far the best game creation system we have ever developed and we believe it is the most powerful one every to hit the market," said The Game Creators' Managing Director, Lee Bamber. "You don't need to know a programming language and there is no longer any need to slave over a hot keyboard all night to get a 3D model onto the screen.
"It's perfectly possible to create a large and complex FPS game without entering a single line of code - but for those who want to get their hands dirty, we have also ensured that everything is controlled via script files that can be opened into any text editor and recoded."
FPS Creator costs: $56 / €43 / £30 (+VAT) for the EA release. The boxed retail version is expected later this year.
For more information or to order please visit: //www.thegamecreators.com/?m=view_product&id=2001
FPS Creator Trial Version now Available
We're pleased to announce that a brand new trial version of FPS Creator EA has been released. There are of course some limitations, but you'll still get a very good feel for the ease-of-use and flexibility of the package. The trial limitations are:
30 Day Trial Period.
Build stand-alone games disabled.
You cannot create multiple levels (as this is part of the build game process).
You can only access a third of the media the full version contains (restricted media is greyed out).
Dialog box registration appears after you exceed 20 segments or 20 entities (including markers) when building a level.
Texture Quality reduced to 256x256. Full version uses 512x512 textures.
First level of Sci-fi game example included. Full version includes the two full levels and the game as a stand alone exe.
We're keen to hear your feedback about the trial version in our new FPS Creator forums.
Win $100 worth of TGC Software
We are currently running a competition to submit a high-quality screen shot taken from an FPS Creator level and you could win $100 worth of TGC products. Please visit this forum thread for more information.
Download the Trial Version from the FPS Creator web site. The file is 77 MB in size.
DarkBASIC Professional Upgrade 5.8 Information
Our thanks to those DarkBASIC Professional users out there who have been patient while we finish off FPS Creator, this following information about Upgrade 5.8 and 6.0 for DarkBASIC Professional is just a little taster of what is coming very soon. Over to you Lee...
"Now that FPSC EA is out the door we have quality time to dedicate to other areas between now and the FPSC retail release. We have looked at what we can do by way of a DBPro Upgrade. We will certainly be releasing a new debugger which is much more stable than the current U5.7, and hopefully we will be able to bring forward a small set of new commands to allow the loading and compiling of source code that can run FPSC created levels."
"I am sure there are many DBPro users waiting for this duo, the FPSC source code and the commands that come with it. It will not be a huge addition of commands, just those needed to get FPSC scenes loaded and running to some degree. You will most certainly get the scene geometry, textured and ready with built in collision, but perhaps the commands to build these scenes will be left until we have more time to test this side of things. Certainly our DBO and DBU loading code has been tested extensively through FPSC development so we are confident these will do the job."
"A few commands we hope to release in the near future are SAVE OBJECT allowing you to create your own DBO files, LOAD STATIC OBJECTS so you can load in the entire scene with a single command and with that, an extension of the collision system with the command STATIC RAYCAST and STATIC VOLUME which can typically be used to handle collision for a player character wandering around your scene, and the ray cast command for detecting bullet shots, grenade bounces and line of sight detection. You will also get the benefit of having these commands tested heavily thanks to an equal measure of FPSC testing of these from the last 12 months of development." [ Editors note: For those of you who are not aware of this FPS Creator itself was actually written in DBPro (not C++) using a customised 5.8 compiler, see below... ]
"I have no doubt you will like the upgrade that contains these features and the only thing stopping us from releasing them for you is time. We still have a heavy schedule here and it is only now we can start to plan time away from the monster that is FPSC to dedicate some quality time bringing these new features into the next version of our language. I hope you will bear with us while we prepare this version, and the fact we have written the FPSC game engine entirely in U5.8+ should give you some idea of the kind of things you yourself can achieve with it. We have not decided what this new upgrade will be called, whether we issue U5.8 as a debugger and bug fix patch, or work on the much more substantial version and call it U6.0 with the FPSC command features. It really depends whether the community would like a two stage release, or are willing to wait a little longer for the U6.0 version."
Editors note: I personally have given Lee my vote for the two-stage release, feel free to make your thoughts heard regarding this on the forum.
Omega Basic - Professional Mobile Phone Game Development
Here at The Game Creators we have a keen interest in products that allow you to create games and applications for mobile devices. We are pleased to welcome a new product onboard - Omega Basic - which allows you to do just that.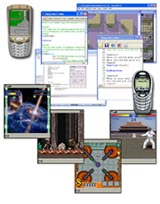 Omega Basic allows you to create and test games and applications for mobile phones, PDA's and smartphones on your Windows, Linux or Mac computer using the Omega Basic language or Java. Omega Basic is designed for new programmers and advance developers alike, featuring built in support for sprites, graphics, sounds, music, animation, video, network and multiplayer. The language uses the easy to use BASIC command set with a twist, the special commands makes it easier than ever to start programming great games! Omega Basic's intelligent build system also enables professional programmers to develop in Java using the Omega Basic extensive API set. Omega Basic can create games and applications for any device supporting the Java (J2ME) logo. This includes Mobile Phones, Personal Digital Assistants and SmartPhones.
Streamlined Editor and Next Generation Compiler
Omega Basic comes with a fully customisable project based development environment. Painlessly browse multiple source files, save bookmarks, print important functions, and track errors from the compiler output window all from one innovative interface. Omega Basic runs on Windows, Linux and Mac computers so you can develop anywhere. Omega Basic uses an intelligent build system that links in with the official Java files, producing 100% professional Java programs. There are no overheads, no interpreted sections so you get 100% speed 100% of the time!
Command Set
As well as the core BASIC command set you also have access to commands such as:
Input: KEY.LEFT, KEY.RIGHT, KEY.UP, KEY.DOWN, KEY.FIRE
Graphics: IMAGE, IMAGE.DRAW, IMAGE.POSITION
Maths: ACOS, SIN, TAN, EXP, LOG, SQR
Sprites: SPRITE, SPRITE.DRAW, SPRITE.POSITION
Maps: MAP.LOAD, MAP.SETX, MAP.SETY, MAP.ANIMATE
Sound: SOUND.LOAD, SOUND.PLAY, SOUND.LOOP
Music: MUSIC.LOUD, MUSIC.PLAY, MUSIC.LOOP
String: LEFT$, MID$, VAL, LEN, ASC
Multiplayer (Using Omega Server): SERVER.CONNECT
Omega Basic will soon support both .NET generation for building games or applications for Windows CE and XP and (far more fun!) it will soon support full 3D graphics.
Order Online
Omega Basic costs only $59.95 / €45.99 / £32.99 and can be purchased safely online.
For more information visit: //www.thegamecreators.com
MultiJoy Plugin
One shortcoming of DarkBASIC Professional is that it doesn't originally support multiple joysticks. The MultiJoy Plugin gives you an easy and efficient set of new commands to support multiple joysticks / joypads / input devices in your game or program. It supports any windows compatible controller, up to 16 devices, both analog and digital, up to 256 axis and up to 256 buttons per device. Originally designed to work with DarkBASIC Professional it is also compatible with DarkBASIC Classic and other languages that supports DLL calls. It includes the JOY SCANCODE and JOY STATE commands which are great for games with customizable input. Once installed you don't need any external files, DLL calls or wrapper functions to make it work.
For more information visit: http://darkphear.cjb.net/
Focus Lorry Adverts
Focus Multimedia, the publishers of the DarkBASIC created 'Driving Test Success PRACTICAL' and 'Driving Test Success Road Signs' products have just launched a sponsorship deal with a nationwide artic lorry fleet that will see the Driving Test product range emblazoned on the sides of the 40ft vehicles.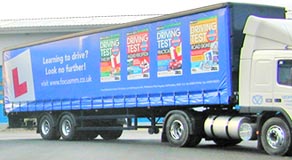 Our UK readers should be sure to look out for the lorries, although please continue to pay due care and attention to other traffic on the road! The Driving Test products are some of the top budget selling titles in the UK and demonstrate DarkBASICs ability to create extremely successful software beyond just games.
Exclusive Evochron Video

We're excited to learn about a new game from the high-quality production stable that is SW3D Games (authors of the Star Wraith series) and even better than just having some screen shots we've also got an exclusive 3 minute video of the new game in action! So what is Evochron all about? ...
Imagine taking a lone-wolf style space trading strategy game of the past, then place the player in a first person perspective and make everything occur in real-time. That is what Evochron sets out to do. You can make diverse buying, fighting, and travelling decisions in a large universe without the hesitation of turn-based gameplay or the reduced immersion of an overhead/outside view. You are literally in the action and make gameplay decisions directly from the cockpit. Evochron adds traditional space combat elements while introducing many new concepts to the theme. It builds on the award winning Star Wraith combat system and graphics engine while including a real-time dynamic economy, seamless environment transitions, open space navigation, multi-level threat system, commodity/item trading, and much more.

How is Evochron different from Star Wraith?
Evochron is more freeform in its design, which lets you play the game in a variety of ways. It includes other gameplay decision options such as mining, trading, exploration, transport, resource management, and money. In Evochron, you use your wealth to repair, upgrade, and equip your ship. In Star Wraith, you are a military fighter pilot, in Evochron you are a freelance mercenary. Star Wraith uses a simplified physics system while Evochron uses a more Newtonian physics model. Evochron also has a greater learning curve since there are more things to do and learn (such as the navigation system, inventory management, and ship-to-ship trading). Fans of games like Wing Commander and FreeSpace will probably enjoy Star Wraith the most while fans of games like Elite, Privateer, and Freelancer will probably enjoy Evochron more.
Download the Video
The Evochron video is 3 minutes in length and shows all in-game footage set to a great soundtrack. The video file is in Windows Media Player format (WMV) and is 9MB in size but well worth the download. We'll bring you more details about Evochron as it leaves beta and hits full release. Click here to Download the video.
For information about SW3D games please visit: http://www.starwraith.com
bvEncrypt
So you have your masterpiece, it's ready to hit the public domain..and you don't know how to track your customers or protect the program you've lovingly cared for and nurtured. bvEncrypt is a simple registration key generator. It is intended for hobbyist game makers who need to add a little protection to their applications, and to encourage registration. Although it will not stop a determined hacker, It may save you hours of valuable coding time and headaches, and introduce a small amount of Peace of Mind to your world.
bvEncrypt is coded using Darkbasic Professional, and optionally generates a registration file, a password-protected, zipped version for added security, and also a DarkBasic include file for decryption. bvEncrypt is simple to implement. One include file and one function call will tell you if your user is registered or not. You can generate an unlimited number of unique registration codes, based on the user's identity.
And if all that's not enough, it's also free. Steve Vink, aka BatVink, welcomes feedback and suggestions for improvement.
View more details here: http://forum.thegamecreators.com/?m=forum_view&t=49233&b=5
Treemagik Plus for FREE

The Treemagik range of products from Alien Codec are a popular way to create interesting well-textured and accurate tree structures for your games. Just moving a range of sliders around within Treemagik leads to a wonderful variety of models that ultimately give your games diversity. In an exciting move Alien Codec have seen fit to release their Treemagik Plus program completely free of charge! It even includes the original Treemagik Editor and media as well as the Exotic Expansion Pack.
Compile and export high detail - low poly trees for use in games development.
A robust collection of photo-realistic textures and mesh.
Included material to create approximately 33,000 types of trees!
Export and Save your creations and reedit them later.
Save trees to DirectX .X or Blitz's .B3d format for easy loading inside your projects.
Easy to use editor allows for building sophisticated tree layouts in just a few clicks.
Textures and tree mesh - optimized for game usage while maintaining a high detail look.
Download Treemagik Plus from: //www.thegamecreators.com/?m=view_product&id=2087
Get Involved with the new TGC site build
We are nearly finished re-building the TGC sites and with that comes the opportunity to change the services / features the site offers developers. There are various things we already want to change such as the Showcase and CodeBase becoming user moderated, as well as the facility for you to create your own mini-tutorials on-line which can be shared with everyone else. Other areas could include the likes of an annotated manual, project display area, small web site hosting, etc.
Anyway the point is that there is too much to discuss in one thread here on the forum. It would also likely get spammed too quickly with somewhat useless comments leading to a need to "search for the wheat among the chaff". So we have put together a mailing list for this discussion. The mailing list is closed meaning you have to subscribe in order to post to it so all discussion can take place on the list and the list alone. It gives me the ability to file genuinely useful ideas and act upon them. It gives you the ability to see the features being built, comment upon them and beta test them.
If you are interested in the services the TGC site (and company as a whole) can offer developers and have some good ideas to submit then please join the mailing list and get involved. When you join a welcome email will be sent to you with further details. A list archive is available so you can catch-up quickly. When you join feel free to post a "hello" message.
Subscribe here: http://seven.pairlist.net/mailman/listinfo/tgc-future
Games to Test
A couple of games have been released that caught our eye this month, each of them worth downloading and leaving comments in the authors forum thread.

Pentago
This is a puzzle game (and a tricky one at that!) involving the pentagonal rotation of 3D shapes, similar in a rather abstract way to a Rubik's cube. The full game features 20 levels. Download Pentago from: http://alexrivaz.altervista.org/MyFreeware.html where you can also find a beta version of the 2D shoot-em-up Blast-o-Matic and the great Marble Run.
Write about Pentago: http://forum.thegamecreators.com/?m=forum_view&t=49205&b=5

Android Nim 2D
One thing we hear about often is that when people first get hold of DarkBASIC they like to try and re-make a game they perhaps built many years ago on systems long-since gone. This is where Android Nim comes from and author Leo Christopherson has re-made his TRS-80 1978 original, adding in new animations and insults! (play the game to see what we mean). Nim is a classic puzzle game that, when you know the strategy, you can always win - thankfully Leo decided to average out your chances in this version.
Download Android Nim 2D: http://www.leochristopherson.com/android_nim.htm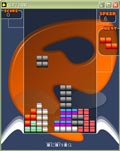 Clifftris
The 3D Energizers have released their own take on the Tetris theme. This is a very good looking game running in a desktop window (rather than full-screen) with responsive controls, proper sliding block collision and lovely graphics. Certainly one of the better Tetris games we've seen, let alone one made in DBPro!
Download Clifftris: http://www.3degs.net/index.php?page=webfile&dsn1=nav_webfiles&file=16
Got a game you'd like to see here? Then email us now!
From the Forums
Our forums are a diverse and interesting place to hang-out and this month saw them reach the staggering 500,000 posts mark; that's half a million messages from you lot since August 2002! Added to the forum this month was a new feature called MailBack. Simply set yourself a MailBack email address in your forum profile and you then get the option to tick any thread you start or participate in and it will email you each time someone responds. So now you won't miss out on those hot topics.
Here are a selection of forum threads this month that are worth looking over:
Controllable vehicle with true physics interacting with other objects in scene (Full Source)
The thread title says it all! Requires the Newton DBPro wrapper but no other media.
Read the Thread.
Bouncing Bezier Demo
This is a demo of drawing cubic bezier curves in full 3D (and very nice it is too!).
Read the Thread.
EZrotate for Dark Game SDK
The conversion of EZrotate for Dark Game SDK is ALMOST complete!
Read the Thread.
Conquest Realms
Conquest Realms is an RPG in development. It features one-hundred gigantic levels, each one with four terrain types, so there will always be exploring to do. Each level is filled with groups of goblins to slice through.
Read the Thread.
Katey's Quest
We're big fans of the original Lode Runner so we were very happy to see this early stages remake of it. Run around the levels, pick up bits of a magial mirror to warp into the next level, avoid the monsters, etc!
Read the Thread.
You can find our forums at: http://forum.thegamecreators.com
20-Liner - Balance Out III

Way back when the newsletter first started we used to feature a monthly section called "20-Liner". This took one of the better entries from the 20-Liner board in our forum and bought it to you, the readers and awarded the author a small prize. After a mammoth hiatus we have bought this back! Congratulations to PiratSS for the addictive game Balance Out III complete in 20 lines of DBPro code. Contact us for a free copy of any of the following: The DBPro Expansion Pack, FPS Creator EA, EZRotate or 3D Cloth and Particles.
Download the 20-Line code from: http://forum.thegamecreators.com/?m=forum_view&t=47477&b=11
This months winner
Each month we award one lucky newsletter subscriber a free copy of DarkBASIC Professional. The winner this month is: rain??@plumhof.???
Just email us with your address details and DarkBASIC Professional will be in the post to you.
Outro
Well we're done with another issue! It's quite amazing to think we've reached issue 26 without so much as a hitch really. When the newsletter first started I was concerned if we would have enough articles each month but our vibrant community (and company releases!) have seen to it that this hasn't been a problem at all. Readership has steadily increased over the months as more and more people come on-board. If you have something you'd like featured in a futue issue then please get in touch, I'm sure our 10,000+ readers would love to hear about it.