It's incredible to think that we're just over a month away from Christmas and then it's nearly 2004! I don't know about you, but it feels like time has really flown this year, but so much has happened it's been a fun ride and it doesn't ease up this issue either. We've got an interview with Kes James, programmer of Driving Test Success Practical which is currently outselling Halo, et all in the software charts. There are some final hints and tips for the Alienware competition, a look at some new games and you can even win a car this issue! Read on... :)
Driving Test Success Practical
If I was to ask you what software title is currently riding higher in the Top 10 PC charts than the likes of Halo, Worms 3D or Finding Nemo you'd assume it would be some new mega game. What you probably wouldn't expect is that it's actually a full 3D driving simulator written in DarkBASIC.
Released at the start of November 2003, Driving Test Success Practical was produced by The Game Creators and publised by Focus Multimedia. Since its release it's already enjoying a prominent position in the charts, being the fourth title in the Driving Test Success series; the highest selling budget PC range in the UK. Due to its popularity you will be able to pick the title up in just about any software store or supermarket (we even saw copies of it for sale in our local Asda the other day). It is a truly mass-market product and anticipated to go on and sell hundreds of thousands of copies.
So what does the software actually do? It lets you practice, revise and refresh the essential driving skills taught to you by your Approved Driving Instructor, before and after lessons. Featuring a virtual 3D car and town, you are able to practice, under instruction, many vital driving routines on your PC at your leisure. It also includes video clips of mock driving lessons. There are over 100 unique 3D driving sessions, tutorial videos, a virtual driving test and comprehensive manual. The title also comes with £300 worth of discount vouchers.
Visit the Driving Test Success website at: //www.thegamecreators.com/
We've also got two photographs showing the in-store promotions around Driving Test Success Practical: One in PC World and here is the charts stand in WH Smiths.
Alienware Competition Hints and Tips
With just over a month and a half left in the Alienware competition, we thought we'd bring you a few hints and tips on really making your entry shine and avoid disappointment at the last minute.
Get your game tested on other PCs! We cannot stress this enough. If your game only works on your own PC then we will sadly not be able to judge it, your hard work being wasted.

The games that did well in the previous competitions were those that posted demo versions onto the forums and asked for feedback!

Make sure that the ESC key always quits your game. There is nothing more frustrating than a game you can't get out of.

Don't add features that are "coming soon". If it's not in the game, it's best not to mention it, it won't get you any more points.

Don't be too hung up over the graphics. We're looking for a fun and playable game more than anything. Spend the final weeks tweaking the gameplay, not your title page :)

Ensure your file isn't larger than the allowed limit. There will be NO exceptions!

Do not let your game run a SYNC RATE 0 unless you have an internal speed function that keeps things going at a consistent rate. We've had entries in the past that were simply unplayable on the test PC due to their excessive speed.

Leave this textures in Quake/Half-Life :) You're not allowed to use ripped media and we can nearly always tell.

Try not to leave it until the last minute before submitting your game. Get it in a few days early if possible and relax in the knowledge it's done.

Have fun :)
Transfusion is an all action shoot em up set inside the human body as it fights against a nano-virus infection. Essentially a tunnel shooter Transfusion takes the genre to a whole new height and is by far the best game we've ever produced here at Banshee.

The game has 51 levels which depict the body slowly changing into a machine, and ultimately back again as you complete the game. Principally it is a shoot-em up game with power ups, boss', and progressively faster gameplay culminating in a death defying chase through the veins, arteries and capillaries as you try to shoot down the head honcho at the end.

Transfusion runs on Banshee Studios new "TerraX" engine which replaces the old Terrascape engine as the backbone for the way they handled world objects in DBPro. TerraX is a hugely powerful optimisation system and when further developed it is hoped to use it to deliver a new topographical editor to replace matrices and ultimately to replace .bsp mapping too.

Look out for this game soon in the DarkBASIC Professional showcase!

Caligari gameSpace Now Available

The Game Creators are proud to be the first (and only) official reseller for Caligari's 3D modeling package gameSpace. There is a special trial version to download and a Product Tour you can take to see what is on offer.

gameSpace is the only high-end 3D game graphics authoring environment designed specifically for game developers. It includes absolutely everything you need to create characters, objects, worlds, weapons and more! This all-in-one package contains advanced modeling, texturing, rendering, animation, bone, skin and inverse kinematics capabilities. Along with the power to import and export to virtually all popular game formats.

Visit our new gameSpace web site at: //www.thegamecreators.com/

We received the following from Tim Hackett, the author of the DarkBASIC 3D puzzle game Rubix Cubix:

"I've started a contest to win a free download of my game 'Rubix Cubix' (Full Version). In order to win, the person must come between 1st and 3rd place on any of my high-score tables on www.darksoft.net. The easiest would probably be one of the 2 typing games that I'm hosting: QBFox and Boxing Wizards. They are both timed games to see how fast a given user can type a pangram (a sentence that uses all the letters in the alphabet) Its such a simple concept, but very very addictive. All the results are databased on the site, and stats/graphs can be seen for each of the games."

Visit the DarkSoft.net website at: http://www.darksoft.net

3D Viewer is a user-friendly piece of software and lives up to its name in that it views 3D models and maps. Some of the 3D files that it can be view include *.x; *.BSP and *.3DS. 3D models can be seen in solid, transparent, and wire-frame views. Once loaded, a 3D model can be viewed from any side or position through the aid of the control buttons. However it can also view such 2D files as bitmaps, jpegs and pngs, etc. A help file is included, along with free updates to be included in the near future.

Visit the 3D Viewer website at: http://gbros.250free.com/3dviewer.html

An Interview with Kes James

This month we have an exclusive interview with Kes James, the programmer of Driving Test Success Practical. He went from being an anonymous DarkBASIC user to being onboard the TGC team and working on a large commercial title. Could you be next?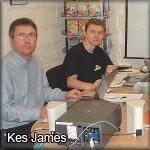 "Kes, how did you start in 3D programming?"
I was originally educated to degree level in Electronics and have been working with computers since 1986. I decided to move from the hardware to the software side so I bought a 386 PC in 1993 and taught myself C++. I was always interested in graphics but when the Doom game came onto the market I became very interested in 3D. I taught myself Visual Basic to get into Windows applications. But apart from a few successful commercial projects in the 90s I wanted to get into 3D development fully and found no solid language approach until I came across DarkBasic in 2000.
"How did the DTSP Project first start?"
I produced a few demos freely offered to the DB community including a game called - Drop the Bomb. In this you ran around streets of a town trying to unload a ticking bomb to blob-robots, who then chased you around to give it back. Rick Vanner saw the demo and when I offered my services for a more serious project - he said he had an idea for a driver training program and thus the DTSP project began. That was in October 2001.
"How big is the DTSP project?"
The project consists of over 21,000 lines of Dark Basic version 1.1.3 code spread across 28 code files creating a 3.7 MByte exe without media. The final program weighed in at 612 MBytes including 440 MBytes of driving tutorial videos and is being published as one CD.
"How did you manage to simulate the car in DTSP?"
I researched car simulation mathematics on the Net, found some good pointers and developed it from there. Maths was my best subject at college. Funny enough, apart from the steering which has always been tricky, the toughest part was getting the camera to stay in the car. We dealt with that by adding an invisible limb to the car model and making the camera coordinates the same as the limb.
"There are a lot of checks happening in DTSP, what code structue do you use to cater for this?"
In each driving session there is While/Endwhile rendering loop. At the start of the loop is the DoControls function which handles mouse, icons and keys. Then there is the MoveCar function which handles the car simulation. After that there is a large switch case statement in which, as the car progresses along the road, checks are made, voiceovers are run. All of this is controlled by flags as the code moves down the switch case statement.
"How did you make the project computer speed independent?"
Basically I made all calculations a function of time rather than distance or speed. For example I calculate that I want a pedestrian 3D model to walk across a road in 8 seconds. This then tells me the model must travel say 140 3D units length in 8000 milliseconds, so I have a distance/time factor or DT of 140/8000 (=0.0175). Through each rendering loop I grab the frame time, say 25 milliseconds, and multiply it by the DT factor and then move the model this new distance. Now, whether the computer has a fast or slow processor, the pedestrian will still complete the move in 8 seconds. By thinking in terms of time, your processes become machine independent.
"What major lesson did you learn from completing this project?"
I learnt that if you believe you are developing a product that can grab the market, make sure you take the time (or as I did convince your backers that it is worth the extra time) to do a first class quality job. Originally Focus wanted us to complete DTSP in 6 months. In the end they allowed us a total of 18 months to create the final product. And in that time a great deal of creative thought, new functionality, checking and testing has been put into DTSP.
"What tips do you have for managing such a huge project?"
Realise you cannot know it all and do it all. Be prepared to make it a team effort, ensuring only committed professionals join the team. Make the project modular, that way you can deal with each module separately. Good software takes time to develop - you will need patience. You will need some confidence (that comes with experience) to believe you can overcome the technical challenges. To track development and changes, communicate well with the team by using agreed documentation such as a developed spreadsheet. People often work in a muddle, be prepared to organise and set standards - to give the top-down view to each and all.
"What is happening to DTSP now?"
An initial run of 23,000 copies is being made to cover sales upto and including Christmas. DTSP will be in shops across the UK such as Dixons, WHSmith, Game and PCWorld from the first week of November onwards. DTSP will be sold separately at £9.99 and will also be sold together with it's companion products Driving Test Success Theory and Driving Test Success Hazard Perception. We are confident that DTSP will do well.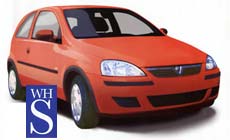 WH Smiths in association with Focus Multimedia and the Driving Test Success range of software are running a competition where you could win a brand new Vauxhall Corsa. All you have to do is send a postcard and it won't even cost you the price of a stamp!
To enter please write your name, age and address on a postcard and send it to:
WHSmith Car Giveaway Competition
FREEPOST NAT8992
RUGELEY
WS15 1BR
All competition entries will be entered into a draw for a Vauxhall Corsa.
Terms and Conditions:
Competition is open to UK residents only and is not open to employees or agents of WHSmith, Focus Multimedia, or their immediate families.
The prize is a Vauxhall 1 litre Corsa Life (3 door, 12 valve, 3 cylinder)
There is only one prize available.
Entrants will not be considered after the closing date, 31 Januar 2004.
Only one entry per person.
No responsibility will be accepted for delayed, mislaid, lost or damaged entries.
The prize will be awarded to the first entry drawn after the closing date. The judge's decision is final. No correspondence will be entered into. The winner will be notified by post.
The prize is non transferable and no cash alternative will be offered.
The name of the winner may be obtained by writing to the above address until 12 March 2004.
No purchase is necessary.
Entrants must be 17 years and over.
The Promoter is WH Smith Limited, Greenbridge Road, Swindon, Wiltshire, SN3 3RX and Focus Multimedia Limited, The Studios, Lea Hall Enterprise Park, Wheelhouse Road, Rugeley, Staffs, WS15 1LH.
The Promoter reserves the rights to substitute a prize of equal or higher value in the event of unforeseen circumtances.
The prize does not include road tax, delivery, petrol or insurance.
Last month we featured a number of work-in-progress alternative IDEs for DarkBASIC Professional. This month we've got yet another one, this time from the respected MatEdit autor TDK Man (Barrie). Unlike the previous IDEs, this one needs nothing else installed to work and should run on all machines 'straight out of the box'. You don't need to load a 20MB .NET installation, any DLL's/OCX's or other libraries.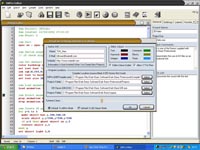 Written in Delphi this new IDE features all of the things that you could possibly need: Multiple Source Windows, Open as many files as you like and cut and paste between them, Source Code Colour Coding DarkEDIT style, All Source Windows can be split horizontally, Full Project Panel, Program Labels List, Functions and Variables Lists, Customise the IDE colour scheme, Function Folding, Module Toolbox, Bookmarks and more!
Visit the Pro IDE website for information and downloads at: http://www.matedit.com/dbpro/proide.htm
52.16 ForceWare Drivers Released
On October 24, 2003, NVIDIA introduced their new ForceWare release 50 graphics driver, a new Unified Driver Architecture (UDA) engineered to provide unmatched performance and image quality on both Microsoft® DirectX® 9.0 and OpenGL® applications. In addition to its unmatched DirectX 9.0 application performance, this new graphics driver also delivers world-renowned compatibility, stability, and reliability across all NVIDIA GPUs on Windows 2000 and XP.
The graphics driver includes unified compiler technology that translates shader programs so that they are optimized for NVIDIA GPU architecture, substantially improving the performance of next-generation DirectX 9.0 titles such as HalfLife™ 2, XIII, and more..
Visit the NVIDIA website for downloads at: http://www.nvidia.com/object/winxp_2k_52.16
Computer Game Technology Conference 2004
The 3rd Annual CGT Conference will be held April 8-10, 2004, in Toronto, Ontario. The central theme of the conference will be improving understanding of and the academic standards for computer and console game education. This will attract individuals who are interested in pursuing an education in game development, current students taking courses at post secondary institutions, and members of this industry and the IGDA.
The Game Creators are proud to be one of the sponsors of the CGT event and are providing prizes for the Student Game Competition as well as DarkBASIC Professional discount vouchers for all who attend.
You can find out more information by visiting the CGT web site: http://www.cgt.auc.ca
Alienware Competition Submission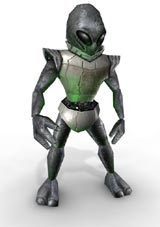 A few people have been asking how they can submit their finished Alienware competition games. There are two methods available: FTP and Email, but before you can use either you have to ensure your game is registered on our site.
1. Register Your Game. This is done via our web site. You need to have an account and be logged-in. Go to the following page: //www.thegamecreators.com/ and add your title. Once done you'll be given a unique Entry ID, i.e.: 3f7808dad8019. Make a note of this.
2. ZIP and name your game. Package up your game into a single ZIP file and ensure that somewhere in the filename is the unique Entry ID assigned above. I.e. if your game was called "alienwar" then the following filename would be advised: alienware_3f7808dad8019.zip - if you do not place the code in the filename of your zip file then you MUST include it in a text file somewhere within the archive otherwise we cannot link your game to you.
3. Upload your game. You have two choices: FTP or Email. We have set-up a high-capacity email account which can accept the large attachments. So simply mail the zip file to: files@thegamecreators.com and put the Entry ID somewhere in the Subject of the email. If you prefer to FTP then FTP to: ftp.thegamecreators.com and place your zip file into the incoming directory. You can login as "anonymous" with your email address as the password. Please note that you CANNOT see any files in this directory (including your own) due to write permissions, this is normal. You cannot upload two files with the same name, so if you need to upload your game again put something like "_v2" on the end of the filename.
4. That's it! You are welcome to email me (rich@thegamecreators.com) if you would like confirmation that your game uploaded or was emailed successfully, however please note that I cannot give you feedback or even tell if you if the game worked via email.
I uploaded, but I want to submit a newer version! Fair enough - just upload or email it again and use a different filename, i.e. name_version2.zip.
More Information
Please see the official rules page here: //www.thegamecreators.com/
DarkBASIC Extra Maths Library v1.0
Dmitry has released a seriously impressive library for DarkBASIC Classic that adds in virtually all of the 3D Math commands you can find in DarkBASIC Professional. You require the Enhancement Pack, but if you have it this awesome library gives you access to math functions such as: Make, Delete, Set, Add and Subtract Vector2, Vector3, Vector4 and Matrix4 values. There is also: catmullrom vectors, vector copying, dot products, linear interpolation, squared length vectors, transform coordinates and loads more!
You can find out more about this math library (including a download link) from the following forum thread: //www.thegamecreators.com/
The German DarkBASIC and DarkBASIC Professional web sites have been relaunched with a funky new design! The work of Michael and Thomas, the new site features a far more "professional" image with smooth colours and layout. Obviously it's all in German, but if this isn't a problem for you then we strongly recommend having a look :)
Visit the relaunched darkbasic.de website: http://www.darkbasicpro.de
"The Repo Man cometh and the Repo Man taketh away! But it's not cars he's stealing tonight..."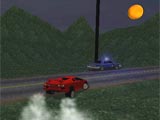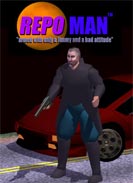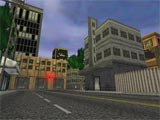 This is a very interesting game demo from WRF Studios that takes on certain elements of Grand Theft Auto in its combination of reckless driving and on-foot running and shooting. The current demonstration version contains two levels for you to watch and play. The graphical quality is very high (as the screen shots show) and a lot of work has obviously gone into this title so we can only hope for a more complete version in the near future.
Visit the Repo Man website: http://www.lasthalfofdarkness.com/redmoon/
This very nice looking and fast racing game has a somewhat "dubious" overtone in that it encourages you to pick up bottles as you drive around the track! Now while we don't condone drink driving in any shape or form, this game does at least keep you in the confines of nicely modelled racing tracks. Some bottles will increase your speed, time or obscure your vision. Three other AI drivers, various cars and settings make this a well presented game.
View the Becher Race 2003 showcase entry: //www.thegamecreators.com/?m=view_product&id=2000
This is a lovely looking little DarkBASIC Professional tech demo that showcases a rather nifty "motion blur" effect on a Quake3 BSP level. There are two methods available to watch (our favourite being the second one) and the music fits well too. Gotta love the lightening effects!
View the Real Motion Blur showcase entry: //www.thegamecreators.com/?m=view_product&id=2000
StarWraith 2 FREE for all readers
To celebrate the impending launch of RiftSpace and the updated 1.51 release of StarWraith 3 - The Game Creators have partnered up with SW3D Games to bring you the complete full version of StarWraith 2 absolutely free. This previously commercial game is an exciting mix of space combat and exploration set in the familiar SW universe.
You can download StarWraith 2 from our Showcase here:
//www.thegamecreators.com/
Alienware Competition Work in Progress
This month we have nine small screen shots from games in development for the Alienware competition. Things are really starting to look hot and we cannot wait to try out some of these titles :)
From top left to bottom right the games are: Soul Defender, NMA, Xenocide, Mystic Kingdom, Alien Wave, Alien Missions: The Plague, BatVinks no-name wonder :), Alien Aware and AlienWar.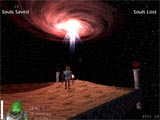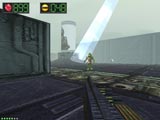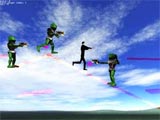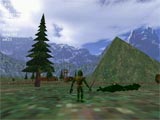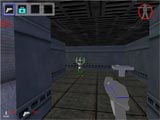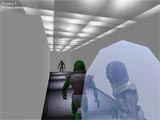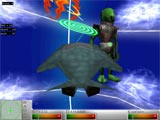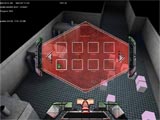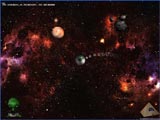 We've had over 100 games registered so far and although we know this doesn't mean they'll all be finished, it's still a great number (and incidently equals the pre-registrations for the Retro Game Competition before).
We've plucked one lucky subscriber to our newsletter and for you a completely free copy of DarkBASIC Professional is yours for the asking. The winner is wallsre@????????.???.net - just email us and a free copy of DarkBASIC Professional is yours.
Sorry but we've not had a 20-liner again this month, we will make up for it next issue but time just ran out on us. Got something you'd like featured here? Then email me and let me know about it: rich@thegamecreators.com or use our Feedback form.