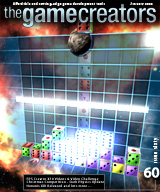 With any luck, Santa will have brought you everything you wished for, you will have taken it easy with the festive dinner and chocolates, and won't have had chance to break any new year's resolutions...yet. For me, a lot of time was spent figuring out just how everything worked. My cordless drill with adjustable torque and keyless chuck was easy enough; the problems always arise with the ever-shrinking gadgetry and hi-tech entertainment. With the increasing number of functions, buttons and features comes an increasingly more compact instruction manual. It seems that it is taken for granted that we all understand the basic concepts of every gadget known to man, and it's only the latest addition to the arsenal of gimmicks that we need to be made familiar with. Children of the eighties - like myself - are best tasked with working out how it all hangs together, as we are familiar with the up-up-left-up-right combo to unlock a devastating blow to our computerised opponents in games like Virtua Fighter. In a strange turn of events, that's exactly how you unlock the advanced features of the latest mobile phones and GPS systems today.
The moral of this festive season for budding games-writers is this; always assume somebody playing your creation has never played a computer game before. Don't judge everyone by your own standards; you will have played your own game to within an inch of your keyboard's digital life, and will know every last pixel of the playing area. Make sure you create good documentation, and a good understanding of the purpose of playing, or risk losing a large percentage of your players in the first few minutes of gameplay!
Moving swiftly into 2008, we have a new-look FPS Creator section to cover both versions of the product, and videos that play directly from the newsletter - no need to switch back and forth to YouTube any longer. This issue brings you successful and award-winning game releases, improved model packs, a mini-competition and video challenge, amongst the many other features this month. Enjoy your read, and I wish you a productive new year!
Until next time,

contents
(1) FPSC News (2) DarkBASIC (3) Hexaxis XXI (4) Dark Physics (5) GDK (6) Mini-Comp (8) Lee's Tip of the Month (9) From the Forums (10) Winner (11) Outro
News from the World of FPS Creator



With the release of FPS Creator X10, we've had to have a minor revamp of this section of the newsletter. From this issue onwards, you will find the FPS Creator articles badged with the version of the product they relate to. In many cases the news will be relevant to both versions and will display both logos.
Rick Vanner's Video Challenge

Within a few days of the release of FPS Creator X10, videos started to appear on YouTube. It's a pleasant tribute to the product from it's users, and also a great way to preview the games that are already starting to take shape. One thing that immediately stands out is the atmospheric depth to this new collection of work, all of them taking advantage of advanced shaders and great lighting.
This month, Rick is laying out a challenge to anyone owning FPS Creator X10. The challenge is to create and upload a video to YouTube that shows the development pipeline, and the resulting game.
If you need an example of exactly what this should include, take a look at Rick's video which is already uploaded and available on YouTube. You will see the time-lapse development of a game level, followed by a walk-through of the final product.
The deadline for entries is January 31, 2008. Publish your video on YouTube, and then drop us a mail with the link, your name, forum name and email address. The best entry will be rewarded with a DX10 8800-series video card. Good Luck!
Here is a selection of some of the FPSC X10 videos already available for your viewing.
Bunker WIP
This is a nicely presented preview of a Work In Progress by Kenneth J Williams. There is a good use of lighting and atmosphere.
Performance Testing
Using a Geforce 8600 with 256 MB of memory ,
this video was produced as a demonstration of performance.
Outdoor Scenery
Some fantastic outdoor scenery is presented here, along with a number of water shaders. It also demonstrates how to change the appearance of water using the interactive slider controls.
FPSC X10 Tutorials
There is a full suite of video tutorials packaged with FPSC X10. This is one of them, you'll find more in the related links on the YouTube page.

Dark Egypt Revisited - Version 2 Released
Model Pack 8, based on an Egyptian theme, has been reworked by Ross Hunt, the author. It is now more versatile in its uses, and a new version of the PDF manual has been included to explain the changes made and also give some helpful hints & tips. Overall, the Dark Egypt-V2 room segments will now operate in a similar manner to the standard room segments supplied with FPSCreator, but with the inclusion of a new ceiling application method which you should find very useful. Here is a brief list of what the Dark Egypt-V2 Pack can now achieve.
The Pack now contains separate ceiling segments which can be applied to any room, and also give the user the ability to apply more than one type of ceiling texture to a single room. Note that the ceiling segments will not alter any wall or floor textures which gives you more freedom to be creative.
It's now possible to build 'multi-level' rooms which eradicates the problem of a ridge being created by non-removable floor segments.
The file structure is simplified to ensure the final build of your game exports smoothly.
NOTE for Original Dark Egypt Users:
If you have already started a project with the original version of Model Pack 8 you must keep this Pack installed if you also wish to use anything from the new version. The reason for this is because of the new file structure of Dark Egypt-V2.
Bonus-Egypt Pack
Included is a special, free Bonus Pack'. This will install into it's own directory within FPSCreator, and contains some extra content which has been kept in theme for use with Model Pack 8. Many of these features are explained in detail in the accompanying PDF manual. Key features of the bonus pack include:
2x balcony systems - both styles are also themed to suit most room styles found in Model Pack 8
37x floor interchanges - have various special uses
17x standard floors - floor segments for interior & exterior use
7x pits - a selection of new pits (traps) to fall into
1x room - a new room type Themed 'nugget mine' which includes interior & exterior corner segments & own ceiling
7x shaft entrances - have various special uses
8x steps (small) - a selection of half height steps themed to Model Pack 8
8x trap shafts - a selection of 'vertical' shafts with different heights
11x hatches - a selection of ceiling hatches
17x lift Panels - a selection of panels including 'invisible'
12x pillars - a selection of pillars themed to Model Pack 8
Room items - 4 entities for use with new 'nugget mine' room, including arch
8x audio files used for 'lift panels' in this Pack - could also be used for other entities
Ross would like to thank all Model Pack 8 users for their support, and The Game Creators for agreeing to release these two new Packs for your enjoyment.

Existing owners can download the new pack and free bonus content from their order history. Anyone wishing to purchase this pack can visit the relevant page on the FPS Creator site.


GameStarter is a launcher for FPSC games. Developed by Rafael Klaus, it also adds various configuration options and new features to games created with FPS Creator. Using a comprehensive wizard, game developers can add a professional launcher to their game. The design is configurable, and the wizard includes a number of templates. Once created, the game launcher allows the player to update the game and change the configuration parameters. Included in the available options are screen resolution and depth, controls, performance, and sound among others. The configuration program also shows game information including version, language, unique gamecode and publisher information (company name, website, email address).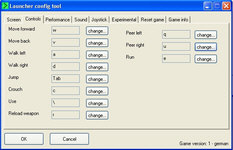 The game inherits new features from the launcher; joystick emulation, in-game sound control and screenshot functionality (path, file type and hotkey can be changed) become available. The current version - 2.4 - also adds a preloader screen, where the publisher can display a company logo or play video intros. You can also add a trial mode to your game, create a CD start menu and add the GameStarter to multi-language FPSC games.

The GameStarter is available from the author's site. The download includes comprehensive documentation (in English and German), a translation of the wizard and the launcher in English (UK), English (US) and German, and free updates. Version 3 is due out in early 2008.
DarkBASIC Round-up

Jarl Larsson, based in Sweden, has spent the last two years creating Soulhunter using DarkBASIC Classic. The game is inspired in the main by the Legend of Zelda series of games, and also by classics such as Rayman and Super Mario. Music is supplied by another forum member, Daz Dicks who is creator of the horror music pack amongst other compilations.
Jarl sees using DarkBASIC Classic as a rewarding way to develop. "You don't have the luxuries like bone animation or shader support and larger applications usually run slower in DarkBASIC Classic than they do in DB Pro. However, this is quite educational since you learn to think outside the box."
The interest generated on the forums for this game has been immense, with almost 1,000 posts in just one month. "This game has overall gotten a lot of positive feedback on the forums, and I´d like to thank them for their support", says Jarl.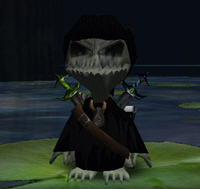 In the game you are a small creature, later to be known as the Soulhunter. You have been locked up in a cage by an evil circus family, doomed to travel with them as their slave. All these years of their slavery has consumed your soul. The only thing that keeps you alive is the weak souls of forest monsters, fed to you by the circus members. Some might say that you have become addicted, and that all of those souls have destroyed your own. Without them you won't survive for long. The story unfolds as you escape from your captors and for the first time have to fend for yourself.

More screenshots can be found at Jarl's gallery.

There are also videos to be found on YouTube.

Finally, the demo can be found on the Soulhunter website
Hexaxis XXI - A success story

Tim Hackett has been extremely busy. His game - Hexaxis XXI - is currently available on the PC Platform, and also for the PSP. For the PC version, written in DarkBASIC Professional, he has taken third place in the 2007 Intel Game Development Contest which is awarded with $3000 in cash and additonal prizes. The PSP version came first in the NeoFlash PSP Game Competition which has added a Nintendo Wii to the collection of prizes.
Hexaxis XXI is an addictive, dice-based hardcore puzzle game. If you enjoy Lumines, or Bombastic, this game will be a worthy addition to your collection. More complicated than Lumines and Bombastic combined, but also intuitive once you learn the simple techniques. Line up the dice using the numbers on the sides - 2 twos, 3 threes, all the way to 6 sixes. Combos 'wipe out' when the wipe line crosses over them. Each combo die counts towards your multiplier until there are no more combinations to form when the line hits the bottom. Try your hardest not to drop one as the result is total confusion, and usually happens when you are nearing the top of the grid in a hectic battle to survive!
17 unique levels with completely different effects and colors
20 unique music tracks of varying style
Training mode for learning how to play and teaching techniques
Quick Play mode for a 3-minute challenge
Advanced and Standard mode for a longer challenge
High Score table keeps track of all the multipliers, high scores and streaks

Download the Demo for the PC
(You can also watch videos of the game, and buy the full version here)
http://www.darksoft.net/hexaxis.php



Try it out on your Sony PSP handheld system
http://www.darksoft.net/hexaxispsp.php
The next step for Hexaxis XXI is to investigate the potential of the XBOX Live Arcade. We wish Tim luck with this exciting venture!
Dark Physics update

by Mike Johnson
A new version of Dark Physics has been released and is available for existing users to download from their order history.

Anyone wishing to purchase Dark Physics and take advantage of the new functionality can visit the Dark Physics Homepage. Don't forget, there are no license restrictions any longer, you can sell anything you make without any royalties or licence issues.
There is no installer for the update at this point. All you need to do is copy the DLLs into your plugins-licensed folder and ensure you are using the latest Ageia runtimes. Three new example projects have been included. They show the primary new features - collision feedback, force fields and ray casting.
General Updates
When an object is removed from the simulation control is now correctly returned to DB Pro.
Fixed an issue which resulted in being unable to switch kinematic objects off.
The command "phy set rigid body rotation" will now clear angular and linear velocity.
Updated string table for "phy get character controller exist".
The command "phy get rigid body type" now returns the correct type index.
Materials for convex objects are now applied correctly.
CCD can now be used with spherical objects.
Changed the way static and dynamic meshes are transformed when entered into the simulation. It now takes into account all relevant limb transforms.
The command "phy clear" will now remove joints from the simulation.
Solved a crash when a convex rigid body was created without a material.
Altered the way regular and convex meshes are created. This will result in faster creation times.
Added a check when attempting to load dynamic meshes to confirm that the file exists.
Turning off the kinematic state for an object will now result in it being woken up. This means that gravity and any other forces will be applied instantly.
Adjusted culling code. This will result in objects being culled correctly.
Made adjustments to static mesh loading code that solves some issues with incorrect data being used (need to do this for dynamic meshes).
Joints
Updated the command "phy delete joint". Tested it with several examples.
Added a new command called "phy get joint state". It will return 0 when the joint is not being used, 1 when the joint is simulating and 2 when the joint has broken.
Collision
New command added "phy get collision". It takes two parameters "object A" and "object B". It returns true if the objects have collided and false otherwise. This command can be used as an alternative to the collision stack approach.
New command added named "phy set collision state". It is used to enable or disable collision and response. It takes two parameters with the first being the object ID and the second being the state. Use a state value of 0 to disable collision and response and 1 to enable collision and response.
An alternative ray cast command has been provided. It is called "phy ray cast" and takes 6 parameters. The first three parameters are the origin of the ray and the final three are the world space coordinates for the target of the ray. This command will return a value of 1 if the ray intersects an object. An extra version of this command is provided that takes an additional parameter. The parameter controls what kind of objects are targeted in the ray cast. Use 0 for all objects, 1 for dynamic objects and 2 for static objects.
Particles & Cloth
Changed the way particles face the camera. This should solve issues whereby particles may vanish.
The command "phy delete cloth" has been added into the string table.
Force Fields
There is a new set of commands added to implement force fields. Here are the new force field commands:
phy create force field ID
phy delete force field ID
phy set force field rigid body ID, Object
phy set force field cloth scale ID, scale#
phy set force field constant ID, x#, y#, z#
phy set force field velocity target ID, x#, y#, z#
phy set force field coordinates ID, type
phy set force field linear falloff ID, x#, y#, z#
phy set force field quadratic falloff ID, x#, y#, z#
phy set force field noise ID, x#, y#, z#
phy set force field position ID, x#, y#, z#
phy set force field rigid body scale ID, scale#
phy set force field soft body scale ID, scale#
phy set force field torus radius ID, radius#
phy build force field ID
phy add force field box ID, mode, x#, y#, z#, sizex#, sizey#, sizez#
phy add force field sphere ID, mode, x#, y#, z#, radius#
phy add force field capsule ID, mode, x#, y#, z#, height#, radius#
integer = phy get force field exist ( ID )
Thanks to everyone who has helped with testing and those who have given feedback over the past few days. If you run into any problems then don't worry. We can get them sorted out I'm also sure there's many more things that can be done in time to improve Dark Physics so please keep up with the feedback.
DarkGDK for Microsoft C++ Visual Studio Express 2008

As the uptake of the free version of DarkGDK increases, there have been many questions and requests surrounding the availability of plugins. EZrotate and Enhanced Animations are already available for the GDK, but what about the others that we are familiar with for DarkBASIC Professional?
As this newsletter goes to press, work is already being carried out on the conversion of Dark A.I, Dark Lights and of course Dark Physics. The current plan is to make these available to GDK users by the end of January, and the team will be striving to meet that deadline. Following this, the .NET version of the GDK will be the focus of development. For those of you who are not familiar with the plugins, here is a brief overview.
Dark A.I
The Dark A.I plugin introduces commands that help with pathfinding, adding intelligent behaviour to your games, and making opponents and allies smarter. As a developer you can add obstacles to the system, create friendly, enemy and neutral entities, confine the action to containers and trigger reactions with zones. Characters will find the best paths from one point on the map to another, chase the enemy and even run away depending on the way you manipulate the system with the commands provided.
Dark Lights

Dark Lights adds a suite of new light mapping commands and features, and also includes a versatile lightmapping tool with full source code (written in DarkBASIC Professional). Here are some of the features that Dark Lights supports:
Three types of light: Directional, Point and Spot Lights
Variable attenuation point lights, both quadratic and linear attenuation are available.
Curved surfaces are smoothed correctly.
Realistic shadows and variable shadow blurring.
Transparent objects that modify the colour of the light ray as it passes through it.
Uses very fast ray casting to achieve quick build times
Start the light mapping as a thread so you can display its status whilst it works.
Ambient occlusion for realistic global lighting.
Dark Physics
Add Dark Physics and you can harness the awesome capabilities of the AGEIA PhysXTM processor directly. Add features into your game such as realistic cloth that tears and rips when shot - particle systems for smoke and fog, where each particle can collide with any other object in your scene - fully driveable vehicles, with proper physics handling - hardware accelerated liquids - and much more.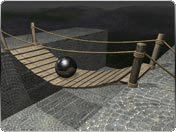 Dark Physics has an extensive set of commands covering areas such as cloth, particles, fluid, rigid bodies and vehicles. Cloth can wave around in the wind, be attached to other objects, interact with its surroundings and even tear apart. Particles offer a wide range of features for creating numerous effects such as dense smoke, fog, fire, rain, snow, gas clouds and more. Hardware driven fluid effects provide an unprecedented level of realism for the simulation of liquids and gases. Rigid bodies enable you to create characters with complex, jointed geometries for more life like motion and interaction, being able to interact with all of the world and have destructible structures such as bridges and much more. Vehicle functionality includes a set of commands for taking models and setting them up in the simulation with all the behaviours of the real thing.
Minimal Media Christmas Competition

Once again Ric, regular forum member and author of GUI Studio, has arranged the Minimal Media Christmas Challenge. The Game Creators have provided prizes in the form of vouchers for the best entries, to accompany copies of GUI Studio. The competition is already well under way and this is your final call to get involved and get coding before the deadline of January 7th. I'm honoured to be judging alongside Ric, so without further ado here are the details you need.

This challenge is a bit of fun for anyone who feels the need to exercise their brain in between mince pies and re-runs of Indiana Jones this Christmas. Below you will find all the rules and information relating to this year's competition. If you have any further questions, please visit the competition forum thread where participants are discussing all aspects.
Prizes
1st Prize: $100 TGC voucher + GUI Studio
2nd Prize: $50 TGC voucher + GUI Studio
3rd Prize: $50 TGC voucher
The competition is running for three weeks from Sunday 16th December 2007, to Midnight on Sunday 7th January 2008. The aim is to create a game or demo in DarkBASIC Professional which makes creative use of the media provided. No other media (or plugins) are allowed other than what is provided - all other elements in your entry must be created through pure DBPro code. Your game/demo can be anything you like - although you may be inspired by the Christmas theme of the provided media! Your entry can be in 2d, 3d or a combination of both. For a more detailed explanation of what is meant by 'no other media', the forum discussions have refined the definition.
The Media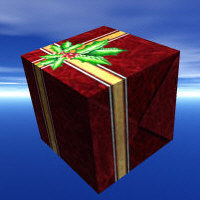 A big thank you goes to professional graphic artist David Gervais who has provided the media - a gift wrapped Christmas pressie! It's minimal, as the title of the competition suggests - and that is it's beauty, as it will lend itself to a whole range of possibilities, from a pick up the boxes sleigh ride game, to a Christmas themed version of break-out, it's all down to your imagination and coding prowess.

It consists of two files - a model in .x format, and it's texture in .jpg format. They can be downloaded as a zipped file here.
Just because the media provided is a 3d model doesn't mean your entry must be in 3D. If you want to make a 2D program, it is perfectly acceptable to use the model as a source of getting 2d images, by using the 'get image' command, for example. Alternatively, you may load just the texture as an individual image file and grab portions of it for 2d work - in this case, there is no requirement to use the 3d model.
How to Enter
You may enter your program by posting it at anytime between the start and end date in the competition thread on the TGC forum. Your entry MUST BE IN THE FORM OF A CODE SNIPPET, which is done by pasting your source code into your forum post between [code] and [/code] tags. No additional files are allowed - we only want to see pure DBPro source code. We DO NOT need you to post the media provided above with your entry - just the code. Anyone who wants to try out your program (including the judges) will then simply copy and paste your source code into their project folder containing the provided media.
You may post 'work in progress' code if you wish in the competition thread. However, if you post more than one version of your program in the competition thread, you must make it clear which is the final version to be judged.

The full rules - including how the media must be implemented - are available on the Andromedus website.
Lee's Tip of the Month - Keep It Simple Stupid

From time to time I write down clever little notions that I refer back to when I want to give my brain another perspective on a problem. It is quite a magical little booklet actually, no matter what page I randomly turn to it seems to know what my problem was and offers a curious truth. The solution is never very far behind it!
Today I opened the booklet at any old page and got this:
There is always a simpler solution.
Complexity is easy to find.
Simplicity is what you work at!
You would think simplicity is easy and complexity is hard, but in the world of development, it can so easily be the reverse.
When I have an idea, I can usually prototype and get it working on screen in mere minutes. The other two weeks will then be spent refining and growing the concept into something more professional and viable. Unfortunately, in the process of making it grow, it also gets complicated too. Before you know it you're reading pages of code that looks like they were written by monkeys!
When you get to this point, you realise how easy it was to find your way here. What happened is that you evolved your idea. You added bits to it to make it bigger and more complete. You also removed other bits that no longer quite fitted the shape you wanted, just like working with clay.
The trouble is, the life size statue of Zeus you ended up with was not the figurine you had in mind when you started, and the question becomes; is this what I wanted? What if the answer is no? Ouch!
It's an easy question to ask yourself after the fact, but what if we could ask ourselves that question two weeks ago? What if we could ask ourselves that question every day? What if we did ask that question every day?
It is so easy to get sucked into the 'next thing' and just go with the flow of development. Traditionally, technical specifications and design documents guard against such drift, but it is very often simpler and quicker to go back and look at your original idea in your head. You might be quite surprised at how far your original idea has drifted off course. This can be great if you don't mind where you end up or how long the journey will ulimately take. But for those who have a deadline, or a goal in mind, you will be amazed how much time and effort can be saved by stopping the flow and checking your work against the original idea. Do not be surprised if you find the function you spent five days and nights slaving over is not needed anymore. Terrible I know, but no-one said development was going to be easy.
From the Forums
A few links you may have missed over the past few weeks...
Cash Curtis has released his model viewer for all. As well as viewing, you can also make minor adjustments to scale, rotation and animation, and modify normal maps before exporting again.
To complement the Dark Egypt pack, a new character model pack is imminent, with 30 new characters in all. Take a look at the image and video previews of these fantastically detailed creations.
.
Time-waster Warning! This is a nice little go-karting game featuring drifting and slightly annoying chanting spectators, but seriously addictive. Includes a tutorial mode too, and some characters many of you will recognise.
Although this is still a Work In progress, it's moving swiftly and the author is taking on board and implementing just about anything that the community throws at him. This game has great potential.
.
This month's Winner
Each month we pluck one lucky subscriber from the newsletter mailing list and award them a free copy of DarkBASIC Professional. The email address of this month's winner is: l_ha****2@hotmail.com If this is you then send us an email to claim your prize.
Outro
Share your news with over 14,000 active games developers!
If you have something you'd like featured in a future issue then please get in touch and include as much information as possible (including where applicable: screen shots, URLs and zip files).
Issue 61 deadline - January 28th.