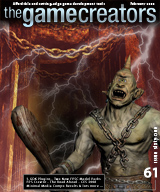 As someone who spends a lot of their time within striking distance of an internet access point, at home and work, I have to monitor what I allow myself to be drawn into. I've lost copious amounts of downtime to sites like Wikipedia, Gang Wars, and Legend of the Green Dragon. I have deliberately avoided Facebook for the simple reason that I know it will consume any spare moments I have, even though it's not particularly my cup of tea. That was until this week, when I was forced to join up to view an article somebody sent me via an email link. Although I was right in my assumptions regarding loss of valuable time, I was intrigued to see just how many people I know are already on the site. Moreover, I was amazed at how many groups there are that could be useful to me - and to the readers of this newsletter. I've signed up to the Indie Game Developers Group, and more importantly the DarkBASIC programmers group. You'll find Lee and Rick are already there.
On the more productive side, we have plenty to catch up on this month. Lee outlines the future of FPS Creator, Rick reports back from CES2008, we have new model packs to review, plugins converted for DarkGDK users, competition results, the usual features and more. So enjoy, and have a productive February away from the many distractions of the Internet.
Until next time,

contents
(1) FPSC News (2) Model Packs (3) Tutorial - FPSC in DB Pro (4) Lemur V2 (5) DarkBASIC (6) TGC at CES2008 (7) GDK plugins (8) Mini-Comp (9) Gallery (10) Lee's Tip of the Month (11) From the Forums (12) Winner (13) Outro
News from the World of FPS Creator

The Road Ahead
by Lee Bamber
This month I set about building a plan for the future of FPS Creator, both for the original product and X10. This plan has been opened up to the community to review and comment on, and this process is already happening in the forums. Here is the initial proposal based on user feedback, requests and past votes. In addition there are responses from myself, some of which ask for the assistance of the community to progress.
FPS Creator X9 Improvements Requested
By The Community
(The top six requests represent over 75% of the overall requests expressed in the forum this last year)
1. Improved speed and less lag. GPU instancing might be helpful too. Timer based FPS as well.
LEE : COMMUNITY ACTION - I need FPM levels using stock media that are slow - send to lee@thegamecreators.com NOW!
2. Fixed polygon leaks etc.
LEE : COMMUNITY ACTION - I need FPM levels using stock media that show polygon leaks - send to lee@thegamecreators.com NOW!
3. Improved AI, Allies, enemies that are smart. Dark AI would be great.
LEE : To keep FPSC V1 game engine open source, DarkAI will not be added - see X10 migration below.
4. Better physics, ragdoll and such. Dark Physics would rock! Water would be nice as well.
LEE : To keep FPSC V1 game engine open source, DarkPhysics will not be added - see X10 migration below.
5. The ability to have 50 plus enemies/allies in a level without major slowdowns.
LEE : This is a special feature of X10 thanks to GPU instancing, and will not be added to FPSC V1.
6. Multiplayer! Capture The Flag, Team Death Match, 16 players+, dynamic entity support and the ability to see other players.
LEE : A major multiplayer upgrade will not be added to FPSC V1 - feature is too extensive for an update patch.
7. Player bullet holes, blood etc. Also, an extra mode or a fixed objective mode that allows you to create your own game type, like a BF2 style game or a Quake Wars Style game, etc. Bots that can be added into a game. Multiplayer executables that can hold multiple Multi-player levels.
LEE : As above, a major multiplayer upgrade will not be added to FPSC V1 - see X10 migration below.
8. The X10 interactive menu that you can open up in-game to adjust each levels effects instead of having to do it in build game and affect every level.
LEE : This is a special feature of X10, and will not be added to FPSC V1 - see X10 migration below.
9. A LOD system like X10.
LEE : This is a special feature of X10, and will not be added to FPSC V1 - see X10 migration below.
10. Better fighting system and melee attacks (pistol and rifle whips) for both player and AI
LEE : X10 will have new melee features added over time - see X10 migration below.
11. A particle system.
LEE : This is a special feature of X10, and will not be added to FPSC V1 - see X10 migration below.
12. Better lighting. Dynamic shadows are a must!
LEE : ACTION - We will add a flag to switch off the DarkLIGHTS feature.
13. Safe zones for AI.
LEE : This is a special feature of X10 via DarkAI, and will not be added to FPSC V1 - see X10 migration below.
14. Hit boxes/head shots.
LEE : ACTION - We will add ability for a head-shot to cause lethal damage to all characters.
15. Improved falling effects, so you don't feel like you are parachuting when you fall.
LEE : ACTION - We will re-code player gravity for more realistic falling.
16. Shaders.
LEE : This is a special feature of X10, and will not be extended in FPSC V1 - see X10 migration below.
17. Variables.
LEE : ACTION - We will add five internal variables for all entities, controlled via FPI.
18. Adjustable player jump height.
LEE : ACTION - We will add an adjustable player jump height value in the 'Player Start Marker'.
19. Dynamic menus.
20. Bullet casing entities that eject out of your gun and react to scenery realistically.
21. Vehicles (or more realistically, turrets).
LEE : No plans to add these to FPS Creator at this time - perhaps a future feature after more critical work done.
22. Bloom and other effects.
LEE : We will not be adding bloom in FPSC V1 - see X10 migration below.
23. Adjustable settings for your game like gravity, etc.
LEE : We will not be adding adjustable gravity in FPSC V1.
24. Decreased file sizes, so built games aren't such memory hogs.
LEE : No firm plans to add compression, but we are going to look at memory consumption as part of performance work.
25. Blood that falls onto the ground instead of flying onto the nearest wall.
LEE : ACTION - We will add a flag into character FPE files to allow blood to splat on floor, not walls.
26. Faster loading times.
LEE : ACTION - We will add a flag to pre-generate data in the build step (slower builds) for faster loading times.
27. The ability to alter lights intensity.
LEE : ACTION - We will add light itensity to the 'Light Marker'.
X10 Migration Notes
As you can see above, we will be updating FPSC V1 in the areas of speed and stability, but not major new features.
The good news is that we are working to make a special version of X10 which works on your DirectX 9 hardware. You won't get the fancy DirectX 10 features and some other features that are tied to our Model 4.0 shaders, such as Bloom, but you will get full XP and Vista compatibility, all the great game features like water, ragdoll, physics improvements, score system and much of everything else we added to FPS Creator X10 this last year. Perhaps the best news is that as an existing FPS Creator user, you will get this major upgrade absolutely free!
It also means you will benefit from our ongoing commitment to adding new features. Although we cannot promise what these will be, we are really excited about outdoor landscapes, vehicles, flying machines and more physics than you can handle. We want to empower you with the tools you need to create amazing games, so watch this space for more sophisticated models and great new features that are both X9 and X10 compatible.
Timeline
To summarize all of the above points, I have created an event timeline:
FPSC V108 Speed and Stability Update - release dependent on community feedback of requests [1] and [2]:

COMMUNITY ACTION

- Need FPM levels using stock media that are slow - send to lee@thegamecreators.com NOW!

COMMUNITY ACTION

- Need FPM levels using stock media that show polygon leaks - send to lee@thegamecreators.com NOW!
ACTION - Reduce footfall sound noises which annoy about 90% of authors and players, no more BANG BANG BANG
ACTION - We will add a flag to pre-generate data in the build step (slower builds) for faster loading times
FPSC V10X+ Updates - fixes and small features released first half of 2008 - feature requests contain:
ACTION - We will add a flag to switch off the DarkLIGHTS feature (SETUP.INI specified)
ACTION - We will add ability for a head-shot to cause lethal damage to all characters (FPE specified)
ACTION - We will re-code player gravity for more realistic falling
ACTION - We will add five internal variables for all entities (controlled via FPI)
ACTION - We will add an adjustable player jump height value in the 'Player Start Marker'
ACTION - We will add a flag into character FPE files to allow blood to splat on floor, not walls
ACTION - We will add light intensity to the 'Light Marker'
ACTION - Any other bug fixes that are not 'features' in nature
FPSC V2 Update - major features from X10 after DirectX9 migration work, mid-2008 (perhaps sooner)

Your comments are welcome. Have I missed out the interests of anyone? I am sure you have questions, but if you can give me your general nod or shake of the head on the plan, I will get a feel for how close I aim to the mark. Please leave your feedback in the dedicated forum thread.
Two New Official Model Packs 17 & 18 and more!

If you saw the second release of Model Pack 8 in last month's newsletter with it's fabulously crafted Egyptian theme, you will love this month's addition of similarly styled Egyptian characters.
This brand new pack includes 30 characters featuring hand-to-hand combat. There are 30 new animations in all, with custom intros, two separate attacks, walk, run, and stagger animations for added character personality! Characters can also hold "firing" weapons and are fully compatible with existing FPS Creator characters.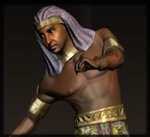 To use the characters in melee mode, you simply place the melee characters in your FPS Creator game. Characters will attack when shot, or when the player gets within a certain distance. Some characters - like the mummies - only come alive when the player gets very close; perfect for setting up a scare! Each melee character is designated as slow, fast or slow-fast. This refers to the speed at which the character will chase the player. The slow-fast designation means the character will initially chase slowly, but will become angry and ultimately chase the player much faster!
To use the characters in standard mode, place the alternate character from the firing weapons folder into your FPS Creator game. They will function exactly as a standard FPS Creator character, and can hold any standard firing weapon.

You can view the full set of models, and purchase the pack, from the FPS Creator website.
There is also a video presenting the new characters, and some of their scripted features.
Model Pack 18 - Fantasy Characters

23 new fantasy themed characters for your FPS Creator games. Each character comes in two versions, a "melee" version and a "standard" version that can hold any standard firing weapon, even the new weapons included like crossbow, bow and arrow, and oil bombs! Also, each character has an intro animation, 2 different melee attacks, and new run and walk animations for plenty of personality!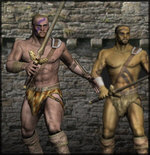 This pack also contains a set of 3 basic fantasy themed weapons, with more on the way!
Bow and Arrow - standard common wood bow, good for medium to long range attack
Old Crossbow - quicker and more powerful than the bow and arrow, but has a shorter range
Oil Bombs - the ancient "byzantine fire", will totally obliterate your enemies, but best used from a distance!

//www.thegamecreators.com/?m=view_product&id=2046
Model Pack X10 Upgrades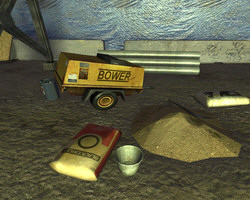 Model Pack 16 for X10 users has been successfully launched, after testing proved to be very positive. At the same time, we have decided to switch installers to the new 'Wise' solution which is closer to the Vista compliant standards we are aiming for this year. The task ahead now is to convert the remaining model packs over to X10, which is one of our main priorities in the weeks to come. If you have purchased a model pack in the past, and have a copy of FPS Creator X10, keep checking your Order History page as the X10 version of the model pack will be available for download as soon as we release them.
The team are working through the model packs incrementally, and are currently working on compiling and testing model pack one for use in X10. There will be announcements on the availability of each X10 model pack via the FPS Creator X10 forum, so watch out for those. As these packs were designed for the original FPS Creator, there may be some differences between the X9 experience and the X10 experience. Rest assured, with per-pixel lighting, post processing and the host of advanced visual effects in X10, in many cases the model pack will look even better! Also, as a special treat, some of the artists have provided additional media such as normal and specular maps, making them fully realised X10 content. This is a trend we are set to encourage as new models are produced for FPS Creator, so X10 users benefit from superior visuals that befits a state of the art gaming PC.
Hands for Standard Weapons
Simon Benge, regular artistic contributor to many of the TGC product lines, has created hands for the standard weapons. These can now feature in a similar fashion to Model Packs 5 and 6, where the hands were originally introduced by Simon.

The links to the downloadable file required to implement this feature can be found in the associated forum thread.
Cave Packs 1 and 2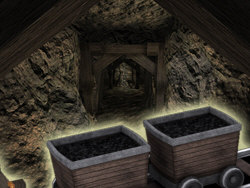 Daniel Higgins has two cave packs for sale, allowing you to buy one or both depending on your game requirements. Included are mine trains and tracks, cave tunnel segments, prop shafts and more.
The Cave Pack Volume 1 forum thread can be found here.
There is a second thread for Volume 2 here.
BVG Bar Pack


Big Viking Games have released their Bar Pack. You can purchase and download it from their site. Below is a video of the entities available in the pack.

Roencia Game Creators specialise in making graphic art for 2D video games. All media purchased is 100% royalty free and can be distributed freely in developed games, applications, & programs. Roencia have a system for requesting customised graphics for their games of any kind, and also host games that our users make to sell or distribute freely.

http://www.roencia.com/media.html
Tutorial - FPS Creator levels in DarkBASIC Professional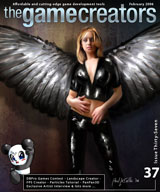 Two years ago I published a tutorial on how to create and import FPSC game levels into DarkBASIC Professional. Back then, it was described as a resource for the programmers, rather than the level designers. After some feedback from various users, I have been encouraged to highlight this tutorial again, but this time under the FPSC banner.
You can return to the original newsletter in the archive to read the details. It takes you through the level design including the ability to lightmap and include static objects, plan for culling of hidden faces, and then on to coding the recreation in DarkBASIC Professional. You'll also learn about some new and extremely useful commands on the way.

As well as downloading the sample code from the original newsletter, you might want to download the revised version of the PDF document to replace the original.
F L A T L A N D E R is one user who has experimented with the ideas and concepts, and pointed out a couple of terminology bloopers which might lead to some confusion.
Lemur FPSC engine V2
A productive team from both the UK and US have created Lemur, currently published as Version 2. The five members (Urlforce, Plystire, Reality Forgotten, S4real, and Airslide) combine to cover all of the necessary skills from programming to graphical work and level design.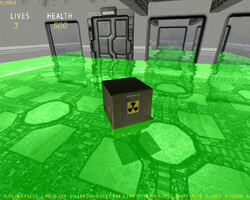 So what is Lemur? It's an alternative engine, a modification of the freely available FPSC source code. New and enhanced features include:
Up to 16 players
Team death match and other multiplayer modes
Timer-based engine to facilitate some of the new features
Additional shader support
Water, swimming and buoyancy
script-support for the added features, such as control of water depth and colour
Auto weapon switching on pick-up
Taunts

You can see many of these elements in the Lemur-driven game Darkest Hour.


Keep up to date with the progress of Lemur on the forums.
DarkBASIC Professional Round-up

ConvSEO Source Code Released
Mike J, author of ConvSEO, has released the plugin source code to the DarkBASIC Professional and SketchUP Community.

Click on the download link opposite to grab the zip file (about 7.75MB in size), containing the source code for Version 1.0.1 of the ConvSEO plug-in. It also contains the MS-Word document that comprises the written manual, as well as a few other files such as the viewer demo application.
To compile the source code you will need Microsoft Visual C++ 6.0 with Service Pack 6 installed. Mike was able to get ConvSEO to compile using Visual Studio 2005 but could not get the resulting DLL to run. Maybe somebody out there will be able to complete the conversion.
Despite any statements of copyright in any of the source code files, the source code is hereby released into the public domain, to the TGC community, for use without restriction, in any manner, private or commercial.

Mike would like to see the TGC community take over this project and expand it to meet their needs. He is available to answer questions via e-mail at convseo@systemsinnovationinc.com, and looks forward to seeing what the community can do with this. If you do download the code, please be kind enough to visit the forum thread and leave comments and improvements.
Job Opportunities at RollingSound
RollingSound are a London based organisation specialising in engaging young people through creative Multimedia. The company has been using FPSC and DBPro with great results for the past two years and video games design is now one of the most popular courses.
Rolling Sound are looking for tutors to work with them on a Freelance basis who are experienced in either FPSC or DBpro (or both), to work on a wide range of projects in London and the surrounding counties.
Teaching experience is not essential but a willingness to engage young people and learn from other tutors is a must. They also need people who can easily travel in and around London by public transport or car. Rates of pay vary depending on your experience and ability, and start from £50 assistant rate up to £150 head tutor rate for a full day.

If you are interested please send an email with cover letter and CV to tomh@rollingsound.co.uk. The website contains more info - http://www.rollingsound.co.uk/
The Game Creators at CES 2008
by Rick Vanner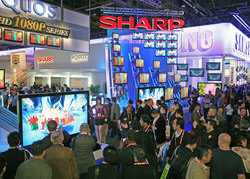 At the beginning of January Lee and I flew out to Las Vegas for the Consumer Electronic Show. The main aim was to showcase FPS Creator X10 to key hardware partners who work closely with NVIDIA. We found ourselves among many high profile developers and publishers including EA, Valve, Futuremark and Sega to name just a few.
We had just 15 minutes to pitch our stuff, and having worked hard on preparing our presentation we were relieved to see it all happen as planned. The results of this presentation should bear fruit as we move forward during 2008 - we have already teamed up with a US based PC manufacturer, a partnership which will see our name spread wider.
The demo was the main reason to take the trip, and having sorted that out we headed out to CES for some other meetings we had arranged. We had a great engagement with Ageia, finally meeting up with our contacts there. They are doing some cool things with their engine, and they are signing up a lot of developers to their SDK. It's great to see PhysX doing so well and we'll work closely with them to bring more features to Dark Physics (which - as you'll see in this newsletter - is now available for GDK).
Just before CES started we read news that Warner Brothers had dropped support for HD DVD. As you may know we had been successfully developing a new game maker for HD DVD. Clearly WB are a major player in Hollywood with 90+ years of programmes and films in their catalogue. We have decided to freeze this project and wait to see what happens with the Blue Ray vs HD DVD war. Consequently Dave has been re-assigned onto a new project which for now will remain secret.
The time out at CES helped us see clearer as to what we needed to do for the rest of the year. FPS Creator DX9 users will see lots of changes to strengthen their product and DBPro / GDK will get plenty of attention. We're committed to keeping these products updated, optimised and offering solutions you want to see.
Lee and I would certainly recommend Las Vegas as a holiday resort, it's an amazing place with lots to see and do. The Star Trek Experience at the Las Vegas Hilton is brilliant! We even managed to win $40 before we left!

Boys will be Boys!
Game Developers Conference 2008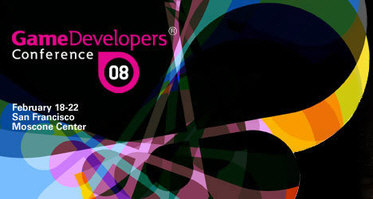 This year the Game Developers Conference is being held in San Francisco, from the 18th to the 22nd of February.
Lee Bamber will be present, you'll find him at the Intel stand if you're attending. The partnership between Intel and The Game Creators focuses on the use of multi-core technology, which features prominently in products such as Dark Lights, FPS Creator X10 and will appear in future versions of DBPro.
DarkGDK for Microsoft C++ Visual Studio Express 2008

This month we can announce the availability of three more plugins for DarkGDK. These are the Dark Physics, Dark A.I and Dark Lights plugins, previously available only for DarkBASIC Professional.

Dark Physics for DarkGDK
Now is the time to introduce a new experience of realism and freedom which will increase the level of immersion in your games. Dark Physics gives you a jump start in development and an opportunity to focus on the game itself instead of the complex math behind it. Completely change the whole gaming experience.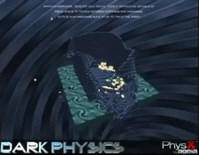 Dark Physics brings a staggering amount of features to your games. It has an extensive set of commands covering areas such as cloth, particles, fluid, rigid bodies and vehicles. Each command set is backed up with a collection of tutorials, demonstration programs and detailed background information. Included are 115 example programs (currently available only in DarkBASIC Professional source code) for you to pull apart and learn from, all fully documented.

//www.thegamecreators.com/?m=view_product&id=2025
(existing owners of the DarkBASIC Professional version can download from their order history)
Dark A.I. for DarkDGK
One of the most requested features for Dark GDK, along with physics, were A.I. (artificial intelligence) commands. The Dark A.I plugin introduces commands that help with pathfinding, adding intelligent behaviour to your games, and making opponents and allies smarter. As a developer you can add obstacles to the system, create friendly, enemy and neutral entities, confine the action to containers and trigger reactions with zones. Characters will find the best paths from one point on the map to another, chase the enemy and even run away depending on the way you manipulate the system with the commands provided.

You can download the FPS-styled demonstration to get a feel for the power that this plugin provides. The walkthrough presents many of the features that can be implemented in your own games. The download is a 36 megabyte zipped archive.

There is also a video available of the demonstration which is a smaller, 11 megabyte download.

The DarkGDK version of the plugin is free to existing owners of the DarkBASIC Professional version, and is now available in your order history. Anyone wishing to purchase Dark A.I. can do so from the product page.

Dark Lights for DarkGDK
Dark Lights adds a suite of new light mapping functions and features to Dark GDK, and also includes a versatile lightmapping tool with full source code. Here are some of the features that Dark Lights supports:
Three types of light: Directional, Point and Spot Lights
Variable attenuation point lights, both quadratic and linear attenuation are avaible.
Curved surfaces are smoothed correctly.
Realistic shadows and variable shadow blurring.
Transparent objects that modify the colour of the light ray as it passes through it.
Uses very fast ray casting to achieve quick build times
Start the light mapping as a thread so you can display its status whilst it works.
Ambient occlusion for realistic global lighting.

Again, the DarkGDK version of the plugin is freely available to all existing owners of the DarkBASIC Professional version, and is now in your order history. The Dark Lights product page contains full details of the functionality, and can be ordered from here.
Minimal Media Christmas Competition

by Richard Hoddinott
The 2007 Minimal Media Christmas Challenge has been a real success with 25 entries, and some very high quality pieces of coding amongst them. Judging them has been fun, but picking the top three has been very difficult, as there were so many close contenders. We're certain though that the eventual top three entries are very deserving of their places, but well done to everyone who had a go - clearly a lot of work was put into this challenge by many people, and it hasn't gone unnoticed.
1st Place: Santa's Sleigh Ride by GBARK
Prize: $100 TGC voucher + GUI Studio
The concept of Santa's Sleigh Ride is simple enough - it's a side-scrolling game where the aim is to drop presents into the chimney pots below, whilst avoiding obstacles such as flying ducks, snowballs launched at you by evil snowmen, and the houses themselves. The game is immediately playable - and great fun. What cannot fail to impress, though, is the attention to detail, which is nothing short of remarkable. The challenge of using limited media hasn't stopped Gbark from creating some great looking animated 3d models, all of which help to create a real atmosphere. The physics coding is also impressive - you get a real sense that your sleigh is being whipped through the air as it swings around and bumps into things, and it's almost worth crashing into the houses deliberately just to watch your sack full of presents go flying everywhere. The game has 5 levels, each of which gets progressively harder, and it's well worth playing them all just to see Gbark's very effective use of fog in the final level. Overall, this is a masterpiece of minimal media coding, and well deserving of the first prize.
Good points: Great visuals, attention to detail, and good physics. Can be played with different objectives in mind - point accumulation or level completion. Well remarked code for those of us who like to learn something by looking at other people's examples.
Areas for improvement: Crashing deliberately can often cause presents to spill into the chimney pots, helping you to reach your target. You do lose points this way, but perhaps there should be a greater penalty.
2nd Place: Santa Snake by JAMMY
Prize: $50 TGC voucher + GUI Studio
This game is based on the tried and tested 'Snake' formula, where you accumulate an increasingly long train behind you which you must avoid crashing into at all costs. Where Jammy has succeeded, is in converting this well known concept into something unique, without losing the simplicity of the game. In this case, you control a Ski-clad Santa, who must collect presents which fall from the sky. For each present collected, a snowman appears at the back of the train which follows you, with the last present in each level taking you back to your cabin. This is a well presented and well executed game, with some nice minimal media modelling. The provided gift texture has been used very effectively, making appearances on the snowmen's hats and scarves, and even the mouse cursor in the game menu. The game-play is simple but fun, and it's quite addictive too!
Good points: Simple concept done well. Very playable, and it has a nice rendition of Jingle Bells playing in the background. Even better, is the option to turn it off once you've heard it several times over!
Area for improvement: A choice of different camera angles would be nice - perhaps a more top down view to enable a better view of the train of snowmen following you.
3rd Place: Snowboarding Game by BONGADOO
Prize: $50 TGC voucher
At first glance, this looks like another 'drop the presents down the chimney' game. Whilst this is true, there is another side to this game as well, which sees you jumping between rooftops on a snowboard performing tricks to gain points. These tricks are left for the player to discover, but with a bit of experimentation, you can get Santa doing tail slides, ollies, flips and reversals - plus other cool moves, the ultimate of which is the difficult 'star slide'. Just like the underlying code, the game is very neatly presented, with crisp, windows-like menus and dialogue boxes at the start and end of the game, accompanied by some rather nice fractal snowflakes and a midi music track playing in the background.
Good points: Nicely presented, and interesting game-play - has a certain 'cool factor'!
Area for improvement: It would be nice to have more than one level, with targets for completing each one, such as a set number of presents to deliver, or a certain combination of tricks which must be performed.
Honourable Mentions

The following entrants produced games which are also well worth checking out in the Christmas Challenge thread - including several which gave the top three a real run for their money:
acelepage
sven b
bmaczero
monocoder
zappo
attila
tom j
xlaydos
tiresius
dbprogrammer
turtle soup
Thank you to everyone who entered - let's do it again next year!
Video Gallery

Chugshot hacked!
The chugshot has generated quite a reputation for being the mother of all weapons in FPSC X10. This video shows the same weapon ported to the original version of FPSC.
Outdoor Level design mastered
This video is a fantastic demonstration of carefully constructed scenery to facilitate an outdoor scene, completed with just the right lighting for such a scene.
Abbatoir Nightmare
This work in progress is looking promising, and the detail in the levels has been carefully added. There is also nice utilisation of audio; we look forward to seeing it's progress.
Mansion of Traps
A teaser trailer for an upcoming FPSC game. A nice trailer for a nice looking game.
Lee's Tip of the Month - A New Deal For Developers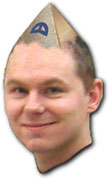 It was announced recently that a top game publisher is going to develop a Triple-A game for download only. The idea is that you get the game for free, and then buy items within the game to enrich the experience. The game will also have built-in advertising technology running in the background to generate revenue for the publisher too.
It's quite a departure from the traditional retail business model, and indicates that the old way of doing things may be changing forever. The good news is that as developers, this new business model is far more accessible than trying to get your game sold through retail, and is something you can do yourself right now.
Instead of making a game, adding a $10 price tag and selling it through RegNow, why not build advertising technology into your game and release it for free? There are several companies out there that provide a free SDK which enables you to add blank rectangles and textures to your game content, which are later filled with advertising content as the game is played. You upload your game for free through all the major download sites, you create a website to offer the download and submit lots of cool videos of the game on YouTube to link back to your site. If your game is popular, you will start to see good revenues from the advertising placed in the game. Instead of selling a handful of copies for $10, you will have thousands of users playing your game and thousands upon thousands of advert impressions, each one earning you cash!
What is perhaps more important to consider is that as this new business model takes flight, users are going to be less inclined to pay for a game when they can download the game next to it for free. There is so much value out there now that there is a free version of practically anything you might want for your PC, from virus checkers and messenger applications to full blown games. It is a trend that is set to grow, and grow quickly.
If you are self publishing your games and applications - as crazy as it might sound - consider releasing it for free. What you are in fact doing is giving value first, and earning the right to communicate with your user. If you play your cards right, you'll make more money giving than you ever did selling.
From the Forums
A few links you may have missed over the past few weeks...
If the mathematics of creating a game holds you back, or scares you witless, then this tutorial is for you. It defines all of the concepts before providing practical applications and sample source code.
Caligari are running a Group Buy scheme until February 14th. Commit to buying the product before this date, and you get the lowest price at the end of the period. You might even get some tutorials thrown in!
.
Tying in with this month's editorial, there is an official TGC Facebook page. Catch up on the latest brainstorming sessions from Rick and Lee, as well as browsing the photos.
Make an abstract scene with no concrete subject, just something odd and unusual. You don't have to make a new model for this, since it's scene-based. Enter now, or just vote.
.
This month's Winner
Each month we pluck one lucky subscriber from the newsletter mailing list and award them a free copy of DarkBASIC Professional. The email address of this month's winner is: ki*.he**va**@d*v.com If this is you then send us an email to claim your prize.
Outro
Share your news with over 15,000 active games developers!
If you have something you'd like featured in a future issue then please get in touch and include as much information as possible (including where applicable: screen shots, URLs and zip files).
Issue 62 deadline - February 26th.