The Game Creators Newsletter Issue 36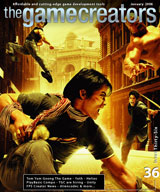 Welcome to both 2006 and Issue 36 of The Game Creators Newsletter! I trust you all had a good festive period and have entered 2006 with all guns-blazing, raring to go?! This is an exciting year for The Game Creators. We're only a matter of weeks away from a deadline on a new project prototype that will shape the way the whole company progresses this year. We're hiring new staff, releasing new software and gearing up for a completely brand new web-site launch. Development on the core three products (DBPro, DGSDK and FPSC) continues, and we will see new versions and upgrades for all of them released this year. FPS Creator has now hit retail in the United States, which is giving it a far wider exposure than our web site ever could. This also means it is finding its way into stores such as CompUSA.
This issues contains a couple of top articles including an exciting new Muay Thai martial arts game from Thailand, which is none other than the official game of the film Tom Yum Goong - read all about it, watch the videos and check out the screen shots. It's exciting to see DBPro being used for such projects and again confirms its ability to handle such games. The final few days of December 2005 also saw the final release of Helios Meheness - easily one of the best shooters of the year. Grab it, play it, adore it.
What predictions do I have for 2006? Well, I expect to see DBPro hit version 6, but more importantly there will be significant changes to the Dark Game SDK. TGC as a company will continue to expand, with new staff coming onboard to help with the ever increasing workload. We will witness Windows Vista make its debut, and with it DirectX 10. Of course we'll adopt that technology, maybe with a new version of DBPro? Or maybe with a new product entirely. Who knows - we'll see how Vista pans out first, but it wouldn't surprise me if this time next year I'm announcing the first betas of a completely new Vista product based on the DB range. Nothing is definite yet, but it can be considered a forgone conclusion, i.e. will happen, it's just a matter of when. TGC has gone from strength to strength in 2005, our products continue to gain in popularity, and we are expanding into exciting new areas. This period of growth shows no signs of slowing down. We're a strong, fighting-fit and successful company, and we'll embrace 2006 with the same vigour and drive as every other year. What is more - you all appear to be doing the same. Last year saw some of the best DBPro games yet created. I expect this year to bring us more wonders.
I hope you enjoy this issue. If you're still on vacation enjoy whatever is left of it. 2006 is going to be a good one, make no mistake about it.
Contents
TGC seeks Freelancers
The Game Creators are looking for candidates to fill the following freelance positions:
PC Pixel Shader Programmer
Must have at least 2 years experience coding pixel shaders and have demonstration code.
Must be self motivated and able to work within a team environment
Extensive C & C++ Programming experience
Direct X knowledge
Must have own equipment and software and broadband connection to Internet
3D Modeller and Texture Artist
Ability to create high quality 3D game models and texture them too
Able to work quickly, and from supplied concept artwork
Must be able to demonstrate previous work
Must be self motivated and able to work within a team environment
Must have own equipment and software and broadband connection to Internet
If you are interested and meet or exceed the criteria, please contact Rick Vanner directly: rick@thegamecreators.com
Web Site: //www.thegamecreators.com
Tom Yum Goong
If you enjoy action and martial-arts films you may have heard of the International Thai star Tony Jaa. He has appeared in several films, the most famous being Ong-Bak, in which his exhilirating stunts and Muay Thai style of fighting lights up the screen. His latest film, Tom Yum Goong was released in August 2005 and is soon to enjoy International exposure. It tells the story of Kham, a country boy, whos life is turned upside down when the mafia arrive at his village and steal his two sacred elephants. Needless to say he has to fight his way through masses of baddies and travel to Australia in order to retrieve the elephants and present them to his King.
As with most martial arts films the plot is usually secondary to the fight scenes, but while the film Ong-Bak was more a celebration of the Muay Thai fighting style, Tom Yum Goong is also a celebration of Thailand and its culture. As well as being the star of the film, Tony Jaa also worked on all of the stunts and fight choreography, and it is his skills in this area that made the film the success it is.
Right about now you may be wondering what any of this has to do in a TGC newsletter? The reason for its inclusion is that the official game of the film Tom Yum Goong was created in DarkBASIC Professional by Wasin Pirom and his Thai DB team 'Game No Limit'. You may remember we reported on their previous hit game Pan Pan 3D back in Issue 30 of the newsletter. Well they've certainly been busy since then! We managed to catch up with Wasin after a 3 month tour of Thailand promoting the Tom Yum Goong game, for this exclusive interview.
"The game was created in DarkBASIC Professional 5.7 and is based on the plot of the action film Tom Yum Goong. It is a 3D beat-em-up game, where the player takes on the role of Kham and can use Muay Thai fighting skills to defeat the mafia and recover the stolen elephants. We filmed Tony Jaa performing all of his various fighting moves and real actions (walking, kicking, jumping, punching, etc). Then our 3D animators studied this footage and accurately copied the moves into the game. All of the games characters move fluidly, jumping over walls, punching and kicking as expected, and all of it was animated by hand! There are over 30 different Muay Thai movements."
Tom Yum Goong: The Game is enjoying fantastic sales and reviews in Thailand. The demo has been downloaded over 92,000 times at the time of writing this article, with 90%+ people rating it as "Great", which may also explain sales of over 30,000 units in the first 3 months alone. It is not often that we see a beat-em-up game created in DarkBASIC, they are probably one of the hardest genres to create well thanks to all of the media and animation required, but Wasin and his team have certainly pulled it off. We have got two videos you can download and watch, one is a trailer for the game including plenty of game footage, the other is an interview (behind the scenes) look at the making of the title. Unfortunately this is all in Thai and there are no English sub-titles yet, but you can still watch the amazing footage to get an idea of what the game is like to play and how much work it took to create.
The Tom Yum Goong film is to be released in the UK on the 24th of March 2006, we strongly recommend it. Read the next article in this newsletter for more exclusive details of other DarkBASIC projects coming from Thailand.
Click here to download the Game Trailer - 8.5MB Windows WMV file
Click here to download the Game Scoop Video - 9MB Windows WMV file (Thai language)
Tom Yum Goong Web Site: http://www.tomyumgoongmovie.com/main.htm
Wasin Pirom Interview
Here we talk exclusively to Wasin Pirom. He tells us how he got into game development, and what projects his team are currently working on:
"It began about 5 years ago. I knew I wanted to develop my own PC game, so probably like most people I started searching on Google and I found www.darkbasic.com! I downloaded the trial and after 2 weeks of playing with it I bought myself the full version, it was DarkBASIC 1.09 back then. Over the next two to three months I worked hard on 'Thai Ghost 3D', a first person style shooting game. The full Thai title translated to 'Genius Exterminates Ghosts' and the game inserts various Thai culture elements such as the ancient wall of the old town, and the pagoda. During play the ghosts can appear instantly, heightening the anxiety in the player. Each ghost had a unique set of Artificial Intelligence routines, so they can think by themselves which forces the player to increase their own thinking and planning."
"After releasing Thai Ghost I opened the 3D Games Development course at the Net Design Institute, and also opened the DarkBASIC Thai Community web site at www.gamedevx.com. The NetDesign Institute is regarded as the best Multimedia and Animation School in Thailand, and today it has 10 branches. I work with my students in the Siam Square Branch, in Bangkok."
"In my game development course I teach my students all aspects of game design step-by-step. From programming, computer graphics, sound, AI and production to marketing and promotion. During my course the students can make games in any style they like, from a first person shooter to 3D RPGs. Today I have taught over 200 students, and each one has made their own game. As a teacher I wanted to demonstrate to my students my own ability, so in 2004 I set-up IYARA Entertainment Corporation to make PC games for children. Our first title was PanPan 3D: PanPan in Wonderland, and it has achieved much success in Thailand. We then moved onto making the Tony Jaa game Tom Yum Goong, but now that is finished we are hard at work on a new title called 'Yuth' which is a 3D RTS game in the style of Dynasty Wars on the PS2."
You can see some screen shots from Yuth below. Again this is a complete DarkBASIC Professional production, with most of the 3D models created in Milkshape.
Web Site (in Thai): www.designparty.com
PlayBasic News and Competition
What a couple of months it's been for PB, we've finally concluded the marathon that has been PB1.089. This update is the result of 3 and half months development and while it was only meant to be a stepping stone release, it's turned into one of the biggest updates to date. With more than 50 new commands (music, dll binding, and lots more), speed ups, various bugs fixes and many key language and IDE features being implemented. PBV1.089b is available now for both UnderwareDesign.com and TheGameCreators.com customers. If you are not an existing PB owner and want to get your hands on PB1.089 DEMO, we will be updated both our and TGC demo's in a few days time.
Competition - Retro Innovation
To culminate with holiday season and the start of 2006 (which is already shaping up to be a massive year for PB), we have announced our first game making competition. The competition focuses upon breathing new life into those 8 or 16bit Atari or Commodore classics and is open to all budding game authors out there. Show Me Competition Guide Lines / Prize Information
Cold Steel - 3D Support For PB
Cold Steel is third party 3D engine (with combined GL & Dx9 support) that can be used with PlayBasic V1.089 and above. It's feature list is considerable and growing with every update. I must admit when screen shots of this appeared a few months ago, I was somewhat surprised and couldn't wait to get my hands on it. Well, the developers just announced the availability of the early adopter release. See Cold Steel Feature List and Ordering Information
Play Mapper
After the previous release of PB, we'd decided it was time to put some effort back into PlayBasic's mapping tool, PlayMapper. But after careful analysis, we ended up deciding to rewrite the tool from scratch. I was hoping to have a full version ready for release with the final PB1.089 release, but that hasn't been possible. While it's already very functional it just needs some rounding out around the edges, before the initial version is ready. We're hoping to knock that task off early 2006. Play Mapper Discussion & Alpha Demos
PBFX - Upgrade FREE For Existing PB Owners
Some of you might be aware of the next generation of PlayBasic, titled as PlayBasic FX. Unfortunately, some people have been confused as to what this means for the current edition of PlayBasic. So here's a couple of key points: 1) DX9 based - Full hardware acceleration (2) Existing PB owners will get then PBFX update for FREE (3) Read the Play Basic FX - FAQ.
Over and Out
I'd just like to take this opportunity to thank all our wonderful customers, resellers (TheGameCreators!) and supporters for your help and assistance throughout 2005. It was a fantastic year for Underware Design and with steady growth of our product lines. We now look forward to pushing onto the next generations in 2006! Until then, All the best!
Web Site: //www.thegamecreators.com/
Changes are afoot at Aliencodec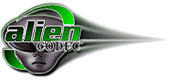 The Game Creators are pleased to announce that they are now the official owners of the Aliencodec brand and range of products, including Treemagik, PlantLife, the Vegetation Packs and Blitzgrass. Our first objective will be to upgrade all TGC customers who have purchased PlantLife and Treemagik to the latest releases. We will also bring the Aliencodec web site back on-line (as we now own the domain name) including the forums and on-line shop. This will happen in January 2006.
Some of you may be wondering why Aliencodec decided to sell their company to The Game Creators. The reason is that they felt they had spent long enough building 'game making' tools, and instead wanted to concentrate on actually making games. So we wish them all the best in this endevour.
Web Site: http://www.aliencodec.com
Unity for the masses - The basics of Lua Scripting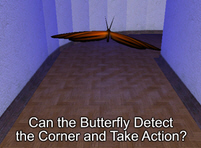 Before you skip over this tutorial, thinking you don't have the tools stop! All you need is a text editor installed; you don't even need Dark Basic Professional! Scripting is all about hiding the engine from the designer, and letting them change the gameplay using simple code with a fast turnaround. In this vein, this tutorial does not need you to write any Dark Basic code, but you will still be making things happen.
Before we look at LUA, the language made available through the Unity plug-in, let's take a look at what our engine does, doesn't do, and what makes it capable of reading the scripts we will write. The engine is quite simply a warren of corridors, and a character. The character is a butterfly, and it's reasonably capable of hovering. But that's it. Our butterfly might well be called butter, as he can't fly. In fact, you can download and install the package that comes with this tutorial now and see this for yourself. Each example that we work through can be run from the Windows Start Menu, starting with example 1, the hovering butterfly.
We will not change this Dark Basic Professional program. There is something happening which you're not aware of just yet. The main program is using Unity to interact with a LUA script – Script1.lua in the program directory. To initiate this communication, we first loaded the LUA script into the program:
err = load lua("script1.lua")
If there are any issues with loading, the return value will let us know. But in this introductory tutorial, we can assume everything has loaded as planned. Our script has a task. This task is to tell the program how to navigate our butterfly around the corridors. There is no code in the main program to achieve this, but there is a routine that asks for this information from the LUA script. Whenever the program needs to move the character, it asks the nextMove() function in the external script how it should do it:
lua set function "nextMove",4,2
lua push float front#
lua push float left#
lua push float right#
lua push float back#
lua call
angle# = lua return float()
dist# = lua return float()

This snippet tells a comprehensive story about the Unity interface, and about our engine. The first thing we must do to call a LUA function is set the function, and declare how many parameters we will be providing, and how many we will expect back. You did read that correctly; more than one parameter can be returned. It's a feature of the scripting language that is unfamiliar territory, but extremely useful. Because this facet is not catered for in Dark Basic Professional, or most other mainstream languages, Unity introduces the concept of pushing and returning values. To summarise the process:
Affirm the function to be called, and state the number of input and output parameters (LUA SET FUNCTION)
Push the input values (LUA PUSH FLOAT / INT / STRING)
Call the function (LUA CALL)
Return the results (LUA RETURN FLOAT / INT / STRING)
Looking at our engine again, you can gauge what we are asking the script to do. Our program tells the script what the character can see in four directions; in front, behind, to the left and the right. The values passed are the distance to the nearest wall in each direction. In return, the function works out the best direction for the character to turn. It also decides how fast the character should move.
If you open up the script for the first example, you will see that the function is virtually empty. It simply sets the angle and speed to 0 – go nowhere and look straight ahead. Let's improve this slightly. Run example 2 which sets the speed to 2 units. Without changing our game engine, we now have a flying butterfly, and all we had to do was change a single value in our script! Admittedly, our butterfly is still a long way from being considered intelligent. The first corner stops him in his tracks, and he hits the wall.
Jumping ahead to a more comprehensive solution, the next script includes an initialisation function, and a logical analysis of the current situation and a resolution. The initialisation is not an essential part of the LUA language; it is probably one of the most forgiving languages available. For the sake of reliable, understandable coding, this routine has been included in our example and I would recommend that it is considered in every new script you create. Remember, the developer who is scripting the engine may want, if not need, the flexibility to write more complex routines. Reading the Init() function in example 3 will give you a good overview of how the script adds intelligence to the flight of our butterfly:
Click here to view the source code
(opens a new browser window)
Take a look at the nextMove() function too; you will see how the syntax of the language is similar to other Basic / C-based languages. Don't worry about the finer details right now, but as a Darkbasic Professional coder I believe you will be quite comfortable with the flow of this code example:
Click here to view the source code
(opens a new browser window)
You can learn the full syntax of LUA at various sources, including lua.org (http://lua.org/pil/). Run example 3 to see our butterfly learning to negotiate corners. If you run the example for a full circuit of the corridors, you will find that the butterfly has a tendency to bump into the odd wall, and eventually loses track of where he is and flies relentlessly against the wall in front. The other issue is that butterflies should be at least a little more graceful than we are currently witnessing. Because the script is so accessible and quick to modify, we can make changes and rerun the simulation until it looks right.
The final script is presented in example 4. Here, we haven't just changed a few parameters. There is a whole new set of logic routines which make the flight of the butterfly far more graceful, accurate, and smoother. At no stage did we recompile the Dark Basic Professional program. In fact, you don't even have the source for the engine which is a realistic emulation of how professional software houses develop systems. Take a look at LUA script 4, to see how we implemented smoother cornering and various other features.
Click here to view the source code
(opens a new browser window)
Using the complete Script 4, example 5 has been produced. To reinforce the fact that the engine cannot "think" for itself, a different map has been used. This also has junctions with more than one option, and uses additional LUA libraries, included in Unity, to make random choices on the path to take. Moreover, it has dead ends, which present an additional problem that wasn't necessarily considered when the script was first written, and required additional coding after the engine was finalised. If you want to take this further, why not consider implementing acceleration and deceleration around corners? You could even write out data to a file that allows you to map the level using the feedback given by the engine. This would be very similar to using the "Fog Of War" technique seen in games like Warcraft, but in this case you could apply it to levels that have never been seen before.
Until next time, Happy Coding!
Download Tutorial: DBPro_Jan06_Tutorial.exe (8.1MB)
FPS Creator News
This month we've even more content packs, a new FPSC forum and even some games.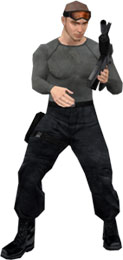 German FPS Creator Forum
A new forum specifically for German users of FPS Creator has been created. You can join in the conversations at http://fpscreator.homesites.de
FPS Professional HUD Pack
The FPS Pro HUD Packs gives you 14 unique HUDs to use in your games. The designs range from sleek Sci-Fi to rough dense War-like ones. If you do not have the skills or just want a professional looking HUD for your game then this pack is for you. Features: 14 Unique designed HUDs. Many different numeric styles that go well with the HUDs. Installer to put your HUDs into the correct directory. Instructions on installing and coordinates for the HUDs. Visit the web site
Half-Life 2 Zombie Model
FPSC Forum Member bond1 spent an evening rigging the Zombie model from Half Life 2 and blending the mocap data so it fitted into FPS Creator. He then made the work available for a free download in the forum thread he started about this. Of course you can't use the model in your own commercial games (because its copyright Valve), but it is a very good example of animation use all the same. Visit the forum thread.
Sky Pack Edition 1
This pack includes 16 different skybox sets. They are all royalty-free, 512x512 pixels in size and cost $11.95. What is more, they have all been set-up perfectly for FPS Creator. All you need to do is copy one folder into your FPSC directory and the skyboxes work instantly! Nice one guys. You can watch a Real Video movie of the skyboxes in action, or visit the web site.
Nightfall
On the FPSC Forum SarusX posted some great looking screen shots from an FPSC game. Set in the year 2035, you play as a mercenary working for Athena Contractors, a powerful international conglomerate of bond agencies and special operations dealers. Athena is hired to investigate the secretive Hammon Corporation, who holds strong ties in the United States Government. The story continues to sink you deeper and deeper into international conspiracy as you attempt to bring down Hammon Corp. Well, we don't know how the plot will translate into gameplay, but the shots look nice anyway! Check them out.
Grave Matter
GRAVE MATTER is a horror game model pack for FPSC. It contains over 40 fully integrated models and animated characters for the FPS Creator. The models are all in .x format, so they can be imported for use with other game/3d engines as well. The pack includes: 10 gravestones, 5 working zombies (including 1 crawling), Bats, Spiders, Mummy, Floating Eye Transparent ground fog, Cobwebs, Cemetery iron fences w/gate, Bare Tree, Stone Tomb, Wooden Coffin, Grass hill segments, Open graves, Haunted house, and Egyptian segments and much more. Details on the web site.
Please note that The Game Creators do not support, or endorse, any product sold via 3rd party web sites. We present this information here for your own use only.
FPS Creator is available today priced $49.99 / €43.46 / £29.99
Web Site: //www.thegamecreators.com/?m=view_product&id=2001
da Demo Scene
Milky Tracker

Old enough to remember Noisetrack / Protracker from the Amiga days? Or Fasttracker from the PC/DOS scene? Well you may like Milky Tracker then! It is a 100% FT2 compatible tracker, using a classic style interface. It works flawlessly on Windows, PocketPC and even OS X. The interface is smooth and all of those composing keyboard short-cuts start to come back to you quickly :) Serious tracker-heads only need apply, this isn't for your typical FruityLoops user! But is great none-the-less. Free download at: http://www.milkytracker.net/
Demo Vibes - Electronic Grooves from the Big Screen
If you're into the demo scene at all then you will appreciate the Demovibes CD collections. They are complete CDs full of expertly mixed demo music tracks, all made available for free download. The music showcased is much more modern (typically 1999+ PC/Amiga releases) and has a very upbeat sound. Even if you have no idea what the demo scene is but just like extremely high quality trance/electronic music, then this is well worth checking out. If you want somewhere to start, grab Demovibes CD 4 and give it a shot. Website: http://willbe.planet-d.net/demovibes/
Happy New Year Demo
Just a short little article to say that a 2006 New Year DBPro demo screen was released by French DB master Captain Ouais. Last year he gave us an awesome space invaders style game, but this year we only get a demo screen :) Still, at least it's a nice screen! Scrolling stars, a booming classical Amiga tracker mod, flashy text and some kind of 3D glitter-ball effect. It's a small download and fun to watch for a bit!
Web Site: Happy New Year Demo
MPL3D Solar System
3D Solar System was created with the Dark Game SDK and is in the final stages of development. Here are the features so far:
Explore more than 10.000 real extrasolar objects, including:
Stars : Main types and Variable Stars (pulse, eruptive, even cataclysmic and more!)
Full Solar System plus more than 120 known Extrasolar Worlds!
Most famous Nebulae and Star Clusters
Five Galaxies including Magellanic Clouds
Friendly camera control with mouse
Travel from planet to planet or voyage freely across the stars
Observe current moons and planets positions at present date and local hour or travel in time!
Enjoy photorealistic representation of our solar system
Take your own pictures and save them to disk
Music inspired in space
The author is waiting for some DGSDK updates relating to shaders before release, but hopefully we will see something soon. The screen shots on the web site certainly look impressive enough.
Web Site: http://www.mpl3d.com/solar.htm
Helios Meheness v1.2
We reported on an exclusive beta of this game last issue, but since then Grant has gone and released the full thing - and already updated it once! I could give a long explanation about what this game is and how it plays, but instead all I'm going to say is: This is the dogs hairy bits! A truly quality retro inspired frantic arcade shooter, with awesome graphics, sound and playability. Drool over the screen shot below, then download it and enjoy, and finally participate in the forum thread below to let the author know what you thought. Positive feedback is the only way to ensure more stunning creations from this most prolific developer.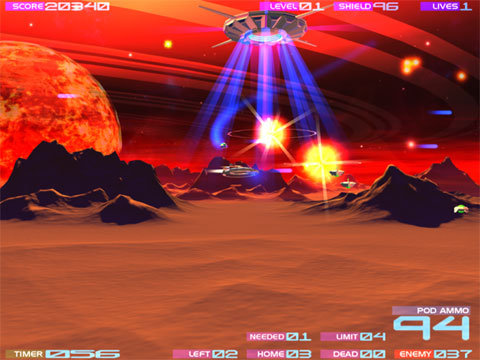 Nice one geecee3 - more, please!
Download Thread: http://forum.thegamecreators.com/?m=forum_view&t=67850&b=5
Ric's Coding Challenge
Trying to think of what to do with DarkBasic Pro next?
Ric's Coding Challenge (sticky thread) is a perfect start. There are quite a few regulars and newcomers are always welcome. The great thing about the Coding Challenge thread is that you get to learn a lot in short little bursts.
The focus is on coding: No media, DLLs, or plug-ins are allowed, so it can really help you get an idea for a project or just develop some solid coding skills. The challenges are short so as to keep interest. If you don't like a particular challenge, it's only about two weeks until the next one. Of course, if you want a particular challenge, simply win the current challenge and you get to select/make the next challenge.
Ric's Coding Challenge thread will see its one year anniversary on February 10th 2006, and has well over 2000 posts.
The Thread: http://forum.thegamecreators.com/?m=forum_view&t=48011&b=1
Shmup-Dev

Received the following about a new forum that caught our interest:
A new website, www.shmup-dev.com has been opened, which is focused on development of modern shoot 'em Up style games and the innovation of new games related to blowing stuff up. The site is mainly there for discussion on creating them, showcasing them, etc. As the site is new and just launched we're still in the process of modifying the look and feel, applying a new logo, and feedback would be greatly appreciated. It will be great to see anyone of you guys that are into shooters there, especially if you could drop by a few minutes a day and read up on our latest posts and / or post a message of your own! I hope to see you there, thanks for reading!! I welcome anyone to post/upload their games over there as well, if they would like to (you can do so in WIP section too) as a bonus for being a member!! :) Size limit is 10 Megabytes. So if you need a place to store your game and it isn't too big, you\'ve got a nice little home for it!
Web Site: http://www.shmup-dev.com
Quikly 3D Model Pro

"Quikly 3d Model Pro" is a 3d modelling package specifically designed for making models for using in videogames. It is very easy to use, even for beginners and is designed to intergrate instantly with Dark Basic, Dark Basic Pro, and of course, Quikly 3d Games Studio Pro. There are 2 versions available:
Quikly 3d Model Pro
This is the Full version. It is FREE when you purchase "Quikly Games Studio Pro" or available to purchase on its own for £9.99, around $17.49 US), or €14.99. This version is a boxed product with free worldwide delivery. People who purchase the standalone and decide to upgrade at a later date can request a reduced rate for Quikly Game Studio Pro.
Quikly 3d Model Free
This version is FREE for registered, non spamming users of either "TheGameCreators.com" or "Quikly.com" forums. It is the same as the full version but limited to 25 boxes, and 512x512 final texture. This version is download only, and can be requested from Quikly.com once you've been an active member of either forum for 30 days+
The Latest demo is now available. This demo has some features disabled, a new version coming very soon with them reimplemented Apologies for the slow loading times in this demo, these will be fixed soon. Ditto the fact you can only use 512x512 textures.
So what can this package do? Here are some of the features:
X Export - and the .X files load perfectly in dbpro first time!
"Export Alternative Map" feature. Easily make multiple skins for models & swap them instantly in game. This could be used for:
Adding damage to texture of vehicles or objects on collision
Re-colouring strips in sports games
Alternative paint jobs for vehicles in racing games
Web Site: http://www.quikly.com
Tyrant RPG Engine
TGC forum member jasuk70 has been working on his RPG engine and associated tools. He recently posted a selection of new screen shots to a thread on our forum, and wow do they look sexy! Over to Jas:
"I've been working on re-doing the generator tools for Tyrannt and have now come up with this Toolkit. Currently it will load and save items (Only items generated with this tool though, they are not ready for use in the game engine just yet) and it will allow .x models, images(.png) and sounds(.wav) to be associated with the item. The format of the item files generated will be the new format for the Tyrannt Engine Items when the next release is done. Currently the existing release will only work with the items generated with the old tool. Also models will not be quickly added to the main engine as they will be used mainly when the Mage Generator/combat system goes 3D. I've added the 3d models as after doing the monster generator, I'm planning to start on the new 3D Maze Generator alongside implementing the new monster and item formats inside the game engine. (This will also include the new Inventory system) Below is a screen shot of the latest version of the tool showing the Dagger item."

There are more images of the tool and engine in the forum thread, along with a download link. So give it a test and let him know what you think of it!
Web Site: Tyrant RPG Engine Thread
From the Forums
The following are hot threads from our user forums. Register and participate for free.
Bomb Roller
This is a cute (if difficult!) little game where you roll a bomb around a 3D level and need to finish without dropping off the edge / blowing up. With some graphical TLC this one could go far. [ Read the Thread ]
Limit Rush DBPro
The Limit Rush tutorial by Ben of Binary Moon was originally written for DarkBASIC. Here is a DBPro version for download from the forum. [ Read the Thread ]
Old School
Old School is the name of this platformer game. It doesn't look particularly old-school in style, the graphics are fresh and cartoony, the animation amusing, and everyone seems to be raving about this - so hopefully we'll have a big stonking playable version soon! [ Read the Thread ]
Populous
If you remember the Bullfrog classic Populous then you need to check out this demo. As well as the usual land manipulation (which is about as far as most Populous remakes ever get), this one also features AI with your little peons following you about, building castles, etc. Great stuff indeed! [ Read the Thread ]
Quake 4 Relief Mapping
More shader related than DBPro, but a fascinating read all the same. [ Read the Thread ]
You can find our forums at: http://forum.thegamecreators.com
The 20-Liner Needs You
The 20-Liner is a popular section of our forum, where people post code with a maximum of 20 lines in length (well, usually anyway) and try to out-do each other. We pick a winner each month and give them a free prize from our web site. The problem is that someone (Ian T) used to perform this selection process for us. He'd email us each month with a winner and screen shot, and we'd feature it here. Now Ian has sadly departed for pastures new we need to find someone else to fill this role - could that be you?
All we need is for someone to write a paragraph or two explaining what the best 20-Liner they've seen that month was, and send it to us along with a screen shot. We'll do the rest. That's it! You'll get your name in the article (and a link to your web site if you have one, and would like the publicity). There will be no arduous 'interview' process for this "vacancy" - just email me (rich@thegamecreators.com) a review and I'll include it. If I like your writing style, I'll ask you to do more. As a 'reward' you'll get a free DBPro DLL from our site (your choice which one) once you've submitted 3 issues worth of reviews. Drop me a line if this interests you.
View the 20-Liner Board: http://forum.thegamecreators.com/?m=forum_read&b=11
This months winner
Each month we award one lucky subscriber a free piece of software. The winner this month is: ??????@johnsonsjourney.????
Just email us with your address details and a copy or either DarkBASIC Professional or FPS Creator will be in the post to you (please specify which you'd like when emailing us)
Outro
Share your product / project news with over 12,000 active games developers!
If you have something you'd like featured in a future issue then please get in touch and include as much information as possible (including where applicable: screen shots, URLs and zip files).
The deadline for Issue 37 is January 25th 2006.