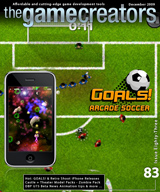 Whilst teasing a friend about her Wii Sports injury (with which I can sympathise as a victim myself), I was quickly and wittily reprimanded with "It's negative convergence that's to blame. Games consoles and strenuous activity aren't supposed to meet". It's certainly true to say that the console changed the way we play games in the home.
One of the more obscure publications in my collection is a scientific report from 1966, titled Advances in Computer Typesetting. It details one of the most significant leaps in computer technology, and was at the time just in the early stages of development:
"Another device, just emerging from experimental status, is a cathode ray tube display coupled with some position-indicating mechanism..."
For anyone who has already forgotten the analogue era, the article is referring to a monitor! It continues to describe the ability to display "up to 4,000 characters at electronic speeds" and that "the edit point is indicated by an underline symbol which can be moved anywhere in the window".
Back in the current day, and emerging technologies include multi-touch screens for manipulating on-screen applications, and 3D monitors for more immersive games. Although we may not be able to create the way the future evolves, it's a wise move to keep yourself up to date with the next big thing, and be ready to embrace it when it happens. As you'll see later in this edition, the convergence of mobile phones, games and touch-screen technology has been fully embraced, realised and forms an integral part of The Game Creators today, and we encourage you to be one step ahead to create your own successes.
Two new iPhone games make their debut this month, alongside two new model packs, including the anticipated release of the Metro Theater. Keep your eye on the future with news on FPSC developments and DarkBASIC Professional beta. The two products converge to give you new functionality in both, accompanied by Lee Bamber's tips on how to use the new commands.
We hope you've had a productive 2009, and look forward to more leaps in productivity next year.
Until next time,

contents
(1) Makeover (2) DarkBASIC Pro (3) MetalMorphosis (4) iPhone Apps (5) FPSC News (6) TGC Store (7) Model Packs (8) FPSC Competition (9) BOTB (10) GDK (11) 3D Compo (12) Tip Of The Month (13) Videos (14) From the Forums (15) Outro (16) Winner
Website Mini-makeover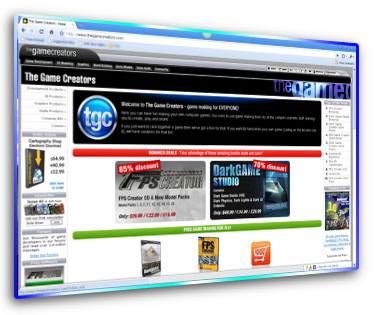 We have given our home page a minor overhaul, to make finding what you want a simpler experience. At a glance, you can decide what you need, where to get it and what the best deal out there is right now. As well as being able to find the great offers on extra models and plugins by grabbing the bonanza and studio deals, there are links to the free versions of all our development tools. You can of course get to all the regular features of the site including your account, order history, forums, codebase and tutorials to name but a few.
Share your Pastime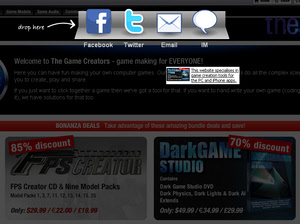 If you want to Twitter to your friends about your skills, or post your developments on Facebook, we've made it easy to do it straight from the site. Simply drag the section of the site you want to tell the world about into your social app!
You can use this feature to email or instant message your friends too, with the minimum of effort.
DarkBASIC Professional News

If you've been keeping tabs on the DBP forum, you will know that we have started the U75 beta process with the intent to correct and tweak the new interface to community satisfaction. We have already made a few key improvements under the hood,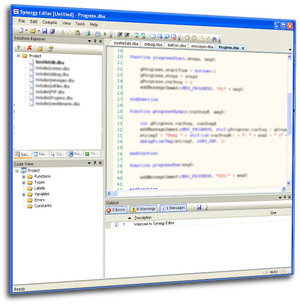 and we are continuing these tasks behind the scenes before we release the new beta version. One of these background tasks is to upgrade the interface to use the latest BCG libraries which go a long way to ensuring the best compatibility with Windows 7, and also to merge the interface code with the very latest fixes from John Youren who has already stepped his Synergy Editor up to work with Windows 7. Once these background tasks are complete, we can release a new version of the beta which allows you to test it against your various operating systems; be it XP, Vista or Windows 7.
This is just the first phase however, with the second phase being a lot more interesting to DBP users. We have listened to your feedback so far in the beta thread, and the general feeling is that the new interface should carry over the best features of the old editor and retain some shortcuts that are sorely missed. Once phase one is complete we will compile a list of features that should go into phase two, so if you would like to check out the beta and see if the new interface is right for you, we would appreciate you posting to the thread about which elements you would like to see re-introduced. Although this won't be a beta which adds new features, we would like to at least get to a point where you can upgrade to the new interface without losing any of the tricks and functionality you depended on from the old editor. For an incentive to check out the new interface, we have built-in the game creator store so you can find and download the media you need for your game right inside the editor. This alone is worth a look, just remember to back-up before testing the beta versions as always!
Dark Game Studio Bonanza

Special offer while stocks last: Dark Game Studio, Dark Physics, Dark Lights, Dark AI and Extends for an incredibly low price of $49.99. Save over $170!
Creating your own PC games is now easier than ever with this special compilation of game making tools:
Dark Edit
Demo Games
Physics Demos

Order Now

Save over $170 on this special deal. Be sure to check out the screen shots and the online videos. You can of course order safely and securely online, for delivery via postal mail.


MetalMorphosis

A game by Cash Curtis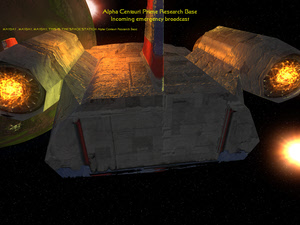 Fans of hardcore first person shooter games are challenged to test their skills and abilities in MetalMorphosis. This action packed futuristic shooter features adrenalin-pumping destruction and mayhem from the beginning, and is guaranteed to test the stamina of any trigger-happy fans of the genre.
MetalMorphosis includes elements of space exploration and real-time strategy; the story kicks off in a not too distant future on earth's first outpost on Alpha Centauri. To prevent the inevitable extinction of the human race it is your mission to control an elite team of professional soldiers each having unique abilities. At any time during game-play you have the option to instantaneously toggle between soldiers to confront enemy attack with the most suitable choice of character; team leader, engineer, communication, weapons and demolition specialists are at your disposal.
MetalMorphosis was created using DarkBASIC Professional and developed entirely from scratch by independent developer, Cash Curtis. The game incorporates PhysX, shadows and even deformable walls. The game was created as an entry into the Indie Game Challenge, in which Cash is competing for the $100,000 top prize. You can view the progress of the game and the competition in the forum thread.
I caught up with Cash, and got a more detailed insight into MetalMorphosis.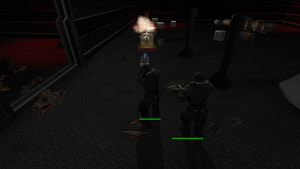 "I've been wanting to make a third person shooter for some time now. I had the opportunity to try out some ideas that I've had on the backburner for a while. First, I wanted a completely destructible level. There are practical limits to this, but I'm very happy with the result - enemies and items explode convincingly, showering the level with debris, and the walls can be destroyed by weapons fire.
"Something that I find frustrating in many games is the concept of video game 'death'. Really, it's nothing more than a way to punish players for failing to be experts. You can get around it by frequently saving and loading, or restarting from a certain point in the game (sometimes the start!), but that just ruins immersion. The idea here is that with enough damage your armor seizes up, effectively removing you from play for a short time. Of course if this happens you can simply switch control to a different character.
"MetalMorphosis was made with Dark Basic Professional and takes advantage of many plugins available from TGC - Ron Erickson's Enhanced Animations, Paul Johnston's collision DLL and Dark AI, Dark Physics, and IanM's Matrix1 Utilities. The game uses media from TGC, Jon Fletcher, Psionic, and 3drt.com, music by various artists from newgrounds.com, Grant Clark's pyrotechnic particles, and benefits from Green Gandalf's shader and effects assistance. For a complete credits list you'll have to download the game."
5 Million downloads and Counting
The Game Creators collection of games have now amassed over 5 million downloads! The biggest hitter is iDare, now being played on over 3 million iPhone and iPod Touch devices around the world. iDork Lite has reached beyond the 1 million mark while Smack It is responsible for an additional half a million downloads. This month, we can reveal two more titles.
Goals! Arcade Soccer
Fast and fun arcade game play
Goal kicks, corners, throw-ins, free kicks and penalties
Set opponent AI skill
Five difficulty levels
Atmospheric soccer sounds
Added features in the full version:
Set the game length
Cup competition
Extra time and penalties in cup games
Edit team names
Select team kit colors
You're at the heart of the action as you direct your players with the joystick touch control. Deliver a timely pass to your striker with the action buttons and then round the keeper and blast the ball into the opponents net. Attack by passing player to player or hit a long ball up field as you take on the opposing team. You have full control of the player with the ball and can change to other players when the ball is free or with the opposition. Guide your defenders and help them block or slide tackle to win back the ball. Slide in from the side and steal the ball to win back possession.
In GOALS you can score in many varying ways. Shoot from close range, round the keeper and slot one into the empty net or blast one from long range and curve it into the top corner! Yes, you can add after-touch curve to the ball which makes taking free kicks a real joy. Slide tackles from behind may bring the referee's whistle; when it's outside the box a free kick will be awarded. Players line up to form a wall, so try bending the ball around and into the goal. An infringement inside the box will bring a penalty, use your judgement to slot the ball into the corner of the goal.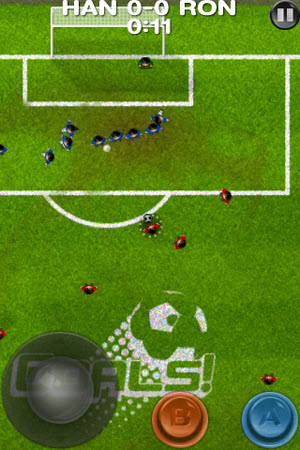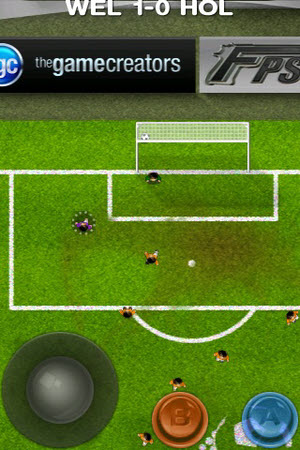 GOALS is currently awaiting Apple's approval and should be available very soon on the App store. Follow us on Twitter to hear as soon as it's released.
Retro Shoot
Easy game control method
15 free levels to play
Arcade & Survival modes
Fast paced shooting game
Vibrant neon style enemies
Power-up bombs, lightning and weapon upgrades
Cool particle explosions
Online high score system
Publish your scores to Facebook
Get ready to shoot tons of stuff in this all action space shooter! We've taken the great gameplay from the 80s and brought it bang up to date with vibrant neon graphics and pulse pumping music and sounds. Use touch control to guide your lone space craft through wave after wave of retro aliens. Your weapons are set to auto-fire so just focus on flying the ship whilst taking down the enemies.
The "retronauts" take no prisoners and will strike your craft if they can get near to you. Blast them out of space with your lazers and pick up weapon power-ups to dish out a deadlier arsenal. The waves increase in difficulty as you progress further into space and your ship can take a maximum of three strikes before you're wiped out. Can you survive the onslaught of these deadly foes from an bygone era?
Will you post the highest score and be crowned the best Retro Shoot player?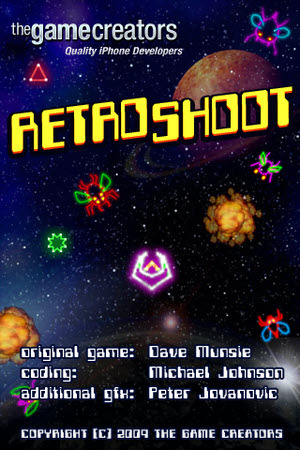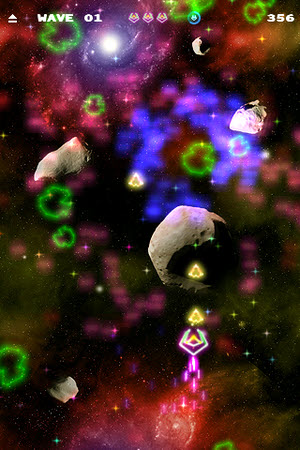 Retro Shoot is currently awaiting Apple's approval and should be available very soon in the App Store. Follow us on Twitter to be first to hear when it's launched.
FPS Creator Updates

FPS Creator Migration

The latest on the FPS Creator migrated code sees the integration of separate arm, mouth, eyes and head animation within an FPSC character, and the streaming of DarkVOICES phoneme data to allow the characters to speak. Using a new TALK FPI command, you will be able to give any character a WAV file and a LIPSYNC file, and the character will launch into a realistic speech complete with facial animation (thanks to DarkVOICES).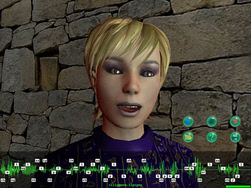 Integrate Dark Voices and FPSC for character dialogue - even walk and talk at the same time!
The good news for modders is that the FPSC source code does not need the DarkVOICES product as a separate module, as the LIPSYNC file is parsed in using regular DBP commands. DarkVOICES is only required for generating the LIPSYNC file, but you can create your own LIPSYNC files if you wish to create or license your own phoneme generator.
On a side note, we also took a variant of FPS Creator to an event here in the UK to show educators and decision makers our current progress with the migration and gained valuable feedback on which features would be highly desirable within an academic setting. Surprisingly, many of the suggestions fit nicely into what you would want as games designers too. Although the final list was exhaustive, and there would be no way to implement them all in a reasonable amount of time, some ideas were important enough to mention here so you get an idea of what we are thinking. One of the ideas was an Import item in the FILE menu, which allows you to load in your own X and FBX models (with or without textures), and the software would automatically scale, rotate, fix and construct a fully working Entity from it. The days of manually preparing entity FPE files would be over as the whole process could be done visually in a user friendly way. Not only a great application for artists and content creators to try out their 3D models, but excellent for game developers who want to bring in new fresh assets without the pain of entering Notepad and spending hours in trial and error.
Another idea was to create a wizard layer about the current editing experience. Instead of manually clicking the blocks that make up your room and corridors together, you have a themed canvas on which you draw lines. From these lines, the software could construct your room and corridor segments automatically, making the process of laying out your level much quicker. From the event, we got the sense that end users (students, teachers, parents) want software that is as easy as possible to use, contains the widest choice of assets to create with and flexible enough to create anything from virtual tours to large multi-user worlds. Rest assured we have our feet on the ground, and with so many good ideas to draw from the FPSC migration version can only get better.
FPS Creator X10
The beta for testing the new X10 store was delayed a few weeks while we finished off the V116 update to the FPS Creator migration version, but you will be pleased to learn that V116 has been officially released and made available to the public. This means that space has been cleared on the virtual workshop floor and we have been conducting some early tests with the internal version of X10 plus Store. Early results are good, and we will shortly be ready to start up the beta thread in the X10 forum to get your feedback on the store and the new interface that accompanies it. Be aware that the store will not be 100% compatible with X10 as the store items were mainly designed for X9 users. However, thanks to plenty of model pack compatibility work in prior updates and the response from the store artists to prepare their assets so they are X10 friendly we should see the majority of store assets fully compatible. At the moment all store items show the X10 compatibility flag set to NO or UNTESTED. This is deliberate so you don't get your hopes up, but we have a store administrator who will go through all three thousand items and individually test them for X10 compatibility once the X10 beta of the store begins. Thanks for your patience while we work on the store module and you should see the X10 store beta thread appear soon.
Special Offer while Stocks Last - $22.99,

Save Over $150.00!
Take advantage of this whopping special offer! Get FPS Creator and 9 Model Packs for an incredibly low price of $29.99 USD (€22.00 EUR, £19.99 GBP). This deal includes:
FPS Creator
Model Pack 1
Model Pack 3
Model Pack 7
Model Pack 11
Model Pack 12
Model Pack 13
Model Pack 14
Model Pack 15
Model Pack 25
Click here to purchase the Bonanza pack, including FPS Creator
for just $29.99 / €22.00 / £19.99
FPS Creator French Community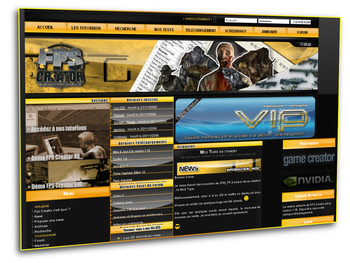 FPSCreator.net is a French online community of game making enthusiasts. As well as many games created in FPS Creator, it also features game models, reviews, tutorials and a French speaking forum.
If your preferred language is French, then this is a great resource for you. Visit the website now for the full story.
The site also includes Google translations into English, German and Russian.
The Game Creator Store - New Additions

Top up your Points by Mobile

You can now purchase 500 Store Points directly from your mobile. You don't need a credit card or payment details, simply enter your request on the Store payment page along with your mobile number. This service is available in the UK, United States and the following European countries - Austria, Czech Republic, Denmark, Republic of Ireland, Finland, Germany, Netherlands, Norway and Sweden. Other countries may become available at a future date.
Upload Your Assets to The Game Creator Store
Did you know you can sell your models, segments, music and sky boxes in the Game Creator Store? We already have dozens of artists selling their media, and we welcome anyone with the talent to provide our community with quality assets to do the same. If you are interested in becoming a store seller, please contact Janet, our Store Administrator directly.
New Store Additions
Wartorn Church
A magnificent but decaying church structure. This building is part of the Wartorn pack, available from the FPS Creator website. Many of the models can be downloaded as individual entities from the store, or purchased as a full collection of related and themed items as a Model Pack.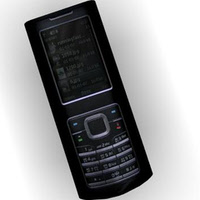 Cell Phone
Use this cell phone entity as a tool to aid your storyline, or even as a weapon to throw art enemies. 512x512 texture allows you to see the display items and button numbers.
Spanner
An old and rusty adjustable spanner. Perfect for modernday and horror scenes.
This is a melee weapon that can be left in your level to be picked up and used to fight your opponents. High quallity 1024x2048 Diffuse, Normal and Specularmaps
Wall Light
This wall light is seemingly inconspicuous yet lighting can transform a scene instantly and set the mood for the game. This is a fluorescent wall light with a metal cage around the light tube. It can be repositioned on the ceiling.
It uses a 1024x1024 diffuse texture.
All of the above models are available to purchase and download through the inbuilt Game Creator Store in FPS Creator, and also using the standalone store for other game-making tools.
Model Pack Releases - Castle Pack, Metro Theater and Putrid Zombies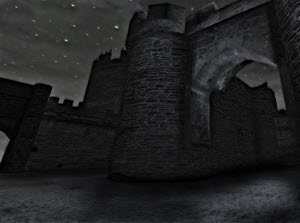 The castle pack allows you to construct your own castle, with an assortment of turrets, towers and walls. It also contains additional buildings. There is close integration with the segments and buildings contained within the pack, allowing for the entity building to be used as a shell, whilst you can paint segments inside to provide the interior space! Make the interior come alive with a rich pack of segments, allowing you to make the castle kitchen, pantry, banquet hall and much more.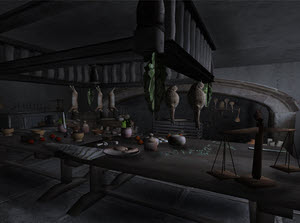 This pack contains 59 interior props, 20 castle pieces, 9 dynamic doors and 11 segment rooms.
You can view the full details, screenshots and purchase the pack from the FPS Creator website.

Click Here to view the Castle Model Pack web page.
Model Pack 38 - Metro Theater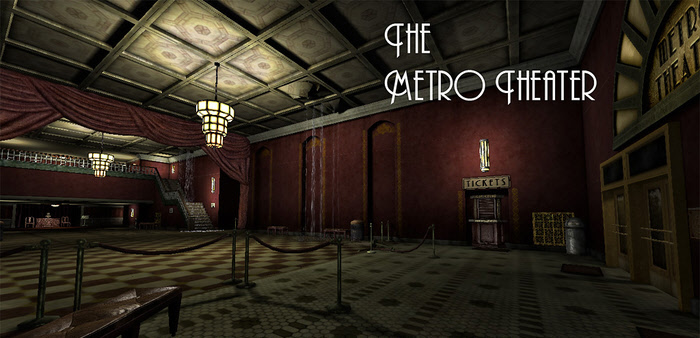 Developed by Bond1 (author of many great model packs) and released this month, the Metro Theater takes your FPSC games to a new level in terms of quality and effects. This screenshot is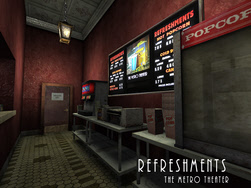 taken directly from FPSC, it is not a render from the modelling application! Some of the features include:
Totally new pixel shader 2.0 rendering path for world-class visual effects
Bioshock inspired water effects -specular mapped environment effects in addition to soft lightmapped shadows for realistic walls, floors, and doorways
Half-Lambert diffuse lighting for dynamic entities: a Valve Source technique for pleasing dynamic lighting

To fully appreciate the quality of this pack, we recommend you download the full quality video (132 MB).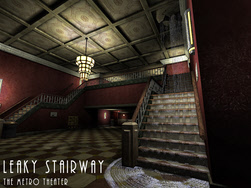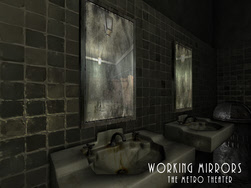 Model Pack 38 is available from the FPS Creator Website, where you will find full details of the pack and purchasing options.
Putrid Zombies by Rolfy

This independent pack from Rolfy feature 4 rigged and animated fearsome zombies. They are affectionately named:
Putrid zombie
Flesh burned zombie
Old decayed zombie
Skinned zombie
Each has its own unique walk animation, play dead until approached and change their behaviour as they take battle damage. They bite and slash when attacking, and recoil when damaged.
The pack is available directly from Rolfy's site, priced £7.50 (pay in other currencies through PayPal).

The newsletter video section shows these zombies in action, and just what they are capable of. You can give your feedback in the forums.
The Big FPSC Christmas Competition II

by Nickydude
It's back after a successful debut last year, this year's theme is Nuclear Fallout. You can center your scene around a cave or inside an abandoned building, whichever takes your fancy. There are plenty of old planks, rusty cars, junk and abandoned buildings around to get you started.
JUDGING
Judges will be looking for the best take on a nuclear fallout level and also how well it plays as a game.
Overall Look - Does your game look like it's set after a nuclear war? Is it some segments bolted together with a few buildings? The better the look, the more the points.
Game Play - Is there actual game play or are you just wandering around?
'Outside the box' - Does your game have something unusual? Is there something there no one has thought of? what gives it that 'play again' factor?
Frame-rate optimization -
how well does your game run? Are you using tips and tricks to get a decent frame rate or is everything running slower than a snail with cramp?
The Prizes
1st Place
Bonanza Pack + Character pack + Any 3 model packs + 2000 store points (as one prize) by TGC.
Printed & Bound copy of the Community Guide.
Atmosphereic Sounds pack by Nickydude.
Hell Demon Voice pack by Nickydude.
A copy of either Project Blue UM by Plystire or Horror Mod by knxrb.
SignsV by tschwarz.
FPSC Toolbox by Bullshock.
Everything I (Nickydude) have in store.
Holez by Xplosys.
Copy of my Model Pack 26 (Graveyard pack) by Ross tra damus.
Metro Theater Pack by Bond1.
One or more (depends) never released entities which they will be the only to use by CyborgART.
WWII Pack by Keith C.
Animated Hud by Rolfy.
Smart Packer by mrniceguy.
2nd Place
Atmospheric Sounds pack by Nickydude.
Hell Demon Voice pack by Nickydude.
A segment pack and a custom game application (Game-Launcher or Game-Downloader) by Doomster.
Holez by Xplosys.
A copy of either Project Blue UM by Plystire or Horror Mod by knxrb (whichever is left).
$20 Store Voucher by KeithC
Pick of 2 tools from the FPSC Toolbox by Bullshock.
Pick of 6 audio files from my (Nickydude) store account.
Character Pack by TGC
Cyborg ART's Urban pack"
3rd Place
Tommy Gun with hands by General Jackson.
Holez by Xplosys.
BlackBird Model Pack by RedEye & mgarand.
Pick of 1 tool from the FPSC Toolbox by Bullshock.
Pick of 3 audio files from my (Nickydude) store account.
Models of his entry (Ultimate Contest) from 1507 from RedEye

RULES
This competition will end February 1st 2010.
ANY version of FPS Creator can be used, including modded.
Minimum number of entrants for the comp to go forward must be 5.
You may use custom media; to include entities, segments, sounds, music, and scripts, etc. Just remember that all the levels will be made public once the competition has been judged, and a decision has been made public.
There will be NO stealing, pirating, or unauthorized borrowing of media/music/or scripts to be used in your level. If this is discovered, you will be automatically disqualified and possibly banned from the forums. If you're not sure if its OK to use someone else's material; then the best thing to do, is not use it. If you do use someone else's material, then you must have WRITTEN permission to do so (unless the permission is given in the license agreement; i.e., free for 'commercial or non-commercial'). Forging written permission will also result in punative action.
Your level must be in an installer or a compiled .exe; no .FPM files will be accepted. The file size limit is 200 MB
There must be a direct link to your entry. Links through a website or where you have to register to download won't be accepted.
Remember that the forum rules still apply; in that there will be no nudity, or swearing allowed. Either of those items present in your level could be grounds for disqualification (an attempt to contact the designer may be made, but is not required).

The forum discussions are already under way, you can join in here and get started on your entry right away.
Best Of The Best - Red Shift

Red Shift
by Blazor X
In the year 2034, 75% of the world has since been flooded due to the melting of Polar Ice Caps and Global Warming. The story takes place in Urumqi, Xinjiang China, where technology has adapted to its prior surroundings from the limited suitable areas for foundation construction and the loss of common materials.

Earth is controlled by the I.G.L.F. (International Government Law Force). The I.G.L.F. work close with the Quinto Corp, a company that carries out research and expeditions to distance regions, trying to discover new areas for future settlements. Time will tell how close...

You play the role of Kenji, Head of security for Quinto Corp. What starts as a normal day for Kenji, soon turns into something not quite as he expected.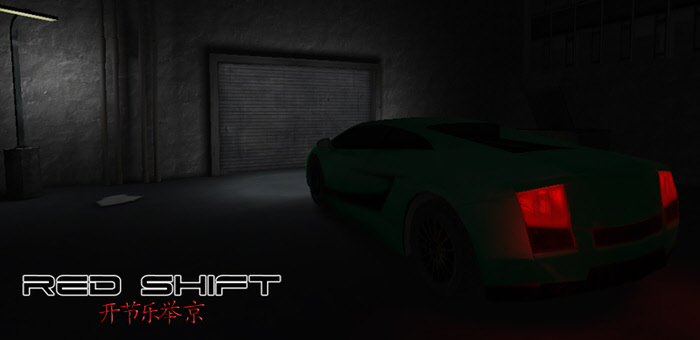 This game demo can be downloaded here (in zip format, 133 MB). The forum thread can be found here, we encourage you to feedback on games and show your appreciation.
Very Best of The Best 2009

by KeithC
Welcome to The Very Best of the Best! This new annual competition seeks to highlight the absolute Best of the Best. Each year every entry into the BOTB will be judged and evaluated, to see which FPSCreator Developer has what it takes to be number one.
On November 25th, of each calendar year, judging will commence for entries up to that date. In the past, it has been one person (KeithC), who has judged which entry will be given the opportunity to join the BOTB...however, that will not be the case with the VBOTB. Though the 2009 Competition will still be judged by KeithC (as it is set to close soon), there is additional criteria that will have an influence on the outcome: Community Vote.
PRIZES
The Game Creators have provided the following to the winner of the VBOTB: 2009:
A $250 TGC Voucher
4,000 Store Points
In addition, the Winner will be featured in the TGC January Newsletter, and get a unique BOTB Badge (reflecting the year of the win) that will replace their current BOTB Badge.
Games Currently in the Running :
The Warehouse - Puppy of Kosh
Automatic Update - Wetham
Pioneering - Chidem
Canalyst - Sector 49 Studios
Red Shift - Blazer X
Judges needed for 2010
Judges are needed for future VBOTB competitions. A potential judge should have the time to play numerous entries into the BOTB, objectively adhere to the Criteria Sheet given and be fair-minded.There are an unspecified number of slots open, so if you think you have the time to spare, and want to help out, please contact KeithC after reading the full details in the forum.
MPL3D Solar System Updated

MPL3D Solar System v1.2 is now available. This is one of the most ambitious projects out there created using DarkGDK. The latest release continues a wealth of new features, many of which have been made possible through the addition of Forum members Green Gandalf and Dark Coder to the MPL3D team. Shaders have been added and fine-tuned to create a more professional looking package. The new features include:
Real star colours
New star surface shader
3 new planetary shaders
Surface star oscillation
3d star sound
Revised star flare system
Logarithmic brightness system
Brightness compensation system
Gravitatory particles System
Dynamic level of detail system (LOD)
Exponential camera zoom
Camera collision system
Revised camera speed algorithm
Scientifically up to date texture for the Milky Way
Up to 4k textures for the main planets
33 Additional dialogs and options
Additional space music track
MPL3D Solar System maps out the majority of the close known universe. Stretching beyond our own Solar Sytem, it reaches out to include another 120 extrasolar planets amongst over 10,000 mapped objects in this interactive simulation. Based on scientific data, every planet has been carefully reproduced as a visual representation, alongside the technical details. You can explore our own planets, exoplanets, nebulae, star clusters, several galaxies and even Sagittarius A, the black

hole that exists at the centre of our own galaxy.
Visit the MPL3D website for full details and to purchase the application.
3D Modeling Competition
By BiggAdd, MikeS and David Gervais

The Scene Must be Seen competition is now over. This time around we asked you to make a 3D scene, it could be anything from a still life to a full blown outdoor battle, indoors, outdoors, underground, off-world, microscopic - anything goes! While the judges deliberate over the largest number of entries to date, here is a preview of the submissions. Watch out on the 3D board for the winning announcement.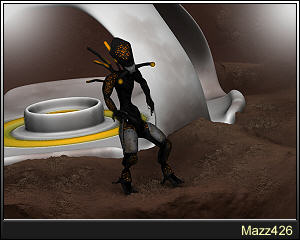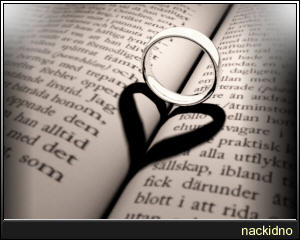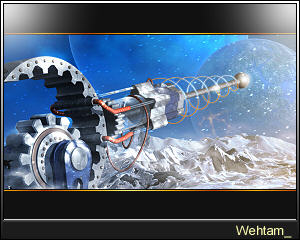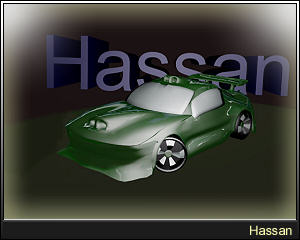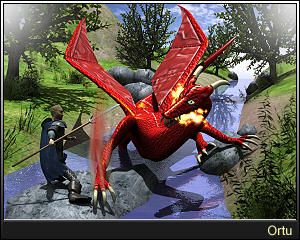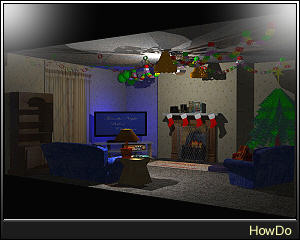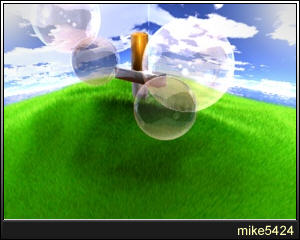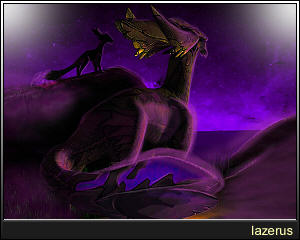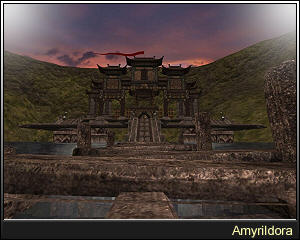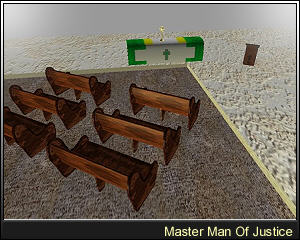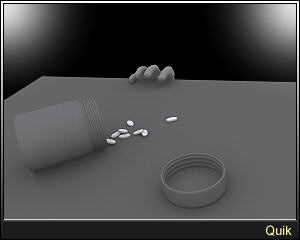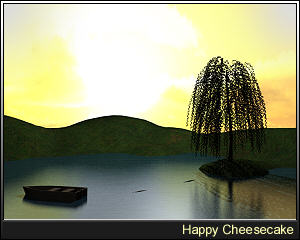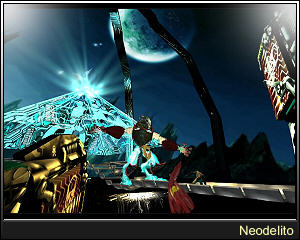 How the 3D Modeling Competitions Work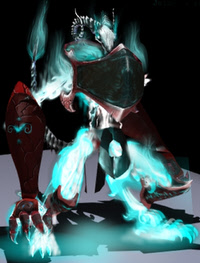 The accolades for the winners are retained until the next competition winners, and are as follows:

3DMaster - Champion awarded to the overall winner in the competition, an entry which displays both modeling and texturing excellence.

3DMaster - Best Model awarded to the runner up who demonstrates the finest modeling skills in the competition.

3DMaster - Best Texture awarded to the runner up who demonstrates texturing wizardry in the competition.
The awards will cling to your Avatar until the results of the following competition are announced. So to keep your award, you must defend your honour in battle once again!
Lee's Tip of the Month - A powerful New DBP Parameter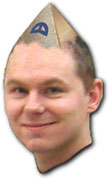 Introduced with the latest U75 beta, a new parameter has been added to an existing command which opens up some powerful opportunities for those DBP users who are using the 3D animation features to bring life to their 3D models.
Many of you will be familiar with the idea of using LOAD OBJECT to load in a 3D model that contains bone animation to create the impression your character is walking or your car wheels spinning. You know that you can use the LOOP OBJECT command to trigger this animation in your game and you know STOP OBJECT will stop the animation when you are done.
Some of you may even know that you can control the animation yourself using the SET OBJECT FRAME command to specify which frame of animation your 3D model should render, and then tie that into a variable you use to control the forward or backward movement of the animation such as INC FRAME : SET OBJECT FRAME 1,FRAME.
And perhaps a few of those left may know you can add flags to the above command to control how the 3D model calculates its visibility bounds such as SET OBJECT FRAME 1,FRAME,2. A practise you would need to perfect when animating a model outside of its normal default visual bounds.
Now I can probably count on one hand the number of users who know about the fourth parameter, and not surprising as it was only introduced in U75 beta. The full syntax is as follows:
SET OBJECT FRAME ObjNo,LimbNo,Frame,BoundsFlag.
As you can see, a LimbNo parameter has been introduced and I imagine some of you can guess what is coming next.
Let's say you wanted your character walking along in a nice walking loop, but then want their upper body doing a little dance from a completely different part of the animation data. Well with this new parameter its just a few lines of code:
LOOP OBJECT 1,0,20
F=21
DO
 F=F+1
 IF F>40 THEN F=21
 FOR C=15 to 35
  SET OBJECT FRAME 1,C,F,1
 NEXT C
LOOP
In the above code snippet you set your regular animation off as normal, in this case the walking animation is found at frames zero to twenty. In your main loop you then increment a variable called F to represent the frame numbers of the dance animation frames. You then feed this variable value into all the limbs of parts of the 3D model you want to reflect the secondary animation data. When running, the walking will be performed automatically with the LOOP OBJECT command and the upper body limbs in the region of 15 to 35 are controlled manually using your frame variable.
"...you can combine these animation frames in any order and for any limb, allowing your characters to dynamically react to what is happening in the game rather than having your artist anticipate every possible combination of animation sequence for your character"
There is no limit to what you can do with this, to the extent that you could take full manual control of the model and animate each limb with it's own animation data as you see fit. For quick hijacks of a character's normal animation, it's a few extra lines of code and you are done, but you could really go to town with this feature and load up your animation data in the model in such a way as to compress the unique activities of the various parts of the body into just a few hundred frames. Essentially you would have a small model file, and use your code to select and play the limbs required as you need them. Instead of having five near identical walk animations with the character holding different weapon poses, you would have a single walk animation for the legs, and then the variants for the upper body stored using their own frame ranges. The upshot is that all the animation data that would have been duplicated for the leg limbs can be truncated to a single sequence. What is perhaps more powerful is that you can combine these animation frames in any order and for any limb, allowing your characters to dynamically react to what is happening in the game rather than having your artist anticipate every possible combination of animation sequence for your character.
As a footnote, this new parameter was used in the recent addition of DarkVOICES mouth movement to an internal version of FPS Creator. By leaving the existing character animation system alone, and simply overriding just the mouth limbs of the new character, we are able to have the character walk,

run, duck, shoot and fall whilst being able to talk in parallel. If you are interested in playing with this feature, it is available now in the latest U75 beta.
Video Gallery

Zombie pack
As featured earlier in the newsletter, Rolfy's Zombies are now available to purchase. this video highlights their features and capabilities.
MetalMorphosis
See MetalMorphosis in action. This is Cash Curtis' Indie Game Developer entry, as reviewed earlier in the newsletter.
DarkPrinciples
Daniel Foreman's tutorial videos are online and available to watch for free. Here is an overview of the site contents and how to access it.
From the Forums
Forum Highlights
The forums now have syntax-highlighted snippets, when including sample code in your snippets. By adjusting the tag, you get the highlighting for your selected language: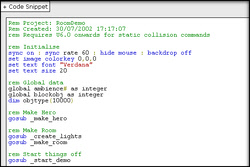 [code lang=dbp]
The languages currently available are:
darkBASIC Professional
C++
Visual Basic
Java
HTML
Mini Forum Competition - Design a Christmas card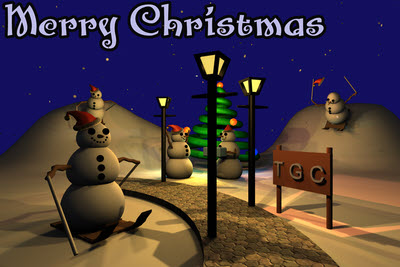 Congratulations to Mnemonix, who is the winner of the quick-running christmas card competition. There were a number of great entries, but Andrew rose to the top with his design, which he used to finetune his modelling skills.
Congratulations, this design will be printed and used as the official TGC Card this season.
Image Kit is a plug-in that allows you to manipulate an image. It can access an image data without conversion to memblocks which makes it several times faster. There are a lot of applications for this plug-in, such as bullet holes and advanced blending.
This is a system which is comprised of a set of three programs which work together to allow you to run a performance analysis on your project, and view the results generated. Includes the precompiler assistant, analyser and data viewer
.
Making a game in 20 lines is a challenge, but one that many have taken up and succeeded. However, if there is ever such a thing as extreme coding, then this 20 line chess game will set the standard to which everyone will aspire.
This is the latest upgrade of DarkBASIC Professional to hit beta. There are some nice new features to experiment with, just make sure you read the Tip of the Month to take full advantage of them.
.
Outro
Share your news with over 22,000 active games developers!
If you have something you'd like featured in a future issue then please get in touch and include as much information as possible (including where applicable: screen shots, URLs and zip files).
Issue 84 deadline - December 21st 2009.
This month's Winner
Each month we pluck one lucky subscriber from the newsletter mailing list and award them 2,000 Game Creator Store points. The email address of this month's winner is: d*nna.pe**y@gmail.com We have emailed the lucky winner, congratulations!
"When it comes to the future, there are three kinds of people: those who let it happen, those who make it happen, and those who wonder what happened."
John M Richardson, Jr
From Wigan Warrior to Welsh Dragon! Lee has now moved HQ to deepest darkest Wales where he can hide away and code in a real cave, we wish him well and hope the fresh Welsh air and solitude brings fresh and inspired results!