The public preview of the beta changes arrived and the changes are about what was expected:
per https://forum.game-guru.com/thread/221133
A bevvy of performance-related fixes were done including the draw-call batcher.
* F11 in Standalone no longer causes PBR debug layers to be rendered
* New DOCDOC system added to code allowing a new 'Docs\SETUP INI Description.txt' doc to be auto-created
* Improved MIXAMO FBX Importing (2-chain-finger in T-POSE), simply select 'Uber' in 'Is Character Field'
* Added Convex Hull collision shape to the physics system, use by setting COLLISIONMODE in FPE to 9
* Fixed EXPORTASSETS flag in SETUP.INI to correctly export unencrypted full entities with standalone

Overall the results are positive but users are still reporting some errors - it's important to recall that a public preview is essentially the same as an open beta. It is widely accessible but not an official 'stable' version. Report your bugs!
What's Good in the Store
Erart made a somewhat bizarre but kind of cool 'magical hand' weapon. You have to see it to understand what I mean here:


You can get yours from:
https://www.tgcstore.net/product/33493
Tools and Tutorials
This week the GameGuru youtube official channel posted more tutorials. Some of these are better than others but I think for most advanced users the useful ones would be the ones on blender and fbx imports.
Free Stuff
Smallg's transition from coder to modeller is still going strong - get your free models here: https://forum.game-guru.com/thread/221130

Fumar built a beautiful house you can download to add to your collection: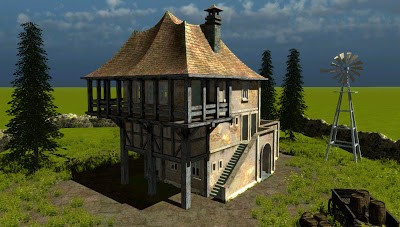 Get your copy here: https://forum.game-guru.com/thread/221118?page=1#msg2621303

He also built a bench: https://forum.game-guru.com/thread/221118?page=1#msg2621110
Random Acts of Creativity (WIPs)
This week we've got a lot of works in progress. Let's start with this one by C4ever08, a project titled called "Dietara" that we've covered before with lots of updates on it: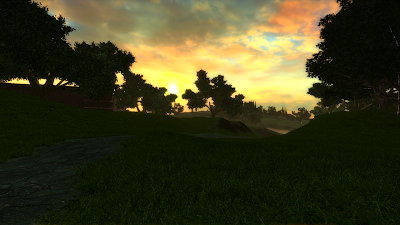 I admire the scope and personal touch of the landscape.
Full details are available here: https://forum.game-guru.com/thread/220994#msg2621235

Cybernessence updated/refreshed his art for the hero characters in his Cogwheel Chronicles epic: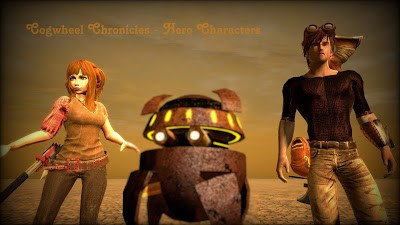 https://forum.game-guru.com/thread/213870?page=7#msg2621264

He also has additional updates on his work on modifying the drawcall optimizer for his own purposes: https://forum.game-guru.com/thread/213870?page=7#msg2621068

Solar has lots of updates on his Resist: Revolution game here: https://forum.game-guru.com/thread/218343?page=3

Lastly, one of my favorite store authors, OldFlak, started work on a new project in the Sci-Fi vein that looks fantastic by my estimation: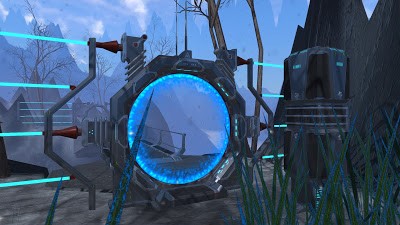 Get the full scoop (and plenty of great looking screenshots) here: https://forum.game-guru.com/thread/221152
In My Own Works
I'm really happy to see the response my book on GameGuru has gotten. I haven't gotten any kind of official figures but I can honestly say that this thing was a labor of love. I'll never break even on the time I invested or the money outlaid for things. I'm *STILL* dealing with some minor cleanup of items before they go on the store, though I don't see any reason why they shouldn't be up this week.

In the meantime if you have purchased my book I'd really personally appreciate it if you'd stop by the listing on Amazon and write up a quick review of it. You can do that here: https://www.amazon.com/Introduction-GameGuru-Michael-Matthew-Messina/dp/1138612634

I guess we'll see!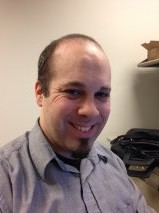 Michael Messina (AKA Bolt-Action Gaming) is a native of central Pennsylvania, currently residing near York. He is a Linux Systems Engineer, part-time author, part-time Indy game-dev and full-time father. He is author of a start to finish guide for GameGuru via Taylor and Francis (via CRCPress).
This article represents solely the opinion of the author and does not reflect the opinions or views of TheGameCreators, its employees or its contractors. It likewise does not reflect the views or opinions of www.tgcstore.net and its staff. The author receives no compensation for this work, and it is done solely as a service for the GameGuru community at large.