With the awareness and excitement of VR and AR increasing, it's no surprise that developers are following the trends and trying out VR for themselves. The problem they will face, like most emerging technologies, is fragmentation.
Many manufacturers want to own a section of the market, which gives rise to proprietary solutions and slightly different takes on what the standard should be, making the life of the poor coder a little more confusing. Even Microsoft, which had six headsets listed on their Windows Mixed Reality page back in March now only have two, casting yet one more cloud over the issue of which VR standard to support.
To support all of them is expensive, time-consuming and wasteful, especially if the hardware you just coded support for no longer exists and hitching yourself to a proprietary wagon restricts you in other ways.
As this infant tech grows, we need a solution that won't disappear and works on everything, and happily, one is in development right now called Open XR by the  Khronos  group. With runtimes now available, this breath of fresh air will mean VR and AR developers can code once and then run their apps and games on pretty much any hardware that has a supporting runtime, and according to the manufacturers who have signed up, that will be pretty much everyone.
We too have been spending some time developing our own VR tool for Education and will be launching it in early Autumn – watch this space!

Our first update to AppGameKit Studio was released this week. This new version allows you to select which rendering engine you want Studio to use (OpenGL or Vulkan). Another key upgrade in this version is support for Android API28 - all new apps must now use this API level and all upgraded apps must be using it from November onwards. We've also fixed a bunch of issues reported to us via the forums.
We're now finalising a Free Trial version of Studio for release very shortly, then we'll be focusing our efforts back onto the Vulkan engine to bring it to the other platforms (Mac, iOS, Linux and Android).
Finally, we have the first DLC for Studio in the offing but in the meantime all Studio owners have the option of those of the Classic DLCs which will work with Studio – these are:
However please note…..if you are buying these DLCs for AppGameKit Studio with Steam keys, you will need to own both AppGameKit Classic and AppGameKit Studio on Steam for the Steam downloads to work!

Last week we released V2019.08.01, a new and important maintenance update to AppGameKit Classic. 

What's new?
Fixed the app freezing if PlayObjectAnimation was told to loop with the start and end frames set to the same value, or set to values beyond the animation duration
Android
Exported Android apps now target API 28 as required by Google
Minimum supported version of Android is now 4.1 (API 16)
Chartboost SDK updated to version 7.3.1 on Android
Updated AmazonAds to version 5.9.0 on Android
AdMob SDK updated to version 18.1.1 on Android
iOS
Changed iOS audio category so AppGameKit apps will no longer be silenced when the ringer is on silent
AdMob SDK updated to version 7.47.0 on iOS
Updated Chartboost SDK to version 8.0.1 on iOS
AmazonAds updated to version 2.2.17.0 on iOS
GameCircle on Amazon is no longer supported due to removal by Amazon
TheGameCreators customers can download the new version of AppGameKit Classic direct from our servers from their order history area of the TheGameCreators website. Steam owners of AppGameKit Classic will have the update ready for them.
AppGameKit Classic DLC
If you're looking for additional content for AppGameKit Classic, then we have great discounts on these two DLCs until 12 August:

As you may know, we released the bug fixing leviathan update in July to all users and the release went well. The issues tracker was severely dented and reduced the bug count from over 200 to less than 70, along with a general clean-up of the older issues which turned out to have been fixed in previous updates.
Driven by this success, we are continuing to target bugs over features until we can bring this count right down and deliver a solid and stable game making experience to everyone.
We are also happy with the way the first tutorial series has turned out, offering guidance on both the use of GameGuru and on techniques to creating your first game. If you have not already seen this, you can subscribe to the YouTube channel and press the Bell icon to get reminders on when a new video is posted.
You can find out more on The Official GameGuru YouTube channel
It's been an interesting few weeks on the forums since the update, with bugs and pseudo-bugs rallying for priority, the ethics of the Donations System and plenty of excitement around the prospect of a new DLC that will comprise entirely of animated non-violent characters to populate your game scenes. You certainly can't call the GameGuru community boring or complacent, and it's this community involvement that is shaping the future of GameGuru.
GameGuru DLC
We have some exciting promotions ahead, including great discounts on:
We also have more improvements to Mega Pack 3 in progress, which is also due a promotion, so keep scouting the GameGuru news page for the latest information on these amazing deals.
And finally………meet Rick
As the flowery flared decade of the '70s were ending, exciting technologies were starting to find their way into the average homes of the working class. In one such average household in North Yorkshire, England, these technologies awoke an interest and passion for these new devices. Having a computer in your own home seemed a ridiculous idea but then Sir Clive Sinclair released the ZX80 and then the ZX81. It was the ZX81 that started Rick on his technology journey.
Rick continued to code his own projects and was soon the proud owner of an Atari 400 (16k memory, colours and more!) This led Rick into a career with leading software publisher Europress. He soon switched to project management and helped bring game making titles such as STOS, AMOS, The Games Factory and Klik & Play to market.
There are many cogs that turn and whirl behind the curtains of TheGameCreators and it's Rick's role to ensure a lot of these metaphoric engine parts are well oiled and keep turning.
Asked to describe a day in his life Rick says, "I should try real life plate spinning - that's how my days generally go! I usually start the day checking emails and any user questions sent to our tech support service, and then I'll check the forums to see what's happening and what's being asked. Next it's on with the tasks at hand to manage and plan projects that we have underway. AppGameKit Studio has just launched and so we're busy now with the user feedback, planning a new update and working on the extra platforms that will support Vulkan."
Away from work, Rick frequently walks his half loyal dog Teddy in the hills of the Peak District, attends the gym a few times a week and loves to watch a wide range of sports (especially F1).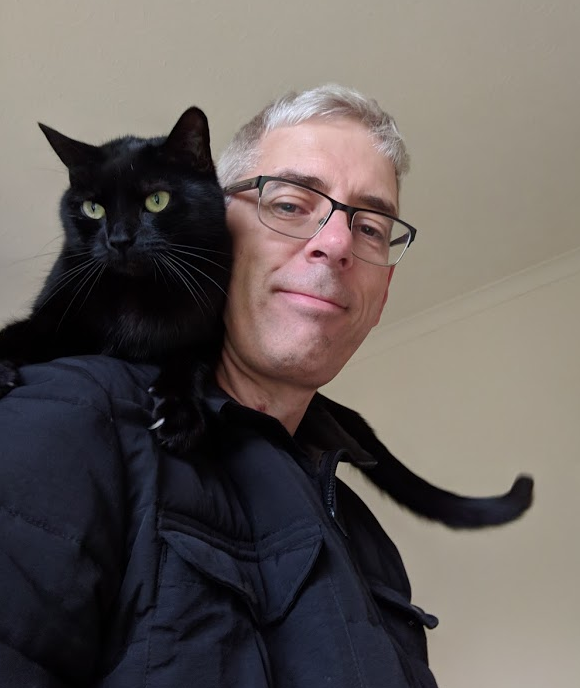 And finally, finally, whilst we are featuring Rick in this month's newsletter we have to share with you this article from the BBC archives ?