FPS Creator Classic Open Source
We have decided to make FPS Creator and as many of the model packs that accompany it fully open source.
We're currently managing the setting up and ordering of the files and expect to have it live sometime in February.
Keep checking back here for more updates.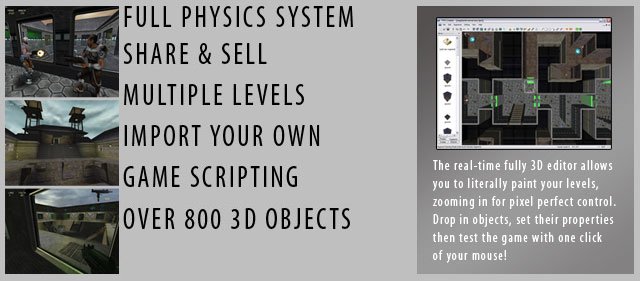 About FPS Creator
FPS Creator started life way back in 2005. The idea was to make a game maker that was simple to use, allowing you to make an action FPS game in seconds. It succeeded in this and many thousands of users had lots of fun making their own games. You could create your games instantly with the intuitive 3D editor. Using drag & drop mouse controls walls, lights, doors, enemies, ammo, weapons and more could be placed around your game world. Then with one click your game was constructed and you can have fun playing it.

FPS Creator used custom scripts for every element of the game. From the enemy AI behaviours, to the ways a key might open a door. We tried our best to ensure that nearly everything was controlled via a script rather than hard-coded into the program.

FPS Creator is now Open Source, you can access all the source files in the GitHub repository HERE.