It's amazing to think only a month ago the coronavirus was just a news story that we were watching with half interest. Now almost every industry has been shaken over by the pandemic that will undoubtably become a chapter in the history books.
No-one can predict how long this state of emergency will last, and what the long term implications might be, but there are some changes happening right now that put computing front and centre as a possible solution to some of the fall-out. Schools and social gatherings are closing around the world, and people are 'indoors' as they begin their self-isolation vigils. We may be entering a new paradigm that embraces what used to be called 'telecommuting', the idea of learning, working and socializing from home instead of going out into the real world. Imagine a world that uses cyber-schools, cyber-workplaces and cyber-pubs for half the population, fantastic VR environments as holiday destinations and an exponential ramping up of the home delivery infrastructure.
Whether this is the beginning of a 'dystopian society populated by morlocks, or the birth of a wonderful utopia, it is fair to conclude that we are living in most interesting times and the role of the computer as a method of staying in touch has never been more important in shaping all our futures.

If you are a regular visitor to the GameGuru forum you'll have seen the activity surrounding the March project we dubbed Operation Bug Free - a wholesale assault on the bugs found in the issues board on GitHub for GameGuru.
We can report all the bugs were fixed and an update released, which should keep you making games and having fun.
GameGuru DLCs
We also have some great discounts lined up for you in April including deals on:
If your current, or next, game-making project requires assets in these categories, definitely keep an eye out for these great promotions!

Research continues on the final technology that will form part of our new product, GameGuru MAX, which will introduce a new interface and visuals to the game making space.
Check in to our Sneak Peek videos to see GameGuru MAX in action!
We will release a free demo of GameGuru MAX in September so you can check out the new product before deciding to buy but, if you want to register your interest and track progress via the early Alpha builds, you can pre-order HERE right now for a great discount.  
Talking of discount, we had planned to drop the discount available on GameGuru MAX each month as we progress through to launch, however with so many of us affected by Covid-19, we have decided to leave the discount at 45% off for as long as we're in lockdown.

Last week we released a big update for AppGameKit Studio that included cross platform support of the Vulkan engine plus many improvements and fixes to the main Editor. Some users have reported some issues with this brand new version which have led to us making some further improvements and we'll release a new update once they are all dealt with.
As usual, Steam owners of AppGameKit Studio will have the update ready for them and those that bought direct from us can download the new version direct from our servers via your 'order history' area of the TheGameCreators website
Look out for the following AppGameKit Studio pack on promotion in April:

April will see a maintenance update released for AppGameKit Classic and also the following products and bundles on offer:

VR Quest – enhancing education through technology
VR Quest launched officially in mid-March and is aimed very much at the education and home-learning market. It's aligned to the American social studies curriculum from 4th grade through to 12th grade (ages 9-18) and enables students to create virtual worlds that correspond to the topics they are studying in the classroom.

VR Quest and GameGuru MAX began life with the same commonality but as they have each evolved, they are diverging into two very different and separate products – each with a very specific target market.
VR Quest is a joint venture with Warren Black of Computer Technology Consultants, who has been producing VR products in USA for 20+ years and HamiltonBuhl, a leading US educational manufacturer and distributor.
VR Quest is a non-violent, home-based learning platform, where kids can recreate historic places and events and step into them in Virtual Reality. Currently the topics covered are American social studies curriculum related, with Maths, Science and English on the horizon.
GameGuru MAX, as you'll know, is an FPS game-maker with weapons and armoury and is targeted very much at adults wanting to create their own FPS games and levels. With the launch in September 2020 looming, we're working hard to build in fantastic game-making quality, controls and assets.
Both products are getting more investment in development to speed up the process of improvements to existing and new features.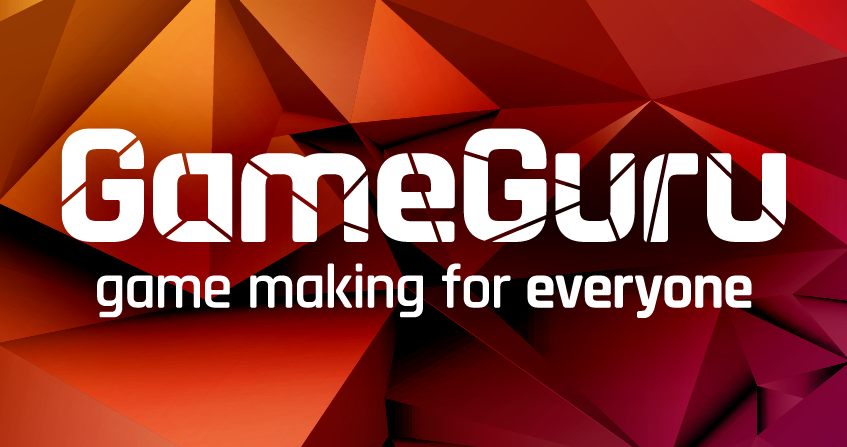 In our 'Made with......' feature this month we meet Scott Tanner, who has been developing games with TheGameCreators products since 2005…….
Scott's previous game Extraction Point, a contemporary shooter set in the Middle East, drew praise for its polished presentation and creative use of stock GameGuru assets. Now he is turning his attention to an ambitious horror puzzle game which does away with shooting and enemies altogether. Ignite is inspired by the 18th century painting "The Forcibly Bewitched" by Francisco de Goya. The painting depicts a scene from a Spanish play in which the main character believes his life depends on keeping his lamp alight.
"I was initially drawn to the painting as inspiration for a short film", says Scott, an award-winning filmmaker by day, "but I soon realised it would make for an inventive and original GameGuru project".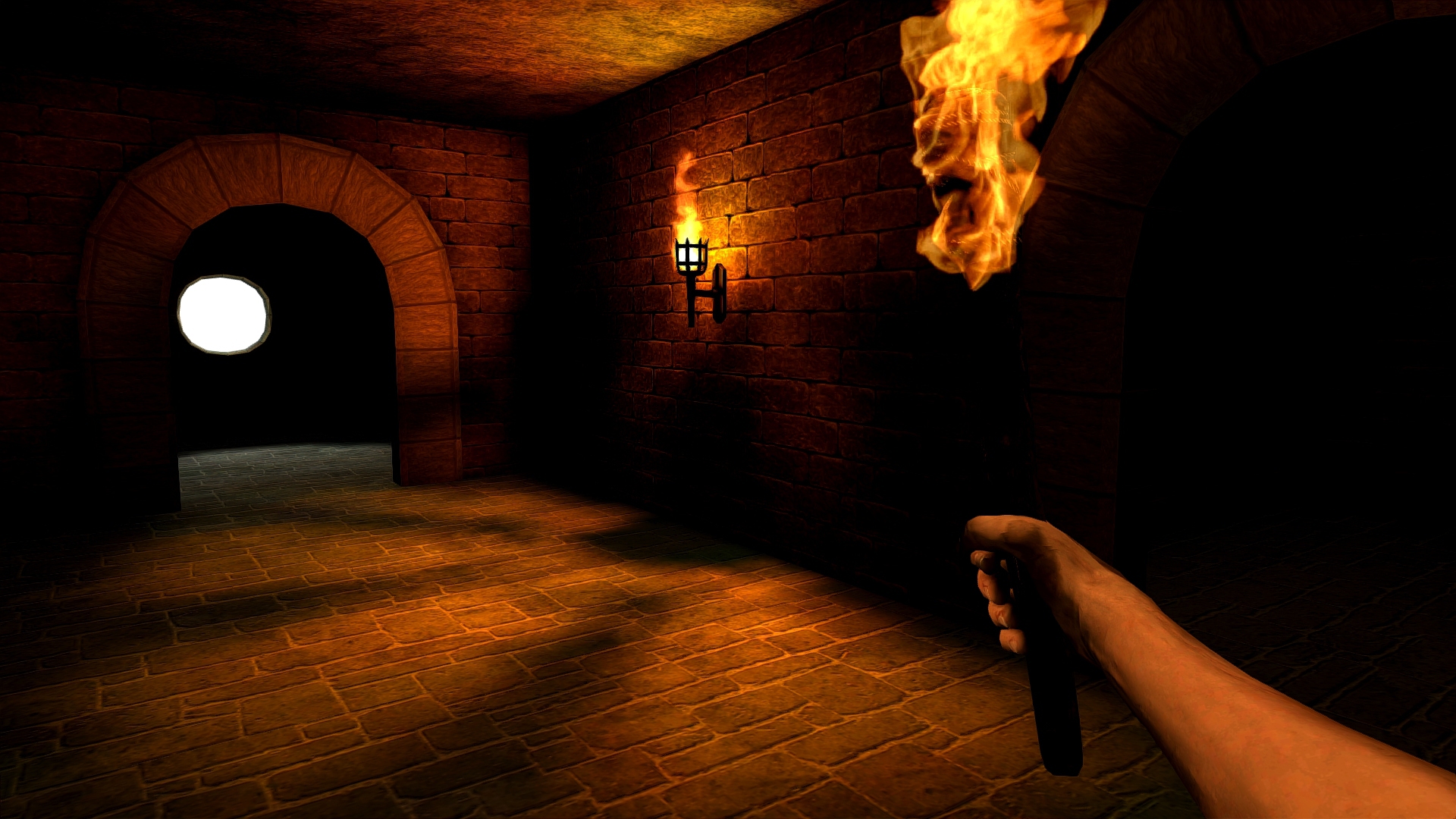 Ignite's central gameplay loop is simple; keep the flame alive, or you die. In the game, you will have three options of light source you can take with you into each level. Flaming torches can be rekindled on static torches throughout the level. Candles burn more slowly and allow you to move faster, but don't emit much light. Lanterns burn oil and slow you down, but you have control over how fast they burn – do you turn the flame up to see into the distance? Or turn the flame right down to preserve fuel? Scott is keen to point out he couldn't have done all this alone, "Getting these three lights working, each with their own individual characteristics, has required an insane amount of LUA scripting courtesy of forum legend and scripting guru AmenMoses – I'm hugely indebted to him for his help on the project."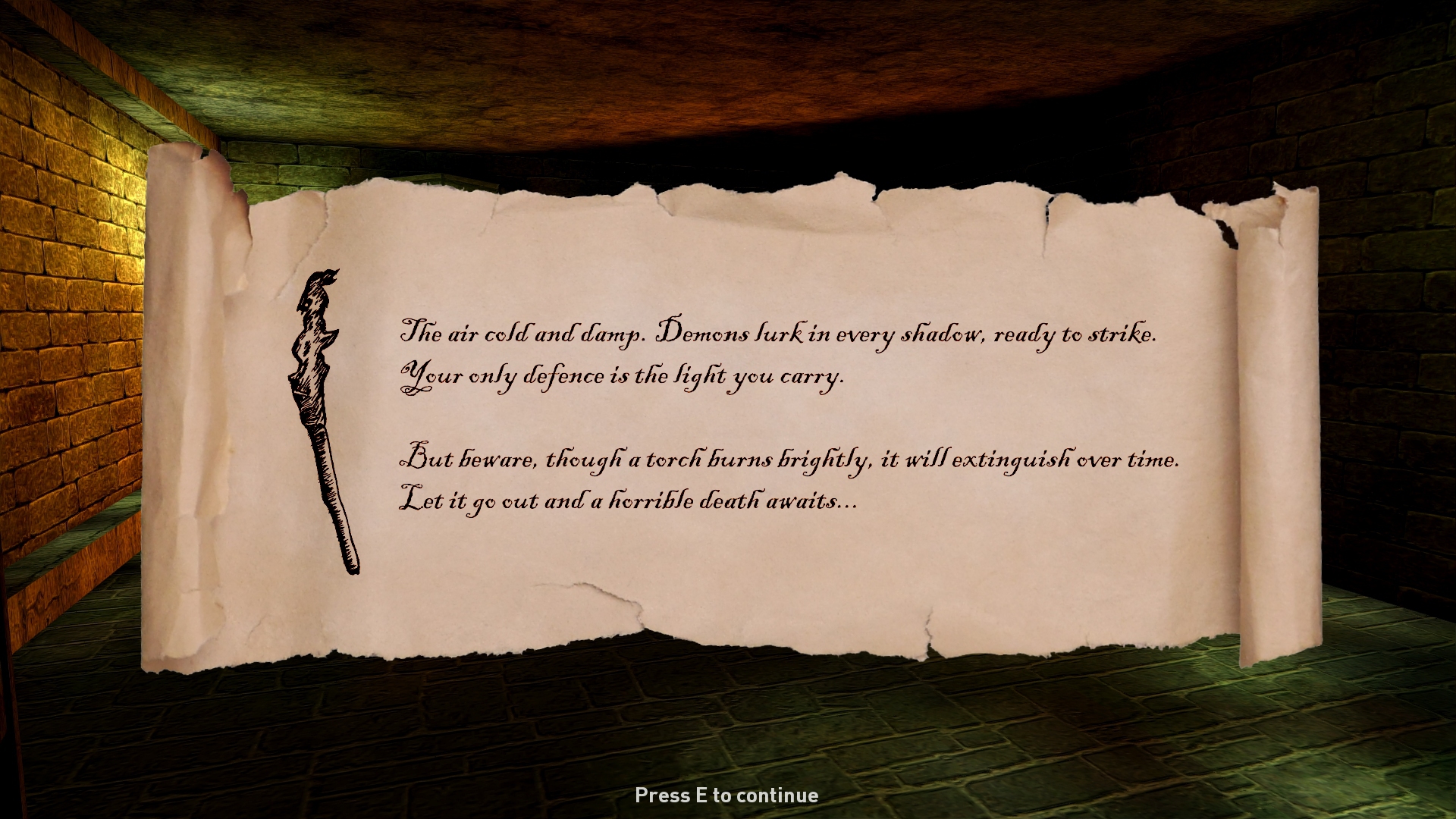 A keen 3D artist, Scott has focused more on the aesthetics of the project, crafting a range of PBR-compliant assets for GameGuru, including doors, stairs, switches, candles, lanterns and torches (three of which are available to purchase on the TGC store here. He has also sourced and adapted lots of third-party assets from across the Internet, including the TGC store. Ignite makes extensive use of assets from renowned creator Lafette II; both his Mystic Dark Age pack and his recently-released and 100% FREE Medieval Starter Kit ,which Scott has tweaked and customised to achieve the look he is after. But it's not just 3D modelling that has kept Scott busy!
"Ignite has truly been a mixed media project for me", says Scott, "I've recorded and created new sound effects for the game, hand-illustrated sprites using a fountain pen and made my own 'parchmen? by staining paper with coffee and distressing the edges. I even created my own fire decals for the torch by making a flaming torch for real out of a pole and some cotton bedsheets soaked in paraffin, setting it on fire in my back garden, and filming the results". (NB. TheGameCreators does not endorse the use of real fire in the pursuit of game development - basically we don't advise you try this at home!).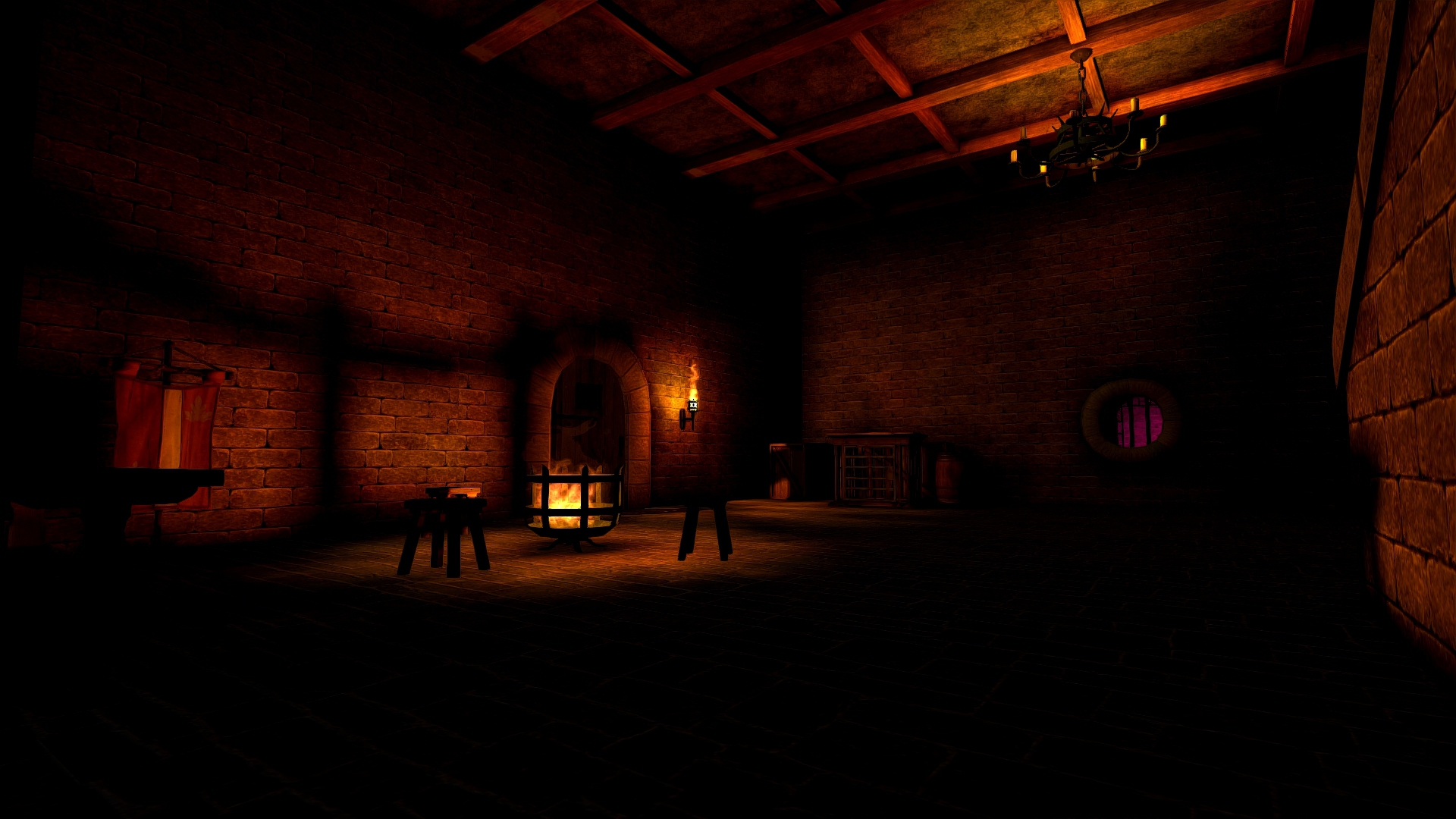 Scott had this to say about the development of Ignite:
"I'm enjoying pushing the boundaries of what is possible with GameGuru, despite the time it takes. After almost a year of work, I'm still working on the first chapter of the game, such has been the immense effort required to develop numerous gameplay elements and custom media from scratch. I started this project to prove GameGuru can do more than just create run-and-gun zombie shooters. It has not been easy, but I'm finding almost any problem can be solved with enough patience, dedication and creativity. The recent announcement of GameGuru Max, particularly its new lighting capabilities, fills me with excitement for what Ignite could look like. Lighting is such a huge part of this game and, although my screenshots show my initial experiments in GameGuru's current but somewhat limited lightmapper, I can't wait to try out the new engine! Until then I still have plenty to do on Ignite between now and Max's scheduled release in September. The good news is I'm still having oodles of fun making it!".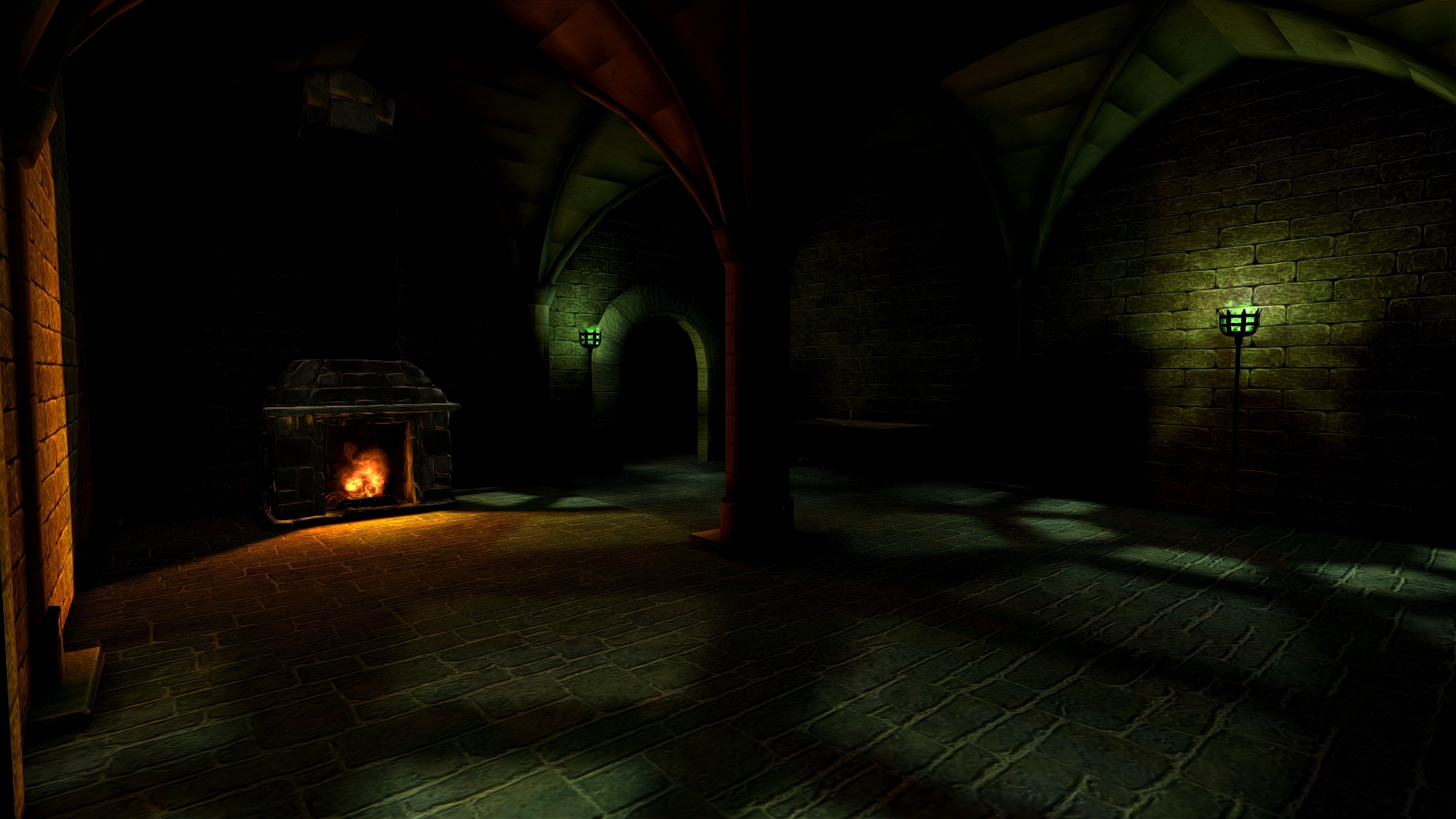 Scott has also made a developer vlog on his YouTube channel that goes into more detail about all the work he's been doing over the last year, and which he plans to follow up with future episodes.
We wish Scott the best of luck developing Ignite. To follow his progress, check out his WIP thread on the GameGuru forum here.