Augmented Reality has seen a lot of news coverage these past few years, and many would argue that its popularity has overshadowed the advance of VR, as they share a similar technology space.
What we would call traditional AR might soon be coming to an end however, thanks to some very exciting early products revealed at CES this year. The AR experience you might have had so far involves holding your phone or tablet in front of you at arm's length and spying it around the room, like some kind of alien detector. Those that have tried this technique extensively will testify to the arm-burn you get after just a few minutes, and the inevitable novelty soon wearing thin.
Well 'wearing' is the choice word here as a new generation of AR glasses are on the way and will be indistinguishable from regular beach front sunglasses - and weigh approximately the same! We would not go as far as to say that this is the holy grail of AR, but allowing the user to put their phone back in their pocket and have all necessary content streamed directly to the eye is definitely a step in the direction of game-changer. Who knows, if this prediction holds, a high street full of people fixating on their phones will be replaced with a high street of people sporting AR eyewear…….and the opticians will have their work cut out!

GameGuru MAX – the next generation…..
We're very pleased to announce the very first major upgrade to our GameGuru software – GameGuru MAX.
GameGuru MAX boasts a completely NEW UI and a new faster interface as well as:
Enhanced rendering engine for great visuals
Advanced terrain and environment systems
Brand new Character Creator
VR support
Photon for standalone multiplayer support
There's also more fire under the bonnet with additional multi-core coding, to speed up loading and preparation steps.
We've introducing a new 'DynamicLUA' system which allows you to control script behaviours from simple gadgets, so you never have to touch a single line of code.
Plus - all the characters created will be able to perform gestures, head-look and lip-sync talk by simply recording your voice or typing the speech directly into the editor.
GameGuru MAX will officially launch on 1st Sept 2020 but pre-orders are available now offering a great saving on the launch price, plus full access to alpha versions from March through to launch.
The launch price for GameGuru MAX will be $49.99 when it goes live in September but pre-ordering during February for only $25 is a saving of 50%!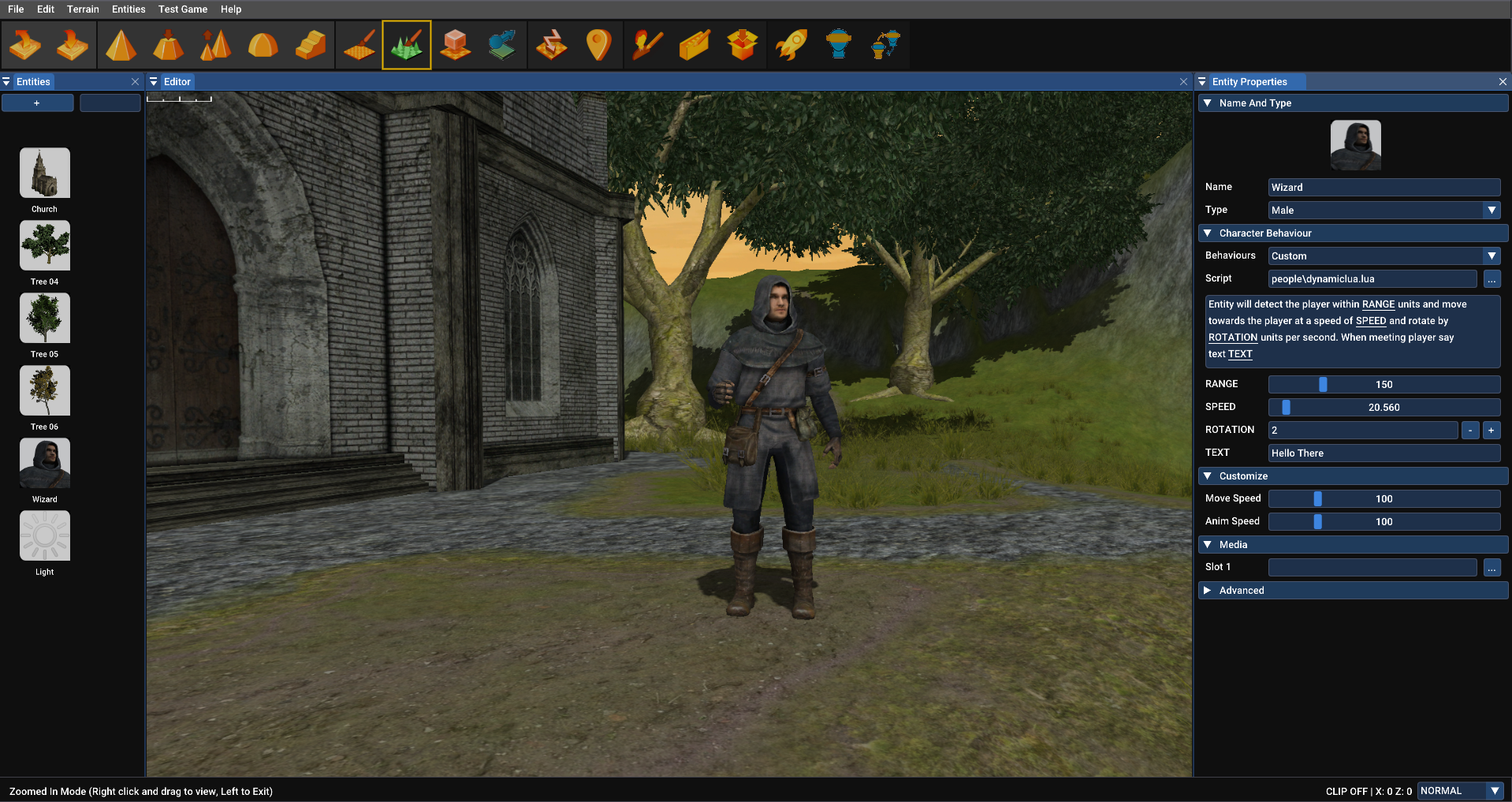 This is a significant upgrade to GameGuru and addresses key feedback received from our amazing community of game makers. We listened very carefully and, though it took us a while to pick up speed, we're finally in a position to offer the features everyone's been waiting for.
The final feature list for GameGuru MAX is mighty and the result is a totally enhanced product that we hope will appeal to new users, whilst retaining its familiarity for the existing GameGuru community.

In September the original GameGuru will become 'GameGuru Classic' and continue to receive bug fixes for the rest of 2020 and beyond.
We have a number of GameGuru DLC promotions planned while you wait for the new product to emerge, with special discounts on:
If you are looking to start a new game making project or enhance your existing work, it's definitely worth checking out these discounted DLCs for more game making fun!

In the AppGameKit Studio development world, work continues with the new MoultonVK renderer for iOS. We've made great strides during January and now there are just a few special case items that need to be coded directly via Metal. It's our hope that we can round this work off this month.
On special offer this month is the MEGA Media pack, it will be discounted 25% for the first two weeks of February, so check it out if you want to add it to your collection.
YouTube Tutorials
At the start of January, we began a new video tutorial series on our YouTube account. There are already five videos published that show how a simple physics game is being created with AppGameKit Studio. The aim is to present how the game is started from scratch and published as an app onto both the Apple and Google app stores. Subscribe to the YouTube channel here to follow this series.

The AppGameKit Classic Giant Asset Pack 2 DLC is 60% off for the first two weeks of February, it's packed with all kinds of media that can help you start your own project ideas. For just a few dollars you'll own a wealth of assets that you can use in your apps.

This month we hear from the infamous Wolf on the importance of light in game design!
I have always been very vocal about the importance of lighting in game design. It is often the key ingredient that separates a great looking game from its more mediocre counter parts, simply because it is one of the main aspects that make something work visually when it comes to atmosphere.
My favourite feature of FPS Creator, the precursor to GameGuru, was its robust lightmapping system. While archaic from a modern perspective, it was highly tweakable and allowed the user to create very unique levels, despite them potentially using the same 3D content as someone else or using lower resolution media.
Lightmapping allows you to unify scenes that use many different 3D models with slightly different styles to them, it allows you to set the mood, whether it will be a neon lit, futuristic city or a sepulchral dungeon, dimly lit by torches.
GameGuru came equipped with a lightmapping system very early on in its development. It was similar to the one in FPS Creator, albeit faster and a lot more stable. I have been using it ever since and was among those that were very disappointed when, in the process of porting GameGuru to DirectX 11 (which is very much appreciated indeed), and implementing the PBR rendering pipeline, it fell by the wayside. For a while it was broken and unusable which made designing interiors in GameGuru exponentially harder. However, Preben, a valued GameGuru user with many talents, has taken the time to fix it up and ever since the Christmas Update of 2019 it is fully functional again. It's a bit different than it was in the X9 version but operational again none the less.
As I mentioned, it is a bit different and one will have to get used to how it operates by experimenting with it. For this purpose I have opened a thread (https://forum.game-guru.com/thread/221433) and, if this is something that interests you, would like to invite you to join me.
If this is news to you, or if you are a new GameGuru user entirely, allow me to link you to my full tutorial on the subject (https://forum.game-guru.com/thread/219206). It covers all the basics on how to use the lightmapper and includes some tweaks and tricks to improve the overall aesthetic of your scene.
Below you will see a few of my levels using this feature in GameGuru, so you can see for yourself how it looks and how it's different from sticking to the dynamic lighting approach. However, before I get to that, as we are on the topic of lighting in games, I'd like to link you to a very special GameGuru project by Avenging Eagle (https://forum.game-guru.com/thread/220722), that I think every GameGuru user should see.