Only a few days to go until Christmas! I wonder how many people will be unwrapping new games, consoles or PCs? Gaming is big business and game development with it. We've seen some exciting changes since we started this newsletter at the beginning of the year. Our new web site went live, the company changed its name, new products were released and the number of subscribers and visitors did nothing but grow. Now, poised on the edge of 2004 we have a solid release schedule lined up for some truly exciting products. Products that will take you game creation even further. For now though, enjoy the holidays and perhaps put those finishing touches to your Alienware competition game? We'll see you again next issue with the results!
The Game Creators are proud to announce the immediate availability of their new 3D terrain building, texturing and sculpting package Geoscape3D.
An essential aid to anyone who needs to build an outdoor landscape environment for their games. Geoscape3D combines the power of generating a virtual landscape in real-time, with smoothly blended textures to bring your scene to life.
Geoscape3D removes the complexity from producing beautiful landscapes. With a complete set of tools to raise and lower terrain, it becomes as simple as using a conventional paint package to produce valleys, rivers, mountain ranges and other geographic features.
Full details can be found on the Geoscape3D web site:
Following on from DarkMATTER, our hugely successful range of low-poly 3D models, comes SoundMATTER. A collection of high-quality, royalty free, game orientated sound effects available in four different packs. Everything from gun shots, explosions and alien deaths to card shuffles, die rolling, swords clashing, food munching and more!
SoundMATTER uses custom programmed audio software to create original sound effects for games. All sounds are 100% original, sampled from the actual sound source or synthesised from original samples or raw wave forms.
The end result is deep, vibrant sound effects created specifically for gaming. There are four packs available with some great money saving offers on multiple purchases. The four packs are: Arcade, Casino, FPS and RPG Game Styles.
Find out more on the SoundMATTER web site: //www.thegamecreators.com/?m=view_product&id=2108
NuclearGlory Collision DLL 2.01
Let's cut to the chase here. This is probably the single most useful tool a game programmer could add to their DarkBASIC Professional arsenal. What does it do? It takes away the complexity of accurate, fast and reliable collision detection for your games. With a simple drop-in and use-it mindset, you can take advantage of the advanced collision systems on offer such as ellipsoid to mesh collision, ray-casting, moving meshes and more.
Beautiful Ellipsoid to Mesh Collision

NEW Ellipsoid to Ellipsoid Collision (great for characters)

Support for moving meshes (elevators, platforms, etc.)

New ray-cast commands (great for bullets!)

It WILL be making its way to DB Classic!
You'll find screen shots, a reference manual, demos, and downloads at: http://www.nuclearglory.com
We received word of DAdata 2.0 from Magnus Esko:
"It's a database app that works similar to DOS. You work with directories and data entry. Even the smallest program would benefit from using easily modified data but perhaps the best use for DAdata is an RPG.
DAdata comes packed with a tutorial and it have an export command that outputs a text file and anyone with some string experience can write an importer that fits their program, like loading it into a typed array. For DB/DBP users there's a generic import function included that can be copied into any program."
Full details and downloads are available from: http://digaw.com/DAdata.zip
DarkBASIC Professional Brazilian
Word of DarkBASIC Professional is starting to spread around the Brazil thanks to the efforts of our publisher over there. In a large game programming event, Gilmer Tavares demonstrated DarkBASIC Professional running example programs including pixel and vertex shader effects. Here are some pictures from the event, click on them for larger versions:
We first mentioned this alternative IDE for DarkBASIC Professional back in Issue 10 and the author, Robert Knight has released a brand new version. Included in this update:
Bookmarks

Improved media browser

Full project search (the original IDE only searches the current file)

Search code for function / var / type references

Project Management (colour coded to-dos, notes & version history)

Save-On-Compile

Assign shortcut keys to functions / bookmarks / labels etc.
You can find the download and more information at: http://blueide.sf.net
OggVorbis Replay in DarkBASIC Professional
Japanese DarkBASIC programmer Oryaaaaa has released a set of functions which allow you to replay OggVorbis (.ogg) music files directly from DarkBASIC Professional via a free DLL. You gain access to a set of new commands such as SetupVoxDLL(), VoxPlay(), VoxSetVolume() and more.
Full details are available from Oryaaaaa's web site here: http://nagoya.cool.ne.jp/oryaaaaa/DBP_H012.htm
Here at The Game Creators we're getting ready to enjoy our festive holidays and have a short well-earned rest. However before we do so, we put together this free Christmas present for you all, our loyal readers and customers. There are two presents available, one for modem users and one for cable/broadband.
MODEM USERS PRESENT - 3.5MB in size, this present contains a selection of free models from DarkMATTER + a model browser. The models include: Alien Mutant, SWAT, Tank, Taxi and an AK47. Download it here.
BROADBAND PRESENT - 9.4MB in size, this present contains a selection of free models from DarkMATTER 1, DarkMATTER 2 and a model browser. The models include those listed above, plus: Knight, Viking, Apache Gunship, Sopwith Camel, Skull and Crossbones and Treasure. Download it here.
Enjoy :)
Exclusive Riftspace Video
We're very pleased to bring you an exclusive video this month from Starwraith Games. It's from their forthcoming title Riftspace, which we've been playing recently and having a blast with! The video requires the DivX codec to be installed (or just use the free DivX video player) and shows lots of scenes from the game including combat, trade and ship configuration.
You can download the video file here: http://files.thegamecreators.com/newsletter/rsmoviedivx.zip (8.6MB)
Alienware Competition Hints and Tips
We know that at the time of writing there are only 9 days left to finish your game, but the following hints and tips should still help you out.
Get your game tested on other PCs! We cannot stress this enough. If your game only works on your own PC then we will sadly not be able to judge it, your hard work being wasted.

The games that did well in the previous competitions were those that posted demo versions onto the forums and asked for feedback!

Make sure that the ESC key always quits your game. There is nothing more frustrating than a game you can't get out of.

Don't add features that are "coming soon". If it's not in the game, it's best not to mention it, it won't get you any more points.

Don't be too hung up over the graphics. We're looking for a fun and playable game more than anything. Spend the final weeks tweaking the gameplay, not your title page :)

Ensure your file isn't larger than the allowed limit. There will be NO exceptions!

Do not let your game run a SYNC RATE 0 unless you have an internal speed function that keeps things going at a consistent rate. We've had entries in the past that were simply unplayable on the test PC due to their excessive speed.

Leave this textures in Quake/Half-Life :) You're not allowed to use ripped media and we can nearly always tell.

Try not to leave it until the last minute before submitting your game. Get it in a few days early if possible and relax in the knowledge it's done.

Have fun :)
We featured this game in last months newsletter. This month we bring you the download to play for yourself! Transfusion is an all action shoot em up set inside the human body as it fights against a nano-virus infection. Essentially a tunnel shooter Transfusion takes the genre to a whole new height.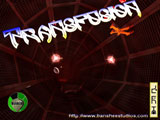 Download and game information is available at: http://www.bansheestudios.com/transfusion.htm
Alienware Competition Submission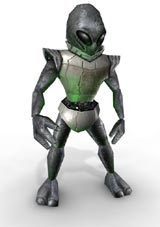 There are two ways to send in your finished Alienware Competition game: FTP and Email, but before you can use either you have to ensure your game is registered on our site.
1. Register Your Game. This is done via our web site. You need to have an account and be logged-in. Go to the following page: //www.thegamecreators.com/ and add your title. Once done you'll be given a unique Entry ID, i.e.: 3f7808dad8019. Make a note of this.
2. ZIP and name your game. Package up your game into a single ZIP file and ensure that somewhere in the filename is the unique Entry ID assigned above. I.e. if your game was called "alienwar" then the following filename would be advised: alienware_3f7808dad8019.zip - if you do not place the code in the filename of your zip file then you MUST include it in a text file somewhere within the archive otherwise we cannot link your game to you.
3. Upload your game. You have two choices: FTP or Email. We have set-up a high-capacity email account which can accept the large attachments. So simply mail the zip file to: files@thegamecreators.com and put the Entry ID somewhere in the Subject of the email. If you prefer to FTP then FTP to: ftp.thegamecreators.com and place your zip file into the incoming directory. You can login as "anonymous" with your email address as the password. Please note that you CANNOT see any files in this directory (including your own) due to write permissions, this is normal. You cannot upload two files with the same name, so if you need to upload your game again put something like "_v2" on the end of the filename.
4. That's it! You are welcome to email me (rich@thegamecreators.com) if you would like confirmation that your game uploaded or was emailed successfully, however please note that I cannot give you feedback or even tell if you if the game worked via email.
I uploaded, but I want to submit a newer version! Fair enough - just upload or email it again and use a different filename, i.e. name_version2.zip.
More Information
Please see the official rules page here: //www.thegamecreators.com/
We've plucked one lucky subscriber to our newsletter and for you a completely free copy of DarkBASIC Professional is yours for the asking. The winner is tanas@yahoo.???.?? - just email us and a free copy of DarkBASIC Professional is yours.
Sorry for the lack of new games this month, but we figured that with the results of the Alienware compo next issue you'd get a complete overload of them! So it's mostly community news and releases this issue. Even so, there has been some exciting things going on I'm sure you'll agree. Got something you'd like featured here? Then email me and let me know about it: rich@thegamecreators.com or use our Feedback form.
Have a Happy Christmas and great New Year, from all at The Game Creators.