Yay! We finally made it into double figures for the issue number :) and what a bumper issue we've got again this month. Incase you were wondering why we've got a shot from Worms3D on the cover, it's simply because we have also got an exclusive interview with Bjorn Lynne, the Audio Manager and composer for the Worms games this month. He talks about his musical career and influences and if you read the interview to the end you could be in with a chance of winning 3 of his CD's, personally autographed! A lot has been happening this month and rather than describe it all here the best thing for me to do is let you get on and read it. Be sure to check out our web site on October the 31st for a little Halloween fun :)
Computer Game Technology Conference 2004
The 3rd Annual CGT Conference will be held April 8-10, 2004, in Toronto, Ontario. The central theme of the conference will be improving understanding of and the academic standards for computer and console game education. This will attract individuals who are interested in pursuing an education in game development, current students taking courses at post secondary institutions, and members of this industry and the IGDA.
The Game Creators are proud to be one of the sponsors of the CGT event and are providing prizes for the Student Game Competition as well as DarkBASIC Professional discount vouchers for all who attend.
You can find out more information by visiting the CGT web site: http://www.cgt.auc.ca
The comprehensive DarkBASIC Professional Matrix Editor: MeshStyle has received an upgrade and the full manual has been translated to English. This is great news for anyone who might have been struggling to get to grips with the interface and you can at last unlock the full potential of this versatile tool.
Download the new manual and MeshStyle from: http://www.duineacu.com
SW3D Games, authors of the highly successful Starwraith series are hard at work on the new RiftSpace. Initially featured back in issue 3 of the newsletter we are able to bring you more exclusive screen shots from this hotly anticipated title.
The screen shots above (click them for a higher resolution versions) are the first shots using one of the final ship designs that will be in the game. This is the ship the player will first be given when they start the game. The backdrop is from the Argus system (the first system the player will take-off from when they start).
RiftSpace is due for beta testing Q1 2004.
A brand new open-source IDE for DarkBASIC Professional is under development by Robert Knight, author of the BLUE Plug-in (featured in Newsletter 8). As well as all the usual editor functions it also includes:
Simple Tabbed interface

You can have project / non-project files open at the same time

Compile Project & Compile Current File options

On-the-fly help (Help as in the existing editor, except that you can just click in the code editor to close it)

Function / Variable / Type / Label listing from all includes

Parameter help for DBP & user functions

Intellisense with DBP & user function support

Code library

Includes library

Access to online CodeBASE & (when it is available, Project Area)

Listing of plugins installed & info

Check for updates
You can read all about the new IDE, see more screen shots and download an alpha release of it by visiting this forum thread:
http://forum.thegamecreators.com/?m=forum_view&t=18227&b=8
The world building package Cartography Shop is hot in development. The author, Josh Klint, is hard at work on two new versions of it. First is version 3.5 which will see all the issues of the current release ironed out with a completely new set of code under the hood. The features will remain mostly the same, with a couple of extra additions, and it will be a free upgrade to all current owners.
Also currently in live Beta Test is Cartography Shop 4. This is a complete re-write of the entire code from start to finish with some extremely powerful new functions and speed increases. Cartography Shop 4 will represent a major new milestone in the evolution of the package and as such will not be a "free" upgrade. More details however will be released as development progresses.
If you would like to partake in the beta test then visit the official Cartography Shop forums and look out for the threads entitled "Beta 4.15" (and up). They contain the current development discussion and download locations.
Powerful Polygon Reduction Tool

Action3D Reducer Special Offer
We're repeating the special offer we had last month on this great piece of software, so get it while you can!
When it comes to game development, speed is everything. One of the best ways to increase the speed of your games is to cut down on the number of polygons you are using in your 3D models. However most forms of polygon reduction either destroy the original model beyond recognition or require software packages costing hundreds. Meet Action3D Reducer.
This awesome utility is designed to perform one task and one task alone - effective polygon reduction without loss of quality! We tested it out on a 29,862 vertice model and crunched it down to 50% its original vertice count and it still looked great in our game. More importantly, the game ran faster as a result.
The Game Creators and Action3D are able to offer you a special discount on this invaluable utility - you can purchase it online for only $45. You'll get electronic delivery so no waiting for the post to arrive, it's a small download (6 MB) and it works perfectly with .3DS and .X model files. Click here to get the full scoop on this great offer.
RealityTwin 3D have been hard at work on their new game, Axes of Evil, for the past 2 years. Written in DarkBASIC 1.13 this title is hoped to be one of the entrants to the 2004 IGF competition. As you can see from the screen shots below this is one nice looking game! and it's not just a mere "technical demo" either. There is a large landscape to explore, monsters to fight and kill, graveyards to battle through, secret catacombs to explore and more.
The plot of the game goes something like this: The rampaging Horde cleared all villages in its path. A fortnight has passed since the Goblins raided his village. All men were killed, the women and children captured and taken Northeast...
..."'Seek ye the Fort with the Marble Towers, one of Crimson, the other of Ebony. There ye will awaken a Great Wizard to bid thee help with thy Quest!"
Take on the role of Rathwell the Barbarian and kick some Goblin butt in this fully 3D action adventure! This is an action/adventure hybrid. The adventure part is done in the spirit of the old LucasArts adventures. The action part is done in the spirit of side scrolling fighters with a touch of hack & slash RPG thrown in. This is a real-time game.
You can download the demo version of Axes of Evil from here: //www.thegamecreators.com/?m=view_product&id=2000
Alienware Competition Registration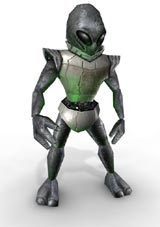 Most of you are probably already aware of the current programming competition being run between The Game Creators and Alienware (see elsewhere this issue for some "work in progress" shots) but for those new to the fold here is the low-down: You can win yourself over $2100 worth of hot prizes including a stunning Alienware Aurora PC system just by writing a game featuring our alien model (standing over on the right there).
Competition Registration
In order to streamline the submission and judging process when it takes place in early 2004 we have created an on-line registration system. Quite simply all you need to do is to login to your GameCreators account and on the Welcome page you'll see the competition registration link. Throw in a few small details and you'll be given a registration ID. That's it - you're done! You'll eventually need the ID when you submit your finished game, but for now it will stay active on your user account. If you don't have a GameCreators.com account then register here for free. It gives you access to our forums, CodeBase and more.
More Information
Please see the official rules page here: //www.thegamecreators.com/
DarkBASIC Professional goes European
Tito Bounces his way onto store shelves
We've long been fans here of the DarkBASIC game Tito the Bouncing Alien. Created by Dimsdale & Kreozot the whacky little game has you taking control of Tito in a quest to rescue his girlfriend Yoni from Pirate Planet. We received word that Tito has now been sucessfully published and a new demo version version has been created.

Join Tito as he bounces his way through 8 pirate themed levels rendered in full colour using D&K's real-time 3D comic book engine. Unlock bonus levels, collect diamonds and gold coins, meet interesting and sometimes strange people, out wit clever pirate puzzles and set into motion many humorous events as you uncover the mysteries of Pirate Planet and track down your lost girl friend Yoni.

You can download the demo version of Tito the Bouncing Alien from here:
//www.thegamecreators.com/?m=view_product&id=2000
Another new DarkBASIC Professional Editor
A brand new IDE dropped into our inbox the other day from John Youren, author of LevelMaker3D. "The Dark Basic Editor" is a replacement editor for both DarkBasic Professional and DarkBasic Classic. It provides a clean and customisable environment for programming all application types. The advanced code window similar to that of Visual Studio provides a clear view of your code, complete with code folding, highlighting and styling.
The editor itself is modelled for customisation, with you choosing which options to view and the colours to use. Like other cutting edge editors, you are able to write your own plugins to directly edit the code, or provide additional features. The pre-parsing capability of the editor allows you to assign aliases as well as write your own routines. Tight integration with the compiler means that the editor will pick up all errors and provide line highlighting. The break point system is automated, allowing you to select points in your code and then compile.
You can download a beta of the new editor from here: http://www.levelmaker3d.co.uk/ide.asp
Back when DarkBASIC Professional was still only in beta test on DBDN, Richard Nash released a utility called Dark Snippet Pro. It's main aim was to collect together all of your code snippets in a single unified place for easy sharing and insertion into your programs.

After a long time "idle" Richard has returned and updated Dark Snippet Pro. The new version (9.2) is now available for download from: http://www.lagmaster.net/darkbasic/dsp/dsp_inst.exe (961 KB)
Tito - Brisbane City High Jinks
As if having the original Tito published this month wasn't good enough, Tito 2 (Brisbane City High Jinks) is going to be available for all to play from the 25th of October 2003 onwards at the Museum of Brisbane. Tito's author Ross McRae explains:
Tito - In Brisbane City High Jinks' was funded by the Museum of Brisbane as part of their up coming expo opening later this month (25th of October 2003) at the City Hall. The game we originally pitch is pretty much what you see now. We had 3 months to put this baby together and are pretty happy with the end result (but more money and more time would have been nice).
We simplified the original tito game play and added a new character called the Time Wizard that shows up at key locations and gives the play a little info on major land marks in Brisbane City. The Museum of Brisbane gave us a pile of reference material of old photos from early 1800's to the mid 1950's. Great stuff, it's amazing seeing the changes over all those years. And if you ever get to the City Hall, make sure you go up the clock tower, the view is amazing and there is a wealth of historically info and photographs up there too.
So do yourself a favor and get down to the Museum of Brisbane and check it all out. Also keep an eye out for Tito showing up all over Brisbane in the coming months as the MoB are paining on using him to promote the expo. You will also be able to buy everything from Tito frisbees to Mouse Pads at the Museum Shop too.
StarWraith 2 FREE for all readers
To celebrate the impending launch of RiftSpace and the updated 1.51 release of StarWraith 3 - The Game Creators have partnered up with SW3D Games to bring you the complete full version of StarWraith 2 absolutely free. This previously commercial game is an exciting mix of space combat and exploration set in the familiar SW universe.
You can download StarWraith 2 from our Showcase here:
//www.thegamecreators.com/?m=view_product&id=2000
Exclusive Interview with Bjorn Lynne
This month we're extremely pleased to have an exclusive interview with Bjorn Lynne, the lead Audio Producer at Team17 Software - developers of the much praised Worms game series (including the just-released Worms3D). Read this Interview to the end to find out how you could win 3 CD's from Bjorn's on-line shop!
"Hi Bjorn, please tell us a little about your job and who you work for."
My official title is "Audio Manager" at Team17 Software Ltd., which pretty much means that I create and/or oversee all sound and music production for the company. I write the music, design and produce the sound effects, and also hire voice actors and direct voice recording sessions. The latest project I worked on was "Worms 3D" which is going to be released in the UK on the 31st of October, on all platforms (PC, PS2, GC, XBox, even Mac, I think).
Besides that, I am also a musician with a lot of "personal" projects that have nothing to do with games. I have a studio at home where I write and record my music, and I release the music on CD's which I sell from my web site. My latest project was "Return to Witchwood", my new solo album which I worked on for quite a long time.
"Please describe your first real "computing" experience? Where did you start out from? Most people have a defining moment when they realise that computers (and/or games) are just "their thing". For some this is seeing Pacman in the arcades or drawing in Deluxe Paint - what was it for you?"
Ah, yes, I know what you mean. For me, it was when my friend got a Sinclair ZX Spectrum computer, one of those with the rubbery keyboard. We used to spend days writing in code from magazines which would result in simple games. After only a few days I blew all my savings and got a ZX Spectrum for myself too. I learned to program in BASIC and I created a few very simple games with it.
"Are there any games which had a profound effect on your computing life back in the early days? Titles which sucked up far too much of your time."
Elite! The ZX Spectrum version. That was the one that really stood out, but there were others too, including Knight Lore, Alien 8. A few years later, I guess it was "Worms" actually. "Worms" is the only game that I've ever played in a "social" setting. We used to have big tournaments with beers and "Worms", with real prizes and everything, and it was just such a good laugh for everybody involved.
"What was the last real game you played for more than a few minutes?"
Burnout 2 on PS2. Before that, SSX Tricky on the GameCube. Going a little bit further back in time, Morrowind on the PC. I actually buy and play quite a lot of games, I try to make a point of taking some time to play games. Even if I have a lot to do, my game time is important to me. I save time by never watching TV. I play games instead.
"Approximately how many games have you written sound tracks for?"
I have composed the music for approximately 30 games; some of the best known would include the entire "Worms" series (Worms, Worms2, Worms Armageddon, Worms Pinball, Worms World Party, Worms Blast, Worms 3D), and the "Seven Kingdoms" series (Seven Kingdoms and Seven Kingdoms II). Also, "Stunt GP", "Ford Racing", "Phoenix: Deep Space Resurrection", "Nightlong", "X2" and many others. I have released soundtrack CDs for some of them which you can see and listen to by clicking the links.
In addition to the games that I have actually composed the music especially for, I have had my music used in maybe 100 smaller games, where people have heard my music on my web site and asked for permission to use my already existing music in their game. If it's a commercial game, I'll ask for a very small license fee, but if it's a private or non-commercial project, I just let them have it for free, in return for a credit in the game and a link to my site.
"As well as game music - you also produce a lot of other titles please give a brief overview of the main ones."
I have been writing music for a long time now, and I'm one of those who always gets excited and inspired by music that I hear, so I've tried a lot of different musical styles and directions through the years. I've written everything from simple "drama" music with just a piano and a cello, to huge screaming guitars and rock drums, to techno-trance and just about everything in between. I like to work in different styles, and the name "Divinorum" is a pseudonym that I used for my three CD's of trance, electronica and deep-trance music. I've also done a lot of more acoustic, fantasy-inspired music, based on fantasy books about wizards, heroes and warriors etc., and that music is a lot more "epic" and for these projects I'll usually mix a lot of acoustic guitars and piano with big orchestral sounds and some rock influences too. I don't know, I just like to listen to a lot of music and I like to try my hand on different things; I feel that creating music is a craft and to hone your skills properly you've got to try different directions and different ways to create something new.
"Sorry if this has been asked before - but why the pseudonym "Dr. Awesome" ? :)"
That name first came up in 1988 at the beginning of the Amiga demo-scene when everybody were supposed to have cool nick-names like that. A group of us were out partying and drinking one night, and my mate said he was going to call himself "Dr.Outtasight" He was a bit drunk... so was I actually, so I just said, "Well, then I'm going to be Dr.Awesome", and that's just the way it ended up. The name was never carefully thought out or planned, it was just a spur of the moment thing, 15 years ago. :-)
"What software (and hardware / musical instruments) do you mostly use when composing your tunes? Does the use of software change between composing for an audio CD as opposed to say a MIDI file?"
No, I use the same piece of software for all my music composing, whether it's for a game, for a CD, or just for a simple MIDI song. The software is called Cakewalk SONAR and is a combined MIDI and Audio recording/sequencing suite. I've used it since 1993 so I'm sticking with it. I know it inside and out and I can do things fast and without any fuss. I also have a bunch of outboard synthesizers and a few guitars etc. Nothing very expensive or very fancy, just pretty basic stuff really. A Kurzweil K2500 synth, a Novation Supernova synth, a Yamaha VL-70m synth, 3 different electric guitars (of which one is permanently out of tune, so it's useless), a 5-string bass guitar, and a few other bits and pieces.
"Here at TGC we have a real soft spot for the old C64 SID music. Do you ever get the urge to throw away all the fancy new technologies, and return to the simplicity of one chip?"
Yes, I suppose so. But then, there is always the urge to pick up the guitar and play that, and then there's the urge to play a cool game, and so, there are many things I would like to have more time to do, but they just don't happen. I guess "chip-music" composing is one of them. Mind you, I have done something like 400 tracker tunes on the Amiga in my time... so it's not like I've missed out on it. :)
"Which web site would you suggest a budding games writer visit to find a resource of game music for their games?"
That would be www.shockwave-sound.com. On this site you can listen to a good selection of music in all categories, and then if you find a piece of music you would like to use in your game, you click the "add to cart" button and simply buy a license to use the track commercially. You pay for the license with a credit card, and you can then immediately download the music track in full CD-quality, and use it legally in your game. The whole licensing procedure takes only 3 minutes. It may take you a while longer to browse all the music on the site, of course.
"Are there any 'free' public domain tools would you recommend to a games designer who wants to start writing their own musical scores?"
Yes, DirectMusic Producer. This is Microsoft's own system for composing and implementing music for games. It's actually really neat. You can write music which can be affected in various ways by the game engine. For example, the music may change according to the location of the player, or the danger level in the game, etc. This is a very powerful tool, in which you can make some really neat and crazy stuff. But it can also be a very simple tool. All the powerful features are completely optional, and you can use it simply as a system to compose, produce and play back a MIDI file that uses custom samples. If you are interested in the DirectMusic system, I have made a little demonstration of it at http://www.lynnemusic.com/directmusic.html . DirectMusic composer tool and programming API are part of DirectX and are available completely free from Microsoft.
"Which game music composers work do you really admire?"
I recently played "Freelancer" which I think sounded very good, although I recognize some of the instrument samples (the same one I used in my "Phoenix: Deep Space Resurrection" soundtrack), that didn't matter because I thought the music was really good and fitted the game perfectly. Also, the "Silent Hill" games have great music and of course, the in-house Nintendo titles such as "Pikmin", "Super Mario Sunshine" etc. always have this kind of crazy, but cool music. Mind you, I hated the music in "Super Monkey Ball".
"What type of music do you listen to to just "relax" when you're not working?"
An almost endless variety. Trance, rock, instrumental electronica, latin flamenco, rap, hard rock, jazz. Very little classical, I have to admit. My favourite bands these days would probably be Dream Theater, Porcupine Tree and Planet-X. And I like Eminem, but I don't like 50 Cent.
"Finally, what projects are you currently working on (that you're allowed to tell us about!)."
I'm now at the very beginning of working on a new big game project which I'm not sure whether I'm supposed to shut up about or not, so I'll play it safe and just say that it's the next game from Team17 Software. And also I've recently set up a web site for independent bands/artists to sell their music albums as instantly downloadable music files: www.zonkmusic.com. That's been taking much of my time in the past couple of weeks, and I try to find the time to play some games as well. I download a lot of game demos from the game sites and also buy maybe 1 game per month or something.
Many thanks Bjorn! Be sure to check out his awesome soundtrack to Worms3D released later this month and you can visit his on-line CD shop at: http://www.lynnemusic.com
Win signed Bjorn Lynne CD's
To go with the interview with Bjorn above, we're also giving away three CD's available from his on-line shop, two of which have been personally signed by him, in this special mini competition. You could win signed copies of:
Revive

Classic Bjorn Lynne tracks such as "12th Warrior", "Space Deliria", "Bridge to the Universe", "Moongazer", "Empty Spaces" and "Niagara" have been combined with today's studio sound, live instruments, session musicians and digital recording.

Accelerator

Many of the tracks here are in the borderland between melodic rock, funk and dance. "Palm Freak" and "The Hustler" send a nod to the classic "Outrun" music, "Trippin' High" stays firmly in Drum'n Bass land and tracks like "Turbo Grid" is just all-out rock with no stops pulled and features the awesome Marc Pattison on guest guitar.
PLUS! You also get to pick another CD from his on-line shop of your choice (valued $18.99 or less).
So how do you go about trying to win? Simple - just answer the easy question below and email it to bjorncompo@thegamecreators.com - we will pluck one lucky reader out of the hat towards the end of November and announce them in next issues newsletter.
Question: What is the title of Track 8 on the Worms 2 CD?
Alienware Competition Work in Progress
Although it's still early days here we bring you four small screen shots from some games in development for the Alienware competition. As you can see we've got a mixture of racing, exploration and a great alien-styled game show puzzler.
We've had over 100 games registered so far and although we know this doesn't mean they'll all be finished, it's still a great number (and incidently equals the pre-registrations for the Retro Game Competition before).
Retro Remakes Competition Results
As one of the main sponsors for the Retro Remakes.org Competition we were very pleased to see the success of this competition! 83 different games qualified ranging from remakes of Mario to Pong to SWIV (the eventual winner). Congratulations go to Smayds, Trevor Storey and Andrew Pointon - the top 3 winners who each received copies of DarkBASIC Professional. Every other entrant received DarkBASIC Electronic + the Enhancement Pack. You can see the full list of games and download them from the results page here: http://www.remakes.org/website/competition/results.php
We've plucked one lucky subscriber to our newsletter and for you a completely free copy of DarkBASIC Professional is yours for the asking. The winner is vampiro_penguin@?????.com - just email us and DBPro is yours.
All I can say is "Phew!" :) Next month we've got an interview with Kes James, author of the new Driving Test Success Practical which looks set to become one the largest selling DarkBASIC created programs ever. Got something you'd like featured here? Then email me and let me know about it: rich@thegamecreators.com or use our Feedback form. Either way please do let us know what is happening out there in the ever-expanding world of DarkBASIC.