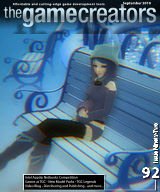 Having returned from a short break to London, I remember quite vividly why there are townsfolk and there are countryfolk, each of them preferring their homely surroundings. I enjoy the hustle of the city for the few days that I am there, but equally look forward to returning to my more tranquil surroundings at the end of it all.
One thing I have come to realise is that we rarely come to appreciate our local surroundings until we experience those of another place. I spent several years living in Haworth, the heart of Bronte country, centrepiece of so many period dramas, and never walked down the famous cobbled main street. While walking the streets of London it was very noticeable that the locals were walking with their heads down, intent on reaching their destination as fast as possible. Meanwhile, I took the time to look up; not just to eye level, but way up to the top levels of the historic buildings around me. My one piece of wisdom from this trip is to remind myself to look around me - at home and away - and be inspired in every direction I look. Needless to say, I also have an extended collection of textures from my overactive camera.
Much of our focus this month starts once the detail has been completed. We have an in-depth blog from Lee Bamber on making your AppUp game ready for the store, a tutorial on using Smart Packer to distribute your creations and an introduction to publishing amongst the wealth of articles in this edition.
Until Next Time,

The newsletter cover this month is an image taken from The Game Creators Gallery, where you can upload your own game images. This one is taken from Who by Mike Inel.
contents
(1) Netbook Competition (2) DarkBASIC Pro (3) Smart Packer (4) TGC on AppUp (5) FPSC Voices (6) TGC Store (7) Games (8) Model Packs (9) 3D Compo (10) YouTube (11) Lee's Blog (12) From the Forums (13) Winner (14) Outro
Games for Netbooks Competition

We have all of the official rules and guidelines for you below as a reminder to those already working hard on your entries, and as a final enticer to anyone yet to get started just how fabulous the prizes in this competition are. First, we bring you the most up to date information on the competition.
Latest News
Looking at the dedicated forum, a lot of you are already deeply embedded in your coding efforts. There are over a dozen work in progress threads from those developers looking to share their ideas and experiences in return for the most valuable of assets - feedback. We encourage you to post early and finetune your game as you progress, to get the most from time spent on your entry.
Free Performance evaluation
In an effort to help you produce the best game you can, and increase your chances of being accepted by the Intel App Store, Daniel Foreman is giving up his Saturdays to test your game for you on the netbook rig set aside for the competition. You can send in the test version of your program for a simple performance evaluation. This will not be treated as your final entry, and it will not be seen by the judges making the final decisions.

Not everyone has a netbook knocking around to test their games and software. Daniel will help you to do just that! He'll ensure your shaders work (if you use them) on a common netbook based intel graphics chipset, and give you the reported frame rate.

To get your free benchmark, simply add the line
Text 10, 10, str$(Screen FPS()) 
to your program main loop, and he'll report the frame rate displayed on-screen back to you via e-mail. Make sure you follow the few simple guidelines in the forum thread and send to the address provided there.
Screen Resolutions
There has been some debate about the screen resolutions allowed for the competition, and the rules have been relaxed slightly in this area. Be aware however, that this is an essential design criteria for your game and veering from what has been designated may detract from the presentation of your final entry. See the full details here.
Check your graphics
Ensure your game looks its best at a resolution of 1024x600, which is the way it is intended to run on the competition netbook. If you do not have a netbook and/or a display that supports 1024x600 you can emulate this resolution by doing the following.

1) Set the program to window mode
2) Use the command:
Set Display Mode 1024, 600, 32
and run a visual check of your game. You will be able to identify and correct any graphical issues before submitting. More details on this topic can be found here.
Getting your entry on AppUp
Check out this month's Video Blog from Lee Bamber to assist you with the creation of an installer suitable for uploading your game to the AppUp store. Remember your game does not have to have passed the validation process, but it must be submitted to fulfill the rules of the competition.
The forum thread here discusses other options, including a contribution by DarkCoder outlining his setup for the Wix Install creator, along with links to other free software.
But I Want To Explode Zombies on My Netbook!
We've all been there, on the road on vacation with the family and our trusty old netbook is ready at the go to Facebook, Twitter and surf the web. But after all the chatty time, aren't you really just itching to have a death race, zap alien ships, and kill zombies on your netbook too?
Well Intel wants your help, and has partnered with The Game Creators to seek out, recognize and reward excellent game development for netbook devices. Read on to learn more about

entering a game in our contest and your opportunity to win cash, cool prizes and exposure from Intel & TGC on your games. But don't delay games must be submitted by October 3rd. The full competition site can be found here.

Winning Categories
We have 4 categories. There will be one winner in the Best All Around Game Category and 3 winners from the other categories.
| | |
| --- | --- |
| Category | Description/Objective |
| Best all around netbook game | We are looking for either a unique or overall gaming value for a netbook. |
| Best graphics for a netbook | Looking for a beautiful utility for a netbook game. Like a meandering garden path, it serves to get you from point A to point B, whilst pleasing the senses. |
| Best game play for netbook | Graphics or no graphics this category looks at the game play experience for netbook. |
| Standout Game Element | Perhaps it was the best explosion, death scene, sound effect, or unique use of zombie. This category wins by just doing something we could not help but like. |
About Netbooks
Netbooks are companion PCs. They are not just smaller laptops. They are more casual, entertainment and mobile computing devices than PCs. Netbooks allow people to quickly complete computing tasks or relax and enjoy connecting with friends and colleagues while taking a break from "work" computing. Screens and keyboards are smaller, and track-pads or touch input replace mouse controls. This contest will recognize games that are best suited for the netbook usage model.
We will have various prize categories for netbooks games, but overall we are looking for games that are well or uniquely designed for netbook hardware and uses.
Good Netbook Game design
A good game for a netbook will consider the following:
Relax modes - game play option that is not tied to a clock or requires race to finish a task
Social Integration - allowing you to share or post your achievements, score as a status update to your social networks
Uncluttered - reduced screen size means the game should be a clean uncluttered experience - without a lot of text, dialogue boxes or windows to distract from the game experience
Fun - netbooks are fun & social devices - make the game interesting and fun, goal should be for someone to show their friend what just happened on the screen
Relatable - games do not have to be complex, they could be as simple as virtually flipping a coin as long as it's a relatable activity that has replay value
Location aware - netbooks travel with you, are taken on vacation, and on road trips. Integrate location awareness to maximize the experience
Simplified Controls - there's no mouse or joystick on a netbook. Trackpads are small, keyboards tend to be crowded, and screen real estate is precious. Good netbook games take this into consideration and design the game for simple inputs from the trackpad

Initial Announcement : The competition opened on 4th August 2010 9AM GMT.
Deadline : The closing date for entries is 3rd October 2010 at 12PM GMT.
Winners : Winners will be announced on 15th October 2010 at 12 PM GMT.
All entries are eligible to win in multiple categories.
Best all around netbook game
1st Prize
First Place winner will receive an all expenses paid vacation not to exceed US $5,000
In the categories Best graphics for a netbook, Best game play for netbook and Standout Game Element
1st Prize
First place winner will receive US $1,000, visibility and recognition via a feature in the Intel® AtomTM Developer Program Community and Campaign as well as the TGC community
2nd Prize
Second place winner will receive an Intel® AtomTM processor based netbook, visibility & recognition via a feature in the Intel Atom Developer Program Community as well as the TGC community
3rd Prize
Third place winner will receive visibility & recognition via a feature in the Intel Atom Developer Program Community

The full details regarding the submission of your demo are found on the competition website. Most importantly, this is where you'll find the entry form and upload page. Visit the competition page for all of the details.
DarkBASIC Professional News is now on Twitter


Everything you need to know about both DarkBASIC Professional and FPS Creator development can now be found via Lee Bamber's Tweets. You'll get to hear about every bug fix and feature as it's implemented! In fact if you had been signed up earlier in July, you would have been notified about BETA 6 of FPS Creator while it was being uploaded for public consumption.
Start following Lee now to get the latest news about your favourite development tools as it happens.
There has never been a better time to be a content creator
by Nicholas Lovell
The era of publishing is drawing to a close. Publishers are gatekeepers. They control retail distribution and support their control by vast marketing budgets that crowd out all but the largest competitors. Those days are over.
Everyone Can be a Publisher now.
But "can" is an ambiguous word. On the one hand, it means "has permission". Everyone has permission to be a publisher now. That's true.
On the other hand, it means "is able to", or even "is capable of". Everyone is capable of being a publisher now. But only if they want to be.
Games developers no longer need publishers. That much is true. But they need to learn, harness or outsource all of the skills of a publisher. They need to understand sales and marketing, finance and distribution. In short, everyone has to become a publisher.
It's not an easy road. Developers who have been making games for thirty years will have to learn new skills. Designers will have to learn not just game design and art, coding and sound, but how to build a brand, a community, a sales channel. It's a challenging task.
It's one that I hope the content creators will rise to. As publishers fall, more and more content creators will be able to make a living building and selling games that they love. They might have smaller audiences than triple-A blockbusters, but they will be successful, and profitable.
So keep making games, and remember to spend some time thinking about how to make money from them. You may be surprised how much easier it has become in the last five years.
* * *
Nicholas Lovell writes a blog on the business of games at www.gamesbrief.com .
He teaches masterclasses on making social games and is the author of How to Publish a Game. How to Publish a Game covers the eight different revenue streams for game, how to make money from free, and practical ways of selling, marketing, financing and distributing your game. The books costs £149 for a bound copy and £99 for a digital copy. The first two chapters are available for free at http://www.gamesbrief.com/htpagfree/
David's Dice Game Challenge
by David Gervais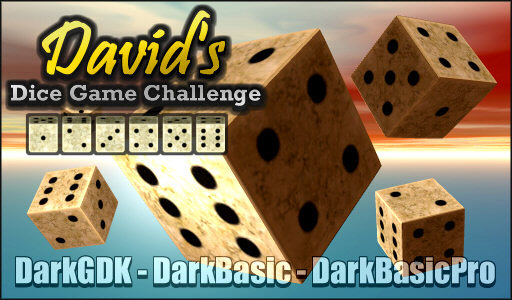 As the deadline of this challenge was extended to August 26th, we'll report on some of the games featured next month once there has been a chance to give them the makeover they deserve. Here's a reminder of what the challenge was...
"I Challenge you to make a Dice Game; it can be a classic game like Yahtzee, or your own unique variation. It can be something totally out of the blue, as long as it uses dice. The game can make use of a single die rerolled, a single roll of multiple dice, multiple rolls of multiple dice, dice shuffling, dice rolling, dice moving, dice hopping, dice dropping, just play with these dice. The challenge is accompanied by a set of 2D and 3D dice media for you to use."
I'm going to try to make sure every entry to this contest that uses 'placeholder' graphics for any additional media requirements gets them upgraded. I want you all to know how it feels to get a game from start to finish and end up with something you can be proud of. All the media I provide for this contest will be free for both commercial and non-commercial use. Credit for my graphics should be given of course. I aim to make this the first contest on the TGC

boards where 'Everyone Wins'.
Check the forum thread for full details and the entries that were received, the results should be very interesting especially as the participants increased their efforts as time passed and encouraging feedback was received.
Dark Game Studio Bonanza
Special offer while stocks last: Dark Game Studio, Dark Physics, Dark Lights, Dark AI and Extends for an incredibly low price of $49.99. Save over $170!
Creating your own PC games is now easier than ever with this special compilation of game making tools:
Dark Edit
Demo Games
Physics Demos

Order Now

Save over $170 on this special deal. Be sure to check out the screen shots and the online videos. You can of course order safely and securely online, for delivery via postal mail.
Creating a Distributable Game

Smart Packer Pro, available from The Game Creators' site, and designed to protect and distribute your game. If you've completed your final game masterpiece and want an easy way to pack it all up into one file for easy distribution then Smart Packer Pro is the tool you'll need. It's ideal for large DBPro, Dark GDK and huge FPSC games.
This month we'll show you how to create the full version of your game that you can safely and easily distribute.
Creating a Distributable Game with Smart Packer Pro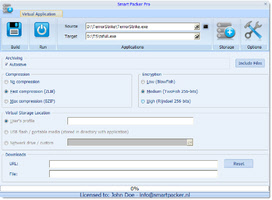 Last month we explained how to create a demo, with saving disabled. This version of your game we build will have the ability to save games and is protected with a password.
In the main screen, fill out the "Source" and "Target" fields. Make sure you check the "Autosave" field so file changes can be written to disk. This is what allows your game to save playing data, such as high scores and progress. (Click on the images for larger screenshots)
To save files which are created in the virtual filesystem click on the "Include Files" button to add the relative filenames. These will also be saved to a encrypted archive on the specified disk.
Then, as we did for the game demo last month, select the game icon and startup images.
Finally, if you choose to password protect your game, you can add the authentication criteria before completing the process. To protect the full version of your game fill out the Password, Title, Content and Instruction fields. When the packed game is started the user is required to fill out the correct password. If the password is valid the packed executable will continue; otherwise it aborts.
Press the "Build" button and you have the full version of your packed game, all ready to go!

Smart Packer Pro is available from The Game Creators now. Check out the product pages for full details, to purchase or to download the demo.
The Legend of The Game Creators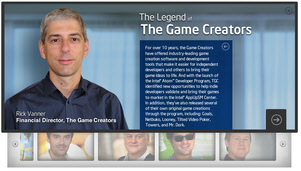 As reported in a previous issue, you can now read The Legend of The Game Creators on the Intel website. Intel awards the Legendary status to the new generation of innovative people and companies who create groundbreaking new applications and revolutionise the netbook experience.
Why AppUp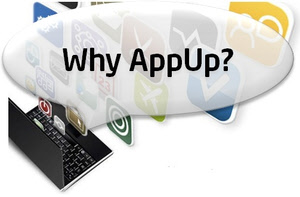 If you head on over to the Intel AppUp site, you'll find out exactly how the model has been constructed to work for everyone concerned. Find out about the importance of app stores, the move to multiple devices with shared apps and data, broadening the toolset for developers and how to make money with your apps in the store. You'll also find a quick video from Lee Bamber illustrating how TGC found it's part in the bigger - and still growing rapidly - AppUp world.
Get Involved
If you're new to the AppUp store you can read up about the developer web site here - Intel's AppUp Developer site and you can download the AppUp store for netbooks here at the AppUp Centre. If you have an application that fits the criteria for a successful Netbook publication, then don't hesitate to get in touch.
FPS Creator V117 Feature Focus

DarkBASIC Professional users have been able to enjoy DarkVOICES for some time, and now FPS Creator users can realise the benefits in their games with V117. Many of the characters are already DARKVoices enabled, excluding only those that had insufficient facial features to add the bone system. All characters that use DARKVoices lip syncing are specially rigged with over 20 additional bones.To give you a head start, we've put together a quickstart guide to getting voice enabled characters in your game. Once you have V117 installed, just follow this easy process:
1. Locate this folder - files/audiobank/darkvoices. This has a converter app in it called ConvertAllWAVFiles.exe
2.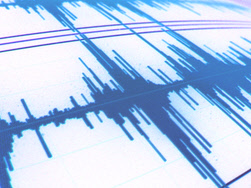 Now place all of your wav files you wish to convert to lipsync files inside this folder.
3. Execute the convertor application, and allow it to work through and analyse all of your voice files one by one. The conversion involves taking apart the soundwave data and identifying the phonemes, or mouth movements, associated with each sound.
4. All of the wave files will now have an associated lipsync file; this holds all of the phoneme data required by the characters.
5. Place the wav files along with the lipsync files wherever you want to access them. This should be within your game folder structure.
6. Now open up your talking characters fpe file. You will see the following.
;ai
aiinit = appear1.fpi
aimain = behaviours\greet player.fpi
aidestroy = destroy\fadecorpse.fpi
soundset = male
soundset1 = RPG_Mod\audio\demo6\canihelpu.wav
7. edit the soundset1 parameter to specify the talking wav file you wish to use (not the lip synching file).
8. Use the fpi file that is in scriptbank/behaviours folder. This is just a generic (template) fpi for talking characters. You will probably want to edit it for your own use of the character.
Taking Voices to the Next Level
Adding voices really is as simple as that. You can now take it one more step to further enhance your game characters. The voice convertor requires the best and most clear voice files you can provide for accurate conversion to phonemes and mouth movements. However the phoneme data is a distinctly separate file from the sound file, so we can now manipulate the voices and still have accurate animation data generated from the original unedited sound.
There is just one, simple rule to abide by when adding effects. The length and timing of the narration must remain the same. The following cannot be applied:
Slowing down the voice
Speeding up the voice
Applying a pitch change that does not retain the timing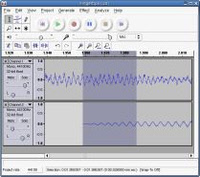 Everything else is fair game, including:
Adding echoes
Pitch shifting (where the timing remains intact)
Robotic effects
Phaser effects
Adding background music/sounds
The simplest way to get started is to download Audacity or other free audio editing application, and start experimenting!
Fine Tuning the Final Product
Using the full DarkVOICES plugin, you have access to Anna and the editing suite built around her. Here you can record your voice directly, or import sound files and fine tune the phoneme data, watching Anna recite the results for you.
Finally, you can convert your voice recordings to OGG format - again using Audacity - to produce much smaller files for distributing with your game.
Splatter Spawn Competition

SplatterSpawn is hosting a mini-game creation contest.The challenge is to create a storytelling game, composing a game that portrays a unique and compelling story whilst delivering the best gameplay experience.

Any genre is welcome, and may or may not include weapons. You will be judged on presentation, story quality, replayability, and environment. There are 3 prizes from $25 up to $100 plus additional products. Closing date is 23 November 2010, full details can be found in the forum thread.
Special Offer while Stocks Last - $29.99,

Save Over $150.00!
Take advantage of this whopping special offer! Get FPS Creator and 9 Model Packs for an incredibly low price of $29.99 USD (€22.00 EUR, £19.99 GBP). This deal includes:
FPS Creator
Model Pack 1
Model Pack 3
Model Pack 7
Model Pack 11
Model Pack 12
Model Pack 13
Model Pack 14
Model Pack 15
Model Pack 25
Click here to purchase the Bonanza pack, including FPS Creator
for just $29.99 / €22.00 / £19.99
The Game Creator Store - Updates and New Additions

New Store Additions
Hive
This huge, creepy segment pack includes 60 separate segments: corridors, rooms, stair, gantries, and rooves. Mix and match to create all of your game levels. Use it for scifi, action, secret laboratory games, anything you want. This is indeed a full segment pack available through the TGC Store.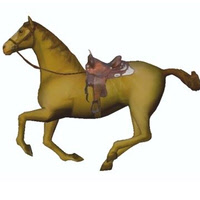 Horse
This is a highly detailed horse for inclusion in your game. Treat him nicely and he will be your friend, following you around. But beware, turn against him and he will return your attacks.
Refinery
A complex web of pipework and cylinders. This model can be climbed upon and used in a highly interactive manner. The pipework is removable for less detailed usage. Diffuse, normal and specular textures included.
Alien
If you want something different in your sci-fi game, try this alien thing. He is animated for all standard weapons, and includes diffuse, normal and specular textures.
All of the above models are available to purchase and download through the inbuilt Game Creator Store in FPS Creator and DBPro, and also using the standalone store for other game-making tools.
Pick up free Store Points
The Game Creators have teamed up with the leading providers of virtual currency; perform a few simple tasks and top up your Store points. As well as being able to take up exciting offers and receiving potentially thousands of points, there are a host of other tasks to earn rewards. Watch a movie trailer, rate search results, answer questions, tag photos or choose from a host of activities that will ultimately earn you any of the high quality models and resources to make your game shine.
Open the Store, through FPS Creator, DBPro or the standalone version. Log in to your account and select the Buy Points option. Below the regular payment options you'll find links to gWallet, Offerpal, DoubleDing and TrialPay. You'll immediately find yourself in amongst the tasks and offers available, and can start earning immediately by watching a movie trailer or two!
Upload Your Assets to The Game Creator Store
Did you know you can sell your models, segments, music and sky boxes in the Game Creator Store? We already have dozens of artists selling their media, and we welcome anyone with the talent to provide our community with quality assets to do the same. If you are interested in becoming a store seller, please contact Janet, our Store Administrator directly.
Games at The Game Creators
The Game Creators have a number of games to download and enjoy, including titles from a number of independent developers. You can already take advantage of ten games, including:
Project Aftermath
Project Aftermath is an Arcade RTS game where you command up to four squads of soldiers in exciting battles in a retro-futuristic world. Equip your squads to suit your playing style, researching new items using the spoils of war; choosing from over 100 different weapons, armour, power-up augmentations and spell-like special attacks.
Buccaneer: The Pursuit of Infamy
The Golden Buccaneers are in deep peril. Their ships are sunk, their territory lost and their chests contain barely enough gold to stave off a mutiny! Do you have what it takes to turn their fortunes around? Take command of your first ship and pillage your way into the Pirate Hall of Infamy, where your name can stand with the likes of Edward 'Blackbeard' Teach.
Clover: A Curious Tale
Clover: A Curious Tale is a new and enhanced version of the political platform puzzler. Rendered in hand-crafted watercolour, featuring a remastered piano score and laced with political themes, Clover: A Curious Tale sees players solve mysteries through both exploration and talking to a range of fully voice-acted characters.

These and many more games, including some of the Classic Game Creators publications you have come to know and love (Goals! and Mr Dork) can be found on the newly created games page on the site.
Model Pack 47 & 48 - Church and Post Apocalyptic Packs

Whether you're back in the past or roaming ancient churches in a modern setting, this pack will provide both exterior and interior graphics for your next level. Adaptive Smart-Tile technology allows you to create versatile indoor and outdoor scenes with the same tileset, make exciting high quality buildings for you to explore. Complete with a huge range of religious and symbolic entities, you'll have everything you need to create incredible scenes:
21 landscaping entities including courtyard walls, roads and floors
45 assorted room segments with high quality interior and external textures
36 assorted roof segment tiles with varied and interesting ceilings
10 assorted doors and windows
3 support segments to give your scenes an additional level of depth
79 entities offering an authentic church/monastic feel, including pictures, banners, books, tables and switches
Also includes icons from Christian, Jewish and Pagan faiths

This pack is available for purchase now, from The Game Creators website for just $8.99 USD (€6.99 EUR, £5.99 GBP).
Model Pack 48 - Post Apocalyptic Pack

This pack includes over 240 entities and 30 segments.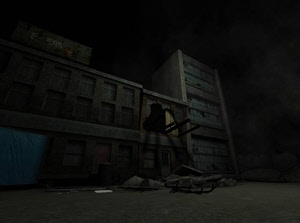 All of the elements will work in any scenario, not just rust encrusted, war-torn environments. There is a vast amount of material included in this pack that can be used for so many scenarios.
An overpass system, with large bridge-like roads are included in this pack. These are massive and will add depth and mass to your outdoor environments. Creating a powerful environment is as easy as a few clicks with this pack. There is everything from buildings, bridges, food, rubble, trash, items and much more, a great investment for someone looking to vastly upgrade their FPS Creator inventory.

This pack is available for purchase now, from The Game Creators website for just $19.99 USD (€15.99 EUR, £13.99 GBP).
3D Modeling Competition - The Prop Room Results
By David Gervais, BiggAdd and MikeS

After an extended deadline, the prop room was finally filled with 24 entries. These ranged from teacups to workbenches, and everything else in between. Here is the full list of items:
bphardy: tea cup
Woolfman: teddy bear, frame w/picture
henry ham: gas can, grenade, brief case, cola can
Pbcrazy: garbage can computer thingy
Mazz426: broken monitor, metal shelf/workbench, vent, box w/candles
lazerus: shuriken, pipe control flow junction
General Jackson: cork billboard
Orion_Uk: mobile phone/ipod type mini hand held computer thingy
charger bandit: old computer, grenade
SpyDaniel: fire hydrant, chest
Quik: wall mount heal kit
Rigo: fire extinguisher
Master Man Of Justice: ash tray and cig, file cabinet
The voting and final results are as follows..
3D Best Texture: Henry Ham's Gas Can
3D Best Model: SpyDaniel's Fire Hydrant
3D Master: Rigo's fire extinguisher
Congratulations to the three winners, and thanks to all the entrants for their hard efforts once again.
September 3D Modeling Competition: Metal Worker

At the time of going to press, the rules for the September Metal Working Competition had not been finalised. However, look out for it's appearance very soon. You'll find the full details in the 3D Forum as usual. Good luck, the entries just get better each time!

How the 3D Modeling Competitions Work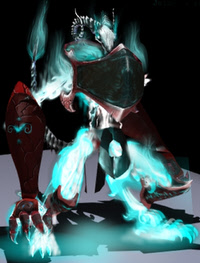 The accolades for the winners are retained until the next competition winners, and are as follows:

3DMaster - Champion awarded to the overall winner in the competition, an entry which displays both modeling and texturing excellence.

3DMaster - Best Model awarded to the runner up who demonstrates the finest modeling skills in the competition.

3DMaster - Best Texture awarded to the runner up who demonstrates texturing wizardry in the competition.
The awards will cling to your Avatar until the results of the following competition are announced. So to keep your award, you must defend your honour in battle once again!
TGC on YouTube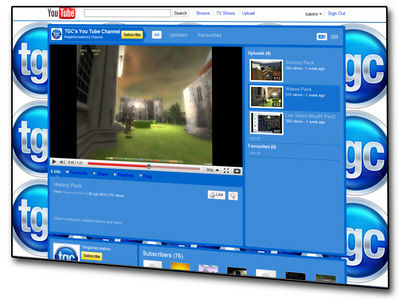 You can now now find a YouTube channel dedicated to The Game Creators. Any new videos published will now be found here, you can expect to find previews of new model packs and of course Lee Bamber's monthly blog.
If you have any suggestions or comments about our new channel, then log in to the forums and let us know in the YouTube feedback thread.
Make sure you subscribe so you hear about any new videos as soon as they are posted.
Video Picks of the Month
Biowaste is an FPS Creator Horror game, with massive amounts of atmosphere and anticipation.
"Very nice! I love the lighting and the sound effects. Great work and keep it up!"
JackelAlien
"Nice layout of the level. Good use of lights....very atmospheric. Has the potential to be a good Resident Evil type game"
vntr2006
You may recognise Invaders Warped from the Space Invaders competition over the last two issues. The full details can be viewed on the forums, but in the meantime check out the gameplay in this video.
Lee Bamber's Blog of the Month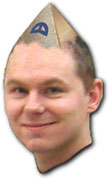 Just two months into Lee's Monthly video blog, and it's already expanded to a 5 part epilogue! We are accustomed to Lee's desire to share everything and this month you'll find the complete encyclopaedia of anything AppUp related, and ensuring your application or game will make it into the store with the minimum of stress.
Lee's Blog - Part 1
In part 1
, you will find:
the concepts of AppUp authentication
Starting your first AppUp game
Testing without AppUp protection
Lee's Blog - Part 2
Part 2
continues and covers:
Piracy protection
Setting the password
retrieving your Unique Value
Authenticating
Installer pre-requisites
Lee's Blog - Part 3
Part 3
:
DBPro Essential Files
Making the Installer
from Test Install to Live Install
Lee's Blog - Part 4
Part 4:
Installer templates
Using your installer
Running from AppUp
The Four Zeroes
The AppUp dashboard
Lee's Blog - Part 5
Part 5:
Uploading to AppUp
Good error messages
Competition Details
From the Forums


The Community Rules and Information thread is the most comprehensive guide to the FPSC forums you will need. It has been compiled over many weeks by KeithC. It covers 17 categories from Forum Rules to finding the perfect FPSC Mod for your project.
This issue we highlight the section on Work In Progress and Showcase which you'll find in the thread.
When you feel you are ready to show off what you've been working on starting up a Work in Progress (WIP) thread is the next logical step in the development process. This is the required format for all Work in Progress threads:

REQUIRED

1. Name of Game; this can be substituted by a Title Graphic (the Game name must be in the graphic). The graphic should be reasonable in size.

2. Developer name.

3. Which FPSCreator you are using: must be in your thread's title as either [x9] or [x10].

4. Storyline and/or description.

5. No limit on screenshots in the initial post; but you must have at least one (in-game only; thumbnails are acceptable) in your initial post. The mandatory image must be either viewable in the post itself, without having to click a link; or available by clicking on the attachment button. Screenshots should not exceed 800x600 pixels; no one wants to have to scroll to see your image. You may link to a larger image however.

OPTIONAL

6. Link(s) to additional images.

7. Website and/or videos...must be clickable.

8. Demo download link...must be clickable.

9. Credits.

10. Contact Info.
You should also consider updating your initial post, when significant changes occur in your project as many people stop after looking at the first post.

Of course a WIP thread should be allowed some creative freedom. After making sure you have the required elements above in place (remember, some of those listed above are "optional") feel free to give your thread any special touches you want.
Showcase
At long last, when there is nothing more you wish to do with your creation, you can make a thread on the Showcase Board! The Showcase Board has very strict rules in the layout of your thread, and they must be followed; otherwise your thread will be locked (then deleted) or moved to the WIP Board. If this happens, you can email a Moderator to get your situation resolved.

For all the Rules and Requirements of the Showcase Board; check out the extensive Rules of the FPSCreator Showcase Board

I also encourage you to check out existing threads in the Showcase Board, to reference for proper thread creation.
Syncaidius is working on a library of code that allows you to create and edit DBP images/textures through the use of memblocks, without actually having to understand memblocks to use it. It includes a number of features including flipping, tinting, and partial copying.
Sixty Squares has created a fast paced platformer which features lots of sound effects, high speed gameplay, a randomly-generated neverending level and high scores. It uses multiple fullscreen shaders all at the same time, and has been getting great feedback on the forums.
.
Monthly Newsletter Winner - $100 voucher up for grabs every month!

Join almost 2,000 TGC fans on Facebook for the chance to win a $100 gift voucher each month. Simply add yourself as a TGC Fan and you will be automatically entered into the draw each month. The voucher can be spent on any of the products on our site. Sign up now, and good luck!
Outro
Share your news with over 23,500 active games developers!
If you have something you'd like featured in a future issue then please get in touch and include as much information as possible (including where applicable: screen shots, URLs and zip files).
Issue 93 deadline - September 27th 2010.
"Leaders must be close enough to relate to others, but far enough ahead to motivate them."
John C Maxwell