If you cannot view this newsletter correctly, click here to view it online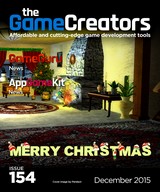 Hello everyone and welcome to the December issue of TheGameCreators newsletter. This will be the last issue of the newsletter because from January 2016 we're changing things around. The aim is to make the home page of TheGameCreators into a news blog style site and so we'll be releasing our news more frequently and thus make the newsletter somewhat redundant.
I've had a happy year or so as TheGameCreators's editor and I'll not lie, I'm going to miss it, but all good things must come to an end or if you prefer, a new beginning.
On a personal note, I've squeezed in some of the promised development time on my own work and as Winter creeps in I'm nearing completion of three (yes, count them!) projects. For those of you who are interested, you can find some sneak peeks of my work on the Steam forums under my SceneCommander forum handle.
I hope that my progress encourages those of you who are wondering if you can find the time to finish (or start) your own masterpieces and I'll keep an eye on the boards as I always find it exciting to see what my fellow developers are up to.
So, on that note, thanks for reading our missives over the many years we've been going and we're sure you'll enjoy the blogs just as much.
Have a very Merry Christmas and just as Happy New Year!
Goodbye for now.
Dave Hawkins
contents
(1) GameGuru (2) GameGuru Store (3) Twitching! (4) AppGaneKit (5) AppGameKit Community News (6) YouTube (7) Keep up to date
GameGuru V1.11 Launches!

Hello, GameGuru fans!
Hot on the heels of V1.1, we launched V1.11 with a range of new features and some bug fixes. This is the last planned update this year and we're sure you'll agree it's a great one.
Keep an eye out early next year for some amazing new developments in the world of GameGuru and maybe, one or two big surprises that we know you'll love.
Let's see what we've added
Added new EDITORS\KEYMAP folder with ability to remap any key used by GameGuru
Speeded up entity zoom in mode
PAGE UP and PAGE DOWN now respects the size of the selected entity when in snap mode
Fixed a slowdown in the IDE when not selecting an object or scrolling with WASD or arrow keys
Character Creator now reports head limbs being shot and has been added to light ray render
Fixed an issue where an entity would turn to wireframe when still above the ground
Fixed an issue with SKYSPEC file settings
Fixed an issue where the property panel would stay open if a video was selected whilst in properties
Fixed a problem with resetting weapons
Fixed an issue with using the widget and R key to rotate
New Gem World game added
Media from Gem World added to the Cartoon category for you to use.
Shoot an enemy in the head and you'll take down the opponent in one shot, yes we've added headshots to this build.
Added back spot flashes for player and enemies shooting.
The scripting commands have been expanded significantly so you can take final control in many areas of the engine.
The light mapper has had some subtle improvements too.
Added light mapping settings in SETUP.INI for higher quality shadows
Smoothing angle added to light mapper settings and setup.ini
Fixed light map darkness issue by correctly applying ambient light calc from non-LM shader
Fixed an issue with the light mapper that ignored certain objects scaling
For a full breakdown of what's new, check out this thread in the forums.
What's new in the GameGuru Store?
The GameGuru store continues to grow with nearly 7,000 entities, audio effects, scripts and music tracks available to download for great prices. We're seeing more items uploaded daily and this month you can also find some Christmas bargains. Let's take a look back at some of our established uploads with a slightly festive feel.
These great trees from BSP are at home with almost any genre and we're sure will help you feel Christmasy.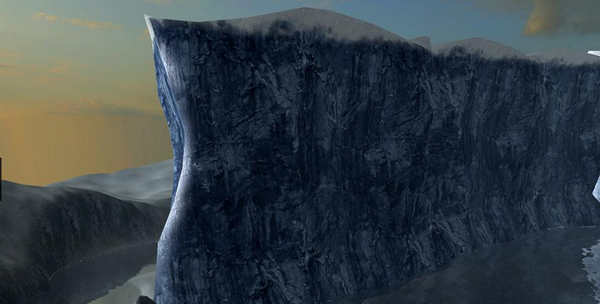 From another popular artist comes this massive glacier. This is a departure for Valuable Assets, but really will help bring your winter scenes alive.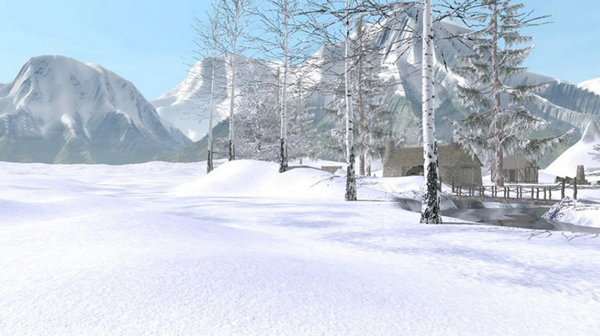 Lastly this month comes this excellent SnowBound terrain from artist Old Flak
We hope you find these inspirational and don't forget that if you create some great looking levels using any of this media, that you can share your masterpieces on the GameGuru Galleries.
Become a Store Artist!
The Game Creator Store connects creative artists and musicians with enthusiastic GameGuru game developers. Can you create game-ready 3D models or themed atmospheric music for the GameGuru community? If so, sign into the GameGuru website and sign up to become a store artist!
Lee's Twitching again!

The GameGuru dev team will continue with their regular Twitch Broadcasts each week and you'll be able to listen to their tips and teasers every Wednesday at 4 pm GMT/ 11 am EST and 8 am PST. We know you're all loving these Twitch sessions and we hope that you find them useful as well. Last week, Lee took a day off and "Ravey" Milton took up the mantle and talked about creating a quest system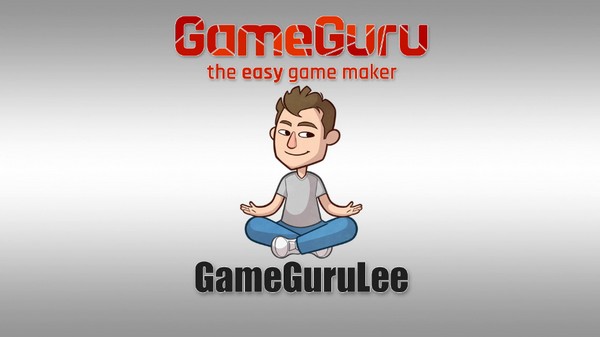 For those of you who missed last Wednesday's session, you can catch up with the latest broadcast as well as every broadcast we've made by simply clicking the image above.
Yesterday Lee broadcasted his final Twitch of the year and in which he showed the deeper workings of GameGuru, drilling into the C++ source code as he showed what was required by a professional developer seeking to fix a bug issue. What that session and all the past Twitch broadcasts right here.
AppGameKit latest

AppGameKit continues to develop and improve, and earlier this month we released V2.0.16 to all users of the product.
Key changes in this version include:
1) All the Android projects now use Android Studio (which is now the main choice by Google). We no longer support Eclipse from this update forwards. If you have used the Install Additional Files dialog to copy the Tier 2 files to a location of your choice then it will copy the new Android projects to that folder, but it will not delete the old ones. This is because it can't tell if you've modified them for your own purposes. The following projects in the Tier 2 "apps" folder are obsolete and no longer used, you may delete them.
appcompat
facebook
google_expansion_downloader
google_expansion_zip
google_licensing
google-play-services
interpreter_amazon
interpreter_android
interpreter_android_expansion
interpreter_android_lite
template_android
template_android_lite
template_ouya_lite
Another big change is that Windows 8, Windows 8.1, and Windows 10 no longer require the DirectX End-User Runtime for XAudio to work, AppGameKit will now use the version that comes built in with those operating systems. Windows 7 and below will still need the DirectX files. This is good news for our users on later systems.

Finally, there is now support for achievements and leaderboards on Google Game Services and Amazon GameCircle using the GameCenter commands normally used on iOS. Because the app requires some internal values changed to work with these platforms you need to set the appropriate values in the APK export dialog and export a signed APK, which you then upload to your chosen store as a draft to test your own achievements and leaderboards. Apps broadcast to the AppGameKit Player will always be linked to the AppGameKit test achievements.
In general, we've made too many little tweaks and fixes to list them all here, but we summarise some of the highlights for you below:
Fixes and additions to Raycasting
Added SetWindowPosition to change the window position on screen on Windows, Mac, and Linux
Fixed GPS commands sometimes reporting no GPS sensor on iOS 9.1
Added Google Store Achievements
Added Amazon Game Circle Achievements
Various fixes for iOS 9 and iOS 9.1
For a full breakdown of the improvements to this version check out the forum post here.
We'll continue to develop and improve AppGameKit when we come back in 2016 and we'll be listening to what the majority of the community want us to focus on.
Happy 2016 and Happy AppGameKit 2.0.16!
What's new in the AppGameKit Community
We're always pleased to see new and continued developments from our community and our AppGameKit users really have impressed us this month.
From the world of AppGameKit
First off this month is Monstaz by Blink0k. He's made an interesting monster styled puzzle game, just click the image to see the current game play.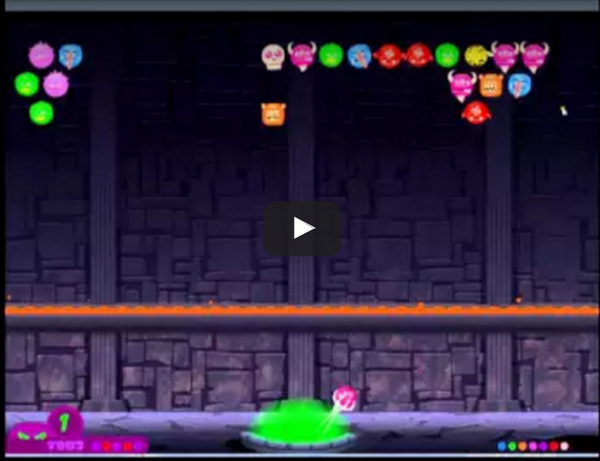 Monstez
Also updated this month is this excellent work from forum user Preben really showcases the power of AppGameKit. We believe this is the first FPS game we've seen that takes advantage of the new 3D commands and we'll be watching this one keenly to see how it develops.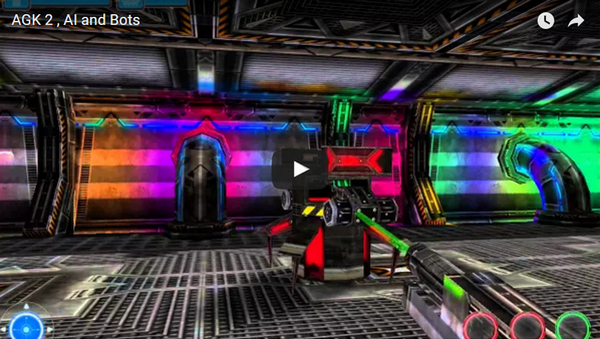 Preben says of the features..

1. Player: sliding collision on level, bots, objects. Walk , run , jump , spin …
2. Gun: smoothy move gun when colliding with objects. Laser sight. Ray cast from gun on fire to find any objects hit. Fire rate. Walk/Run/Rotate gun movement. Force on fire, move gun backward…
3. Bots: Moving around level, Attack / Hunt player when shooting, nearby bots will help in the attack ( so take them out when they are alone ). Animation control. Predefined xyz start points. Random move points or predefined move paths. Bots will pick randomly from the nearest next available move point/path, to move around the level smoothly. Bots actions, Deactivate/Activate/Move/Hit/Shoot/Rage/Attach/Die/Dead hit/Stun/Idle. Sprite placement on bots guns when firing. 10 move system to try to solve a collision problem and get around other objects. Bot hit impact, moves bot back when hit. …
TheGameCreators YouTube Channel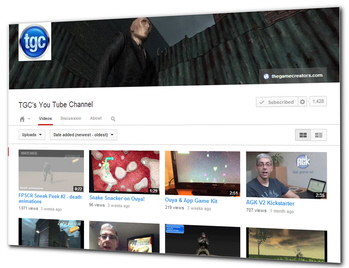 TheGameCreators YouTube Channel is still going strong with over four years of content to browse and view:
Over 170 videos!
Over 900,000 views!
Over 2,700 subscribers!

Take a look at our channel now, and make sure you hit the subscribe button to stay up to date with new video uploads. Very often you'll get advanced previews of upcoming news.
We've also create a new GameGuru channel to focus on GameGuru tutorials and gameplay. You can access it here.
TheGameCreators on Facebook & Google+

Join thousands of fans on TGC's Facebook page to keep bang up to date on news, user projects from the forums and discussions.
We're keen to hear from all our avid users and we always love to hear what you've been up to with the tools we sell. So if you have something you want to share with the wider TGC audience why not post it into the TGC Facebook page?
GameGuru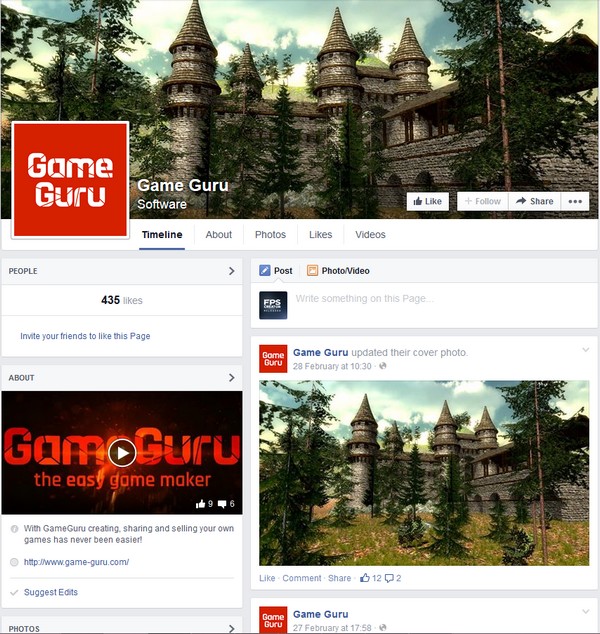 GameGuru has it's own Facebook page now. Whether you simply want to see the update and progress news as it is released, or get involved in technical discussions about LOD, Light and lots of other topics, sign up to this page today to be part of it.
AppGameKit
You can join in the Facebook discussions in our AppGameKit group page with over 650 members and we also have an AppGameKit Facebook page.
Google+
You can also follow our products on Google+
"There is nothing in the world so irresistibly contagious as laughter and good humor."
Charles Dickens - A Christmas Carol