If you cannot view this newsletter correctly, click here to view it online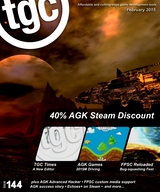 After 8 years of being at the helm of The Game Creators Newsletter, it is time for me to hand the baton to a new editor. It's 8 years that I have throughly enjoyed, and it has given me an insight into the inner workings of the highly skilled and dedicated team behind DarkBASIC, FPS Creator and AGK, not to mention all of the additional offshoots carried along on the wind of innovation. Along the way I've had the honour of announcing the launch of FPS Creator (and Reloaded) and AGK (including version 2), as well as the successful Driving Success apps and iDare, the multi-million-download game that sparked the flames of AGK into life.
My reason for standing aside is primarily to give myself time to start developing again. I have a library of ideas that I need to get into Teh Codez. The term Library is stretching the imagination somewhat, it's more a collection of scraps of paper left wherever the idea came to my mind. I will be hampering your personal progress by looking for answers on the forums to all the AGK features I have yet to try.
I'm also making room for somebody to bring new ideas to the Newsletter. That someone is Dave Hawkins, who is already producing the FPS Creator Reloaded newsletter (yes, I use a lowercase n to distinguish between the two!). I have strived to set an acceptable standard over the years, but I anticipate many changes for the better in the months to come.
At the risk of missing somebody (I apologise in advance to whomever it is) I have to thank Rick Vanner, Lee Bamber, Paul Johnston, Dave Milton, Mike Johnson, Peter Jovanovic and Rich Davey for their support. There have also been numerous regular contributors along the way including Sean Mann, Steven Holding, Daniel Foreman, Andrew Vanbeck, Keith Caldwell, Craig Bryan and Grant Clark. Others have been there to smooth the ride with graphics including Josh Mooney and Adam Plumbley, and the 3D Competition organisers David Gervais, Mike Shah (and Adam again). There are many more I could mention, but you'll find them all in the last 96 issues of the Newsletter!
So long (unless we inevitably cross paths in the forums), thanks for all the fish (unless you're under thirty and have no comprehension of this phrase) and all the best to Dave for the future of The Game Creators Newsletter.

This month's cover image is Lander: Ion Thrust by Rolfy.
contents
(1) AGK Discount (2) AGK Development (3) AGK Success (4) Echoes+ (5) Reloaded News (6) FPSC News (7) FPSCR Store (8) 8-Bit Inspiration (9) Social Feeds (10) TGC Channel
40% off AGK V2 on Steam, but only for a few more days!

Right now you can
grab AGK Version 2
with a 40% discount. But this offer is only available until 6 February 2015, so hurry if you want to take advantage!

Don't forget we also sell AGK licenses in multiple packs now, for development teams. You get an additional discount when purchasing packs of 2 or 4 licenses. You'll find the details on the same Steam Product page.
AGK V2 Shader code no longer in the Dark

Shaders can quite literally be a dark art to many of us. Recently Baxslash posted a Work In Progress for his upcoming game, Escape The Undead. As you can see from this video, the lighting effects play a huge role in the gameplay.
This demo was quickly followed by the code used to create the effect, bundled in a simple project to show off the technique. You can download the code, and the shader from this forum thread.
Advanced Hacker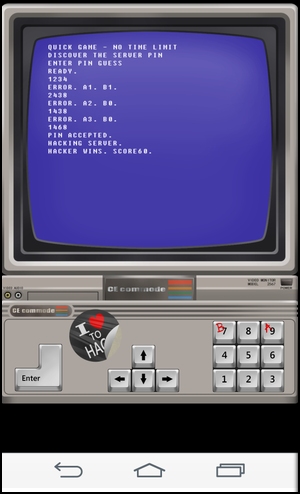 Advanced Hacker is a fast paced game of deduction and skill. You (The Hacker) must code-break into secret operation servers by figuring out their 4 digit password. Using your advanced hacking program, race the clock or play a quick game and hack all the servers!
This version includes high definition quality graphics built for your favorite Android tablet. Currently you can play on a smaller mobile device, but the controls will appear smaller. The game will be updated soon with an option to change the controller size so it can be enjoyed on both tablet and smaller mobile devices.
The game features two game modes;
- Quick Game
In Quick Game, there is no time limit. Use this mode to help hone your skills of deduction and perfect your hacking abilities.
- Play Game ( Normal Mode)
In Play Game mode, you race against the clock to hack as many servers as possible. Use your skills of deduction and quick thinking to figure out the 4 digit pin and move onto the next server. Your final score will be submitted to an online leader board!
Advanced Hacker also features an online leader board. Go up against your friends and become the ultimate hacker!

The game is available now on Android,

and also on PC via Sellfy.
Jump 'n' Drive with 2015M
This new release on Android is a nice little driving game. Developed by Preben, it's been designed as an endless level with random scenery.
Preben has posted a couple of tips he found along the way, here is one of them:
MP3 Music Loops - the trick to pause-free looping
Copy the last 1 second of your MP3 track and save it as a wav file.

One

second before the MP3 track ends ends, you start the wav soundbyte using playsound() (this command is really fast)

Just after you start

playsound

() you stop the MP3 track and start it again using

playmusic

().

it takes around 1 second before the

playmusic

() starts so you have a perfect loop, the wav is playing while the MP3 loads.

You may need to cut off small parts of the wav soundbyte to get it 100% correct but it's possible.

Join the discussions on this game in the forums, and download it from Google Play for your Android now.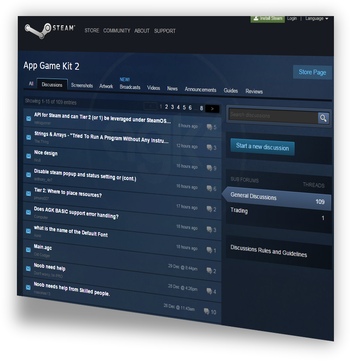 Join the Discussions on Steam
Many of our new community members can be found on the Steam Hub, where there are many discussions, question and ideas being posted. Join them in the Hub and help them get up and running quickly with your experience and knowledge.
An AGK Success Story
Many AGK developers have been inspired by the success of one of their own community. That member is known as xGEKKOx, and has created 100 apps in just over 3 years! Recently he posted his story on the forums, here it is with a little editing (xGEKKOx is Italian but still speaks better English than many British people that I know!)
---
When I released Street Karate Fighter I was a bit incredulous about the mobile market. But the day after I released it, I saw that I had 56 downloads and I earned about $64, so I told myself...
"Wow, if I have made $64 in a day with 1 game, what can I do with 100 games?"
As time went by, I understood some important points:
Wow, if I have made $64 in a day with 1 game, what can I do with 100 games?

xGEKKOx

In the beginning release as many

games as you can

When you have about 15 to 20 games try to understand which ones sell better

Replicate the best-selling games 5 times over,

so if you have 2 best-sellers out of 20, try to make 10 more similar games

Spend 1 month on each

game

If you have the possibility to earn the same money from 2 months of development on one game, use 2 months instead to release a better game

Enter into the mind of the users that want to pay for In-App purchases, and understand which kind of in-app features they want

Understand that ADVERTISING will speed up your selling
The advertising system is a world apart
Let me explain...
If you want to promote one of your apps, you need to create a budget and invest. Let's imagine you want to invest $100 on your best app (we'll call it SMILE in this example)
SMILE does 10 downloads per day, it's better you don't invest.

SMILE does more than 500 downloads per day, it's better that you invest

SMILE must support advertising itself so you will earn from your adverts at the same time. The percentage is lower; on $100 payout for advertising your game, the return on advertising other games is $30, but it is better than nothing.

SMILE must surpass the other apps CPM. So if Angry Birds bid $1.00 per 1000 impressions you must invest $1.05 per 1000 impressions.
So you can see that the ad system is a bid-based system. If I want SMILE to go up in the US, I need to invest heavily. But if you succeed in the US, you will be rich!
Yes, I'm really fast at coding, and I've developed alone for 2 years, including the graphic design. I buy media on the web (for example DeviantArt and similar sites) or if I don't find what I need I create it myself, but I hate to paint!
This must be your only job, or you will never release anything! So if you are scared to leave your current job, you don't understand the power of Mobile App, but you make me happy. Less developers means more money for me!
I have coded since 1987, when I was only 10 years old. I started on the Commodore 64, but piracy stopped me releasing anything since I was 18 years old. After all these years, I returned to do what I do best…coding. I love my job, I work when I want, especially at night when others sleep.
What you can do to improve your apps and produce them faster:
Server side: record statistics, sell, in-app purchases, log users, ids, visits, etc)

Manage your media: Sprite Manager, File Manager, Audio Manager, Animation Manager, Tile Manager, Controller Manager

Use Facebook,

Game Center and In-App with AntiHack

All of this code must be generic to be used everywhere…EVERYWHERE!

If you create a file that you can import into each project, you will do less coding in each game and you will become a coding rocket!
Echoes+ from Space Age to Steam Age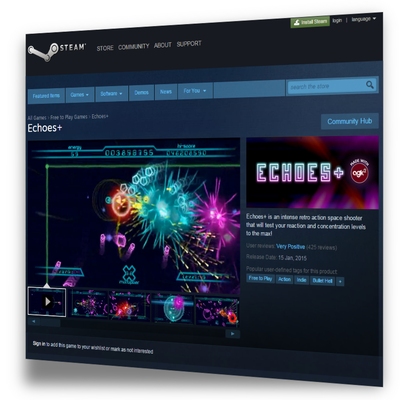 As reported in October last year, Echoes+ is now recreated using AGK, by longtime TGC community member Fog. Going from strength to strength, it is now the first AGK game to appear on Steam.
In collabaoration with The Game Creators, Valve accepted Echoes+ as a free-to-play game which promotes AGK Version 2, also available on Steam.
It even appeared on the front page in the Popular New Releases.
Echoes+ has a popularity rating on Steam of 92%, with over 400 reviews already.
"My eyes are bleeding...Just one more go...I think that says it all about this great game. Thank you for sharing it with us!" - kilb2006
FPS Creator Reloaded Development
by Dave Hawkins
In FPSC Reloaded land, progress continues at a record pace to improve on the features of V1.9.
Internally, we've sent five versions to alpha testers since the release of V1.9 and are swiftly working through any issues highlighted.
Improvements in the last few weeks include a whole array of tweaks and fixes, with special attention being paid to custom media, helping artists by improving support for the many different styles of media creation.
Other fixes have improved support for custom characters and work is nearly complete on allowing the 'Uber' character, a set of characters with the complete animation set to allow them to wield any weapon type.
The Zombies are coming!

Work continues unabated on the long awaited zombie pack with much fun being had internally being chased around by screaming zombie hoards. We'll be sending the first 'wave' of fast zombies out to our alpha testers in the next week or so, and follow that up with 20 slow zombies. Once the alpha testers have given them the green light, we'll be releasing the pack to all gold pledgers.
As a teaser you can see the 'hoard' in action below.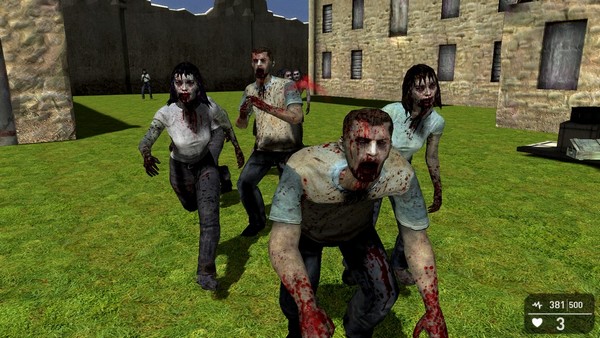 Inspired level design
As well as work on the custom characters, the Reloaded team is also putting the finishing touches to a number of demo levels, with a host of new media. Many of these levels will include full access to the FPM's and the media for you to use in your own projects.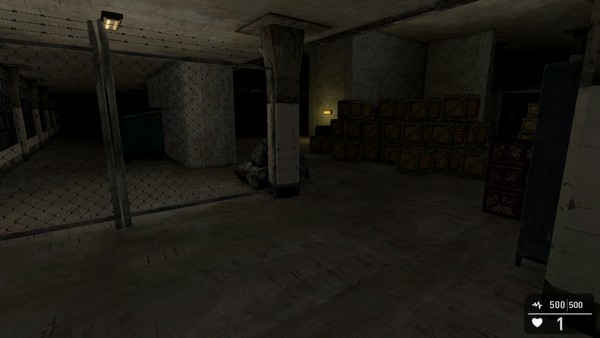 The Warehouse - one of the demo levels to be included.
Multi player Level Competition

We've been running a level creation competition for the past few weeks, looking for some inspired areans in which users of Reloaded can play their friends in. We've already had some great entries and can't wait to start the judging!
We'll be announcing the winners soon. You can find all the details and join in the discussion here.
FPSC Reloaded Blog

By Lee Bamber
Each month we update you on the progress of FPS Creator Reloaded. You'll find a running commentary on the development through the FPSC-R Blog, but right here you will find some of the selected highlights that deserve your utmost attention. You can also follow the development on the official Facebook page. Within the R&D offices here at TGC, Reloaded is our main focus and we aim to constantly develop it to make it into a world class game creation tool. With great support from people who have made pledges to the project we are able to evolve and build our best game maker ever!
January was most definitely about squashing those little, but annoying bugs that were highlighted by users over the Christmas period, and the entire team have done a stirling job, by the end of January well over 300 issues had been handled! The result is a very stable and strong release candidate that we're now testing and tweaking over these coming weeks.
Support for custom media has been extended further as proven by these great castle assets a user sent in for testing. We were all very happy with the results and a small amount of work has opened up a whole realm of extra possibilities for artists.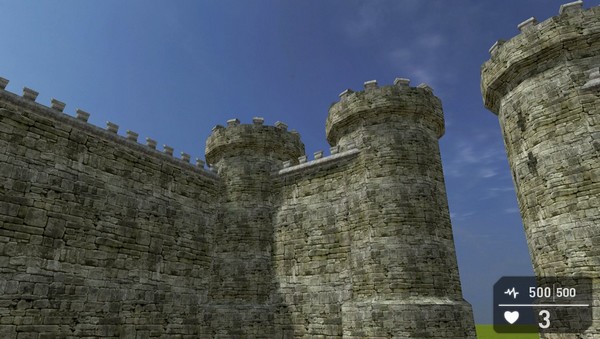 We were also able to provide everyone with a little sneek peek of some of the new Uber characters that will be making their way into Reloaded soon.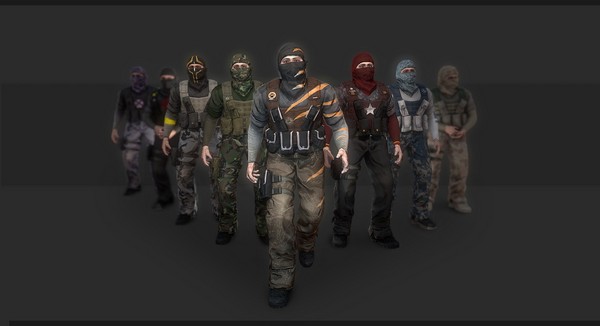 While we're on the subject of new media, We also moved some more media required to build and run the new sample games over into the main engine.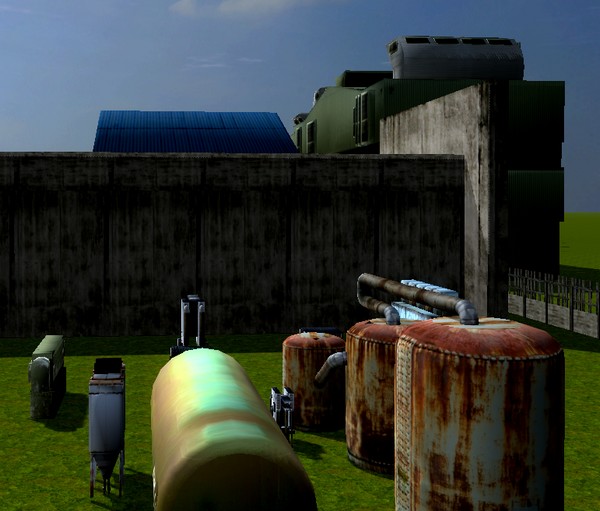 Linking nicely with this, was this preview of another of the demonstration levels; Morning
Mountain Stroll
by Wizard of ID, which features some of this media as well as some custom media by the artist himself, that he has kindly made available for free for all Reloaded backers.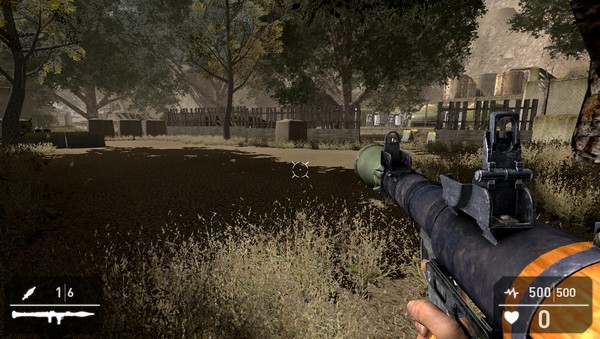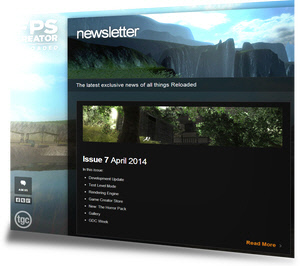 If you want more in-depth coverage of what's happening within the Reloaded development then check out the FPS Creator
Reloaded newsletter here
. With much of the core engine now running fast and smooth there will be significant updates during 2015 on this new engine.
The FPS Creator Reloaded Store
Build your worlds faster. Discover, buy and sell game-ready assets. Did you know the new Store is already loaded with over 3200 items and growing rapidly? In terms of quality, these items have been significantly overhauled and upgraded and is a testament to the amazing talent of our store artists.
Here's just few of the items available.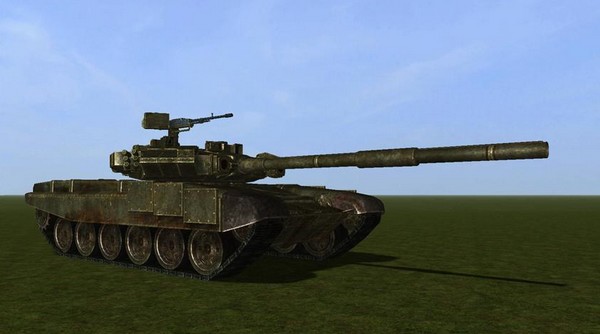 Part of the range of vehicles and other media form Nomis3D, This excellent artist's work covers many genres and will really make your levels stand out!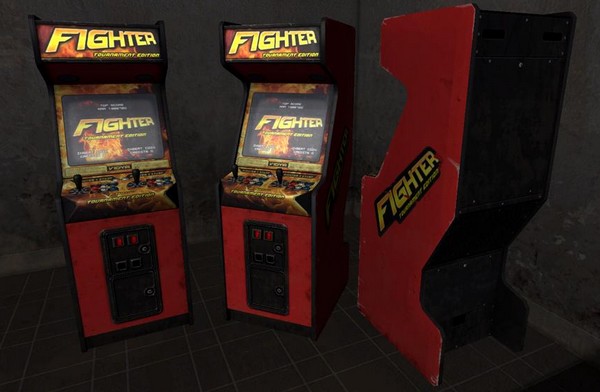 A excellent pack of retro themed video arcade cabinets by ErrantAI.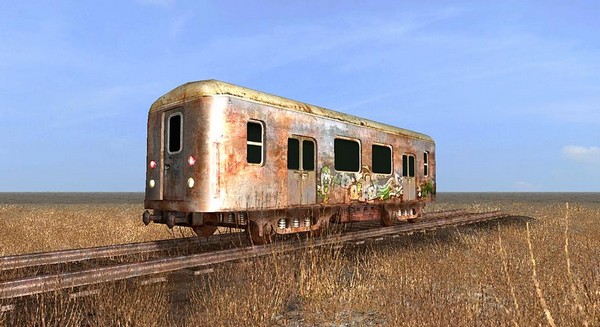 Part of a growing range of media by Gencheff. This railway pack is ideal for modern warfare or post apocalyptic games.
8-Bit Inspiration from the Past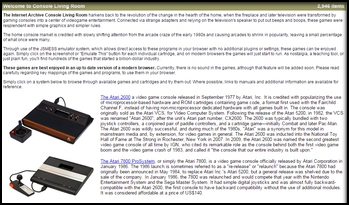 The Internet Archive now houses a huge collection of video games from the 1970s, 1980s and beyond. As well as providing a huge amount of nostalgia and reminiscing, it's a great place for inspiration. With games such as Flappy Bird cashing in on simplicity, it's good to look back and see what could be achieved with so few resources.
Take the memory requirements of a 180 x 180 image, and that is all of the memory some of these games had to run in their entirety - game logic, graphics, sound and all! This was all compacted down with minimal colours (many games had a 4-colour palette), single channel sound (one note at a time, no sound tracks) and amazing ingenuity in game logic. We can learn so much by stripping away what we take for granted.

The archive is available here, with hundreds of games to play including Pac Man and Donkey Kong. Just click on the sprite (in the '80s, a sprite was an 8x8 image and dictated the design of many games) to play and be inspired.
Keep up to date with TGC on Facebook & Google+

Join over 6,500 fans on TGC's Facebook page to keep bang up to date on news, user projects from the forums and discussions.
We're keen to hear from all our avid users and we always love to hear what you've been up to with the tools we sell. So if you have something you want to share with the wider TGC audience why not post it into the TGC Facebook page?
FPSC Reloaded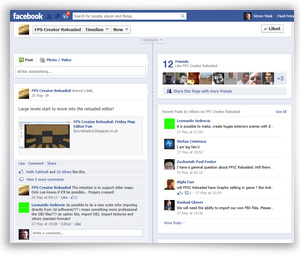 There are now over 3,900 fans discussing Reloaded on our Facebook page right now. Whether you simply want to see the update and progress news as it is released, or get involved in technical discussions about LOD, Light and lots of other topics, sign up to this page today to be part of it.
App Game Kit
You can join in the Facebook discussions in our AGK group page with over 650 members and we also have an AGK Facebook page.
Google+
You can also follow our products on Google+
The TGC YouTube Channel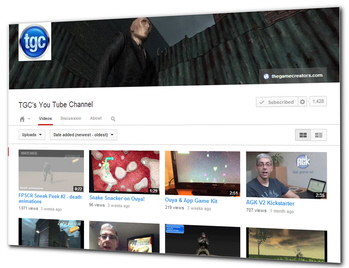 The TGC YouTube Channel is still going strong with over 4 years of content to browse and view:
Over 170 videos!
Over 900,000 views!
Over 2,700 subscribers!

Take a look at our channel now, and make sure you hit the subscribe button to stay up to date with new video uploads. Very often you'll get advanced previews of upcoming news.
---
"So long, and thanks for all the fish"
The dolphins, Hitchhiker's Guide to the Galaxy.