If you cannot view this newsletter correctly, click here to view it online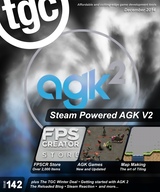 contents
(1) Editorial (2) Bumper Deal (3) AGK Development (4) Tiled Maps (5) AGK Videos (6) AGK on the Forums (7) FPSC News (8) FPSCR Store (9) Social Feeds (10) TGC Channel (11) Footer
Editorial - December 2014
The madness of Christmas seems to start earlier each year. It was coincidental that I was looking for a new electrical item at about the same time as Black Friday, which has now crept across the Atlantic and into Europe. The UK has truly embraced the concept, with the madness ensuing from midnight. Personally, I shopped from the comfort of my own home, away from the queues, or at least so I thought. You may have spotted my post on the forums, where I uploaded a picture of my virtual queue, of 173,000 people! In honour of this madness, I post my idea for a new game which you are welcome to capitalise on. It's simply called "Black Friday" and the idea is to enter and leave a shop uninjured, with varying missions from the purchase of a kettle, through to a 60" television.
Take a few minutes away from the anarchy of the season to read this month's newsletter. There's big news of the AGK Steam launch, virtual shopping in the FPSCR Store and lots more to keep you quietly occupied.
Seasons greetings, until 2015!

TGC Bumper Winter Deal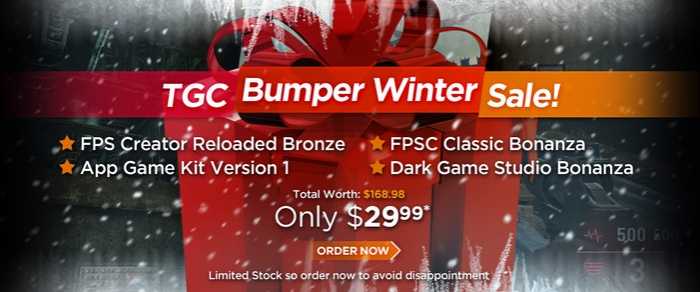 It doesn't get any better than this! Our best ever deal and ideal for a Christmas Gift!
Take a look at what is included in this pack which includes;
App Game Kit

FPS Creator Classic - Bonanza Pack

DarkBASIC Professional - Studio Bonanza

FPS Creator Reloaded Bronze Pledge
There is limited stock of this deal so act now to ensure you make a great saving.
Do you know a friend who would love to start making their own games? Why not order them this for Christmas? We now allow gifting during the checkout process.
AGK V2 hits Steam!

App Game Kit Version 2 has hit the virtual shelves of the Steam Store in the last two weeks. Within hours the Community Hub was alight with questions and a great deal of interest. It's also fantastic to see our existing community getting involved, answering questions and posting lots of assistance. We're seeing a big influx of new users and we appreciate your help and the usual warm welcome our community give them. We look forward to an even more vibrant AGK ecosphere building up around this new and important outlet.

Current owners of AGK V2 through pledging will find a Steam Key in their product page. Even if you do not install it directly from Steam, you should redeem the key in order to participate in the AGK Steam Community Hub. We encourage you to use the Hub to show off your own creations, it is another shop window for your talents.
What our AGK developers think about AGK2
We asked current AGK users to tell us why they use AGK. Here's a selection of their comments;
"I searched a long time to find the perfect engine for coding 2D games - AGK is the #1"
Easter Bunny
"AGK2 is by far the single best development software I have found for app game development.
Caps On!
"AGK2 is powerful, flexible and fun. Impressive results are quickly achieved and you can produce professional applications in a short time."
Jammy
"AGK2 is fun, easy to use and gives you a sense of achievement when you deploy on various platforms."
Scotty1973
"With AGK V2 in front of you and the fantastic TGC Community behind you, the possibilities are endless."
Tone Dialer
"Highly recommended for the Indie Games developer!"
CJB
"AGK V2 is flexible and versatile, allowing a lot of creative freedom without being too difficult."
29 Games
"After a few hours of using AGK2 I was broadcasting my coded apps to my Android tablet and my phone."
yamyam
"AGK, the easiest language a student can learn"
Daniel Foreman
"AGK is a great cross platform development tool. It allows developers to quickly optimize and compile apps."
Bob Duffy, Developer Relations Intel Corporation
"AGK is a great platform to make games. Not only is it fast to get your ideas up and running, you can also run them on multiple devices"
DVader
"AGK lets you build a project up from scratch in no time, while still giving you all the power you need to shape your true ideas."
Swissolo
The View from the Inside
Many AGK developers will not venture into Lee's FPSC Reloaded blog, which he set aside to AGK to describe the view from the inside:
"Well what a trip that was, our first ever Steam title launched into the world and what a smooth birth it was too. Admittedly I only stepped in to bask in the limelight of the release, having left the muddy murky world of having to develop it, but it seems my absence from the project probably improved the product overall :) As any expectant father would, I set up the revenue page on my browser and refreshed it every hour for a whole day (with a few hours to sleep) and it was a real buzz to watch the number increase every time I pressed the refresh key. Alas I am not permitted to reveal the figures by order of Steam HQ, and I suggest you do what Steam developers before us advised, which is come and see for yourself. If that's not an invite to finish your game projects and get it onto Steam I don't know what is :)
"We started off modestly in our very own 'Game Development' category, but listed in the New Releases chart very briefly on the day of launch. The cynic in me said to take a picture because we would not be here long, remembering the sting of all those iOS and Android apps we developed over the last few years.
"We then stumbled into the Top Sellers spot for the 'Game Development' category, probably due to the discount on offer for our launch week. It was still nice to be there and gave me a nice warm feeling, and a delusion of what it might be like to stay there a little while longer.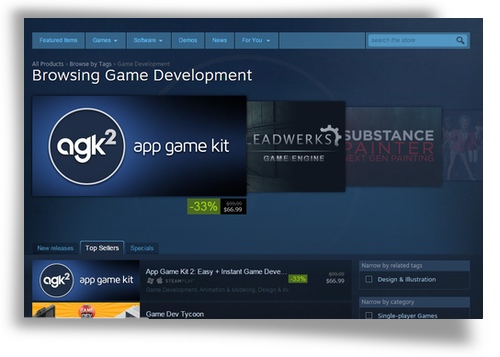 "We then surfaced and achieved top spot in all three tabs, New releases, Top Sellers AND specials, AND a first banner slot when I visited the site (for the hundredth time). Seemed like the whole world was App Game Kit 2, and life felt good. Admittedly a big puffed up fish in a very little pond, and probably only for today, but it still felt good. What made me feel a little better was what happened next.
"Our little game maker had escaped the confines of the 'Game Development' category and was now dancing about in the GENERAL News feed for the WHOLE OF STEAM, and in the number one slot too! Don't ask me how it got there, or why, or whether it lasted more than a minute, but it was great to see."

You can read the rest of Lee's story on his blog, which you'll find here.
AGK V2 Alpha 9
If you have pledged or are about to purchase Version 2 of App Game Kit you'll find Alpha version 9 in your Product Downloads page.
The Alpha 9 version is exactly the same as the Steam version. We'll be renaming the builds we release on the TGC site to make things clearer in future (for example Alpha 9 would become V2.0.9).
The fixes and enhancements in the latest build are listed here:
Added support for Amazon controller trigger buttons
Added Blackberry support
Added build option to connect directly to a device IP for when broadcasting can't detect the device
Added SetSpriteAdditionalImage command to set multiple texture stages per sprite for use with shaders
Fixed DeleteTween crashing if the tween is currently in use
Fixed arrays declared without a type but with a comment after them not appearing in the symbols list
Fixed full screen adverts sometimes getting cropped
Changed Android fragment shaders to use highp precision if device claims support, since some devices incorrectly implement mediump as lowp. This may reduce performance so you are encouraged to override it with "precision mediump float;" if you want to force it back to mediump in all cases
Fixed Mac LoadImage with the BlackToAlpha parameter set to 1 not working
Fixed misspelling in the Android location permission causing it to fail
Fixed GetSoundMaxRate on Android returning the minimum rate instead
Fixed SetRawMousePosition not working properly on Mac
Fixed #insert not being recognised by the compiler
Fixed a bug causing IsSupportedDepthTexture to not be recognised as a valid command
Fixed FacebookPostOnMyWall crashing if called when not logged in
Fixed cut/copy/paste in Mac IDE dialog boxes not working properly
Fixed cut/copy/paste in Mac and Windows IDE dialog boxes if the default key bindings are changed
Fixed Mac menu bar not updating its shortcuts if the default key bindings are changed
Fixed Android apps freezing when rotating the device after using SetScreenResolution
Fixed interpreter sometimes disconnecting from the IDE after broadcasting an app
Fixed scissor commands not working when using SetRenderToImage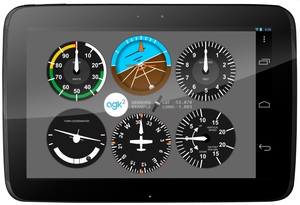 Grab the Competition Entries Source Code
There's a lot to learn from the winning competition entries announced last month. The best 10 are all included in the last Alpha 9 download, check them out when you update the application. You'll need to install the additional files to get them.
Tiled Maps
Many 2D - and orthographic - games used tiled maps. That is, the map is not one image, but an array of many tiles to make up the bigger picture. This allows for simpler creation, easy customisation, and reuse of one or more tiles across the map. Tiles are also used extensively for platformer games
A recent post in the AGK forums brought up the topic of creating tiled maps again, so here is a synopsis of the discussion and associated links.
The Tools
Firstly, you need to be able to make your game tiles. They can be made manually in a graphics application, but there are dedicated programs to aid the process.
Tiled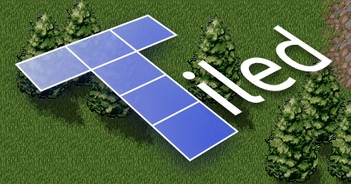 Tiled is a free and simple tile maker. It includes tools like stamp, fill and terrain brushes. Orthogonal tiles are also supported, as are overlapping maps. It exports to the TMX map file format.
Tile Studio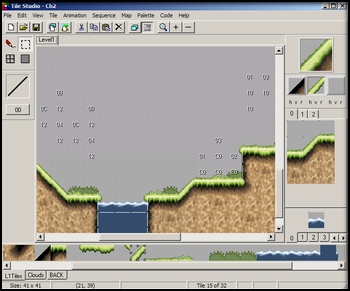 Tile Studio is a free, complete development utility for graphics of tile-based games. The application contains a bitmap editor for creating tiles and sprites and a map editor for designing level maps. You can program Tile Studio to output your maps, animation sequences, bitmaps, palettes, etc. in any format and include the output directly into your source code.
Map Loaders for AGK
There are three map-loading code-snippets available on the forums, and possibly more if you look hard enough.
TMX Map Loader by Multicoder
This is the latest code snippet posted in the aforementioned forum thread. You can find the code in the first post, ready to paste into your game.
Clonkex' Tiled TMX Loader 2.0
Another code snippet with support for a lot of features, based on Phaelax' original importer. Get the code here.
Phaelax' TMX Importer 1.2
A further branch of the original Tile Importer. This one adds further encoding options, as well as objects and object layers. The source is available here.
The choice you make will depend on the amount of complexity - or simplicity - you intend to implement.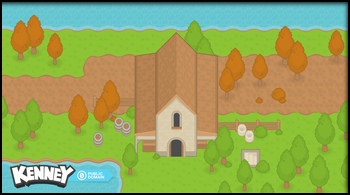 Resources
There are many pre-made tiles out there for you to buy or download for free. One popular resource is Kenney's collection of tiles, available here.
Good luck and have fun with your tiled games. Use the forum threads to feed back on the code snippets you use, and ask for advice.
AGK 2 - Getting Started
As we welcome a new squad of budding developers to the AGK University of Coding, a few more videos have been created to help you get started on your boot camp.
Installation Guide
A basic guide, explaining how to first set up AGK 2 project files.
Getting started with coding part 1 - Starting a project
A short guide demonstrating how easy it is to start a new project with App Game Kit 2
Creating a simple sprite in AGK 2
A guide demonstrating the basic use of a sprite and using variables and simple commands to move it about the screen in App Game Kit 2
How to add simple animations frames to a sprite in AGK 2
A simple video guide to adding animation frames to a sprite in App Game kit, showing just how easy great effects can be created.
AGK on the Forums
Storyline for Sudoku in Space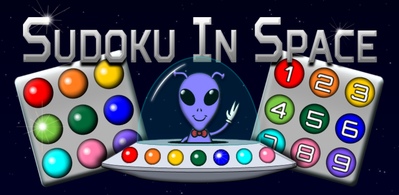 Napland Games is releasing a major update for Sudoku In Space in early December for Android, iOS, Windows, and Mac. A significant new feature is an adventure story starring Allen the Alien that players unlock as they solve puzzles. Other additions include hundreds of more free puzzles, improved game design, and more great music.

Sudoku In Space has received high praise from critics and players for its unique design and colors-only puzzles, music and sounds that enhance the space theme, and a tutorial that's easy to follow. Be sure to check it out and give them your support! http://naplandgames.com/sudokuinspace/
Fight Fortress
A great fort defender with fun graphics and cool gameplay, Fight Fortress is a defense game, where monsters are trying to destroy your fort.
To defend your fort, you can use weapons, magic spells and invoke allies that block and attack your enemies.
With this free version, the only limitation is the number of levels (150):
Order allies to defend your fort

Shoot your enemies before they reach your fort and destroy it

Earn crystals and money to increase your abilities (life, mana, speed shots, damage, wisdom, agility etc.)

Earn experience points and increase your level (for more damage, life, mana etc.)

Upgrade spells and invocations

Use weapons

Access to all enemies and bosses - 10 bosses across 150 stages.
Download to your Android device now.
V2 Feature Requests

Already at around 200 posts, this thread is the place to submit your desires for future updates to AGK. It's not a list of demands, but rather a place to suggest ideas and find out how much of the community is receptive to it. The TGC team will be keeping an eye on the thread and using it to help map out the future of the language, once the Kickstarter promises are completed.
FPSC Reloaded Blog

By Lee Bamber
Each month we update you on the progress of FPS Creator Reloaded. You'll find a running commentary on the development through the FPSC-R Blog, but right here you will find some of the selected highlights that deserve your utmost attention. You can also follow the development on the official Facebook page. Within the R&D offices here at TGC, Reloaded is our main focus and we aim to constantly develop it to make it into a world class game creation tool. With great support from people who have made pledges to the project we are able to evolve and build our best game maker ever!
Lee Bamber, FPSCR Lead Dev summarises the Nov achievements
Visuals, Visuals, Visuals
Lots of work has been done on many aspects of the visuals in FPS Creator reloaded. Here's the headlines:
Static Baked Lights. I have been experimenting with the new static baked lights (lighting baked into the scene beforehand). Ambient occlusion is still playing too big a part, but you can start to appreciate the power of a few static lights for interior scenes using pre-baking. This scene has an off-white light on the ceiling and a small static green light over the barrel to give it a radioactive look.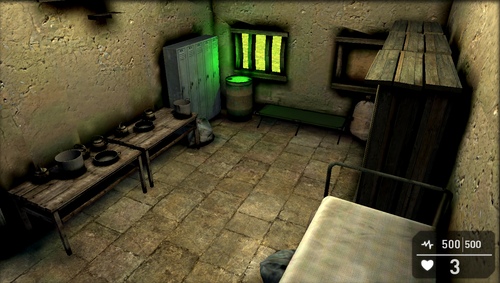 Tweaking performance of Visuals. It's important that high quality visuals perform well and don't impede gameplay. We now have the demo 'Get To The River' level runing at over 100 FPS on lowest settings. This has been achieved with some careful grass optimization and other performance improvements such as hiding duplicate static entities and adjusting the reflection system. The result is the desired colour balance, more detailed weapon display and visually improved grass alonside the performance gain.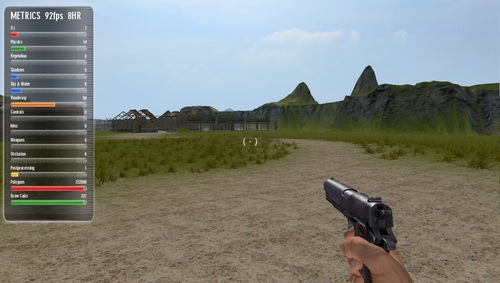 Lighting under your Direction. A major addition, inspired by one of our premier alpha testers, is control of the dynamic lighting. To this end a new script command is now available called LightSwitch.lua. It implements two new commands: HideLight(e) and ShowLight(e). You can now add a dynamic light, associate it with this script and when you get near it you can toggle the light on and off by pressing the E key. Simple stuff, but long awaited and opens the door to the rest of the dynamic lighting commands via script.
Fixing glitches. The shadow flicker issue has now been remedied removing a significant annoyance. Dynamic and static lights are working nicely together with the pre-baked scenes. Throughout these modifications, frame rate has been improved.
A Foggy Dilemma. A new slider called Fog Intensity has been added, which turns out to be pretty cool as it allows you to make atmospheric effects without washing out the distant mountains. Notice how the characters (which are not presently using Fog Intensity) are washed out, but the rest of the scene is bathed in a soft fog. (Ed. Since Lee wrote this the characters are now properly fogged.)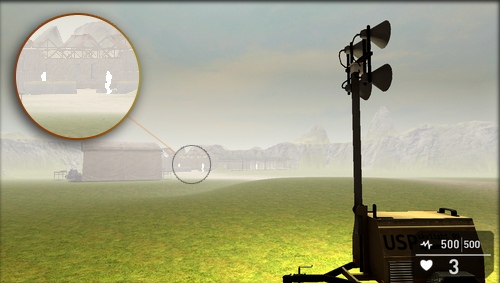 In other News...
Multiplayer is coming on leaps and bounds. We're having amazing fun testing it. You can run around and RPG your friends and see their bodies tumble away from the impact. Grab a jetpack and fly around avoiding incoming RPGs and weapon flak, then land on top of a building and snipe others as they seek to take you out with a grenade or three! We'll show a video of the multiplayer very soon.
Lee Answers your Questions
In the main
FPS Creator Reloaded Newsletter
you will find the full set of quaestions posed by the community and the answers from Lee Bamber. Here are a couple of those questions:
Q · Will there be a character creator and if so when will that be available?
A · We have a Character Creator planned, and are now in the process of creating the character model template that will form the basis of this new bolt-on feature of the product. Early hints at functionality include changing the textures, some body bolt-on's and hopefully the ability to swap out the face of the character with one of your choosing.
Q · Will Reloaded ever be a complete package or will it always be ongoing?
A · The days of boxed retail product are gone, and users now expect a certain cadence of updates with current software. We will definitely be able to deliver a shippable product in the not too distant future, which you can refer to as complete, and we will also be continuing to improve, fix and augment the product moving forward. We have many plans for expanding this software and a release on Stream is only the first step.
Q · Will Reloaded support Melee weapons?
A · Yes indeed. We are already working on a Knife weapon which will be the template weapon for a new system of melee combat detection for both the player and the enemy characters. Some enterprising users have already simulated melee using the zero bullet range trick, such as a rather mean chainsaw that's in the wings, and direct support for close quarters damage dealing will be added after the V1.009 beta build.
Q · When will V1.009 be released?
A · We're updating this answer since Lee wrote it! Release of V1.009 is close. We are hoping that this is the final week of testing and fixing. If things go well then we'll release in the second week of December but we retain the right to keep it underwraps if we're still needing time to make it a solid and stable release.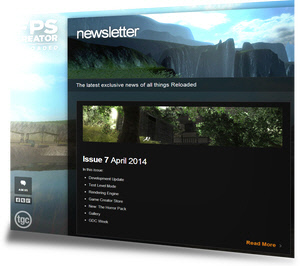 Reloaded Discount Deal
Pledge Now to support FPSC Reloaded development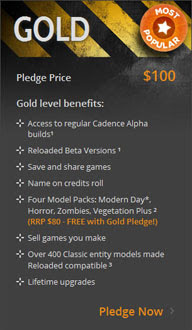 Crowd funding provides a way for Indie Developers like The Games Creators to pre-fund their projects. It's also a thumbs up from customers to show the developers the market wants and needs their new idea.
By pledging you are helping The Games Creators to build the most exciting and revolutionary game creator. With your pledging support you can strengthen our team as we build this amazing technology. You are essentially becoming part of our family as you share in it's development and ultimate production.
All pledge levels grant the backer access to all betas, with other bonuses, including free model packs valued at between $18 and $39 for Gold and Silver pledge levels.

So, if you'd like to help fund Reloaded development and join us on our journey, please support us with a pledge. The most popular and best value deal is the Gold level pledge, but you can find details of all pledge levels here.
Refer a Friend, Own a Jet Pack!
FPS Creator Reloaded is now airborne! You can own the Jet Pack that inspired this additional capability simply by referring a friend to pledge to the project. They'll also get the Jet Pack, along with four additional textures worth a total of $30USD.

Click here
to go to the invitation page, and play the video below to see the first flight of the Jet Pack.
The FPS Creator Reloaded Store
Did you know the new Store is already loaded with other 2,000 items? In terms of quality, these items have been significantly overhauled and upgraded. Here's a few to whet your appetite.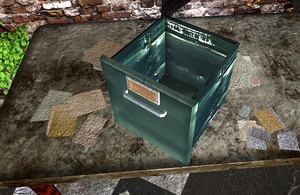 As always, there are a selection of free assets to download and include in your games. They may be free, but they still meet our guidelines for the highest quality.
This example is an old filing cabinet drawer, perhaps from an abandoned office block. Click on the images in this section to view the items in the Store.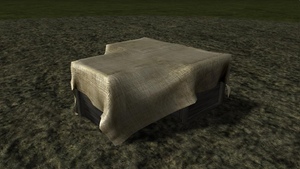 Are you getting weary of crate-riddled scenes? Cover some of them up with this set of 5 canvas covered crates. It also acts as a good platform for weapons, ammunition and other collectables.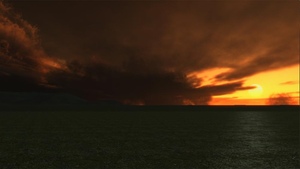 This high quality skybox for FPSC Reloaded is delivered in 2048 x 2048 resolution, ready to complete your masterpiece.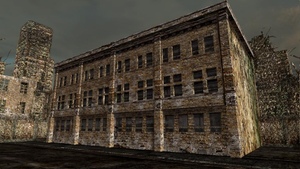 Pack to create ruined city scenes, contains ruined buildings,wall,rubble and road sections. Animated dynamic destructive building and road which can be triggered by sniping placed explosives or an RPG hit, or you can script to trigger for your own needs.
Keep up to date with TGC on Facebook & Google+

Join over 6,500 fans on TGC's Facebook page to keep bang up to date on news, user projects from the forums and discussions.
We're keen to hear from all our avid users and we always love to hear what you've been up to with the tools we sell. So if you have something you want to share with the wider TGC audience why not post it into the TGC Facebook page?
FPSC Reloaded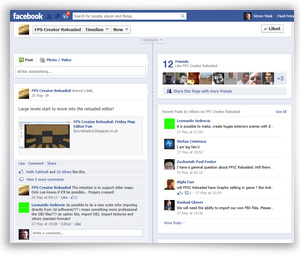 There are now over 3,800 fans discussing Reloaded on our Facebook page right now. Whether you simply want to see the update and progress news as it is released, or get involved in technical discussions about LOD, Light and lots of other topics, sign up to this page today to be part of it.
App Game Kit
You can join in the Facebook discussions in our AGK group page with over 630 members and we have a new AGK Facebook page.
Google+
You can also follow our products on Google+
The TGC YouTube Channel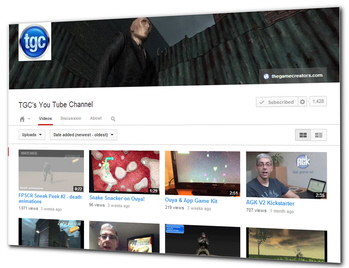 Have you visited the TGC YouTube Channel yet? You may be surprised:
Over 160 videos!
Over 875,000 views!
Over 2,500 subscribers!

Take a look at our channel now, and make sure you hit the subscribe button to stay up to date with new video uploads. Very often you'll get advanced previews of upcoming news.
Footer
"Audentes Fortuna Juvat" (Fortune Favours the Brave)
Various