If you cannot view this newsletter correctly, click here to view it online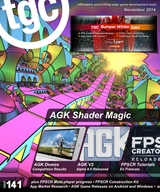 This newsletter is a few days later than usual, but with good reason. We held back to announce the winners of the extremely rapid and extremely productive AGK Competition. Once again it inspired the community to get coding and in turn, you inspired us with your entries. Catch up with all of the entries and winners later in the newsletter.
As Christmas approaches (yes, really!) The Game Creators have another amazing bundle to offer you, or perhaps encourage your family to give to you as an early present. The season usually affords a little free time to create great things, so take advantage today! You might also wish to use this deal to gift it to a friend who you think could become the next gaming great!
Until next time,

contents
(1) Bumper Deal (2) AGK Competition (3) AGK Development (4) Shadertoy (5) App Markets (6) FPSC News (7) FPSCR en Francais (8) Pre-Alpha Previews (9) Social Feeds (10) TGC Channel (11) Footer
TGC Bumper Winter Deal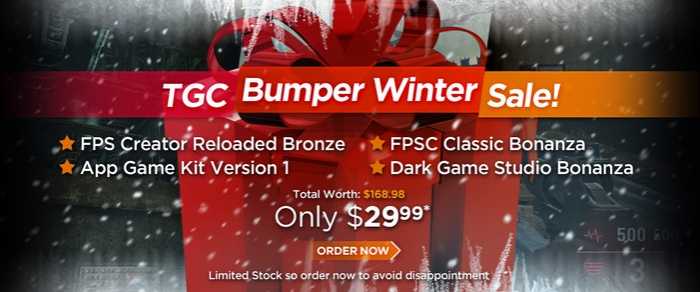 It doesn't get any better than this! Our best ever deal
Take a look at what is included in this pack which includes;
App Game Kit

FPS Creator Classic - Bonanza Pack

DarkBASIC Professional - Studio Bonanza

FPS Creator Reloaded Bronze Pledge
There is limited stock of this deal so act now to ensure you make a great saving.
Do you know a friend who would love to start making their own games? Why not order them this for Christmas? We now allow gifting during the checkout process.
AGK Competition - Results
On October 14th we published the details of a quickfire coding competition. By the end of October we had over twenty entries! This is a testament not only to the rapid development possible in AGK, but also to the loyal following who have yet again seized on the opportunity to push their own skills and produce great things.
The prizes are:
What did we ask for? We're ready to showcase AGK V2 to the world through the Steam Store. We needed up to ten demos of what can be achieved with the latest version of AGK.
We didn't need highly complex games and apps. The demos needed to be easily picked up by beginners and understood so that in no time at all they can be experiencing the great things AGK V2 can do. We were looking for all aspects of AGK including:
Sensors - they're already a great feature before you get started on the code. What can you do to showcase them?

Render to Image - it's simple to do, but how can you incorporate it into an awesome demo?

Shaders - well, the sky is the limit, let your imagination run wild.
The entries were judged on their ability to demonstrate the various aspects of AGK, and the ability to learn from them. There are numerous entries that might have won in a competition with different criteria, so don't be disheartened if you didn't quite make it this time around.
And the winners are...
The top 3 entries win an Acer Iconia Tablet and $50 each:
1st
VIRTUAL REALITY
by Christopher Chetwood
2nd
PSYCHEDELIC PAINTER
by Matt Pilz
3rd
DEMO LABYRINTH
by Jan Bögemann
Congratulations on some astounding entries!
The following runners up also receive $50 each for some more great demos:
4th
PUZZLE ME THIS
by Sean Regan
5th
SPACE DEMO
by Matthew Hoban
6th
FLOATING SQUARES
by Magnus Esko
8th
PILOT SIX PACK
by Stephan Guenther
9th
BAWS
by Craig "Jammy"
10th
RENDER 2D TO 3D
by Steven Holding
Congratulations to all of our winners, you will be contacted shortly regarding your prizes.
The winning demos will be added to the example files that come with AGK2 in the next build.
Here is a rundown of the entries, each one of them a valuable contribution in their own right:
by Terry Schwarz
A simple Poker game of two rounds. A very good demo of making card games with AGK, and could easily be converted to a full game.
Baws
by Craig "Jammy"
A great looking mini game, shows off the physics of AGK very well.
by Christopher Chetwood
A simple but effective demonstration of 2D shadow effects in a small amount of code.
by Magnus Esko
A focused demo of a small number of concepts - tilting and multitouch, along with Render to Image for a nice visual effect.
by Sebastian Pauli
Shows how a simple game can be made in under 400 lines of code. The concepts covered are present in most games (movement, scoring, increasing difficulty).
GPS
by Craig "Jammy"
A good demo of GPS sensors, and use of HTTP commands to leverage the Google map APIs.
by Christopher Chetwood
Simple demonstration of tilt sensors on the device, with a small amount of code for beginners to comprehend.
by Jan Bögemann
Comprehensive demo with tilting, swiping, shaders and other features. Very well commented, with almost every line is explained.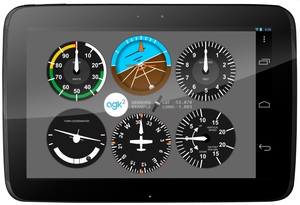 by Stephan Guenther
A well presented demo based on real-life requirements. A full suite of sensors working in tandem.
by Jim Hawkins
Illustrates how simple techniques can be used to great effect. The principles could be applied to accelerating/decelerating vehicles for example.
by Matt Pilz
A well presented and highly interactive demo that demonstrates many aspects of AGK, from graphics to coding principles and much more inbetween.
by Sigtrygg
A fun little game that demonstrates use of physics in AGK to add movement to the scene.
by Sean Regan
A full puzzle game demonstrating gyro sensors (shaking) and screen swiping. Comprehensively documented code for all of the peripheral functions around the game.
by Steven Holding
A simple but effective demonstration of applying the screen to an image and presenting a 3D variation. It also includes simple physics in a small amount of code.
by Christopher Chetwood
A set of nice demonstrations of how easily a scene can be changed with the introduction of shaders.
by Sean Mann
A colourful interactive demonstration of sensors wrapped up in a mini game. Includes additional logic to implement a challenging aspect.
by Eric May
This game-like demo demonstrates flocking of enemies towards the player, and joystick controls.
by Eric Canales
A nice demo of physics forces on objects in AGK, including gravitational pull.
by Matthew Hoban
Demo of shaders used in an extreme fashion, with a very detailed account of the process, including tips for using image-creation software.
by David Poole
A smart demo of what can be achieved with minimal media and the physics functionality of AGK.
by Christopher Chetwood
An amazing demo of key features of AGK. From the 3D scene to gyro sensors, network connectivity and real-world application of the mathematical functions available in the language.
AGK V2 Alpha 8.0

If you have pledged or are about to pledge to Version 2 of App Game Kit you'll find we are now at Alpha version 8.0. Once again there are a number of fixes, and a number of new and enhanced features:
Added Alt key code for Windows

Added #option_explicit and #insert to the help files

Added Spine commands to get animated bone positions in world coordinates

Added Spine commands to get skeleton root position

Added CreateFullscreenAdvert command to display AdMob interstitial ads

Added SetChartboostDetails to allow the advert commands to display Chartboost ads (currently fullscreen only)

Added support for using "#version <versionnum>" at the beginning of Windows shaders to allow higher versions

Added GetRawGPSAltitude to all platforms

Added XInput support for XBox 360 controllers on Windows

Added GetRawJoystickConnected to detect if a joystick was removed or reconnected

Added SetWindowSize to change window size and fullscreen modes instead

Added install dialog to IDE Tools menu to allow manual installation of projects and tier 2 files

Added SetCameraAspect to change the aspect ratio when rendering 3D

Allowed array default values to span muiltiple lines

Changed SetScreenResolution to only accept width and height

Changed default shader version on Windows to GLSL 110 to support OpenGL 2.0 cards such as old Intel integrated graphics

Changed iOS magnet sensor commands to use the calibrated magnetic field

Rearranged joystick button numbers on Mac so they match Windows and Android

Opening configuration files no longer adds them to the current project

IDE now remembers the order of tabs within a project

When opening a project the IDE now opens files at last known cursor position
The following issues are now fixed:
Fixed a crash when deleting an image assigned to a cloned sprite

Fixed local function variables not being assigned their default value

Fixed float variables not accepting a default integer value

Fixed broadcasting sometimes not sending updated files if the device time was ahead of the host time

Fixed DeleteTween causing a crash on Android

Fixed a crash when returning an array from a function that was declared inside that function

Fixed global variables defined in functions with AS in a comma separated list creating both a global and local variable

Fixed SetBorderColor not working properly on Mac

Fixed using Exit, Continue, or ExitFunction inside a Case statement causing stack corruption

Fixed Spine sprites sometimes disappearing when near the edge of the screen

Removed the ability to use Goto and labels inside select statements due to stack corruption

Creating a new project with a path that doesn't end in a slash no longer causes an error when compiling
News from the AGK Forums
SkyDroids
After playing with TGC compilers for more than a decade I just released my first AGK Game on Android Play Store!
JRNTexas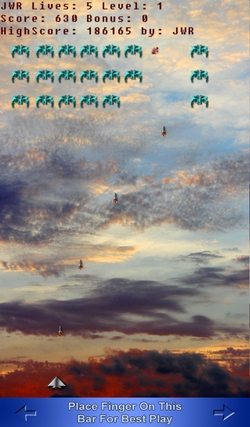 You can buy JRNTexas' Space-invader styled SkyDroids from the Google Play Store now. As many of thje forum members will attest, publishing your first game is a great achievement, and usually the start of many more publications.
Podcasting and Rave Reviews
We just got featured in the #1 spot on SlideME. We've already had over 700 downloads ... in the past 10 days!
Naphier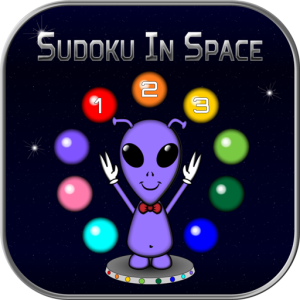 Naphier (Sean Mann) has recently found enhanced downloads and sales through a serious marketing effort which is now starting to reap rewards. You can hear Sean being interviewed in this podcast, and read a great review here. We've also got an exerpt from Sean's blog later in the newsletter, it is encouraging for all AGK developers.
Refender Released

After a few teasers over the last 18 months, nz0 has completed and released Refender. Keeping to the original look, feel and adrenalin rush of Defender, this has attractes interest from the original designers at Williams Electronics, and will ultimately make its way into cabinet versions of the game with customised controllers. Download it here.
Shadertoy Meets AGK
This month's cover image is a shader called Fractal Cartoon by Kali. It was released into the public domain and has been modified over the years to become what it is today. This particular version was taken from a Shader-sharing site called Shadertoy.
Forum member Jukuma has taken this fantastic shader and demonstrated how it can be run from AGK.

The forum thread containing the compiled project, AGK source code and shader files can be found here. We'd love to see what else you can do with other Shadertoy demos and other shaders in your games.
Adventures in Alternative App Markets
by Sean Mann
This past month I have been focusing a lot on getting our latest game, Sudoku In Space, on as many app markets as possible. I found this great article on Gamasutra, by Arturs Sosins, detailing his experience and stats for downloads on a variety of Android markets. And I realized we were really missing out on a lot of possible exposure.
Unfortunately, our installs have not yet been as many as what Arturs experienced, but his game, Sushi The Fish, is casual-arcade whereas Sudoku In Space is a more niche puzzle game (although we're trying to push it into the casual category more). I'll make a full report of our experience in January when we have enough numbers to make comparison to Arturs' numbers and I'll be using Google Play downloads as a baseline factor so that we can do a more meaningful comparison.
We found that most of the stores do not offer an experience for the developer that is anything near what Google Play offers, but a couple come close
Sean Mann
We found that most of the stores do not offer an experience for the developer that is anything near what Google Play offers, but a couple come close. We started working on the list from the top. One of our main challenges is that Sudoku In Space offers IAP through Google Play and only some of these stores will allow it, but most will not consider your game for promotion if you do so. I tinkered around with AGK's java setup and found that it would take me a long time to set up OpenIAB (an alternative SDK that allows you to easily set up IAP for a bunch of different stores). I asked the folks at TGC if this were a possibility anytime in the future and they hope to look at it after v2 is completed. Since I couldn't wait that long we decided to release 2 versions of Sudoku In Space on the stores, paid and free with ads. Currently we only offer ad removal as an IAP, but very soon we are expanding the game to have more puzzle packs which will require more IAP and similarly drive up the price of the paid versions.
Now we've got 2 versions of the app and I've weeded out the stores that fail to give any response to emails. Next up we needed to determine how to get paid and set up payment info. This weeded out a few more stores for us because, apparently, our bank doesn't accept international wire transfers (who would have thought?).
Stores unresponsive to emails:
Vodafone, AndroidPit, 1Mobile, Camangi, Andapponline
Stores that only pay through international wire transfer: Vodafone, T-store, Yandex
The biggest losses are Yandex and T-Store which are both fairly large markets and we were hoping to use T-Store to help us with our distribution in S.Korea as the app is fully translated into Korean. T-Store was very responsive to emails.
With a few stores removed from the list and information on how to deep link into their market apps we started down the road of getting the app up on as many stores as possible. First we started with GetJar and Opera because they were very easy. The websites are barebones for the developer portals, but they work. So far our download experience on both sites has not been great. The sites report any clicks to the download links. So what we thought were 100s of downloads turned into very few actual installs. I can't explain this. Our permissions are bare minimum and the APK is under 15MB. So why would folks click to download but never install? Unfortunately, we'll never know, but it appears GetJar and Opera get a lot of junk clicks. I'm glad I got these two first because I was not using unique app IDs for Chartboost for each store so that we could accurately track installs. I quickly factored that in so we had more accurate analytics, but I left GetJar and Opera builds alone for the sake of time and Google Play provides enough information so I can compare later.

The initial results from this venture can be found in the full version of this blog on the Napland Games website. It includes brief reviews of the ease of use, cooperation of the site owners and the early download numbers.
FPSC Reloaded Blog

By Lee Bamber
Each month we update you on the progress of FPS Creator Reloaded. You'll find a running commentary on the development through the FPSC-R Blog, but right here you will find some of the selected highlights that deserve your utmost attention. You can also follow the development on the official Facebook page. Within the R&D offices here at TGC, Reloaded is our main focus and we aim to constantly develop it to make it into a world class game creation tool. With great support from people who have made pledges to the project we are able to evolve and build our best game maker ever!
Lee Bamber, FPS Creator Reloaded Developer summarises the October achievements for himself and the FPSCR development team.
Material Pleasures
Have you experienced the thrill of walking across gravel to the sound of soft grass? Or perhaps the pleasure of shooting a wooden crate to watch it dent like a wall of steel? No? In that case, it's important that we fixed the material system to make sure this doesn't happen. We can now shoot different materials and get different decal animations and sounds. When you walk on wood, metal, stone or other material the correct footfall is heard. Now when you walk on the roof, no more grass sounds!
Lighting Explained
For those mildly interested in how a scene is lit and textured, here's a very brief overview of the process, with some of the challenges we have faced thrown into the mix. The aim is to get all elements such as static entities, dynamic entities, terrain, characters and other bits use the same calculation for both ambience and direct sun lighting.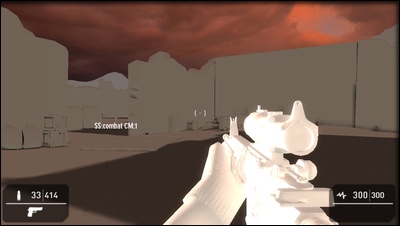 This first image illustrates the ambient lighting. Put simply, it shows all of the objects and scenery using a uniform level and spread of light. This is the basis of our lighting process.
There are some shadows here, but these can be ignored for the purposes of this explanation.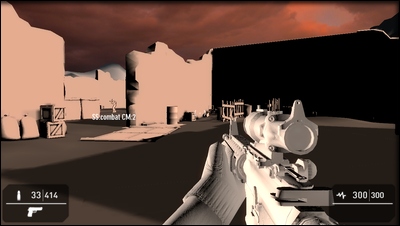 Next, we apply the direct lighting. In this shot, all ambience has been removed so you can see the surfaces that have a direct line of sight to the sun (again, shadows factored in as they work in a slightly different way).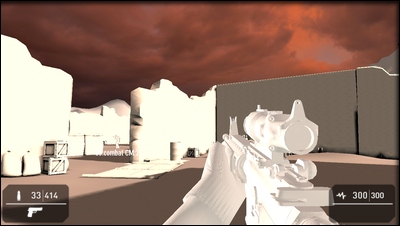 The two maps are then effectively superimposed to give the final plan for texturing and lighting the scene.
The final composite which adds the two together is the white matt surface on which the texture colour is eventually applied. The weapon is deliberately brighter as the textures on the guns are a little darker and has additional visual effects such as cube mapping applied which tends to lower the overall luminescence of the weapon models.
Below is the final lit and textured scene.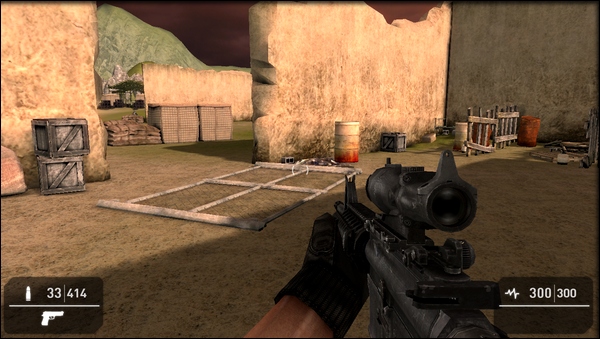 Team Talk
Not every day is a development day. It's very important when working as a team to take time out to ensure everyone is working towards the same goals, integration is seamless, and knowledge is shared.
One such session was the big Multiplayer Integration chat day, in which I was educated in how the multiplayer side is working and Ravey was educated in how the single player resource engine works. From this we can create an integration plan that reduces mistakes and increases productivity, resulting in a quick turnaround for seeing multiplayer in the main engine. It took eight hours but we covered all the bases and the plan is now in place.
Simon continues apace with the Construction Kit and integration has already begun, which should result in the buildings being consolidated on the spot, meaning a building that takes thousands of objects to represent turns into one object comprising just a few meshes and possibly a single texture set.
Also Rick presented a critique of the latest
Escape Demo
level, and could now only find two things to highlight, so progress is positive! The enemies are not aggressive enough so hopefully will find some time to turn up the volume on their hate-o-meter.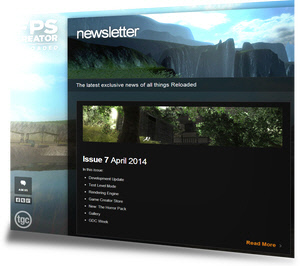 If the enemy AI does not present a great battle experience, we will suffer for it when the product gets released and we have the time to get it right, so we should make it a priority.
Reloaded Discount Deal
Pledge Now to support FPSC Reloaded development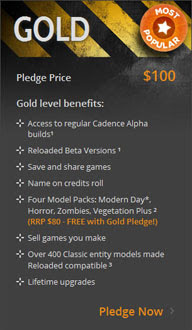 Crowd funding provides a way for Indie Developers like The Games Creators to pre-fund their projects. It's also a thumbs up from customers to show the developers the market wants and needs their new idea.
By pledging you are helping The Games Creators to build the most exciting and revolutionary game creator. With your pledging support you can strengthen our team as we build this amazing technology. You are essentially becoming part of our family as you share in it's development and ultimate production.
All pledge levels grant the backer access to all betas, with other bonuses, including free model packs valued at between $18 and $39 for Gold and Silver pledge levels.

So, if you'd like to help fund Reloaded development and join us on our journey, please support us with a pledge. The most popular and best value deal is the Gold level pledge, but you can find details of all pledge levels here.
Refer a Friend, Own a Jet Pack!
FPS Creator Reloaded is now airborne! You can own the Jet Pack that inspired this additional capability simply by referring a friend to pledge to the project. They'll also get the Jet Pack, along with four additional textures worth a total of $30USD.

Click here
to go to the invitation page, and play the video below to see the first flight of the Jet Pack.
FPSCR Tutoriels en Franšais
The collection of FPS Creator Reloaded videos continues to grow, and this month we have two French-language tutorials for our French speaking developers. You can of course subscribe to our channel and get immediate updates; the details are towards the end of the newsletter.
Tutoriel L'installation
Un tutoriel expliquant comment installer FPSC Reloaded.
(A tutorial showing how to install FPS Creator Reloaded)
Tutoriel Le Bases
Un guide de base à des entités ajoutant
(A basic guide to adding entities)
Sneak Peeks at Pre-Alpha Features
We generally keep pre-alpha features under wraps until they are in a presentable state, as it is all too easy to give the wrong impression in the early development stages. However we currently have two features that we'd like to share with you as they both provide some exciting insights into what to expect in upcoming alpha releases.
Reloaded Multi-player Test
Steam-driven Multiplayer!
This video shows our work-in-progress mullti-player prototype. Via Steam a user opens a lobby to host a game, three players join and battle commences. We develop as a prototype first so we can quickly add all the events and triggers we need for the main software. Once this all works we will transfer it to the main Reloaded project.
Construction Kit Update
Simple building construction in minutes
See how the newly revised construction kit makes it easy for you to create buildings and scenery in your FPS games.
Keep up to date with TGC on Facebook & Google+

Join almost 6,500 fans on TGC's Facebook page to keep bang up to date on news, user projects from the forums and discussions.
We're keen to hear from all our avid users and we always love to hear what you've been up to with the tools we sell. So if you have something you want to share with the wider TGC audience why not post it into the TGC Facebook page?
FPSC Reloaded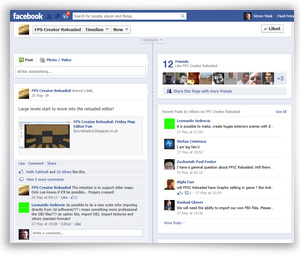 There are now over 3,800 fans discussing Reloaded on our Facebook page right now. Whether you simply want to see the update and progress news as it is released, or get involved in technical discussions about LOD, Light and lots of other topics, sign up to this page today to be part of it.
App Game Kit
You can join in the Facebook discussions in our AGK group page with over 620 members and we have a new AGK Facebook page.
Google+
You can also follow our products on Google+
The TGC YouTube Channel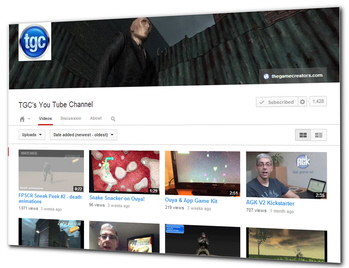 Have you visited the TGC YouTube Channel yet? You may be surprised:
Over 160 videos!
Over 850,000 views!
Over 2,500 subscribers!

Take a look at our channel now, and make sure you hit the subscribe button to stay up to date with new video uploads. Very often you'll get advanced previews of upcoming news.
Footer
"Never compete with someone who has nothing to lose"
Baltasar Gracián