If you cannot view this newsletter correctly, click here to view it online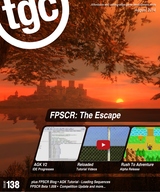 It's holiday season once again for many people around the globe. The Brits go in search of scorching sun, the Nordic dwellers head to the mountains and lakes for a month or more, and the Antipodeans tend to make the most of their own beautiful countries. Whatever your plans, taking a short break from your development activities is a good idea, and recharging your creative cells will be advantageous in the long run. There's just two things to remember, apart from your passport and toothbrush of course. Firstly, make sure you are backed up and have made note of where you left off; you don't want to spend the first week back trying to unravel the mess you left behind. Secondly, take your notebook and camera phone with you. You never know when you'll get your next piece of inspiration, or indeed what you will see along the way to trigger the inspiration.
We'll leave you with some light reading for the holiday period. Take a casual browse through the updates to FPS Creator Reloaded and AGK Version 2. There's a leisurely tutorial on ensuring your players don't get bored waiting for your games to load. We have the highlights of an epic AGK adventure, and a library of videos to keep you entertained.
Until next time,

contents
(1) FPSCR 1.008 (2) The Escape (3) FPSC News (4) FPSCR Competition (5) FPSCR Videos (6) AGK Development (7) Animations & Assets (8) Rush to Adventure (9) Medusa FPSCR (10) TGC Channel (11) Social Feeds
FPS Creator Reloaded hits Beta 1.008
The development road can be a long and winding one, with many bumps along the way. Beta 1.008 is one of those which is less demanding on the suspension springs, and the boot is packed with visually pleasing updates. We have lots of exciting additions like Ragdoll deaths, Rocket Launchers and Uzi wielding enemies! Make sure you check the list to better understand how we've improved Reloaded once more.
For our pledgers, the latest update can be found in your Product History.
Rendering Engine
Brighter shaders for improved visuals.

Support for illumination texture maps for entities & characters.
Characters
New Rocket Man and Uzi characters.

Physics capsule added so characters can walk over static items.

You can now spawn characters during the game.

Ragdoll deaths.
A.I.
Weapons
New physics group added allowing shooting through fences.

RPG Weapon added.

Running with weapon animations improved.

Weapon sounds improved.

Explodable barrels.

New particle system added.
Music
Editor
Test Level Settings
Brightness and Contrast sliders added.

Save Stand Alone Games

Menu system added.

Files can be encrypted, protecting the game media.
LUA
Entity "If Used" now works.

All scripts can now include an _exit function (for example MySoldier_exit() ).

SetEntityHealth(e,health) - can be used to set the health of an entity. If the new health is 0 then it will be destroyed.

SetPlayerHealth(health) - assign a new health value to the player (total health).

AddPlayerHealth(health) - adds additional health to the player

CollisionOff(e) - turn off physics collision for this entity (handy for a custom entity perhaps dying, where you want to turn off physics so they don't move and play a death animation)

CollisionOn(e) - restore collision for this entity

SetPosition(e,x,y,z) - sets the absolute position of an entity, use only on entities with physics off (Note: If GravityOff(e) has not been called, positioned object will still align themselves with the terrain floor)

SetRotation(e,x,y,z) - set the absolute rotation of an entity. Only for use on a non physics entity.

ResetPosition(e,x,y,z) - reposition a physics entity

GravityOff(e) - turns off non physics entities snapping to the terrain floor, handy to call inside _init

GravityOn(e) - turns on non physics entities snapping to the terrain floor

HurtPlayer(e,v) - injure the player, great for custom objects

HideTerrain() - stop the terrain drawing

ShowTerrain() - show the terrain again

HideWater() - stop water from being drawn

ShowWater() - show water again
Miscellaneous fixes
Memory saving optimisations made

Waypoint issues fixed

Painting at edge of map issues fixed

Terrain texture sliding and corrupting over long save and loads fixed

Music system document added to docs folder
The Escape - FPSCR Demo Game

The Game Creators have released a great demo to showcase the current features of FPS Creator Reloaded. As progress continues towards the fully fledged product, this game serves to show the quality level already possible and a taste of what you will be able to produce.
If you haven't already, download the free demo game now. we'd love to
hear your feedback
so that we can make a great game making tool even better.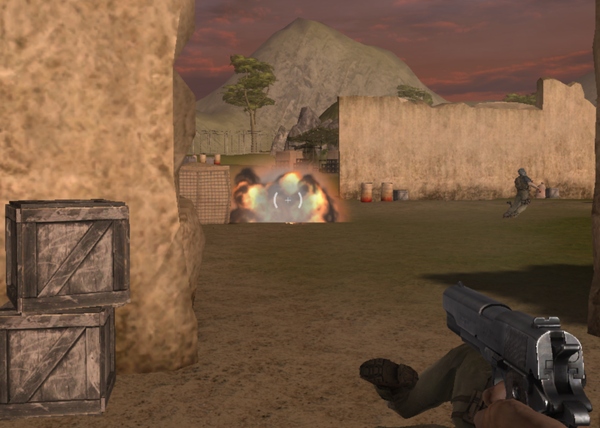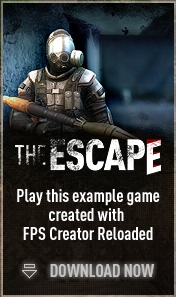 De
mo System Requirements
Minimum
1GB Video Card (Minimum Shader Model 2.0)
2GB System Memory
1GB of Hard Drive Space Available
Recommended
2GB Video Card (Shader Model 3.0 or above)
2GB System Memory
1GB of Hard Drive Space Available
What's next for The Escape?
Alongside our community getting a test of the progress to date, we've learned plenty from the feedback. This is an opportunity to fine tune FPS Creator Reloaded from real-world experience, which is more valuable than lab-testing small sectors.
The first tweak to go in the demo is the brightness and contrast adjustment, and when you put the old and new renders side by side you can see how much nicer the new one is. There is unlikely to be any debate here, and we have also added slider controls so you can adjust these settings to suit your own project levels.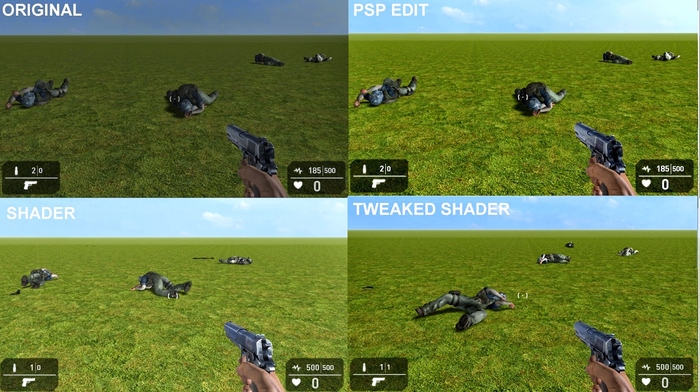 The new settings values were achieved by taking a screenshot, putting into PSP and tweaking it until the balance was right. These were then migrated into a post process shader to achieve the same graphical modifications, but this time in real-time.
The UZI and SHOTGUN characters will be added to the next version of the demo as well to really mix things up, and some additional engine features will no doubt come from implementing those and getting the AI just right.
At the same time as making these engine improvements, we will also be recruiting a top artist to help blend in the demo scenery for a more pleasing layout.
While Lee works on the engine and visual elements, Dave and Simon will be working on other key areas of the product.
Our hope is that we can put out another demo at the end of this enhancement work that will not only improve the perception of the product, but provide additional features for the next major build. It will also mean you will get extra assets, more in-game features and a much nicer end result when you have finished your masterpiece.
FPSC Reloaded Blog

By Lee Bamber
Each month we'll update you on the progress of FPS Creator Reloaded. You will find a running commentary on the development through the FPSC-R Blog, but right here you will find some of the selected highlights that deserve your utmost attention. You can also follow the development on the official Facebook page. Within the R&D offices here at TGC, Reloaded is our main focus and we aim to constantly develop it to make it into a world class game creation tool. With great support from people who have made pledges to the project we are able to evolve and build our best game maker ever!
Lee Bamber, FPS Creator Reloaded Developer summarises the July achievements for himself and the FPSCR development team.
July was the month when we released The Escape, a demo level to allow everyone to get a taste of FPS Creator Relaoded. As the community played and fed back on their experiences, the team continued to move forward and onwards.
New Characters
Take a look at this image for a preview of the next band of characters to join the FPSC Reloaded brigade of bandits and baddies. It's safe to say you wouldn't want to meet them in full daylight, never mind down a dark alley.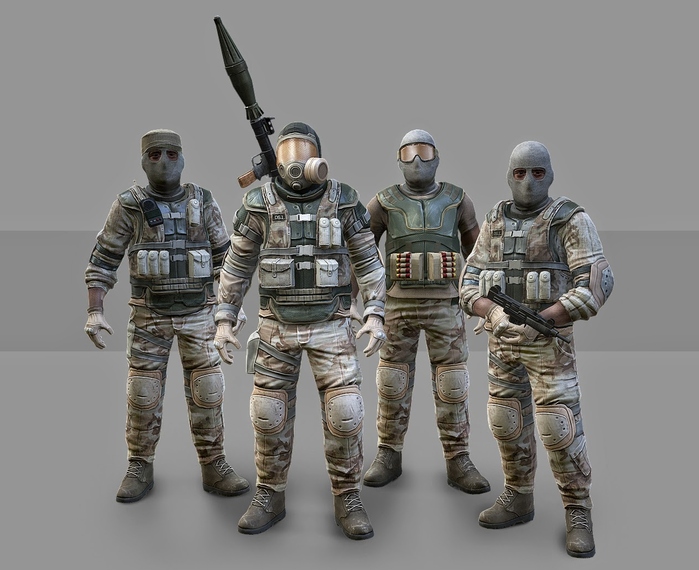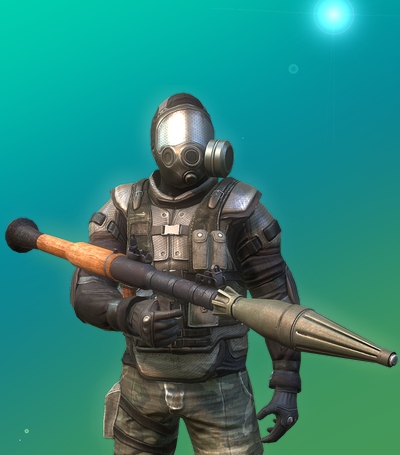 Here's another close up shot for you to take in the detail to be found in these character skins.
From the ammo pockets to the gloves, nothing has been left without the most minute of textures and shaders to bring them to life.
This chap is Rocket Man, not someone you want to stand infront of for too long! With Reloaded you can easily place an army of these guys down and make life the player of your games pure hell!
FPSCR - The Outtakes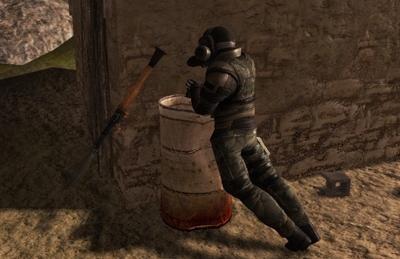 Sometimes things happen that you couldn't orchestrate even if you tried. Most bugs are incredibly dull, but every now and then one or two will manifest themselves onscreen much to the amusement of the team. Here is a small selection of those moments.
Firstly, take a look at this guy, he's obviously had a hard day defending the fortress, and just needs a couple of minutes rest for his feet.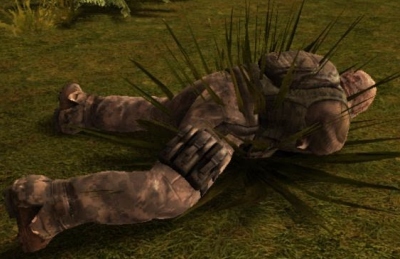 He'd better hope nobody takes the opportunity to blow up the barrel he's chosen as his resting place.
Next, we have death by porcupine. Easily mistaken for Bowser in the Mario Brothers, this is actually a very unfortunate and untimely death for another of the FPS Creator Reloaded Bad Guys.
Can you work out what has actually happened here?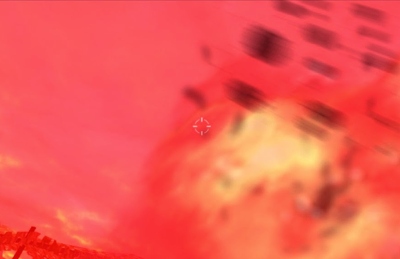 This final shot is one you don't want to take yourself. Essentially, this is the result of feeling rather smug and pausing to take a Selfie, only to be hit by a stray RPG just as you hit print screen. It's not a moment you'll be sharing on Facebook.
We finish off this collection with a moment that team member Simon finds rather amusing. Watch the target in the distance as he is obliterated by the RPG. One thing is for certain, physics are well and truly enabled in FPS Creator Relaoded!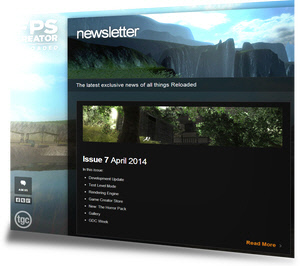 If you want a summary of the blog details, don't forget you can get the FPS Creator Reloaded newsletter too, simply by
registering
on the site.
The Escaped Review
SegmentNext have published a review of The Escaped. In summary, they are looking forward to using the full version, given the ease in which the demo was produced. Highlighted is the ability to build the foundation quickly, allowing time to dedicate to the more complex elements.
Read the review here.
Reloaded Discount Deal
Pledge Now to support FPSC Reloaded development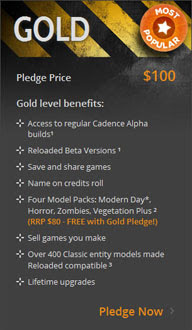 Crowd funding provides a way for Indie Developers like The Games Creators to pre-fund their projects. It's also a thumbs up from customers to show the developers the market wants and needs their new idea.
By pledging you are helping The Games Creators to build the most exciting and revolutionary game creator. With your pledging support you can strengthen our team as we build this amazing technology. You are essentially becoming part of our family as you share in it's development and ultimate production.
All pledge levels grant the backer access to all betas, with other bonuses, including free model packs valued at between $18 and $39 for Gold and Silver pledge levels.

So, if you'd like to help fund Reloaded development and join us on our journey, please support us with a pledge. The most popular and best value deal is the Gold level pledge, but you can find details of all pledge levels here.
FPSC Reloaded - Competition Update

Win your Share of:
$750 Cash prizes!
$750 of Graphics cards!
33,000 Store points!
In mid-June we selected our ten finalists in the FPSCR competition. In order to ensure they can get the best out of the current beta, we've provided a new version with more stability and capabilty, and given the finalists an extra two weeks to take advantage of this new release. The deadline is now August 3rd, so you can expect to see the winning announcements in mid-August.
We've included the screenshots of the top ten entries again here, so you can see the level at which FPSCR allows our community to compete at.
Rescue the Princess - tomjscott
The Asylum – Unfamilla
Locked and Reloaded – Kravenwolf
Follow the Line – Sparrowhawk
Terrorist Territory - Volga
The island – Defy
Morning Mountain Stroll – WizardOfId
Commando – Dvader
Book of Souls – Rolfy
Past Life Regression – morphtactic
The Rules
We're asking FPS Creator Reloaded users to create a single level game of any genre to win prizes and see their game in the final release. The aim of the competition is to find ten demo level games to help showcase FPS Creator Reloaded. The top 10 winners will receive:
1st Prize
GeForce 660 graphics card (value estimated @ $250)

$200 Dollars in prize money

10,000 FPS Creator Reloaded store points
2nd Prize
GeForce 660 graphics card (value estimated @ $250)

$100 Dollars in prize money

5,000 FPS Creator Reloaded store points
3rd Prize
GeForce 660 graphics card (value estimated @ $250)

$100 Dollars in prize money

4,000 FPS Creator Reloaded store points
4th to 10th placed winners each receive
$50 in prize money

2,000 store points
The full details, terms and conditions can be found
here
.
FPSCR Videos
The last few weeks has seen a catalogue of FPS Creator Reloaded educational material making its way onto YouTube. You can of course subscribe to our channel and get immediate updates; the details are towards the end of the newsletter. For those of you that haven't taken the opportunity yet to work through these bite-sized lessons, here are the videos currently available.
The Reloaded IDE
A Basic guide to the Reloaded IDE- part 1
A short video outlining the basic functions of the FPSC Reloaded engine editor IDE. - Part 1
The Reloaded IDE
A Basic Guide to the Reloaded IDE - part 2
A short video outlining the basic functions of the FPSC Reloaded engine editor IDE. This edition focuses on terrain editing, brushes and sculpting.
The Reloaded IDE
A Basic Guide to the Reloaded IDE - part 3
A short video outlining the basic functions of the FPSC Reloaded engine editor IDE. We continue with the terrain by adding vegetation and entities.
Reloaded Terrain
Basic Terrain editing in FPS Reloaded
A video guide to the basics of the terrain features and terrain editing tools in FPSC Reloaded. V1007.1
Reloaded Entities
A basic guide to the entity editing part 1
A video guide to basic entity placement and editing in FPSC Reloaded
Reloaded Entities
A basic guide to entity editing part 2
A video guide to basic entity editing in FPSC Reloaded. Building on the the previous tutorial, learn how to quickly add multiple entities with random sizes and placement, and regular placement using the grid system and snapping.
Reloaded Players
A guide to the player start marker in Reloaded - Part 1
A video guide to the basics of the player start marker. This tutorial continues with the more advanced parameters associated with player regenration, including recuperating health, fall damage, jump speed and more.
Reloaded Players
A guide to the player start marker in Reloaded - Part 2
A video guide to the basics of the player start marker. This tutorial describes all of the player start marker features and their functions
Reloaded Scripts
A FPSC Reloaded tutorial, assigning a key to open a gate
Another FPSC Reloaded tutorial using build V10071, this time showing game makers how to assign a named key to open a gate or door.
Characters
A basic video guide to adding characters and AI's to FPSC Reloaded
The tutorial includes a sample of automated cover finding behind a series of randomly placed sandbags. Watch the enemy characters crouch behind the most appropriate entities, and behave in different ways.
AGK V2 Developments



We've successfully tamed the complex projects system of Geany and now have the IDE supporting the opening of multiple projects, including the importing of older AGKV1 projects in the *.cbp format.
Rick Vanner
IDE in Focus
As reported last month, we are updating the IDE for AGK Version 2. We can now confirm that Geany is the base we have opted for. First and foremost this will enable development on Mac OS X as well as Windows, which is welcome news for developers focused on Apple products. It also provdes a framework for many other desirable features.
The work has proved to be challenging, but we know it will be a worthwhile step for developers everywhere. Some of the features already implemented are:
Highlighting code syntax
Folding code (functions, loops and comments)
Symbol parsing - so you can easily see all the functions in your code and access them from a side panel
IntelliSense as you type so you can quickly enter commands
The new AGK2 IDE
As you type the IDE will present a list of commands
Easy Project Navigation
We've successfully tamed the complex projects system of Geany and now have the IDE supporting the opening of multiple projects, including the importing of older AGKV1 projects in the *.cbp format. When more than one project is open it also allows you to easily switch between active projects. The IDE still allows you to open files that aren't part of any project so you can quickly refer to snippets or individual files, these automatically disappear from the project list when they are closed.
The current job is stripping down the Geany build menu which is currently document based and caters for every conceivable build method (compiling, linking, make files, etc), whilst we want it to be project based and only need compiling. It would also be nice if we could get the AGK compiler to output errors to the IDE message console, hopefully we'll have something to report on in the next few days.

What is Geany?
Geany is a small and lightweight Integrated Development Environment. It was developed to provide a small and fast IDE, which has only a few dependencies from other packages. Another goal was to be as independent as possible from a special Desktop Environment like KDE or GNOME - Geany only requires the GTK2 runtime libraries.
Some basic features of Geany:
Syntax highlighting

Code folding

Symbol name auto-completion

Construct completion/snippets

Call tips

Many supported filetypes including C, Java, PHP, HTML, Python, Perl, Pascal

Symbol lists

Code navigation

Build system to compile and execute your code

Simple project management

Plugin interface

Geany is known to run under Linux, FreeBSD, NetBSD, OpenBSD, MacOS X, AIX v5.3, Solaris Express and Windows. More generally, it should run on every platform, which is supported by the GTK libraries.
Loading Animations and Staggering Asset Creation

In our last game, Shape Time, I ended up deciding to load quite a few assets at launch time. I implemented a loading animation, but it seemed to actually slow down the loading process a bit. In our next game I wanted to optimize this as much as possible to improve loading time. The reason the loading animation was affecting the speed of loading assets was that I was calling Sync() as frequently as possible so that the animation would update. Here's an example how it was done (the loading animation in this case is a sprite with frames):
for num = 1 to 10


	

fileName$ = "atlas" + str(num) + ".png"


	

LoadImage(i , fileName$)


	

Sync()
next num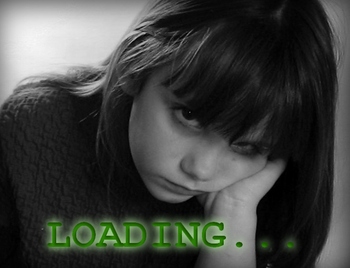 This would certainly animate the loading sprite just fine, but I knew there had to be a better, more universal way. The problem is that Sync() is limited by the frame rate of the device. So if you've got a device that is capable of only 30FPS (fairly common in with mobile devices) then you are limiting your loading sequence to one file every 30th of a second. This is not that bad for files, but if you want to display the animation while other, possibly faster processes take place, then you're likely slowing them down.
Let's look at an example of a script that might be slowed by a Sync() call:
for num = 1 to 100


	

if num = 1


		

img = LoadImage("yourImage.png")


		

CreateSprite(num , img)


		

SetSpriteSize(num , 10 , -1)


		

SetSpriteDepth(num , 100)


	

else


		

CloneSprite(num , 1)


	

endif


	

SetSpritePosition(random(0,90) , random(0,90))
next num
This script is pretty fast, but it might take up to a second or more on mobile devices. If we add a Sync() call to this routine so we can show a loading animation then the routine will be much slower because the Sync() call will render the screen and limit the engine to whatever the available FPS is. At 30FPS this script would require 3.33 seconds to run. Without Sync() it may take considerably less time, however, that would be dependent the device.
So how do we speed this up? The answer is to only call Sync() only when it is time that you expect to have a frame drawn to the screen. The example below uses a literal 1/60 of a second between Sync() calls. There are more advance ways to determine the expected time to call Sync(), but this is sufficient for showing a loading animation. The example simply rotates a loading image for simplicity.
global gLoading = 0
global gLoading_LastSync# = 0.0 
function ToggleLoadingAnim(iOnOff)
    if GetSpriteExists(gLoading) = 0
        gLoading = LoadSprite("loading.png")
        SetSpriteSize(gLoading , 10  , -1)


	

SetSpriteDepth(gLoading , 1)
    endif
    if iOnOff = 1
        SetSpritePositionByOffset(gLoading , 50 , 50)
        gLoading_LastSync# = 0.0
    else
        SetSpritePositionByOffset(gLoading , -500 , -500)
    endif
endfunction 
function LoadingAnim_Sync()
    time_now# = timer()
    dT# = time_now# - gLoading_LastSync#
    if dT# > 0.017
        ft# = GetFrameTime()
        gLoading_LastSync# = time_now#
        t# = 3.0
        angle# = GetSpriteAngle(gLoading) + 360.0 * ft# / t#
        angle_int = round(angle#)
        angle_int = mod(angle_int , 360)
        SetSpriteAngle(gLoading , angle_int)
        Sync()
    endif
endfunction
The code consists of 2 globals and 2 simple functions. ToggleLoadingAnim() is used to set up the sprite and globals, position the sprite, and make it visible. This should be called before any loop that you want to overlay the loading animation on. You also call this to hide the animation. Inside of the loop you will use LoadingAnim_Sync() in place of a standard Sync() call. So our original code that loaded 100 sprites becomes this:
ToggleLoadingAnim(1)
for num = 1 to 100


	

if num = 1


		

img = LoadImage("yourImage.png")


		

CreateSprite(num , img)


		

SetSpriteSize(num , 10 , -1)


		

SetSpriteDepth(num , 100)


	

else


		

CloneSprite(num , 1)


	

endif


	

SetSpritePosition(random(0,90) , random(0,90))


	

LoadingAnim_Sync()
next num
ToggleLoadingAnim(0)
That's it! Now you can load up lots of assets and have a nice loading animation so that the user doesn't wonder what's going on. Remember, folks don't like to wait even a second for something to happen these days, so make sure to use a method like this to let them know your game is still running. Now if we could only thread the loading animation so that we can draw to the screen while loading large files. Another thing you might want to consider is that you might get large values out of GetFrameTime() while loading files. So you might want to limit the ft# variable when you're translating a sprite (moving or rotating). Either way you'll get a bit of jitter in your sprite's translation because Sync() just can't be called fast enough due to the time it took to load a file.
Users don't want to wait long for your game to load, so it's important to only load at launch time the assets you need to display the title screen / main menu of your game. After that you can stagger the creation of assets by creating only a handful every frame and then if they aren't all loaded when they're actually needed, you can finish up loading them and show a loading animation. In our next game I did this for our level selection menu.
The level selection menu needed 200 buttons, 3 star sprites for each button, and 2 text objects for each button – that's a total of 800 sprites and 400 text objects! This was just way too slow to load on demand. So what I did is create a handful of these objects every frame during the Sync() calls. This way the buttons could be loaded while the player is looking at the main menu which incorporates a short animation of about 2 seconds. Let's examine how we can do something like this.
Make an array that will hold the object IDs for the level buttons and a global to hold an image ID:
#constant LVL_BTN_COUNT 200
dim _lvl_btns[LVL_BTN_COUNT]
_lvl_btns[0] = 0
global gLvlBtnImg as integer
Create a new function that includes the Sync() command and will create a handful of objects each frame:
function LvlBtn_Sync()


	

//we'll store the count of created objects here


	

count = _lvl_btns[0]


	

if count < LVL_BTN_COUNT


		

skip_objects = 0


		

if GetImageExists(gLvlBtnImg) = 0


			

gLvlBtnImg = LoadImage("mybutton.png")


			

//since we're loading an image this frame


			

//let's not make any sprites or text


			

skip_objects = 1


		

endif
		


		

if skip_objects = 0


			

baseSprite = _lvl_btns[1]


			

needBaseSprite = 0


			

if GetSpriteExists(baseSprite) = 0


				

needBaseSprite = 1


				

endif


			

for i = 1 to 10
			


			

if needBaseSprite = 1


				

needBaseSprite = 0


				

thisSprite = CreateSprite(gLvlBtnImg)


				

SetSpriteSize(thisSprite , 10 , 5)


				

SetSpritePosition(thisSprite , -1000 , -1000)


				

SetSpriteDepth(thisSprite , 10)


			

else


				

thisSprite = CloneSprite(baseSprite)


			

endif


			

_lvl_btns[count] = thisSprite


			

inc _lvl_btns[0]


		

next i 


		

endif


	

endif


	

Sync()
endfunction
Now we're creating those 200 sprites in 20 frames. At 30FPS we'll have created them in less than 1 second! They should all be prepared by the time we need to show the level selection menu, but just in case, you should also have a catch that ensures they're all created when the user goes to access the level selection screen. If they aren't all made then you can show the loading animation to tell the user the app is working on something.
This method can be used in a variety of ways. For example, while the user is playing one level you can slowly start loading the assets for the next level in each frame. This should be done with care so that it doesn't drag down performance when the action of the game is happening. As long as the sprites are off-screen they won't be rendered and won't cause a drag on the engine.
Next time I'll discuss methods on how to "thread" animations in a loop so that you can easily contain different animations in separate functions. Oftentimes we need to have a lot of things going on simultaneously and they cannot interrupt each other or user input. Thanks for reading!
Rush to Download an AGK Epic Adventure

Rush to Adventure, the longest running AGK project, has finally reached Alpha release. The game is a retro action adventure, inspired by classic NES titles like Zelda, Mario and Castlevania. The alpha will be released for free next weekend for PC, Android and OUYA. After two years of spare time development, this is the most solid and feature rich release.
In Rush to Adventure you arrive on an island, only to discover it is almost overrun by monsters. Assist the islanders, level up your hero, find new weapons and uncover the secrets of the island. Can you rid the island of its curse? This alpha release contains about 20-30 minutes of content but offers a lot of replayability. It contains 10 short, action packed levels and 4 difficulties. You are also scored and ranked at the end of each level. Trying to S-rank every level is quite a challenge. Play on insane difficulty at your own risk!
If you have played the pre-alpha, this version contains:
improved gameplay

unlockable abilities

parallax backgrounds

2 new weapons

3 new levels

map and time screens

PC screen settings

animated world map character

numerous smaller improvements.

Check out the
Digital Awakening website
for more information. The new website goes live on Sunday 3rd August with download links, videos and more screenshots.
Medusa FPSCR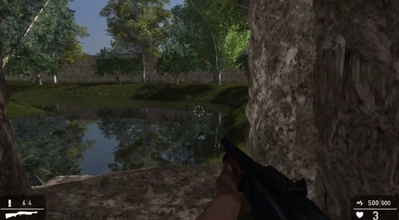 As a follow up to this article, we're presenting a video uploaded to YouTube by AuShadow. It takes you quickly through the process of creating and exporting rocks in Medusa, and importing into FPS Creator Relaoded. You can see the result in the screenshot opposite, looking out of a secret crevice in a cliff-face, out onto the lake and a second cliff-face in the distance.
Bonus for TGC Customers!
Anyone buying Medusa Pro in August 2014 will be given access to an additional Rock Pack containing 2 additional templates, capable of generating a huge range of rock formations. You also have the option to sell your creations in the TGC Store under the generous license, simply by providing your own textures. So if you have been procrastinating over this purchase, now is the time to come out from under your rock and buy it!
Full details, purchasing options and the free Medusa Lite can be found here.
The TGC YouTube Channel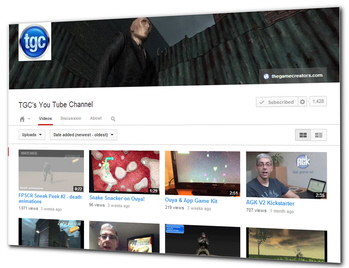 Have you visited the TGC YouTube Channel yet? You may be surprised:
Over 140 videos!
Almost 800,000 views!
Over 2,300 subscribers!

Take a look at our channel now, and make sure you hit the subscribe button to stay up to date with new video uploads. Very often you'll get advanced previews of upcoming news.
Keep up to date with TGC on Facebook & Google+

Join over 6,300 fans on TGC's Facebook page to keep bang up to date on news, user projects from the forums and discussions.
We're keen to hear from all our avid users and we always love to hear what you've been up to with the tools we sell. So if you have something you want to share with the wider TGC audience why not post it into the TGC Facebook page?
FPSC Reloaded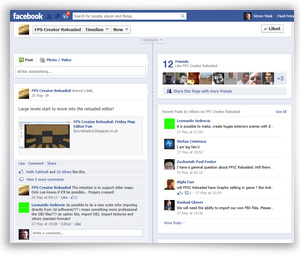 There are now over 2,600 fans discussing Reloaded on our Facebook page right now. Whether you simply want to see the update and progress news as it is released, or get involved in technical discussions about LOD, Light and lots of other topics, sign up to this page today to be part of it.
App Game Kit
You can join in the Facebook discussions in our AGK group page with almost 600 members and we have a new AGK Facebook page.
Google+
You can also follow our products on Google+
"A vacation is having nothing to do and all day to do it in."
Robert Orben