If you cannot view this newsletter correctly, click here to view it online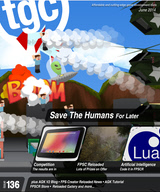 All too often technology and the internet are given a bad name, with a multitude of reports on the bad things they are used for. This week I set out to look for a few of the good things, and it's not too difficult to find them, especially if you have access to BBC Click. Things I didn't know last week include the use of the XBox Kinect to help disabled, injured people and stroke victims back to health. Software both instructs and monitors the patient through their exercises, and can detect where the focus is needed far better than a human can. Kinect cameras are also used in operating theatres, where the surgeon can swipe through his patient data in mid-air, thus preventing contamination by touching equipment.
We are on the verge of flying unmanned ambulances which will be able to access patients in inaccessible areas. The vehicle is essentailly an enclosed stretcher capable of bringing the patient back down a mountain or out of a warzone.
The most fascinating find is open source medical equipment. Amidst all of the hype around Pfizer, Astra Zeneca and the billions of dollars floating around their merger plans, there are organisations creating open source life saving technology. There is a handheld cancer detector that can be 3D printed using downloadable plans, utilising a mobile phone for the screen. Nursing staff can now reach people almost anywhere in the world and download the equipment when they get there. They then upload the results to a doctor elsewhere in the world for diagnosis.
So if you're looking to take your skills and do something life-changing, there are projects out there already proving that it's very achievable.
We've seen in the last few weeks that there are many talented people in our community, and the results of the competition are in. You can read about these and the ongoing FPSC Reloaded contest too. There's also a roundup of AGK and FPSCR developments and much more to inspire you.
Until next time,

contents
(1) Compo Results (2) FPSCR Competition (3) FPSC News (4) FPSCR Store (5) LUA (6) FPSCR Gallery (7) AGK Development (8) Tutorial - Data (9) TGC Channel (10) Social Feeds
The Competition Results
The results are in and as you will no doubt have seen on the forums, our winner is Save the Humans for Later by Mark Harrison!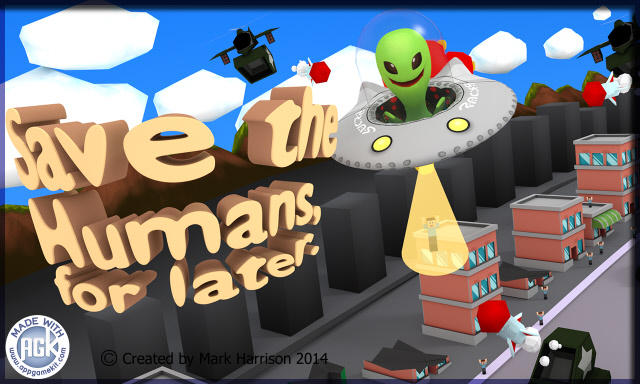 The one line description we were given sums up the game perfectly:
"Blow up buildings and beam up as many humans as you can before you get blown up"
The judges loved playing this game which is an interesting take on the endless flyer genre. It's an exilarating mix of dodging the enemy in its varying forms, destroying both buildings and enemies, and trying to pick up the stranded humans all at the same time. The controls and concept are very simplistic, which is just what we asked for. However the skills and tactics you choose to employ make the game progression very varied. Finding the right mix of dodging, shooting and collecting is what makes the game addicitive. Combined with the highly visible scoreboard tempting you to climb the ladder, this entry was the one that lost the judges most of their time trying to be just one step better. Congratulations Mark, and we hope you enjoy your well-deserved prize!
Thanks and Gratitudes
Before we list all of the great entries into this competition with a little feedback on each, many thanks go out to everyone who made this competition a success. Naturally, all of the contestants made it a memorable competition with their enthusiasm and eagerness to help one another along the way. Our thanks go out to Rick Vanner and the TGC team for providing the prize, the incentive and the tools to make it happen. Finally, my personal thanks go to Sean Mann who stepped up to the task of judging admirably (and at the expense of not being able to enter the competition himself!), making judging both easy and enjoyable.
So many entries, so little time
Here are all of the entries and the feedback. We ask all of our readers to visit each of the games, and support them by downloading, playing and giving feedback. The judges feedback is below, and each entry includes the area we believe the games would benefit most from with a little improvement. There is nothing to criticise with any of the entries, we simply hope you can take the games to the next level.
Find out more about Battlezone Royale here.
Find out more about Chicken Run here.
Find out more about Chompski here.
Find out more about Comet Bird here.
Find out more about Dawn here.
Find out more about Diablo The Prawn here.
Find out more about Green Hat Helper here.
Find out more about Holey Cow here.
Find out more about Jet Lag here.
Find out more about Mine Climb here.
Find out more about Moving Blocks here.
Find out more about Run Forest Run here.
Find out more about Skyway here.
Find out more about Smash Smiley here.
Find out more about Soaring Blue Jay here.
Find out more about Spacy Spaceman here.
Find out more about Super Footie here.
Find out more about Swiped Out here.
Find out more about Tap Tap DIE here.
Find out more about Tap Tap Tap here.
Find out more about The Bird Game here.
Find out more about The Worm Game here.
Find out more about Tricky Hop here.
Find out more about We We Ghost here.
FPSC Reloaded - The First Ever Competition!
The Rules
1st Prize
2nd Prize
3rd Prize
4th to 10th placed winners each receive
FPSC Reloaded Blog

By Lee Bamber
Each month we'll update you on the progress of FPS Creator Reloaded. You will find a running commentary on the development through the FPSC-R Blog, but right here you will find some of the selected highlights that deserve your utmost attention. You can also follow the development on the official Facebook page. Within the R&D offices here at TGC, Reloaded is our main focus and we aim to constantly develop it to make it into a world class game creation tool. With great support from people who have made pledges to the project we are able to evolve and build our best game maker ever!
Lee Bamber, FPS Creator Reloaded Developer summarises the May achievements for himself and the FPSCR development team.
Fairground Antics
A day in the life of the Three Dedicated Coders
By pledging you are helping The Games Creators to build the most exciting and revolutionary game creator. With your pledging support you can strengthen our team as we build this amazing technology. You are essentially becoming part of our family as you share in it's development and ultimate production.
All pledge levels grant the backer access to all betas, with other bonuses, including free model packs valued at between $18 and $39 for Gold and Silver pledge levels.

So, if you'd like to help fund Reloaded development and join us on our journey, please support us with a pledge. The most popular and best value deal is the Gold level pledge, but you can find details of all pledge levels here.
The Store - Relaunched for Reloaded
Sneak Preview: Zombie Clowns! These will be part of the new zombie pack (available FREE to all Silver and Gold Pledgers!)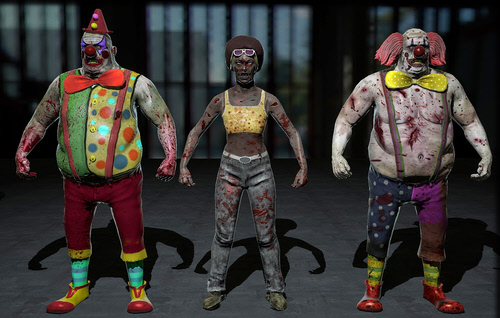 Calling all Artists
You'll receive 70% of all sales revenue earned from your published assets.
The agreement is non-exclusive so you are free to sell your assets elsewhere.
Payment is made monthly via PayPal.
It's easy to become a seller on the store:
FPSCR::AI::LUA
FPS Creator Reloaded Gallery
The Gallery can now support Video uploads. So if you've made a gameplay video or a tutorial then please share it with the community via the Video Gallery.
Here are some more of our favourite images screen shots from the FPSC Reloaded User Community.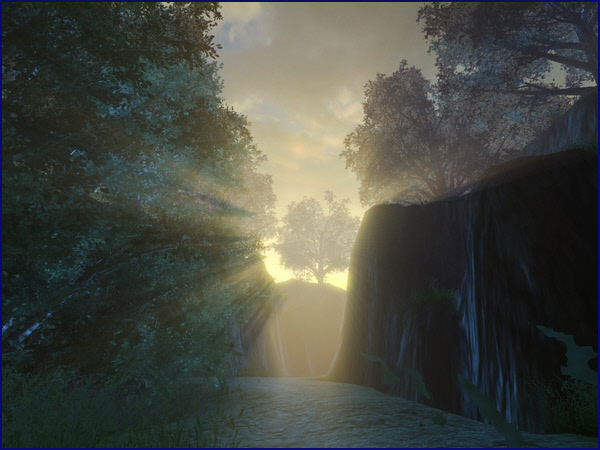 Mountain Stroll by Wizard of Id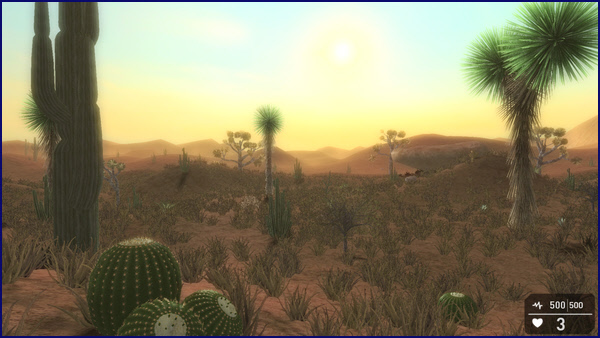 Desert Pack by RickV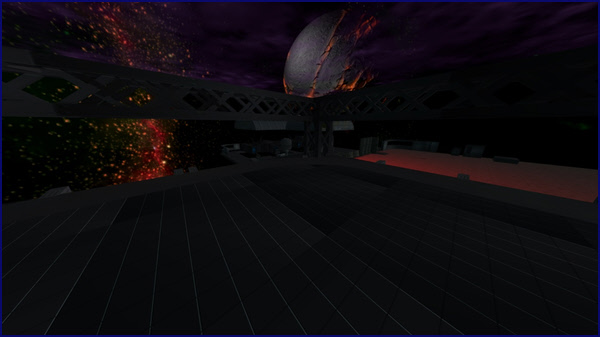 OffTheMap by RazorNet7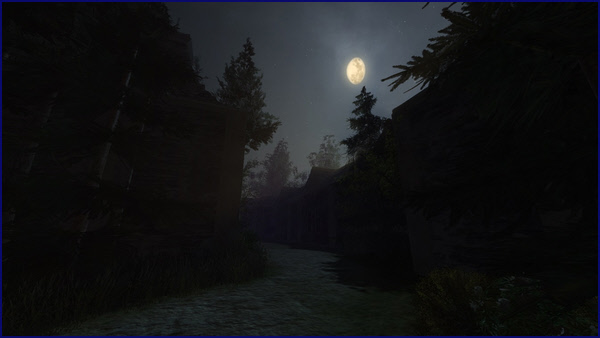 Dead Town 3 by KajoCat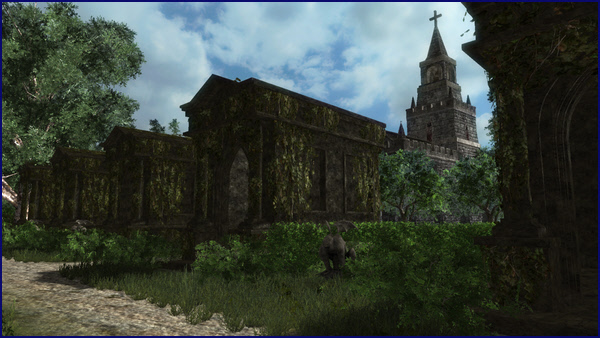 Waiting for the Zombies pack(!) by Gervais
AGK V2 Developments

Interpret and Compile
Our AGK expert Paul continues to dedicate his time to AGK V2, with many challenges presenting themselves, but which will ultimately make a better and more verstaile product. These past few months the development has been focused on the new Compiler and Interpreter. Paul explains some of the deeper issues he's faced this past month;
Working on the parser involves making sure it's backwards compatible with existing code, which has some interesting edge cases that need handling. For example when calling a gosub from within a function the gosub loses access to the function local variables and gains access to non-global variables outside the function. This has been dealt with by implementing a new variable handler that can deal with the various scopes (global, local, and function local). The parser can now recognise all the possible variable declarations:
old DIM style arrays

new array declarations of the form "myArray as integer[5]"

type declarations

default values for basic data types (integer, float, string + arrays).
AGK V2 can also now parse expressions like "a = 5+func()*b[5]" checking that every function, array, or variable is properly defined.
Code has been added to validate function calls matching parameter count and types for AGK commands and user functions. There are also more expression rules added for types and arrays so it can now parse expressions like:
mytype.x = othertype.arrayoftypes[a].somevalue
Arrays can be resized with:
array.length = myType.num + 5
At this point testing was started on the bytecode output and it was soon realised that AGK V2 would also have to handle type casting. Expressions like "a = 6.5" would function correctly if "a" is defined as an integer and promoting integers to floats in mixed expressions like "6.5 + 7" producing a float result. The changes to support this are now completed. AGK V2 now handles AGK commands that have multiple compatible types. For example Str(int) and Str(float) would take Str(6) as an integer, where as Update(float) would take Update(6) as a float.
Function parsing is well under way, handling local variables and arrays. These are now placed on the stack instead of in global storage, and passing arrays and types by reference so that modifying their contents affects the original copy or passing by value so any changes remain inside the function. Essentially, variable handling is really working well.
The compiler and interpreter work has been a tough but rewarding ride, and we're now through the hardest part. We should be looking to release a new Alpha in June for you all to start playing around with.
There's a blog in the forums should you want to follow the development progress.
AGK Tutorial - App Data
with Sean Mann
Setup
The TGC YouTube Channel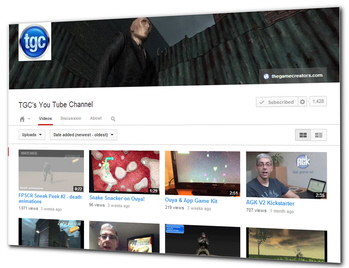 Have you visited the TGC YouTube Channel yet? You may be surprised:
Over 130 videos!
Over 750,000 views!
Over 2,200 subscribers!

Take a look at our channel now, and make sure you hit the subscribe button to stay up to date with new video uploads. Very often you'll get advanced previews of upcoming news.
Keep up to date with TGC on Facebook & Google+

Join over 6,200 fans on TGC's Facebook page to keep bang up to date on news, user projects from the forums and discussions.
We're keen to hear from all our avid users and we always love to hear what you've been up to with the tools we sell. So if you have something you want to share with the wider TGC audience why not post it into the TGC Facebook page?
FPSC Reloaded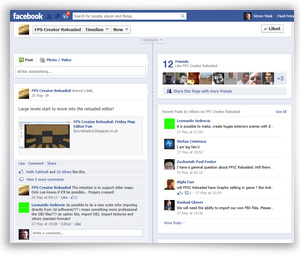 There are now almost 2,000 fans discussing Reloaded on our Facebook page right now will you take us beyond 2,000? Whether you simply want to see the update and progress news as it is released, or get involved in technical discussions about LOD, Light and lots of other topics, sign up to this page today to be part of it.
App Game Kit
You can join in the Facebook discussions in our AGK group page with over 570 members and we have a new AGK Facebook page.
Google+
You can also follow our products on Google+
"We can't help everyone, but everyone can help someone".