If you cannot view this newsletter correctly, click here to view it online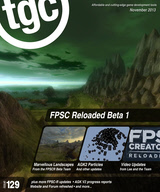 As usual, I'm late to the party once again. As the Xbox One is on the verge of release, I have taken advantage of the plummeting prices of the Xbox 360 and finally made the investment. One of the financial graces of being a latecomer is the price of games; I can pick up dozens of titles that are new to me (but admittedly not new to most of the civilised world) for just a few British pounds. I'm currently wheel-spinning around Forza and Project Gotham, whilst blasting my way through numerous chapters of the Halo epic. Meanwhile my family are dancing and jumping around to the Kinect technology.
I am enjoying my steadily growing library of AAA titles just as much as many people did over the past few years. A game doesn't have to be new to be enjoyable; it just has to be new to it's owner. This has lead me to think differently about the games that hobbyist developers should be focusing on. The market for any game is huge as long as you identify the correct market. Just because the domination of news and reviews are about GTA V and Saints Row does not mean that indie games are beyond the consumer. There are just as many people like myself who turn up just as the lights are being turned off.
This month we get to see the results of the first FPS Creator Reloaded Beta. Even though it is some way from completion and functionality is limited, it is still being received excitedly by the beta testers for first impressions. AGK2 is being steadily revealed to the community, and we have videos of both products to demonstrate the progress.
Until next time,

contents
(1) FPSCR Beta (2) FPSCR Pledgers (3) FPSCR Forums (4) FPSC News (5) AGK2 (6) TGC Channel (7) From the Forums (8) Social Feeds (9) The Game Creators News
FPS Creator Reloaded - First Beta
The BETA 1 release has proved to be a success with many community members quickly getting to grips with Reloaded and producing some highly creative screen shots and videos. Here are some special images from the first 24 hours of use!
Firstly, we have a perfect illustration of the quality that is achievable with a little imagination and creative flare. Thanks to Rolfy for providing this screenshot.
Realtime game enhancements
One of the great features of FPSCR is the ability to make changes to the levels whilst testing them. A plethora of effects and settings are available through numerous sliders. In this video posted by LeCTODN , you can see this ability in action, along with some more great level design using the new tools.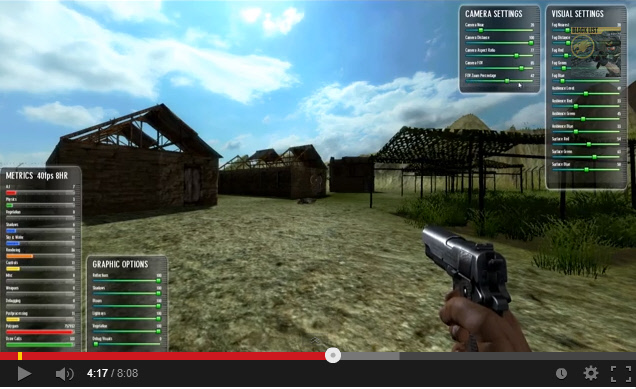 Beta 1 Q&A
Naturally, getting your hands on the first beta generated a huge amount of questions. Lee has taken the most obvious way to answer these, by producing a narrated video demonstrating the questions and responses, for all to benefit from.
Beta Participant Screenshots
Our beta-level pledgers have been very quick to get their hands on the software and send us images of their first creations. Here are a selection for you, click on the images for the full version.
The GOLD Pledge Advantage
Many of you are GOLD pledgers of the project. This entitles you to access regular cadence Alpha versions. The dates of these Alpha versions for the next few months has been agreed by the team and are listed below. We have also highlighted some key features that we aim to have in place by these dates. We do expect to be making many tweaks and bug fixes during these early stages of development.
Cadence Alpha 1.1 - 29th November
Improved optimisation performance
New wall and fence drawing system
Bug fixes & improvements
Cadence Alpha 1.2 - 20th December
Importing images (to make signs, pictures)
Sign creator - enter text that can be placed into your game world
Bug fixes & improvements
Beta 2 - 31st January 2014
Easy importing of 3D objects Scripting system
Bronze & Silver - upgrade to GOLD!
If you're a Bronze or Silver pledger, you can upgrade to GOLD at any time, allowing you access to the more frequent Alpha cadence updates.
C

lick to Upgrade from Bronze to Gold
C

lick to Upgrade from Silver to Gold
We would like to thank all of our backers at all levels for their support thus far. We have reached almost 1,000 pledges to the project, every one of which has helped us to progress FPS Creator Reloaded to this stage.
The new FPS Creator Reloaded Website

For anyone that missed the news in October, the new FPS Creator Reloaded website has arrived! Everything you need to know about the upcoming release is in one place:
The latest news


Product information including our Mission and our Vision


Product features


Contacts, including Facebook, Google+ and Twitter links


Press resources


Order page, including pledge details


Onsite newsletter


Dedicated forums

The Forums
With Reloaded, regular gamers can create impressive environments. It does a superb job leveraging the features that NVIDIA GeForce GTX GPU's have to offer and the new terrain system adds great realism to your games.
Bill Rehbock, Developer Relations, NVIDIA Corp.
The new FPS Creator Reloaded Forums have been an instant hit. There have already been over a 1,000 posts in the first 2 weeks, and the number of views have topped 42,000!
As successful as the launch has been, we have quickly realised that we can do more to make the forums more user-friendly and accessible. To that end we closed down the forums for maintenance at the weekend, and now you have an improved replacement. The Apollo forums we have run for many years is a solid foundation that - with a few updates - will serve us far better than the alternatives in the open marketplace. Of course they have also been modernised under the hood with newer technologies, and have a new design. We look forward to your feedback.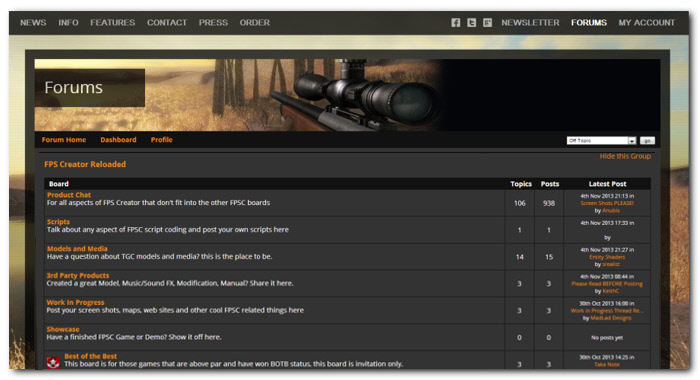 You can sign in to the FPSC Reloaded forums straight away, using your TGC account credentials. We encourage you to use the same forum name so that your acquaintances can immediately recognise you and get involved with the discussions.

So what are you waiting for! If you need one more reason to take a look, you'll find an exclusive video showcasing the terrain-creating abilities of FPS Creator Reloaded. Head over to the new website now, we'd love to hear your feedback.
FPSC Reloaded

By Lee Bamber
Each month we will be bringing you updates on the progress of FPS Creator Reloaded. You will find a running commentary on the development through the FPSC-R Blog, but right here you will find some of the selected highlights that deserve your utmost attention. You can also follow the development on the official Facebook page. Within the R&D offices here at TGC, Reloaded is now our main focus and we aim to constantly develop it to make it into a world class game creation tool. With a refreshed passion we're excited to be bringing the technology up to date so it'll make amazing looking games.
Lee Bamber, FPS Creator Reloaded Developer summarises his October achievements.
Development on the product is now extremely intense, and the blog is a great way to summarise the achievements of each day and share it with the pledgers and everyone else eager to see the new incarnation of our successful game-making machine. This month, I have extracted small snippets of some of the final days leading up to the first Beta release, but you are highly encouraged to read the full blog in order to keep yourself fully informed.
As the beta testers beaver away experiencing Reloaded for the first time, I get stuck into my list of things to do. Still top of my list is performance and today I improved both terrain and vegetation polygon use. I have added new sliders to allow end user control of the terrain LOD stages and the vegetation slider now controls the vegetation distance too.
It is days like this I feel entirely justified to buy myself a little treat by way of a small celebration drink (Bottle -Ed). Call it dutch courage for the ordeal ahead of me, known only to those souls who have released software into the world and bracing themselves for the whirlwind. Despite my repeated disclaimers, notes and warnings, I will still get feedback of the most vehement nature. But that's fine too, it means people are passionate about their game creation, and quite rightly too!
The official BETA1 launch occurred just before 9AM Thursday morning GMT and gave Brits and Euro types a few hours head start on any Americans not pulling an all-nighter. Such advantage is now the stuff of history as the downloads are proceeding at full kilter, and slowly melting our two file servers :) The great news is that despite a few trips and stumbles, the server is holding up well and has braved the worst of the day one weather. My compliments to our server guy, Paul.
A tale of two halves, with a meeting at one damnably early end of the day and lots of installing and testing at the other end. The goal; to produce a beta installer that stands up to the many PC systems attempting to use it throughout Thursday as the world wakes up in stages.
It's been quite a blur since March when we started putting the prototypes together and figuring out what we wanted from this new tool. I'm very pleased with where we are right now, and I am eager to get cracking with more tweaks, fixes, optimizations, new features and more betas.
It was so simple on paper. Clean up the beta files, make an installer, test it on a few test systems I have here, get it ready for a small demo Wednesday morning ready for a Thursday launch. Damn paper!
In reality, I spent about 5 hours getting the sky to work again, and then to get the guns working again. Small almost incidental changes had the knock-on effect of causing the reflective sky to disappear, and for the gun geometry to fly all over the shop. The solution was to write a sky shader and use some older gun models to get back on track.
There is some comfort that this version is not going into a retail box, being duplicated 10,000 times or going on stage at E3. It's also comforting that the intended audience are going to help and feedback back, rather than criticize and condemn thanks to the pledge system of development.
Had a good day today of performance hunting, and found many islands of slow which I took great pleasure in sinking. Everything from shadows, post processing, too many duplicated object rendering, redundant rendering and small improvements in code layout all contributed to the FPS creeping up from what we had a few days ago.
Make your Pledge to the Project
FPSC Reloaded is in constant development and the first Beta is with our diehard fans and newcomers . We continue to take pledges so we can continue to develop the product and add more features. If you want to be one of the key supporters of this amazing new game maker then click HERE to make your pledge.
Thanks to everyone who has helped so far.
AGK2 - Sneak Peeks of the Development
Once again we have a video for you to highlight the ongoing development of AGK2. This month we will cover:
Particles: the existing particle system in AGK has been enhanced with some additional possibilities.
Rotation. The particles can now be rotated using various methods. They can face the direction they are moving, or even given a small dose of random rotation. You could apply this, for example, to explosions or sparkles to break up any regularity that has until now reduced the illusion.
Scaling. As particles reach the end of their life they can be scaled down rather than simply disappear.
In the video below you will see how these effects combine to produce far more professional effects to add to your toolbox.
Sounds: Again, the existing command set has been extended with new possibilities.
Pitch. the pitch of the sound can be adjusted as it is played. One excellent use of this is to convey changes in speed, whether it is a cartoon character running or a supercharged sports car accelerating.
Instance commands: The properties of each instance of a sound can be monitored and set individually, including the ability to check if it is playing, set the volume and stop the sound.
Shapes: As simple a concept as drawing shapes is, the ability to do so opens many new channels. In particular the new box and ellipse commands allow graded colours to be applied. This allows buttons and other HUD elements to be cleverly coloured to improve their look.
The following video demonstrated the new commands.
More about App Game Kit 2
App Game Kit (AGK) 2 will be a new and enhanced version of our current App Game Kit product. AGK is already used by hundreds of developers around the world, helping them to quickly create games and utility apps that can be coded once and then deployed across popular mobile platforms.
We have an exciting vision of how we want to evolve the product and your help is already moving the development forward with confidence.
For those new to AGK, the BASIC scripting system is very easy to learn and start coding with. If you're a seasoned developer you can access the extensive AGK libraries and use these inside your C++ projects.
The BASIC language has lots of game based commands that make it a cinch to create sprites, play sounds, add physics, code multiplayer games and much, much more. Once your game is compiled you can take the resulting project byte code and run that through special players that we have created for the support platforms (iOS, Android, Windows, Mac, Blackberry).
So far we have outlined the new capabilities that have become a tangible path to AGK 2. Don't forget that prior to July, we already had our initial Kickstarter funded and Goal One reached. Here is a reminder of the features that are included with those levels:
AGK has a very strong 2D engine on to which we will add new commands and effects so your games can look even more awesome.
Sprite Blending Modes
Shaders
Full Screen Shaders
Drawing commands
Enhanced Particle commands
Additionally, the sound library will be expanded to allow finer control of individual sounds - the volume and pitch will be controllable. Where supported, we'll add seeking control of sounds and music files and the ability to read the current volume data. The new App Window Size feature will allow you to change the size of the app window at game run-time for Windows and Mac.

You can still pledge! We have a PayPal option now that the Kickstarter Project has completed.
The TGC YouTube Channel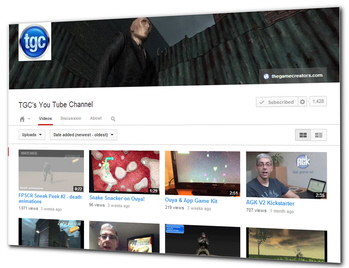 Have you visited the TGC YouTube Channel yet? You may be surprised:
Over 120 videos!
Over half a million views!
Over 1700 subscribers!

Take a look at our channel now, and make sure you hit the subscribe button to stay up to date with new video uploads. Very often you'll get advanced previews of upcoming news.
From The Forums
Take a look at FPS Creator Reloaded
Over on the new forums you will find a thread that is being rapidly populated by the beta testers of FPSC Reloaded.

They are working with the new landscaping tools, and displaying the results through screenshots. Many will make their way to the gallery, but if you want to see them as soon as they are created, take a look here.
Destructible landscapes like Worms
Every once in a while a problem comes along that captures the attention of the forum. This is o

ne such thread and it has become a magnet for many great ideas, many of which have numerous applications outside of the original challenge.
Keep up to date with TGC on Facebook & Google+

Join over 5,900 fans on TGC's Facebook page to keep bang up to date on news, user projects from the forums and discussions.
We're keen to hear from all our avid users and we always love to hear what you've been up to with the tools we sell. So if you have something you want to share with the wider TGC audience why not post it into the TGC Facebook page?
FPSC Reloaded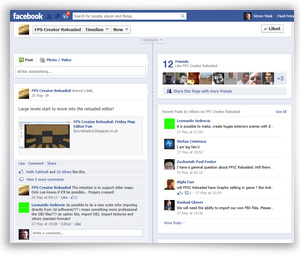 There are now almost 1200 fans discussing Reloaded on our Facebook page right now. Whether you simply want to see the update and progress news as it is released, or get involved in technical discussions about LOD, Light and lots of other topics, sign up to this page today to be part of it.
App Game Kit
You can join in the Facebook discussions in our AGK group page with over 550 members and we have a new AGK Facebook page.
Google+
You can also follow our products on Google+
The Game Creators News
News, views, product launches, videos, tutorials, model packs,
community projects and competitions;
you will find all of them on The Games Creators News site.
All of the newsletter articles, tutorials and announcements are now online, and available as soon as it hits the press.
Subscribe using your Favourite Newsreader
You can subscribe to our newsfeed using RSS, making delivery of our featured articles even more slick and efficient. The address for your reader of choice is:
//www.thegamecreators.com/news/feed
Add the feed to your mobile device, the example shown here is the News App that comes as standard on the Blackberry PlayBook; Read your news on the move!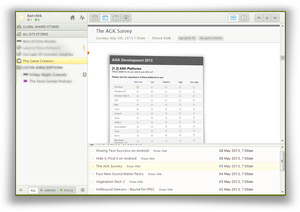 Alternatively, use a service such as Newsblur or Skimr on your Netbook or Desktop computer to browse the headlines at your leisure. You can use the monthly archives to review older information, and tutorials that will be as valuable in 12 months as they are today. You'll find numerous ways to browse by category and keywords, and even catch up with Lee Bamber's Tweets in the same interface!
"This is the best bad idea we have sir...by far"
Jack O'Donnell in Argo