If you cannot view this newsletter correctly, click here to view it online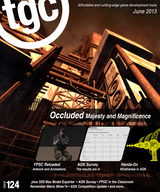 This month I am going to use my editorial space to reminisce, and probably talk about a time that alienates the majority of the newsletter readership. However, it is a time everyone should know about as it heralded the era of the bedroom coder. The year is 1983, and the author is Matthew Smith. It's fair to say that he embraces everything that makes a bedroom coder, with added modesty. Whereas the drive these days is to make the next triple-A game with a billion players and features never seen before, Matthew simply wanted to see if he could reproduce some of the great games appearing on the marketplace and add his own twist. The result was Manic Miner and is considered one of the best games of it's time, competing very successfully against commercial releases. Matthew Smith stated that one day, it may take more than one person to create a computer game. He has recently reappeared after a long absence of supposed dwelling in a Dutch community, working as a fish salesman and numerous other rumours. In reality, the slightly eccentric Smith says he spent his earnings and returned to a very ordinary lifestyle. The good news is that he is now returning to the games scene in partnership with the team that brought us Elite. In the meantime we can benefit from his top tips; Coding games is only cheap whilst your parents are paying the mortgage, never sit in front of your computer until the brand of your chair is imprinted onto your derriere, and don't let anyone ever tell you that it's impossible to create a game by yourself.
Until next time,

This month's cover image is a work in progress from the upcoming Dark Occlusion demo.
contents
(1) FPSC News (2) App Game Kit (3) Dark Occlusion (4) X-exporter (5) AGK Competition (6) Hands-On AGK (7) Education (8) From the Forums (9) Facebook (10) The Game Creators News
The Glamour of FPSC Reloaded
By Lee Bamber
Each month we will be bringing you updates on the progress of FPS Creator Reloaded. You will find a running commentary on the development through the FPSC-R Blog, but right here you will find some of the selected highlights that deserve your utmost attention. You can also follow the development on the official Facebook page. Within the R&D offices here at TGC, Reloaded is now our main focus and we aim to constantly develop it to make it into a world class game creation tool. With a refreshed passion we're excited to be bringing the technology up to date so it'll make amazing looking games.
In just the last month the following steps forward have been made;
Lead Reloaded Developer Lee summarises his achivements during May
Instance Stamp System
A new scene management system which takes scene elements and places them in a reference map, which is subsequently used to generate live mesh data in render buffers based on the location of the camera. The buffers are split into high and low polygon ranges so distant objects use fewer polygons and thus increase rendering performance. As the visible buffers are finite, memory usage can be controlled and allows levels to be almost any size as level geometry is not pre-stored before the game begins.
Level Size Increase
The old FPSC classic levels where 40x20x40 in size. This has now been increased to 500x20x500 for Reloaded levels, and when you see how much editing freedom this affords you will be amazed how large this area actually is. Thanks to the new scene management system, content for these levels can also be huge.
Art Progress
The Reloaded artist has produced a highly detailed fully animated character for the new product, complete with brand new animations such as rolling, jumping over obstacles, climbing ladders and much much more. Stay tuned for new prototypes and videos showing the moves our new combatants can perform!
Inventory Panel
Gone is the system of carrying one item at a time, for Reloaded we now have an inventory module which allows the player (and characters and container objects) to hold a large list of items. The system also allows management of these items but opening the respective inventories and using them directly from the inventory panel, dropping them or transferring them to another container (such as a treasure chest or cupboard). For the sneaky amongst you, the ability also exists to creep up to an unsuspecting character and pickpocket them to obtain valuable items such as keys, money and quest objects.
It's not all about looks...
but looks go an awfully long way in a killer FPS game. This month we've extracted some of the graphical elements to showcase, leaving you to peruse the technical detail in the blog in your own time. Let's start with the basic building blocks, literally. Textures and shaders can make seemingly mundane objects spring to life, as this image shows. It's the level of detail you can expect from even the simplest of entities. In this case the model is a very basic cube, all of the work is done through the texture and shader maps.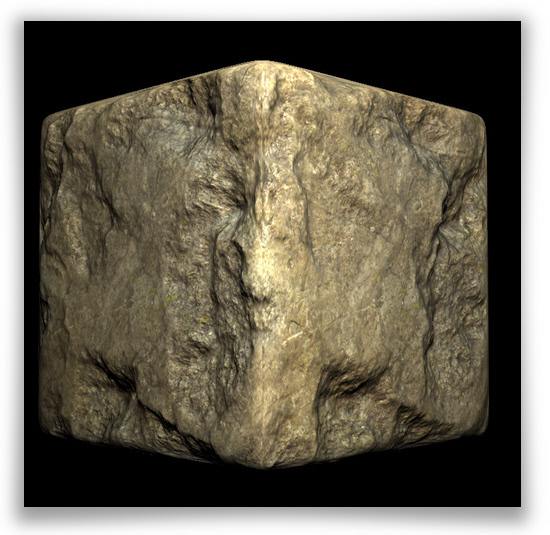 Character animations
Creating fluid animation from numerous subsets is a long and complex task. We have the man with the skills and the patience to do just this, to ensure maximum realism in your FPSC-R games. In the following videos, Reloaded lead artist Bond1 illustrates and talks through the components that make up the characters' living elements.
In the first video, it's quite clear that extending the animations in a character can result in extending the abilities of the game creation tool. This sequence incorporates the need for the AI to identify cover, utilise cover, and know when to break cover.
Here's a showcase of the many sub-animations that allow a free-flowing character to interact with anything you choose to throw at him.
More complex animations further enhance the possibilities. You'll probably think the action in this next video is a common action in games, and indeed it is. But how often have you seen it from a third-person perspective? Your experience is probably isolated to a wobbling camera in first person perspective.
Iconic Imagery
Reloaded will be sporting a new inventory system. Now your FPS games can allow players to pick up objects, use or drop them into the scene. We're ensuring that all aspects of the graphical environment are carefully considered, in this screenshot you can see the vibrant iconic indicators, and also a small preview of the bitmap fonts that are being implemented to allow clear and free flowing text.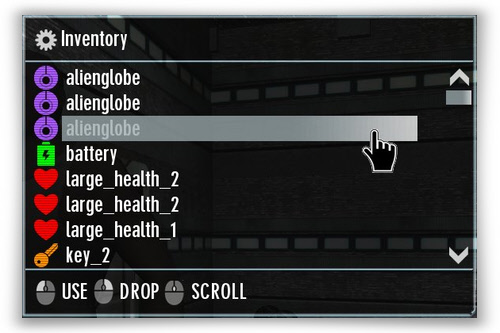 Make your Pledge to the Project
There is good news for all pledgers, and the message in the good news is not very far away. Rick Vanner explains more...
FPSC Reloaded is well underway and will be with our diehard fans and newcomers later in 2013. But we still want your support to reach some ambitious but incredible stretch goals to implement even more fantastic features. Pledgers have already committed £10,333 to the project, meeting the project's first stretch goal!
Already, FPSC Reloaded will incorporate new or improved:
Terrain
Physics
Advanced AI
Weapon enhancements
Game play features
High quality characters
Advanced graphics engine
Game HUDs
Game Runtime engine
Sound & Music
So with the first stretch goal reached you can be sure that we'll be adding these features;
Inventory system
Particle weapons
Improved AI sound detection
In order to fulfill our stretch goals we are now offering avid FPSC users a way to get involved in FPSC Reloaded with our own internal TGC pledge system.
We have kept it simple and are offering a single pledge amount of $80. Just like Kickstarter, your pledge will be used to help pay for the development and entitles you to a few gifts.
These pledges will go towards the development of demo assets and media and also new features when we raise enough through this way.
As further pledging milestones are reached, you can expect to see Tree Systems, Entity Reflections, Entity and Icon Makers, Water/cloth physics, road painting, vehicles, additional game modes and more.
If you choose to back us and pledge we can offer you the following:
Access to Beta versions of FPS Creator Reloaded as and when we make them available
Priority shipment of the physical product to you
Your name in the credits role
Ten awesome model packs:
Model Pack 29 - Tropical Foliage Pack
Model Pack 30 - Middle East Pack
Model Pack 32 - Office Pack
Model Pack 34 - Industrial Pack
Model Pack 37 - Castle Pack
Model Pack 38 - Metro Theatre
Model Pack 39 - Zombie Apocalypse
Model Pack 50 -Dungeon Pack
Model Pack 57 - Zombie Apocalypse 2
Model Pack 52 - Viral Outbreak
Please pledge today!
* You will receive the model packs as soon as your order is processed.
* FPS Creator Reloaded is not due to be completed until October 2013.
* New stretch goals may not be available until sometime after October 2013.
The AGK Survey Results

by Rick Vanner
Thank you to the hundreds of AGK developers who took part in our survey, the results are extremely valuable and will play their part in defining how the product develops. It's important to realise that despite what we have already packed into AGK, it is only a very short way along the path we intend to follow.

If you want to browse all of the results for yourself, you can find them here.
The feedback shows up a number of issues, but adds more data and depth to what we already realised we needed to focus on. AGK is on an upward journey with many challenges to face. We have good climbing equipment and are not scared of the challenges ahead!
The AGK Beta Versions
Paul is heading up the development and stabilisation of the V108 beta. There will be rollouts of betas as required to make this as robust as it needs to be to allow our developers to have confidence in their commercial products. All bug reports are carefully reviewed and considered; as always we are grateful for the community effort in reporting bugs. There has been a clear effort to provide examples when reporting and this is paramount to quick turnaround and allowing Paul to dedicate time to development rather than recreation.
APK Building
The secondary focus for Paul, based on your valuable feedback, is to investigate the smoother creation of Android APK files for distribution. This is the stepping stone from game maker to game publisher for everyone.
Finding the Focus
One of the main aims of the survey is for The Game Creators to focus their efforts where they are most needed. Like all companies, we have finite resources and need to deploy them wisely. It's very important for us to plan carefully based on past experience and to also look at this feedback and choose what our community is looking for.
On that basis, we now know that developing new platforms is not the right way to go at present. As well as seeing this in the feedback, we also know that they take a very long time to develop and the actual platform might not be there when we're done - far too risky and wasteful of the resource pool. It would also stifle changes and enhancements to existing platforms.
We have a Plan
We feel the core areas to focus on for now are;
Compiler bug fixes / faster compiler
Android APK export option in IDE
Far better help files
3D animation (AGO)
Debugger for tier 1

The first two are well under way as part of the V108 program. The Help system is also being revamped and we will be show casing our changes to this very soon online.
We are discussing internally how best to progress the onward development of AGK. There are some great games being developed with AGK, it's really starting to mature as a strong and reliable engine.
AGK V108 Beta 12
The latest beta (#12) is available, here is a summary of the fixes since the previous beta. In fact Beta 13 might be out by the time you read this.
Fixed tapping on an editbox sometimes not showing the keyboard

Fixed back button crash on Galaxy Note 2

For those people compiling apps with NDK go to the AGK\IDE\platform\android\Source folder and view the readme file about fixing an NDK bug.

Fixed GetPointerPressed on devices with both mouse and touch inputs

Fixed missing commands in the help files

Text objects now use less memory but extended font images must match the format of normal font images, i.e. both must be fixed width, or both must be variable width.

Fixed memory corruption bug when debugging in tier 2 in Visual Studio

All Android projects MUST use the new AGKHelper.java file from the interpreter_android_prebuilt (tier 1) or template_android (tier 2) projects to avoid crashing. It is also recommended to copy the other java files from these projects to get the latest fixes.

Rewrote Android video handling to allow pausing and resuming of videos without a jump

Upgraded Android to API 10 (2.3.3) as the minimum version, you should change the
android:minSdkVersion and android:targetSdkVersion in your projects to 10. Very few devices are actually on API 9.

Removed ATL requirement from the VS2008 projects

Added OUYA key codes 102-107 to the android interpreter (untested)

Fixed camera and choose image commands on Android not returning valid images on some devices

Fixed loading of large JPG images on Android

Fixed pressing enter in an editbox not setting the GetEditBoxChanged flag

Fixed a crash when deleting lots of images immediately after they are created

Fixed crash with OpenToWrite when using the overwrite parameter

Due to the above fix the 106 and 107 compilers are no longer compatible with the 108 player

Fixed OpenToWrite not defaulting to overwrite when using no parameter

Added support for x86 (Intel) devices running Android (anyone using NDK should copy the jni/x86 folder from the template_android project into their projects and note the change to jni/Application.mk)

Added support for mouse wheel and middle mouse button on Mac and Windows (those using tier 2 be sure to update your Core.cpp files from the template project)

Modified GetmultiTouchExists on Windows to detect touch screen support rather than assuming true, may still assume true on Windows 7 and 8 even if no touch screen exists.

Changed DrawLine to draw lines that are less than 1 pixel in length as a dot.

Fixed Blackberry hide keyboard button not ending text entry

Added the following video commands to Blackberry: LoadVideo, PlayVideo, PauseVideo, StopVideo, DeleteVideo, GetVideoPosition, SetVideoDimensions, and GetVideoPlaying

The following commands are not possible on Blackberry: GetVideoDuration, GetVideoWidth, GetVideoHeight

Mac windows now resize themselves when they are bigger than the desktop resolution

Changed the way Windows apps resize themselves when they bigger than the desktop resolution to maintain aspect ratio

Added right ALT to Windows key input commands

Reduced memory usage for text objects when using fixed width font images

Fixed SetHTTPHost when using a username and password

Fixed crash when using SendHTTPRequest with a large response string on iOS and Mac

Fixed SetTextDefaultMagFilter and SetTextDefaultMinFilter not affecting extended characters

Fixed SetEditBoxTextSize and SetEditBoxSize causing SetEditBoxWrapMode to behave incorrectly

Stopped all sounds (in addition to music) when sending the app to the background on Android and Blackberry. Sounds will not be resumed like music so if you want a continuous sound playing you must use GetResumed to detect when it should be restarted.

Fixed extended characters not displaying when using a variable width font

Updated iOS AdMob SDK to prevent apps getting rejected for using the uniqueIdentifier
AGK Gallery
Are you submitting your games to the AGK Gallery yet? If you have your product in an app market place - PC, Mac, Android, iOS, Blackberry - then claim your free promotional space in our gallery today. Include multiple screenshots, video, comprehensive details and links to where your game can be purchased.
You will find links to dozens of AGK games in the gallery, with every available platform highlighted. Take time to browse through and see what is already in there, to both entertain and inspire you.
Dark Occlusion Plugged In
The DarkBASIC Professional plugin for optimising complex models and allowing developers to offload the complexities of removing hidden objects from the pipeline, has had a recent update. You can experience improved speed and easier implementation with the new dll. You no longer have to use code includes, simply install the dll and you are ready to use occlusion culling in all your projects. The large command set has been minimized to a few simple commands such as 'Set Object Occlusion Culling' to enable or disable occlusion culling for an object.
This latest version gets the seal of approval from Lee Bamber, who is considering its use in FPS Creator Reloaded. "This plugin looks like a serious contender for optimising FPSC-R", says Lee. "Why this bold statement? The latest version has proved it's worth by rendering 10,000 complex objects at a blistering 300 frames per second!"

Existing users of Dark Occlusion can download the update from their order history. Anyone wanting to purchase for the first time can do so here.
What is Dark Occlusion?
Dark Occlusion is a real-time occlusion culling library for DarkBASIC Professional. It will exclude objects that are not visible for the camera because they are obscured by other objects. This way, less polygons have to be rendered and your game will run at a much faster speed. There is no need to pre-calculate anything, everything is setup and calculated in real-time.
Features
Easy to use - Dark Occlusion has over 50 easy to use commands to improve the speed of your games. All commands are fully documented.
Object/Limb occlusion - Dark Occlusion will exclude objects that are not visible to the camera, but it can also exclude seperate limbs.
Auto-updated dynamic objects - When an object is moved or rotated you won't have to tell Dark Occlusion to update it, this will all be done automatically.
Fast object setup - Setting up objects is fast and can easily be done at runtime.
Auto-creation of low-poly bounding models - Dark Occlusion uses low-poly models for faster calculations, these models can be custom made or you can let Dark Occlusion create a low-poly model automatically for you.
Multi-threaded for maximum use of multi-core pc's - All the heavy calculations done by Dark Occlusion are handled by a seperate thread. This way your game will always run smooth.
Fast and unlimited levels of detail - Adding level of detail to your objects will replace objects that are far away from the camera with low-detailed objects, allowing you to have more objects in your screen with less impact on the performance. Because Dark Occlusion will only update visible objects, the level of detail system is super fast.
Add properties to your objects - A fast object-property system is included, allowing you to add custom properties to your objects and to retrieve them later.

Dark Occlusion is available to buy from the website here, you will receive the latest version.
Exporting Models for FPS Creator
For the more serious FPSC model-maker, kW X-port for 3DS Max is now available. This is an important announcement, no DirectX exporter has been made available for the latest version of 3DS Max until now. This has meant that anyone using the last two versions of Max have had no way of exporting character models for FPS Creator or DarkBASIC Professional.
Additional advantages
kW X-port has other advantages. Using the open source code from the developer Jon Watte, Mark Blosser has added further options specific to the Game Creators environments. For example, you can disable the animation tick which allows FPS Creator to take control of animation speed.
The exporter also has a major leap forward for anyone familiar with the older Panda exporter. A 15 megabyte Panda-exported model will be compressed down to just 2 megabytes when using kW X-port!
The image below shows the settings required for a compatible export for FPS Creator or DarkBASIC Professional.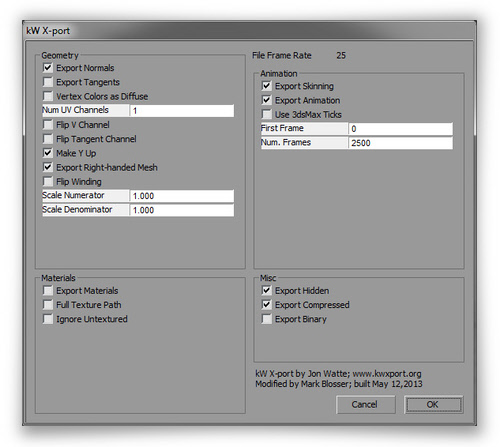 Mark also has the following tips for a successful process:
Be sure to leave the "Use 3dsMax Ticks" button unchecked, this is a new option that allows the animation to play at the correct speed in FPS Creator and Dark Basic Pro.
The exporter already knows your file framerate, just set your animation range in the Animation group box
The "Export Hidden" checkbox is useful for bones, dummies, firespots, or other objects used to drive an animation that you don't want to be seen, yet need to be exported. Alternatively, you can set your object's visibility setting to non-renderable in Max and the exporter is smart enough to propagate that setting to the .X file as well
Exporting using the "binary" option can cause certain models to crash FPS Creator, best to leave this option unchecked
For exporting static, non-animated models or models that only contain rigid-body animations (non-skinned), just toggle the "Export Skinning" and "Export Animation" boxes accordingly.

The full details and downloads can be found on Mark's website here.
AGK Competition - It's all about the Numbers
The Game Creators asked you to create an educational maths game aimed at a specific age range / learning stage. The games could be created in either Tier 1 or Tier 2 AGK. The Deadline for this competition passed on 31st May 2013.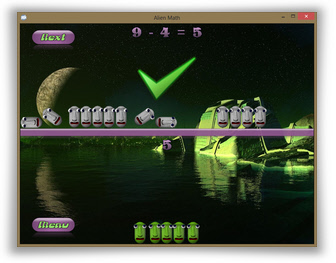 The Prize is better described as a fantastic opportunity. The winner and any other outstanding entries will be published by TGC on iOS, Android and possibly other platforms for a revenue share of 50% and artwork will be spruced up by a TGC artist for release.
The entries have been submitted, and we will report on the winning entry next time. There was a range of games from Ninja Maths Dojo to Rocket Math and Ticket To The Mind. Judging is taking place now and the winners will be notified as soon as the decision is made.
Hands-On for More AGK
Alistair Stewart has been busy yet again on the next supplement for Hands On AGK BASIC, after bringing you the previous instalment only a month ago. If you've finished reading the free 100+ page supplement to Hands On AGK BASIC covering 3D graphics, and the second memblock-oriented supplement, it's time to progress once more.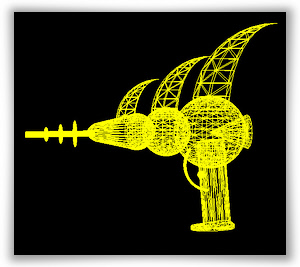 The third supplement for Hands On AGK BASIC is now available to purchasers of the book. This time it covers just a single statement - DrawLine(). But over 41 pages you'll find out how to use the command to draw triangles, rectangles, circles, ellipses, and Bezier curves. It even shows you how to read OBJ files and create wireframe displays of 3D models (like the one shown here).
If you are on Digital Skill's purchasers mailing list, you should automatically receive details of how to download the free supplement. If you bought the book but haven't signed up yet for your free supplements, visit the Digital Skills website for details of how to register

(http://www.digital-skills.co.uk/). And if you haven't bought the book yet - well, you're missing out on 1000 pages of expert help that will take you from absolute beginner to AGK BASIC guru.
FPGC in the Classroom
First Person Game Creator is the less well known sibling of FPSC. It's used in a select few projects with some of The Game Creators' creative partners. In this case, it's coupled with VR Quest, an American Virtual Reality company, who we have reported on previously.
Students at Pleasant Plains in Staten Island, New York were asked to develop games based on the themes of either "Life on Mars," "Egypt Quest" or "How to be a Hero" to tie into what they've been learning.
In class, the fifth-graders have been working in teams, learning about life in ancient Egyptian civilizations and creating a virtual reality universe rich with pyramids and temples, ancient artifacts, and ruling pharaohs. They also discussed ways that man can survive and live on Mars or how they might rescue trapped miners in a mine collapse to understand the attributes of heroism.
"My students are in the process of creating their own video games that enhance their research skills, academic skills, complies with the Common Core State Standards, and takes them to a new and higher level to learning," said fifth-grade teacher James Laieta. "This program is inspirational, and the answer to a teacher's dream."

Read the full story here on the SILive website.
From The Forums
by Grasmann. "Since I started programing with dark basic it always bothered me that you can't have proper classes and objects as parameters and so on. So recently I tried to get something together to compensate a little bit for this lack of features."
Sergey K has taken a 3DS Max tutorial on tree generation, and rewritten it in DarkBASIC Professional. There are 9 parameters including colour, size and life that allow you to customeise each tree. Although this demonstration is about trees, the theory can be applied to many things.
Keep up to date with TGC on Facebook

Join over 5,250 fans on TGC's Facebook page to keep bang up to date on news, user projects from the forums and discussions. At the time of writing we have just seen our 5,001st fan sign up to the Facebook group!
We're keen to hear from all our avid users and we always love to hear what you've been up to with the tools we sell. So if you have something you want to share with the wider TGC audience why not post it into the TGC Facebook page?
FPSC Reloaded - Are you having your say on Facebook?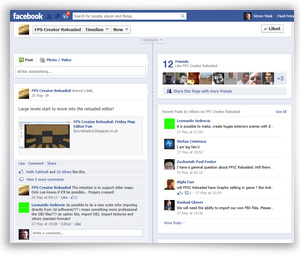 There are now over 670 fans discussing Reloaded on our Facebook page right now. Whether you simply want to see the update and progress news as it is released, or get involved in technical discussions about LOD, Light and lots of other topics, sign up to this page today to be part of it.
Don't forget you can also join our AGK fan page too.
The Game Creators News
News, views, product launches, videos, tutorials, model packs,
community projects and competitions;
you will find all of them on The Games Creators News site.
All of the newsletter articles, tutorials and announcements are now online, and available as soon as it hits the press.
Subscribe using your Favourite Newsreader
You can subscribe to our newsfeed using RSS, making delivery of our featured articles even more slick and efficient. The address for your reader of choice is:
//www.thegamecreators.com/news/feed
Add the feed to your mobile device, the example shown here is the News App that comes as standard on the Blackberry PlayBook; Read your news on the move!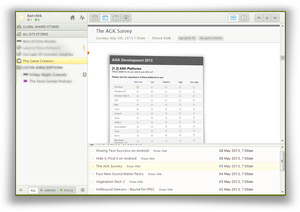 Alternatively, use a service such as Newsblur or Skimr on your Netbook or Desktop computer to browse the headlines at your leisure. You can use the monthly archives to review older information, and tutorials that will be as valuable in 12 months as they are today. You'll find numerous ways to browse by category and keywords, and even catch up with Lee Bamber's Tweets in the same interface!
"Most people are afraid to try to program"
Matthew Smith, Manic Miner.