If you cannot view this newsletter correctly, click here to view it online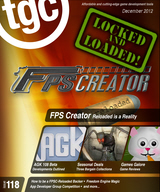 Many of our community members have been highly motivated recently to complete competition projects in the Intel Ultrabook competition. One thing that will always stimulate motivation is an immovable deadline. You can further enhance it by providing rewards beyond the deadline, such as the big prize money in this particular case. There is actually one other thing that is more powerful than both of these combined, and it featured here.
Daniel Kahneman (Nobel prize winner) and Amos Tversky researched the principles of Loss Aversion. Put simply, losses loom larger than gains. It is a psychological phenomena that mankind will fight harder to prevent a loss than they will to experience a gain. In this case, many of our community members were given an Ultrabook just for having a good idea. To keep it, they had to fulfill that idea by publishing the finished app or game. Consider the options; how hard would you work to win a $1000 Ultrabook that you've seen on a webpage? Now ask yourself, how hard would you work not to lose a $1000 Ultrabook that you already owned and cherished? The outcome is identical, the motivation is vastly different!
The moral we find in the midst of this is that if we find ourselves losing the willpower or strength to complete a project, start thinking about what you have to lose. In most cases, it will be months of hard work that does not see the light of day. Combined with the visualisation of your game being played by complete strangers, you should be able to make that final push to the finish line.
This month we start by saying goodbye to Mike Johnson, a respected member of our team for over ten years. Mike has made his mark on many of our products, on both the programming languages side, and also on the additional products that contribute to the Game Creators' Portfolio. Mike has moved on to pursue other challenges in the software world, and we wish him our sincere best wishes with his pursuits.
The team at TGC have been busy at work in amongst the flutter of activity in the forums, with many beta releases of AGK, and updates to Freedom Engine. We've seen the release of new Model Packs for FPS Creator. And of course, much attention has been on the FPSC Reloaded Kickstarter. You'll find all of this and more in this month's newsletter.
Until next time,

contents
(1) FPSC News (2) Freedom Engine (3) AGK (4) DBP (5) Model Pack Deal (6) App Developers Group (7) AGK + Hands-On Deal (8) Game Reviews (9) From the Forums (10) Facebook (11) The Game Creators News
FPSC Reloaded - Locked and Loaded!

The Game Creators in November announced the launch of an ambitious Kickstarter Project to realise the creation of FPS Creator Reloaded. Today we're able to share some wonderful news with you. A private investor (who wishes to remain anonymous) has funded the project up to the 60K level.
This means that FPS Creator Reloaded and all the features listed on the Kickstarter project will be developed. We're really excited about this and we're looking forward to evolving the software as planned.
We wholeheartedly thank all of our supporters, both within the known community and those elsewhere. Over 400 people have the faith in our track record and abilities to commit to this incredible project, and next milestone in the path of The Game Creators.
How to back the FPSC Reloaded project Today
The Kickstarter Project itself did not reach the projected goal, and so any finance pledged through this channel will not be taken from your account. But we still want your support, and consequently we are now offering avid FPSC Reloaded users a way to get involved in FPSC Reloaded with our own internal TGC pledge system.
We have kept it simple and are offering a single pledge amount of £50. Just like Kickstarter, your pledge will be used to help pay for the development and entitles you to a few gifts.
These pledges will go towards the development of demo assets and media and also new features if we raise enough through this way. See the initial stretch goals as to what we may add on top of the version 1 list of features for Reloaded.
If you choose to back us and pledge we can offer you the following:
Access to Beta versions of FPS Creator Reloaded as and when we make them available
Priority shipment of the physical product to you
Your name in the credits role
Ten awesome model packs:
Model Pack 29 - Tropical Foliage Pack
Model Pack 30 - Middle East Pack
Model Pack 32 - Office Pack
Model Pack 34 - Industrial Pack
Model Pack 37 - Castle Pack
Model Pack 38 - Metro Theatre
Model Pack 39 - Zombie Apocalypse
Model Pack 50 -Dungeon Pack
Model Pack 57 - Zombie Apocalypse 2
Model Pack 52 - Viral Outbreak
"Just made my pledge, this looks like an awesome product and a huge step up from classic FPSC!!! I really hope this pulls through! Exciting stuff!"
Thousands of FPS Creator owners around the globe are already creating high quality, bespoke action games and sharing them with friends, family and with the wider fanbase around the world. FPS Creator Reloaded will take this experience to the next level, with enhanced visuals, audio, greatly enriched functionality, effects and more.
"The FPS Creator community have often astounded us with their games", reports Rick Vanner, director of The Game Creators. We want to work closely with our community to develop a collaborative tool so they can make great games in a fast and efficient way.
"Loving what you guys have planned for it, and can't wait to see it in action, your stuff is only getting better"
FPS Creator Reloaded will include over forty enhancements and build on its popular predecessor, across ten areas covering terrain, PhysX physics, AI, weapons, game play, graphics engine, HUDs, performance and audio. There will also be a set of new media including six new game characters.
To support the development of FPS Creator Reloaded you can pledge via the link below:
NOTES
* You will recieve the model packs as soon as your order is processed.
* FPS Creator Reloaded is not due to be completed until October 2013.
* New stretch goals may not be available until sometime after October 2013.
Thank you if you decide to support the project.
In the World of Freedom Engine
As the Beta version of Freedom Engine is picked up by more developers keen to break into instant game publishing over the web, we have a number of things to bring to you.
Freedom from Four Thousand Characters

Many of our AGK community are porting AGK projects over to Freedom-Engine to try them out in HTML5. Many were disappointed when the 4000 character limit per code file prevented larger projects from being moved over. To improve the experience for free users, we have dropped the character limit for code files. You can now have source code as large as you like. Thanks for your feedback and keep it coming!
Thinking outside the Engine
While we work in the background, it's great to see the community create and publish their works in progress and demos. Being able to instantly publish what you have created is one of the hallmarks of Freedom-Engine and it's great to see! Here is a cool demo from Crystal Noir doing a technique not native to the language. Click here to see this great effect.
The Next Step for Freedom Engine
As you are aware, AGK and Freedom Engine are siblings with the same DNA signature. Our work on AGK 1.08 has reached Beta 5 which is now complete in terms of command additions. The two products will synchronise again, with the new features of AGK drawn into the online Freedom Engine IDE. Keep reading the blog for more news.
What is Freedom Engine?
Game developers around the world now have their online outlet for their creativity and ingenuity regardless of their financial resources. Freedom Engine allows developers of all abilities the freedom to create virtually any game they desire and deploy their creation across a variety of platforms at no cost.
"There are literally millions of passionate game developers all around the world yearning for a way to bring their ideas to life," explains Lee Bamber, CEO of Freedom Engine, LTD. "Freedom Engine offers everyone, regardless of their financial resources, an opportunity to create and deploy the fantastic concepts they've been dreaming up and share them across social media. In particular, we want to give indie and hobbyist developers the deployment resources they've always felt were out of their reach."
Freedom Engine offers everyone, regardless of their financial resources, an opportunity to create and deploy the fantastic concepts they've been dreaming up and share them across social media
Lee Bamber
With the number of projects now over 10,000, the Freedom Engine servers are running smoothly and the surge of creativity is being well catered for. It is great to see so much activity in the first few weeks of Freedom Engine.
The forums are a hive of activity, sign up to the Freedom Engine forums to join in and improve your skills through the experiences of others.
Freedom Engine includes all the building blocks developers need to create fully immersive games. Sprites, sound effects, music, collision detection and 3-D commands are all available in this beta release, with 3-D physics to be added at a later date. These tools are accessible via a scripting language specifically designed to give developers the power they need to create truly complex titles, and the simplicity to make coding a snap.
Developers may create and deploy titles on Freedom Engine at no cost. 10 megabytes of storage is included free of charge. 250 megabytes of storage is available for a monthly fee of $5 USD. To learn more and sign up for an account, visit: http://freedom-engine.com/
We want to know what you are creating with Freedom Engine. Email us with links to your games, apps and demos so we can take a look and feature the best ones.
AGK Beta Wave

In amongst the mad dash to the finish line for the Intel Ultrabook competition, we saw a wave of beta updates for AGK. These were primarily brought out to cover the needs of Ultrabook Sensors and Windows 8 compatibility, but also brought with them a series of other improvements and new commands.
AGK 1.08 Beta 3
This was a significant release in terms of new functions, and it included amongst the many features:
Numerous 3D commands covering loading objects and shaders, scaling, camera range, FOV, culling and more
DrawLine command to draw 2D lines directly to the screen
ReadByte and WriteByte command to read/write single bytes to/from a file
GetWorldXFromSprite, GetWorldYFromSprite converts sprite coordinates into world coordinates, for example the top of a sprite rotated by 90 would actually be to the right of the sprite in world coordinates
GetSpriteXFromWorld,GetSpriteYFromWorld converts world coordinates into sprite coordinates
GetScreenXFrom3D, GetScreenYFrom3D returns the screen coordinates of the given 3D point
Get3DVectorXFromScreen, Get3DVectorYFromScreen returns a vector pointing into the 3D world from the given screen coordinates
DeleteAllImages deletes all images loaded with LoadImage or LoadSubImage
DeleteAllSprites deletes all sprites created with CreateSprite, LoadSprite, or CloneSprite
DeleteAllText deletes all text objects created with CreateText
GetScreenBoundsLeft returns the edge of the screen in your chosen virtual resolution, this takes black borders into account to the left of the screen and may be a negative value in your current virtual resolution
GetScreenBoundsRight returns the edge of the screen taking black borders into account
GetScreenBoundsTop returns the edge of the screen taking black borders into account
GetScreenBoundsBottom returns the edge of the screen taking black borders into account
GetReadPath to return the path of the current application exectuable
GetLoadedImages returns the number of images loaded with LoadImage or LoadSubImage
GetUnassignedImages returns the number of loaded images that are not currently assigned to a sprite or text object
GetUnassignedImageFileName returns the file name of a specified unassigned image
AGK Beta 4
This release added more solid functionality for the Ultrabook/Windows 8 development happening around the Intel competition. It also enabled development from Windows XP through to Windows 8.
AGK Beta 5
This latest release solidifes all of the beta development, fixing many of the issues found through the beta testing phase, and provides a solid platform for the final release and porting to Freedom Engine.
If you want to download the latest beta version and give it a test run, you will find the relevant files in your account product page. As always, remember this is not a finalised release and you should back up all of your projects first and foremost.
Lee Bamber on Twitter

Everything you need to know about both DarkBASIC Professional and FPS Creator development can now be found via Lee Bamber's Tweets. You'll get to hear about every bug fix and feature as it's implemented.
Start following Lee now to get the latest news about your favourite development tools as it happens.
Dark Game Studio Bonanza
This highly popular Special offer is still available to you, proving to be the best package deal we've ever created: Dark Game Studio, Dark Physics, Dark Lights, Dark AI, Extends and a whole lot more for an incredibly low price of $49.99. Save over $170!
Creating your own PC games is now easier than ever with this special compilation of game making tools:
Dark Edit
Demo Games
Physics Demos

Order Now

Save over $170 on this special deal. Be sure to check out the screen shots and the online videos. You can of course order safely and securely online, for delivery via postal mail.
The Bond1 Model Pack Deal - Treat Yourself
Enjoy this large collection of characters and assets to utilise in your creations, including military themed zombies, fantasy characters, an old style movie theater with shader effects for a truly dynamic environment and much more. You'll save yourself over 50% on the usual price until the end of the year.
For more information visit the FPS Creator website and offer page here.

This pack contains 71 new assets for your FPS Creator games.
This pack contains 21 new characters for your FPS Creator games.


This pack includes 30 characters featuring hand-to-hand combat.
23 fantasy themed characters for your FPS Creator games.
FPS Creator Gore Pack - Freaks, Abominations, and Gore!
Metro Theater Pack for FPS Creator
21 new zombie entities to populate your levels!
Viral outbreak for FPS Creator.
21 new military themed zombies, with World War 2 and modern day themes.
For more information visit the FPS Creator website and offer page here.
App Developers Group - Appup Advice

by Adam Hodgson
This month we hand the ADG platform over to Steven Holding, who has offered to host a competition in honour of the second birthday of ADG.
New Beginnings
With the New Year approaching and all of the new ways we are now able to create games and create content for games I thought it would be nice to have a competition about "New beginnings". This is a totally open competition to anyone who has a creative side. You can enter with
Game art (2D or 3D)
Music / Sound FX
a Game or App
If you have an idea for something not listed here then just ask me if it's eligible for entry and I'll let you know. I don't want to stifle any creativity which is why I have made the brief so open. Just try to base your entry on the subject title. Your entries will be judged mainly on their creativity and originality, not technical expertise (although clearly this will be taken into consideration). I won't be asking for code this time if your entry is a game or app.
Please only enter with your own ORIGINAL WORK!! Anyone found using another person's content will be kicked out of the competition. Use of the odd function or shared functions will not be possible to check but the work you submit will be considered for originality.
Closing Date
Midnight 31st December 2012
Rules
Any coded entries (apps / games / cut scenes) MUST be made using TGC products. Any entries under question must provide full source code if requested.
Where do I post my entry?
Post entries in this thread here (The Game Creators forum account required).
Prizes
As with the last competition we will do our best to provide something tasty for the winners. At this point in time we will be announcing 3 winners at the end, 1st, 2nd and 3rd place. Winners will receive animated sprite packs and skyboxes courtesy of Chris Van Wijmeersch and also be eligible for relevant forum badges (on the TGC forums) at the very least!
Good luck!
This article was presented in Issue 13 of the ADG newsletter. We welcome all independent developers to join us, the pre-requisite is simply that you are eager to share experience and resources with your fellow developers.
Save almost 20% when you Get your Hands on AGK + Guide

The App Game Kit solves many problems caused by mobile device fragmentation. With it you can code your game once and then deploy your game to multiple platforms. The Hands on AGK book is a perfect companion for guiding you through AGK. You can now buy both in a deal that saves you almost 20% on the individual price.
App Game Kit
A Beginner's Guide to Multi-Platform Games Processing
Although billed as a beginner's guide, this fantastic new resource is also invaluable to seasoned programmers looking to get the most out of
AGK
. Packed full of information on every aspect of Tier 1 programming, the book will take you from basic coding concepts through to the specifics of the AGK language. The book covers:
Algorithms
Starting AGK
Data
Selection
Iteration
A First Look at Resources
Spot the Difference Game
User-Defined Functions
String and Math Functions
Arrays
Advanced Data Types
File Handling
Particles
Text
User Input
Images
Sprites
Animated Sprites
Screen Handling
Physics
Networking
Bits and Pieces
Every AGK command statement (upto V1.07) in the language is explained in fine detail and accompanied with easily understood coding examples.
Buy both products now, and save 19%, this is a time-limited offer so don't miss out!
Community Game Reviews - iRabbit
iRabbit is a fun puzzle game with a simple but addictive concept. iRabbit is hungry, and he needs you to help him locate the cabbages!
Place guide arrows on free tiles, and let iRabbit run. He'll follow your directions each time he hits a guide arrow, and if you've got it right he'll be rewarded with a cabbage. Just remember to collect at least one bonus carrot on your route.
Start simple and work up to the bigger challenges, including boxes, pits, rotating clocks, disappearing leaves and more. Pit yourself against 3 different levels of difficulty as you work through them. There are many fantastic achievements to unlock and some great hidden features for you to find. Single-finger controls make for simple play, allowing you to focus on the challenges ahead.
Features:
60+ levels!
3 Difficulties!
Achievements
Various obstacles
Retina (iPhone 4,4S) display Support!
Relaxing sound effects!
Great artwork!
and much more!
iRabbit was created in AGK by Andris Knopkins, and is available now in the iTunes Store.
Space Fighter Project Alpha
As part of the Teach Yourself App Game Kit produced by Daniel Foreman, the game that is built as part of the course is now available on Android, via the Play Store. This is the culmination of the course, showing that the end product is of a standard that can be published.
Drones! Drones and MORE DRONES! How sharp are your reflexes? How accurate is your aim? The Space Fighter Project Alpha is a simple yet challenging retro game. Hit as many drones as you can with as much accuracy as you can. The higher your accuracy the higher your rating! This simple yet addictive game will keep you playing for hours.
You can download the game to your Android device from the Play Store now.
Get Your Game Featured
We'd love to publish more of your game reviews, but simply don't have the time to work through them all. If you want to submit your own game review - or even review games that you have found and played in the forums - then there are a few simple guidelines:
For AGK games, we ask that it has been published to a recognised marketplace (such as Google Play, Apple Stores, Blackberry World). We'll also consider games privately published and available to buy from a Website. FPS Creator games should be submitted for the BOTB process, running in the FPSC forums.
How to write a review for your game:
You need to include the Game Title.
Include a strapline that summarises the game in one sentence
Describe how your game is played, using attention-grabbing words and phrases that capture the imagination of the reader. Describe how you progress through the game, level up, gain experience and collect accolades. Introduce the dangers lurking, pitfalls and strategies for overcoming the obstacles.
Add details of game control, multiplayer, online scoring and interactions. Highlight where there are free/paid versions.
Don't forget to provide URL links to the store pages, and platforms on which your app is available.
Of course, you need screenshots (the more there are, the easier it is to select appropriate images).
Your review will be professionally edited before publication, or returned to you with advice if it requires extensive modification. You are permitted to use the final edited version in your own app marketing efforts, we want you to be successful!
Finally, submit your game reviews to the newsletter mailing address - newsletter@thegamecreators.com
From The Forums
Erebusman obtained the blessings of TGC to create a App Game Kit Community Wiki.
He has laid out the basic site framework and begun adding some content. As it is a community wiki if people have interest and time then help is always welcome.
Paul5147 has a great WIP of a race track editor. Racing games are quite rare in the forums, but when they appear they tend to be well made. Hopefully he will be discussing his project in more detail as it looks very promising indeed.
Keep up to date with TGC on Facebook

Join over 4,900 fans on TGC's Facebook page to keep bang up to date on news, user projects from the forums and discussions.
We're keen to hear from all our avid users and we always love to hear what you've been up to with the tools we sell. So if you have something you want to share with the wider TGC audience why not post it into the TGC Facebook page?
Don't forget you can also join our FPSC Reloaded and AGK fan pages too.
The Game Creators News
News, views, product launches, videos, tutorials, model packs,
community projects and competitions;
you will find all of them on The Games Creators News site.
All of the newsletter articles, tutorials and announcements are now online, and available as soon as it hits the press.
Subscribe using your Favourite Newsreader
You can subscribe to our newsfeed using RSS, making delivery of our featured articles even more slick and efficient. The address for your reader of choice is:
//www.thegamecreators.com/news/feed
Add the feed to your mobile device, the example shown here is the News App that comes as standard on the Blackberry PlayBook; Read your news on the move!
Alternatively, use Google Reader on your Netbook or Desktop computer to browse the headlines at your leisure. You can use the monthly archives to review older information, and tutorials that will be as valuable in 12 months as they are today. You'll find numerous ways to browse by category and keywords, and even catch up with Lee Bamber's Tweets in the same interface!