If you cannot view this newsletter correctly, click here to view it online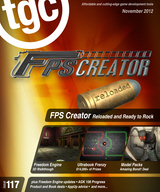 October has been a busy month. Having entered one of the Intel Ultrabook contests, my deadline passed on October 31st, and I can confirm that the late night dark hours were not filled with Hallow'een ghosts and ghouls. There were some blood-chilling moments as last minute tweaks were made, but no thankfully no screams from me! This month will be just as busy for a dozen or more AGK coders who have been successful in round one of the next Intel competition. My one piece of advice from my current experience is to take plenty of breaks, and your progress will be much faster. Simple solutions to difficult problems tend to arise over a cup of coffee, not over a keyboard.
As well as reporting on the numerous games that have resulted in a shower of Ultrabooks landing on the doorsteps of our community, we'll be telling you about the FPS Creator Reloaded Kickstarter. It's your opportunity to invest in a groundbreaking product that you have helped to shape already. We also have Freedom Engine updates and AGK news, as well as the usual round-up for the month.
Until next time,

Steve Vink
contents
(1) FPSC News (2) Freedom Engine (3) AGK Bounty (4) DBP (5) Model Pack Deal (6) Branded Apps (7) App Developers Group (8) From the Forums (9) Facebook (10) The Game Creators News (11) Game Reviews
The Game Creators are Ready to Reload FPS Creator

The Game Creators have announced the launch of an ambitious Kickstarter Project to realise the creation of FPS Creator Reloaded.
Thousands of FPS Creator owners around the globe are already creating high quality, bespoke action games and sharing them with friends, family and with the wider fanbase around the world. FPS Creator Reloaded will take this experience to the next level, with enhanced visuals, audio, greatly enriched functionality, effects and more.
"The FPS Creator community have often astounded us with their games", reports Rick Vanner, director of The Game Creators. "Developing Reloaded via Kickstarter is a great way to work with our community to develop a collaborative tool that they told us they wanted. It's also a fantastic entry point for newcomers to be part of a new phase in FPSC development".
FPS Creator Reloaded will include over forty enhancements and build on its popular predecessor, across ten areas covering terrain, PhysX physics, AI, weapons, game play, graphics engine, HUDs, performance and audio. There will also be a set of new media including six new game characters. Kickstarter stretch goals will bring 17 more features to the table, covering inventory systems, complex road and path design, sophisticated bot intelligence and more.
Backers of the project can expect numerous rewards including the completed software, early beta releases and even their visage as a 3D character in the application.
Make your pledge now!
Kickstarter projects only go ahead if the fund target is reached. We need our community to do what they always do, and support us in our quest to make FPS Creator Reloaded the best option on the market for hobbyists and bedroom coders. Your pledge can reserve you your copy of the completed software for the price you would expect to pay off the shelf, provide access to early beta versions and even get you in the game!
Pledge £10 or more
Full download version of the software that started it all "FPS Creator classic".
Pledge £25 or more
Full version of the FPSC Reloaded product as a download when completed. Includes previous reward.
Pledge £30 or more
DVD boxed version of the FPSC Reloaded product. All previous rewards.
Pledge £40 or more
Access to all BETA builds of the project as they are released. All previous rewards..
Pledge £45 or more
Limited edition FPSC Reloaded poster. All previous rewards.
Pledge £60 or more
Silver Sponsor of the project. We'll list your name or forum name in the silver credits section of the software. All previous rewards.
Pledge £100 or more
Gold Sponsor of the project. We'll list your name or forum name in the gold credits section of the software and also display your photo or forum image. All previous rewards.
Pledge £400 or more
Platinum Sponsor of the project. We will take a full face photo you provide and map it onto a civilian or combat character for inclusion into the game assets library. You'll receive an FPS Creator Reloaded 'Platinum' Polo Shirt. We'll list your name or forum name in the Platinum credits section of the software and also display your photo or forum image plus your character within the library. All previous rewards.
Pledge £2,000 or more
Immortal Package! All previous rewards plus the chance to describe a character and weapon that will be created and added to the game asset library, with priority listing in the Immortal credits role. You'll receive an FPS Creator Reloaded 'Immortal' Polo Shirt.
Pledge £5,000 or more
God like Package! All previous rewards plus the chance to describe a character, a weapon and a whole theme of 20 graphic entities of your choice that will be created and added to the game asset library, with priority listing in the God like credits role. You'll receive an FPS Creator Reloaded 'God Like' Polo Shirt.
The FPS Kickstarter project expands on the highlghts presented here, and can be found at http://www.kickstarter.com/projects/tgc/fps-creator-reloaded
Essential Links
FPSC Reloaded Kickstarter
http://www.kickstarter.com/projects/tgc/fps-creator-reloaded
FPSC Reloaded Facebook Group
https://www.facebook.com/pages/FPS-Creator-Reloaded/367364060013427
FPSC Reloaded Tweets
https://twitter.com/TheGameCreators
FPS Creator Classic
http://www.fpscreator.com/
What is Kickstarter?
Kickstarter is a funding platform for creative projects. Everything from films, games, and music to art, design, and technology. Kickstarter is full of ambitious, innovative, and imaginative projects that are brought to life through the direct support of others. Every project creator sets their project's funding goal and deadline. If people like the project, they can pledge money to make it happen. If the project succeeds in reaching its funding goal, all backers' credit cards are charged when time expires. If the project falls short, no one is charged. Funding on Kickstarter is all-or-nothing.
The Best FPS Creator Deal -

Save Over $150.00!
This offer has proved so popular amongst new users of FPS Creator and those that simply want 9 new model packs at a fanatstic price, that we just let it run and run! Get FPS Creator and 9 Model Packs for an incredibly low price of $29.99 USD (€22.00 EUR, £19.99 GBP). This deal includes:
FPS Creator
Model Pack 1
Model Pack 3
Model Pack 7
Model Pack 11
Model Pack 12
Model Pack 13
Model Pack 14
Model Pack 15
Model Pack 25
Click here to purchase the Bonanza pack, including FPS Creator
for just $29.99 / €22.00 / £19.99
Freedom Engine in 3D Glory
With the new suite of 3D commands currently being beta-tested by the AGK community, the first significant demo is now available in Freedom Engine, the sibling development environment.
The fully lightmapped Metro Theater Foyer is available to walk around, directly from your Chrome or Firefox browser. Users of FPS Creator will recognise the environment, which has been ported to WebGL for this technical demonstration of the new features available to users of Freedom Engine. To run the application, you simply need to click the link.
For anyone with a Freedom Engine account (which is free for the basic plan) you can open the project and investigate the code. The commands are still in beta, but functional and you are free to experiment with your own OBJ and texture files.
Transparent Computing with Freedom Engine
"With Ultrabooks getting all the goodness of mobile devices including sensors and touch, developers need to consider their options for developing apps that work across both mobile and PC devices. The idea that you can write an app once and then deploy it to all devices remains the dream tool of every developer. We've seen many cross-platform solutions in recent years, but the one that ignited the most interest was HTML5. The power was not in the language, but the distribution capabilities of the standard. Your HTML5 app can find its way to every browser, which means every device. Hundreds of millions of devices to be precise!"
This article can be read in full on the Intel website, where Lee Bamber has contributed his thoughts on HTML5 and the barriers it breaks through, whilst also highlighting the hurdles that still exist across platforms.
You'll also find a small HTML5 demo that can be run on an Ultrabook and use the inclinometer to control the spaceship. This is indeed a web-based application using the sensor hardware on a laptop!
Latest Updates
You will find the latest updates in the Freedom Engine, as we work in parallel with this and V108 of AGK:
New VS, PS and TXT files can now be created as Source Files. Ideal for creating shaders and data for use as media in your creations.
Using multiple arrays to pass subscripts to a multi-dimensional array now works
Removed case dependence on parser to solve issues like REMEND not being detected
If Integer literals are passed greater than the 32 bit boundary, they convert to float
CreateText now uses 85 times less resources on initial creation. Expands as needed.
LOG command integrated and tested as working (a great debug feature for FE users)
Fixed LOADMUSIC command so direct and indirect music index values are correct
What is Freedom Engine?
Game developers around the world now have their online outlet for their creativity and ingenuity regardless of their financial resources. Freedom Engine allows developers of all abilities the freedom to create virtually any game they desire and deploy their creation across a variety of platforms at no cost.
"There are literally millions of passionate game developers all around the world yearning for a way to bring their ideas to life," explains Lee Bamber, CEO of Freedom Engine, LTD. "Freedom Engine offers everyone, regardless of their financial resources, an opportunity to create and deploy the fantastic concepts they've been dreaming up and share them across social media. In particular, we want to give indie and hobbyist developers the deployment resources they've always felt were out of their reach."
Freedom Engine offers everyone, regardless of their financial resources, an opportunity to create and deploy the fantastic concepts they've been dreaming up and share them across social media
Lee Bamber
With the number of projects now over 10,000, the Freedom Engine servers are running smoothly and the surge of creativity is being well catered for. It is great to see so much activity in the first few weeks of Freedom Engine.
The forums are a hive of activity, as over 900 posts discussing the engine, the possibilities and the way our developers want to see the platform evolve have been recorded. Sign up to the Freedom Engine forums to join in and improve your skills through the experiences of others.
Freedom Engine includes all the building blocks developers need to create fully immersive games. Sprites, sound effects, music, collision detection and 3-D commands are all available in this beta release, with 3-D physics to be added at a later date. These tools are accessible via a scripting language specifically designed to give developers the power they need to create truly complex titles, and the simplicity to make coding a snap.
Developers may create and deploy titles on Freedom Engine at no cost. 10 megabytes of storage is included free of charge. 250 megabytes of storage is available for a monthly fee of $5 USD. To learn more and sign up for an account, visit: http://freedom-engine.com/
We want to know what you are creating with Freedom Engine. Email us with links to your games, apps and demos so we can take a look and feature the best ones.
$14,000 Bounty for AGK Developers
The latest Intel competition is awarding $1,000 Ultrabooks for those who are creative enough to get through round one. The Ultrabook-enabled software you design must take advantage of the new sensor technologies including geolocation, inclinometer, and ambient light detection. With the upcoming inclusion of these in AGK V108, our community have come to the fore with some great app ideas, and they have reaped the rewards.
We know of at least $14,000 in Ultrabook bounty being delivered to our community so far, with more rewards to come for those who succeed in the next round. That equates to a staggering 1,600% return on the original investment in AGK! Here is a round-up of many of the succeeding entries:
Bomb-Breaker
by Matty Hoban
"Break the blocks to reach and diffuse the bomb before the time runs out, play co-operatively with a friend or take out the bomb on your own. Includes dynamic environment that 'senses' the lighting environment you are playing in and adjusts the look of the game to suit. Play with touch screen controls or standard keyboard input."
Play through many levels with different difficulty settings and become the Bomb-Breaking champ!
Super b boy
by Cliff Mellengard
Jump, run, collect and avoid traps to reach the end.
"My simple idea is Rick Dangerous meets Mario and I have already done about 50 % of the game. It uses touch screen or keyboard for controls. I use box 2D physics for all physical stuff thats fun. I also use overdraw so there is no black borders whatever the device resolution, but widescreen devices get an advantage of seeing more of the map."
The Awesome Word Game
by qtimmons
"The Awesome Words Game is a challenging game where you form words from falling letters. As the game progresses the letters will start to fill the play area. When any one of your letter stacks reaches the top, your game is over. In the game you will need to form three to eight letter words as quickly as you can. The larger the word the more points you score.
"The game drops letters at the same frequency that they occur in the english language. I used this wiki page to set the frequency at which the letters will drop. When you spell certain words then it will change the game play. Eg. If you spell 'bomb' then a bomb will drop down and explode. I plan to use the Ultrabook's accelerometer to help control the falling bombs, letters and special effects."
Lotto-Matic-Ultra
by Hackinc 2000
"Tired of using boring applications to select your lottery numbers. Tired of pressing a button to randomly acquire numbers to play the lottery. Why not let the Ultrabook pick the winning numbers for the next lottery, using all his senses. How about doing it more exciting and fun. With the sensory capabilities of the Ultrabook, now You'll have a better and Fun way to pick your lottery numbers."
Marble vs. Vandal Game
by James Clarke
"Marble vs. Vandal, is a game that utilises the advanced features of the ultrabook such as the accelerometer and the touchscreen to create a survival/eliminator game. The game is a multiplayer game which lets users either play as the vandal, a player intent on knocking the Marbles off the board and preventing them scoring by making holes, or as a Marble, who must avoid the Vandal's attacks and compete with other Marbles to be the highest scorer."
Moon Rover
by Space Dream Studios
"It's a moon rover game, based on the original design of the real Apollo lunar roving vehicle (LRV). You are an astronaut on the moon, sitting on your rover and you have to drive back to your Lunar Module (LM), as soon as possible, before your battery dies or your oxygen runs out. You have to handle lunar terrain without destroying your rover. On the way you should jump to collect additional battery power and/or extra oxygen.
Control your rover by using the motion sensors of your ultrabook, including touchscreen events to jump and more. Including social media connection and score competition over the internet..."
Zombie Hangover 82
by apocalyp4
"Zombie Hangover 82 is about 3 friends that wake up in a mysterious mansion full of zombies in an alternative 1982. The game play is similar to that of the 1992 game Lost Vikings where the goal of the game is to switch between the 3 playable characters and use their abilities to navigate to the end of each level. The 3 playable characters are:
The runner who is able to run the fastest, jump longer distances, and push objects such as crates. He is the only character that can run against the conveyor belts.
The shield guy who is able to use his riot shield to deflect bullets, block zombies, help other character get to higher places, and use his shield as a bridge to help move object across gaps.
The crossbow guy who uses his crossbow to kill zombies, explode red barrels, activate switches.
To fully complete each level the player has to get all three characters to the levels exit, but they can move on to the next level as long as they have one character at the end of the level."
Tennis Tracker
by Lucas Tiridath
"This app is being developed using the App Game Kit's BASIC language. This allows for cross platform development but also for device specific code and provides an easy to use wrapper for what could otherwise be complex APIs. The graphics will be produced using GIMP.
"I believe the ultrabook is the ideal medium for this app for a number of reasons. Its light weight makes it portable and convenient to have with you on a tennis court. Unlike a smartphone however, the screen is large enough to allow the scores to be displayed big enough for players to be able to read them from the court. Further the ambient light sensor is almost exclusive to the ultrabook and allows for interesting new features like the light level detection. This could be particularly important in more serious games as the app will be pre-set to call a halt to play at a given light level and will be entirely neutral, hopefully preventing any controversy over decisions over whether to continue play or not. Unlike a tablet, the ultrabook still has a keyboard which makes it easier to enter players' names. This will be particularly relevant once tournament mode is implemented. The long battery life of ultrabooks also makes it practical for them to be kept on court for long periods of time without access to a powerpoint."
Flick Pong
by Steven Holding
"Flick Pong is a two player multi-touch game for Windows 8 (Desktop). It is designed to be a fast and furious arcade game based somewhere between air hockey and the old 'Pong' arcade game.
"The game will use the multi-touch screen for all of the gameplay but I thought it might be fun to try to adjust the colour / contrast of the app using the light sensors and maybe add some use of the accelerometer or even Geo-location. I haven't decided quite which of the many new sensors and features could be of use yet but hopefully I will have a chance to find out.
"There are a number of pick-ups already added to the game and I'd like to increase this by adding some Ultrabook specific pick-ups (when the device supports them). Where multi-touch screen is not available the game will use keyboard or joypad control."
Island Hopper Game
by Ched80
"Island Hopper is a 2D RPG based around aircraft. You play as a young pilot eager to make your own way as you explore the Island of Tresto. You pilot between towns and cities doing jobs and trading stock while avoiding dog fights with pirates and enemy factions. You take on jobs for local groups forming friends and enemies along the way. You can take on co-pilots and and other crew that provide you with bonuses and benefits as you travel across Tresto. You can purchase upgrades and eventually new airframes as you progress through the game.
"The game employs some additional player input over the traditional mouse and keyboard:
The aircraft is piloted using the accelerometers making successful trips and landings only possible with real skills.
Access through the stock market, hanger and crew screens will be done via touch-screen or mouse cursor, whatever the player prefers.
The terrain is procedural driven and seeded by using the Geo-Location Feature. If no location data is available then a random seed is generated.
Player progress can be posted directly to Facebook and Twitter."
We wish all the contestants luck, and hope to report on further successes very soon.
Lee Bamber on Twitter

Everything you need to know about both DarkBASIC Professional and FPS Creator development can now be found via Lee Bamber's Tweets. You'll get to hear about every bug fix and feature as it's implemented.
Start following Lee now to get the latest news about your favourite development tools as it happens.
Dark Game Studio Bonanza
This highly popular Special offer is still available to you, proving to be the best package deal we've ever created: Dark Game Studio, Dark Physics, Dark Lights, Dark AI, Extends and a whole lot more for an incredibly low price of $49.99. Save over $170!
Creating your own PC games is now easier than ever with this special compilation of game making tools:
Dark Edit
Demo Games
Physics Demos

Order Now

Save over $170 on this special deal. Be sure to check out the screen shots and the online videos. You can of course order safely and securely online, for delivery via postal mail.
The Bond1 Model Pack Deal - Treat Yourself
Enjoy this large collection of characters and assets to utilise in your creations, including military themed zombies, fantasy characters, an old style movie theater with shader effects for a truly dynamic environment and much more. You'll save yourself over 50% on the usual price until the end of the year.
For more information visit the FPS Creator website and offer page here.

This pack contains 71 new assets for your FPS Creator games.
This pack contains 21 new characters for your FPS Creator games.


This pack includes 30 characters featuring hand-to-hand combat.
23 fantasy themed characters for your FPS Creator games.
FPS Creator Gore Pack - Freaks, Abominations, and Gore!
Metro Theater Pack for FPS Creator
21 new zombie entities to populate your levels!
Viral outbreak for FPS Creator.
21 new military themed zombies, with World War 2 and modern day themes.
For more information visit the FPS Creator website and offer page here.
Apps For Brands from the Brand you can Trust
The Game Creators are available to convert brands into apps. What's more, the all-important factor of being all-inclusive for your customer base is inherent in all of our apps. Whether your audience is carrying their Android and iOS mobile devices, or eagerly awaiting at their Windows and Mac computers, TGC-produced Apps deploy to each platform. The difficult choice between inflated budgets or disappointed customers does not feature in your road to market.
Most recently, The Swizzels Matlow app Squashies World was launched alongside their new product range. Squashies World is a physics-based arcade puzzle game where you need to use skill, accuracy and speed to rescue the cute 'n' cuddly Squashies. Every packet of the new sweets has a QR code which directs consumers to the game via their mobile, wherever they may be.
Because The Game Creators are the developers of the technology behind the apps, as well as the apps themselves, new challenges do not remain challenges for very long. AdMob, Facebook, Twitter and Rating for iOS were all new features added to the toolbox as development of Squashies World progressed. As new technologies emerge, branded apps created by TGC will be on the leading edge. Love Hearts - the next branded game for Swizzels Matlow - already includes sensor technology for the new Ultrabook range that is not yet on sale to the public.
Watch out for the release of Love Hearts soon, with Garfield also in the pipeline for 2012.
App Developers Group - Appup Advice

by Adam Hodgson
With a significant number of the TGC community making it through the first round of this fantastic competition, and winning themselves a $1000 Ultrabook, we think it is a good idea to remind everyone of a great article written by Steven Holding.
You can read the article by Steven in full on the Baxspace website, where many AGK and DarkBASIC Professional developers combine their experience and skills to get published. If you're simply looking for a quick overview right now, read on:
Join the Appup Developer Program
Go to the AppUp developer program website here: http://appdeveloper.intel.com/en-us
Download the SDK
Download and install the SDK for C++ from here: http://appdeveloper.intel.com/en-us/sdk
Make Your Game
The full article contains numerous tips on optimising your game. Although you are designing predominantly for the Ultrabook in this contest, you may want to appeal to a wider audience including Netbook users. AppUp serves this market well, so take heed of the common practises for efficient apps and games
Build your Installer
At this point, your next point of call is the AGK help files. There are instructions in Steven's article for DarkBASIC Professional and DarkGDK for those projects, but AGK is supplied with a special project. From the Contents page, navigate to guides, and then to Publishing for Windows. This will guide you through the process of packaging your article for AppUp using Visual Studio Express.
You now need to create an MSI install package, and this is where the guide is invaluable. Through the trials and tribulations of the ADG group, this section has been perfected, and will save you many rejections from the AppUp acceptance process. Read it carefully and follow the step-by-step instructions to the perfect install package.
Submit for Validation
Again the guide goes into significant detail about the submission process. It helps you to decide on your marketing and pricing model if you haven't already considered this.
The full guide can be found here on the ADG website.
We hope this guide removes the stress of the final stage of your contest entry, and we wish you all the best with your endeavours!
This article was presented in Issue 12 of the ADG newsletter. We welcome all independent developers to join us, the pre-requisite is simply that you are eager to share experience and resources with your fellow developers.
From The Forums
Chalk Invaders was one of the winning entries for the Intel AppUp competition a while back. It was never released to anyone but the judges, but it's now up for everyone to check out!
There are a number of special offers that we haven't had time to feature ths month but you'll find them all here. Models, game making tools and books are all included in one deal or another.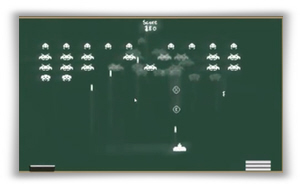 Keep up to date with TGC on Facebook

Join over 4,700 fans on TGC's Facebook page to keep bang up to date on news, user projects from the forums and discussions.
We're keen to hear from all our avid users and we always love to hear what you've been up to with the tools we sell. So if you have something you want to share with the wider TGC audience why not post it into the TGC Facebook page?
The Game Creators News
News, views, product launches, videos, tutorials, model packs,
community projects and competitions;
you will find all of them on The Games Creators News site.
All of the newsletter articles, tutorials and announcements are now online, and available as soon as it hits the press.
Subscribe using your Favourite Newsreader
You can subscribe to our newsfeed using RSS, making delivery of our featured articles even more slick and efficient. The address for your reader of choice is:
//www.thegamecreators.com/news/feed
Add the feed to your mobile device, the example shown here is the News App that comes as standard on the Blackberry PlayBook; Read your news on the move!
Alternatively, use Google Reader on your Netbook or Desktop computer to browse the headlines at your leisure. You can use the monthly archives to review older information, and tutorials that will be as valuable in 12 months as they are today. You'll find numerous ways to browse by category and keywords, and even catch up with Lee Bamber's Tweets in the same interface!
Submitting a Game Review
As mentioned last month, we want to publish your game reviews, but simply don't have the time to work through them all. If you want to submit your own game review - or even review games that you have found and played in the forums - then there are a few simple guidelines:
For AGK games, we ask that it has been published to a recognised marketplace (such as Google Play, Apple Stores, Blackberry World). We'll also consider games privately published and available to buy from a Website. FPS Creator games should be submitted for the BOTB process, running in the FPSC forums.
How to write a review for your game:
You need to include the Game Title.
Include a strapline that summarises the game in one sentence
Describe how your game is played, using attention-grabbing words and phrases that capture the imagination of the reader. Describe how you progress through the game, level up, gain experience and collect accolades. Introduce the dangers lurking, pitfalls and strategies for overcoming the obstacles.
Add details of game control, multiplayer, online scoring and interactions. Highlight where there are free/paid versions.
Don't forget to provide URL links to the store pages, and platforms on which your app is available.
Of course, you need screenshots (the more there are, the easier it is to select appropriate images).
Your review will be professionally edited before publication, or returned to you with advice if it requires extensive modification. You are permitted to use the final edited version in your own app marketing efforts, we want you to be successful!
Finally, submit your game reviews to the newsletter mailing address - newsletter@thegamecreators.com