Every now and again in the MyWorld universe, you come across something special, and behind the scenes is a creator just like you! We are excited to welcome one such individual who knows how to create a great game, and his name is TheHeroOfTimeAndSpace, the author of Dolamar's Revenge, available from the Steam Workshop.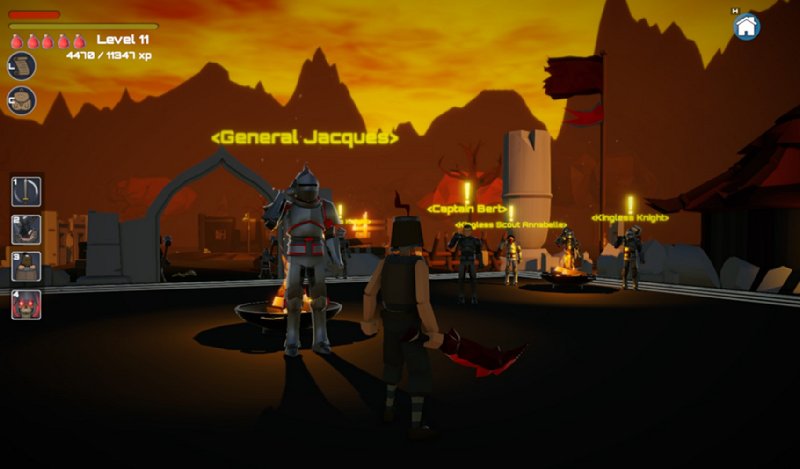 TheHeroOfTimeAndSpace was kind enough to answer a few questions about his experiences with making the game, hopefully inspiring others to follow in his footsteps.
Q1. When did you first discover MyWorld and had you created a game before that time?
Before I discovered MyWorld, I was a huge fan of Fight The Dragon, a game similar to MyWorld, where I built a small collection of games as well. After having fully exploited its editor for years, I thought it was time for something different. That's when I jumped into MyWorld at its release on Steam last year.
Q2. What was the most enjoyable part of the game making process, the level design or the story, or something else?
My favorite game creation part is probably the brainstorming phase. It's just so fun to toy around in the editor and come up with quirky creations in the process which then inspire me to build a story around them. Then I throw my 'cast' of NPCs into the mix, and it becomes one big brainstorm fest where I can let my imagination loose and make up funny scenes for my story :)
Q3. How long did it take you to complete Dolamar's Revenge?
I might not be the fastest creator around, but I've been working on Dolamar's Revenge about 30 minutes a day for 3 months. And I'm not even talking about all the brainstorming between each of those sessions. This allowed me to polish the game and keep pondering on the next part to build.
Q4. What feature would you like to see which you think will improve your game further?
More NPC interaction. Storytelling could be more immersive if you were able to move NPCs around, give them emotions, have them spawned at chosen times etc. Other things I'm really looking forward to are in-game notifications and special effects like fire and rain.
Q5. What advice would you give someone thinking about making their own game?
My greatest advice to new creators is to not be too ambitious with your first creation. It takes quite some experience to build great games and that's why my very first games (in Fight The Dragon) weren't bestsellers either. But if you keep practicing your creative skills with each game you make, you will eventually be able to create that one dream game you want to make.
If you would like to play Dolamar's Revenge, all you need to do is visit Dolamar's Revenge Workshop Page and then click the Subscribe button. When you next run MyWorld, you can go to the Workshop Play portal and select it from the portal list.