In this week's MyWorld update you'll find some great new features that expand the questing system. These will enable you to make more in-depth and interesting games with MyWorld.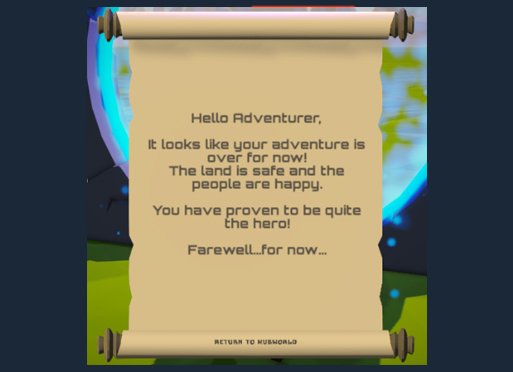 Key new features include:
Quests can now be set to be completed at a different NPC. (Kill/Collect Quests). The designated NPCs quests will be unavailable until the quest from the other NPC has been completed and handed in - allowing controlled progression
Quests can now be set to open a selected portal when completed. Portals set to be opened will be switched off until then, allowing controlled progression and preventing quest skipping.
Settings button added to portals in editor. Portals can be set to unlock when all quests are completed and / or all enemies in the current world are killed.
Portals can be set to 'End Game' when entered. This triggers an end game scroll and music, which can be customised in the portal settings.
Rotation issues on quest indicators above NPCs that occurred on some maps
Quest log reporting wrong collection items in some instances.
For more details on this update read the full Developer Announcement here.