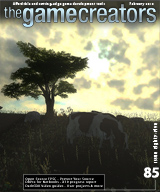 Many of you will be reading this newsletter using your free download of Firefox or Google Chrome. Sat idly by is your free copy of DarkASIC Professional while you scan the articles for inspiration. FPSC users will no doubt be downloading the free model pack featured here this month, maybe using their copy of GIMP to update the textures, and Wings 3D to fine tune the meshes. When you've a few minutes to spare, having played a few free games on Facebook, there's always iDare on the iPhone / iPod Touch to while away the hours.
The "free" business model can be a very successful one and suited to different longer term plans. For the well established, it can provide alternative channels of income, particularly through advertising. For the majority of hobbyist coders, it's probably the most effective way to get yourself known. Nobody will make their name selling ten copies of a game for a few dollars. However, giving your game away to ten thousand players will make sure you have their attention for your next killer app.
This month Lee talks about Open Source, particularly in relation to the free FPSC code already available. You can find out how the free iPhone Apps are performing, and download the free videos created to get you started with your GDK development. You'll also find all of the usual features, including forum chat and product updates from Leadwerks including Cartography Shop for FREE.
Until next time,

contents
(2) DarkBASIC Pro (3) iPhone Apps (4) FPSC News (5) TGC Store (6) BOTB (7) FPSC Competition (8) Leadwerks (9) DarkGDK (10) Tip Of The Month (11) From the Forums (12) Outro (13) Winner
DarkBASIC Professional News

It has been Subversion month here at TGC headquarters, with a complete overhaul of the source code that controls the DBP compiler, debugger, interface, support modules,

plug-ins and generators. Why now, after almost seven years, do you ask? Well we could say we've been mad busy for the last decade but who would believe us, right? Perhaps it was the particularly cold winter we had here in the UK, but we decided to place our code on a platform that would allow a smarter approach to code development. All our primary code is now being hosted on a private Subversion server which allows other team members to remotely access the various parts of the code base and merge those changes back into the base source seamlessly.
I have had the benefit of working with a number of leading community members on the finer aspects of the DBP experience and a source code sharing environment was the best way to proceed long term, so we have spent the month ensuring we moved everything relevant across, and equally as valuable, leave the extremely redundant parts to mature in our archives. The bottom line is that the potential exists for third party contributors and freelancers to jump right into our code base and make fixes, add features and generally collaborate to improve the language and supporting modules.
We are also considering moving a part of this code base to a public open source server such as Google code, so everyone can gain access to the C++ source code and

drill down into the mechanics of each command, ideal if you are hitting a functional roadblock with a particular command. We are increasingly becoming part of a very well connected community, and the traditional methods of code development are changing. Now DBP is free, we felt it only right that you should also experience a new level of freedom surrounding the development of DBP. It is very early days, and we are going to take it slowly, but there is no reason why you should not be able to take a built-in DBP module and enhance it with your own commands and features in the future. For the present, keep checking out the progress in the U75 beta thread where we will continue to work on the new interface and hopefully produce a great U75 update for the DBP community.
DarkBASIC Professional for NetBooks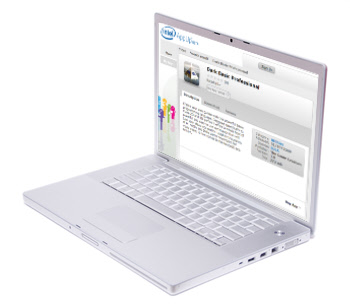 Intel's new AppUp Center for netbook applications now features DarkBASIC Professional for immediate download. You can visit the store and immediately download your development software, knowing it will run smoothly on your netbook.
The AppUp Center is Intel's one-stop shop for applications designed to work with the Atom processor. The video below highlights the features, what to expect and how to access your favourite applications. DarkBASIC Professional is at the forefront of this new venture, being one of the first applications in the store.
Dark Game Studio Bonanza
Special offer while stocks last: Dark Game Studio, Dark Physics, Dark Lights, Dark AI and Extends for an incredibly low price of $49.99. Save over $170!
Creating your own PC games is now easier than ever with this special compilation of game making tools:
Dark Edit
Demo Games
Physics Demos

Order Now

Save over $170 on this special deal. Be sure to check out the screen shots and the online videos. You can of course order safely and securely online, for delivery via postal mail.
Coding Monkeys Coding Competition

Coding Monkeys holds an annual coding contest that runs from March 1st until January 31st. This is a chance to promote your coding language of choice, your coding skills and projects. The length of time given affords you the opportunity to enter games and apps that may already be planned for the year ahead. The Game Creators are sponsoring the competition, with over $450 in prizes. Head over to their website now for full details.
iPhone Apps Still Riding High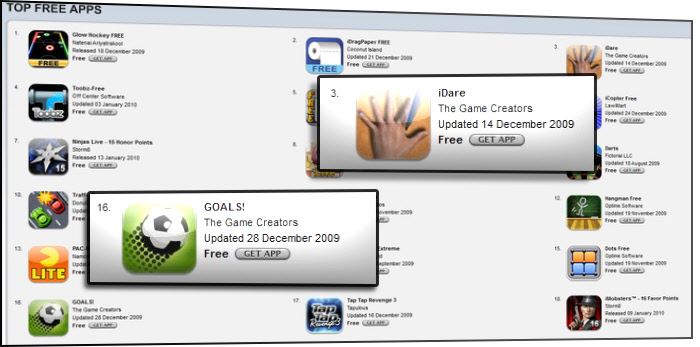 iDare was The Game Creators' first venture into the iPhone Apps market in 2009. January 2010 saw it re-enter high in the charts hitting number 3 in the UK's free apps chart, still one of the most popular downloads for iPhones and the iPod Touch.
GOALS!
Fast and fun arcade game play
Goal kicks, corners, throw-ins, free kicks and penalties
Five difficulty levels
Atmospheric soccer sounds
Added features in the full version:
Set the game length
Cup competition
Extra time and penalties in cup games
Edit team names
Select team kit colors
Hot on the heels of iDare, Goals! is at number 16 in the same UK chart. Looking solely at Sports games, it featured as high as number 4. The more comprehensive Goals! Pro is at number 19, rounding off a fantastic start to the new year.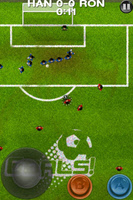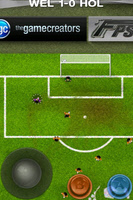 Goals! Pro featured in the What's Hot section of the iTunes App Store in mid-December and at the end of January was featured on the front page of the UK app store, another tribute to the rapid successes in this market in 2009. Goals Pro! has also reached #1 in both the Italian and Peruvian Games/Sports charts!
The team that developed GOALS are also making a special version for the new iPad. With the larger screen display on the iPad, the whole pitch can fit on the display making for a great table top soccer experience. More details on this in the next Newsletter.
Total downloads across all TGC apps has now passed the 6 Million mark! We plan to bring you more new and innovative apps throughout 2010.

Do you dare to test your finger dexterity with this FREE iPhone version of the 'Five Finger Fillet' game?
How quickly can you tap the sharp pencil in-between the fleshy virtual fingers? The faster you tap, the
higher the score. One wrong move and you'll stab into the hand and hear a scream! Your speed and accuracy is shown by a growing bar at the top of the screen. If you stab a finger or miss the sequence the bar will shrink back a little, so consistency is key.
Will you be the fastest amongst your friends? The better you do the harder it gets to move that score bar up. You are pushed further and further relentlessly. The best score is saved, so you can always come back and try to better it.
FPS Creator Updates

FPS Creator Migration
In addition to continuing the work to bring V117 closer to a beta test, we invested some time setting up the SVN repository to eventually allow the latest version of the source code to be viewed and eventually modified by external modders and interested parties. The benefit here is that you get to see the state of the code almost daily as we develop it internally, and pull down the code at any time to make your own builds to check out new fixes and features as they happen. For more information on how to use Subversion and the whole 'open source' concept, check out this issue's tip of the month. Using this new window into the soul of FPS Creator X9, you will be able to glimpse at early features being developed and even test them out months before they even appear in a public beta. This means when a new migration feature emerges, the first place you are going to find it is through the open source SVN repository. We are also strongly considering appointing a number of community members who are active in the FPSC modding scene to become full-access contributors, which means they each have the ability to submit changes to the official source code, which of course means those features and fixes make it into the final official version. Don't expect months of mod work pasted into the official engine overnight as it will be conducted in carefully considered steps, but the potential will exist to blend the best features of your favourite free mod into the mainstream engine. One final benefit is that two heads are better than one, so imagine what five heads could accomplish!
FPS Creator X10
Following on from the great news that the V110 beta started last month, I can confirm that all the reported bugs during that session have been fixed and X10 is stronger and nicer looking as a result. There are too many tweaks to mention here, but the highlights are as follows.
The integration of the Game Creator Store of course, but we have also improved the compatibility of legacy X9 models that can be downloaded from the store so textures are retained, static entities no longer disappear and other small quirks are ironed out.
We have added a large amount of data to the new in-game save/load feature so player and character states are retained.
We added better support for moving waypoint based platforms with a new appearantigravity.fpi script so you can create platforms on which the player can stand and use waypoints to get you from A to B (a great new puzzle element).
We have fixed the issue of flat shaded facets appearing on static geometry, whereas the same level in X9 uses smooth shading.
The lightmapper has been switched to use the static geometry normals instead of generating flat polygons internally, which improves overall visual quality.
Sometimes, enemy and neutral characters would stand there instead of using the PATROL AREA default behaviour, which they now obey.
A significant functional fix was the strength of dynamic light over static lighting, often causing users to feel there was no dynamic light in the scene without the assistance of static light to highlight it. The dynamic lights now play a stronger role in scene lighting and provides for like-for-like illumination between static and dynamic lighting. If your scenes cross static and dynamic lights, we suggest you reduce the intensity of your static/dynamic lights so they compliment each other.
Although we hit every bug report that came into the V110 beta, we are keeping the door open on this beta test until we're happy that the store items are generally acceptable to the V110 improvements. Internally we will be testing our free and paid-for store content, and you are welcome to do the same with your pre-existing X9 media and post feedback in the V110 beta thread if you find something amiss. We are pretty happy with the progress of the X10 beta session, and look forward to announcing the official release of V110 soon.
Community Model Pack - Snow & Ice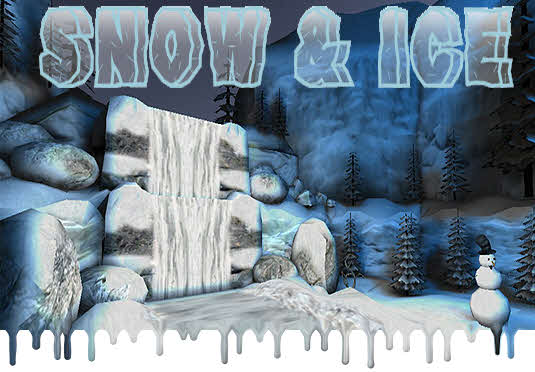 Cosmic Prophet yet again leads the way with yet another media pack, this time along the theme of

Country Time - Snow and Ice. The image tells you all you need to know to get downloading, and taking advantage of more free media for your game creating tools. Don't forget to leave your feedback in the forums.
Special Offer while Stocks Last - $22.99,

Save Over $150.00!
Take advantage of this whopping special offer! Get FPS Creator and 9 Model Packs for an incredibly low price of $29.99 USD (€22.00 EUR, £19.99 GBP). This deal includes:
FPS Creator
Model Pack 1
Model Pack 3
Model Pack 7
Model Pack 11
Model Pack 12
Model Pack 13
Model Pack 14
Model Pack 15
Model Pack 25
Click here to purchase the Bonanza pack, including FPS Creator
for just $29.99 / €22.00 / £19.99
The Game Creator Store - New Additions

Top up your Points by Mobile

You can now purchase 500 Store Points directly from your mobile. You don't need a credit card or payment details, simply enter your request on the Store payment page along with your mobile number. This service is available in the UK, United States and the following European countries - Austria, Czech Republic, Denmark, Republic of Ireland, Finland, Germany, Netherlands, Norway and Sweden. Other countries may become available at a future date.
Upload Your Assets to The Game Creator Store
Did you know you can sell your models, segments, music and sky boxes in the Game Creator Store? We already have dozens of artists selling their media, and we welcome anyone with the talent to provide our community with quality assets to do the same. If you are interested in becoming a store seller, please contact Janet, our Store Administrator directly.
New Store Additions
Chopper
Animated model in an X format with an FPI script included. The rider's mesh is hidden inside the chopper when it is not in use for easy 3rd person effect in FPSC 9.
This script is set up to work with the stock engine (v115)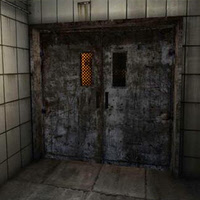 Asylum Doors
Asylum Double Door segment, fully animated and with sound.
Hi Resolution Texture (2048 x 2048) and Medium Resolution Texture (1024 x 1024) included.
Bonus alternate door and frame texture are also included.
Caboose
This is one of a number of railway cars created by Heltor. Alongside this one you can fill your railyard with a Flat car, Tank, Hopper, Stock, Coal and Box car. There is plenty of scope for a scenario with lots of hiding places and dangerous corners to navigate. Imagine a perilous crossing through the yard with enemies poised between each line of cars.
G36C Assault Rifle
This is the most downloaded weapon in the store. It is a Modern sub-carbine commando version of the G36 assault rifle.
Includes VWEAP and pickup weapon and ammo entities. Uses model pack 9-10 compatable hands. Enhanced for AirMod and Ply's Mod. Includes iron sights animations. Ironsights work automatically in AirMod 0.6 or later. In unmodded FPSC, iron sights view can be set by editing the animation ranges in gunspec.txt (recommended for intermediate and advanced users only)
Includes single handed animations and gunspec settings for compatability with Ply's Mod dual wielding. Also includes an additional tactical reload animation and idle interrupt animations which can be used by DBP projects and future FPSC Mods. Finally, it includes a new muzzleflash.
All of the above models are available to purchase and download through the inbuilt Game Creator Store in FPS Creator and DBPro, and also using the standalone store for other game-making tools.
Best Of The Best - Deprivation

Deprivation: Direct Action
by Wolf
The Story: You play as a Mercenary of the Silent Waters Agency, a group unofficially sponsored by several governments. You joined 3 Years ago, no one knows about your past or your real name, no one knows what happened to you and made you the cold, brutal mercenary that you are. All they know is that you always complete your Missions as long as the pay is right. You are Silent Waters' top man for Dirty Business. One man who can kill hundreds; one man without a name, without a past and without any conscience.



You've been contracted by a person who calls himself "The French" to break into a secret bunker complex of the German terror-group "Tollwütige Schakale". Your mission: recover a laptop.
Best Of The Best Entries

The criteria for gaining entry into the BOTB has increased. The media, skills and abilities in the community is reaching new levels. You can read the full criteria in the new thread on the forums.
Best of The Best Archives

The BOTB:Archives is where you'll find all of the award recipients that either predate the Very Best of the Best, or no longer have a valid link to their demo. Feel free to peruse the numerous entries and give kudos to the Developers who helped start FPSCreator's Best of the Best!
The Big FPSC Christmas Competition II

by Nickydude
It's all over! Judging is now underway. We'll be reporting all of the winners in the newsletter once the decisions have been made.
JUDGING
Judges will be looking for the best take on a nuclear fallout level and also how well it plays as a game.
Overall Look - Does your game look like it's set after a nuclear war? Is it some segments bolted together with a few buildings? The better the look, the more the points.
Game Play - Is there actual game play or are you just wandering around?
'Outside the box' - Does your game have something unusual? Is there something there no one has thought of? What gives it that 'play again' factor?
Frame-rate optimization -
How well does your game run? Are you using tips and tricks to get a decent frame rate or is everything running slower than a snail with cramp?
The Prizes
1st Place
Bonanza Pack + Character pack + Any 3 model packs + 2000 store points (as one prize) by TGC.
Printed & Bound copy of the Community Guide.
Atmosphereic Sounds pack by Nickydude.
Hell Demon Voice pack by Nickydude.
A copy of either Project Blue UM by Plystire or Horror Mod by knxrb.
SignsV by tschwarz.
FPSC Toolbox by Bullshock.
Everything I (Nickydude) have in store.
Holez by Xplosys.
Copy of my Model Pack 26 (Graveyard pack) by Ross tra damus.
Metro Theater Pack by Bond1.
One or more (depends) never released entities which they will be the only to use by CyborgART.
WWII Pack by Keith C.
Animated Hud by Rolfy.
Smart Packer by mrniceguy.
2nd Place
Atmospheric Sounds pack by Nickydude.
Hell Demon Voice pack by Nickydude.
A segment pack and a custom game application (Game-Launcher or Game-Downloader) by Doomster.
Holez by Xplosys.
A copy of either Project Blue UM by Plystire or Horror Mod by knxrb (whichever is left).
$20 Store Voucher by KeithC
Pick of 2 tools from the FPSC Toolbox by Bullshock.
Pick of 6 audio files from my (Nickydude) store account.
Character Pack by TGC
Cyborg ART's Urban pack"
3rd Place
Tommy Gun with hands by General Jackson.
Holez by Xplosys.
BlackBird Model Pack by RedEye & mgarand.
Pick of 1 tool from the FPSC Toolbox by Bullshock.
Pick of 3 audio files from my (Nickydude) store account.
Models of his entry (Ultimate Contest) from 1507 from RedEye

The forum discussions are available to discuss the entries, their merits, and who you think is in with a chance of scooping the prizes.
Leadwerks Engine 2.3

By Josh Klint
Leadwerks Engine 2.3 has been released. This major update includes a new editor, Lua script integration, forest rendering, roads, and more.
Before we get into the latest news of this version I would like to announce that Cartography Shop is now FREE to download and use. So now there's no excuse for not making your game levels! Grab it HERE.
Integrating Lua and Leadwerks Engine
Like many programmers, I used to consider scripting languages to be a "toy"; they are nice and easy to use, but ultimately I thought it was just programming for people who don't want to install Visual Studio. I started playing with Lua back in June of 2009, and the potential for this wonderful language quickly became apparent. Our integration of Lua allows scripts to be written on both a global and per-object basis; you can write your entire program in Lua, like you would with C++ or another language, or you can write a script specifically for one object class, with different predefined functions to be called during the program. There are functions that can be called when an object hits something, when it is created, or once every frame to update the object. Object scripts can be used together with C++ or another programming language. This means that anyone who uses Leadwerks Engine, with any language, can download a scripted object, drop it into their program, and have the same behaviour working in their own game. The implications of this are immense.
"For the first time, developers could easily work together and share their creations, and still use whatever programming language they preferred."
Suddenly we found that instead of being a collection of a few hundred individual programmers, the community became a collaborative, collective group. If one developer writes a script for a scary monster and posts it online, another user can download it, drop it into the editor, and see the results, with no code changes. You can even edit the script in Leadwerks Editor, save it, and instantly see the results. For the first time, developers could easily work together and share their creations, and still use whatever programming language they preferred. Lua has changed the whole feel of the community to a more social and cooperative group.
The following video gives you a feel for just how powerful the scripted approach is.
Keeping it Real-time
Our design philosophy for Leadwerks Engine is that everything should run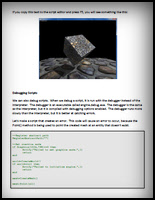 in real-time, and thus be editable in real-time. Lighting and physics are already editable in real-time with instant feedback, but it took some time before I realised we can extend this approach to something else - programming. The new editor has an integrated script editor. To edit an object's script, you simply double-click on its node in the scene tree. You can view all the code that makes the object to whatever it is doing. You can also make changes to the script, save it, and the object's behaviour is instantly updated! The lack of a compiling phase allows you to fine-tune behaviour to get it just the way you want. And of course, it's just a lot of fun to use. For an in-depth description of our Lua implementation, download the PDF tutorial.
The Road to Perfection
Roads look nice, but the reason I really like them is they allow new dimensions of gameplay. When I started writing the road editor, I had a few requirements. I wanted the roads to be written entirely
with Lua object scripts. This was a challenge, and forced me to add several features to the script integration to make it work. I also wanted roads that aligned perfectly to the terrain, like they do in Crysis. First I wrote the mesh generation routine that makes a spline-based road. This is fairly simple, but it is only part of the problem. The biggest challenge was slicing the road up by the terrain grid, so that every vertex on the road lined up along the terrain, and the whole road lay perfectly snug. UV mapping the tessellated road was another major challenge, but a clever solution was found after many attempts. The resulting roads look great and conform perfectly to the terrain. And they're fun to go driving on!
Seeing the Forest for the Trees
The forest rendering algorithm is my favorite new rendering feature. The bulk of this was written in the spring of last year, but there were a few details I didn't complete until recently. I spent hours playing with the Crysis editor and trying to figure out how the heck they were able to render so much foliage. I read article after article, but no one seemed to have a good approach. Most of the forum discussions on graphics development sites seemed to amount to just saying "use billboards". The problem is that rendering 100,000 billboards is still a major challenge. The solution was found by analyzing what format data the GPU will render most efficiently, and then working backwards to find a way to get the vegetation in that format. The solution is elegant, and seamless to the end user. There's no baking or pre-processing. You paint as many trees and plants on the terrain as you want, and it just works. I still have some more ideas to implement, like destructable trees and even better efficiency, but I am quite happy with how it turned out.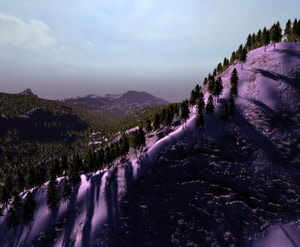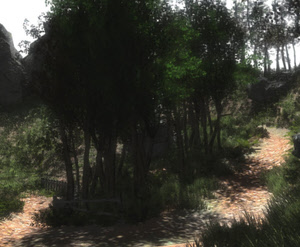 Features Summary
Lua Script Integration: Write object scripts and write your game in any programming language, or you can write your entire game in Lua.
New Editor: Leadwerks Editor is our new tool for creating enormous terrains, placing objects, and creating worlds. You can even edit scripts and see the results instantly.
Forest Rendering: An advanced new rendering algorithm makes it possible to render hundreds of thousands of trees and plants, at playable framerates. Make dense forests that stretch for miles.
Roads: Build spline-based roads and paths in the editor. Roads can branch, stretch, and fade out. You can even go for a drive on your highways and byways in the editor.
Terrain Holes: Remove patches of terrain and go underground with caves and bunkers. This feature brings a new subterranean dimension to your games.
High Dynamic Range (HDR): Brights are brighter, and darkness is darker. High dynamic range allows a greater range of color to be displayed, with automatic iris adjustment to correct for the ambient lighting environment.
Animation Improvements: Characters can have up to 256 bones, with fast hardware skinning performed on the graphics card.
Rendering Framework: It's easy to toggle advanced effects on and off, in any combination, with commands like SetBloom() and SetHDR().

Exisiting users can upgrade to Leadwerks Engine 2.3 for just $50, adding the wealth of new features to the programming toolbox. If you are interested in purchasing the product for the first time, check out the dedicated web page with the full details and ordering options.
This month's cover is created using Leadwerks. Michael Betke uses the engine for planning visualisation. See more of his work at http://www.pure3d.de/
Getting Started with DarkGDK
DarkGDK is a great development platform for your games. However, some new users can struggle to get it correctly installed and configured. Daniel Foreman has created 2 videos to ease the process.
The first tutorial covers all of the required installations, including Microsoft Visual C++ express edition and the DirectX SDK. The tutorial continues by starting your first project, the basic requirements and finally compiling the program.
The second tutorial covers a common error encountered by many newcomers. You may find when you compile your first project it fails with a fatal error. This video will help you navigate through the essential steps to rectify this problem.
Lee's Tip of the Month - Doing It In The Open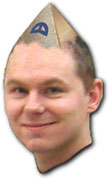 If you have been in the industry for any length of time, you will have heard the term 'open source', the idea that instead of locking your source code up in a vault somewhere, you put it on the internet for everyone to download and use. If you are protective of your IP and are exploiting your code commercially, it is probably not your first thought when deciding where to store your source. That said, it is quite common to share commercial source code privately to your coding team using similar source code control methods.
My tip this month is to show you how you can quickly and easily set up your DBP application as an open source project, allowing your team and other interested members to view and even edit your code from anywhere in the world. You also have the advantage of a remote backup location so you don't lose your code, and the ability to step back in time to an earlier version of your program when looking for bugs or restoring your code after a particularly fatal modification. Here are the steps to your new life in the open:

1. You need; a copy of DBP (free version will do) and the latest version of TortoiseSVN (http://tortoisesvn.net/downloads)
2. Open DBP and create a New Project, providing a memorable title that represents your project
3. Type something simple like:
PRINT "HELLO OPEN WORLD"
WAIT KEY
and save the project, then exit DBP
4. You will find your new project folder in the Dark Basic Pro Projects folder with the name you gave
5. Now install the version of TortoiseSVN you downloaded
6. Now go to http://code.google.com and click Project Hosting (login/reister using google account)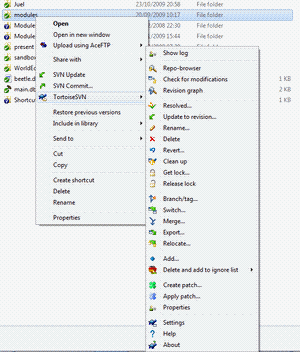 7. Click 'Search Open Source Projects' and then 'Create a New Project'. Fill in your details (use Subversion and Apache 2.0)
8. Now click the SOURCE tab, and find the link that starts https:// and copy that link into your clipboard (for example: https://dbptestproject.googlecode.com/svn/trunk/ dbptestproject --username HappyDude321)
9. Now go to the Dark Basic Pro Projects folder that represents your DBP application (so you see the DBA file)
10. Right click and select TortoiseSVN from the context sensitive pop-up menu
11. From the TortoiseSVN menu, select IMPORT, and you will be asked for the Repository URL
12. Paste the link you copied earlier into the repository URL field, then click OK.
12. You will be asked for a username and password. Use the username from the above link (i.e. HappyDude321)
13. Obtain the password by clicking the 'googlecode.com password' link in the SOURCE tab on code.google.com
14. Click OK and TortoiseSVN will now create a repository inside the Google Server and add your DBP project files
15. This repository represents an on-line version of your DBP application project, you are now live!
15. Now you need to associate the repository with your DBP project folder, so right click and select SVN Checkout...
15. In the field 'Checkout Directory', truncate the path so it ends with your DBP project folder, then click OK to overwrite
15. You may need to re-enter your username and password (as before) if you have not ticked to save your SVN login details
15. You will now notice green icons representing that these files are now part of your Subversion Repository, well done!
16. Now, each time you make a change to your DBP project, simply right click inside the project folder and select SVN Commit
17. The commit will ask TortoiseSVN to update the repository on the Google Server with the latest version on your local PC
18. When you want to give a friend the power to change your code, simply provide them with a link to this newsletter article on how to set-up their PC for TortoiseSVN usage but instead of selecting IMPORT, they select SVN CHECKOUT and they use YOUR username and password (which you must provide them).
19. In situations where you have both made changes and are commiting your changes back into the repository, TortoiseSVN provides you with a special tool which allows you to selectively merge the two different versions of the code into a new final version
20. The power of SVN is that you can both work at the same time on different pieces of code and then merge them back into the master version at a later date. I recommend you commit changes early and often to provide a good history of your changes, provide a great back-up location and reduce the difficulties of merging quite large changes into the current base version which itself may have had substantial changes
Merging code from team members and managing your project may take some getting used to, but the benefits for a team of two or more coders cannot be understated. If you wish a more indepth tip in a future newsletter, email me directly at lee@thegamecreators.com and I will delve into the mysterious art of code merging. I caused a little trouble at Google last year by requesting a 'lock' feature, and having been told off, I decided to learn about the powerful SVN merge.
Hopefully by following the above steps, you will appreciate how easy it is to set-up and the benefits to your projects. On that note, I would like to announce that we will be open sourcing FPS Creator X9 to compliment the free version we released late last year. Modders and interested users alike, will soon be able to log into the very latest version of the code, as it is being developed, well ahead of official beta tests and releases. Not only does this give you an oppportunity to see new fixes and features before anyone else, but selected users can even participate in augmenting the code so your fixes and features appear in the official version of the software.
If successful, we may open source more official source code so you get the earliest access and deepest perspective on the programming language and game creation tools you call home. Of course, we're not all modders or code crackers, and the benefit to those who simply enjoy the fruits of all this code crunching is a solid product that updates more often.
Editor's Comment
I'm a big fan of SVN, and the Tortoise SVN tool for simple access to the repository. Raw access is via the command line, and requires a fantastic memory for syntax or a large pile of printouts from the help file. Tortoise SVN not only gives you easy access, but also makes sure you get to use the most useful features you would otherwise miss.

The log file, accessible from any level within your project (root, sub-folder or individual file) is more than just a historic reference. Naturally you can review the numerous updates and commits, when they happened and the notes you made at the time. If you have multiple authors, you will see these too.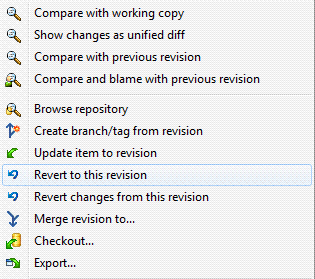 Right-clicking to reveal the popup menu from within the log shows many of the hidden gems.
Compare the version you are working on now with the last one commited. Each change is highlighted in the editor.
Create branches and tags. Branches allow you to test ideas and work outside of the main branch. If it works, it can be merged back in. Tags allow you to create release candidates and a prominent point to roll back to or compare new features with old releases.
Pick a commit point and roll the project or individual file back. It's not a permanent roll-back, you can roll forward again should you need to.
Export the code to another location
Fix conflicts and merge project paths.
Lee's tip and the addendum only scratch the surface of this powerful toolset. The best approach is to follow the points above and start experimenting. If Open Source is a little too daunting right now, try one of the free services such as XP-Dev which provide SVN without making your source public.
From the Forums

January saw the now annual NaGaCreMo competition - interNational Game Creation Month. It's a variation on NaNoWriMo, which is a huge success across the internet community; year by year the TGC Forum version increases in popularity. NaGaCreMo is an event in which game developers make a pledge to create and finish a working program, game or game demo by midnight of January 31st, having started on or after January 1st. The prize is knowing that you were able to put your mind to something and complete a program, or at least a large working chunk of it, which will result in a sense of great accomplishment and satisfaction. This year CoffeeCoder took up the baton of organising the competition, taking over from Zenassem who has generated the interest in the past.
The first complete game to be posted was this classic with a twist:
Space Aliens From Space
by Mnemonix
It's not entirely certain where else Space Aliens can originate from, but these ones are from space! It's created in a retro style, with 50 levels ranging from easy to nearly impossible. It also includes Joystick as well as traditional keyboard.
Valued Member Award
This month we add Kravenwolf to the Valued Members hall of fame. This is mainly down to the amount of good free media contributed to the community. The moderators also appreciate the good attitude towards other members, which is not always to maintain when taking criticism for your hard work, especially when it's given for free. Congratulations Kravenwolf!
VIP Member Award
This is the first time the VIP award has been given, and represents contributions even beyond that of Valued Member status. Cosmic Prophet continues to provide top quality media for the FPSC community (also available for DBP users). Not only that, but the packs encourage others to contribute and enhance the media too, gathering the true team spirit.
This is a very simple example by Pharoseer that is almost identical to the TESTCOMMANDS project, but stripped down to the bare essentials. This is more an example than a tutorial, but he has shared a few things he encountered along the way. Code snippets are ready to use
Dark Sprites is (or will be) a 2D sprite design, editing and animation package aimed purely at Dark Basic users. It's in it's early stages at the moment but TDK thought you might like to see how it's progressing. As well as creating sprites from scratch, you will also be able to grab them from sprite sheets that you can load in.
.
Often there's a lot of work and data management involved in a full particle system - however if you are using a set range of particles to perform a specific effect, then it gets easier, and you can cut corners.
This little demo will parse the xml tags then display each tag name along with its parent's name. It also retrieves the inner content from the tags. There are plans to extend the parsing further.
.
Outro
Share your news with over 22,000 active games developers!
If you have something you'd like featured in a future issue then please get in touch and include as much information as possible (including where applicable: screen shots, URLs and zip files).
Issue 86 deadline - February 24th 2010.
This month's Winner
Each month we pluck one lucky subscriber from the newsletter mailing list and award them 2,000 Game Creator Store points. The email address of this month's winner is: wor**anch@aol.com We have emailed the lucky winner, congratulations!