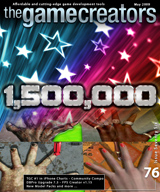 The Game Creators started life with a small number of production tools for budding game makers. Over time, the same tools have been used in-house to create other applications, the most striking being FPS Creator. This title and others have in turn resulted in improvements and new functionality being fed back into the programming languages. What has evolved is a healthy relationship between our catalogue of products, each one feeding the others and nourishing them with new leases of life. It's this relationship that keeps DarkBASIC Professional - and now DarkGDK - at the forefront as technology progresses ever forward. At the same time, it illustrates the capabilities of what are considered hobbyist tools to compete in the commercial world.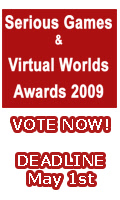 This month one of these applications - Driving Test Success Practical Simulator - is competing for the Serious Game Award. It is not often that an opportunity like this comes along, and we'd like your help to strive for the title. WE NEED YOU TO VOTE TODAY, APRIL 30th - this is the last day of voting and why we released the newsletter 1 day early. We know we have a product worthy of the accolade, and we're sure that you do too. Plugins such as Dark Physics became a reality through this project, and rewarded all of our users with many improvements to the core languages. So if you want to support us in a simple but effective way, vote for Driving Test Success Practical Simulator now! We appreciate your continued support, and hope that together the community and TGC can keep making great games!

contents
(1) iDare (2) Competition (3) DarkBASIC Pro (4) LOD Terrain (5) FPSC News (6) MP 24/25 (7) TGC Store (8) 3D Compo (9) Textures (10) Tip Of The Month (11) Videos (12) DBP Tutorial (13) From the Forums (15) Winner (16) Outro
Dare to Play

Do you dare to test your finger dexterity with this FREE iPhone version of the 'Five Finger Fillet' game?
How quickly can you tap the sharp pencil in-between the fleshy virtual fingers? The faster you tap, the
higher the score. One wrong move and you'll stab into the hand and hear a scream! Your speed and accuracy is shown by a growing bar at the base of the screen. If you stab a finger or miss the sequence the bar will shrink back a little, so consistency is key.
Will you be the fastest amongst your friends? The better you do the harder it gets to move that score bar up. You are pushed further and further relentlessly. The best score is saved, so you can always come back and try to better it.
iDare reaches the top
April was an incredible month for The Game Creators, as the third iPhone application was launched into the iStore. The game steadily rose through the ranks over the Easter weekend, finally hitting the number one spot in the UK, USA & German All Free Applications charts. iDare can boast over 1.5 million downloads to date and continues to attract new players daily!
iDare was programmed in just 3 days by Dave Milton, who also developed iBlow and Touch & Go. The game has captured the imaginations of the thousands of users through it's simplicity to pick up and play, combined with the addictive nature and ability to continually improve and compete against friends.
The Pocket Gamer web site interviewed Rick Vanner about the iDare success, you can read it here.
TGC also released Smack It! and Smack It! Deluxe on the iPhone during April. Smack It is a "Wack-a-mole" type game that uses the iPhone's touch controls to the max. It's a very frantic and fun game and is already high in the charts in it's first week of release.
Community Competition Update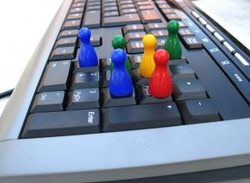 The Community Competition is now closed to entries, and judging has commenced. As you can imagine, working through well over thirty entries takes time, and the results are not yet in. Everyone who entered should now have their free Game Creator Store points, and no doubt many of them have already been spent; they have been earned through hard work, so enjoy using them!
While judging continues, here are a few screen shots from the entries that posted in the forums. They are no indication whatsoever of how the entries have fared, but worthy of showcasing here.
| | |
| --- | --- |
| Pro Shoot | Starfield |
| | |
| --- | --- |
| Evo.war | Mechaniser |
| | |
| --- | --- |
| Meteor Swarm | Nebula |
Prizes for all
Here are the prizes that are up for grabs:
Every entrant wins 250 Store Points, to be spent in the TGC Store.

In round one, ten games will be picked from the entries and be awarded another 500 Store points.

Round two will see the field reduced to just 5 games, each of which will be awarded another 1,000 Store points!

Finally, the top three will be chosen and will receive the main prizes.
What can the finalists expect to win, over and above the store points already collected along the way?
Third place will be awarded 1,000 more Store points and a $30 TGC Voucher to spend anywhere on the site.
Second place will be awarded 2,000 more Store points and a $50 TGC Voucher.
First Place will be awarded 4,000 more Store points and a $100 TGC Voucher.

To discuss the competition, ask questions and share ideas, progress and experiences, there is a further forum thread to do just this.
DarkBASIC Professional U73

Several new Dark Basic Professional modules were released this month including DarkNET which provides some excellent commands for making realtime and MMORPG games. We also saw the release of the Cloth & Particles module as a free command set, now part of every upgrade from 7.3 onwards. We decided to make it free so that users who cannot afford our newer physics engine DarkPHYSICS can still get access to the fun of making their games and applications work with real physical rules for rigid bodies and cloth. We have also continued to improve DarkPHYSICS for GPU acceleration and realistic water so feel that the gap has widened enough to allow a free physics system to be released. Upgrade 7.3 is now available to download from the site and via the built-in updater if you are opting to use the new official editor. We had planned to make U73 the update which forcably introduced the new editor for all DBP users but we received some resistance during the Beta and so decided to hold off on a forced change and make it optional. Instructions will be

available in the readme notes of U73 on how to switch editors. Work also continues to improve support for an external debugger to replace the current built-in system which you can learn more about from the forums.
We also made lots of minor changes, help file corrections and fixes as part of U73 which can be best appreciated by checking out the new additions in the Snippets folder after installing the update. A rather understated but very cool addition was the support of eight game controllers through the existing JOYSTICK and CONTROL DEVICE commands, so now you can write 2, 4 and 8 player games if you have enough controllers to hand out!
The U74 upgrade beta is planned to start almost right after U73, where we are going to focus on improving the new official editor based on feedback from the forum so far and introducing a few nice goodies too such as bringing the TEXTURE BACKDROP command back to life and if you are very lucky a new Extras folder with the latest FPS Creator V115 source code inside it.
GlowWorm
Anyone old enough to remember Tron will liken this title to the Lightcycles game from the film. Pit your wits against the computer or another player as you try to head them off and cause them to crash into your glowing trail.
As well as the head-to-head, there are also various courses to complete without hitting the obstacles or falling from the track.

This game is available to download from the forums.
Level Of Detail Terrains
BlitzTerrain (formerly ÜberTerrain) is a LOD terrain plugin which is being developed for DarkBASIC Professional and Dark GDK. It was started in April 2008 as a simple LOD switching algorithm, and lots of extra features were added later which led to the evolution of what is now BlitzTerrain. The plugin will be released both as a free and a paid version in the coming weeks.

Karl Hobley, aka Kaedroho, is working on the beta version and providing updates in the forums. You can download the latest updates, and feed back in the forum thread.
Level Of Detail Explained
This plugin provides a great opportunity to explain just what LOD is, and how it can help your game frame rates. Here, Karl explains the concepts in the context of the plugin.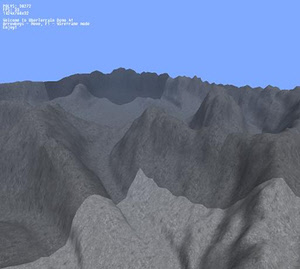 LOD (Level Of Detail) terrain is an algorithm to significantly lower the amount of polygons drawn in a 3D scene when using terrain and hence decrease the workload on the graphics card. It works by reducing the poly count of the parts of terrain which are very far away. Because the low detail parts are far away, the eye can't spot any visual difference. This reduction in polygons leads to a frame rate increase of up to 3 times. This effectively means that you can have threefold more detail in your game and it will still run at the same speed. The image here shows LOD Terrain in action, the lighter parts have more detail and the darker parts have less.
Exclusion Maps

Terrains are not very exciting in isolation; at some stage you will want to populate them with trees, foliage, buildings and props. Using a simple black and white Exclusion Map you can stop areas which are not visible (ie, under buildings or underwater) from being created. This will decrease the polygon count in cases where a great deal of the terrain does not need to be visible. The following two images are an example of what the exclusion mapping does. As you can see, the exclusion mapping stopped the engine from generating the black circles.
More about BlitzTerrain
As well as the standard LOD functionality and exclusion detailed here, BlitzTerrain has additional features. The terrain can be modified in real time, allowing you to deform in response to gameplay. Imagine, for example, creating a bomb crater. It is also ideal for terrain-editing applications.
Environment maps can be applied. Simply put, these lay out the terrain in logical terms, defining where grassy hills end and tarmacced roads begin. This assists the programmer when defining sound effects and other effects.
Finally, the generated terrains use an index buffering system, which is better suited to this type of 3D structure. The number of indices and amount of data is greatly reduced.
We look forward to the imminent release of BlitzTerrain; in the meantime, make sure you watch the Work in Progress thread, and feed back on the beta versions being released.
FPS Creator V115

Update V115 for FPS Creator
Anyone keeping up to date with FPS Creator beta progress will know about the release of V115 which now has support for better saving/loading, flak issues, XBOX Controller support and a newer store that supports the browsing and buying of skyboxes and improves Vista compatibility. Thanks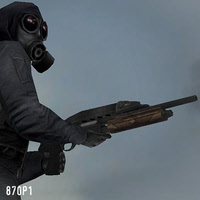 to a great beta testing effort V115 is solid enough to keep the wolves at bay while work begins on the fabled migration project. That was, of course, until it was reasoned by a few well placed modders that it would be a rather neat idea if the source code to FPS Creator V115 could be made compatible with the latest DBP and released for the community to run with while the migration is in development. This seemed a reasonable proposal by the community, and so work has begun on U74 of Dark Basic Professional which will include the V115 source code to FPS Creator. It must be stressed that the official V115 version was compiled with a slightly different version of DBP which is developed internally so executables are not guaranteed to be identical on compiling. That said, I am sure you will enjoy the ability to continue to develop your favourite game engine in your own time, rather than wait around for the next official update. It may also mean that some of the mods you have come to know and love will receive a welcome update to incorporate the features that have been added officially since the last release of the FPS Creator source code.
FPS Creator X10
Work continues on the V109 update, mainly aligning compatibility of Game Creator Store items and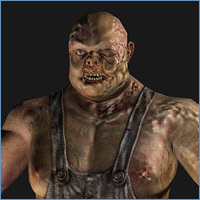 also working on some internal changes to the source code, both in the engine itself and the interface. The plan is to release the Game Creator Store as part of the official FPS Creator X10 software and before this can happen ALL the store items must be tested for compatibility, and X10 engine modified to allow the widest range of items to function. We will be starting the beta test on the Game Creator Store integration soon, and also responding to the feedback received thus far on the current beta of V109. With V115 and U73 released, more time will be spent on responding in the beta forum too so you can get a weekly idea of the progress in the land of X10. There are some exciting things happening in the engine code too, so watch this space!
FPS Creator Store Sorter
Airslide's Store Sorter is an application designed to make it easier to find your freshly purchased game assets in FPS Creator by categorizing them based on genre, not artist. If you've ever spent more than a minute searching for one store asset - maximizing and minimizing different artists' categories - this tool is for you.
After providing your FPSC directory, the tool automatically scans your "purchased" entity category for TGC store downloads. It populates a list,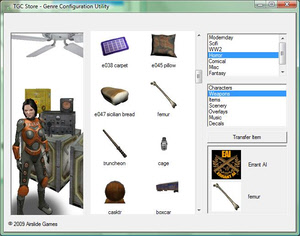 complete with icons and artist info, for you to browse. For each entity, you can choose your own genre and sub-category, and build up your own database categorised in the way that works for you.
For those of you with early versions of the Store Sorter, there have been a number of updates to improve the usability and stability of the application. A few bugs have been ironed out, and you can be assured of compatibilty with existing levels, and no risk of losing your assets during the cataloguing process.


Version 1.3 is available for download now, although you should also check the forum thread for further updates.
GameStarter - Adding the finishing touches

Since featuring this application at the beginning of 2008, it has advanced to the latest incarnation, which is available from The Game Creator Store, directly from within FPS Creator or via the standalone version.
The GameStarter lets you create a launcher for your FPS Creator, FPS Creator X10, DarkBasic and DarkBasic Pro games, which enables your customers to update the game, change the configuration of the game (such as screen resolution, controls, performance, joystick, sound), an inbuilt screenshot system with many options, and much more. You can also create trial versions of your game, create a CD starter or add the launcher to other developers' games to enhance usability.
Some of the many features include...
fully customizeable, individual and professional game launcher - match the launcher to the design of your game
compression and packaging of your games - protect your games and reduce installation time
in-game sound control and screenshots - no need to waste time on programming basic functions like these
configuration options for games, including reset functions to reset all gamesaves or options - not only configure your game, be sure you can reset anything!
customisable key layout (controls), joystick, sound control, performance, experimental, resolution and colour depth options - provide your users with what they expect and need
updater for your games - keep your game up to date and be able to fix bugs without needing to contact everyone about it
time trial function - create a trial version of your game, limited by hours of gameplay, days or number of launches
make CD starters - put your game on CD / DVD and be sure your user has a nice launcher popping up
NEW! 'SmartStart Maker' for creating multiple game versions as one.

As well as being available through the store using your points, Gamestarter can be purchased through TrialPay from the product website.
Cry of the Infected


Cyborg Arm Games is proud to announce that Cry of the Infected, their second FPSC game, is being published by the Noviy Disc company. It will be hitting retail stores this month across Eastern Europe and Russia. The game is also available for download through the Cyborg Arm Games website.
In a unique twist on zombie games, players can feel what it is like to be a raging zombie.
An entire city of civilians has been turned into zombies as a result of a biological warfare experiment gone wrong. Gamers play as Robert, a zombie trying to find his missing wife in a city torn apart by the outbreak. Groups of soldiers shoot anything that moves out of their own fear and loss of control. Some zombies attack their own kind in fits of agony. Perhaps worst of all is the crushing hopelessness that Robert must overcome as he rips and tears his way through this abandoned city.
Cry of the Infected features 13 levels of action bound together by a compelling story and game environment. The main game contains 1-2 hours of gameplay, and the game can be replayed for an alternate ending and an unlockable secret weapon.
Model Pack 24 - Warehouse

This pack is based around modern day warehouse/factory items; there are 38 models in total consisting of transport, electrical, storage containers, signs and more. The included power electrical boxes have been built separately to give the game designer the ability to make any combination they desire so every scene is different. In the pack you will find:
Manual forklift
Barriers
Four trolleys
Power boxes, gas tank and generator
Ladder and safety steps
Power lines and pylons
Rubble including tyres and bricks
Other miscellaneous warehouse items

Model Pack 24 is available now from the FPS Creator Website, for just £5.99 GBP ($10.99 USD, €6.99 EUR).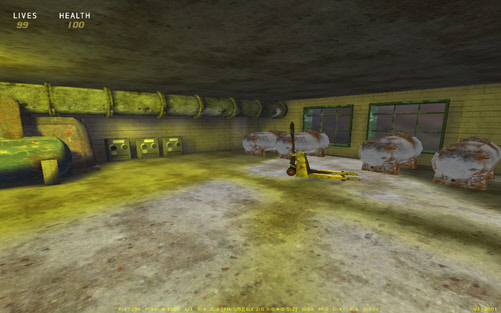 Model Pack 25 - The Viking Era
This pack will allow you to portray the Viking era, and recreate your own viking settlement, including authentic styled buildings, and stylised Viking characters.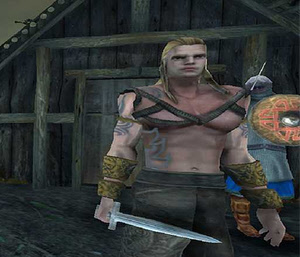 Included in the character models are sword and axe animations, plus spear handling. Also included are a selection of props, lush foilage, and an animated horse and cart to further the atmosphere.
Included in this pack are:
12 buildings
11 characters including a blacksmith and warriors
Animated horse and cart
9 trees, 3 plants and a fallen trunk
3 fence and 3 grain bag props

Model Pack 25 is available now from the FPS Creator Website, for just £10.99 GBP ($19.99 USD, €12.99 EUR).

The Game Creator Store - New Additions

Free Upload Service for Game Creator Store
Artists can still take advantage of The Game Creators upload service to get your content into the store. From now until the 31st May 2009 we are offering a free upload service to all artists and musicians who are signed up or wish to sign up now. This is an ideal opportunity if you have content you would like to sell but want to simplify the preparation and uploading of items. We will take your music, sky boxes and entity models (excluding segments at this stage) and upload them to the store for you - at no charge. This is a trial offer to gauge the demand for such a service and ensure that your media finds its way into the store with a minimum of fuss. This offer is also open to new store sellers once you have completed the sign-up process. If you are interested in becoming a store seller, please contact Janet, our Store Administrator directly.
New Store Additions
LED Mini Pack
Includes 4 LED personal navigation lights: White, Red, Green and Blue in colour. These are similar to LED keychain navigation lights. They emit light but are not focused like a true flashlight.
The lights use no scripting and are very simple to use. Simply hold down the fire button when you want the light on, like the real thing.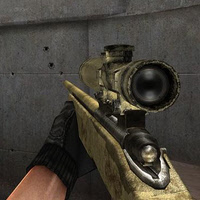 M40A3 A2 (Desert Version)
Sniper rifle of the USMC chambered for the 7.62NATO cartridge. Less powerful than its civilian counterpart but holds more ammo. Includes VWEAP and pickup weapon and ammo entities. Uses model pack 9-10 compatible hands. Includes optional 3D Scope animations and standard variable-zoom settings. 3D Scope view can be set by editing the animation ranges in gunspec.txt. Also includes a melee animation which can be used by DBP projects and future FPSC Mods.
Old Bed
This is an old rusty paint peeling bed frame with wood slates and dirty blood stained mattress, and is a great inclusion in any game with old, run down building levels. Imagine your abandoned apartment block with an authentic look of disarray.
GameStarter
The GameStarter lets you add a completely customizable launcher to your games. You and your users can change many varied settings.
Make your game look more professional and add a whole new set of features.
Transmitter
The transmitter pictured here is an animated model, complete with all of the necessary scripts and sound files. It can be triggered on approach, and set to scan the horizon, with audio feedback for your actions.
All of the above models are available to purchase and download through the inbuilt Game Creator Store in FPS Creator, and also using the standalone store for other game-making tools.
3D Modeling Competition - Good Vs Evil
By Adam Plumbley
The 3D Chat board has always been a place for great mini competitions, with participants eager and ready to mash together the finest polygon structures for the praise and glory of their fellow members. Those who managed to pry their eyes away from the fuzzy, basking glow of Geek Culture to take part in the last few competitions have done their forum proud, and will be lavished with ale and coffee icons for all eternity.
Unfortunately, your newly appointed 3D Chat Moderator is not amongst the honour of these gallant few. Alas, I was lured away by the dreaded Geek Culture board, and tumbled majestically into the world of 2 Dimensions.
But I have set out to redeem myself, with some excellent new additions to the forum! Thanks to the coding prowess of Paul Johnston, there is now a new Awards system for the 3D Competitions! This means you can formally boast your talent across the forums with three new awards to be won.
They are as follows:

3DMaster - Champion awarded to the overall winner in the competition, an entry which displays both modeling and texturing excellence.

3DMaster - Best Model awarded to the runner up who demonstrates the finest modeling skills in the competition.

3DMaster - Best Texture awarded to the runner up who demonstrates texturing wizardry in the competition.
The awards will cling to your Avatar until the results of the following competition are announced. So to keep your award, you must defend your honour in battle once again!
The theme of this month's competition (Courtesy of fellow Moderator MikeS) is "Alter Ego". We want you to design, model and texture an alter ego of your favourite villain or hero from a game or movie. You could dazzle us with a terrifyingly evil Companion Cube, or inspire us with a pink Darth Vader; the choice is endless. As long as you create an "Anti-Character", the decision is yours.
The competition will begin on the 1st of May and end on the 31st of May (Due to the early release of the newsletter, you have a few more cheeky days to get started)
The competition thread will appear in the 3D Chat board before the competition begins. Good Luck and Happy Modeling!
Leadwerks Terrain Textures

The goal with this texture package is to provide a cohesive set of terrain textures for a variety of environments. During production we experimented with different techniques to improve appearance and reduce common visual artifacts. We found that by using the same base for all textures in a set we could produce results that blended together better. A special algorithm was written which fades mipmaps out to their average color as the mipmap level increases. This reduces tiling artifacts on far away terrain. Textures use two layers of details so that tiling is reduced but near details are retained. We have also created textures that create a natural transition from rock faces to flat ground, by breaking the rocks into smaller pieces.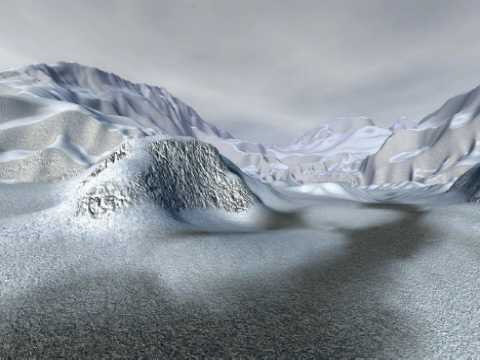 There are five themes included in this package, for a total of 36 surfaces. Each texture is 1024x1024 and includes normal, specular, and displacement maps, for a total of 144 textures.

Textures are in .dds (DXTC5) and .tga format. The themes included are
Forest
Jungle
Desert
Mountain
Savannah

The pack is available now from the product web page, along with downloadable high resolution examples of the textures.
Lee's Tip of the Month - High Tech Academics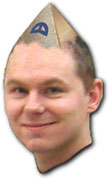 Last month I was privileged to attend an event, which attempted to bring together solution providers and decision makers in the academic sphere to tackle the possibility of using games to educate children. Naturally I think this is a very cool idea and will really engage students in the classroom if done right.
Being such a busy bod myself, any plans I might have to join the space will have to wait a while so my tip for this month is to beat Lee to the punch and get into this market now for a chance to create some revolutionary software and perhaps a name for yourself in the academic community.
If you have been in the industry long enough, you have probably dabbled in writing educational software and know that it does not have to rival the latest Triple-A title to become successful. That said, it would be nice if your offering had something special to power that success.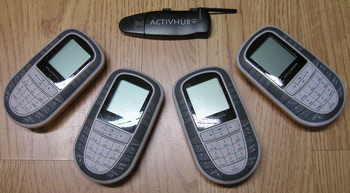 Since the event, I have created a small module to provide that very advantage. Those clever bods at Promethean have developed a handheld device that allows all students in a classroom to make selections to answer questions asked by the teacher. These responses can be collected by the teacher via a computer program and used to display the results graphically on an electronic whiteboard. My little module, which is free to download and use, provides some simple commands to talk with these devices.
For example, to wake up the Hub so you can send a question to the devices, you just call ACT INIT(). And when you are done you just call ACT CLOSE. Simple.
There are many types of answer you can get from the student from text replies, numerical replies, true/false, yes/no/dont know, Likert scale and many more. For example to ask a text question to get a text answer, you call ACT SESSION START TEXT(1,"WHAT IS THE CAPITAL OF LONDON?"). The students will then get this question displayed on their handheld device, and they can type the answer on the pad and press SEND to respond with an answer.
During the program you can then collect all the answers from the students as they come in using a simple loop:
DO
 ACT UPDATE
 ACT PERFORM CHECKLIST FOR SESSION
 for c=1 to checklist quantity()
  dim allanswers$(c)
  answer$=checklist string$(c)
  if answer$=""
   allanswers$(c)="no answer given"
  else
   allanswers$(c)=answer$
  endif
 next c
LOOP
Using the DBP checklist system you can get the answers as they come in, store them to an array and then compare them with the correct answer as you see fit. Applications that support this technology are already available but imagine what YOU can create!
You will find links to the Promethean developers site and the Activexpression module for DBPro available at the bottom of the main Dark Basic Professional page.
Dark Basic Professional is designed with all the capabilities of a 3D games engine, and now you can bring modern gaming power into the classroom via established academic hardware. Imagine a rich 3D scene with great sound and music to engage the students, making the questions fun and exciting. When it comes to games in education there remains much that is unexplored and armed with the right tools and ideas, we can make teaching through play a fundamental element of education rather than something we leave behind way too soon.
Video Gallery

Game Creator Store Videos
Many of the items in the Game Creator Store now have videos, which you can access in YouTube directly from the store. This month one of the featured items is the animated transmitter. Here you can see it in action, and appreciate the detail and functionality before you purchase.

Preview the animations behind the M40A3 sniper rifle. See how the zoom scope functions, along with the reload action and muzzle flash.



How about a fish tank to liven up your waiting room? Make sure your gamers know this is not an abandoned building, but fully functional, including a nice clean aquarium with fish and bubbles!


DarkBASIC Professional Tutorial - Building a Platform Game Part X

by Andrew Vanbeck
Last Time...

Bruce became a far more comprehensive game as the front end menu system was started, and level logic began to take shape. This month concentrates on the 2D shadow map system, plus some new effects to help bring the background to life. Download the full tutorial here.

All of the necessary files, media and code can be downloaded here. For a quick taster of this month's lesson, here is an extract:
Shadow Maps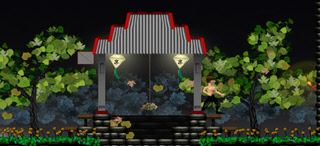 To bring more atmosphere to the lighting in Bruce, a static 2D lightmap has been added. Once a screen has been designed and light sources placed, pressing the RETURN key will render the 2D lightmap. The system saves the lightmaps as .png images so in the actual game without all the editor code, the lightmaps will simply be loaded. Often it's best to edit the lightmaps as the engine is not perfectly 3D, a lot of flat 2D is used which does not work with this technique. 2D plains have to be disabled in the lightmap render. The system also exports a screenshot at the same resolution and placement as the lightmaps, this makes modifying the lightmaps much easier.
The shadow system uses an array of light positions and ranges, which are created when the engine positions torches etc.
type shadowlights
  x as float
  y as float
  z as float
  range as float 
  mode as byte
endtype
 
dim light(32) as shadowlights
Along with an array of light positions, a heightmap of the screen is stored on a 340x270 grid. The system relies on converting the 3D locations to screen locations, so the X and Y components are stored as 2D screen (X and Y) and 3D floats (X# and Y#). The shadow map system uses 2 layers, one behind the players and one in front. Level geometry that hangs over will cast shadows onto the player, so the front layer is used in that case. The shadow#() array is used to store the shadow values at each grid location.
type shadowheights
  x# as float
  y# as float
  h as float
  x as integer
  y as integer
endtype

 
dim shadowheight(340,270) as shadowheights
dim shadow#(340,270,1)
To avoid any z-depth issues, 2 plains are used with negative ghosting applied, so each texture that is applied to the shadow layers simply darkens the detail underneath. In the case of the screen shown here, the raised area with the roof will cast a shadow on anything underneath it. Torches and lamps omit light, and natural light is added automatically in screens located above the ground.
Catch up on the Progress
Here is a reminder of the installments to date:
Part 1, Issue 62
//www.thegamecreators.com/pages/newsletters/newsletter_issue_62.html
Part 2, Issue 63 //www.thegamecreators.com/pages/newsletters/newsletter_issue_63.html
Part 3, Issue 64 //www.thegamecreators.com/pages/newsletters/newsletter_issue_64.html
Part 4, Issue 65 //www.thegamecreators.com/pages/newsletters/newsletter_issue_65.html
Part 5, Issue 67 //www.thegamecreators.com/pages/newsletters/newsletter_issue_67.html
Part 6, Issue 68 //www.thegamecreators.com/pages/newsletters/newsletter_issue_68.html
Part 7, Issue 70 //www.thegamecreators.com/pages/newsletters/newsletter_issue_70.html
Part 8, Issue 71 //www.thegamecreators.com/pages/newsletters/newsletter_issue_71.html
Part 9, Issue 75 //www.thegamecreators.com/pages/newsletters/newsletter_issue_75.html
From the Forums
BiggAdd joins the Mod Squad
In the search for help in the 3D chat area of the boards, BiggAdd has been selected to oversee things. Most members will be familiar with his artistic talents, and ever changing avatars and signatures, as well as a number of newsletter tutorials and help with banners and graphics. Discussions behind the scenes tell us that there will be a number of initiatives working their way into the public domain soon, as he and MikeS continue to keep the 3D zone running smoothly.
A building collection of useful methods and techniques to simplify your coding life and make your programs more efficient. Learn how to ensure you are not repeating unnecessary calculations, and tidy up your function calls among many of the other entries.
Rollerway is a fast-paced action game in which you must get the ball to the finish line whilst not falling off the track. There is a total of 15 levels, each one getting progressively harder. Click to roll forwards and move the mouse sideways to steer
.
This graphical masterpiece was showcased last month, it uses the FFT library to analyse the music, and generate the scenery and effects in real time. We're highlighting it again this month now the source code has also been posted.
It seems that developers are attempting to get us to indulge in large fantastic lands, but without putting anything of interest in them. Does size count or make a better game? Or does it just drag the game on for too long?
.
This month's Winner
Each month we pluck one lucky subscriber from the newsletter mailing list and award them a free copy of DarkBASIC Professional and 1,000 Game Creator Store points. The email address of this month's winner is: webw**egu*s@gmail.com We have emailed the lucky winner, congratulations!
Outro
Share your news with over 20,000 active games developers!
If you have something you'd like featured in a future issue then please get in touch and include as much information as possible (including where applicable: screen shots, URLs and zip files).
Issue 77 deadline - May 26th 2009.
"Winning is not everything, but the effort to win is"
Zig Ziglar