Issue 13 - January 2004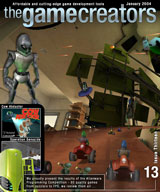 Click for larger cover image
Contents
Welcome to the first issue of 2004 and we are packed to the seams with the fruits of the Alienware Competition. They have been sizzling away on the judges hard drives for the past few weeks and we've gone through them all, every single game has had screen shots taken from it, a showcase entry created on our web sites and a lengthy review written. The Top 8 even have comments (pros and cons) from Lee Bamber and Mike Johnson! So work your way through the news this month and then get stuck into the 60 games on offer, we know you'll enjoy them.
Although New Year was a few weeks ago (except for our Chinese users) we still wanted to wish you a Happy New Year and bring you these words of developments from The Game Creators Commercial Director, Rick Vanner:
The Game Creator team are very excited about the future products we have lined up for release this year.
Our number one priority project which has been in development for well over a year now is looking very hot indeed! It's called FPS Creator and it's by far the best game creation system we've ever developed. With this game making tool you will be able to quickly construct complex 3D worlds using its powerful and flexible world editor. We have also spent a lot of time ensuring that the system is very open so that you can direct what happens with your own game. Utilising the latest pixel and vertex shaders and maximising frame rate with a powerful visibility engine, FPS Creator will allow you to design all manner of 3D First Person Shooter games. In spring 2004 we will start to showcase some of the technology behind this exciting new development. Please don't worry, you will not be limited by it, you will be able to add-in your own code to customise your creations!
Dark Basic Professional has proved it's worth this past year – we've seen some wonderful creations that have recently been submitted for the Alienware competition. The flexibility and power of DBPro will be enhanced significantly as we release new add-on packs for the language, including an amazing set of Physics commands! More details on this and other packs will be announced in the Newsletters during the year. We will also be releasing Update 6 in spring 2004, so watch out for that.
We also have some other cool products in development, more news on them when they are closer to release.
Once again, a Happy New Year to all our customers, we look forward to seeing your game making creations!
Following on from DarkMATTER, our hugely successful range of low-poly 3D models, comes SoundMATTER. A collection of high-quality, royalty free, game orientated sound effects available in four different packs. Everything from gun shots, explosions and alien deaths to card shuffles, die rolling, swords clashing, food munching and more!
SoundMATTER uses custom programmed audio software to create original sound effects for games. All sounds are 100% original, sampled from the actual sound source or synthesised from original samples or raw wave forms.
The end result is deep, vibrant sound effects created specifically for gaming. There are four packs available with some great money saving offers on multiple purchases. The four packs are: Arcade, Casino, FPS and RPG Game Styles.
Find out more on the SoundMATTER web site: //www.thegamecreators.com/?m=view_product&id=2108

We received update from Magnus Esko about a new patch and demo for his game The Magic Land:
"The new demo for TML has been uploaded and there is also a patch as well."
My site is filled with info and shots about the patch and the game etc.
Check it out at: http://int.digaw.com/index.php?nav=announce&id=4
On-line DarkBASIC Professional Help System
Glenn Carter of Eclipse Development sent us a link to an on-line version of the DarkBASIC Professional help files where users can leave comments about each command, sort of like the annotated manuals you see on php.net.
Visit the site here: http://www.eclipsedevelopment.co.uk/dbphelp/Main.asp
Space Battle Screen Saver
Jonathan Gover has released a full version of his 20-line code entry "Mini Space Battle". This updated version runs as a screen saver and features vastly improved graphics and sound effects. The camera pans around the battlefield while little AI ships chase around, blowing each other up with lasers. Also is the inclusion of a cruiser, which sits just off the battlefield blasting the little ships with its beam laser turrets. The little ships will attack the cruiser until its shields fail and it explodes! Boom!
The screensaver is fully customisable, you can change the number of ships, have a team battle or a free-for-all, add or remove the cruiser, set the cruiser shield strength etc. Also there are options to change the display settings, and have sound and music.
Screen shots and downloads can be found on Jonathan's web site: http://www.thedarthster.co.nr
From the Apollo forums, Jeroen writes: "I've just released version 0.8.2 of my free 3D modeller DeleD. New in this version: polyline primitive, prefab viewer, speedbuttons to all edit functions and a number of small improvements."
DeleD is a free 3D editor, find out more at: http://www.gamefortress.com/delgine
Texture Maker 2.7 on the horizon
Developer Tobias Reichert has been hard at work on the 2.7 release of the ever-popular Texture Maker. This powerful texture generation and manipulation package will see many new updates including:
New vast Documentation and Help System

Programmable Hotkeys

Concerning Generator functions render now Aspect-Ratio correct (less distortions, but sacrified speed)

Removed Tiling panel from Perlin Noise/Amp, not needed any more.

Generator/Veins modified to render veins with equal thickness

Improved Heightmap Smoothing in Advanced Shader Softshadows in Advanced Shader

Max. Texture Size increased to 8192x8192

Surface Point Objects are Moveable/Scalable now

All Textures have their own Surface Points now

Modules remember their own Open/Save Path now

3D Color Cube moved to Color Circle

Command Processing Engine rewritten (faster), supports Reserved Words now (e.g. $texture) and Dynamic Loops (&-statement), more commands

Noise/Randomize function

Distraction/Scramble function

Special/Sphere Texture Mapping bug fixed

Textractor Grid remembers position, rotateable

Textractor window size increased

FDE rendering of Land,Sky,Sun can be disabled

Advanced Shader and Mixer can save their settings to files now
2.7 will be available shortly, for now see the web site at: //www.thegamecreators.com/?m=view_product&id=2131
Alienware Competition Results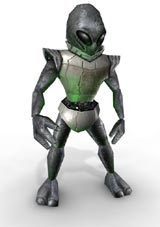 This issue of the newsletter marks the end of the Alienware competition - and what a competition it has been! We've had no less than 60 entries taking up a staggering 1.07 GB of drive space, spread over 5,509 files. Those of you who remember the previous Retro Competition know that this is around half the number received for that - however, the quality of every single title submitted in this competition totally outshines the Retro games. This time we've seen professionalism in DarkBASIC games taken to the next level. Now to hand over to Lee Bamber, developer of DarkBASIC and DarkBASIC Professional and one of the judges:

"It never ceases to amaze me the quantity, strength and depth of talent in the DarkBASIC community these days. Gone are the days of poor little Lee writing small space invader games that might raise an eyebrow. Now we are seeing full-blown racing, first person shooter and dogfighting epics all from the minds of game authors who are creating them just for the fun of it."
"However in this case the added motivation of a stunning Alienware PC gaming system might have helped encourage things along. I personally would find myself challenged to knock a few of these authors from their podiums, as the quality is just amazing. I see glimpses of commercial quality work in these entries. One game might show awesome visual polish, another would reveal addictive gameplay whilst others manage to propose a great game idea that would find its way into retail with the right assets behind it."
"In judging the short-list for this competition I was very careful to follow the criteria and rank my decisions according to these rather than my own personal favourite which involved the abduction and slaughter of poor innocent grass chewing creatures. With the scope of talent in the community now, the TGC team knew we would get a good turn-out for this competition, and I am pleased to report we were not disappointed. To the winners go the spoils, and to the non-winners you can pat yourselves on the back for doing what only a percentage of your neighbors have achieved; write a complete game and furthered your skills in all the key areas of game development. I would also suggest that you take a really long look at the winning entries and ask yourself why oh why did 'that' game win. Look for those qualities that made it into a winning game, and focus on those aspects next time you assume the role of game author. You will find improvement around every corner, and before long you will be the one judging competitions and offering snippets of advice to up and coming game designers."
Here it comes.. the moment of truth, what have we decided should be the Top 10 games entered into the Alienware Programming Competition? Well before we show you those here is a complete list of every single game entered into the competition. You can click the title of the game to be taken to the showcase page on our web site from which you can view a nice high resolution screen shot, read an in-depth review of every title and download the game.
So now.. on with the 10 winners!
Here we have the Top 10 Winners of the Alienware Programming Competition. Congratulations to everyone below.
1st Place - Room War

Author/s: Damjan Minovski and Ervin Tahirovic
Language: DarkBASIC Professional

The concept is amazingly simple - fly around a room with your other alien buddies, protecting the stunning Alienware computer system in the corner from attack by the grey aliens. The action takes place from a cockpit view with an overlaid HUD, you can lock onto the baddies using the right mouse button and shoot them down with the left. Cursor keys control your speed. The first thing that strikes you about this game is its graphical beauty, everything has been meticulously created in 3D, from the Ikea style unit to the guitar to the sofa complete with trousers thrown over the back. When you start to play the game however you realise that this attention to detail extends beyond just the appearance, for the gameplay itself is silky smooth. Locking onto an alien and chasing him down through the twisting areas of the room, zooming past the orange juice carton, lazers blasting away and pulling up at the last minute over hi-fi system is just a vision to behold. There is no jarring collision detection, you don't die if you hit a wall, you slide around it. There are very few places you can get "stuck" and as you progress through the levels more and more ships appear, lazers flying everywhere as you pilot frantically around trying your best to chase the pesky little aliens as they twist and turn to evade you. The playability is up there with the best of them and this game is simply addictive - we kept on and on playing it until we had finished each level. Try this game for yourself to understand why it was the winner.

Lees Comments: Pros: Good gameplay, easy to get into and complete set of menus and game logic. Cons: Game starts to lose the fun aspect after 5-10 minutes. Due to nothing new happening even after 35,000. A good approach is to introduce something new as the game continues.

Mikes Comments: Pros: Very polished game, excellent use of the Alienware graphics, action packed game, good enemy AI. Cons: Some variety on the levels, wasn't always easy to lock onto targets.

visit the showcase
for downloads
2nd Place - Roswell Racer

Author/s: ShellShocked Entertainment
Language: DarkBASIC Professional

There seems to be something about aliens and racing - maybe it's all of those long trips in flying saucers, but whatever it is the aliens in this competition just can't get enough of it! Here ShellShocked Entertainment present us with their take on the racing theme. This game has been lovingly realised, the graphics and presentation through-out are exceptional and you really feel like you're taking part in an arcade racer. The tracks are relatively easy to follow and you don't often find yourself getting lost or going the wrong way. There are power-ups to collect around the track which give you much needed speed boosts, slow down time, explode your opponents or any other of a range of neat tricks.

Lees Comments: Pros: Very polished production and a nicely balanced control system and race. The track was also very good. Cons: Could have done with a difficulty selection or a practise lap without the disgrace of loosing all the time.

Mikes Comments: Pros: Lots of tracks, quality in game graphics, fast, responsive controls, car handles well, lots of power ups. Cons: The first level could have been easier to complete.

visit the showcase
for downloads
3rd Place - Cow Abductor

Author/s: Beausoleil Samson-Guillemette (BuZySoft)
Language: DarkBASIC

If there is one thing that always seems to go hand in hand with aliens - it's cow abduction. No-one is really quite sure why they want to take our livestock, but that's what they seem to do. Cow Abductor is no exception either, infact you take on the role of an alien in charge of the bovine abduction. Hovering over the sleeping herd you need to hammer your space bar in order to suck them up into your saucer and do away with them. You only want the brown cows though, any other kind can be zapped into a meaty pile with your lazer blasts.

Lees Comments: Pros: Excellent game idea and content, and with polish that has commercial potential. Cons: Would need more things happening during the game as after fifteen levels of cow blasting, more is needed.

Mikes Comments: Pros: Original idea, nice style of graphics, fun game, several game modes, lots of power ups, feels like a full commercial game. Cons: Change of scenery might have made game more interesting as you progressed through the levels.

visit the showcase
for downloads
4th Place - X-Truder

Author/s: Frederic Cordier
Language: DarkBASIC Professional

Starting with a good intro sequence and music, X-Truder provides a nice change from the rest of the games in this competition in that it starts off quite slowly - you get to explore your local environment, with text-based hints popping up to help you along the way. Not until you recover your weapon and some ammo do you encounter any baddies which is a good thing. The game is played from an overhead view with you looking down on the main character, almost in a Gauntlet arcade style.

Lees Comments: Pros: Interesting game scenes and introduced new elements as the game proceeded. Nice use of sounds and lighting!. Cons: Run out of power and became totally defenseless after the graveyard. Character got stuck on edges of wall and crate which halted the smooth navigation of the player.

Mikes Comments: Pros: Detailed graphics, large level, good use of lighting. Cons: Loading times were slow.

visit the showcase
for downloads
5th Place - Operation: Invasion Evasion

Author/s: Andrew Vanbeck
Language: DarkBASIC Professional

If you're old enough to remember the Sensible Software 16-bit classic Cannon Fodder then you are in for a treat! Talented DarkBASIC programmer Andrew Vanbeck has created a fantastic 3D "guns 'n glory" Cannon Fodder clone featuring loads of alien scum to waste, crates to collect and jeeps to zoom around in! You take control of four soldiers and move them around the map taking out all aliens.

Lees Comments: Pros: Each level introduced something new which was the right thing to do, and the look and feel of the game was great. Cons: It takes quite a while to clear each level, and there was not much strategy to disposing of the aliens.

Mikes Comments: Pros: Large levels, lots of in game detail, good animation on the models, plenty of action, multiple levels. Cons: An in game map would have helped.

visit the showcase
for downloads
6th Place - ETV Racer

Author/s: Oliver Studios
Language: DarkBASIC Professional

The quality of presentation through-out this game is simply stunning. From the smooth and amusing intro sequence, to the fantastic looking menu system, to the game itself. The graphics are awesome and everything just feels silky and polished until it positively shines. But enough adulation, what about the game itself? ETV is a racing game. You vs. 4 other alien buddies zooming around Roswell, Area 51 and other key "sci-fi" land marks in your ATVs. The racing action is fluid with good collision detection and effects.

Lees Comments: Pros: Superb graphics and a very niced polished menu system and game. Cons: Vehicle controls too sensitive for the beginner and the track can get confusing that could have been helped with signs or some on-screen arrows.

Mikes Comments: Pros: Quality work on the menus and set up, good in game graphics, lots of tracks to race on, good use of camera. Cons: Not always sure which direction supposed to be driving in, because the tracks aren't flat makes it hard to control.

visit the showcase
for downloads
7th Place - The Last Huntsman

Author/s: Henrique Luna
Language: DarkBASIC Professional

Wow, what an intro! Fast zooming tunnel effects, thumping dance style music and big bad icons to click - we liked this very much indeed! The game itself is no less impressive. You start off flying a space ship on an attacking run on a giant alien craft. Not only can you take out the gun emplacements on the outside, but you can fly into the mothership and wipe out the alien "ground" troops as well, destroying any of their fighter ships in the process.

Lees Comments: Pros: One of the coolest main menu backdrops of the competition. Great scope and good variety within the game scenes. Cons: Control system was difficult to get used to, and used a hard first mission to undertake and complete.

Mikes Comments: Pros: Nice looking game, good effects on the main menu. Cons: Found it hard to control.

visit the showcase
for downloads
8th Place - Alien Rampage

Author/s: Chris Knott
Language: DarkBASIC Professional

I have to confess I love this game and spent ages playing it. The objective is very simple - avoid everything! You control an alien stuck on a relatively small landscape. All you can do is walk around and use power-ups that appear now and again. However there are asteroids falling from the sky (first you see their shadow, then it gets larger until finally it hits). As well as this there are also aliens chasing you. Only a few at first but over time more and more come. The trick is to time it so that the asteroids slam into the aliens chasing you, for if they touch you you'll loose vital energy and probably end up dying!

Lees Comments: Pros: Good gameplay, easy to get into and complete set of menus and game logic. Cons: Game starts to lose the fun aspect after 5-10 minutes. Due to nothing new happening even after 35,000. A good approach is to introduce something new as the game continues.

Mikes Comments: Pros: Addictive game, fun to play. Cons: Extra levels would have made it more interesting.

visit the showcase
for downloads
9th Place - AlienGP

Author/s: Kenneth Bugeja
Language: DarkBASIC Professional

AlienGP is beautifully presented with a very intuitive main menu system that is easy to use and more importantly, works well. You can configure lots of elements of this game from the graphics to the controls. So what is the actual racing like? Set over 7 varied levels, from Mars and Mountains to Space and Oceans (we loved the way part of the level actually goes underwater on the Ocean level) you get to zoom around a winding twisting track on your bike.

visit the showcase
for downloads
10th Place - Operation Genocide

Author/s: Carlos Wilkes
Language: DarkBASIC

Out of all the FPS style games submitted for this competition, we have to admit that the controls and smoothness of Operation Genocide means it was easily the best of that genre. The collision is perfectly smooth, the guns are great - extremely well modelled with punchy sound effects, shell casing ejection and they just all look the part. There are loads of them too, from Uzi's to sniper rifles. We aren't really sure of the plot, but you start the game on the surface of a planet with a hologram of an alien.

visit the showcase
for downloads
We couldn't end this feature without bringing to your attention some of the other spectacular games that were entered into the competition. We feel that the following entries are all more than worth checking out and strongly suggest you invest a bit of time into downloading and playing them. Click each screen shot to read a full in-depth review of the title and access the downloads.
| | | | |
| --- | --- | --- | --- |
| | | | |
| Soul Captor | Grunt | Invaders from Earth | Extranjero |
| | | | |
| --- | --- | --- | --- |
| | | | |
| Duel | Outpost | Cold Sails | Ascender |
Our thanks to Alienware for sponsoring this event and to you for taking part.
The dust has finally settled on another issue - and what an issue it has been! I can't think of a better way to start the New Year than with a whole bunch of fantastic games showcasing exactly what DarkBASIC and DarkBASIC Professional can do. It's time for all the developers who took part in the competition to pat themselves on the back and take a well earned rest - you've deserved it. Hopefully their efforts will inspire the rest of you to code. At the time of writing there are only a few days left until my wedding which means I will be away for the rest of January and the first few weeks of February. So it's vital you email me news items for next issue during my absence - email me: rich@thegamecreators.com or use our Feedback form.