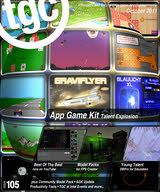 September has been the month I decided to use AGK in anger, to create something playable, albeit simple. With Lunar Lander being my template, I set about designing some simple algorithms to deal with the game mechanics. Simple is always a good starting point, as the ideas inevitably become more complex as you think about the different scenarios you are likely to encounter in your game. Many of these were encompassed in the simple designs.
Within an hour of starting on my game coding, I had literally screwed up and thrown away my thoroughly detailed and no longer simple design notes. This was not due to unforseen technical implications but rather unforeseen inbuilt functionality. The out-of-the-Box2D solution takes care of all my physics. I don't need to code button-handling functionality, it's already there. My analogue control algorithms are redundant as the included joystick commands have taken care of all of that. Finally, bitmap fonts are the standard method for displaying text, all I have to do is supply the font. In the time it had taken me to lay out the basics of my game, I had it running in the AGK emulator, with my nice-to-haves included, such as particle jet streams and scrolling multi-screen scenery.
The ability to code games quickly is manifest in this issue. We have numerous reviews on many different platforms. Alongside these you'll find tools to simplify the production process further. With AGK users turning out huge numbers of games and ideas, it's easy to miss the new Model Packs for FPSC, My Doodle Game for the iPad, news from TGC at IDF, competitions and more.
Until next time,

contents
(1) App Game Kit (2) AGK Games (3) Book Design Compo (4) TGC @ IDF (5) My Doodle Game (6) DarkBASIC Pro (7) TGC AppUp Dev Group (8) FPSC News (9) Model Packs (10) TGC Store (11) BOTB/YT (12) 3D Compo (14) Winner
Application Game Kit - All Systems Go
In the first few weeks of AGK, it seems developers everywhere have found a new lease of life and inspiration. We don't expect such a short period of time to produce eye-catching, ready-to-market games. We have to admit, we're wrong! There are already some great, playable games out there, some of which have already appeared in the App Marketplaces. Alongside these completed games there is so much in progress, we've been astounded by the buzz around AGK. We have featured some of them here, with many more earmarked for future newsletters.
If we needed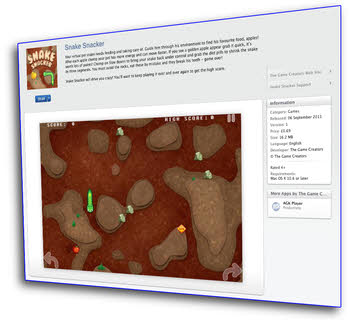 testament to how productive our community is, and how AGK can harness the productivity, then look no further than GraviFlyer by Stephan Guenther. This is the first game brought to our attention that has been published in the iTunes Store. You can read a review of this game later in the newsletter.
Within the TGC roost, Rick Vanner has successfully published Snake Snacker for iPhone, iPod and iPad, as well as in the Mac App Store. Snake Snacker has been developed entirely on a Windows PC, showing the versatility of the AGK language. Watch out for Snake Snacker also appearing in the AppUp store for Meego and Windows soon.
GraviFlyer by Stephan Guenther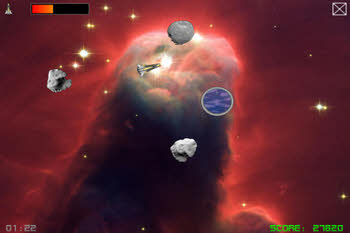 In GraviFlyer, you control a spaceship with a damaged main engine. Use the onboard gravity generator to produce gravity fields and using finger touch to target your intended position and pull the ship to the next stargate. Be aware of the fact that the gravity will influence asteroids and stargates as well as the spaceship. Get maximum scores by completing each level as fast as possible.
This is a fun game with a slight twist on the usual 2D Space flight games. Creating gravity fields is a strategic challenge, often requiring clever manipulation of the asteroids on-screen before you can even contemplate saving your spacecraft.

Graviflyer is one of the first games on iTunes from the AGK stables. You can download it to your iPhone, iPod Touch or iPad now.
Discuss this game on the Forums. You can also find Stephan's second app, Blauchlicht (Blue Light) in the iTunes store. "Blaulicht XL, as simple as it is, made with AGK, earned more money in the last 4 days than most of all my other apps did over one year and longer"
Therapy Studio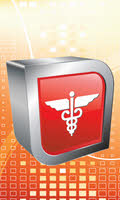 On the Samsung Bada platform, you can grab Therapy Studio right now. Therapy Studio lets you create your own relaxing sound mix. For each track you can individually adjust the volume. It includes a timer to stop the composition and the Guide explains what the different sounds are good for and what steps you can take to sleep better in general.
Relaxing music and nature sounds on Therapy Studio have been carefully chosen for their ability to aid sleep, reduce stress, and provide a relaxing atmosphere for activities such as yoga, tai-chi and meditation.
Features:
Includes more than 12 sounds and music loops: Bird Song, Camp Fire, Chimes, Creek, Cricket, Drums, Flute, Gulls, Ocean, Rain, Thunder, Vibes (more will be added in future versions)
Includes a timer feature perfect for naps.
Includes a guide on how to mix sounds
Automatically stops sound during phone calls and other interruptions.
Stack 'O' Blocks
This is a Work In Progress, posted on the forums by Silvester. I will leave the description of the game to the author:
Stack 'o Blocks is a very simple physics based game, the basic idea of the game is that you're a storage worker in life, and have died concealing your secret banana crate stacks so nobody would ever find them! Of course, this sort of behaviour does not go unpunished in the afterlife, so you've been doomed to spend eternity stacking boxes! On a rather unstable beam hanging above the fire.. Ouch! Should your beam tilt over you yourself will burn in the fire below, will you be able to handle the stress?
Hot Lap Racing
This Work In Progress will ultimately be a driving game in a similar vein to Pole Position. Bursar, the developer, has been working on the game dynamics; he has the road snaking left and right, and the road offsets as the car turns. His wishlist is being worked on right now and includes the steering code and the scrolling mountain backdrop. Then it's onto track side objects, and actually creating a track. Currently it randomly chooses between a straight, left curve or right curve. The final goal is to include split screen racing.
Bursar is using the forums to report on the progress of Hot Lap and get valuable feedback from the community.
Code your game once
The App Game Kit solves many problems caused by mobile device fragmentation. With it you can code your game once and then deploy your game to multiple platforms. Different resolutions and input systems are all handled by AGK.
Easy to Use
With its own BASIC script language App Game Kit makes it a cinch to code your games. Game designers, artists and many more budding game makers can start creating their own apps.
AGK Magic
Look no wires! Compile your BASIC games in the IDE, then transmit them over your WiFi to multiple devices for instant testing. Creating games with this new cross-development model will result in your productivity increasing significantly as you instantly target multiple platforms.
More About AGK
The TGC team has a wealth of experience in creating game creation tools spanning well over a decade. Taking that knowledge and working with our loyal and enthusiastic community we set to work on creating AGK
AGK was developed out of our own need to create a one stop solution for making game apps for mobile devices. In the past TGC had developed games for one device and then wanted to port them to other platforms. The process of conversion was costly and repetitive. The team wanted to spend more time creating new games and not burdened with laborious conversion work.
The TGC team has a wealth of experience in creating game creation tools spanning well over a decade. Taking that knowledge and working with our loyal and enthusiastic community we set to work on creating AGK.
This phase one of AGK is just the beginning. We aim to spread AGK across as many different platforms as possible. Meaning games you code in our AGK BASIC will instantly work on other supported platforms as we bring them into the AGK portfolio.
We're very excited about AGK, we feel it's the foundation of a great game making platform and we're 100% behind its evolution and development. We will continue to work with our community to ensure the AGK meets their needs.
Main Features
Write once, deploy everywhere architecture
Code in BASIC or native (C++)
Powerful and easy to use commands
Fast 2D game engine native to each platform
Screen resolution independent
Built-in physics for the best in game dynamics (box 2D)
Input device agnostic
BASIC Compiler broadcasts direct to devices
Extensive on-line documentation
AGK - Updates and Productivity Tools

AGK Update 1.042 now available
An updated version of AGK is now available. You can find this download within your order history. It's advisable to uninstall your current version before installing the new files. Here is a rundown of the significant changes:
Improved back-end method of updating installer files (less prone to miss source files).
Fixed AGK compiler bug causing programs to fail over a certain size.
Minor alterations to documentation including Ceil, Str and GetCurrentDir.
Added override variables for joystick and existence of input methods.
Fixed retina display detection, cleaned up streamer code.
Fixed custom joystick image sizes.
Fixed loading default images when setting a directory path.
Fixed text input box not positioning correctly with an offset view.
Edited the parameter listing for the Len command.
Added flag so MeeGo AGK Player could compile without scraper code interfering.
Added code for AGK PLayer Windows Host to control any AGK Players in scraper mode when use the -scraper command line after the EXE. This will be built into compiler process.
Added support for remote app streaming to iOS player (beta code)
Minor edits for sprite colour commands.
Changed Mid command to use position 1 as the first character instead of 0.
Fixed Samsung error on exit
Fixed Box2D for Android.
Fixed raw mouse press and release commands.
Other changes to guides based on user feedback.

The full details are available on the forum.
Placement Editor made with AGK for AGK
Coming very soon to help with game creation is the TGC Placement Editor. This will be free for all owners of AGK, and vastly speeds up the game-making process. You can visually design your playing area, using a drag and drop interface to rapidly compose everything you need in minutes.
The video below shows just how quickly you can create a retro lunar landscape with just a few sprite images. The grid has been switched on to aid the placement of the regular blocks, and the play area is resized to a landscape format spanning 3 screens. Finally, the scene is saved to a data file, which can be read and interpreted by your game.
Game Sprites from 3D Media
We have 2 new products which aim to make your 2D-based AGK game productivity more streamlined and agile by converting 3D animated models into 2D animated sprites.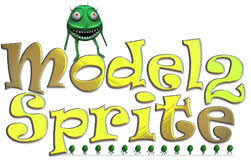 Turn your 3D media into 2D sprite sheets in seconds!
Use it for your latest 2D game, or get 3D content into your menus/HUD quickly without having to load the 3D content or have the overhead of drawing 3D to screen when it is not needed. You can place the camera at whatever angle you wish, alter the Field Of Vision and distance to flatten the 3D out before you create the sprite.
Model2Sprite can import x and dbo models. It exports to bmp, jpg, tga, png, dds, ppm, dib, hdr, and pfm.

It also reads fpe files, allowing you to import the animation data for FPSC models. The following video highlights the main features, and the product is available to purchase now.

SpriteMe is a program that allows you to turn your 3D animation models into 2D sprite sheets with ease. With SpriteMe "what you see is what you get" and allows you to create sprites exactly the size you need for your game. This is the perfect tool to help aid you with your future 2D game development, especially now that AGK is out! Here's what Sean Regan, the author has to say:
"SpriteMe began as a tool for my own purpose, I wanted to create a tower-defense game for the Intel App-Up store, but realized that I am terrible at pixel art. I did however have the 3D models of the type of sprites I wanted to create. I decided to make a tool for personal use to convert 3D objects to 2D sprite.
"As I developed my program I realized that a program like this could be very useful, especially with App Game Kit coming out soon. I changed what I had to be more user friendly and refined it into an consumer orientated tool. "

The program comes with a comprehensive PDF manual to get you started, and you'll find numerous videos and examples via the TGC Forums. SpriteMe is available to purchase now.
Hands On AGK BASIC - Book Cover Competition

The company that created the Hands On DarkBASIC Pro books, is working hard on a Hands On AGK BASIC book (it should be ready in time for a place in your Christmas stocking). But they would like you talented people out there to do all the hard work of designing the book cover.
They have announced a cover design competition with a prize of £250 GBP (about $400.00 USD) - and a copy of the book - for the winner. All entries have to be submitted by October 31 2011. See their website (http://www.digital-skills.co.uk/) for further details.
Competition Details:
Image Sizes:

The cover design submissions must be 1,200 pixels by 800 pixels and in jpeg format.

The top five finalists will be asked to resubmit their entry as a 12,000 pixels by 8,000 pixels image in bmp format.



Cover Topic:

Since AGK allows only 2D gaming, the cover should also be 2D in nature. That is, there should be no images created using 3D packages. Other than that, no content restrictions apply.



Image Content:

The cover design will be for the front cover only, spine and back cover elements will be added by Digital Skills. Also remember that the book is guillotined to size. This will involve a loss of approximately 40mm from both the top and bottom of the cover and about 20mm from the vertical edges.

The image you submit will be overlaid by text, so don't position any vital part of your design too near the top where the book's title will appear.



Dates:

All entries must be submitted by 31 October 2011.
Finalists will be asked to submit a high-resolution version of their entry during November and the winner announced on 1 December 2011.



Submission Details:

Send your entry to CoverComp@Digital-Skills.co.uk giving your name, age (if under 18), email address and add your cover image as an attachment.

You may submit multiple entries.



Legal Requirements

The design you submit must be entirely your own work. No part of the cover design can be obtained from other sources - even copyright-free images.

The winner will be asked to sign a legally binding document confirming that the cover is entirely their own work and that they transfer copyright of the image to Digital Skills.

The choice of the winner will be made by Digital Skills. Their decision is final and binding.
TGC Globe Trotting with Intel
September has seen two major Intel events, with TGC showing their presence at both of these. Firstly IDF 2011 delivered some key messages which will help to shape the future of Game & Application usage and delivery:
Ultra-thin laptops are the product for this season
Intel continue to innovate with new chipsets (Sandybridge, Ivybridge and Haswell)
Small chip architecture (22nm) and trigate technology shows Moores law can still deliver and at the fraction of the energy requirement
Parallel Programming is going to be more of an issue in the not so distant future. Multiple cores will be the order of day!

Following on from this event, Lee Bamber headed on to Seattle to Intel Elements; this is dedicated to Intel AppUp. AGK was on show to the crowds as he presented a session using AGK for App Development, as described by the programme:

"Learn tips and techniques for creating cross-platform applications. Take a shortcut through the tangled forest of cross-platform development with a new development solution: App Game Kit* (AGK). Whether you code in C++ or prefer the simplicity of BASIC, discover how to eliminate the problems of porting and support multiple platforms with the touch of a button."
My Doodle Game - Coming Soon on the iPad
My Doodle Game is making the move from the Windows version to the iPad. What's more, it's free to download and start making your own games straight away. We've created the video below to show just how easy it is to play the included games, edit them to your own preferences, and to start a new game with the included media content. We're quite sure your ideas will soon stretch beyond what we imagined you could achieve with this simple-to-use game maker and to that end we've included a marketplace where you can grab additional content.
The iPad version includes many new ideas and tools, and the team are already developing 'platforms' type objects so you can make moving scenery to your games. These will appear in an update to the product soon after launch.
The app has been submitted to the App Store. Assuming it gets approved on time, it should be available for download on the 7th October (or sometime soon after).
DarkBASIC Professional News


Everything you need to know about both DarkBASIC Professional and FPS Creator development can now be found via Lee Bamber's Tweets. You'll get to hear about every bug fix and feature as it's implemented.
Start following Lee now to get the latest news about your favourite development tools as it happens.
T.Ed Terrain Editor - Price Reduction

T.Ed Terrain and World Editor has been reduced in price to 15 EUR (or local equivalent price). This is

a great opportunity to get a valuable and popular tool for a more affordable price tag. The new price is effective now, and you can order from the website.
What is T.Ed, Terrain and World Editor?
The technique behind designing and using terrain objects can be a minefield of choices, as there are so many different ways of doing it. T.Ed is designed primarily for games programmers and 3D artists to make those choices easier. There are two main categories regarding terrains in games: 'Static Mesh' and 'Dynamic LOD'. T.Ed can help in the development of both.
T.Ed is a dedicated terrain tool to allow the creation of small to large mesh landscapes, either as a series of blocks, or as a single terrain. It allows for superb blended textures either by using vertex alpha or by rendering a 'Supertexture' for each terrain block. Through an easy to use and learn interface, featuring mouse look and game walk controls, you will be walking around your virtual lanscape in minutes.
The software also takes into account the problems of using entity / texture alpha with vertex alpha, and has features designed in to eliminate those dreaded problems.
Easy to use windows like interface, with 'mouse look' and 'game walk' controls
Versitile editing tools that even alow you to create overhangs and vertical walls.
New V2 features lots of new tools including autotexture by height & slope.
Uses an alpha-limit blending technique to stop vertex alpha Z-Order problems
Ability to edit large mesh terrains in realtime up to 1024x1024.
Can have 1000s of simulated textures by using vertex colour combined with 6 pre-loaded textures
Create great looking, realistic blended landscapes.
Lightmapper to shadow the landscape
Supertexture Renderer for those who don't want or cannot use vertex alpha, you can now 'bake' the vertex layers and lightmap to one large texture.
Useful tools including paint height, auto quad-matching and tiling function to make 'infinite' terrains.
Configurable (and saveable) environment simulation for fog, water, sunlight etc.
B3D and DirectX .X for easy insertion into your games & other programs.
Free Updates
Malevolence - The Sword of Ahkranox

Malevolence: The Sword of Ahkranox is an indie game development project founded out of Brisbane, Australia and is involving nearly 30 people from all over the world. The aim is to recreate the amazing turn-based, first person RPGs from the golden age of PC gaming using modern game engine technology.
Rich classics such as the Might & Magic series, Eye of the Beholder and the like have inspired this new title which, when finished will put its players into a literally infinite fantasy world filled with procedurally generated content. It is definitely a must-have for all enthusiasts of the quintessential RPG.
The game's procedural engine can generate an infinite number of weapons, items, spells, monsters, dungeons, cities, countryside and even dialogue, allowing the player to explore the game with no end and no reason to stop. The team are currently working hard to reach the milestone of releasing an official, playable demo of the game just before Christmas 2011, and the final product on December 21, 2012. Watch the trailer to get a taste for what looks to be a promising project.
2D Animation and Game Creation Introduction for Kids
by Joakim Olsson
For the third time an evening course with 2D animation and game creation in mind will be held at KomTek, the local technology and entrepreneurial school in Stockholm, Sweden. With the use of Dark Basic Professional, children of the age of 10 will be able to create and animate their own 2D assets and then use an existing game template to bring their creations to life.
There is a great interest in the course. All participants find it entertaining to see how their drawings made on paper become the assets of a fully functional game which they can put their name to.
Thanks to the easy and Basic structure of the DarkBASIC Professional programming language, the 10 year old participants can get an understanding of what happens if they edit a certain value and make small changes to the template. Our gallery shows some of the achievements from the course.

Dark Game Studio Bonanza
Special offer while stocks last: Dark Game Studio, Dark Physics, Dark Lights, Dark AI and Extends for an incredibly low price of $49.99. Save over $170!
Creating your own PC games is now easier than ever with this special compilation of game making tools:
Dark Edit
Demo Games
Physics Demos

Order Now

Save over $170 on this special deal. Be sure to check out the screen shots and the online videos. You can of course order safely and securely online, for delivery via postal mail.
AppUp Developer Group - now available in Large!

by Steven Holding
With well over fifty members now the ADG is certainly becoming a large 'mini' community! We even have our first published Apple App Store game by new member Stephan Guenther (Space Dream Studios), "GraviFlyer" is reviewed in this newsletter by our Editor Steve Vink. This brings our grand total to 26 published titles.
The "ADG Arcade" project has also grown to include over a dozen contributors and around 10 remakes of classic arcade games! It has really inspired me to see so many people willing to contribute their time to a non-profit project such as this. Some of the games are looking really great and I thought it might be nice to showcase a few of them this month.
Froggit is a remake of the Konami classic "Frogger" by Glenn Evans (DVader) which so far is shaping up to be very true to the 'feel' and game-play of the original.
BallBricker is a new version of the old Atari game "Breakout" that Rich Dersheimer has been working on with a very original twist in that there is no paddle to hit the ball with!
Oblitinator is my own remake of "Missile Command" by Sega. The game-play is very similar to the original but with new graphics and a number of new weapons and pickups!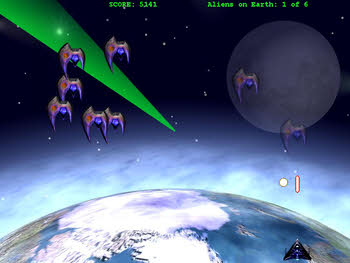 Radar Invaders has been converted to AGK and donated to the project by Adam Hodgson (Hodgey) and is not dissimilar to the daddy of all video games "Space Invaders" by Tomohiro Nishikado! The main twist here is that the bad guys are not always visible!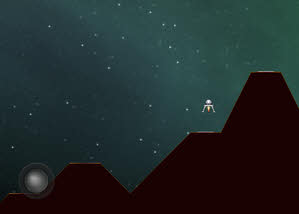 Lunar Lander is another Atari classic being remade by Steve Vink. The graphics and style started as being very similar in style to the original but have now been enhanced by David Gervais, retaining a retro look to make this a real blast from the past.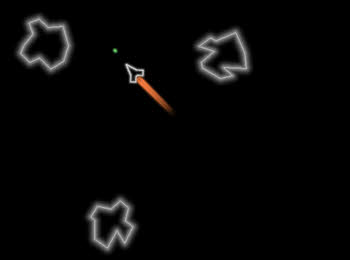 Rocks from Space is a snazzy looking remake of "Asteroids", originally by Atari. This version is being created and contributed by Bursar.
Other contributions include:
-Game graphics by TheSlayer, Deathead and David Gervais
-Name Input and Resolution testing utilities by Rich Dersheimer.
Finally I would like to send a personal thanks to all of the contributors. Thank you!
FPS Creator News

Uuhhhhh! Can you make it any better?
Some things are best left untouched: pleasant green valleys, historic and ornate buildings and the name of your favourite chocolate bar (does anybody remember the Marathon bar?). Other things, like neon socks and Doctor Who need to move with the times.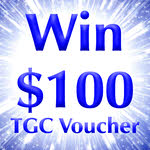 After numerous years of the FPSC jumping grunt, we want a new sound. Likewise, the cry of pain when you get hurt needs refreshing. We are challeninging you to create the new sounds of FPSC. Simply create a video of your new sounds in-game, and we'll pick the top three to take us into the next era of FPS Creator games. The second condition of this competition is that you make your audio files available to the community to use in their games. If you're new to FPSC, download the free version now and make this your first adventure into a great new pastime.
The winner will receive $100 USD in TGC Vouchers, with $50 USD and $30 USD going to second and third place respectively. Now that's a prize not to be grunted at!
Special Offer while Stocks Last - $29.99,

Save Over $150.00!
Take advantage of this whopping special offer! Get FPS Creator and 9 Model Packs for an incredibly low price of $29.99 USD (€22.00 EUR, £19.99 GBP). This deal includes:
FPS Creator
Model Pack 1
Model Pack 3
Model Pack 7
Model Pack 11
Model Pack 12
Model Pack 13
Model Pack 14
Model Pack 15
Model Pack 25
Click here to purchase the Bonanza pack, including FPS Creator
for just $29.99 / €22.00 / £19.99
Zombie Apocalypse 2 - Military

21 new military themed zombies, both WW2 and modern day
All characters use hit zone detection, and will react realistically depending on which body part is shot
Make fast moving zombies fall to the ground and crawl by shooting their legs!
Advanced scripts make the zombie behave unpredictably, they will try and flank the player or zigzag in a meandering way

Zombie Apocalyse 2 is available now from the Game Creators Website, along with full details and further screenshots.
World War II Weapon Pack

This pack is dedicated to the weapons of World War II, and includes no less than 20 items:
Gewehr43
Kar98
Knife
M1 Carabine
Luger
Bar
Bren
Colt45
Grenade
M1 Garand
Mosin
MP40
Mp44
Panzerfaust
Thompson
Stielhandgrenate
Sten
Springfield
PPSH
Panzerschreck

The pack can be ordered from the TGC Website here. Check out the video below to see the weapons in action.
Pack 59 - Cemetery Pack
Build a full cemetery with this complete set of assets including underground torchlit passageways, stone graves, eery gateway, unkempt plots, open coffins and more.

The Cemetery Pack is available now from the Game Creators Website, along with full details and further screenshots.
Free Hospital Model Pack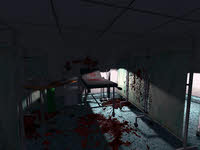 X Games has made all of his hospital-themed models available for download, for free. Take advantage of this, adding 45 segments and 35 entities to your collection. The pack includes beds, blinds, lamps, pills and medicines, medical kits, doctors cases, sanitising equipment,

microscopes, tables and much more.
The pack can be downloaded from the FPSX Games website.
The Game Creator Store - Updates and New Additions

New Store Additions
Industrial Machinery
This is a piece of heavy machinery from Model Pack 34, one of a number of pieces for populating vast factories or small workshops. The industrial pack contains everything you need to make highly detailed and atmospheric industrial park settings. Containing 42 entities including building and machinery entities plus 20 segments, it's easy to set out almost limitless machinery configurations, and building layouts.
See the models from this pack in action in the YouTube preview video:
Swinging Bulb
An animated light unit which slowly sways forwards and backwards which has an illumination map for brightness. Various static versions are also supplied. Add an aura of intrepidation as you tread carefully down long corridors lit by lines of swinging, bare bulbs.
You can also preview this model on YouTube.
Animated Drawers
12 models of a study desk. There are 6 animated versions which can have the top drawers opened and closed and there are 6 static versions of the desk in various poses.
You could change the script to display your own message HUDS to suit your game if you wish with the animated models. Ideal for use in any Modern or puzzle game Genre. Audio FX are included.
Cobblestone Flooring
A cobblestone ground for your game. The texture on this segment is seamless, so you won't see the edges of this segment while you are playing your game. This segment adds a little more realism, with its photo-quality finish.
All of the above models are available to purchase and download through the inbuilt Game Creator Store in FPS Creator and DBPro, and also using the standalone store for other game-making tools.
Pick up free Store Points
The Game Creators have teamed up with the leading providers of virtual currency; perform a few simple tasks and top up your Store points. As well as being able to take up exciting offers and receiving potentially thousands of points, there are a host of other tasks to earn rewards. Watch a movie trailer, rate search results, answer questions, tag photos or choose from a host of activities that will ultimately earn you any of the high quality models and resources to make your game shine.
Open the Store, through FPS Creator, DBPro or the standalone version. Log in to your account and select the Buy Points option. Below the regular payment options you'll find links to gWallet, Offerpal, DoubleDing and TrialPay. You'll immediately find yourself in amongst the tasks and offers available, and can start earning immediately by watching a movie trailer or two!
Upload Your Assets to The Game Creator Store
Did you know you can sell your models, segments, music and sky boxes in the Game Creator Store? We already have dozens of artists selling their media, and we welcome anyone with the talent to provide our community with quality assets to do the same. If you are interested in becoming a store seller, please contact Janet, our Store Administrator directly.
Best Of The Best on YouTube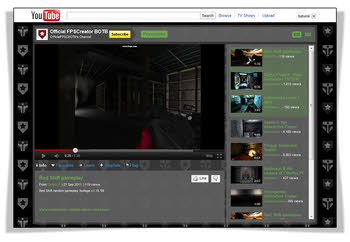 KeithC has put together a YouTube Channel for the BOTB. You'll find a video for each BOTB holder, along with YouTube Channels for the VBOTB holders. Work is in progress to showcase these pedigree games to the rest of the world in the true radiance they deserve, keep checking back for the intro video that's in production right now.
More videos will appear as they are submitted by the developers. We appreciate that there are many fan videos out there, but this venture is designed to allow the authors to display their work as they intended it to be seen.
The BOTB judges are currently sifting through this year's entries, as submitted for the half-year review on the forums. Again, watch out for more news, judges commentaries and a new bunch of great games from the very best FPSC developers. If you want to hear about progress as it happens, then why not subscribe to the Twitter feed - http://twitter.com/#!/FPSC_BOTB
HMS Diptera - the latest BOTB
"I'm John Reid, employed by SecureSafe.inc, the largest private security corporation in the universe. I've been attached to the HMS Diptera which is the leading spacecraft in interstellar cargo transport as security. I begin my third placement on the ship in 3 days as just another security guard unable to be trusted with what's been placed in classified storage again. Every time I've been posted on the Diptera a fresh batch has been sent to it's destination. Anyway, I've gotta go complete my radiation crash course. Eng of log. "
Whilst beginning your normal patrol route on the HMS Diptera a radiation wave hits the ship and strange things start to get uncovered... You play as John Reid, just another security guard placed on the night shift.
Creatures are great, the best lighting, very good sound and music. Felt like being on a space ship. Not a bad story line.
BOTB Judge
Though some of the things like the enemies seemed a bit arbitrary I thought it was a good, solid, well-tuned game. I liked how you revisit sections and see them in a different state. While not difficult, and pretty straight-forward I appreciated not having to backtrack needlessly or being forced into box stacking and jumping puzzles. The audio was very good as well.
BOTB Judge
I thought this one had some nice custom loading screens, got a good laugh at the "silly" jokes. Nice HUDS, and room signage so that one did not get lost, going around in circles. I love the sound effects in the game, gave you that eerie feeling that you really did not want to look around the next corner. I am not an overall fan of zombie / horror games, but this one gave me that spooky feeling.
BOTB Judge
3D Modeling Competition Goes to the Movies
By David Gervais, BiggAdd and MikeS

For this competition we want you to take us to the Movies! you can draw your inspiration from the Classics, Comedy, Drama, Action, Horror, Science Fiction, or even Animated. Be it a scene, a prop, a character, a gadget, a vehicle or anything you can tie into the Movie theme.
Have Fun and we will be watching from the front row seats! The Competition will run up to and including October 26th. As always you'll find full details and the thread to post your entries in the 3D Chat board. Keep in mind this is The Game Creator's Forums so any entries that are geared towards being used in games will get extra brownie points.
September Winners

Last month we asked you to get your ideas in motion, whether it be slow motion, super sonic, smooth sailing, road gripping, sky rocketing, earth-bound or anything in between. If you can ride on it, in it, under it, over it, behind it, beside it, or in front of it and it can be called a Vehicle. We asked you to build it and show us your creation.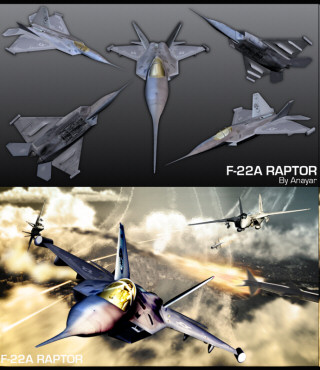 3D Master: Anayar's F-22A Raptor
An excellent entry! There is great detail on the model, it's well textured, and the artist included an action filled beauty shot which always helps the judges to see the potential of an entry.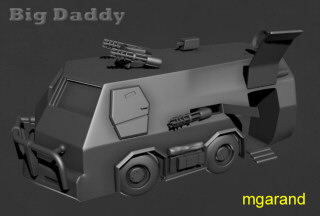 3D Best Model: Mgarand's Big Daddy Land Rover
This entry has Excellent detail and a good clean render. Great work! This is one of two models that we have awarded a Best Model badge this month, as we didn't receive many fully textured entries.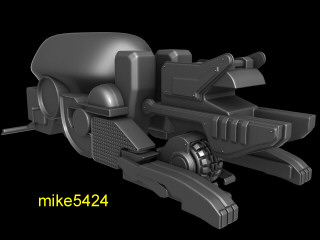 3D Best Model: Mike5424's Sci-Fi Vehicle
This is an excellent model, the subtle metal texture fits it well. Nice entry! It took a while to realise the inspiration for the model structure; can you spot it?
How the 3D Modeling Competitions Work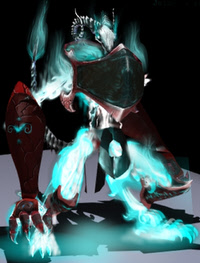 The accolades for the winners are retained until the next competition winners, and are as follows:

3DMaster - Champion awarded to the overall winner in the competition, an entry which displays both modeling and texturing excellence.

3DMaster - Best Model awarded to the runner up who demonstrates the finest modeling skills in the competition.

3DMaster - Best Texture awarded to the runner up who demonstrates texturing wizardry in the competition.
The awards will cling to your Avatar until the results of the following competition are announced. So to keep your award, you must defend your honour in battle once again!
Monthly Newsletter Winner - $100 voucher up for grabs every month!

Join over 3,900 TGC fans on Facebook for the chance to win a $100 gift voucher each month. Simply add yourself as a TGC Fan using the "Like" button and then actively participate in the discussions at least once a month. We'll pick a random winner from all who input into the TGC Facebook discussions. The voucher can be spent on any of the products on our site. Sign up now, and good luck!
When I examine myself and my methods of thought, I come to the conclusion that the gift of fantasy has meant more to me than any talent for abstract, positive thinking.
- Albert Einstein