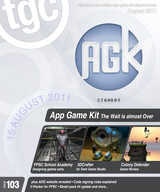 There are lies, damned lies, and statistics. This is a famous quotation which is cited so often and can become a self-fulfilling prophecy. Ironically, when somebody doesn't like the statistics presented to them, they retort with this quote thus fulfilling the prophecy. However there are some statistics that should never lie, and those are the ones created by yourself, for yourself.
Having published my first game on AppUp this month, I have used it as an opportunity to see just how to market a game effectively, and that involves gathering a lot of statistics. The website is fully connected to Google Analytics so I can see how many people are looking, how long they look for, where in the world they are and whether they decide to investigate the game further on AppUp. Each day I log the number of downloads from the AppUp figures. Most importantly I annotate every effort I make to market the game, from Facebook announcements to this very newsletter. Publishing a game often seems like the last step in a long journey, but in reality it should simply be the first outward step in a never-ending adventure. Keep a close eye on the success of your game and you might just find it to be as exciting as creating it in the first place.
My efforts are a well-timed experiment in preparation for something that is destined to be so much bigger for all TGC customers. This month sees the launch of AGK, which opens up our vast game development world into the universe of opportunities. This month you can read all about the final steps to AGK becoming publically available and the discounts you can take advantage of as an early adopter. You can also find out about updates for one of our FPSC model packs, third party products to ease your development cycle, and even more value in the Dark Game Studio pack with an additional modeling application.
Until next time,

contents
(1) App Game Kit (3) FPSC News (4) DarkBASIC Pro (5) TGC AppUp Dev Group (6) Game Making in Schools (7) MP54 Bonus (8) TGC Store (9) From the Forums (10) Winner
AGK At Play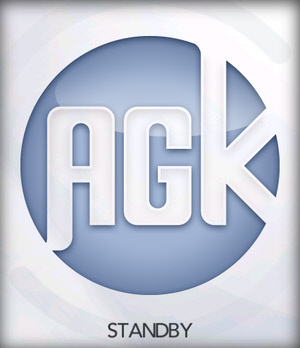 Welcome to AGK release month, and to whet your appetite for what is a new era in ultra-simple cross-platform development, we have prepared a quick video showing off the AGK Player running on all five platforms. We have support for Windows, Mac, iPad, iPhone, iPod, Samsung Bada phones and MeeGo netbooks. Expect Android and other cool platforms in the near future!
The AGK Players are used during the development of your AGK applications and provide an instant way to test your creation on multiple devices without all that mucking about with different development environments and hardware. You will find the AGK Players on most app stores of the supported device, in addition to players we provide as part of the main AGK installation.
The process is quite simple. You run the AGK IDE (The BASIC Editor) and select an example from the workspace, download and run the AGK Player on your device of choice, then press the 'Compile, Run and Broadcast' button and AGK takes care of the rest. Your code and media are transmitted over the wifi network to the awaiting device and you can start playing your game or applications instantly.
When you want to quit the application on the device, simply hold or click the top of the screen for approximately 5 seconds and the app will end and return you to the AGK Player home page from where you started. When you have made a change to your code, or want to try a different app, simply click the compile, run and broadcast button again and the modifications are sent to the device. Any media that has not been changed will not be copied over, increasing the speed at which updates are send to the device and improving the testing experience.
As you develop, bask in the knowledge that you don't have to worry about device resolutions, screen orientation, input methods or hardware differences and if feel a tinge of worry, you can blast the app to a device and double-check all is well with your multi-platform creation. Even better, join forces with members in the community who have a device you currently don't own and send them your project to make sure it works away from home.
When you have finished your masterpiece and are finally ready to make some money, you have everything you need to build the final distributable as part of the App Game Kit.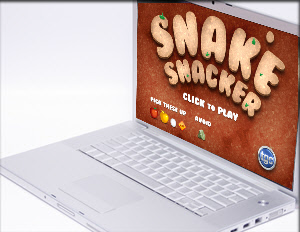 The help system has a set of handy guides that goes through step by step the process of preparing your Tier 1 (BASIC) application for submission to the various stores. This process has been made as simple as possible, and providing you follow the guides very little knowledge is required to get your app in the stores.
One of the greatest advantages in developing with AGK is that you genuinely have no porting pains, which means you will not have to make copies of your code, and start tweaking each one before they become compatible with a specific platform. Just like a web page, once you've created it, you can send it into the world and watch it fly.
We are considering the possibility of providing a service which will take your Tier 1 (BASIC) and Tier 2(C++) applications and publishing them on your behalf. Once your game passes Quality Assurance, we will assume the role of testing your app on all supported devices and submitting them for publication as a TGC product. We would then administrate the product, collect revenues from all stores and issue a monthly payment to you. If this is a service you would like to see, please let us know by posting on our Facebook wall at or dropping us an email.
In the meantime, we hope you have enjoyed our little sneak peeks into AGK development and we look forward to releasing the Community Edition on the 15th August 2011. Remember to grab your copy early as the 30% discount we have extended to the TGC community will only last to the end of September. The games and applications you have created over the years have been astounding, and so we cannot wait to see what you will come up with next with AGK!
AGK Main Features
Compile to these platforms: Windows, Mac, iOS, Bada and MeeGo
Access to both Tier 1 (BASIC) and Tier 2 (Native C++ libraries)
Free bug fixes and any minor updates
Write once, deploy technology
Code in BASIC or native (C++)
BASIC compiler broadcasts direct to devices
2D games engine
OpenGL based
Sprites
Box 2D Physics
Particles
Device independent
File IO
Input agnostic
Direct input control: Touch, Keyboard, Mouse, Accelerometer, Joystick
Text support - fixed and variable width
Sound
Music
Network
Broadcast
Messages
Shared variables
Extensive help and tutorials

The App Game Kit is available from 15 August 2011 - you can pre-order before this date and purchase at the discounted price for a limited time thereafter.
Follow AGK Development On Facebook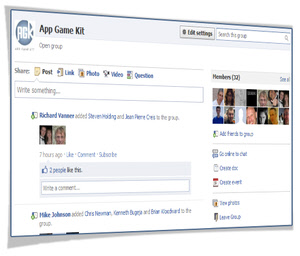 You can now keep abreast of progress of AGK via Facebook. Sign up to the AGK Group and receive notification direct to your Facebook wall and email inbox as soon as it is posted.
This month you would have been the first to know the release date for AGK, and be first in the queue for pre-orders.
You can sign up and join in the discussions in the AGK Facebook group here.
FPS Creator Updates

FPSC V-Packer
Build in less than a minute a single executable from your FPSCreator files. No need to install, your application runs in the virtual filesystem.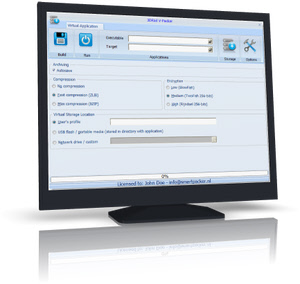 Features:
Pack the FPSCreator game and all its supplementary files into a single file
Create encrypted archives using strong encryption algorithms
Compression methods provide good compression rate and high speed
Runs in a virtual filesystem from user level, no admin privileges necessary
Add a splashscreen image for loading screen
Autosave Mode
Configurable storage location
Password protection
No temporary files
Find out more and purcahse V-Packer from the dedicated website.
Special Offer while Stocks Last - $29.99,

Save Over $150.00!
Take advantage of this whopping special offer! Get FPS Creator and 9 Model Packs for an incredibly low price of $29.99 USD (€22.00 EUR, £19.99 GBP). This deal includes:
FPS Creator
Model Pack 1
Model Pack 3
Model Pack 7
Model Pack 11
Model Pack 12
Model Pack 13
Model Pack 14
Model Pack 15
Model Pack 25
Click here to purchase the Bonanza pack, including FPS Creator
for just $29.99 / €22.00 / £19.99
DarkBASIC Professional News

DarkBASIC Professional developers are using the Gallery to showcase their creations.
This is a screenshot from MPL3D Solar System, showing the Columbus Spacecraft travelling at lightspeed from Earth to the Sun. Did you know you can also include YouTube videos in the gallery, as demonstrated by this entry. Watch the epic journey as recorded in the MPL3D application. You can showcase your games and applications in just the same way with our free Gallery.

Everything you need to know about both DarkBASIC Professional and FPS Creator development can now be found via Lee Bamber's Tweets. You'll get to hear about every bug fix and feature as it's implemented.
Start following Lee now to get the latest news about your favourite development tools as it happens.
3DCrafter Special Edition - Free for DGS Owners
For all of our Dark Game Studio owners - including current and future users - we are providing a free download of 3DCrafter Special Edition.
3DCrafter is a real-time 3D modeling and animation tool that incorporates an intuitive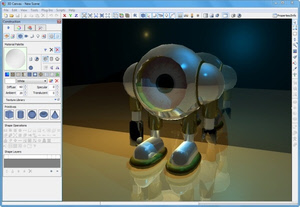 drag-and-drop approach to 3D modeling. Complex models can be constructed from simple 3D primitives, or created using 3DCrafter's Shape Building Tools. Modeling tools are provided to deform, sculpt, and paint 3D shapes.
Creating an animated scene is as simple as positioning the shapes within your scene for each point in time in your animation. 3DCrafter will ensure that the resulting animation runs smoothly. Your animation can be stepped through a frame at a time, viewed in real-time, or recorded to a Video (AVI) file so that you can distribute your creation.
Tool roll-up groups allow you to customize the 3DCrafter interface so that only those items you use most frequently are visible. And if you need access to a less frequently used feature, the tool roll-up is always one click away.
3DCrafter SE includes these additional features, over and above the freeware version:
DirectX Export
Mirror Operation
Twist Operation
UV Re-map Operation
Scene Details Plug-in
Update Material Plug-in
Create Face Plug-in
The key feature here is the DirectX Export, opening up 3DCrafter to FPSC Creator and DBPro artists and model-makers. For anyone wanting to add a great new tool to their development process, this is a must-have, and now it's free for all Dark Game Studio owners. Watch out in your order history for the download link and serial code, coming very soon.

You can find out more about 3DCrafter on the Amabilis website.
Dark Game Studio Bonanza
Special offer while stocks last: Dark Game Studio, Dark Physics, Dark Lights, Dark AI and Extends for an incredibly low price of $49.99. Save over $170!
Creating your own PC games is now easier than ever with this special compilation of game making tools:
Dark Edit
Demo Games
Physics Demos

Order Now

Save over $170 on this special deal. Be sure to check out the screen shots and the online videos. You can of course order safely and securely online, for delivery via postal mail.
AppUp - New Games, New Rules

by Steven Holding
This month we have seen the introduction of Code Signing on AppUp, who are giving free certificates to existing AppUp developers for the first year. I have to be honest, it hasn't been too difficult to arrange through Comodo (the 'free' certificate provider). I'll be adding the group's experiences to the AppUp Developers Guide once we have a few more successful applications under our belt.
We also have a few new published games this month including one of our WIP's "RADAR" which was featured in June's newsletter, "Pile 'Em Up" which is an addictive Box2D physics based vehicle 'stacking' game by Steve Vink and my own educational maths game "Football Factors" (based on soccer for all our US readers!).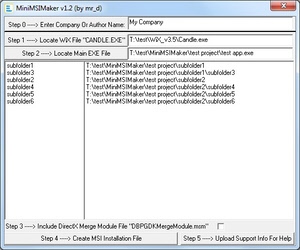 The demo version of "RADAR" also passed validation this month using a new "Minimal MSI Maker" developed by mr_d. This is a very simple tool which can be used to build a free, valid installer for AppUp. It eliminates the need to then edit the installer using Orca. It really couldn't be much easier to use! The WIP thread for this tool can be viewed here:
http://forum.thegamecreators.com/?m=forum_view&t=185508&b=8
The ADG Website
We also now have our own promotional website "ADG Games & Applications" which has been constructed by Steve Vink with a little help from some other ADG members including Adam Hodgson (Hodgey), Chris Van Wijmeersch (TheSlayer) and myself. The site will allow developers (once they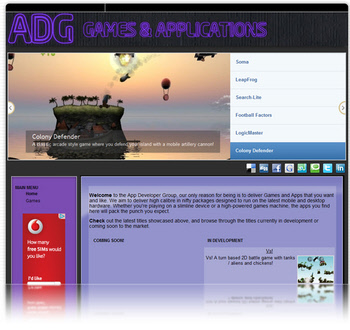 have at least one published App) to add their own pages for their published Apps and WIP's which (once moderated) will automatically be added to the website. The site is in the early stages, and has been built on the foundations of a good content management system. Over time, we hope to report back with new and exciting features that enable the independent developers in the TGC community to thrive.
The idea behind this site was to have a method of promoting each other's Apps from within our games. It was quickly decided that the easiest method of maintaining such a system was to have it web based. By putting a link in your game you will be able to open the site using the users own default browser.

You can check out the site here.
With the release of the AGK imminent we will also be adding platform specific areas to the site which it is hoped will provide the community with a free method of promoting their games on whatever platform they develop for!
If you want to apply for an account you can do so by contacting either Steve Vink (Batvink) or myself (baxslash) through the TGC AppUp Developers Group thread here.
Latest statistics
1,200 posts
15,000 views
29 official members
21 published Apps
1 published developer component (Online Scoreboard by mr_d)!
AppUp Game Review - Colony Defender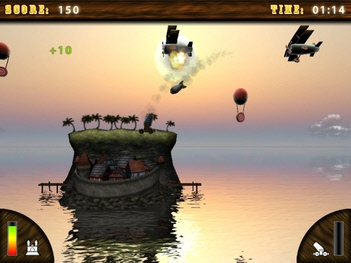 Colony Defender is a classic Shoot-'em-up style game, where your goal is to defend an isolated, prosperous colony in the ocean from incoming waves of enemies. You control a moveable artillery and fire ballistic cannon balls while gaining points for successful hits.
Collect power-ups and shoot your way to the top of the high-scores table. You're the last hope for these peaceful colonists! Can you survive the enemy encounter?
Review : Colony Defender is not disimilar to the old arcade game "Missile Command", you are defending a small island from attack from the sky and sea using a mobile artillery cannon. The game gets more difficult at a subtle pace and it was only after defeat that I realised I had been playing for over an hour and was completely addicted!
The graphics are great with some really original 3D models and a great reflective water effect. Created by Sebastian Pauli this is a great example of how simple gameplay and clever effects can be combined to create a really original Netbook game!
Sharing our Gifts and Growing our Talents Together
This is the motto of two primary schools in rural Cheshire, United Kingdom. Pott Shrigley Church School and Bollington St John's CE Primary School are two schools working together as a federation. One aspect of this partnership is the joint organisation of a series of Academies for the children to take part in. One of the Academies was a Game Making Academy organised by Rick Vanner of The Game Creators.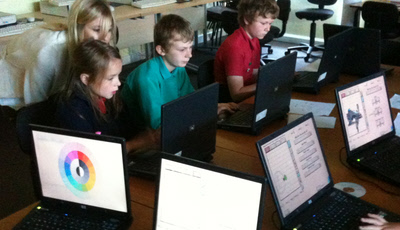 Run over a period of six weeks, children aged between 8 and 10 found out about the history of games, the components that make up a game and how games have developed and evolved through the years. The group speculated how games might be ten years from now.
It wasn't all theory though, the children had access to laptops running My Doodle Game and after just a few minutes of instruction they were making games all on their own. After the final session and graduation ceremony, Rick Vanner was asked how he felt it went. "It was amazing to see the children so engrossed and engaged in game making" says Rick, "they all created games that had their own style to them and they helped each other if they had problems. I'm left with the sense that they have experienced something new during this process and there were students who showed really strong potential"
During the Academy the children learnt about character creation and the aspects of what makes characters so appealing as heroes and villains. They were also challenged to design their own character, the best of which would be converted into a real 3D character and placed into a virtual world. With the generous help of art genius Mark Blosser (Bond1) the winning design was transformed over a weekend and revealed in the final Academy presentation. All the kids were amazed at this (as were the parents and teachers).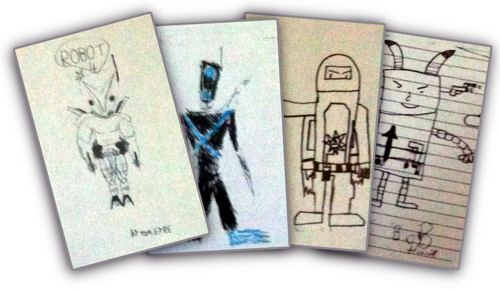 The Federation's Head Teacher Andy Hodgkinson commented "Innovation lies at the heart of what we are seeking to achieve across our federation of schools and the game making academy epitomises that. Children and parents could not quite believe what has been achieved through the collaboration with The Game Creators! I am so proud of the sense of achievement experienced by pupils who took part in the project."
So TGC has given a little back this summer in the hope of inspiring the next generation of game makers. Maybe you or someone you know runs such schemes? Maybe you could do something similar. If you want, TGC would be happy to allow you to use My Doodle Game for this process, just get in contact with us.
Huge thanks must go to "Bond1" for sharing his time and amazing talents! Results are far better when we all work together.
The Games Academy present...Tetron!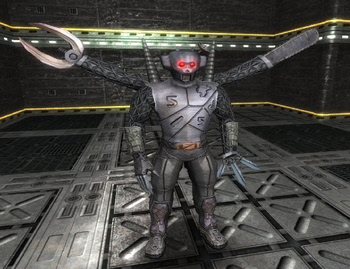 As mentioned above, one of the results of the Game Academy is Tetron, the character designed by the children and produced by Mark Blosser. You can download and use Tetron in your own games, the dominating character will be available to purchase on the TGC website over the summer holidays.
The proceeds of the sales of Tetron will be donated to the schools.
You can get hold of Tetron now from the TGC website. We'd love to see just what

you do with this character, and we're sure the children that created him would love to see it too. Why not add your screenshots to the Gallery?
What is My Doodle Game?
The two schools used My Doodle Game to start their game-making journey. My Doodle Game is a fun and creative game making tool, with it you can literally draw your own games and then have hours of fun playing them! Make a scrolling shoot-em-up or a fun platformer, it's so simple to use and the results are instant.
The application comes with some pre-made characters and games. You can use these or just draw your own and build up a personal library. You can mix and match heroes and enemies and make some really wacky games. Personalise your games with your own wav sound effects and mp3 music.
We're sure you're going to love My Doodle Game,

it's instant fun and if you have kids they'll be fighting for control of your PC to make their own. Bring your game ideas to life in this awesome new game making tool from TGC. This product is available to purchase now from The Game Creators website.
Bonus Features for Model Pack 54 - Puzzles and Challenges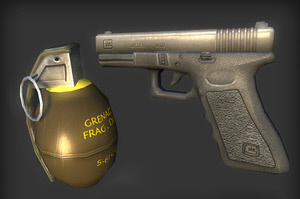 Owners of Model Pack 54 can now download a bonus pack, including a hand grenade, pistol and new hands. You will find this pack in your order history to download now.
Model Pack 54 - Puzzles and Challenges
This pack contains almost everything you need in order to create a challenging puzzle game. Introducing new non-shooter weapons, which will take your puzzles one step further. Why have a head-up display showing the map or information when you can provide them straight into the players hands? Using the same arms and extended animations as the re-rigged stock weapon will make integrating these weapons in your project easy. There are no limitations to what the non-shooter weapons can bring into your game, whether it's an educational game or the goriest game of the year.
Included in the Pack:
14 non-shooter weapons
15 melee weapons
58 entities, over half of them made with puzzles and challenges in mind. Many of them are animated.
An easy to use achievement system
Hint and dive helmets
Tutorial boxes for the players first steps
14 hint overlays for use with the hint helmet
4 posters with different modes - standard, hint and static. Plus the ability to tear apart two of the posters to reveal hidden messages
A custom text font for writing your own decrypted messages
4 room segments and 4 floor segments using the new stock shaders

Get the full details and purchase Model Pack 54 - Puzzles and Challenges - from The Game Creators website now. In addition you'll get the bonus pack in your order history page.
The Game Creator Store - Updates and New Additions

New Store Additions
Blastscreen
Here is a animated model (audio effects included) which is to be used as a FPSC window unit. The 'Blastscreen' model starts in an 'open' position and When the player gets close to it an option to 'use' it will appear on screen. When used, a red button will depress and a metal screen will slide down to seal the unit and when used again the screen will slide back up.
Also supplied, is a window type version of the model with glass which can be shot out by the player.
Ruined City
A good Skybox can make or break the atmosphere of your game. This ruined city will complete your scene with a fantastically detailed backdrop. There are many more skyboxes from this author and many others, covering all landscapes from built-up zones such as this, to extra-terrestrial planets and stellar backdrops.
Computer Stand
Did you know there are 150 free items in the store? They cover a huge range of uses, and just because they are free, it does not mean the quality is any lower.
This free computer Unit that can be used in a vast range of areas. It also has two arms to hold items for the player or just to add items for eye candy. Great for holding health or other useful items.
The Studio Segment
Designed for artists creating content for the store, this is a perfectly white room. Download this free item to pose your models and characters in a distraction-free environment, and free of the default grey backgrounds that can diminish the appearance you are looking for.
All of the above models are available to purchase and download through the inbuilt Game Creator Store in FPS Creator and DBPro, and also using the standalone store for other game-making tools.
Models in Action
Many of our models have videos that you can browse before buying. Here's the blastscreen as detailed above:
Pick up free Store Points
The Game Creators have teamed up with the leading providers of virtual currency; perform a few simple tasks and top up your Store points. As well as being able to take up exciting offers and receiving potentially thousands of points, there are a host of other tasks to earn rewards. Watch a movie trailer, rate search results, answer questions, tag photos or choose from a host of activities that will ultimately earn you any of the high quality models and resources to make your game shine.
Open the Store, through FPS Creator, DBPro or the standalone version. Log in to your account and select the Buy Points option. Below the regular payment options you'll find links to gWallet, Offerpal, DoubleDing and TrialPay. You'll immediately find yourself in amongst the tasks and offers available, and can start earning immediately by watching a movie trailer or two!
Upload Your Assets to The Game Creator Store
Did you know you can sell your models, segments, music and sky boxes in the Game Creator Store? We already have dozens of artists selling their media, and we welcome anyone with the talent to provide our community with quality assets to do the same. If you are interested in becoming a store seller, please contact Janet, our Store Administrator directly.
From the Forums
Sven B has decided to make this project open source to everyone. He has provided the download link to an original version of Image Kit V2 (the latest 'official' release) in this post. Image Kit still has many useful features, so he thought the community would benefit from it more if he made it open source.
Diggsey's popular Advanced 2D Plugin has been improved, adding a new wave of functionality. As well as batching commands for improved efficiency, you can now use it for text too. The batching allows up to 10 million dots per second to be rendered, and clipping regions enhance the abilities further.
.
Monthly Newsletter Winner - $100 voucher up for grabs every month!

Join over 3,800 TGC fans on Facebook for the chance to win a $100 gift voucher each month. Simply add yourself as a TGC Fan using the "Like" button and then actively participate in the discussions at least once a month. We'll pick a random winner from all who input into the TGC Facebook discussions. The voucher can be spent on any of the products on our site. Sign up now, and good luck!
"There are lies, damned lies, and statistics"
Benjamin Disraeli, Sir Charles Wentworth Dilke, or Mark Twain.