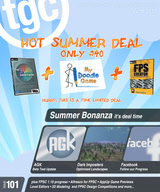 Summer is coming in the Northern hemisphere and life is blooming in the flower beds, bouncing in the field and floating, flying or fluttering in the skies. To celebrate the coming of what we hope will be a summer to remember, we have lots of news to bring you. Top of the bill, we have the Hot Summer Deal to get you making games whatever your level of experience and time to invest. FPS Creator is approaching a new release with so many features your only problem will be which one to implement first. Our users have been busy creating tools to ease your development in both FPSC and DarkBASIC Professional. We have competitions to keep your ideas flowing and a host of other news to keep you informed and entertained.
Until next time,

contents
(1) Summer Deal (2) App Game Kit (3) Dark Imposters (4) DarkBASIC Pro (5) FPSC News (6) Alfresco (7) Doodle (8) AppUp Dev Group (9) Level Editors (10) FPSC Compo (11) TGC Store (12) 3D Compo (13) From the Forums (14) BOTB (15) Winner
Hot Summer Deal
It's summer time! Perfect for playing sports and enjoying the golden rays. That's all fine and dandy until the weather lets you down.
For those grey rainy days TGC has created this Summer Game Making Pack. Learn the basics of game design with The 3D Gamemaker and My Doodle Game, they're ideal for kids of all ages. For teenagers the pack also includes FPS Creator and nine model packs!
This deal runs from June 1st to August 31st inclusive, order now to grab this deal!
June Bonus
Order the 2011 Summer Deal in June and you'll receive Model Packs 44 and 45 for FREE!
Model Pack 44 - Back to School, including corridors, computer rooms and science labs. Also includes a cast of students, lecturers and head teacher.
Model Pack 45 - Heroes of Science - Travel back in time to meet your heros of science and create a world around them for your next game. You not only get the characters, but the famous buildings associated with them.
Order in June and you'll also receive model packs 44 and 45 for FREE!
Deal Price: $40
My Doodle Game $14.99
The 3D Gamemaker $34.99
FPS Creator Bonanza Pack $29.99
Saving you $39.97
Don't forget, the included Bonanza Pack already saves you over $150 on the individual prices!
The following titles are included:

This deal, along with all of the details, can be found on The Game Creators website. Take advantage now to get the additional June bonus of Model Packs 44 and 45.
Free Your Apps - AGK Magic
AGK development has been proceeding at full throttle this month with three team members dedicated to getting you the best solution for the next generation of app development.
Paul has been hard at work ensuring the platform specific elements of the engine are solid and that the AGK now has a well defined final list of commands for Version 1.
Mike has been equally frantic in producing a whole slew

of articles, tutorials, demos and examples for the much anticipated help system for AGK. We learned a hard lesson from DBP, such that any gaps in the documentation leaves users bewildered as to what they ought to be doing. As AGK is aimed at eliminating all such moments from the process of creating cool cross-platform apps, we're making sure our help system is exhaustive!
On the compiler front, our beta testers have started to create some small programs and some key issues have been discovered and resolved already, including the addition of multi dimensional arrays (no small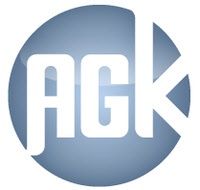 feat). The IDE has been tightened up to remove the clutter of a modern 'do everything' editor, leaving the functionality you actually need readily discoverable.
We have produced a video which demonstrates what we have coined 'AGK Magic', which allows AGK coders to broadcast their apps over wifi and instantly test their apps on multiple devices all at the same time. No messy wires or prolonged set-up required! You can view the video later in this newsletter.
The breaking news is that we have added MeeGo to our list of platforms supported by our initial release, meaning you can take your Windows based app or game and instantly have it running on a MeeGo netbook. That means no SDK, no new editor to learn, no complicated environment set-up, no need to learn any Linux. Just switch on your MeeGo device, run the freely downloadable AGK Player and click 'compile' on the Windows IDE and watch as your app springs to life on the MeeGo screen!
For those with a commercial disposition, we will also be writing an easy to follow step by step guide on how to submit your finished app to the various stores available to sell your app to the wider world. Just imagine the hit rate of your app as you simultaneously release on the App Store, Mac Store, Samsung Store and the all encompassing AppUp Store.
Keep your eyes out on the AGK forum for more news, tit bits from the beta group, tweets from Lee (@leebambertgc) and of course the next newsletter when we are sure to have more information on the release of AGK Community Edition.
Video Preview
This month you can see a preview of the AGK in action, in a video presented by Lee Bamber. Watch as a simple game is deployed to five separate devices and springs to life before your eyes. Using Wifi, you'll observe the game appearing on an iPad, iPhone, netbook, Samsung phone and desktop PC. The more observant of you will immediately realise that this combines many different resolutions and input methods.
Main Features
Write once, deploy everywhere architecture
Code in BASIC or native (C++)
Powerful and easy to use commands
Fast 2D game engine native to each platform (Box 2D)
Screen resolution independent
Built-in physics for the best in game dynamics
Input device agnostic
BASIC Compiler broadcasts direct to devices
Extensive on-line documentation

The App Game Kit is now targetted for release during July 2011- you can register now to be the first to receive new information by signing up at the website: http://www.appgamekit.com/
Follow AGK Development On Facebook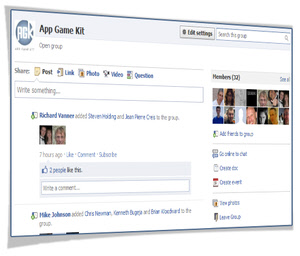 You can now keep abreast of progress of AGK via Facebook. Sign up to the AGK Group and receive notification direct to your Facebook wall and email inbox as soon as it is posted.
The latest updates include the AGK Magic video, sample code for 2D physics and screenshots to accompany the code.
You can sign up and join in the discussions in the AGK Facebook group here.
Vast Landscapes just got Easier with Dark Imposters

Dark Imposters provides a mechanism whereby a vast amount of objects can be drawn on screen while keeping the frame rate high. Imposters are 2D quads, textured with an image of the object they represent. This means you get all the detail without rendering all the polygons which will help your game run at a much faster speed.
The imposters automatically become active at a certain distance determined by you, they then automatically regenerate when necessary so they always provide a good representation of your game object.
Features
Get thousands of detailed objects into your game scene using imposters
Easy to use API with a basic command set, all the hard work is done behind the scenes
Uses its own rendering system, thousands of imposters can be rendered as one object
Create multiple imposter groups, each group can hold imposters for thousands of objects
Automatic regeneration, keeps your scene looking the way it should from any angle
Automatic fading, objects can automatically fade to imposters and imposters to objects for a smooth transition
Multiple camera support

Dark Imposters is available now from The Game Creators, visit the product page for full details and to purchase.
DarkBASIC Professional News


Everything you need to know about both DarkBASIC Professional and FPS Creator development can now be found via Lee Bamber's Tweets. You'll get to hear about every bug fix and feature as it's implemented.
Start following Lee now to get the latest news about your favourite development tools as it happens.
Destiny Of Heroes
IBOL is back with another astounding game written under an intensive remit. Raather than being a product of the 20 line challenge, this one is a product of the 7DRL (7-Day Roguelike) Challenge. Following this, it's also been upgraded to a graphical version using David Gervais' roguelike tileset.


You can download both versions from the forums, and feed back on your experience with the game.
Text to Image made Easy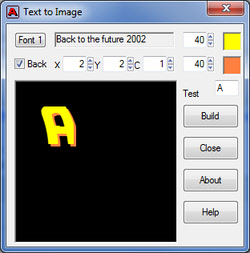 On the forums you'll find a free little tool to make Bitmap Font creation easier. Waffle has created this utility to generate full, customised bitmap fonts in minutes, if not seconds! Select your font, size and colour and click build; it really is that simple. You can also add a drop shadow to your font in another colour and customised offset. Download the free tool now and start experimenting. You'll find a host of posts on the forums that will help you use your new bitmap fonts if it's new to you. Head over to the forums now to pick up the tool and feedback on just how you plan to utilise it.
The next step
You can enhance the output from the tool a little more if you have a few basic graphical skills, and a suitable application. Using Photoshop or an alternative editor, follow the steps below to go retro, sci-fi, or any other style of your choosing.
Digital Skills Content Expands Again


This month Digital Skills (publishers of the Hands On DarkBASIC Pro books) have the second part of their article on counters and timers. Part 2 covers a variety of timers that you might want to add to a game. If you want to count up or count down, there's something there for you; there is a standard digital counter, a stopwatch-type counter and even an exploding bomb timer! The article includes a simple game to let you see the timers at work.
The text is, as always, in PDF format and suitable for viewing on your PC, iPad or Kindle DX. Find it at http://www.digital-skills.co.uk/.
Visor Model Viewer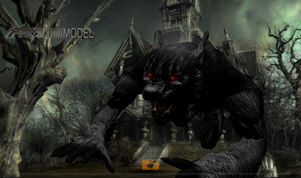 Created by Neodelito, this application not only allows you to browse and view your models, it will also output professional images of them too, with great backgrounds to complete the look. Import, pose and select the animation frame you require. Resize and position, then when you're ready take a snapshot of your model looking game-ready. Switch shaders on and off to compare the differences, and add lighting to perfect the placement against the background. The application will also load FPSC-ready models, using the associated FPE file data.

The freeware and professional versions are available from Neodelito's website. You can join in the forum discussion here.
Dark Game Studio Bonanza
Special offer while stocks last: Dark Game Studio, Dark Physics, Dark Lights, Dark AI and Extends for an incredibly low price of $49.99. Save over $170!
Creating your own PC games is now easier than ever with this special compilation of game making tools:
Dark Edit
Demo Games
Physics Demos

Order Now

Save over $170 on this special deal. Be sure to check out the screen shots and the online videos. You can of course order safely and securely online, for delivery via postal mail.
FPS Creator Updates - V118

After many months of adding features, and ensuring those remain solid, we are almost ready to release the official update to FPSC V118. We are currently at BETA17 RC1 which will be the final release of the update save any last minute show stopper bugs reported in the next week or so.
Thanks to everyone who has helped test the update, and especially to those who have discovered and made use of the Google Code issues board which is a great place to drill down individual bugs and find solutions. This will be one of the biggest updates FPSC has seen in years, and could not have been achieved without the dedication of the modder community, who took it upon themselves to take FPSC source code and just run with it. Well done everyone!
Here's a quick overview of some of the new features and enhancements:
Introduction of upgraded stock weapons (hands and more)
Water, entity flak and GUI subsystem
GUI-X9 free version, built into FPSC from V118 onwards. Now you can design your own menu screens with ease!
Pixel perfect hit detection on any character that supports it (see forthcoming model packs)
AI tweaks
Fixed numerous bugs from the google code issues board
Range of fixes to improve stability and consistency (mainly from Google Code issues board)
Fixed the Invisible Segment Issue (tough bug)
Fixed crash bug relating to fastbone effect array
A new NOTHROWSCRIPT field for FPE characters who do NOT want their destroy scripts overriding
Video Tutorial for FPSC
Daniel Foreman has created video tutorials for DarkBASIC Professional for some time now. This month he ventures into FPS Creator, and starts to present NickyDude's Community Guide in video format. Here we see Xplosys' scripting tutorial explained in a step-by-step guide.
Special Offer while Stocks Last - $29.99,

Save Over $150.00!
Take advantage of this whopping special offer! Get FPS Creator and 9 Model Packs for an incredibly low price of $29.99 USD (€22.00 EUR, £19.99 GBP). This deal includes:
FPS Creator
Model Pack 1
Model Pack 3
Model Pack 7
Model Pack 11
Model Pack 12
Model Pack 13
Model Pack 14
Model Pack 15
Model Pack 25
Click here to purchase the Bonanza pack, including FPS Creator
for just $29.99 / €22.00 / £19.99
Alfresco for FPSC

Authored by Explosys, Alfresco (out-of-doors; in the open air) easily and quickly creates trees, shrubs, tall grass, and more for your FPS Creator levels. The included textures and models are enough to make a wide variety of greenery in any sizes you choose. Simply add new textures to the resource folder to create even more varieties.
This free software has received rave reviews from the FPSC community. Make your way to the forum thread owned by Xplosys to find the download of the latest version, and to discuss and provide your feedback.
My Doodle Game, the Dinosaurs are Coming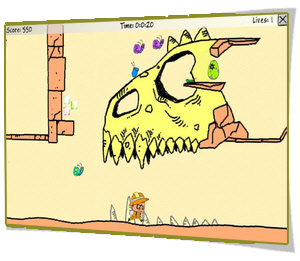 What do you think of the upcoming Adventure theme for My Doodle Game? Our My Doodle Game Facebook group members have had a sneak preview of the new theme, along with the news that the title is coming to the iPad very soon. Being a Facebook group, you can also post your thoughts, ideas and even snapshots of your own games.
You can join up to the My Doodle Game Facebook group here.
What is My Doodle Game?
My Doodle Game is a fun and creative game making tool, and with it you can literally draw your own games and then have hours of fun playing them!
Make a scrolling shoot-em-up or a fun platformer, it's so simple to use and the results are instant.
The application comes with some pre-made characters and games. You can use these or just draw your own and build up a personal library. You can mix and match heroes and enemies and make some really wacky games. Personalise your games with your own wav sound effects and mp3 music. We're sure you're going to love My Doodle Game, it's instant fun and if you have kids they'll be fighting for control of your PC to make their own. Bring your game ideas to life in this awesome new game making tool from TGC.

Visit the Doodle Game web page for full details and to purchase the game. You can also find the gallery containing some great ideas for starting your own game.
AppUp - Monetising your game

by Steven Holding
We all enjoy making games, it's why you are reading this newsletter right? There is another reason for making games that we sometimes don't like talking about though isn't there?
Money is a dirty word to some people and to be fair to them it's because they have high ideals. That's nothing to be ashamed of but as my father (God rest his soul) once said to me "If you can make your hobby your job you'll be a happy man."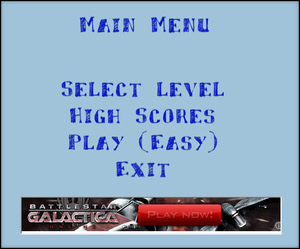 So if you are like me and want to make money from making games (or Apps) but you also have high ideals and would like to give your games away for free then why not do both!
Putting advertising into games can make you more money than revenue from sales, but how? Simply because people will download a free game a lot more often than one that costs them money. Also one of the largest markets for games is the under 18 market who don't have much (if any) money to spend. So why not make money, not from the people who want to play your games but from people who want to advertise their products? To this end I have been working on getting advertising into my free games using Google AdSense, an advertising platform aimed at web developers (mainly) but which can be used sensibly to advertise in games.
There is currently a nearly fully functional version of the setup code and functions required to put an AdSense advert into your game using BBB Gui (a free plugin by Brendy Boy), an AdSense account (which you will need to set up yourself) and your own website (to set up a web page containing the banner). If you would like to follow the progress of this project you can find the forum thread here. This code is not just applicable to AppUp games, it could work in any game you put out there so if you are interested or think you might have some valuable input please follow the thread and try it out yourself!
AppUp In Progress
There are a number of games currently being developed specifically for AppUp by various forum members and I thought it might be helpful to share a few of these games with you as they progress from concept to validation. Hopefully this will give an insight into some more specific problems and solutions that you might encounter whether developing for AppUp or otherwise.
The Adventures of...
This is a 2D adventure game in the very early stages. The graphics look great and the storyline about a woman trying to find her missing daughter in a strange world sounds like it could get quite epic. It looks like a very promising project from Chris Van Wijmeersch (The Slayer) and a few collaborators. The challenge here will be in maintaining a decent framerate with such high quality graphics.
Radar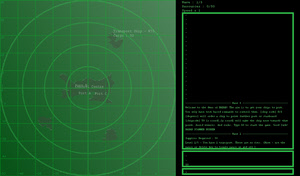 It is very hard to come up with an original style of game but Lucas Tiridath has succeeded admirably with this unusual game based on shipping. Essentially you are guiding boats to and from an island, helping them to avoid enemy subs and battleships as well as keeping the island supplied. Interaction in the game is through text instructions sent out to the boats you control and I found myself getting thoroughly immersed in protecting and supplying my own little island. The game is all but done and looks to be a great addition to AppUp, it does not present any major technical issues as the style of the game is ideal for running well on a netbook.
Space Evaders
This is a 2D space battle game where the enemy is only temporarily visible as your ship's scanner / radar passes over them. You have to try to remember where the enemies were to shoot them and avoid flying into them. Unlike most 'memory' games you don't have time to think about it as the action doesn't stop. This game is also in the early stages of development and is written by Adam Hodgson (Hodgey). It's shaping up nicely with a small demo available on the AppUp DBPro Developers Group thread. The game itself should run really well on a netbook, I see the main challenge for this project being the development of variety in the gameplay.
Level Editors - Part III
Richard Rosenthal works at Mommy's Best Games, developing games for the Xbox and the Xbox Live Marketplace. Our first part dealt with the need for level editors, and the principles behind how much effort should be put into the editor. Part 2 dealt with the different parts of the editor and the output it creates. In the third installment this month, we take a look at some code and the components that will make it easy to build and maintain the editor.
Coding a Level Editor
by Richard Rosenthal
To manage pieces, create a TYPE for pieces, and a TYPE for piece categories (I refer to these as Kinds, because type is a reserved word), and some sort of way to connect them. For example:
TYPE PIECES_TYPE
     KIND AS KIND
     X AS FLOAT
     Y AS FLOAT
     ALIVE AS BOOLEAN
ENDTYPE

TYPE PIECE_KINDS_TYPE
     NAME AS STRING
     IMAGEHANDLE AS INTEGER
ENDTYPE
Next, create an array of pieces, and an array of piece kinds.
DIM PIECES(MAX_PIECES) AS PIECES_TYPE
DIM PIECE_KINDS(MAX_PIECE_KINDS) AS PIECE_KINDS_TYPE
Now, each time you create a piece, you can give it a reference to its "kind" which allows for easy expansion, as well as reducing storage redundancy.
Rem create the gun type
PIECE_KINDS(1).NAME="GUN"
PIECE_KINDS(1).IMAGEHANDLE=1
LOAD IMAGE "IMAGE OF GUN.PNG",1
So creating a piece in the editor would be as simple as:
PIECES(1).KIND=1
PIECES(1).X=10
PIECES(1).Y=5
PIECES(1).ALIVE=1
Where the KIND field is a reference to the Kind created above. Using an ALIVE flag for pieces is an extremely easy way to delete/recycle pieces. For a point and click editor, this could be:
IF MOUSECLICK()=1
     FOR N=0 TO MAX_PIECES
           IF PIECES(N).ALIVE=FALSE
                PIECES(N).KIND=CURRENT_KIND
                PIECES(N).X=MOUSEX()
                PIECES(N).Y=MOUSEY()
                PIECES(N).ALIVE=TRUE
                EXIT
            ENDIF
     NEXT N
ENDIF
It really is that simple. The only thing omitted above is a simple flag to make sure that pieces are created only once per mouse click; otherwise every time you click you will create 5-20 pieces!

Basic Tips
Consider perspective - while your editor is supposed to help you do things quickly, it should also help you produce higher quality levels in the final product. Try to make your editor's interface similar to the way your levels are going to be viewed. This is not quite as much of a problem in 2D as it is in 3D. This includes viewing the levels at a similar scale as they will ultimately be viewed at.
Make your shortcuts make sense! Keyboard shortcuts (or in the case of a simple, no-menu editor, only-cuts) are the easiest ways to add new functions to your editor. Matching letters on the keyboard to functions with the same names goes a tremendous way toward making the editor easier to use, with very little extra work (e.g. 'n' to create a new level and 's' to save). This may seem like a no-brainer, but it is extremely easy to just move down the keyboard and add functions that way instead of making them make some sense.
Abbreviate code. the above example is much wordier than I usually code. Abbreviating words can save you more time than you think. Instead of ALIVE, I would say ON. Instead of KIND, I would just use K. Instead of IMAGEHANDLE, I would say "I." Then again you have to balance readability versus time it takes to produce the editor. Always keep that in mind.
Comment your work! This is a tip for any code you're doing, really. Commenting makes your code much easier to read, for you or anyone else who will ever use it. I go so far as to include comments like this:
Rem ------------------------------------------------------------------
Rem -------------------------------------DRAWING----------------------
Rem ------------------------------------------------------------------
This makes it a lot easier to find when I'm scrolling through the project.
Level Editors for Great Justice
The new and improved DB editor for Explosionade PC is a vast improvement over what I quickly coded together for the Xbox Live Indie Games version of Explosionade. That said, even the quick-n-easy level editor let us create amazingly more detailed levels than what we could have of reasonably hand-coded. We keep details of our game developments on our dev log, so you can see the progress on Explosionade PC. Stop by anytime! And next time you start slapping levels together in-code for your new, amazing game, consider taking a weekend and creating an editor instead!
I Can't Believe it's FPSC

by Joakim Olsson (Cyborg Art)
Competition Update: If you haven't had chance to get an entry together, the deadline has been extended until June 15th.
In the spirit of Model Pack 54 and the 100th newsletter, it's now time for you to come up with a unique feature that is next to revolutionary for games, or at least for FPSC. You should record a video of the feature in action. Your feature doesn't have to work in FPSC right now, but you should be able to visually show it as if it is actually fully functional. This is not a competition about design, its a competition about thinking outside the box!
Grand Prize:
Any Steam games and/or add ons of your choice for a total value of €20 - $28 - £17
A TGC voucher worth €14 - $20 - £12
Second prize:
A TGC voucher worth €7 - $10 - £6
Rules:
You may use scripts, sounds, model packs, screen effects and video post processing etc. since it is the idea itself that is judged.
You may use any tools you own in order to create your entry
You may only use FPSC (x9 x10 or modded) to create your entry
Feel free to use any of the screen video recorders avaiable, WeGame is recommended
The video should be submitted to YouTube and merged into the competition post on the forum before the submission date
Your entry must be legal, your own work and not in any way offensive.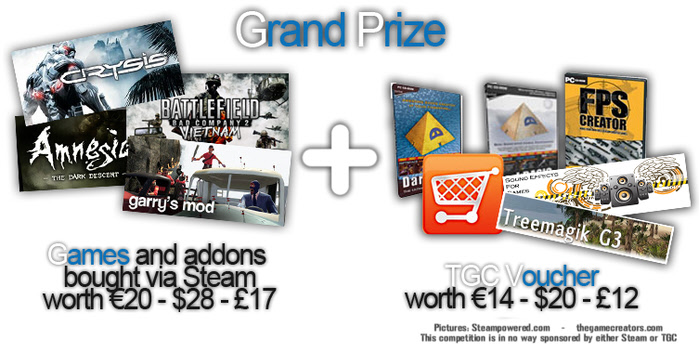 Judging
Your entry will be judged upon the following criteria:
Creativity - How creative is your entry? Is it unique?
The idea - How well the idea is used in your video, and if it is useful for its game genre
Awesomeness - Does your entry make the judges scream "I Can't believe it's FPSC!"
Submission:

Your entry should be uploaded to YouTube and posted as an integrated video in the thread, found in FPSC Chat, by no later than 15th June 23.59 GMT
This competition is not sponsored by either Steam or The Game Creators
The Game Creator Store - Updates and New Additions

New Store Additions
P90SD Dual Wield
This is a similar weapont to ErrantAI's P90 (Dual) but with silencers attached.
Includes VWEAP and pickup weapon and ammo entities. Uses model pack 9-10 compatible hands.
Includes some basic AirMod settings in gunspec. The recoil on the guns is extremely realistic! You can watch a video of the weapons in use here.
English House
This elegant English Stately home is part of the Historic Pack. It can be purchased standalone from the store, or as a compete pack from the TGC website.
The pack includes many historical locations and a cast of famous characters including Einstein and Sir Isaac Newton. There is also a collection of other entities to populate your historic buildings.
Baseball Bat
Sometimes it's better to leave the heavy weaponry behind, and force your game players to fight their way out the hard way. Close encounters add to the adrenalin rush, and a simple baseball bat should be enough to give them the courage to survive as the battle ensues.
This weapon is exclusive to the player and cannot be used by NPCs.
Computer Room Sounds
Get all of your computer room beeps and alerts in one easy-to-implement soundtrack. The various random noises loop seamlessly and contribute a nice background to hi-tec rooms in your game levels.
All of the above models are available to purchase and download through the inbuilt Game Creator Store in FPS Creator and DBPro, and also using the standalone store for other game-making tools.
Pick up free Store Points
The Game Creators have teamed up with the leading providers of virtual currency; perform a few simple tasks and top up your Store points. As well as being able to take up exciting offers and receiving potentially thousands of points, there are a host of other tasks to earn rewards. Watch a movie trailer, rate search results, answer questions, tag photos or choose from a host of activities that will ultimately earn you any of the high quality models and resources to make your game shine.
Open the Store, through FPS Creator, DBPro or the standalone version. Log in to your account and select the Buy Points option. Below the regular payment options you'll find links to gWallet, Offerpal, DoubleDing and TrialPay. You'll immediately find yourself in amongst the tasks and offers available, and can start earning immediately by watching a movie trailer or two!
Upload Your Assets to The Game Creator Store
Did you know you can sell your models, segments, music and sky boxes in the Game Creator Store? We already have dozens of artists selling their media, and we welcome anyone with the talent to provide our community with quality assets to do the same. If you are interested in becoming a store seller, please contact Janet, our Store Administrator directly.
3D Modeling Competition - A Small Time 3D Compo
By David Gervais, BiggAdd and MikeS

Inspired by Josh Mooney's WIP of his last compo entry we would like you to build a model and document your progress showing us the steps you took to get to your final render. This compo is all about the journey to the end result. It should be a good way to share your modeling skills and techniques with your fellow modelers.
This compo will run through to the end of July, giving you all plenty of time to get it done and still enjoy the summer in the process.

Last month we asked you to come up with something that 'Glows' and we allowed post-editing of your renders. The idea is to see what nifty Glowing effects you can use to bring your model to life. You can use special specular maps, UV maps, Textures, anything goes.
3D Master:
Starmind 001
Starmind 001's entry is an effective example of how a simple scene can be made to invoke the imagination. Makes you wonder what is behind the silhouette of the robot sentry entering the doorway. Excellent glow and scene composition!
3D Best Model:
Josh Mooney
Josh Mooney's entry is another fine example of how a low poly model can look great. I like how he showed us the steps in making the model in his WIP thread. Excellent entry!

3D Best Texture:
Iceman
Iceman's entry is a good example of how a good rendering program can help to set the mood of a scene. The procedural texture in this entry is exquisite. In cases like this the choice to go with a procedural texture over a UV map is the right choice. Great render.
How the 3D Modeling Competitions Work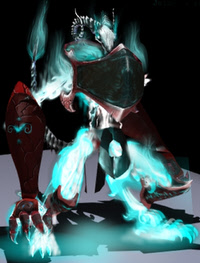 The accolades for the winners are retained until the next competition winners, and are as follows:

3DMaster - Champion awarded to the overall winner in the competition, an entry which displays both modeling and texturing excellence.

3DMaster - Best Model awarded to the runner up who demonstrates the finest modeling skills in the competition.

3DMaster - Best Texture awarded to the runner up who demonstrates texturing wizardry in the competition.
The awards will cling to your Avatar until the results of the following competition are announced. So to keep your award, you must defend your honour in battle once again!
From the Forums
Iguana-Entertainment have given Scraggle a job based on the games on his site, most of which are written in DBP. They were particularly impressed with 'Concentric' and he is now writing a game that is somewhere between Concentric and Bejewelled. Once its done they want it porting to iPad.
"Model Maker" is a content creator specially designed for FPSC X9 and allows you to import textures as segments and entities into your FPSC.

It's particulary of interest to anyone who wants to import his own content as quickly as possible, without having to manually type everything by hand.
.
Best of the Best - Virus: The Breakout

By Keith Caldwell
Back in issue 94 we featured a Best Of The Best game by the name of Virus 2: The Breakout. This month you can read an interview with the author, Mark de Boer, and find out what makes him want to entertain us with his games.

Mark, tell us a bit about yourself and what your main interest is in game development.
When I was around 16 years old, I was really interested in making games, so I searched for an engine that was not hard to understand. That's how I found FPS Creator. I really like it because you don't have to program, this way I had more time to work on the levels; I really love to do level design and making 3d assets for games.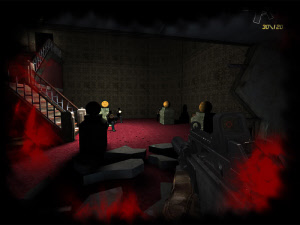 What are your thoughts on The Best of the Best as one of the award winners?
I like the way BOTB is going at the moment. Although it would be nice to see more promotion for BOTB. It is getting harder to be BOTB every time, which stimulates people to make their games even better.
After my game was elected BOTB, a Game making team approached me, and asked if I wanted to join their team as a texture and 3D artist. We are currently working on a commercial title in the unreal engine - thanks to BOTB!
Where do you see FPS Creator heading, and what would you like to see in a future version?
FPSC is getting better every day, not only the engine, but also the users. You see loads of users work together to make the engine better. FPSC is getting more recognition since it was announced. Loads of people thought it was just a game engine for kids, but I think that the community has proven this wrong. I hope that one day FPSC can handle more details, and maybe things like custom collision meshes.
Do you have any advice for developers wanting to become BOTB?
Keep practising; it is possible to reach the BOTB level. Don't be afraid to ask for critique or comments on your map, because in the end it will help you become a better game designer.
What are your future plans for game development in general?
Currently I'm working in 2 game making teams, and I'm working on my portfolio. One day I would like to work as a level designer, or 3D artist.
And your final words?
Enough talking, let's make some games!
"Awesome! Great to see FPSC being stretched even further" - Rick Vanner, The Game Creators
Monthly Newsletter Winner - $100 voucher up for grabs every month!

Join over 3,500 TGC fans on Facebook for the chance to win a $100 gift voucher each month. Simply add yourself as a TGC Fan using the "Like" button and then actively participate in the discussions at least once a month. We'll pick a random winner from all who input into the TGC Facebook discussions. The voucher can be spent on any of the products on our site. Sign up now, and good luck!